This Grilled Avocado Sundried Tomato Pasta Salad is an easy and quick meal that is incredibly flavorful thanks to grilled avocado and a lemon garlic herb dressing.

I've partnered with Sprouts to bring you this Grilled Avocado Sundried Tomato Pasta Salad. All opinions expressed are my own. Thank you for supporting the brands that keep this blog spinning.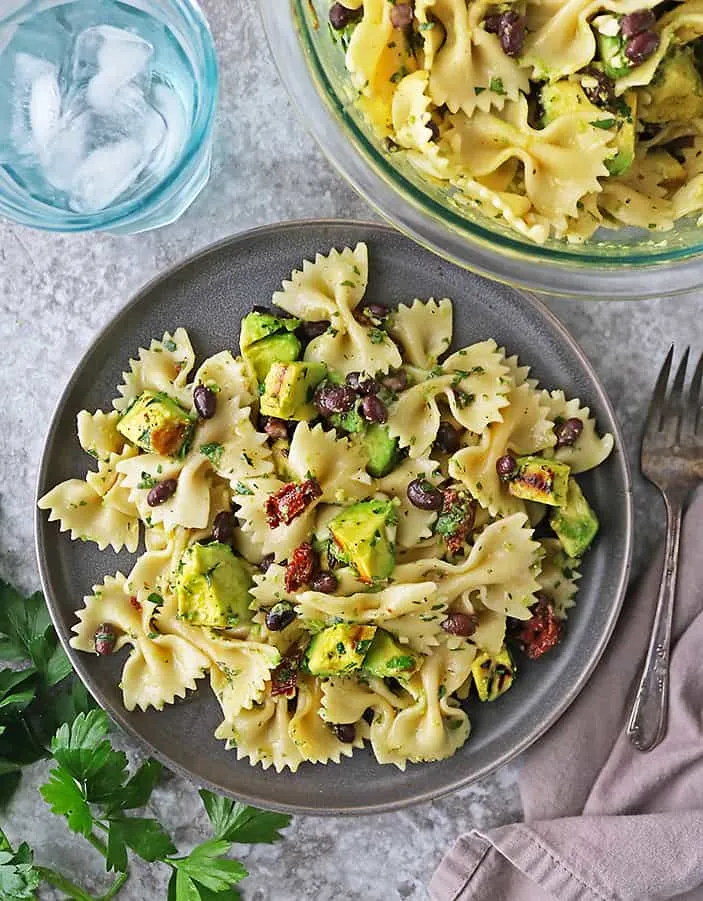 This Grilled Avocado Sundried Tomato Pasta Salad is made with just nine ingredients and is loaded with flavor. First, there's a light vinaigrette flavored with lemon, parsley, and cilantro. Then comes flavor-packed sundried tomatoes, and bringing them all together are grilled avocados!
Have you had grilled avocados?
I recently did and all I have to say is WOW!
I have always had a love affair with avocados. Creamy and delicious, avocados have been the star of so many dishes from breakfast to dessert.
However, grilling them elevates their taste and texture immensely. Grilled avocados are slightly smoky and nutty. And, depending on how long they are grilled, they can have a delightfully creamy interior and a charred, slightly crisp exterior.
To me, grilled avocados are loaded with flavor. So, I had to use them in a pasta salad to see how it would turn out.
And, WOW! What an epic pasta salad this turned out to be. My daughter and I thoroughly enjoyed all the flavors in this salad.
From the grilled avocado to juicy sundried tomatoes to the lemon garlic herb dressing, we were hooked!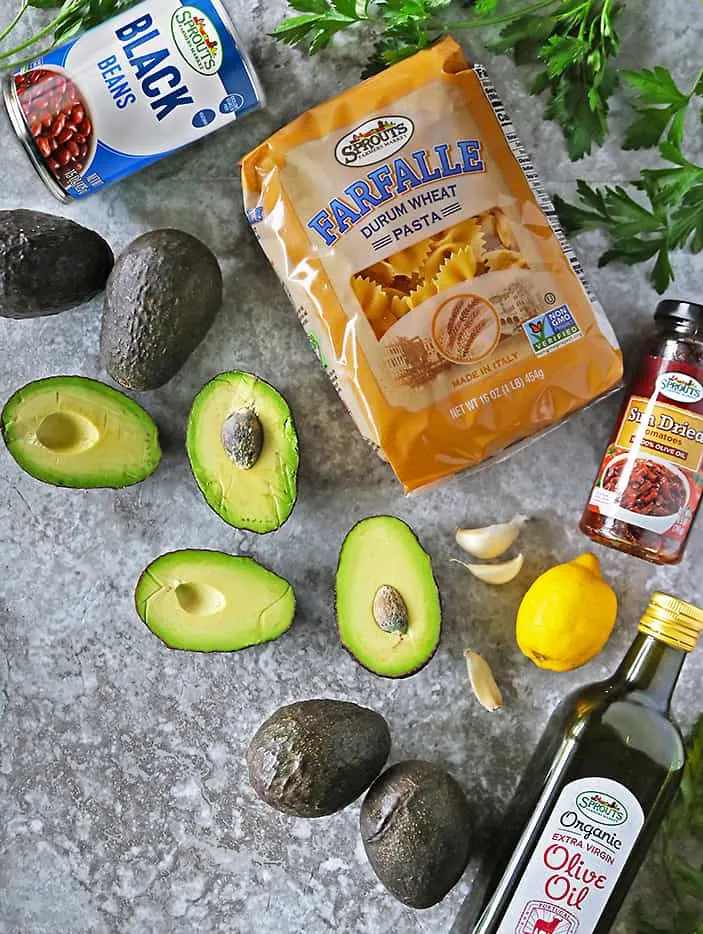 Why do we love this Grilled Avocado Sundried Tomato Pasta Salad?
This salad is:
• deeeelicious,
• packed with flavor,
• so easy to make,
• You can have it ready in about 20 minutes (or less if you are using pre-cooked pasta)
• a dish vegan and non-vegans alike have loved,
• did I mention it is deeeeelicious?
• and, it is made with only 9 ingredients!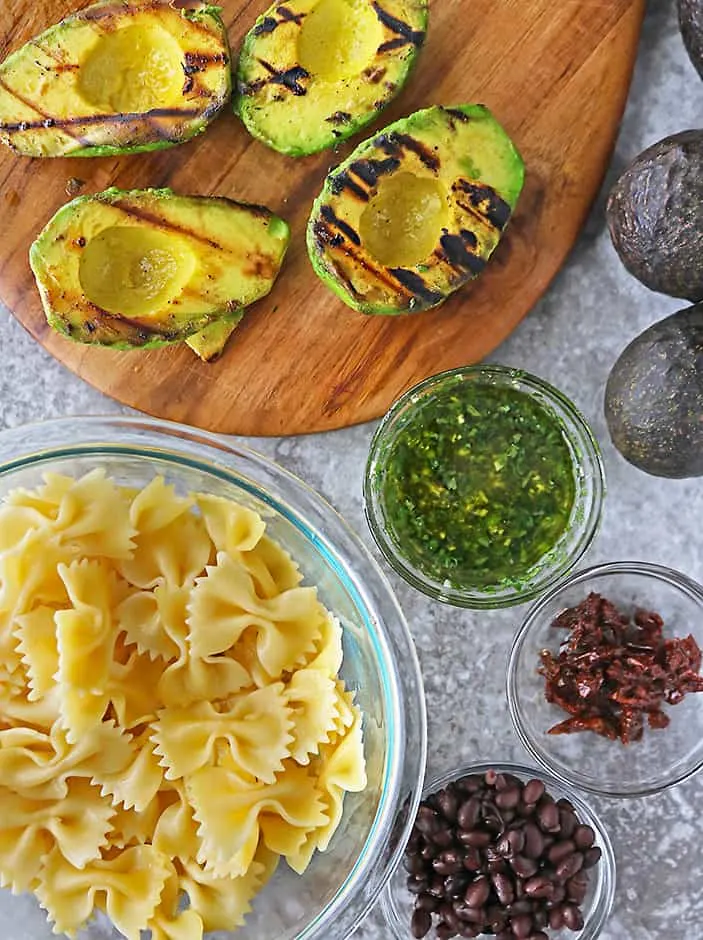 What are the ingredients to make this spin on pasta salad?
You need only a handful of ingredients to make this pasta salad, and they are:
olive oil
fresh lemon juice
Garlic
fresh cilantro
fresh parsley
Salt and pepper
avocados
Farfalle pasta
sundried tomatoes
Canned black beans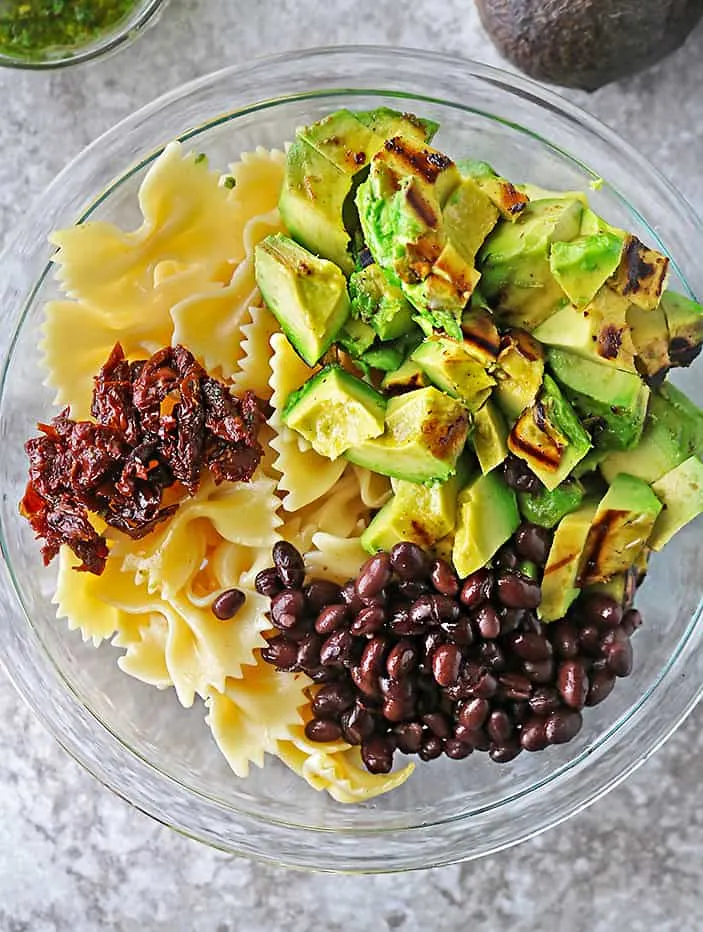 Adaptations:
The first 6 ingredients are used to make the dressing for this salad. And, there's room for flexibility with them. If you don't have any lemon, then you can use lime. If you are not crazy about cilantro and parsley, then use dill and basil, or tarragon and basil instead.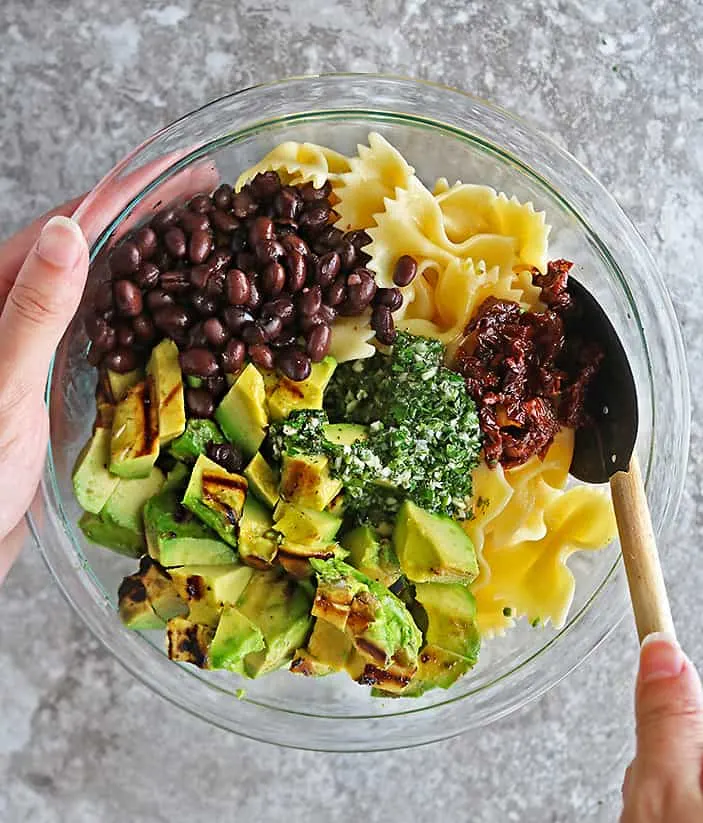 The salad uses Farfalle pasta, but you can use rotini or tortellini instead. If you are following a gluten-free diet, then you can choose one of the many gluten-free pasta options available at Sprouts.
---
Speaking of Sprouts, I grabbed all the ingredients to make this Grilled Avocado Sundried Tomato pasta salad from there. I love shopping at Sprouts as they always have such a wide variety of produce and products!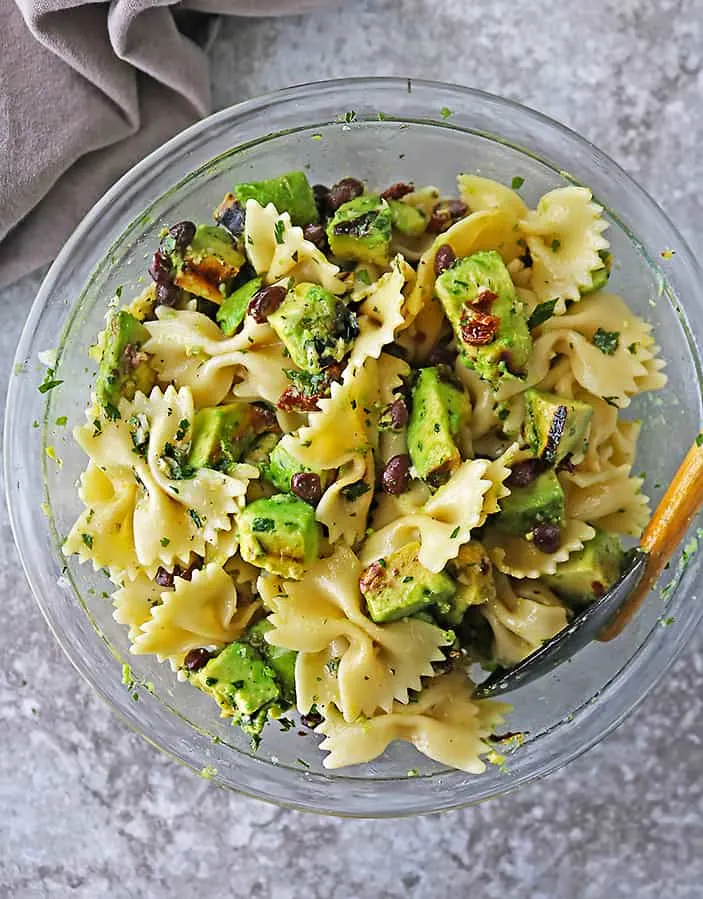 Every time I stop by Sprouts, I always grab a bunch of Avocados to last me through the week. Avocados are not only creamy and delicious, but they are full of good-for-me nutrients too.
Benefits of Eating Avocados
Avocados are said to be low in sugar, high in fiber, support heart health, contribute towards healthy cholesterol levels, and have more potassium than a banana. They are loaded with potent antioxidants and are a great source of essential vitamins and minerals in a vegan/vegetarian diet.
Getting back to the ingredients to make this salad, I also used sundried tomatoes for flavor. However, you can use olives or capers instead.
While I added in some black beans for a plant-based protein boost, you can leave them out entirely or use another type of bean, if you prefer. If you would like to, you could add in chopped broccoli, sliced carrots, and some diced fresh tomatoes.
If you are looking for a tasty and healthy spin on pasta salad with no added sugar, then this Grilled Avocado Sundried Tomato Pasta Salad is for you! And, if you make it, I hope you and your loved ones enjoy this immensely!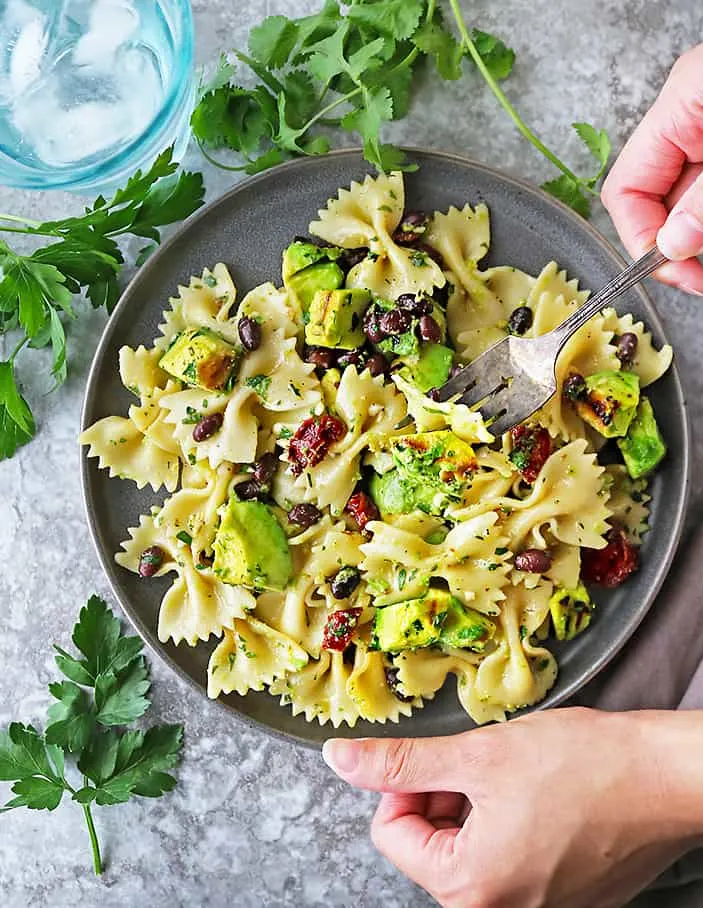 F.A.Q.s
Can you make this pasta salad in advance?
Yes, you can make this salad a day in advance. In fact, the flavors intensify more after a day. Just make sure the avocado has been brushed with the dressing with lemon so it doesn't lose its color.
Do you have to use grilled avocados to make this recipe?
While grilled avocados bring an immense amount of flavor to this dish, you can use diced fresh avocado as well.
How long will this pasta salad last?
You can store this pasta salad in an airtight container and leave it in the fridge for 3 days at the most. You might be able to for longer, but this pasta salad hasn't ever lasted that long. In fact, very often, we do not even have leftovers of this Grilled Avocado Sundried Tomato Pasta Salad.