So delightfully creamy, this gluten-free, dairy-free, Easy Avocado Chia Pudding is made with almond milk, avocado, chia seeds, and a splash of vanilla extract, almond extract, and lemon. It is perfect for a grab-and-go breakfast, snack, or dessert. Quick, delicious, and healthy!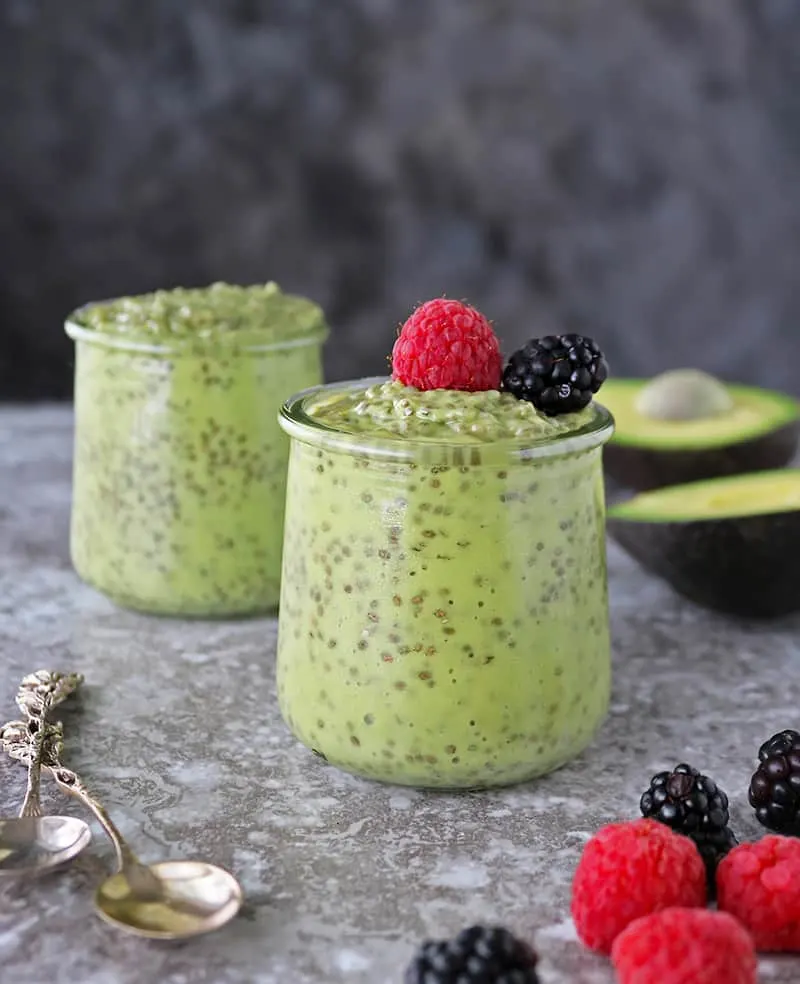 *This post was first published on Savory Spin in February 2015. It has been updated with new photos and information is being republished today.
Avocado, chia seeds, a sweetener of your choice, and almond milk are the only 4 ingredients you need to make this delicious concoction. I like to add in a splash of vanilla extract and almond extract for flavor and aroma.
I also like to add in some lemon juice to keep this avocado chia pudding from turning an odd shade of brown – especially if I don't intend to eat it within a couple of hours of making it.
This, currently is one of my favorite go-to breakfasts. It is so easy to make and it is so thick, creamy and tasty!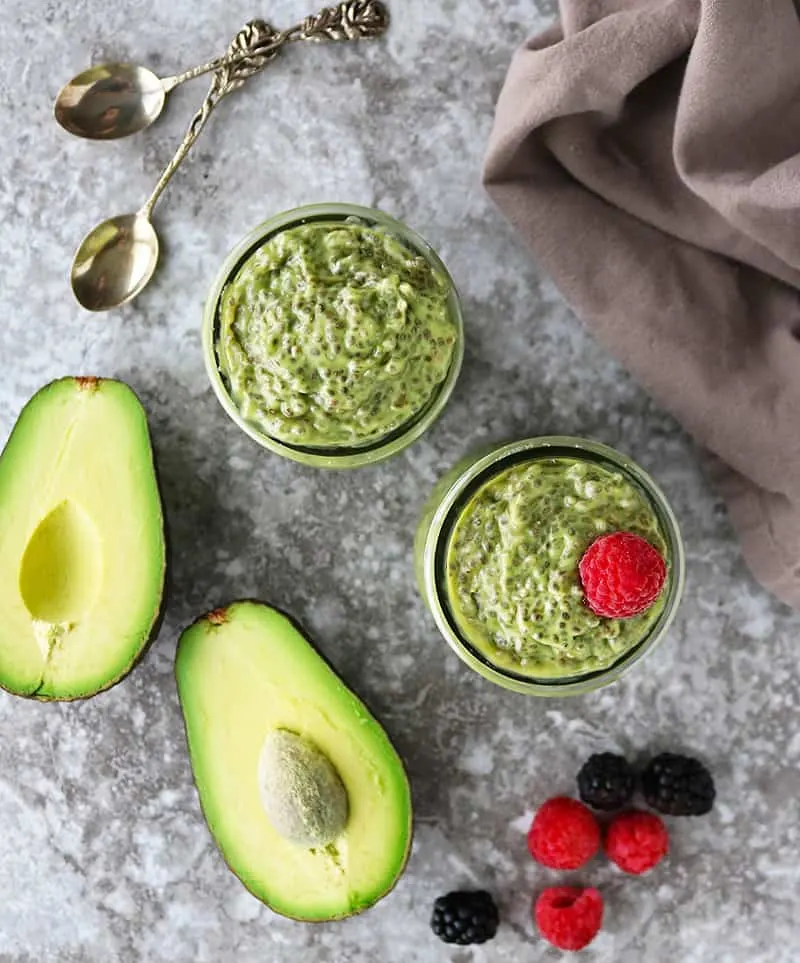 Most years, as soon as spring starts to fade into summer, I prepare a few batches of granola to enjoy with Greek yogurt. But this year I have been on a chia pudding adventure!
I am thinking if this adventure doesn't reign itself in, I might be eating cold chia pudding when fall turns into winter. Only, I might need a ski mask while I dig into that cold pudding and hot tea after!
I kid, I kid…
maybe…
Speaking of ski masks… if I had to describe my ski mask in one word – that word would be "luxurious"! This past Christmas, my daughter gave me the softest, warmest, most comfortable item of headgear I have ever owned! This thing is so comfortable I often forget I even have it on!
There have been times during this past winter here in Atlanta, when, thanks to my ski mask, I hardly realized temperatures were in the 20's when I went outside with it on! Then there have been times when I get into my car and head to work or run errands with it on…
Only… the latter can leave room for people's imagination to run rampant…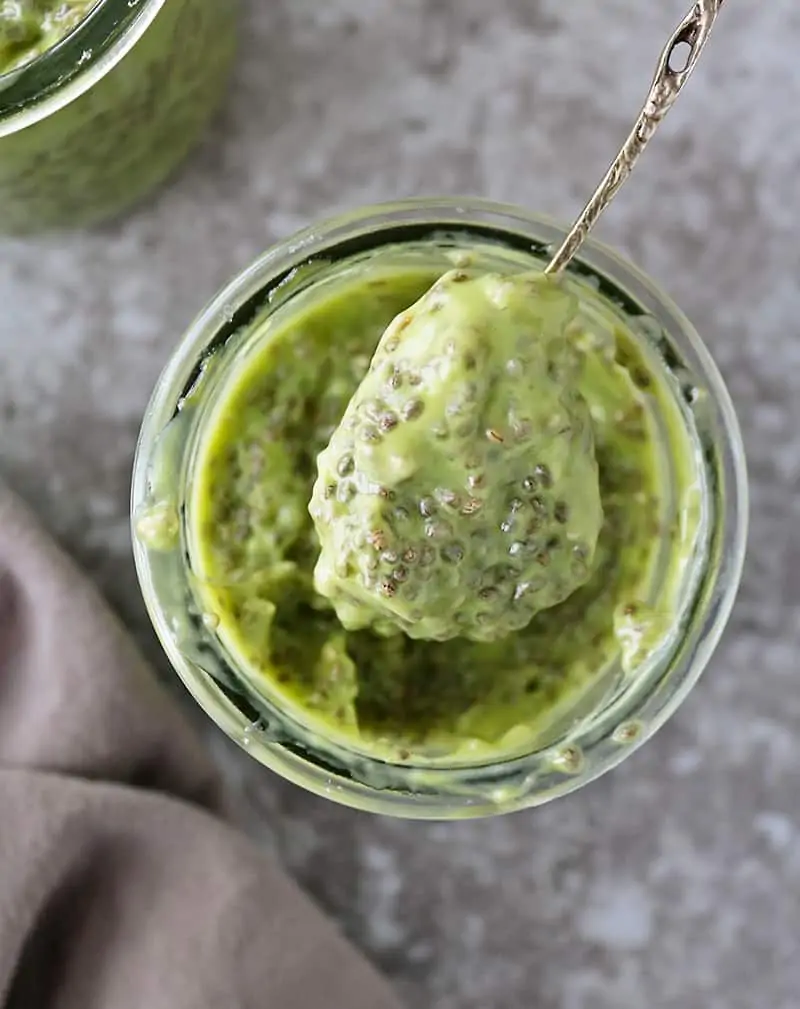 One time as I drove around Atlanta with my ski mask on, I came to a rather hard-to-merge situation… however, I was gratefully surprised when a driver actually slowed down, glanced at me, and let me over! Then the same thing happened when I was trying to get over a few lanes! I was starting to think my fellow Atlantans were turning over a new leaf…
Then, when I got to where I was heading, instead of having to dodge the onslaught of traffic to cross a parking lot, I was pleasantly surprised when someone screeched to a halt and let me cross! I was starting to feel lucky enough to even contemplate playing the lottery!
Aaaannnd that's when I caught a glimpse of my reflection in the glass doors ahead of me – and I started to realize the power of my ski mask!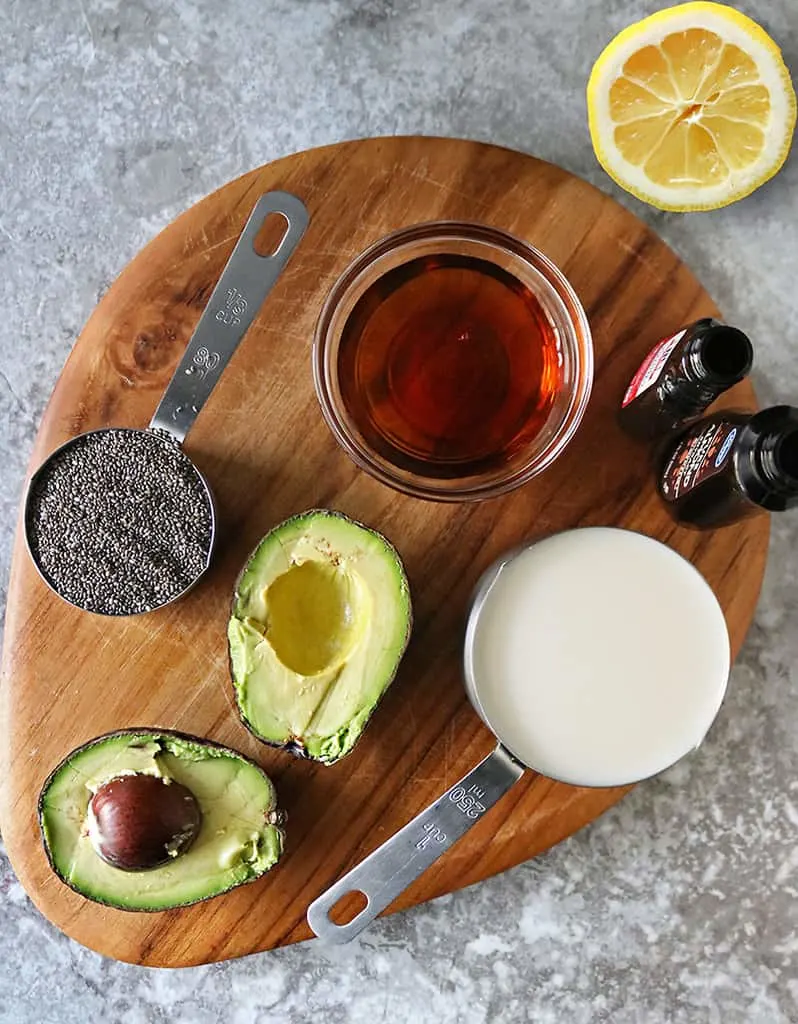 But… I digress…

You are here for THIS delicious plant-based avocado chia pudding…

There are many, many varieties of Avocado Chia Puddings out there that are fantastic – and mine might not be stellar in comparison – but, I had to share this version because it is so luxurious and so delicious. And, with just a hint of vanilla and almond, it tastes and smells like an exotic spin on a classic dish.
What are the ingredients needed to make this easy avocado chia pudding?
For this easy recipe, you will need the following:
1. chia seeds,
2. almond milk, or dairy-free milk of your choice,
3. avocado,
4. Sweetener ~ I used maple syrup,
5. lemon, and
6. Vanilla extract and almond extract (optional)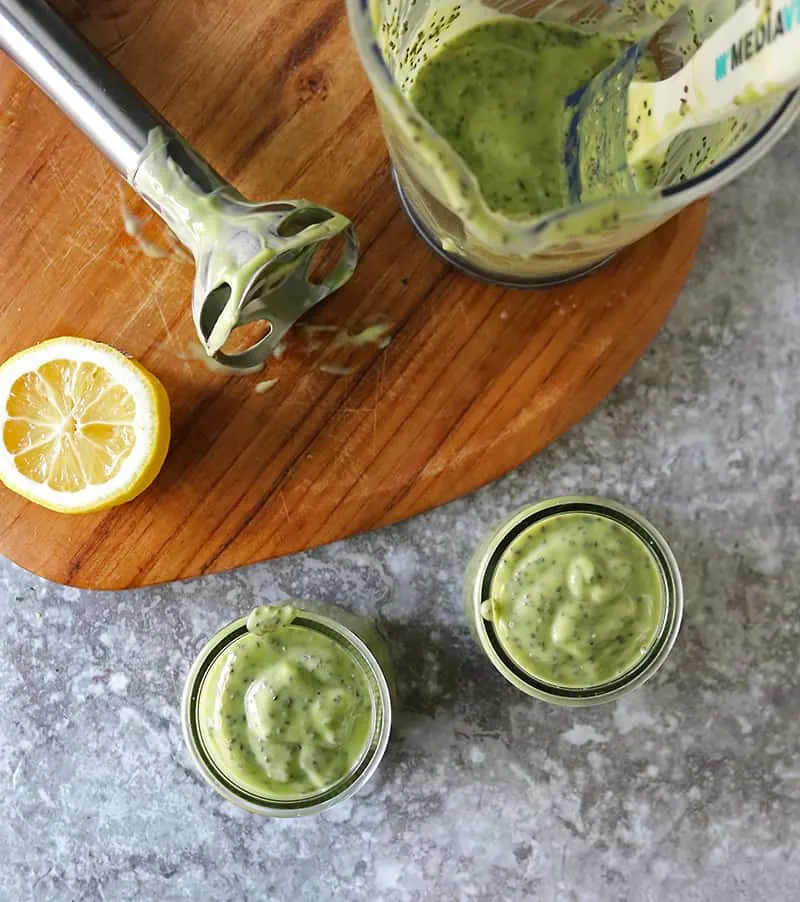 How do you make this breakfast pudding?
This pudding is so easy to make!
Simply add the almond milk, maple syrup, vanilla extract, almond extract, and avocado to a blender or, if using an immersion blender like I did, a deep bowl.
Blend until avocado is broken down and the mixture is smooth. Add in a pinch of salt and then add in the chia seeds and stir well.
Cut the lemon into half and squeeze in a teaspoon or so of lemon juice into the breakfast pudding.
Then mix well, cover, and chill for at least 2 hours so chia seeds absorb the liquid and become gelatinous – lending to the thick and creamy consistency of this healthy pudding.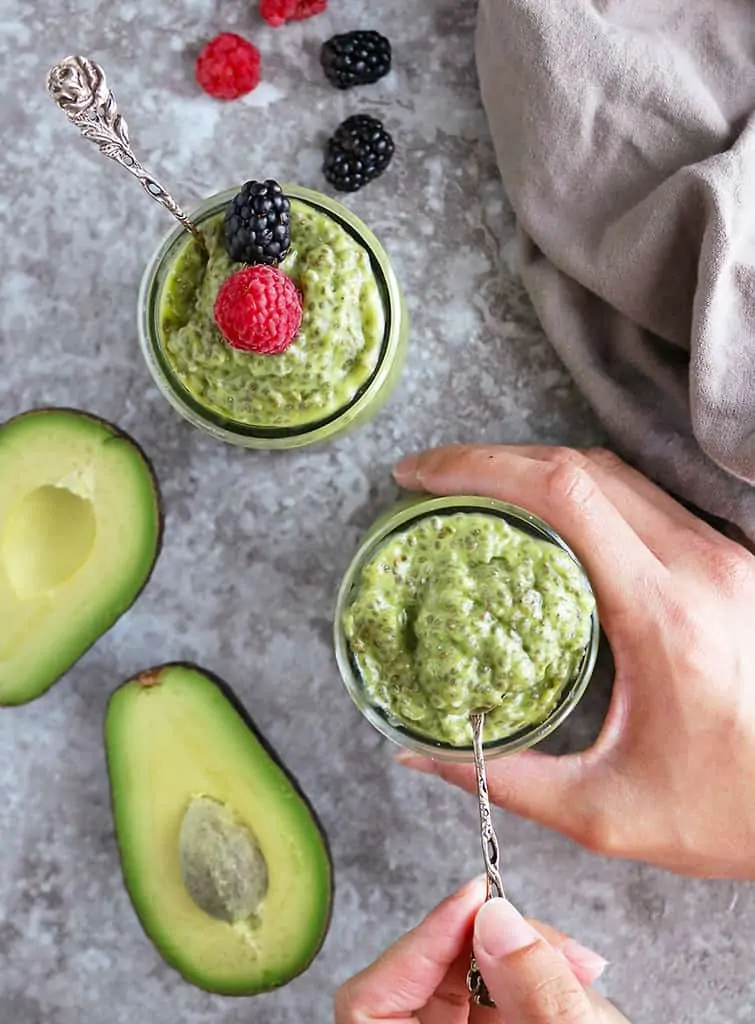 Is this Avocado Chia Pudding healthy?
This avocado chia pudding is loaded with protein, healthy fats, fiber, antioxidants, and omega-3s. Chia seeds are said to aid in the reduction of inflammation, high cholesterol, and triglycerides. It is a creamy, satisfying and healthy breakfast treat.
When should you eat avocado chia pudding?
You can enjoy this avocado chia pudding for breakfast, as a snack, or even dessert.
How do I thicken my avocado chia pudding?
If this pudding is too thin, you can add in a couple more tablespoons of chia seeds and let it sit for 2 hours to 8 hours so the chia seeds absorb the liquid. If you need to thin it, simply add a few tablespoons of milk.
How do you store this avocado chia pudding?
This pudding is best stored in a mason jar or in a glass container with an air-tight lid on it – in the refrigerator.
How long will this avocado chia pudding last?
This pudding will last about 3-4 days if kept in the fridge in an airtight container.
However, if no lemon juice is used, this pudding can turn a bit brown – so make sure to add in lemon to keep that lively green color popping.