This post is sponsored by the Plant-Based promotion at Publix. The opinions and text are all mine. Thank you for supporting the brands that keep this blog spinning.
Indulgently creamy, this Açai Chia Pudding is perfect for a quick breakfast or snack. Packed with wholesome ingredients, this plant-based pudding is a gluten-free and dairy-free treat that is absolutely delicious.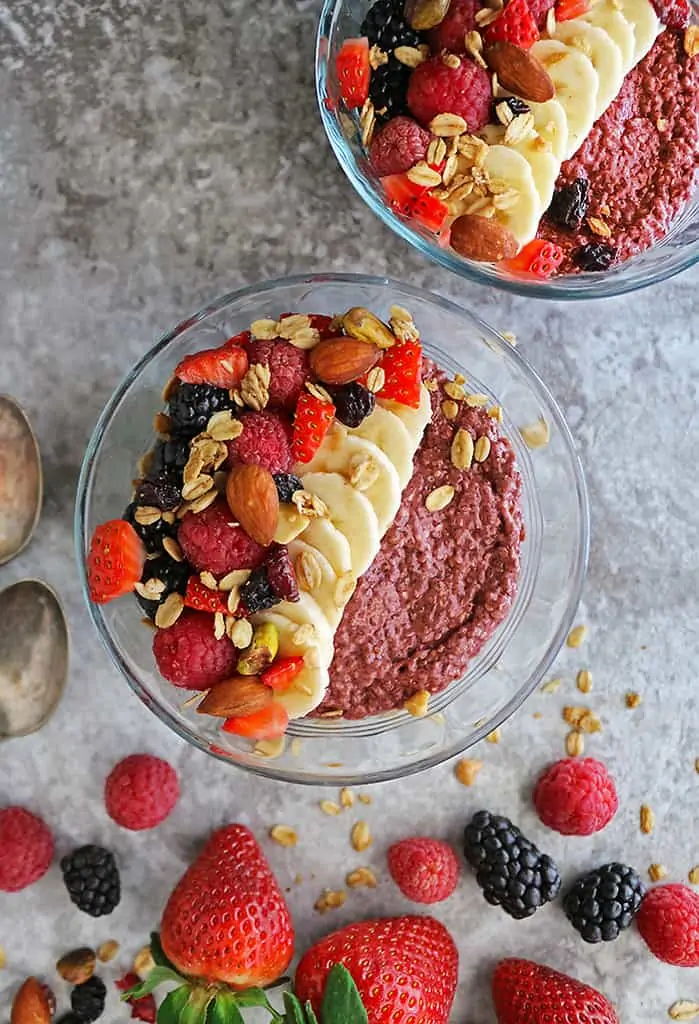 Made with only 4 ingredients, this Creamy Açai Chia Pudding is an absolute treat. I had this for breakfast the other day and felt like I was enjoying dessert for my first meal of the day.
With the weather warming up, chia pudding is becoming a favorite around our home. I usually like to mix together chia seeds with avocado, dairy-free milk, and some maple syrup for a quick and tasty breakfast the next day, unless I am enjoying a smoothie bowl.
But, recently I came across Sambazon Organic Açai Bowls in the frozen breakfast foods section at Publix and decided to elevate my chia game.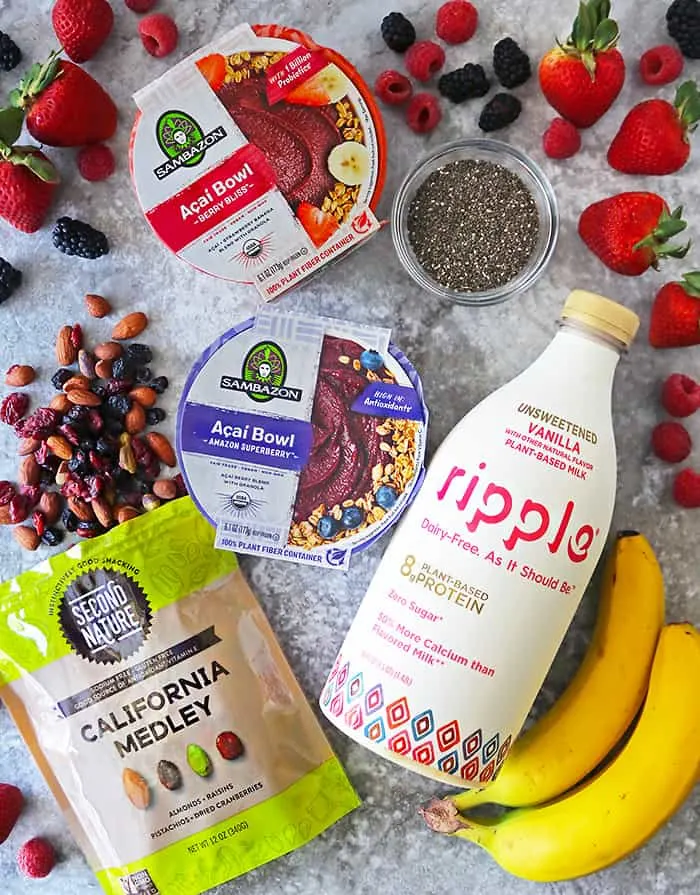 What are the ingredients to make this Creamy Açai Chia Pudding?
For this pudding, I used the following 4 ingredients:
• a Sambazon Organic Açai Bowl,
• some Ripple Dairy-Free Milk,
• maple syrup,
• and, chia seeds.

There have been times when I made this pudding and added in a splash of vanilla extract, almond extract, and a sprinkling of cinnamon – but these are optional add-ins.
I defrosted one Sambazon Organic Açai Bowl until it reached its liquid form. While I let it sit on my counter until it defrosted into a liquid, you can also defrost it quickly in your microwave. Just place the frozen Sambazon Organic Açai Bowl in your microwave (sans the wrapping) and microwave it for 20-30 seconds. Repeat until it is melted completely.
Then, I mixed the melted Sambazon Organic Açai Bowl contents together with some Ripple Dairy-Free Milk, maple syrup, and chia seeds. I set this aside in covered individual containers and the next morning, I had this delicious concoction to enjoy with my morning cup or two of coffee.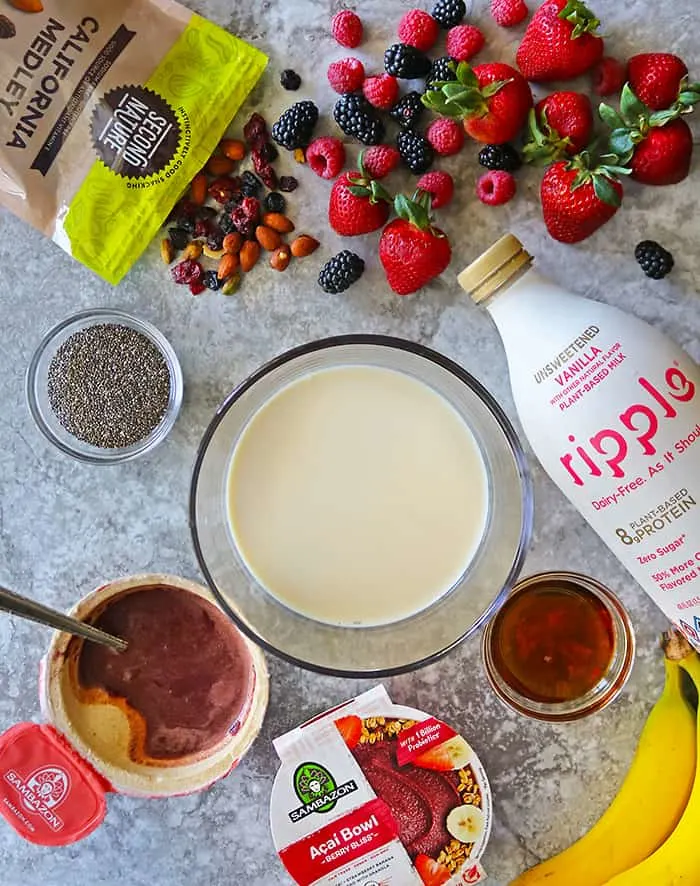 Why I Love this pudding:
There are so many reasons I love this pudding:
It is absolutely delicious,
It is dairy-free,
It is plant-based,
And, it is so incredibly easy to make!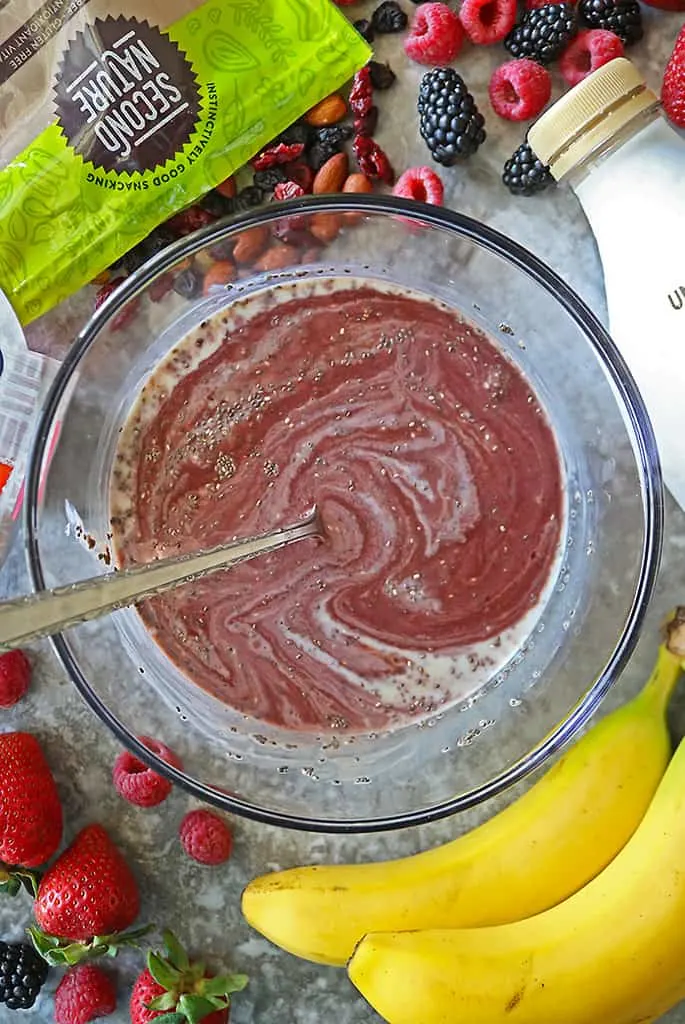 I love that I can make this Açai Chia Pudding in about 5 minutes in the evening and set it aside to enjoy the next morning. It is the perfect grab-and-go breakfast or snack or even dessert.
If I have a bit of time in the morning, I will top this Açai Chia Pudding with some chopped fresh fruit and some nuts like Second Nature Medley nuts.
However, if I am in a hurry, I spoon this into a mason jar and take it to work with me.
Sometimes, I double the quantity of ingredients and make a couple of extra bowls of this Açai Chia Pudding so my daughter and I can enjoy these for dessert.
By the way, have you tried Sambazon Organic Açai Bowls, or Ripple Dairy-Free Milk, or Second Nature Medley Nuts?
If you haven't and want to, or if you have and would like to stock up on your favorite flavors of these or any other plant-based products, there is a plant-based promotion going on at Publix between 6/5/21 – 6/18/21.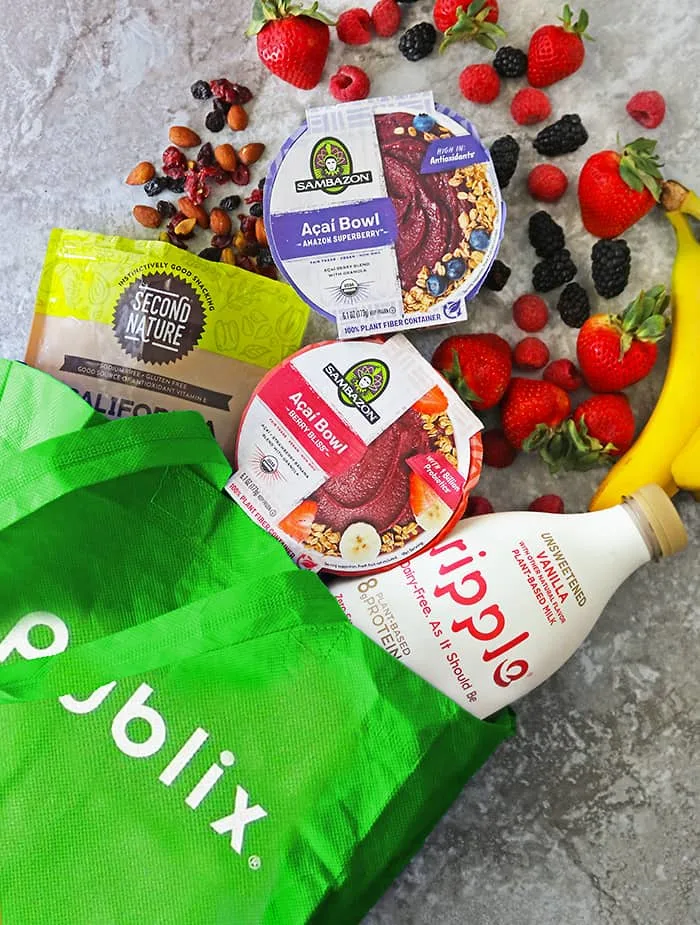 I have been trying to make more plant-based choices and these products make it so much easier for me to choose plant-based foods without sacrificing taste, quality, or convenience!
You can save on a variety of plant-based products, including the ingredients needed to make this pudding. Between 6/5/21 – 6/18/21 you can enjoy this Creamy Açai Chia Pudding often by taking advantage of the following discounts during the plant-based promotion at Publix:
$1.50 off any 2 Ripple Dairy-Free Milk 48-oz,
2 for $6 Sambazon Organic Açai Bowl 6.1-oz your choice
$4.99 Second Nature Medley 10–14-oz your choice.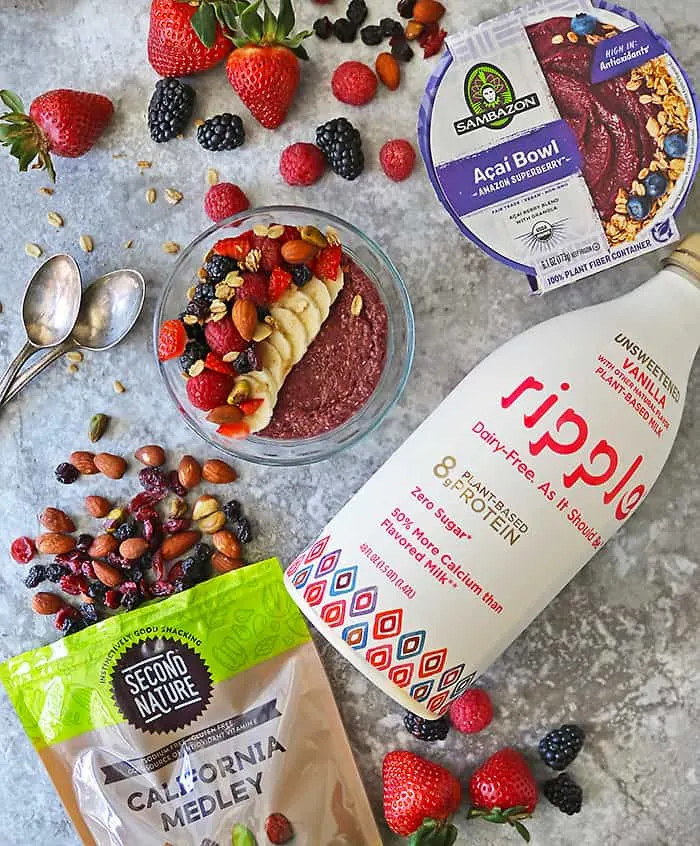 You can visit https://bit.ly/33uugdJ or head to your local Publix to grab the in-store 6/5/21 Extra Savings flyer to see a complete list of product savings included in the Plant-Based promotion.
However, if you don't see the Extra Savings flyer in the kiosk at the store's entrance, ask customer service for one. Then look for the at-shelf signs located throughout the store which highlight the savings during the promotion – so make sure you take advantage of these discounts between 6/5/21 – 6/18/21 at your local Publix store.
If you love chia pudding, then check out this cherry chocolate chia and purple sweet potato chia pudding.
I hope you enjoy this Açai Chia Pudding as much as my daughter and I do. If you make it and love it, please do tag @savoryspin on Instagram, Pinterest, or Facebook to let me know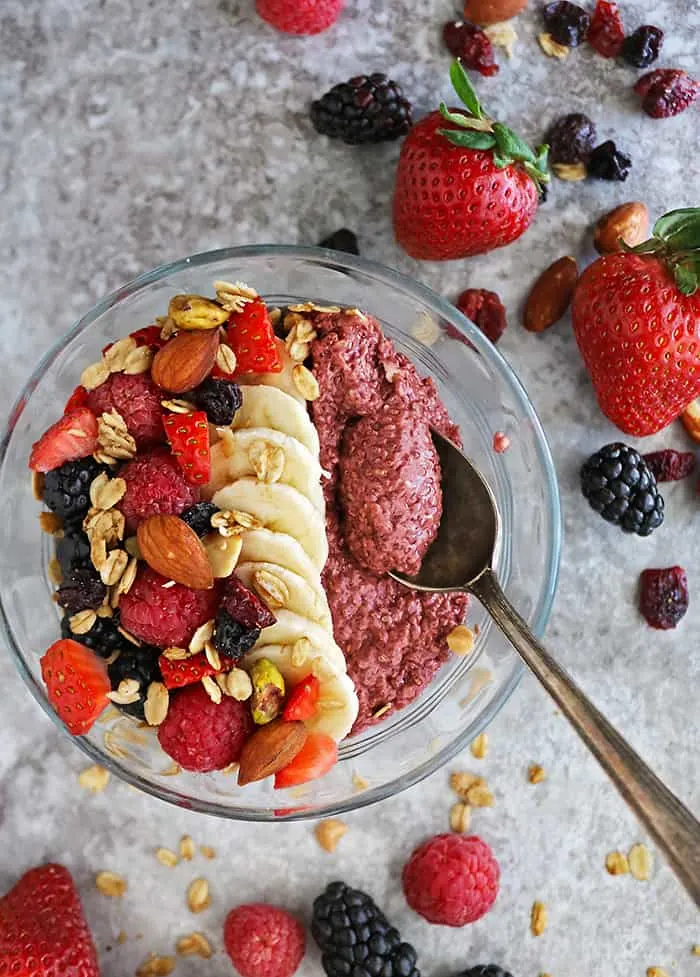 F.A.Q.'s
How long do chia seeds need to be soaked in the açai-milk mix?
The chia seeds need to soak for 20 minutes at least. However, I do like soaking them for 2 hours or overnight for the best texture.
Are chia seeds a good breakfast food?
Chia seeds are a powerhouse of nutrients, fiber, and protein, making them an ideal breakfast choice when soaked with dairy-free milk and served with a variety of fruit and nuts.
How long can this Açai Chia Pudding last in the fridge?
This Açai Chia Pudding will keep for about 5 days in the fridge in an airtight container.