Pair this healthy and delicious Roasted Red Pepper Dip with vegetables, chips or crackers at your next summer party or picnic – or use it as a marinade for chicken before you throw it on the grill, either way, your family and friends are in for a treat!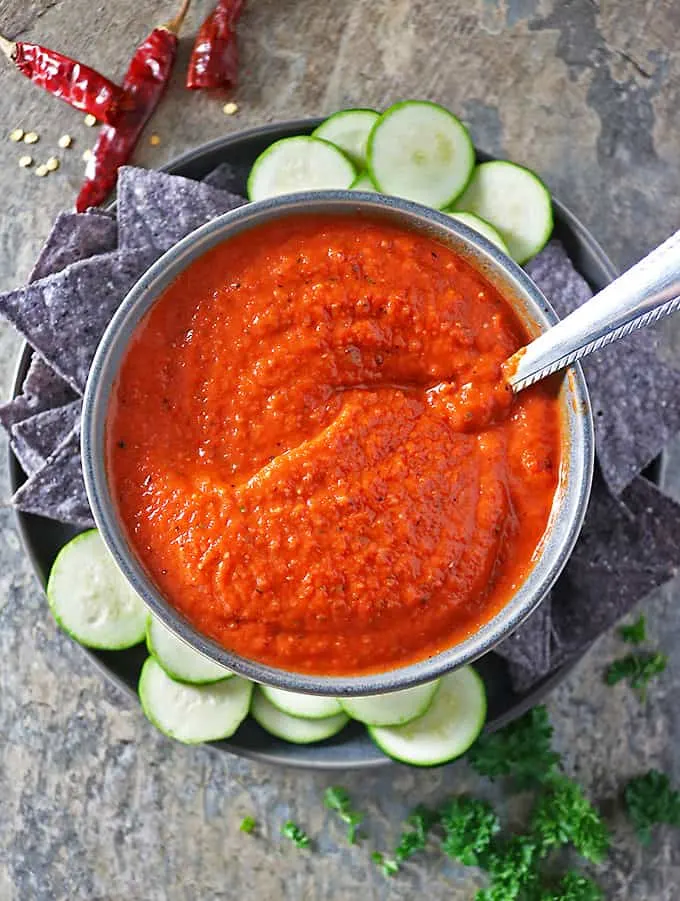 This roasted red pepper dip might take a bit of time to whip up – but it is so easy to make and it is so tasty, the time spent prepping the ingredients for it are well worth the effort.
---
My daughter says that I am the clumsiest person she knows.
I don't like to agree with her, but, for a few minutes last night, I found myself doing just that.I was in the middle of using a handheld mixer to blend up the red peppers I roasted for this dip when I felt my younger dog nuzzling my leg.
Well, I thought the bowl I was using was sturdy enough that I could rest the handheld mixer in it for a second and reach down and pet him…I also thought that I had turned the handheld mixer off completely before setting it down…Guess what, y'all? I thought wrong… on both counts!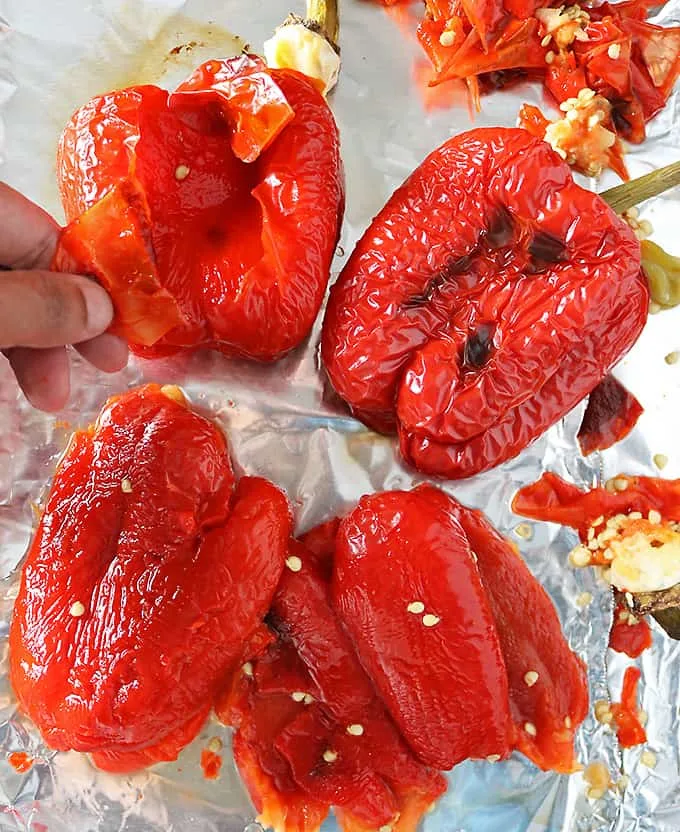 In the few seconds that it took my mind to register that I was wrong, that partially blended roasted red pepper dip had made its way all along the counter, the backsplash, and the opened cutlery drawer! I tried to salvage some of it…
In my shocked state, I decided to heat up the bit I salvaged so as to kill off any countertop bacteria and such, but, it started bubbling insanely in the pan and decided to shoot boiling droplets into the vicinity of my eyeballs!
At this point, my daughter was laughing uncontrollably, my dog was helping clean up everything he could reach – with his tongue, and I thought I had lost my eye!
So, I decided enough was enough and I threw in the towel – literally! That towel did clean up A LOT more than the paper towels I first used.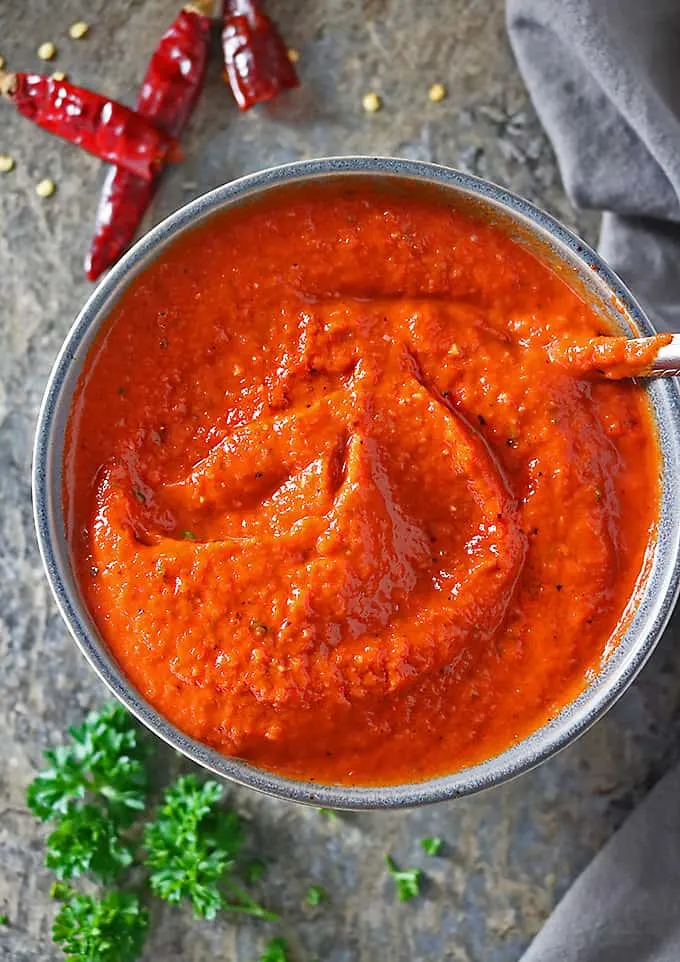 After I realized my eyes were just fine, and, being the glutton for punishment I am, I decided to have another go at whipping up this Roasted Red Pepper Dip.
I might have managed to convince y'all that this was my first attempt at making this dip, but, I've made this dip so many times before without much ado! I guess last night just wasn't my night…
Though, the second time around, everything worked like a charm and we had this dip to snack on with some veggie chips, blue corn chips and quesadillas!
Roasted Red Peppers are so darn TASTY!
I find roasted red peppers to be so darn tasty especially when paired with some caramelized onions, garlic, smoked paprika, and a bit of chili powder.
Usually, I just roast the red peppers whole (though there are several methods like this that say slicing them and roasting them work better). I, then, peel them, blend them up with caramelized onions, garlic, smoked paprika and a bit of chili powder and boom!
A tasty dip is born!
Sometimes, I've even used this dip as a marinade for chicken tenderloins as well as cod. Marinating chicken or fish in it for about 30 minutes before grilling it makes for some tasty eats!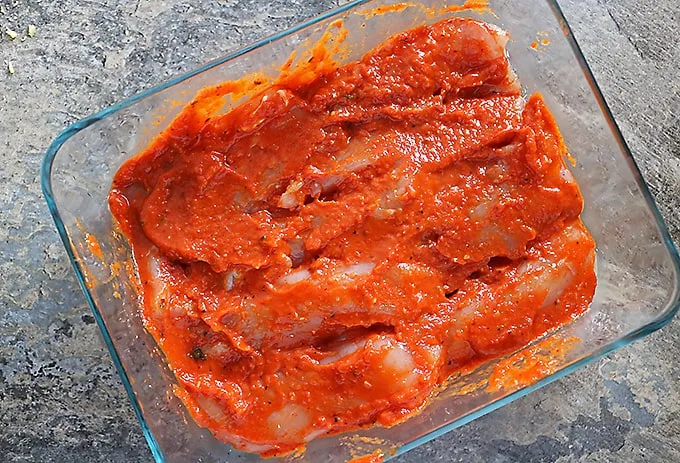 This Roasted Red Pepper Dip can be stored in the refrigerator for up to 5 days, and, it does seem to get better as it sits. I hope you get to serve this Roasted Red Pepper Dip at your next pool party or summer hangout.

It takes just a few seconds to blend up after the peppers have roasted. If you are using a handheld mixer to blend this up, make sure you don't casually lay it down, plugged in!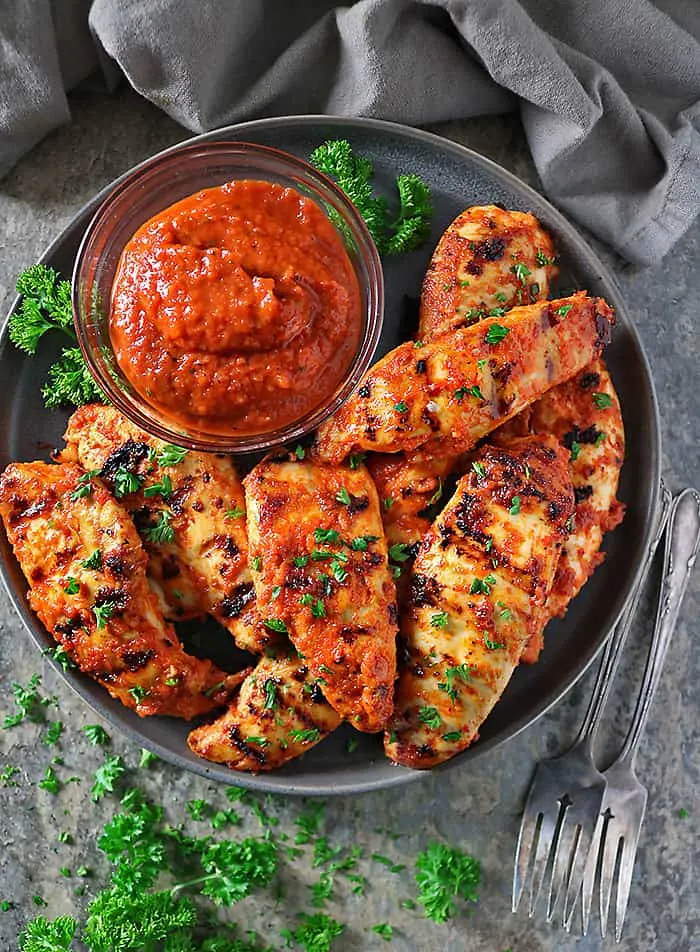 I would love to know if you've make this recipe or any other recipe from this blog so please do rate the recipe and let me know your thoughts on it in the comments below.
You can also FOLLOW ME on FACEBOOK, TWITTER, INSTAGRAM and PINTEREST to get recipe ideas and inspiration.
Other Delicious Roasted Red Pepper Concoctions from around here include:
• Roasted Red Pepper Red Wine Dip
• Roasted Red Pepper & Garlic Hummus
• &, Roasted Red Pepper Eggplant Dip
Looking for more dips to add to your get-togethers? Then check out this 6 Ingredient Black Bean Dip!
©Savory Spin All content and images are protected by copyright. Please do not use my images or recipe without my permission.