Sitting on a cinnamon and cardamom flavored almond base, this easy, gluten free, mini, Air Fryer Cinnamon Cardamom Cheesecake is deliciously creamy ~ serve it up with fresh berries and whip cream for a treat your family and friends will love.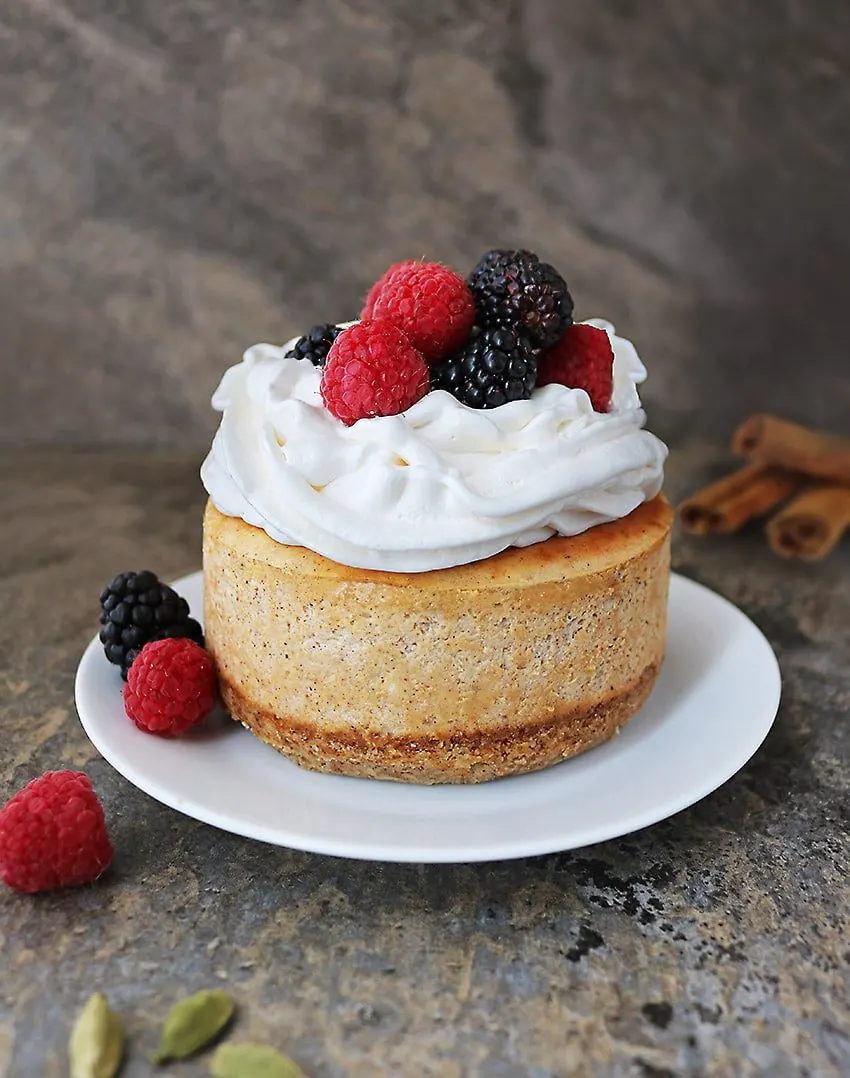 There have been many times in recent years when I have challenged the limits of my lactose intolerant insides by indulging in a slice of creamy and decadent cheesecake.
Most times that slice of cheesecake has come from a store or a restaurant or has been one I tried at a friend's home. Speaking of restaurant cheesecakes, have y'all seen, or tried, The Harvard by New York's Spot Dessert Bar?

The Harvard basically looks like a plant in a pot, and is described as a layered cake, cheesecake, cookie crumble built into a Terracotta pot and served with a sprig of parsley and "water" (tea) to pour over it. If you have tried it, I so want to know your opinion.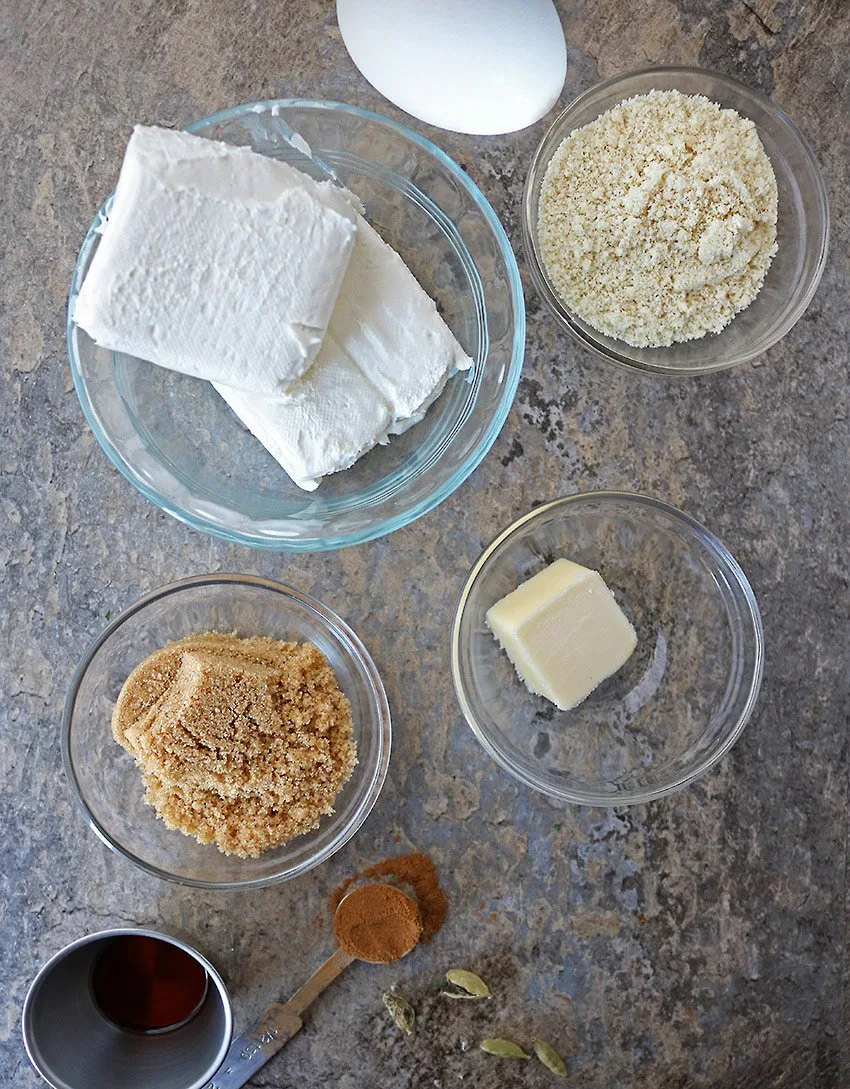 As much as I love cheesecake, I've never made one of my own. I've made this strawberry/blueberry and this chocolate flavored no bake cheesecake-like cakes with cashews. I even tried making this cheesecake with beans. But, mental issues beyond my comprehension, held me back from trying an actual cheesecake made with cream cheese.

At least, that was until I got my air fryer.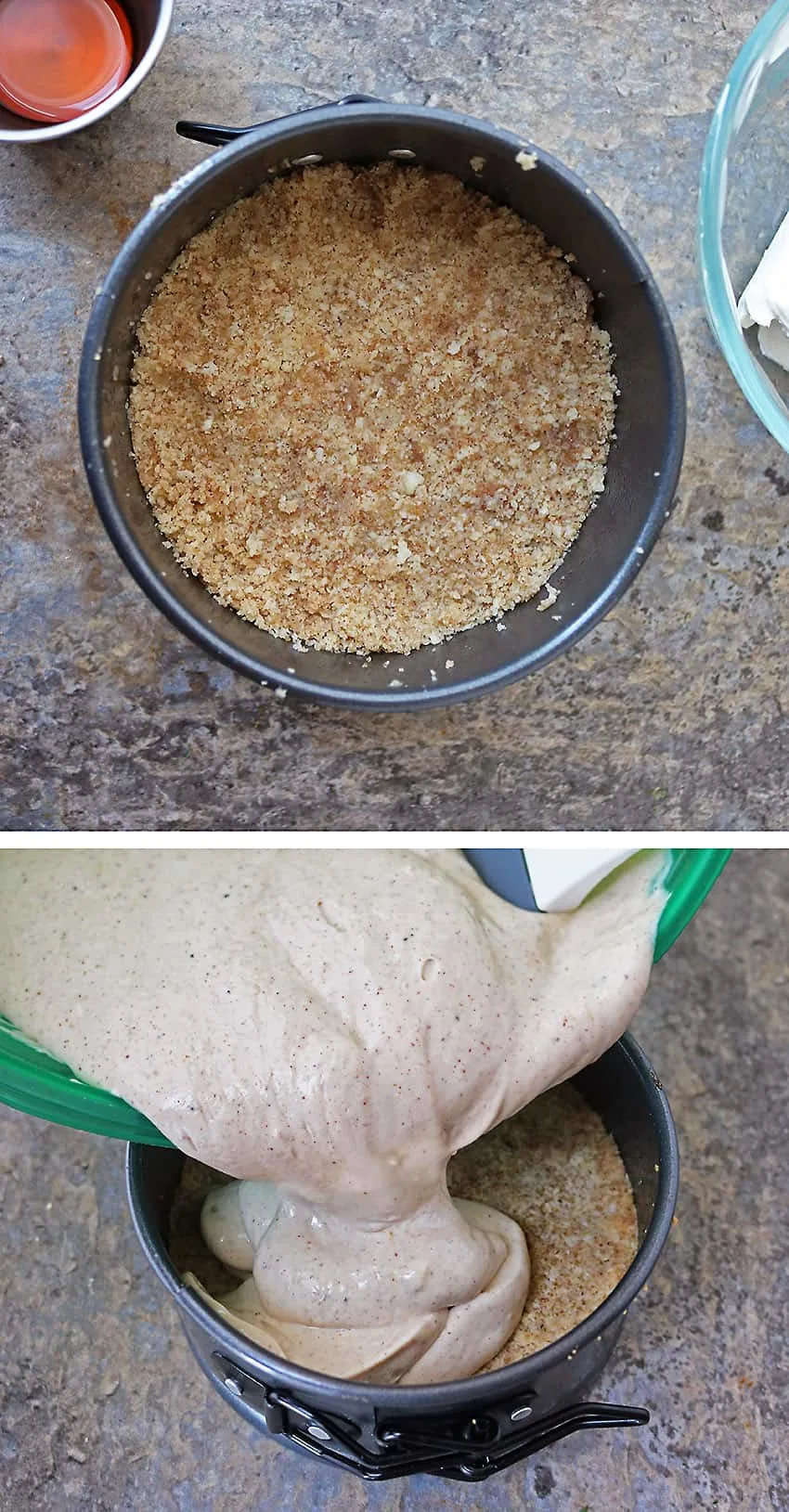 I am still in the honeymoon stage of my love affair with my air fryer. It has me experimenting with whipping up cheesecakes and cakes of all sorts! Now, they haven't all been a success. There was this one grain free chocolate orange cake I tried to make that was a total disaster.

But, the beauty of the honeymoon stage of a love affair (at least for me) is that giving up isn't really an option.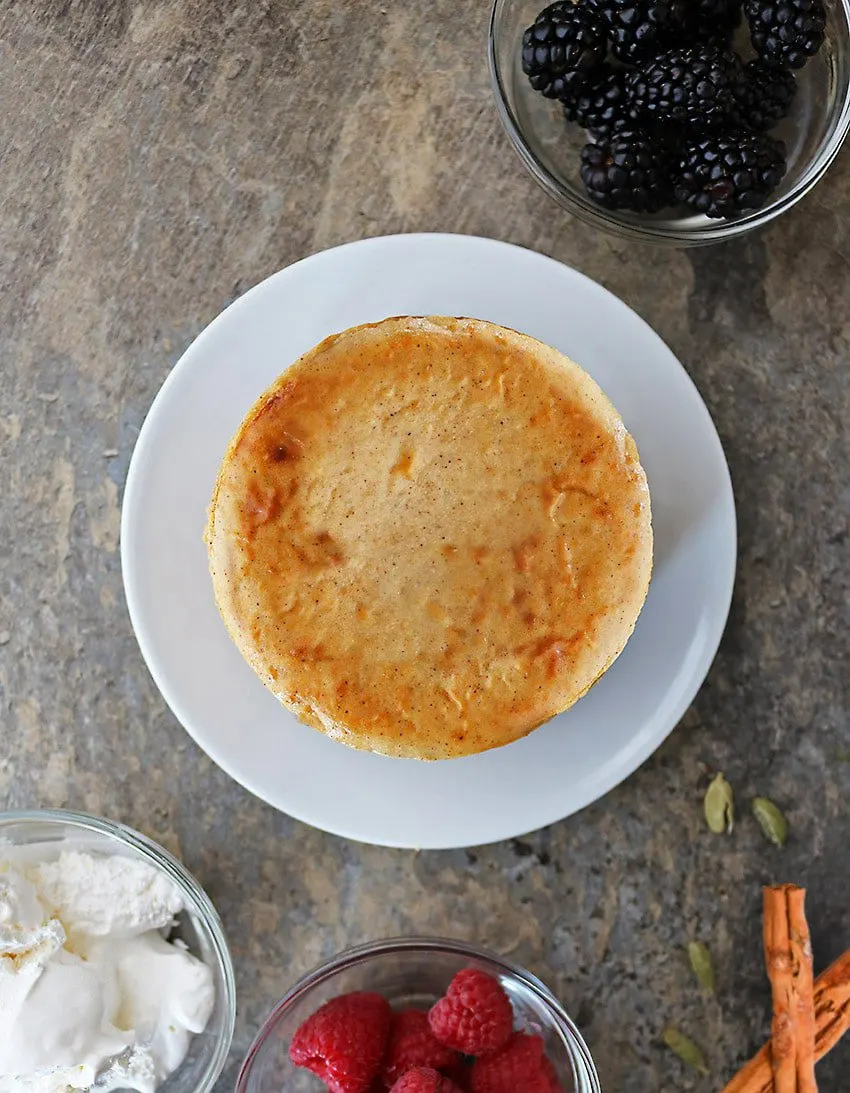 After that chocolate orange cake failure, I decided to whip up an easy vanilla cheesecake. I went with a very basic recipe of cream cheese, sugar, egg, and vanilla on an almond crust. At first, I set the temperature of my air fryer way too high and the cheesecake was a tad bit burnt. Then, I didn't set it high enough and the cheesecake turned out more like pudding. And then, I hit the sweet spot.
I find plain cheesecakes a little too bland, so I decided to whip up a cinnamon and cardamom one to share on here. This cheesecake was so creamy on the inside – so flavor packed and so gone in 30 minutes after it was served. This is a mini cheesecake (and technically, it holds f.o.u.r. servings – all the same, my daughter and I annihilated it after these pictures were taken.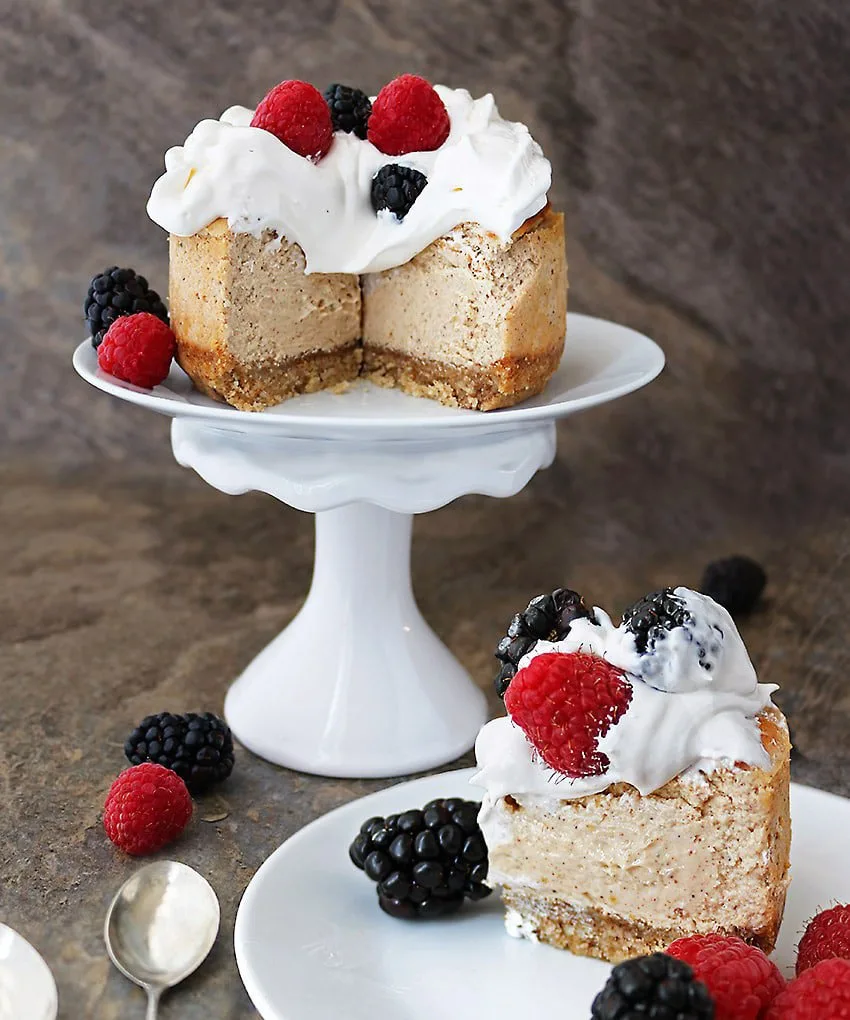 Tips to making Air Fryer Cheesecake
Make sure to use a spring form pan – it makes taking the cheesecake out so much easier.
Line the bottom of your spring form pan with parchment paper – again, this helps dislodging the cheesecake from the pan and keeps the cheesecake from over baking on the bottom.
Before placing your cheesecake in the air fryer, make sure that there's room for it to expand – in other words, do not fill the spring form pan upto the top with the cheesecake filling.
While I used cinnamon and cardamom to flavor my cheesecake, please feel free to experiment with your favorite spice-mix like pumpkin spice or nutmeg or anise.
After you take your cheesecake out of the air fryer, cool it in the fridge for at least 3 hours before trying to remove it from the spring form pan.
I so do hope you give this easy, flavor-packed, Air Fryer Cinnamon Cardamom Cheesecake a try soon and then please do let me know what you think of it.