Deliciously satisfying, this baked pumpkin oatmeal is perfect for a cool, fall or winter weekend morning. Made with 12 pantry staple ingredients, this bake is gluten-free and refined sugar-free.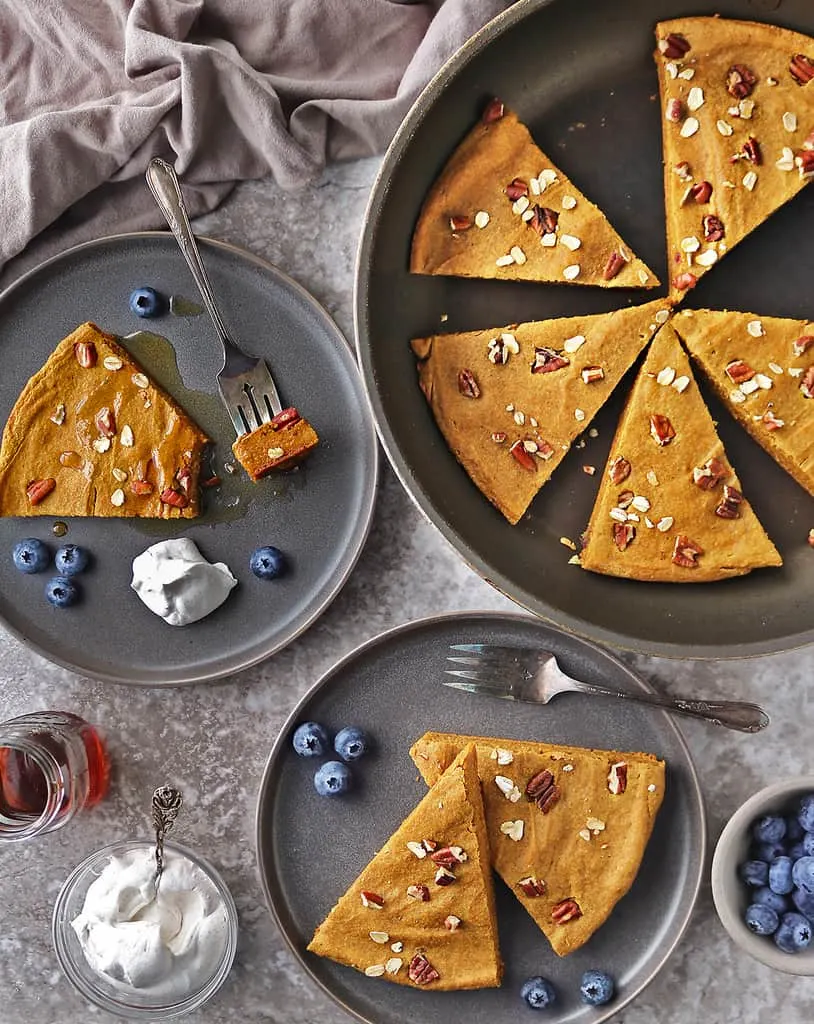 Baked oatmeal is quickly becoming a favorite for breakfast in my home. This is because it is so incredibly easy to make.
To make baked oatmeal I usually blend up oats with some dates, a few aromatic spices, baking powder, coconut oil, almond milk, salt, and some eggs. Sometimes I add in canned 100% pure pumpkin puree too. Then I bake up the batter and boom! A tasty spin on baked oatmeal.
If you are looking for a nutritious way to start off your weekend – then you are at the right recipe.
This is a refined sugar-free and gluten-free breakfast dish that is flourless. The only "flour" used in this is ground-up gluten-free rolled oats. Rolled oats are also referred to as old-fashioned oats. Rolled oats/old-fashioned oats are simply cleaned and hulled oat grouts (oat grain) that have been steamed and flattened.
This tasty and wholesome breakfast bake is so easy and quick to make.
And, if you are making this for 1 or 2 people, you can have leftovers for a few days. Simply refrigerate the leftovers and heat them up before eating. However, leftovers are not always guaranteed.
Why do I love this healthy, easy, breakfast dish?
I adore this baked pumpkin oatmeal as it is:
• so tasty,
• so filling,
• gluten-free,
• refined sugar-free,
• aromatic,
• so easy to make,
• a healthy breakfast option, and
• it's made with 12 ingredients I can usually find in my pantry.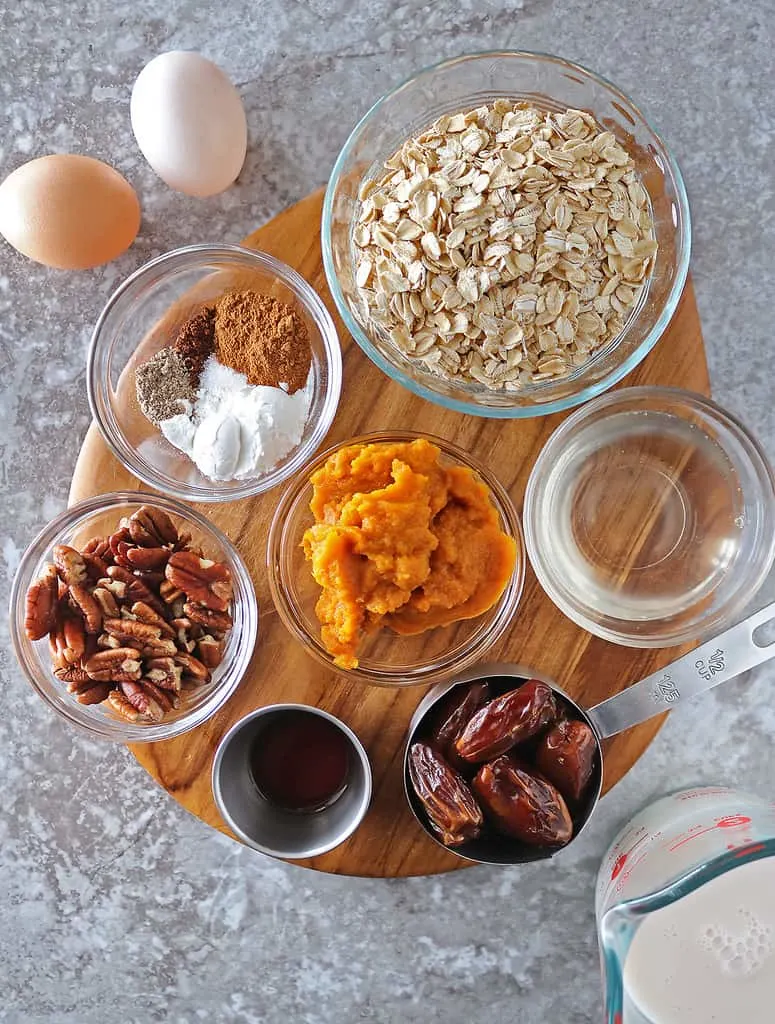 What are the 12 ingredients to make this baked pumpkin oatmeal?
The 12-ingredients needed to make this easy, tasty breakfast dish are:
old fashioned oats,
dates,
baking powder,
salt,
eggs,
milk,
cinnamon,
cloves,
cardamom,
coconut oil,
vanilla extract, and
100 % pure pumpkin puree.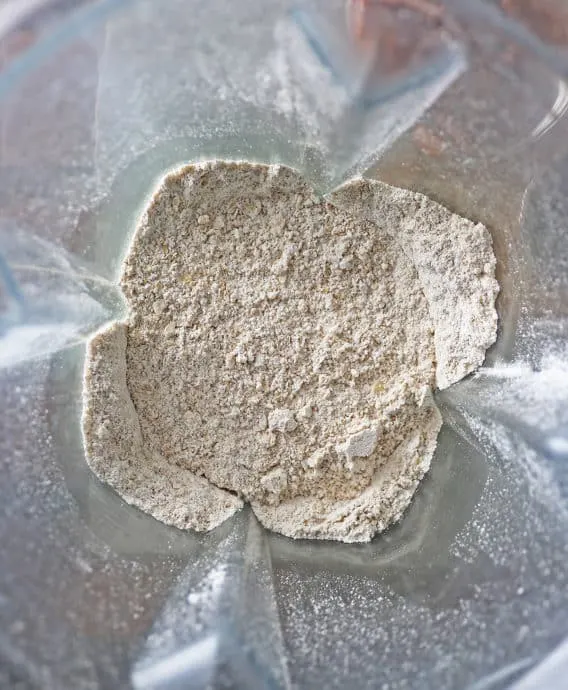 Once you gather all the ingredients together, it is just a matter of adding them to a blender, letting the blender do its job, and baking the resulting batter until it is ready to enjoy.
I simply love starting my weekend mornings with a slice or two of this baked pumpkin oatmeal. Breakfasting on this has me full and satisfied for hours.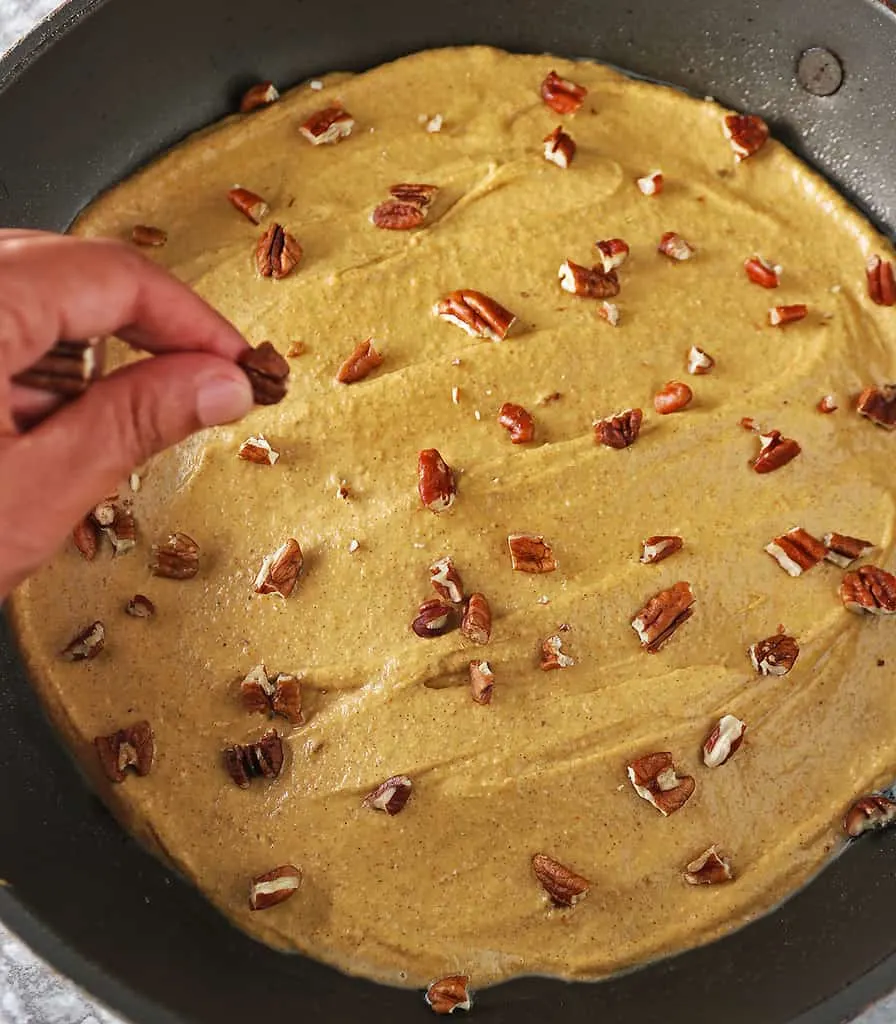 Which brings me to this little story. As a new empty-nester, I felt I needed to get back to doing some of the weekend activities I used to love. One of those activities is hiking.
Before my daughter moved away for college, we would often hike some amazing trails up in the North GA mountains. As most of these trails have bear warnings, I was not too comfortable embarking on these hikes by myself.
So, I joined a hiking group on meetup. This group usually embarks on hikes that are 8-10 miles. Well, the very first time I joined this group on a hike, I had breakfasted on a couple of slices of this baked oatmeal with some blueberries and maple syrup.
And, I gotta say, I stayed full until the hike was over around 3.30 pm ~ without any hungry stomach grunts and groans during the whole hike!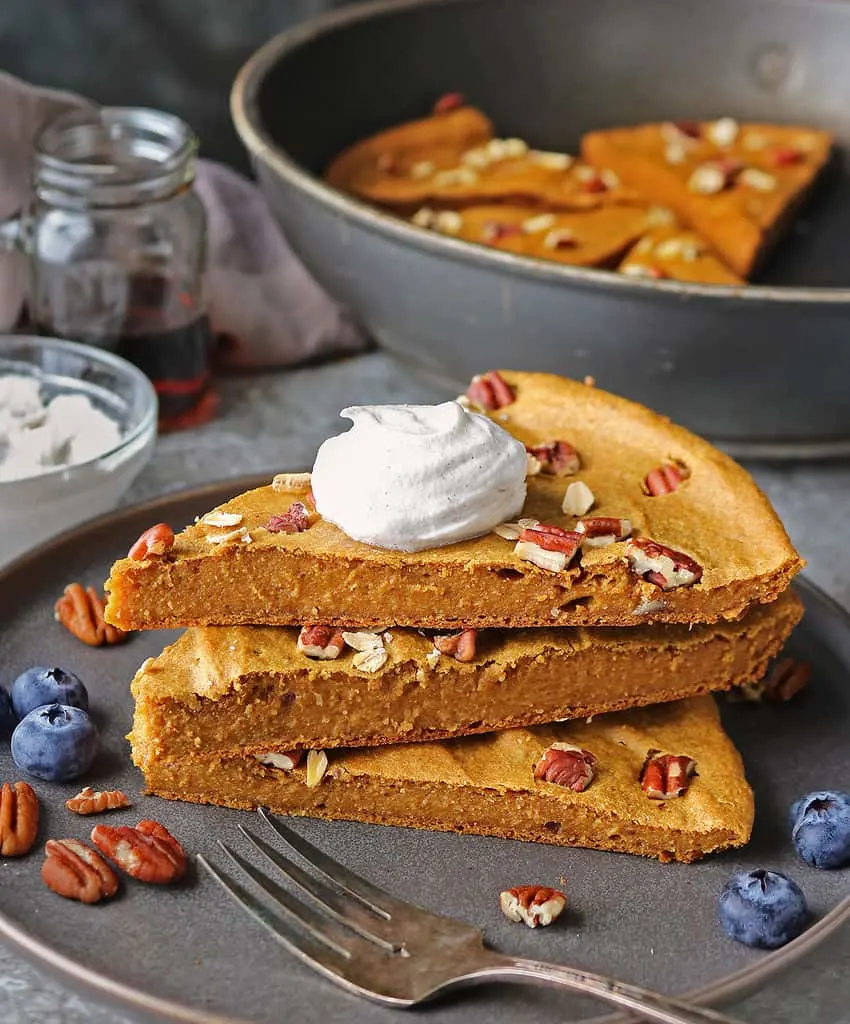 Substitutions
Dates: I have made versions of this baked pumpkin oatmeal more times than I can count on my two hands. I usually use pitted dates to sweeten this breakfast dish. That is one of the reasons why it looks a bit dense. If you are not a fan of dates or don't have any lying around, then dates can be substituted with an equal quantity of brown sugar. However, brown sugar is refined sugar and this dish would not be considered refined sugar-free then. With that said though, using brown sugar would make this have a bit more rise to it.
Coconut oil: I also used melted coconut oil in this. The coconut oil does not seem to impart a strong coconut flavor to this. But, it can very easily be substituted with canola oil or any other light oil you may have on hand. I would caution you not to use extra virgin olive oil. I used it once and the result was too greasy and too "olive"!
Pumpkin puree: Other than dates and coconut oil, I have also substituted the pumpkin puree. There have been times when I used an equal amount of apple sauce. There have also been times when I used an equal amount of grated beets. The baking powder seems to interfere with the coloring of the beets when they bake and the result is never a too red option. But, it does bake up pleasantly pink.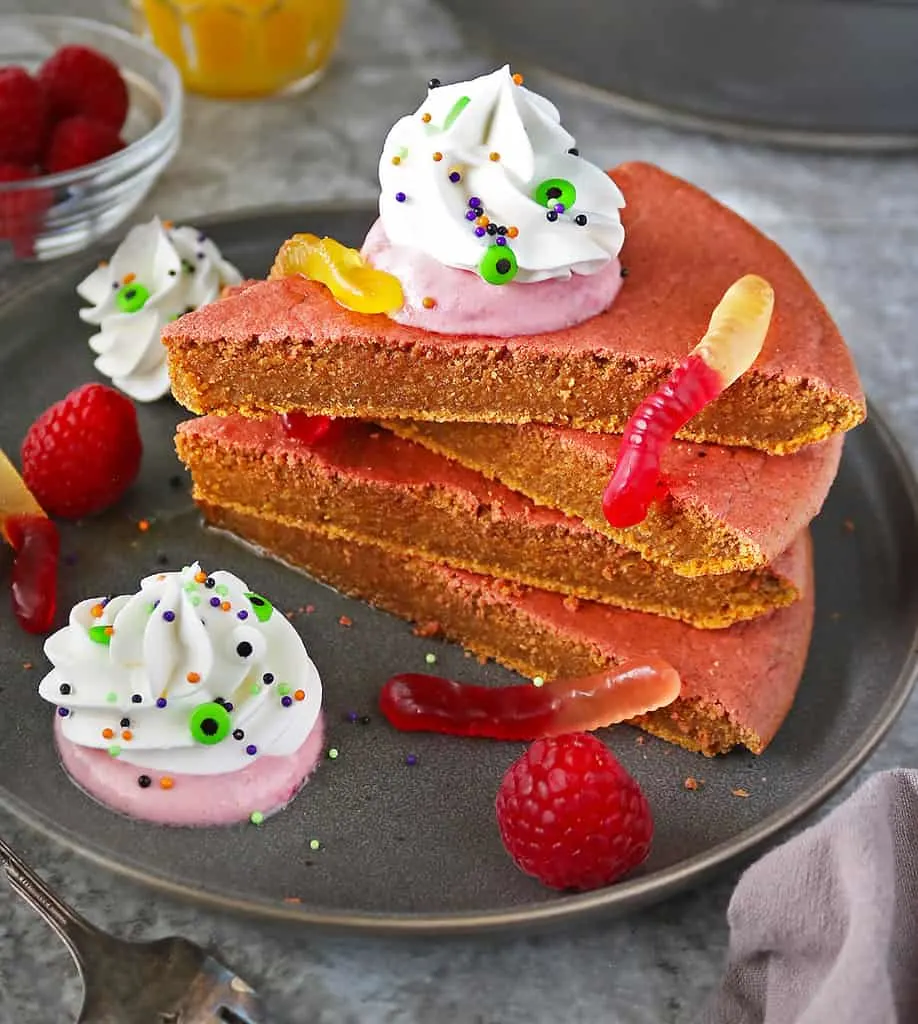 With Halloween coming up next Sunday, this baked pumpkin oatmeal would be a fun dish to make with your kids. If your kids love measuring and pouring ingredients, then that's the majority of the prep of this dish. Measure and pour ingredients into a blender.
Then blend and bake and you have a wholesome and tasty breakfast to start the day with. Instead of the pumpkin, you could even sneak some beets into it.
Then, simply decorate it with Halloween sprinkles, gummy worms, and strawberry whipped cream. By the way, I made the strawberry whipped cream by mixing a low-sugar strawberry preserve I had with some dairy-free whipped cream.
Other Gluten-free Oatmeal Dishes
By the way, if you love oats, I have quite a few "oatey" treats on the blog for you, such as:
• these oatmeal pancakes,
• this oatmeal yule log (say what?),
• these oatmeal cookies, and
• this oatmeal risotto.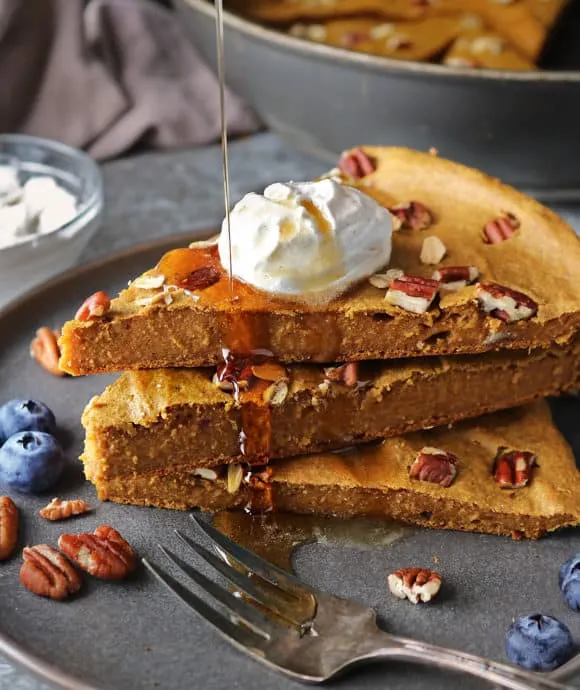 I hope you and your family give this easy, baked pumpkin oatmeal a try. It is perfect fr a cold fall or winter morning. And, when you make it, please do let me know in the comments below, what you think of it.