Made with just twelve ingredients, these Easy Eggless Oatmeal Chocolate Chip Cookies are a delicious way to chase away that afternoon slump and sure to be a favorite eggless cookie recipe with you and your family.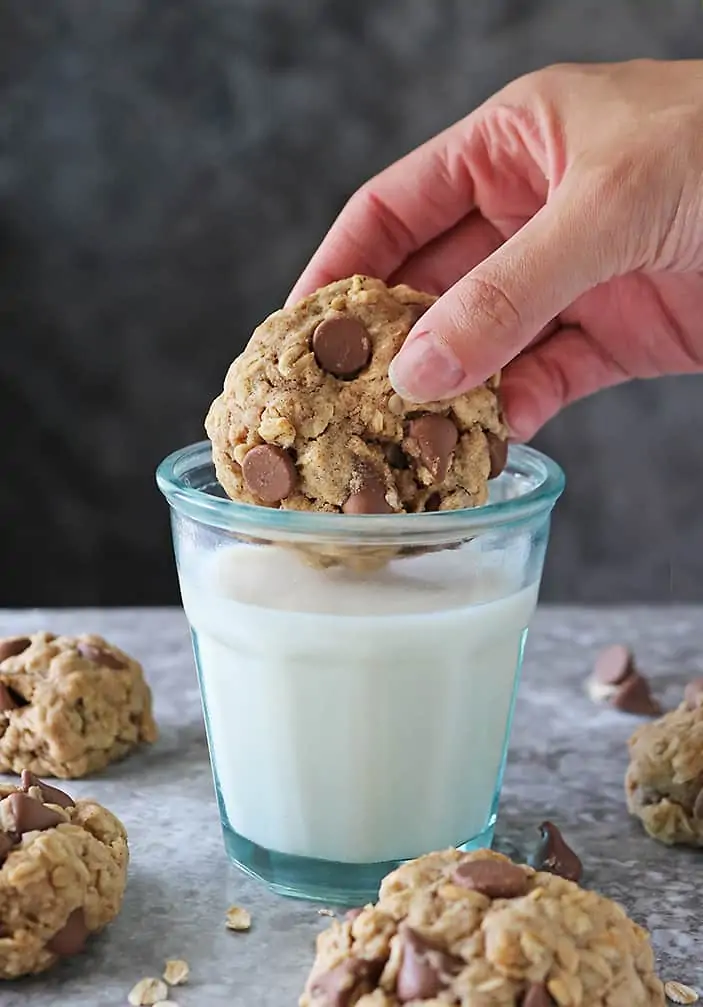 With hints of cinnamon and vanilla and packing a delightfully hefty chocolate punch, these cookies are so incredibly tasty. I am so glad that the quantity of ingredients in this recipe result in a small batch of these eggless cookies. Because I don't trust myself around a LARGE batch of these!
Currently, we have 3 eggless cookie recipes we rotate through. There are those almond cookies, those pumpkin chocolate chip cookies, and now these oatmeal chocolate chip cookies.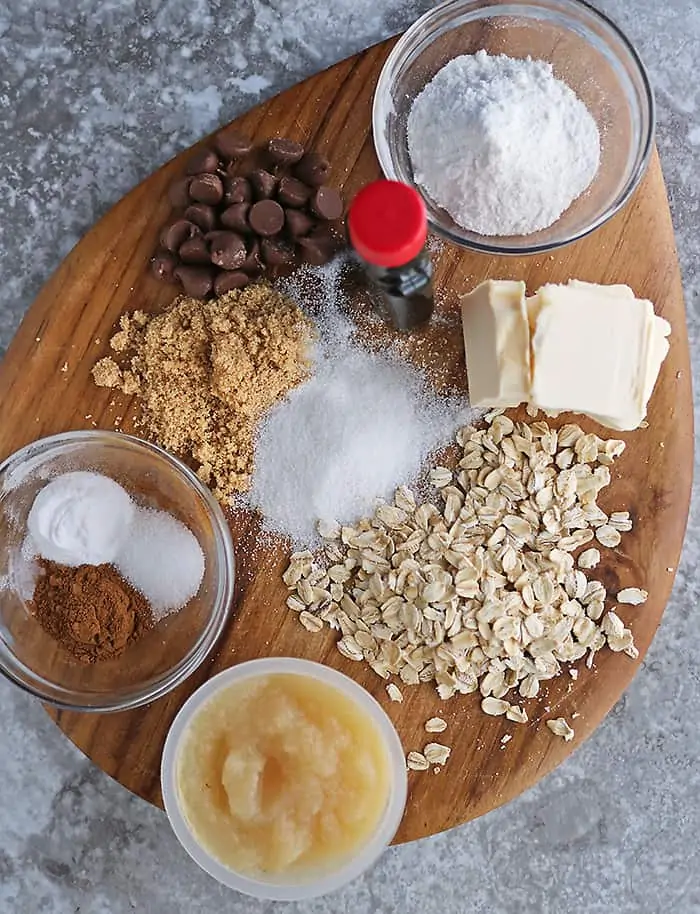 Why eggless cookies?
Well, my daughter and I are trying to be more plant-based and so we have been trying to enjoy some of our favorite treats like cookies, cupcakes, and waffles without eggs.
Some Challenges to baking without eggs:
One of the challenges I have noticed in baking eggless treats is I have to dial back the amount of sugar I use. For example, I cannot use the same amount of sugar I use when making these Orange chocolate chip cookies as when I make an eggless version of them.
Yet another challenge I have encountered is finding a good leavening agent and binder. I have found that sometimes a quick reshuffling of the quantity of ingredients is all that's needed when leaving out eggs from a recipe. Other times, adding in a flax egg or lemon juice seems to do the trick.
While either white vinegar or apple cider vinegar are often used in eggless treats as they are said to enhance the flavor and the leavening of baked treats, I am not a huge fan of using them, especially when baking cookies. By the way, if you are looking for a beginner's guide to vegan baking, this one has some pretty good suggestions.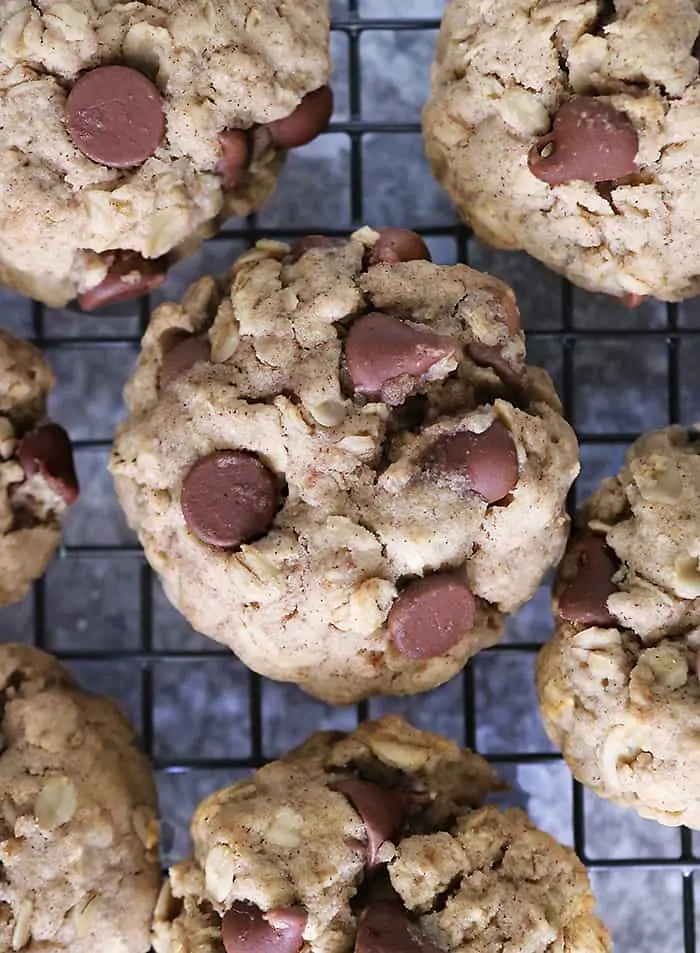 With these cookies as well as the almond ones and the pumpkin chocolate chip ones, I did not use any vinegar. Vinegar is said to result in light and fluffy baked treats. And, light and fluffy weren't what I wanted these cookies to be.
How do you make oatmeal chocolate chip cookies from scratch without eggs?
These are some of our favorite cookies. And, we make them OFTEN! This is a failsafe recipe that gets a workout in our kitchen!
To make these cookies, I use the following 12 ingredients:
butter (vegan)
applesauce
vanilla extract
brown sugar
white sugar
rice flour (all purpose flour can also be used)
old fashioned oats
baking soda
baking powder
cinnamon
chocolate chips
salt
After you gather the ingredients, all you have to do is melt the butter in a large microwave safe container, mix all the ingredients together in the same bowl. Form the dough into balls and refrigerate them until you are ready to bake them!
I use applesauce as a binder and a combination of baking soda and baking powder as the leavening agents.
I make sure to leave the dough to rest in the fridge. I have noticed that refrigerating the dough overnight or at least 3 hours helps the cookies bake up less crumbly.
Refrigerating the dough also helps the cookies not spread out while they bake, resulting in a super thick cookie.
On those times when I have wanted a more chewy cookie, I have baked these cookies a couple of minutes longer. The result is a tall eggless oatmeal chocolate chip cookie with a very slightly chewy exterior and soft interior.
Substitutions:
While I used Vegan Butter to keep these cookies plant-based, you can use regular butter if you are only trying to avoid eggs.
I used rice flour when making this batch of cookies. But, I have also made these cookies with all-purpose white flour on several occasions.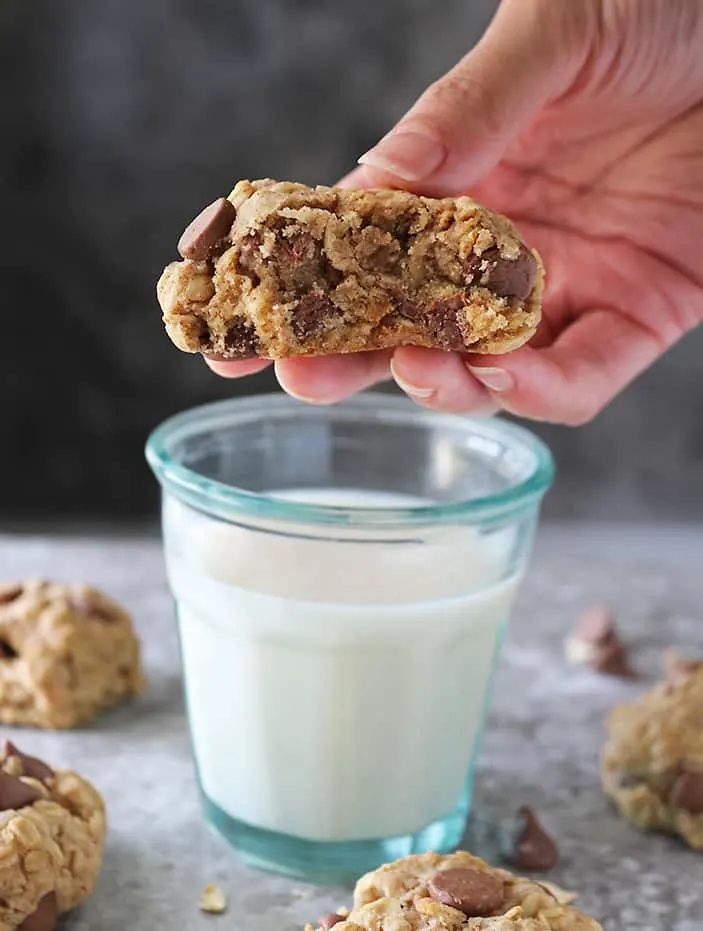 My daughter and I love these cookies as they are:
• So tasty,
• So thick,
• So soft,
• Gluten-free
• Vegan
• And, they have super sugary powers at slaying an impending afternoon slump!