With a slightly crisp outer layer and a deliciously soft middle, these Gluten-Free Lemon Blueberry Muffin Tops are packed with lemon zest, cardamom, and plump blueberries. Also dairy-free, these baked goods are delicious for a weekend breakfast with a cup of your favorite coffee.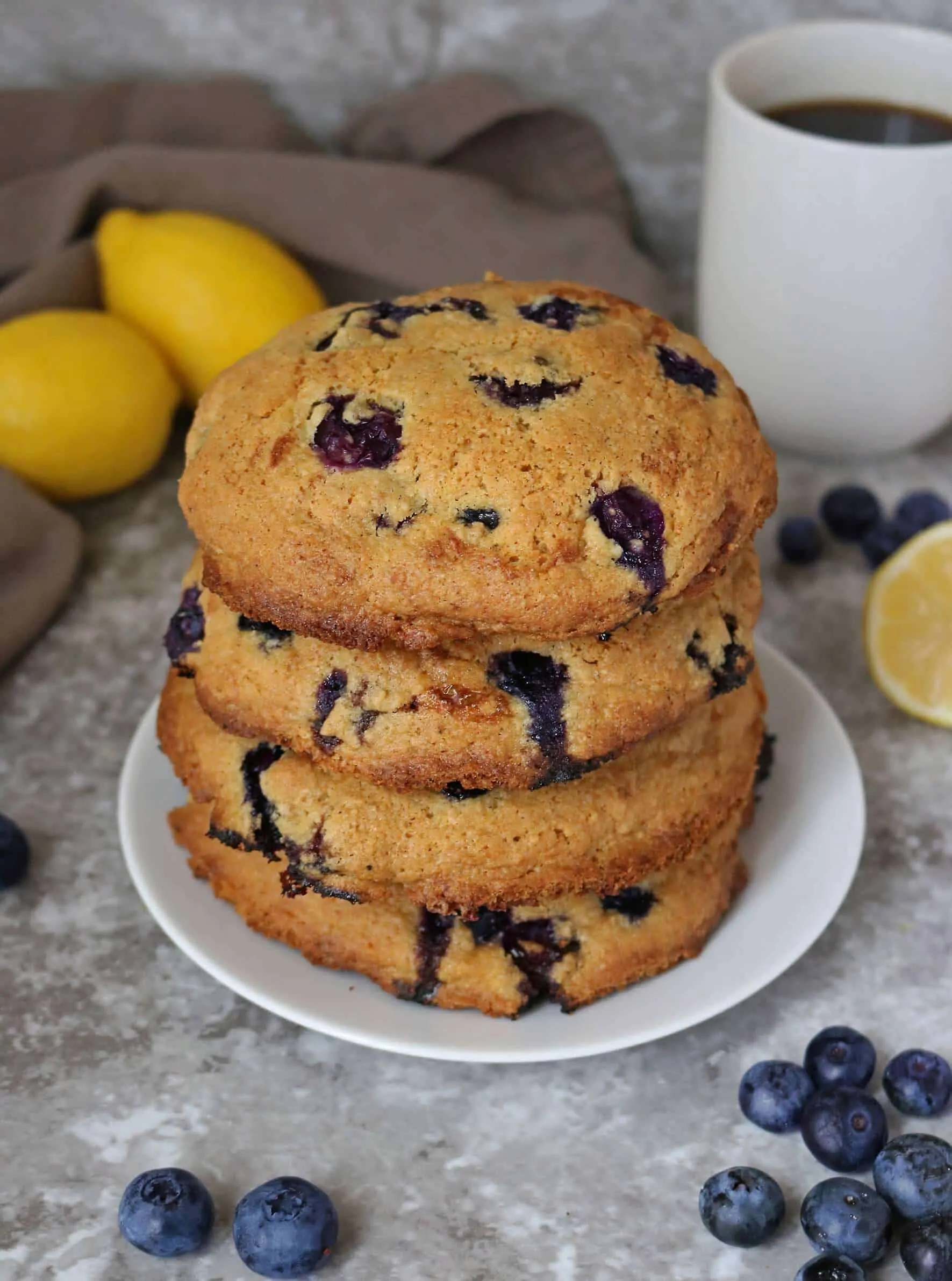 **This recipe was first published on August 5th, 2019. It has been updated and is being republished today.**
Estimated reading time: 6 minutes
These Lemon Blueberry Muffin Tops are gluten-free and lactose-free ~ but not taste-free. I love to make these easy muffin tops on those days when I don't want to spend too much time flipping pancakes for breakfast. In order to enjoy these, all I have to do is mix and bake, and boom – breakfast is ready!
---
By the way, do you remember that Seinfeld episode that involved Elaine and muffin tops?
If I recall correctly – in this episode, Elaine shared her love of muffin tops (the baked variety) as well as opening a muffin-top only store, with her boss.
In that episode, in order to get those muffin tops, whole muffins were baked, and the muffin top was pulled off the bottom or "stump" of the muffin. Of course, no one wanted the stumps and I don't blame them.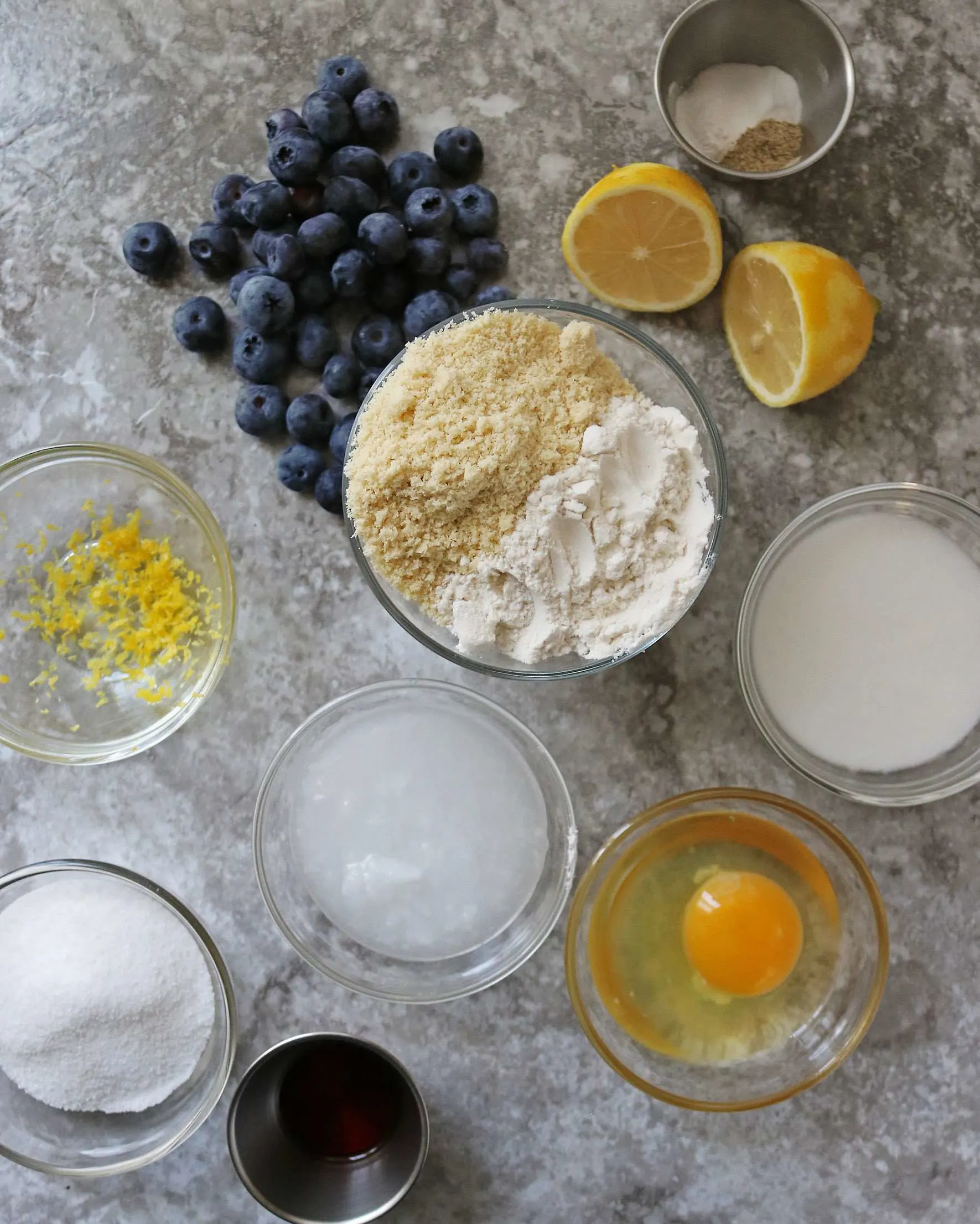 The muffin top is my favorite part of a muffin…
There have been way too many times when I have picked at a bakery/store bought muffin, nibbled off the top of it and left the stump behind for another day (that usually doesn't come).
Well, recently, I stumbled on a recipe video for making Lemon Blueberry Cheesecake Muffin Tops with a streusel topping. And, that got me thinking.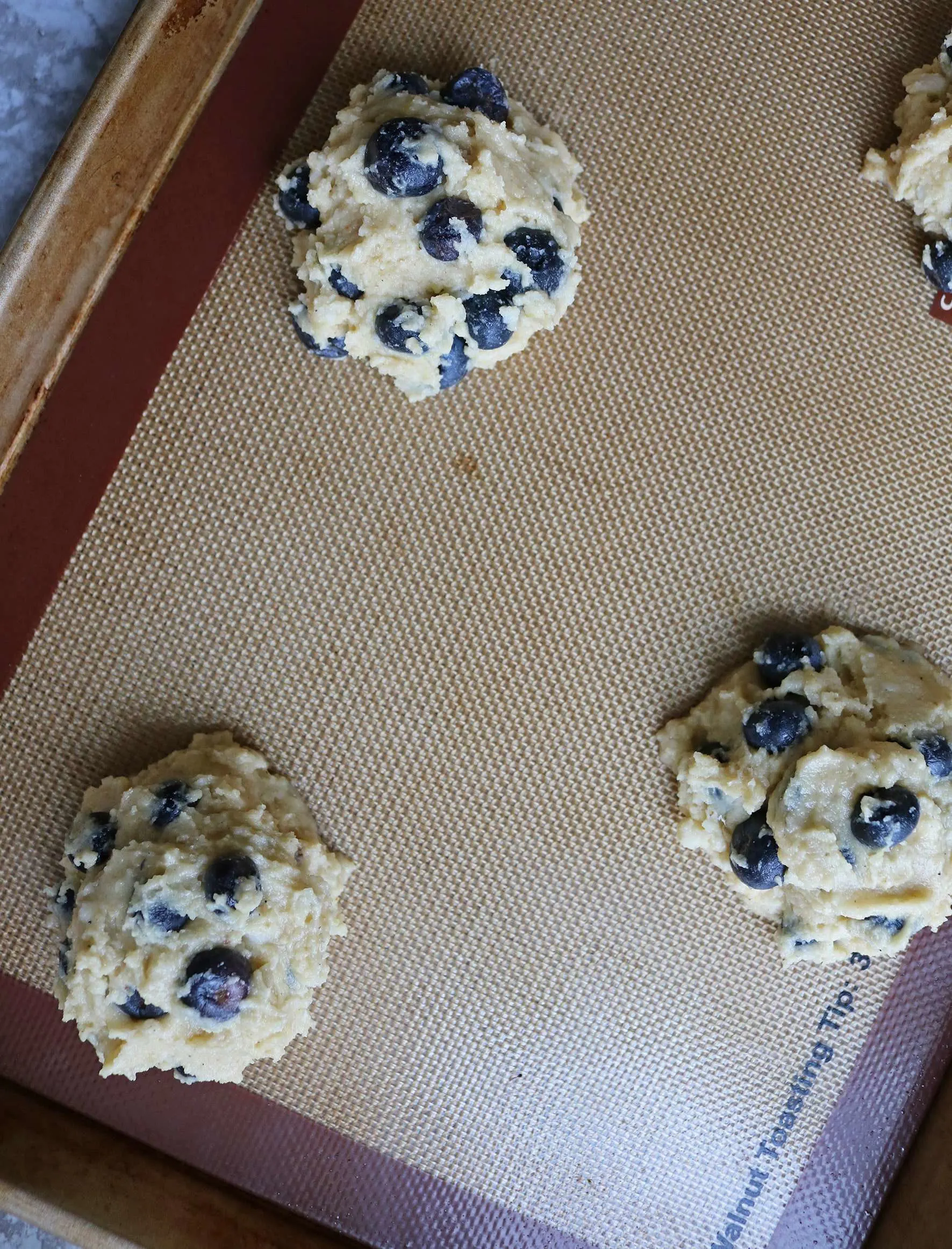 I figured I would start my own adventure in muffin-top baking with these Lemon Blueberry Muffin Tops ~ which are inspired by those Lemon Blueberry Cheesecake Muffin Tops with a streusel topping.
What are the ingredients to make these Lemon Blueberry Muffin Tops?
These Lemon Blueberry Muffin Tops are gluten free and lactose free ~ but not taste free, and are made with the following 13 ingredients:
All-Purpose Gluten Free Flour
Almond Flour
Granulated Sugar
Baking Powder
Baking Soda
Salt
Cardamom
Egg
Coconut Milk
Coconut Oil, melted
Pure Vanilla Extract
Lemon
Fresh Blueberries
Substitutions to make these Lemon Blueberry Muffin Tops…
I made these muffins with a combination of gluten free all-purpose flour and almond flour. I also used coconut milk and coconut oil, but if coconut isn't your thing, then you can substitute vegan butter or regular butter.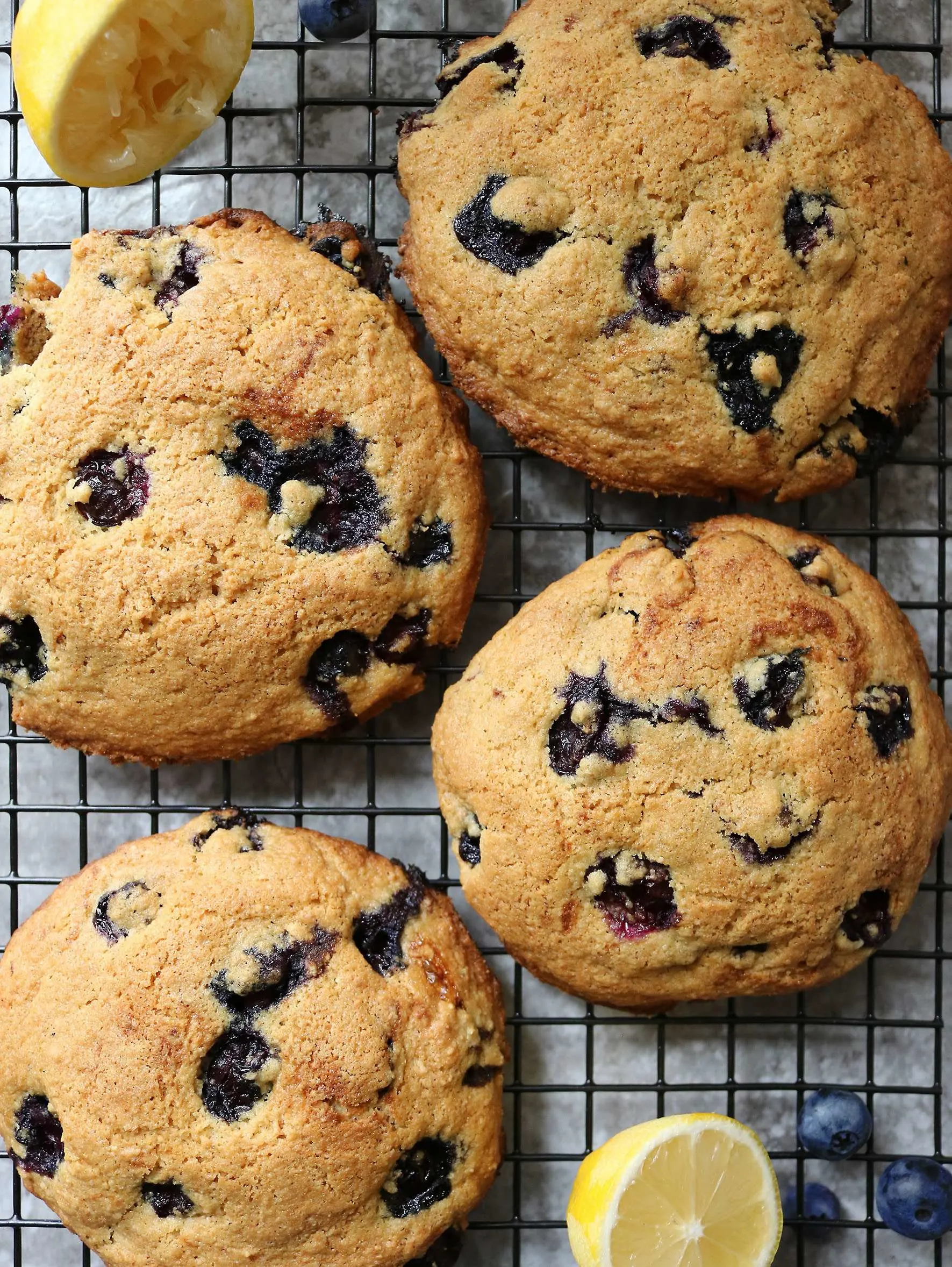 And, if gluten is your friend, you could also use regular all-purpose flour instead of gluten free flour.
When you are ready to place scoops of this Lemon Blueberry Muffin Top mix on a baking tray, make sure to space them out.
Unlike these Lemon Blueberry cookies, these muffin tops need plenty of room to expand while they bake.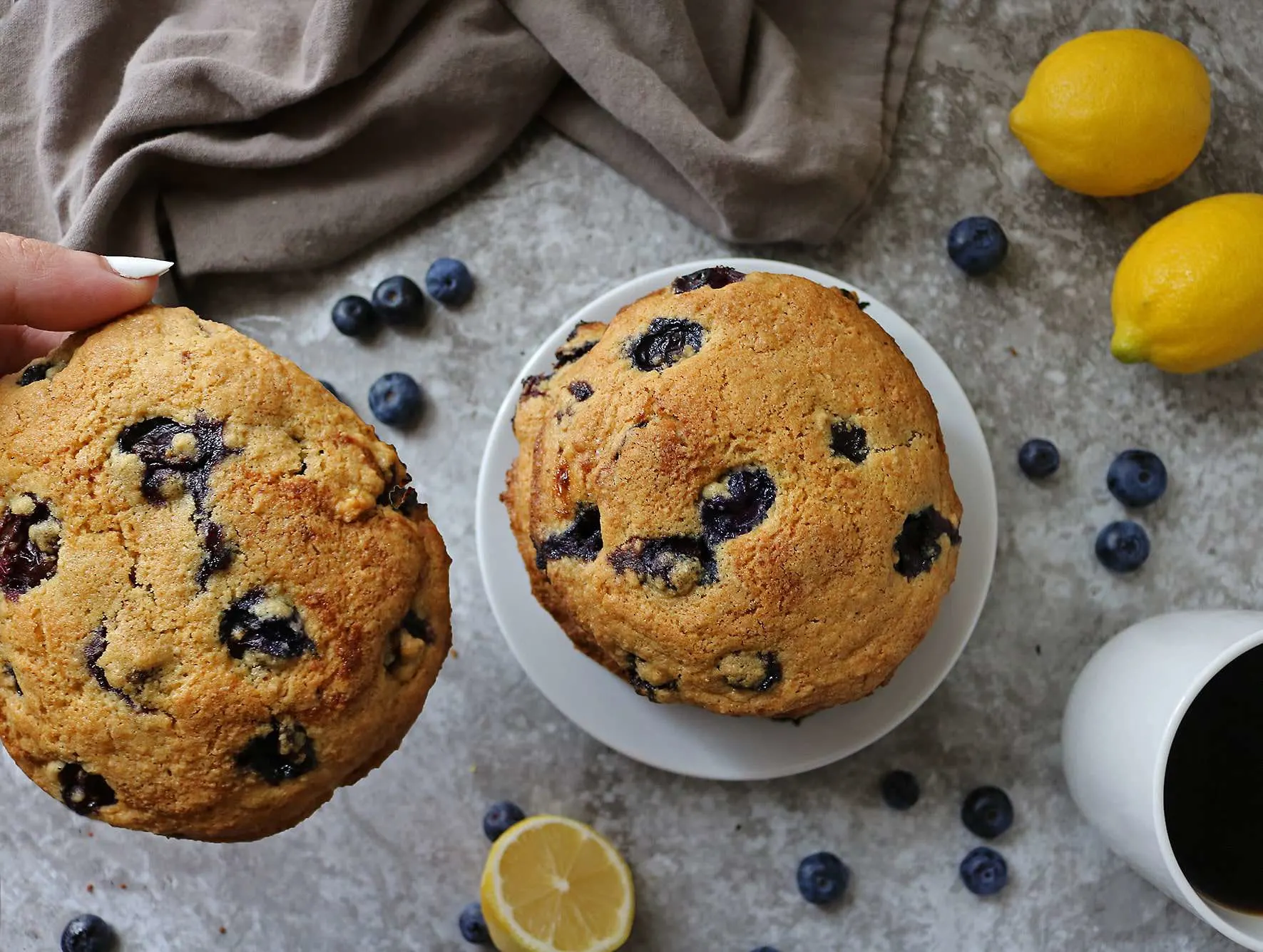 When they are just out of the oven, I would strongly urge you to let them sit on a baking rack until they cool down a little as oven-hot blueberries bursting in your mouth isn't a whole lotta fun!
I speak from experience, y'all. By the way, these muffin tops last about four days in an air-tight container in your fridge – I cannot speak for linger as four days is the longest these have lasted.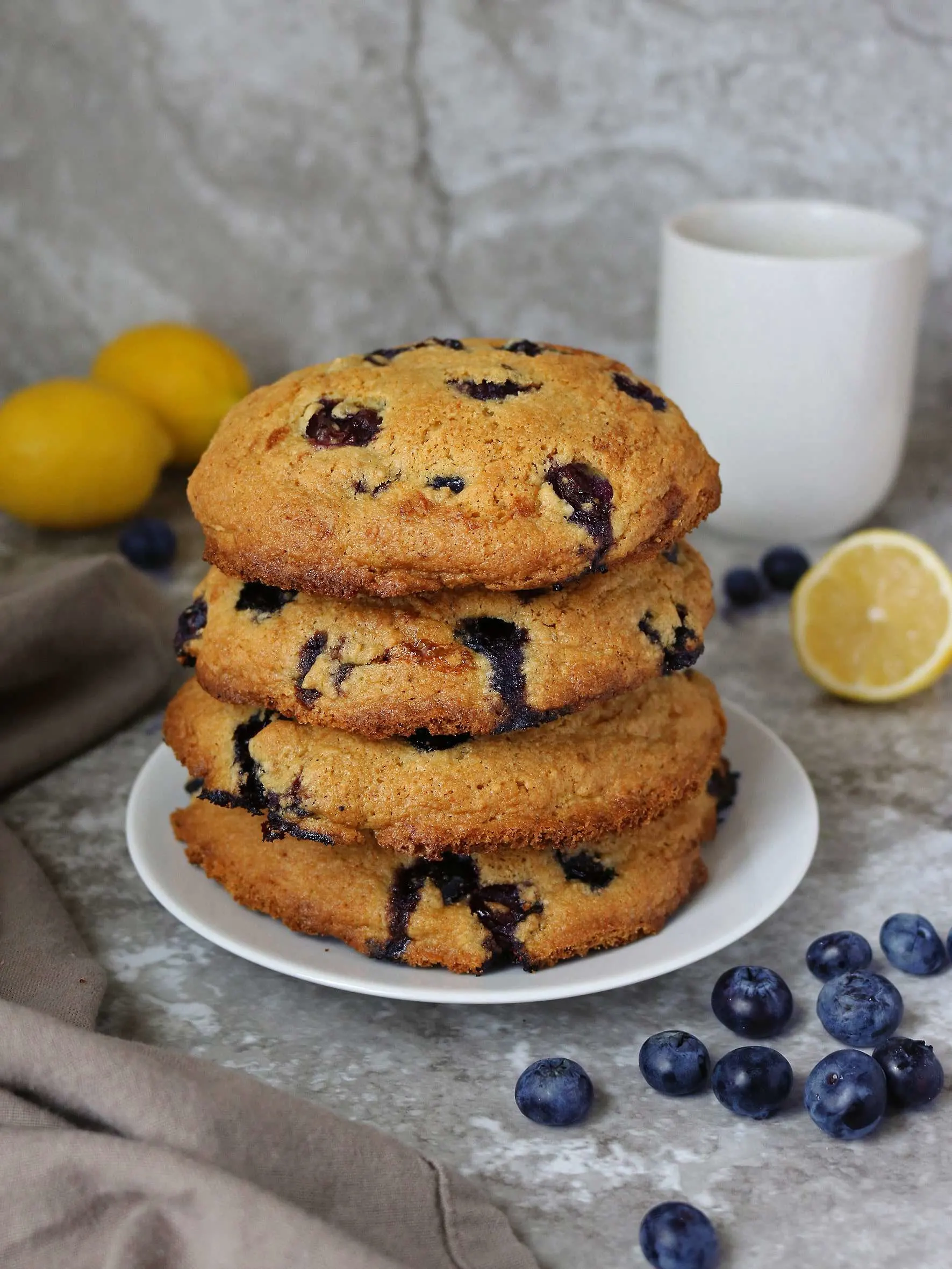 This recipe results in four muffin tops, but you can easily double or triple the quantities of ingredients to make more ~ as I hope you will do this weekend!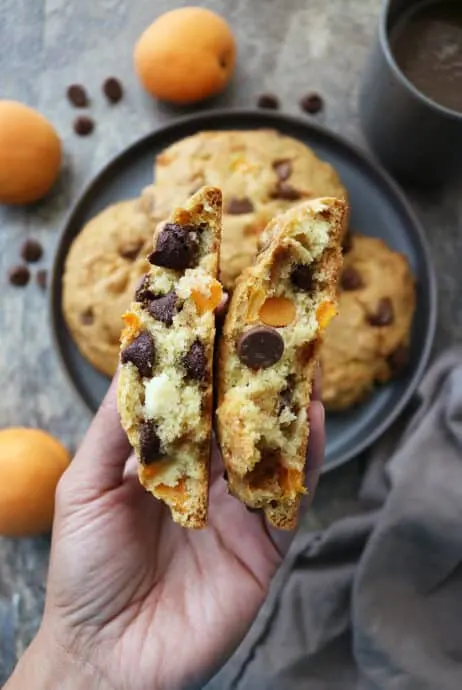 However, if you would like to make some whole muffins, then check out these gluten free Lemon Muffins.
F.A.Q.'s
How do I make a muffin top without a special pan?
You do not need a muffin top pan to make muffin tops. You can use a cookie sheet and add your muffin top dough onto the cookie sheet in a heaping mound. It will spread out and bake up beautifully with a firm exterior and delicious soft interior.
Can I use store a bought muffin mix to make muffin tops?
I have not had much success using store bought muffin mixes to make muffin tops on a cookie sheet. If using a store bought mix, then might be best to use a muffin top pan. But, if using this lemon blueberry muffin top recipe, you won't need a muffin top pan.
How long do these muffin tops last?
You can make these muffin tops and store them in an airtight container in your refrigerator for 5-6 days. Then, when you need a muffin top, remove from the container and heat it in your microwave for 20-30 seconds or heat up in your toaster oven until warm.
This recipe first appeared on Food Fanatic ~ if you are looking for more delicious treats, make sure to stop by Food Fanatic.