This Easy Berry Galette is a rustic, rich, and delectable dessert that thrives on imperfection. With a 3-ingredient crisp crust with undertones of maple and caramel, this berry galette or rustic tart is ideal for any occasion.

This post is sponsored by Georgia Grinders. All opinions herein are my own. Thank you so much for supporting the brands that keep this blog spinning.
It is finally getting to be that time of year when I can walk my dogs without a sweatshirt or two. Yes, the thermometer is finally inking out of the 70s and that means cold drinks and ice cream without a hot chocolate chaser.
Warmer weather also has me eating way more fruits than I do all winter. And, what better way than to enjoy all the fruits than have them enrobed in warm, crispy dough – right?!
I know, I know. That's not the best reasoning, but seeing the Egyptians have been doing it since around 6000 BC, who am I to argue with fruit encased in dough, huh?
On our recent once-weekly trip to the grocery store, I got a tad bit overzealous when I came across fresh berries in the produce section. I brought home a bunch and after a few days, I realized that I had to use them up quickly before they spoiled.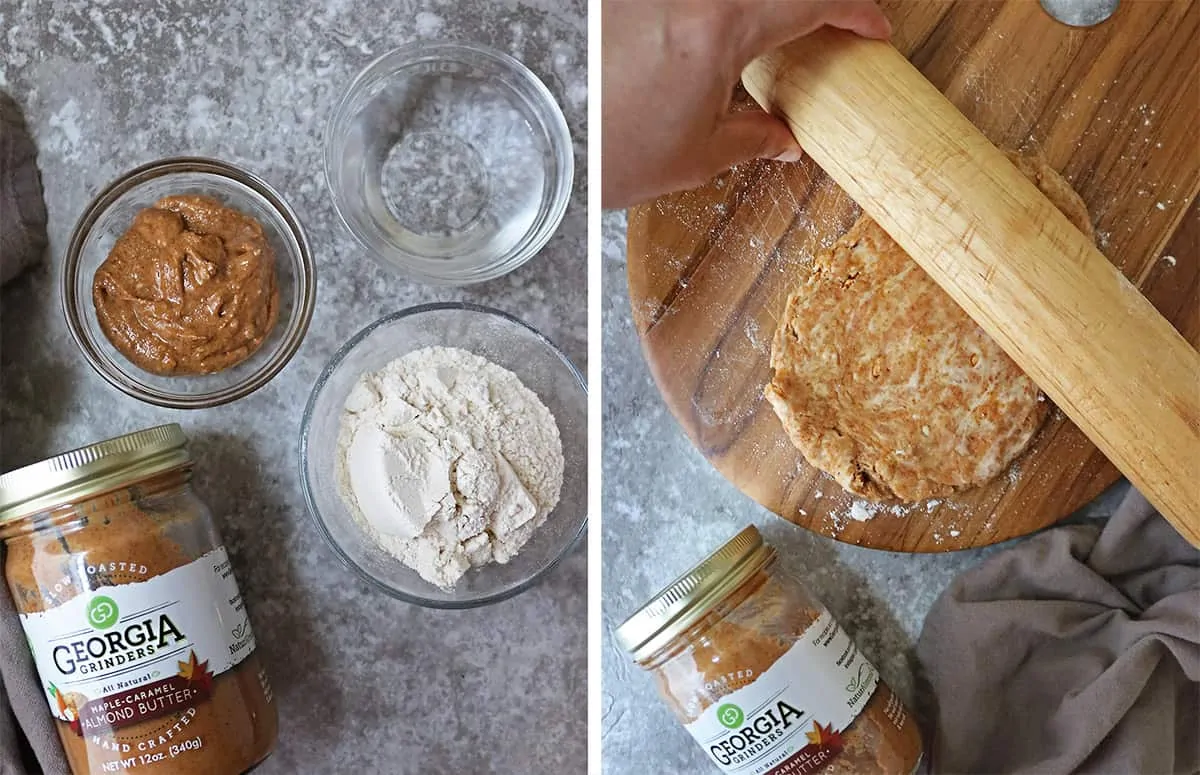 I made some of these Lemon Blueberry Muffins Tops, some of this Raspberry Chipotle Chicken Curry and even a batch of these Blackberry Meringue Cookies, and I still had a bit more left. So, I did what I thought best and mixed up all those remaining raspberries, blackberries, and blueberries together with some cinnamon and brown sugar and enveloped them in some dough in this Easy Berry Galette.
What is a galette?
A galette consists of a rolled-out piece of dough which is then topped up with fruit in the center. The edges of the dough are folded over and brushed with an egg wash before baking.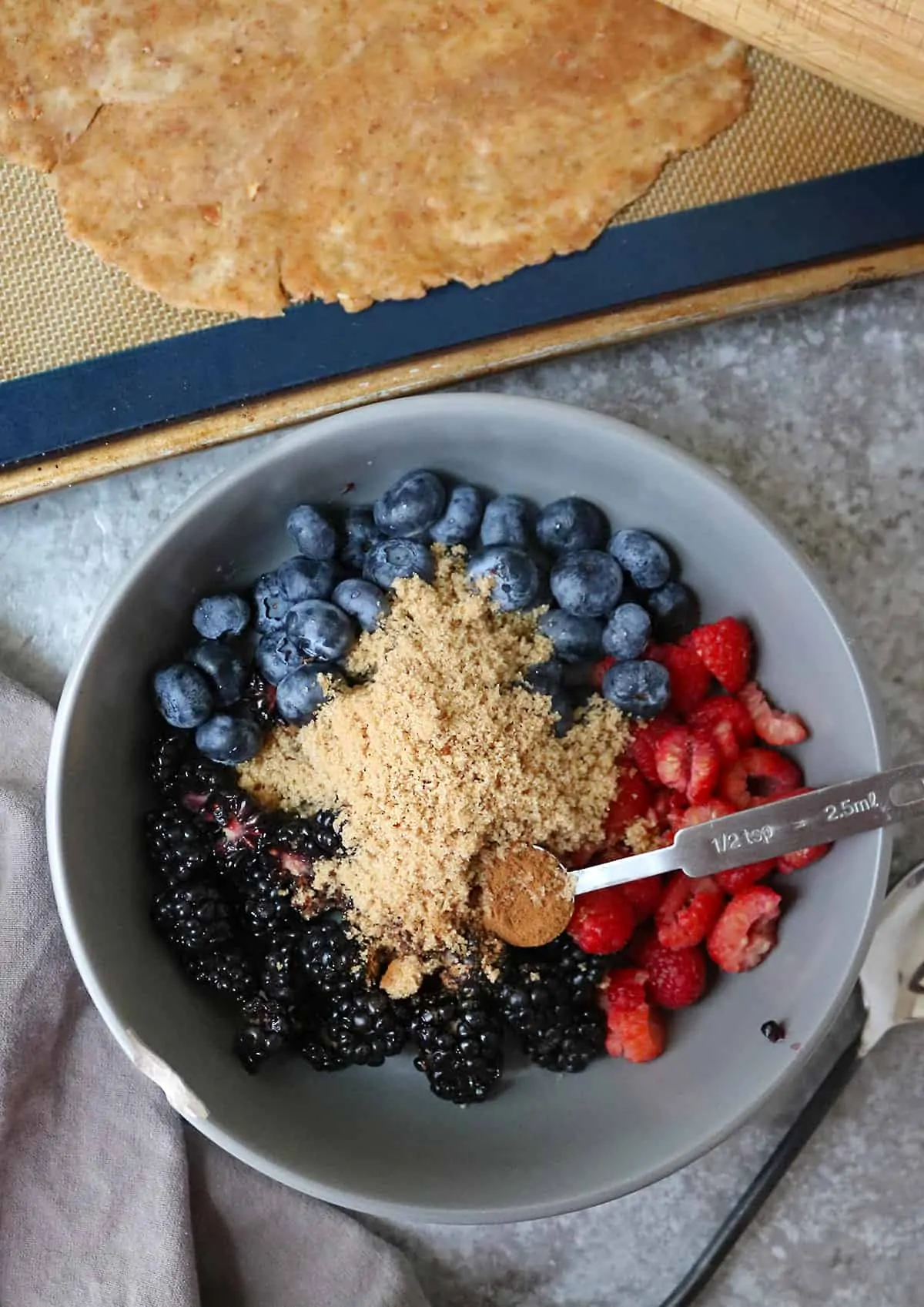 I love making galettes as they are easy and thrive on imperfection.
Dough is rolled out, fruit is placed in the center of it, and the edges are folded over. With a galette, I do not worry about leaked juices or perfectly folded the dough. What pops out of the oven is a rustic, rich, and delectable dessert that is fit for any occasion.
While I use vegan butter in most dough I use when making a galette, this time I decided to change things around and give this galette a bit of a healthyISH spin. I had some Georgia Grinders Maple Caramel Almond Butter on hand, I decided to use it along with some water and AP flour to make the dough.
After a few snafus while trying to balance out the water to almond butter to flour ratio, I ended up with what you see here.
This easy 3-ingredient Almond Butter galette crust was so crispy and so tasty with underlying tones of maple and caramel in it. It cradled and balanced out the berries so well.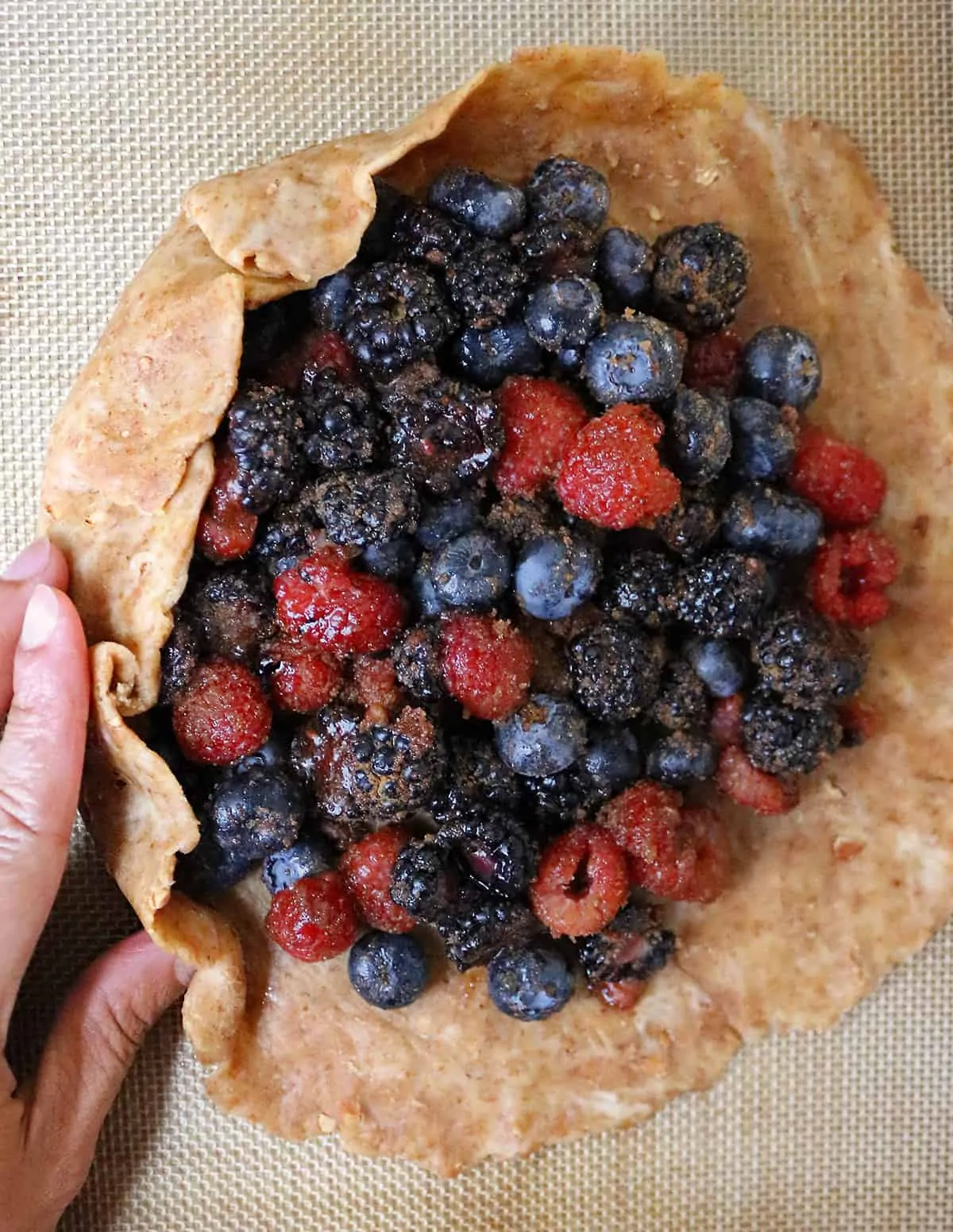 A few tips when filling a galette:
I cooled this easy berry galette down before cutting into it and the berry liquids were not as runny. You can avoid having a too fruit-juicy galette by using only blueberries. They are naturally high in pectin which helps a blueberry filling set well. With this said, if you use strawberries, then dust them with some cornstarch and make sure to sprinkle a bit of breadcrumbs on the rolled out galette dough before adding in the fruit filling.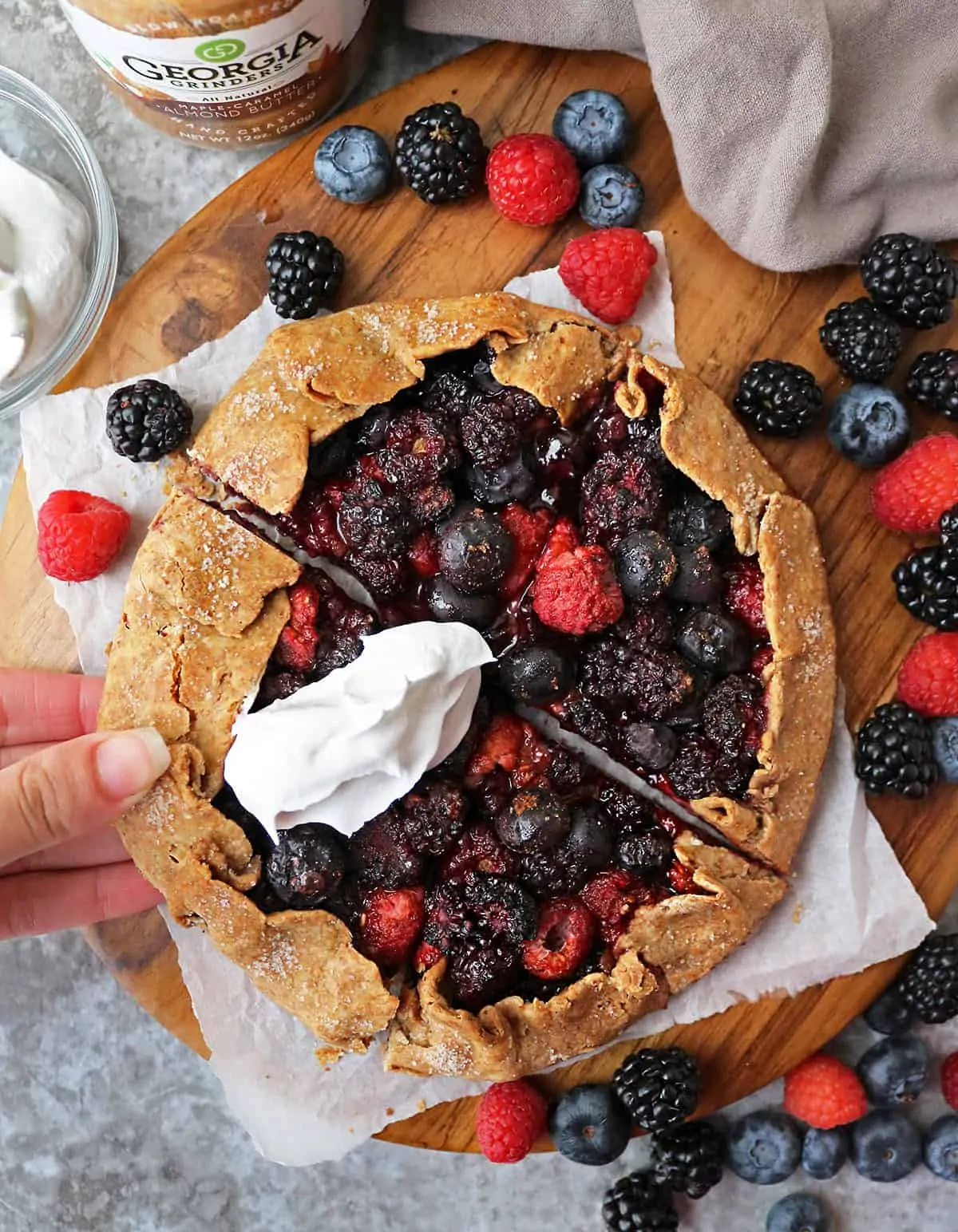 My daughter and I enjoyed this berry galette with some whipped coconut cream and non-dairy ice cream.
BTW, have you tried Georgia Grinders line of nut butters yet?
They have everything from creamy Peanut Butter to Chocolate Bourbon Pecan Butter! And, as a Georgia Grinders Brand Ambassador I am so delighted to let you know that you can get 20% OFF your next order at Georgia Grinders by using code savoryspin and have it delivered to your doorstep ~ don't forget to browse their website and pick your favorite nut butter at a discounted rate!