The taste of cabbage as we know it is completely altered in this Oven Roasted Cabbage Recipe ~ roasted cabbage is a deliciously crispy and satisfying side dish you are sure to love.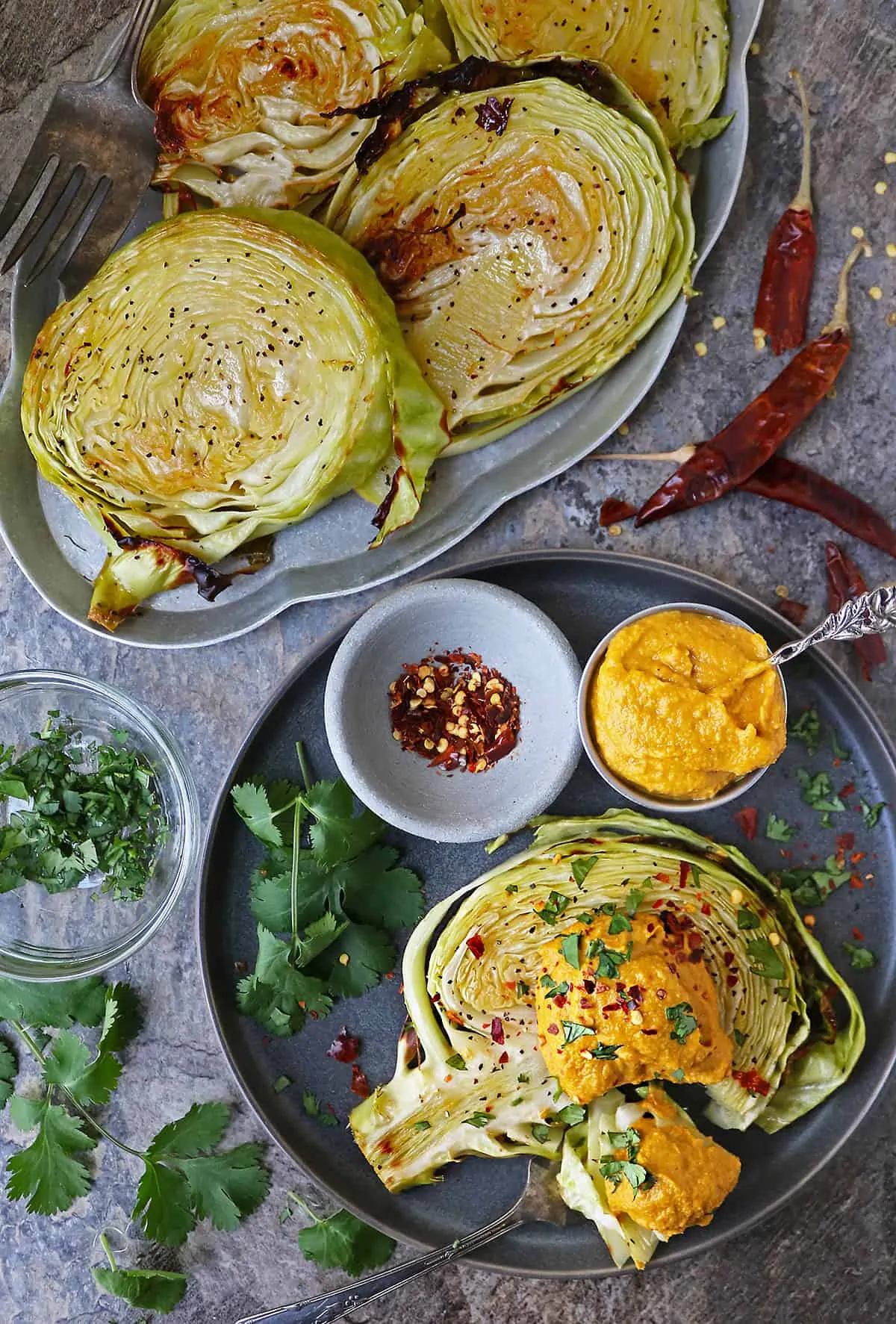 When all this started a couple of months ago, it seemed like toilet paper and anti-bacterial products were like the abominable snowman: heard of and not seen. Then, a lonely package of flour on a shelf could incite a frenzy akin to a shark feeding one.
Even today, a lot of the grocery stores we do our weekly shopping at, still have bare shelves down many aisles. But, through all this, the produce section has been (like the kids say) lit!

I've never had to drive around looking for carrots, or broccoli, or cauliflower, or cabbage, for that matter. I've always managed to find an abundant collection of fresh veggies when I have ventured out. And, during these past couple of months, my love for cabbage has been re-ignited.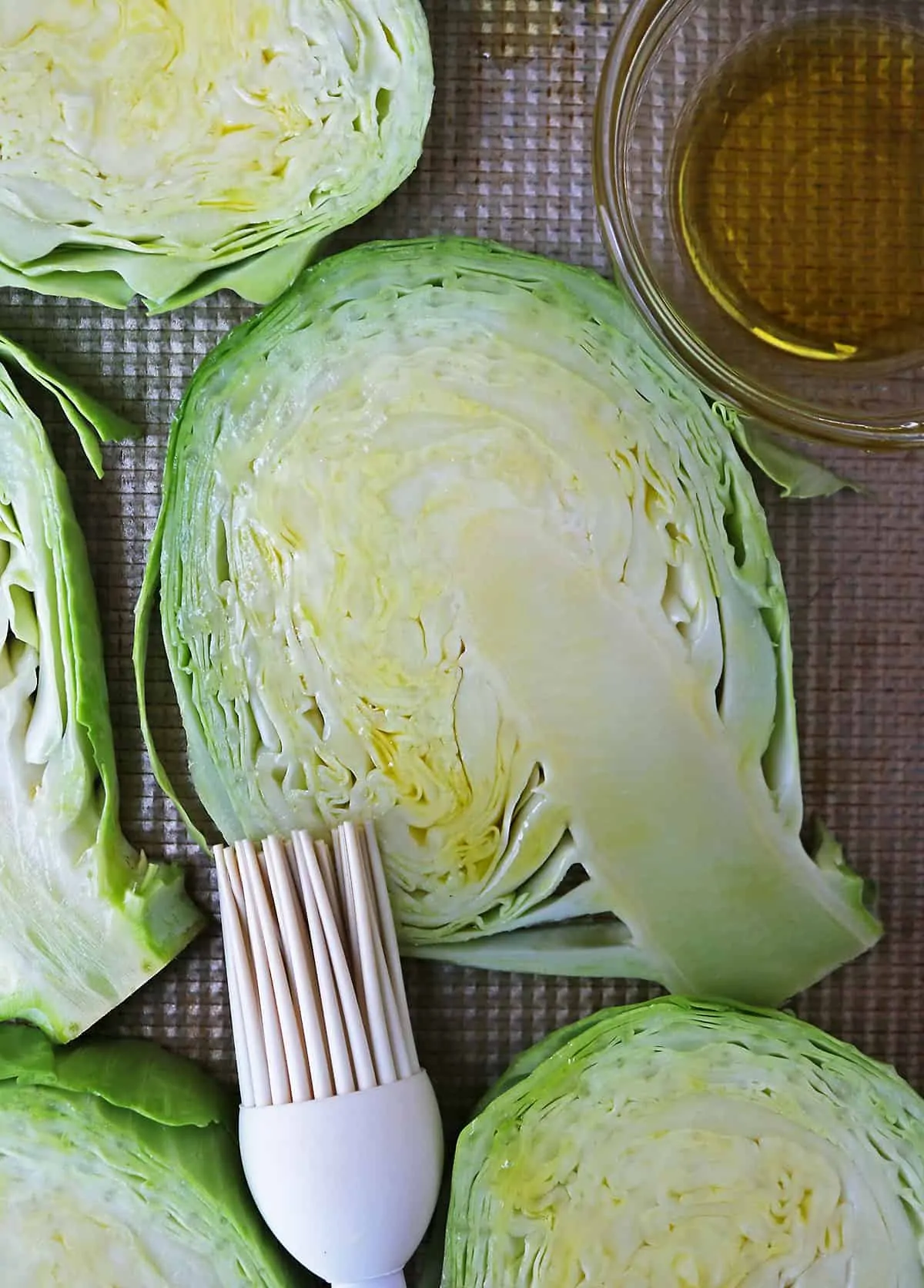 Once upon a time, cabbage was regarded as an affordable defense against scurvy. Legend has it that during the 1760's, Captain James Cook loaded up his ship with fermented cabbage ~ aka sauerkraut. This fermented cabbage could be kept at room temperature for months at a time, and naturally produced enough vitamin C to protect Cook's crew from scurvy – during a time when citrus was regarded as too expensive.
My daughter and I have been enjoying cabbage in many forms recently. Our favorite ways to enjoy cabbage has been in this warm tuna salad, this shabu shabu, and this Sri Lankan Kottu roti.
Recently, I decided to try something different. After a friend told me about their grilled cabbage wedges, I decided I would try and oven roast a few cabbage "steaks" and see what they tasted like.

Y'all – oven roasting cabbage completely altered the taste of cabbage as I knew it! Cabbage went into the oven and what came out of the oven was so darn gloriously crispy and addicting!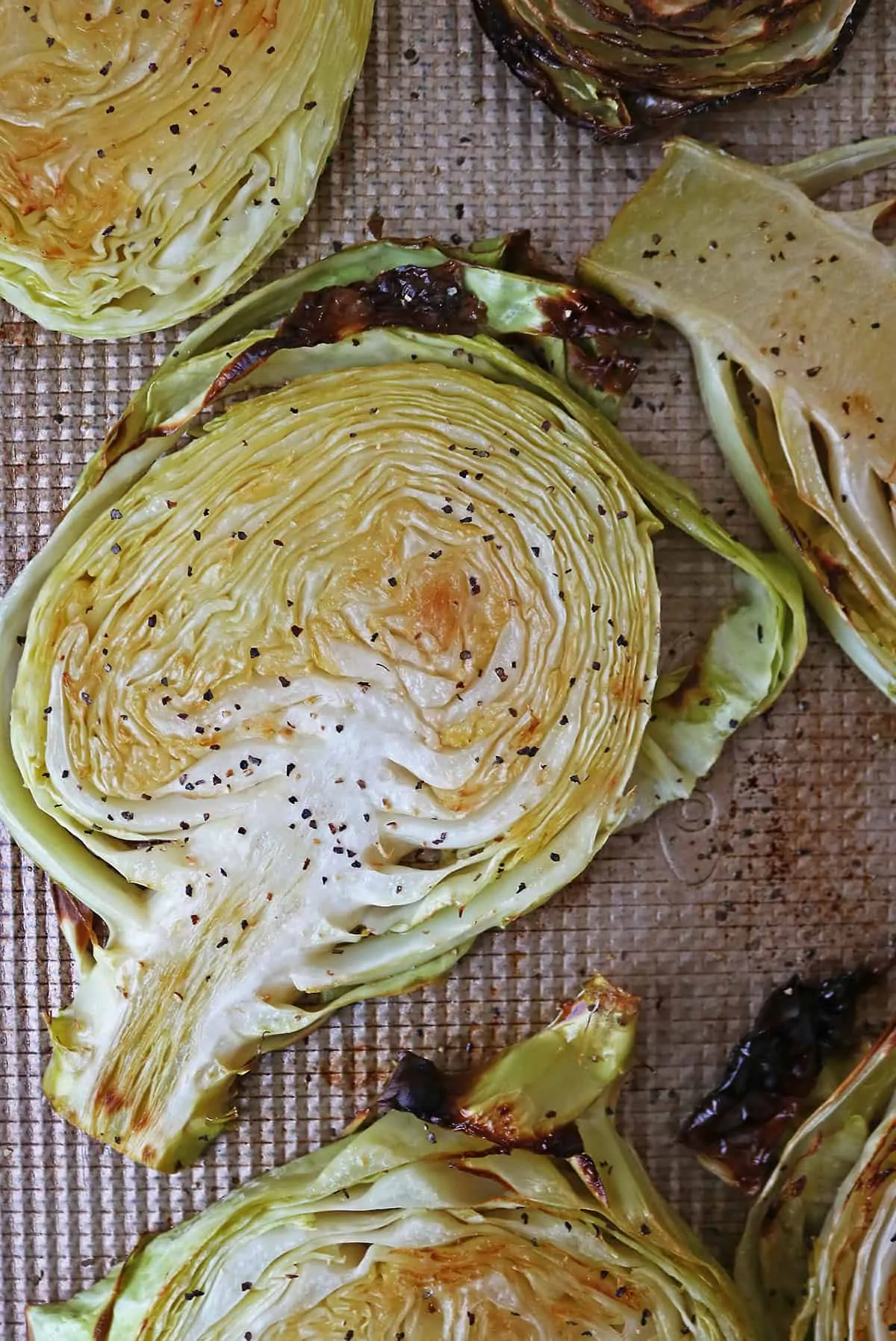 By the way, when these cabbage slices come out of the oven, don't fret if the edges are burnt – those burnt parts are the tastiest part! In fact, I snacked on quite a few of the burnt bits before taking these pictures.

We had a half can of leftover 100% pure pumpkin puree after making this easy lentil curry, which I used to make a thick and creamy pumpkin sauce to top the oven roasted cabbage steaks with.
How to oven roast cabbage?
First off, peel of any damaged leaves around the cabbage. Then, keeping the core intact, cut the cabbage into 1/4 inch thick slices/steaks.
Preheat the oven to 400 degrees and while it is heating up, brush both sides of the cabbage steaks with olive oil.
Place cabbage steaks onto a parchment or silpat lined baking tray.
Sprinkle with salt and your favorite spices and bake for 35-40 minutes or until the cabbage slices are golden.
What do you pair with roasted cabbage?
We enjoyed our roasted cabbage steaks with these salmon croquettes.
Roasted cabbage also pairs well with:
Cilantro Lime Chicken,
Za'atar Ras-el-hanout Chicken,
Easy Sweet Spicy Air Fryer Salmon, &
Harissa Salmon
What do you do with roasted cabbage leftovers?
These roasted cabbage steaks were quite a filling side dish with those salmon croquettes. So, we stored the leftovers in an air tight container. We polished off our last roasted cabbage steak three days after I made them, and they were still so tasty. My daughter heated up her leftover roasted cabbage in the microwave at 30 second intervals until it was the temp she liked. But, I popped mine in my air fryer for 5 minutes so it was even more singed.