Made with only five ingredients, this dairy-free Sage Cream Sauce is lusciously thick and creamy and pairs beautifully with everything from pasta to salmon.

I've partnered with Sprouts on this recipe for Dairy-free Sage Cream Sauce. All opinions herein are my own. Thank you for supporting the brands that keep this blog spinning.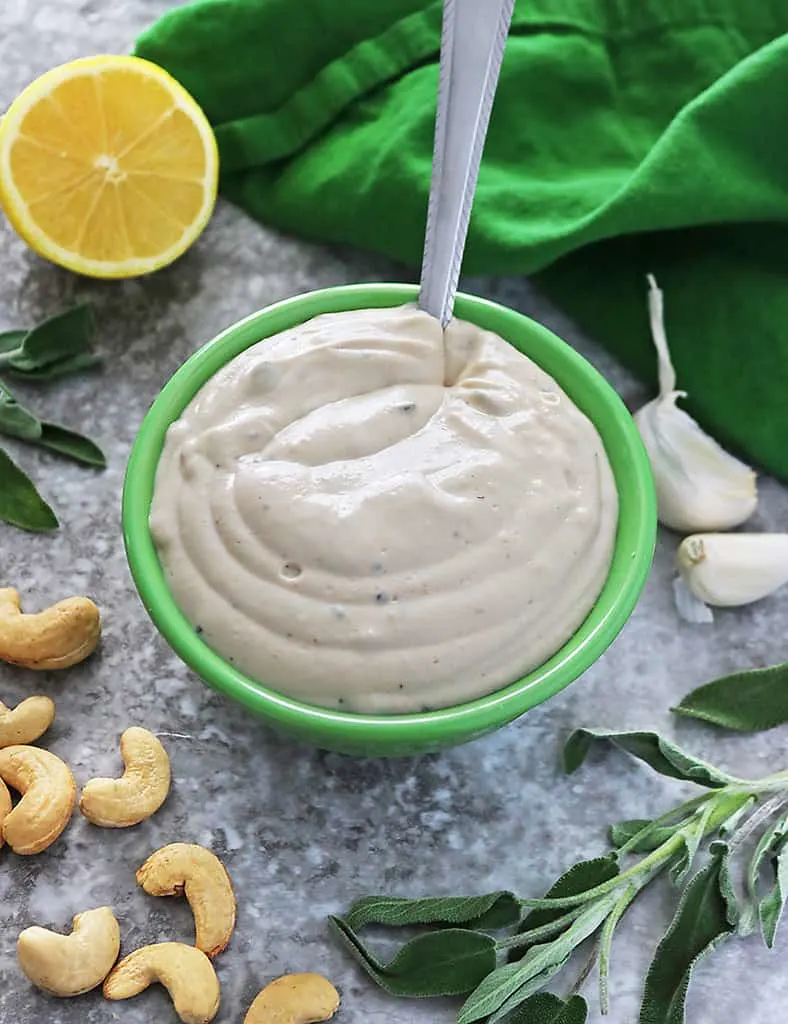 To me, this sage cream sauce is spoon-licking scrumptious!
It is a dairy-free vegan cashew cream sauce that is so rich and creamy.
Not a vegan, well, neither am I.
I still find this dairy-free Sage Cream Sauce to be addictingly delicious.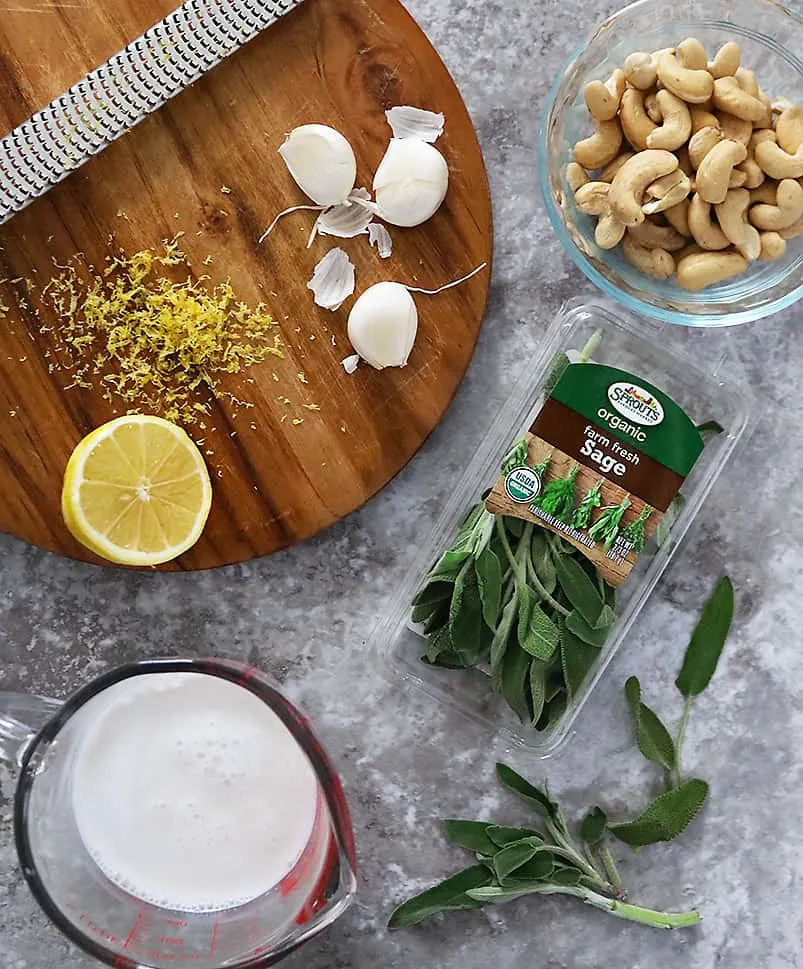 What are the ingredients to make this Dairy-free Sage Cream Sauce?
Not only do is it delicious, but you can easily make it with the following five ingredients:
Cashews
Lemon
Sage
Garlic
Almond Milk
(in addition to a little bit of olive oil, and a dash of salt and pepper for taste)
How to make this Dairy-free Sage Cream Sauce?
Did I mention this sauce is so easy to make?
First off, I opted to quick-soak the cashews (like I did when making this No-bake Strawberry Cake).
I did this by adding the cashews to a large pan and adding enough water to it to cover up the cashews.
I then cut the lemon in half and added the juice of half of the lemon to the water.
I then placed a lid on the pan and place it on the stove. I set the stove to high heat and let the pan simmer way for 20 minutes.
Now, if you have more time, you can also opt to soak the cashews overnight. Then, the next day, simply drain them and place them in the blender along with the other ingredients.
While cashews are simmer-soaking, I peeled and chopped the garlic. I also chopped up the sage leaves well.
When the 20 minutes were up, I drained the cashews and discarded the lemon water they had been cooking in and added the soaked cashews to a blender.
I then returned the same pan to the stove top and added in the olive oil and chopped garlic.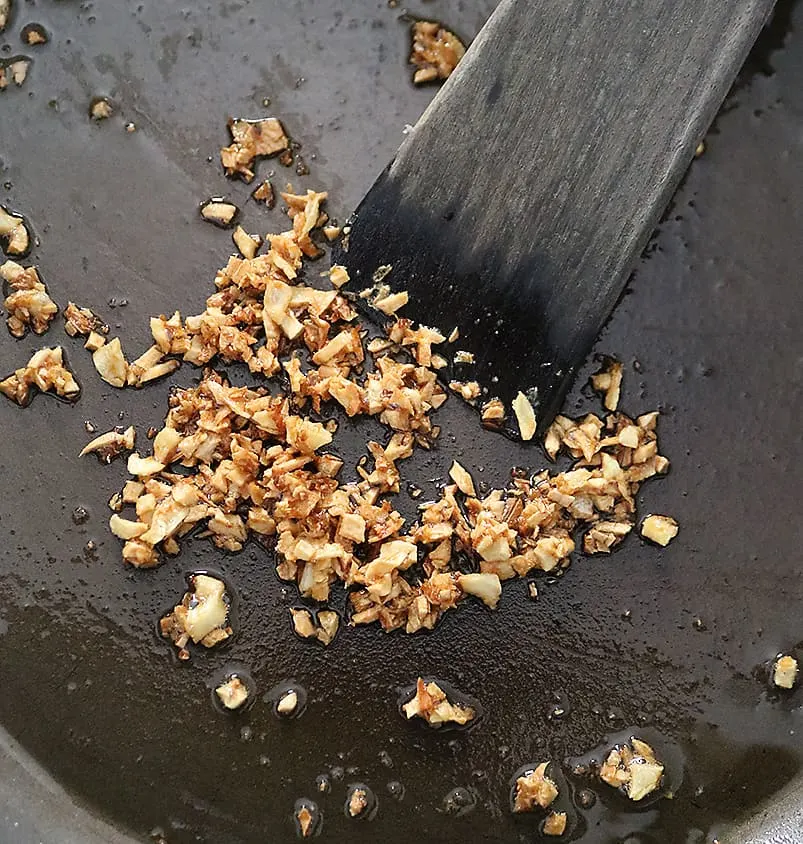 I set the stove to medium heat and let the garlic sauté until it was golden (not brown), stirring often so it didn't burn – this usually takes about 2 to 3 minutes, but it can vary.
After that, I turned the stove off and spooned the sautéed garlic and olive oil into the blender as well.
I then added in the almond milk, placed the lid on the blender (something I've learned by trial-and-error to do), and blended until the sauce was thick and creamy. The better your blender, the creamier this will be. I clearly need to go blender shopping as I've managed to work my way through yet another blender!
After blending the ingredients to a creamy consistency, I seasoned with salt and pepper. I try not to share how much salt and pepper to use (unless it's a baked recipe) as everyone has their own preferences to salt and pepper usage.
At this point, if the sauce is too thick for you, then you can thin it further by adding in another ¼ cup of almond milk. However, if you would like to thicken this up a tad bit more, like I did, you can return this sauce to the saucepan the garlic was sauteed in and let it simmer over a low heat setting for a minute or two, or until it is as thick as you would like it. Do keep in mind that this sauce does thicken up ever so slightly as it cools.
I then added in the chopped sage leaves and this dairy-free sauce was ready to enjoy!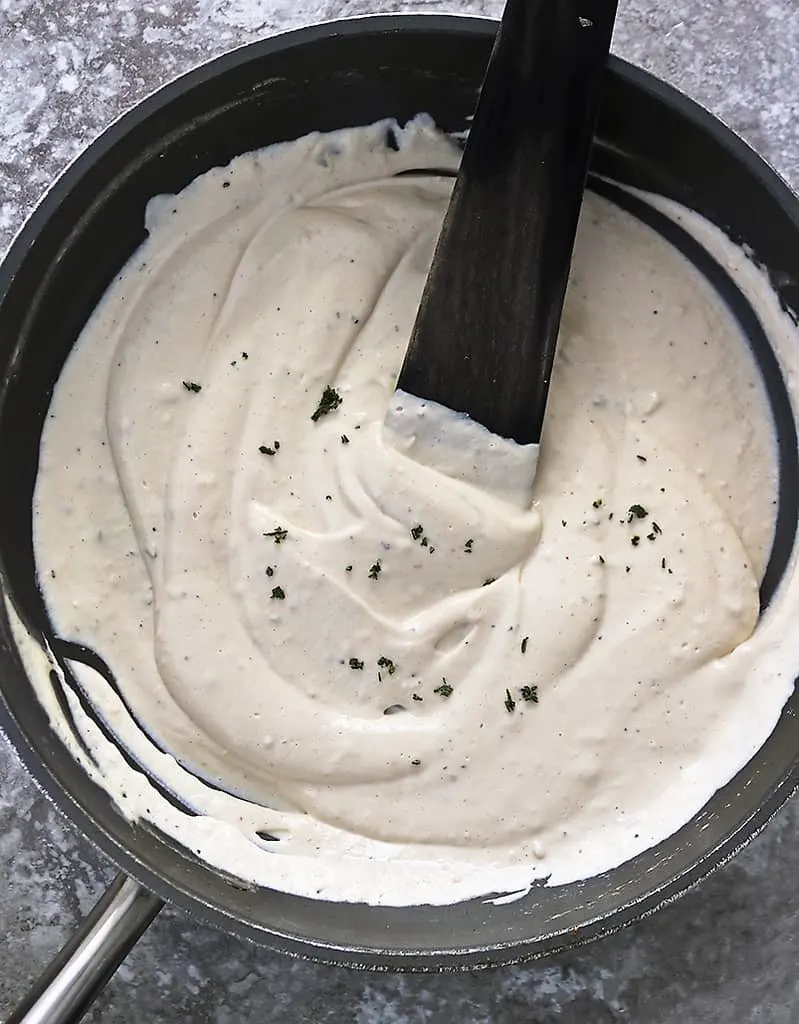 What to serve this sauce with?
This sauce is a very versatile sauce. My daughter and I love pairing it with pan-roasted or air-fried salmon or chicken. But this time we thoroughly enjoyed it with frozen Organic Butternut Squash Panzotti which we picked up from Sprouts!
Did y'all know that March is National Frozen Foods Month?
Well, we started off the month of March paying homage to frozen foods.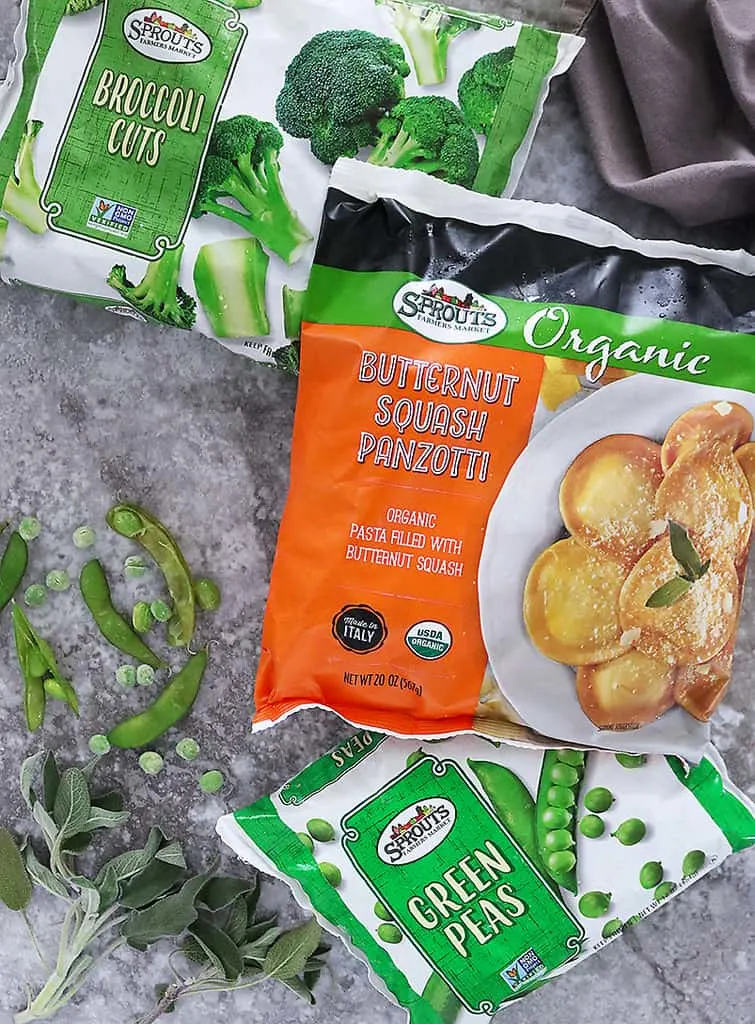 So, to be honest, our frozen foods consumption has not been because March is National Frozen Foods Month. But because currently, we are in the process of updating our kitchen. After we finished updating the second bathroom with a new tub, faucets, tile, paint, etc, we decided to move onto the kitchen in this fixer-upper home.
We painted the cabinets, added new cabinet hinges and pulls, and painted the countertops (I've been sharing videos & photos on my Insta stories).

All this kitchen DIY-ing sure makes cooking hard.

So, to make it easier, I've been stocking up on a bunch of frozen veggies, frozen pizza, and pasta from our local Sprouts to add to our meal options during this time.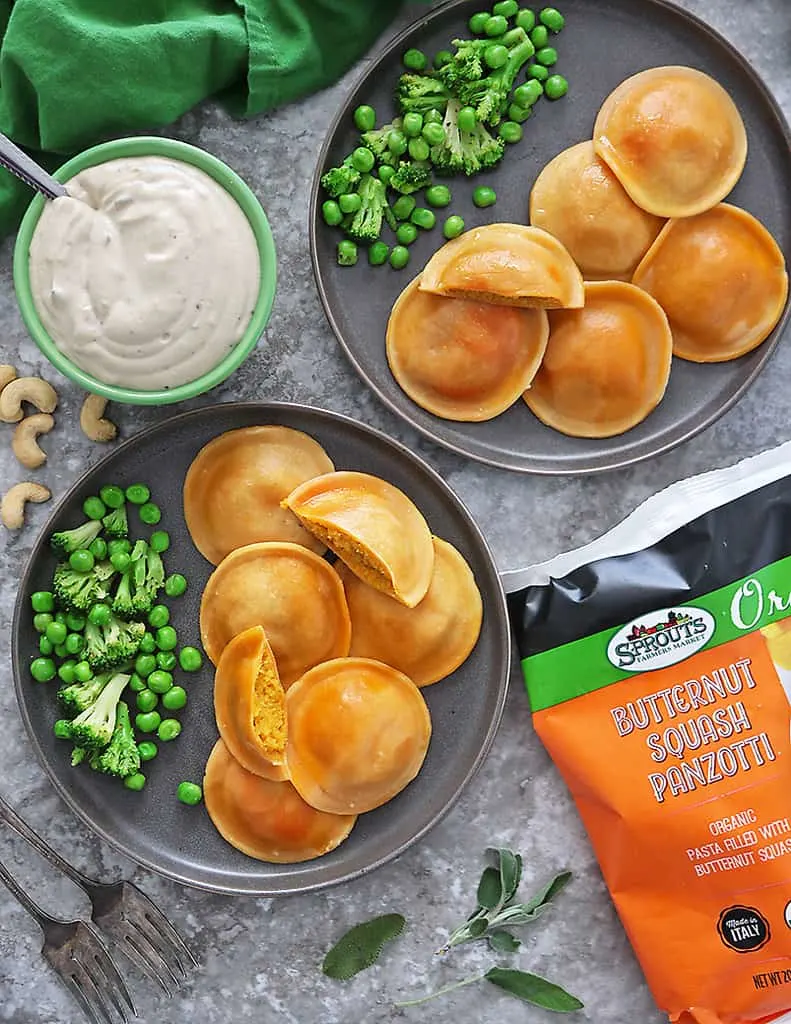 If you have stopped by my blog before, you know I love shopping at Sprouts for a multitude of reasons. And today, I'd love to pay homage to their frozen foods' options.

From easy-to-use frozen veggies and fruits to meats and fish to meal options, Sprouts always has new and unique items to meet my dietary preferences, and tons of staple items to keep on hand for quick and easy meals.
On my latest trip to Sprouts, I stumbled on their Organic Butternut Squash Panzotti. As I had some leftover Dairy-free Sage Cream sauce hanging out in my fridge, I thought I would bring home a package of it to pair with my sage cream sauce.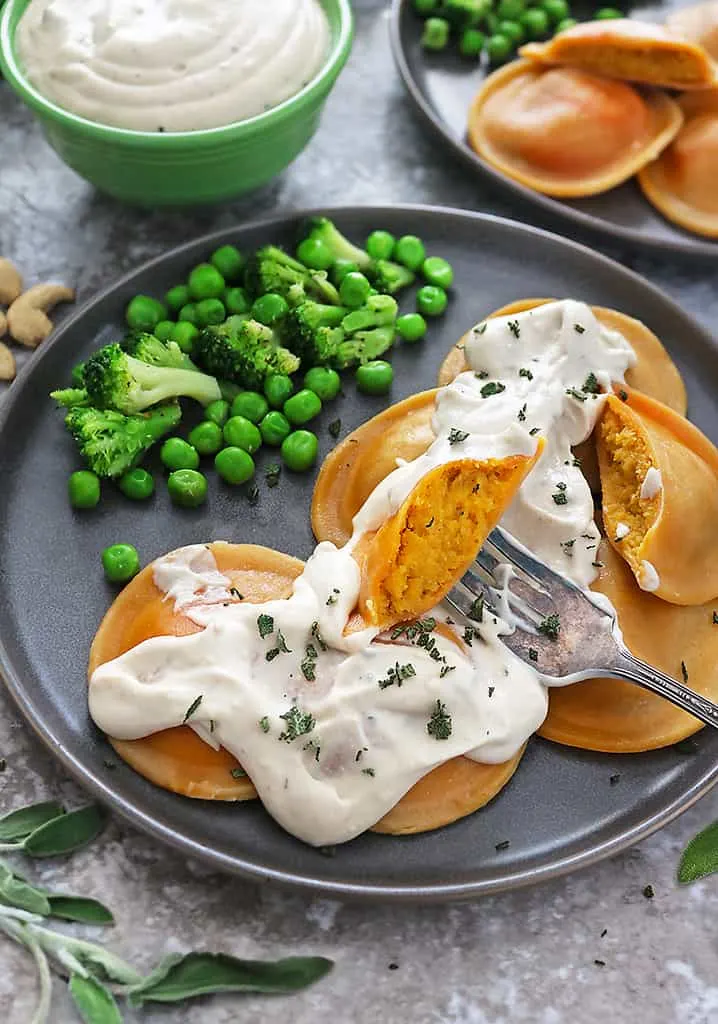 I prepared the Organic Butternut Squash Panzotti according to package directions. I then topped it with a bit of the reheated Sage Cream sauce and a smattering of chopped fresh sage for a deliciously comforting and hearty meal. One that kept us pleasantly satisfied during an almost all-nighter of adding layers of top-coat to the counters.