Creamy and rich, this plant-based pistachio milk requires 2 main ingredients and 3 steps: soak pistachios, blend them with water, and strain. You can add in some flavorings and a sweetener and enjoy it in your morning coffee, with your favorite cereal, or as a warm or chilled nightcap at the end of a long day.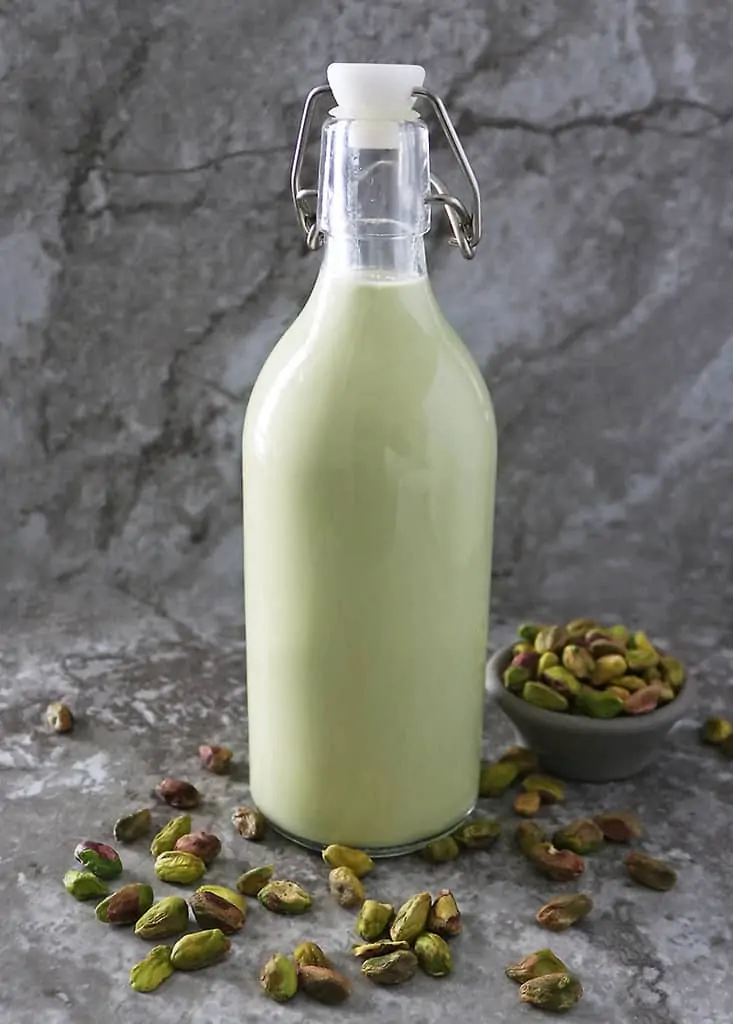 If you are a fan of nut milk, then you have got to try this easy homemade pistachio milk. With its delightful pale green hue, it is a delicious plant-based addition to your nut milk collection.
All you need is 2 main ingredients and 3 steps!

The 2 main ingredients are water and pistachios.
And, the three steps involve:
• soaking a cup of pistachios overnight,
• draining them the next day and blending them with 3 cups of water plus a pinch of salt, and
• straining the blended nut milk.
Yup – soak, blend, strain, and a bottle of this gorgeous green nut milk is all yours!

You can add in a sweetener of your choice as well as any flavorings you would like before using it in your coffee or latte or with your favorite cereal or in a smoothie. Or, simply use it as is.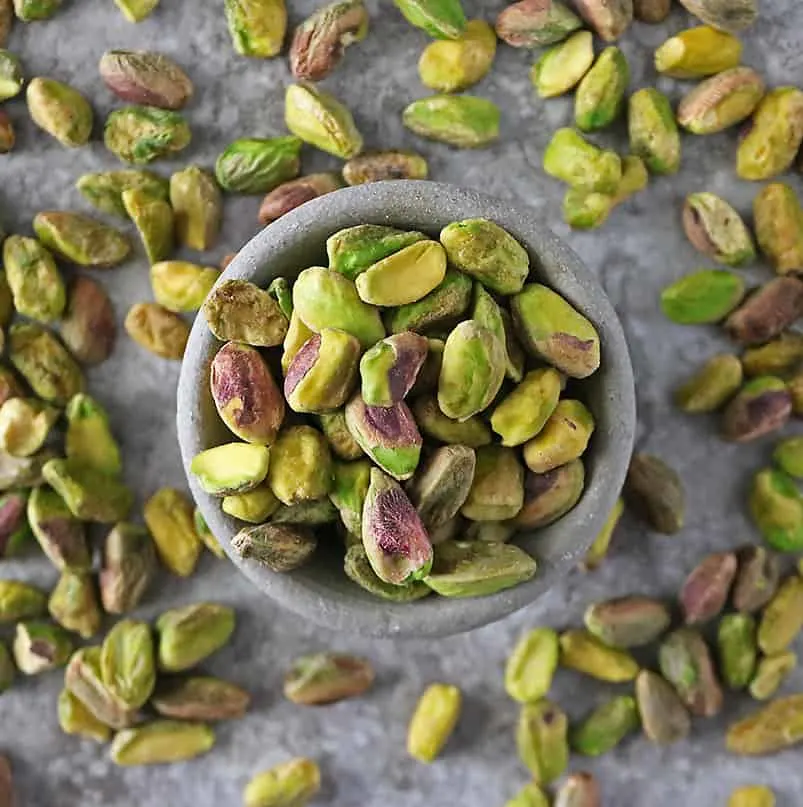 What does pistachio milk taste like?
Pistachio milk has a mild and distinctive pistachio flavor. It is a rich and light at the same time. Creamy and smooth, this nut milk makes a delicious addition to a plant-based diet as well as a clean keto one.
How do you enhance the flavor of pistachio milk?
Pistachio milk is delicious straight up without any other flavorings. However, vanilla and almond extracts as well as rose water can elevate the flavor of it. Also, spices like cardamom, nutmeg, or ginger can also enhance the flavor of this nut milk.
As I loved the combination of pistachios and cardamom in this pistachio rose cake, I added a smidge of cardamom to this pistachio nut milk. I also added in a splash of vanilla and almond extracts as well.
You can also add in a little bit of agave, maple syrup, or honey to sweeten this nut milk. If you are trying to stick to a plant-based diet, then the latter might not be the best option.
Can you use roasted or salted pistachios to make this pistachio milk?
To make pistachio milk, raw pistachios work best as they result in a smooth and creamy milk. Just keep in mind that if you use salted pistachios, the resulting nut milk might just be a bit too salty.

Even though the pistachios are soaked and the water they are soaked in is discarded, the resulting milk could be a bit salty. Also, roasted pistachios are drier and when soaked and blended, the resulting pistachio milk tends to not be as smooth and creamy.
Do you have to soak pistachios overnight for this recipe?
While I've used the quick soak method when making sauces, no-bake cashew cakes, and cashew puddings, I would not recommend not soaking pistachios for 6-12 hours.
Soaking pistachios overnight (or at least 6 hours) saturates the nut and results in a creamier, smoother texture when blended. Also, well-soaked pistachios result in less pulp left behind. Soaking also activates the enzymes, resulting in more nutritious pistachio milk – and pistachios on their own are one heck of a nutritious nut!

However, if you want to make this nut milk without soaking, you can do so by using very hot (not boiling) water when blending to help the resulting pistachio milk be as smooth as possible.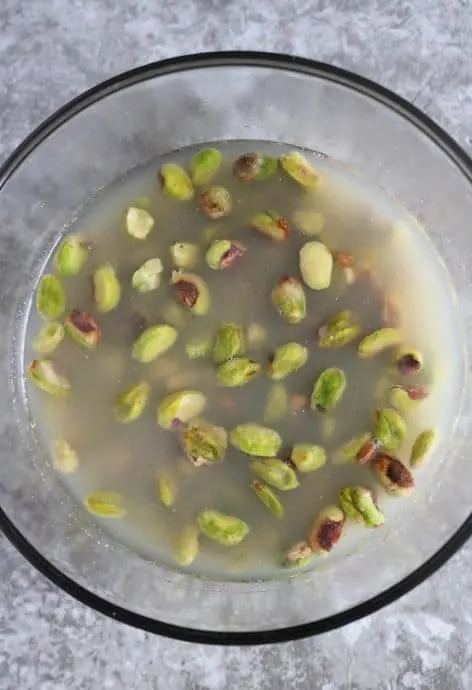 How to thicken or thin this nut milk?
With a ratio of 1 cup of pistachios to 3 cups of water, this pistachio milk recipe results in a rich, smooth, and thick nut milk.

However, if you would rather have a thicker nut milk that resembled a coffee creamer – then just use 2.5 cups of water instead of 3. If you would rather this nut milk be thinner, then just use 3.5-4 cups of water when blending instead.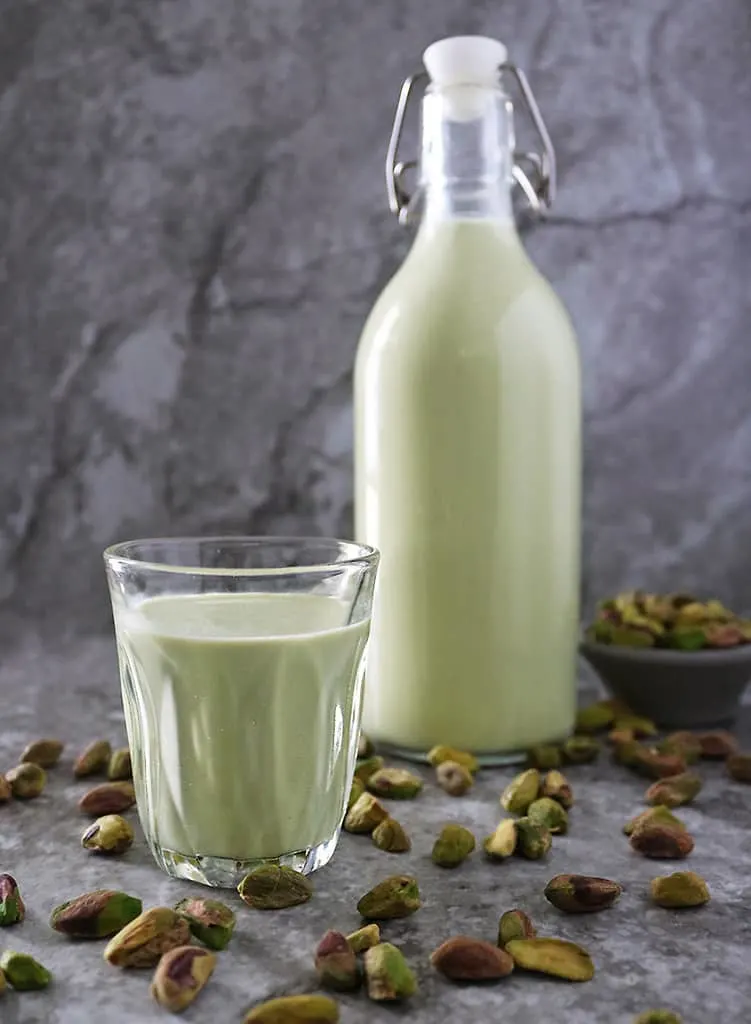 Tips when making this pistachio milk:
Check your pistachios to make sure they are not rancid.
Pistachios, like all nuts, can go bad quickly especially if stored outside. I make sure to store my nuts in my refrigerator. I also taste them before soaking them.
Make sure to blend well so the pistachio nut milk is smooth.
I use a high-powered blender when making any nut milk. Nut milk can get expensive, so investing in a high-powered blender was what worked best for me. A good, high-powered blender is crucial in resulting in a smooth and creamy nut milk.
Strain the pistachio milk well after blending so it is not gritty.
There are several ways to strain the blended nut milk as demonstrated in the images below. You could use a strainer. Or, place a cheesecloth over a large glass container and stir batches of the blended pistachio nut milk through it. Or, you could use a cheesecloth and gather it up between pouring's and squeeze the nut milk through it.