Chock full of carrots, walnuts, raisins, cardamom, cinnamon, and candied pineapple, these Carrot Cake Cookies with Cream Cheese Drizzle are so incredibly flavorful ~ and begging to be enjoyed with a tall, cold, glass of milk!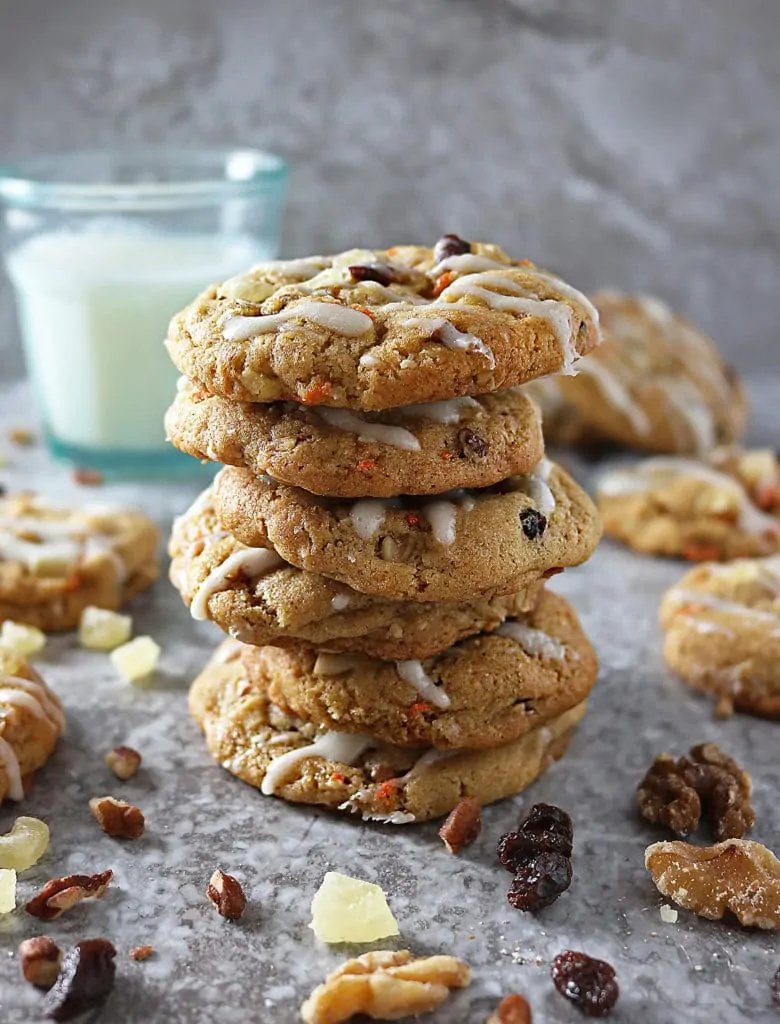 UPDATED: This post was originally published on April 16th, 2018. I have updated the post below with tips that will make these an easy treat to enjoy.
My obsession with carrot cake everything continues with these Carrot Cake Cookies with Cream Cheese Drizzle. Now, I've made and shared better-for-you-and-me, refined sugar-free carrot cake cookies and bars on here before. But these cookies are not refined sugar-free. And, I wouldn't say they are better for you or me.
They are however, an extremely tasty indulgence!
These carrot cake cookies are ever so slightly crispy and chewy.
They have a ton of flavor from spices such as ginger, cardamom, and cinnamon.
But, that's not all – these carrot cake cookies are made with a bit of candied pineapple as well. I have found candied pineapple at most grocery stores but if you would rather not use it, no worries. You could also use some candied ginger if you have some on hand.
Just like these carrot cake cupcakes, these cookies are filled with raisins and walnuts, which, in my opinion as a delightful texture to these as well. My daughter has made these cookies several times with pecans instead of walnuts and golden raisins instead of the brown ones I used in these.
These cookies have a lot going for them in the flavor and texture department, so if the cream cheese drizzle can be skipped, if you prefer. But, I was aiming for an indulgent treat so I added a very thin drizzle of cream cheese to these.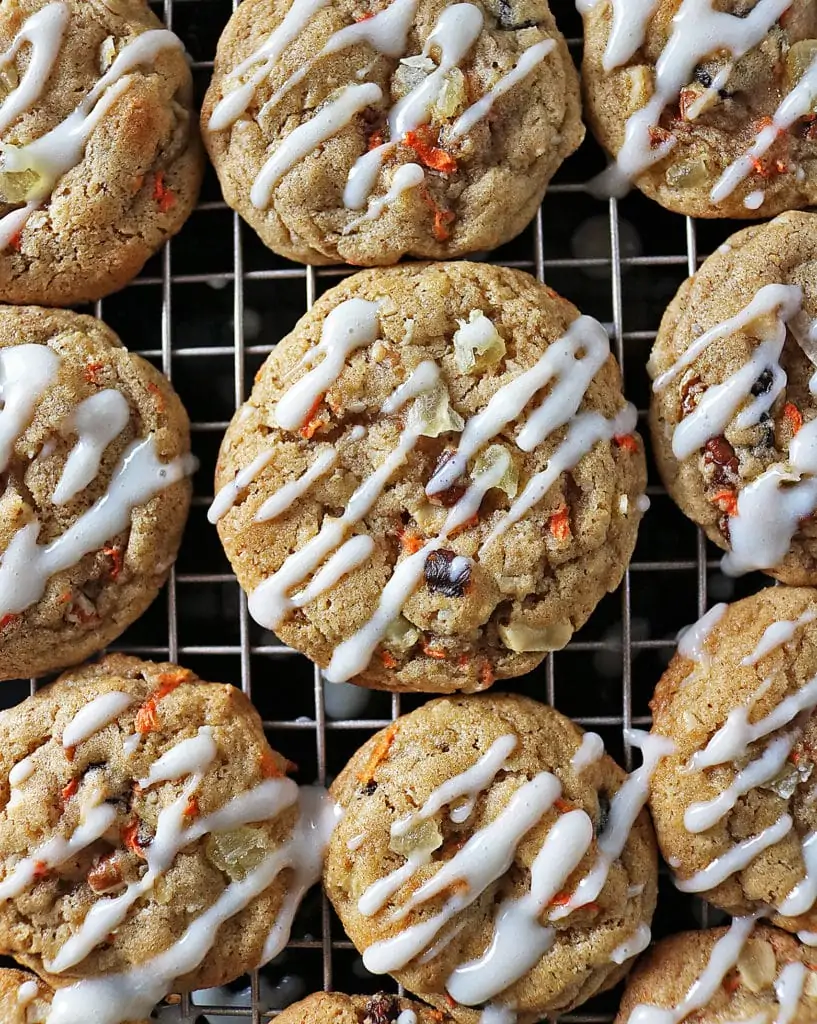 To quote my daughter, this past Sunday, I was "drunk on sleep"! Drunk on sleep because this past Sunday I slept in.
While most weekends, I like to wake up before my daughter and dog wake up, and slowly enjoy three cups a cup of coffee before leisurely making some waffles or pancakes. Then, when my daughter wakes up, we watch another episode of whatever we've been Netflix-binging (currently it's New Girl) while leisurely enjoying breakfast before heading off to the gym and then to church.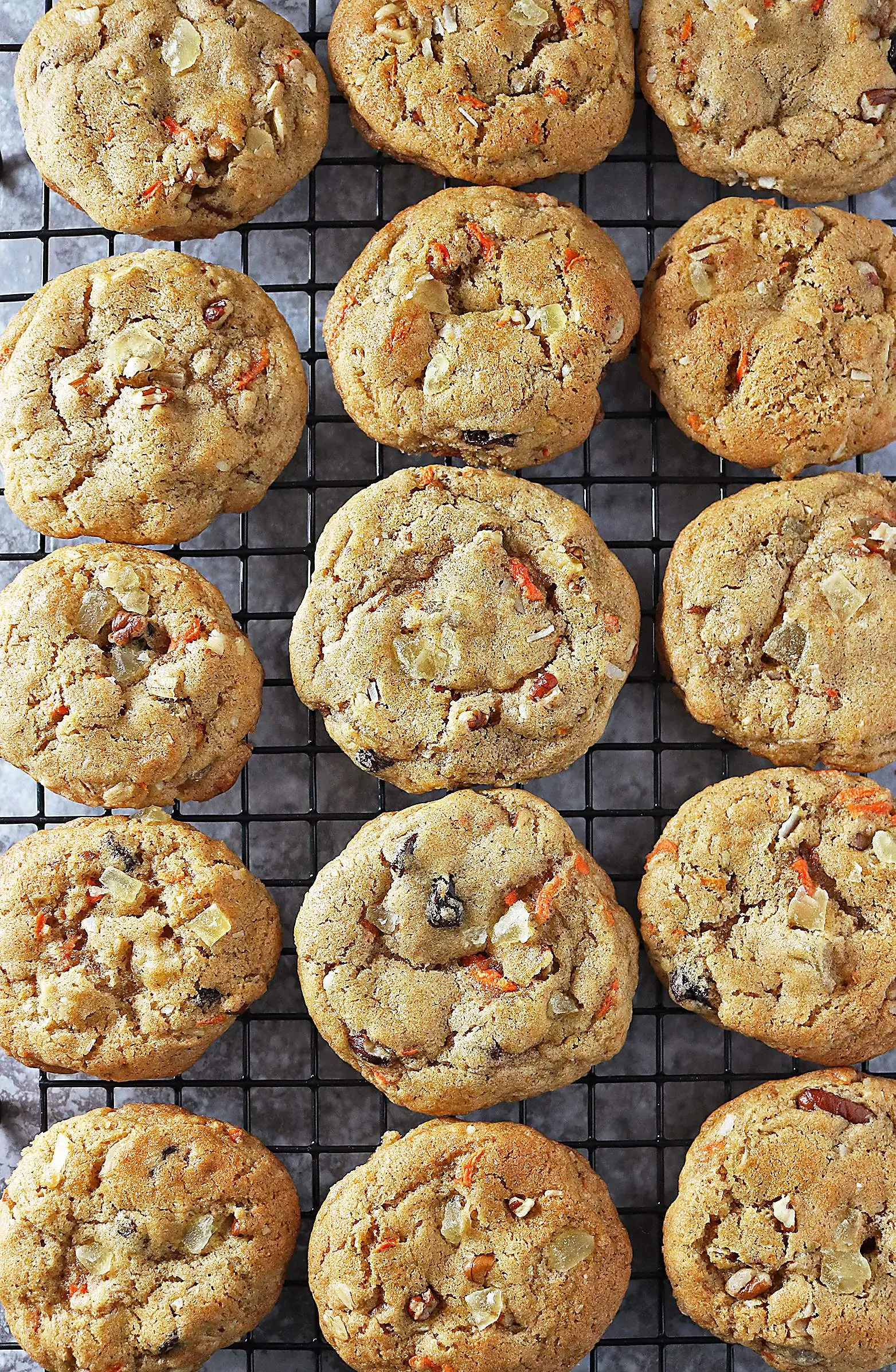 But this Sunday, we rushed through avo-toast and coffee and I snuck one of these Carrot Cake Cookies with Cream Cheese Drizzle out of the freezer to enjoy on our ride down to church.
Yes – these Carrot Cake Cookies with Cream Cheese Drizzle do freeze extremely well!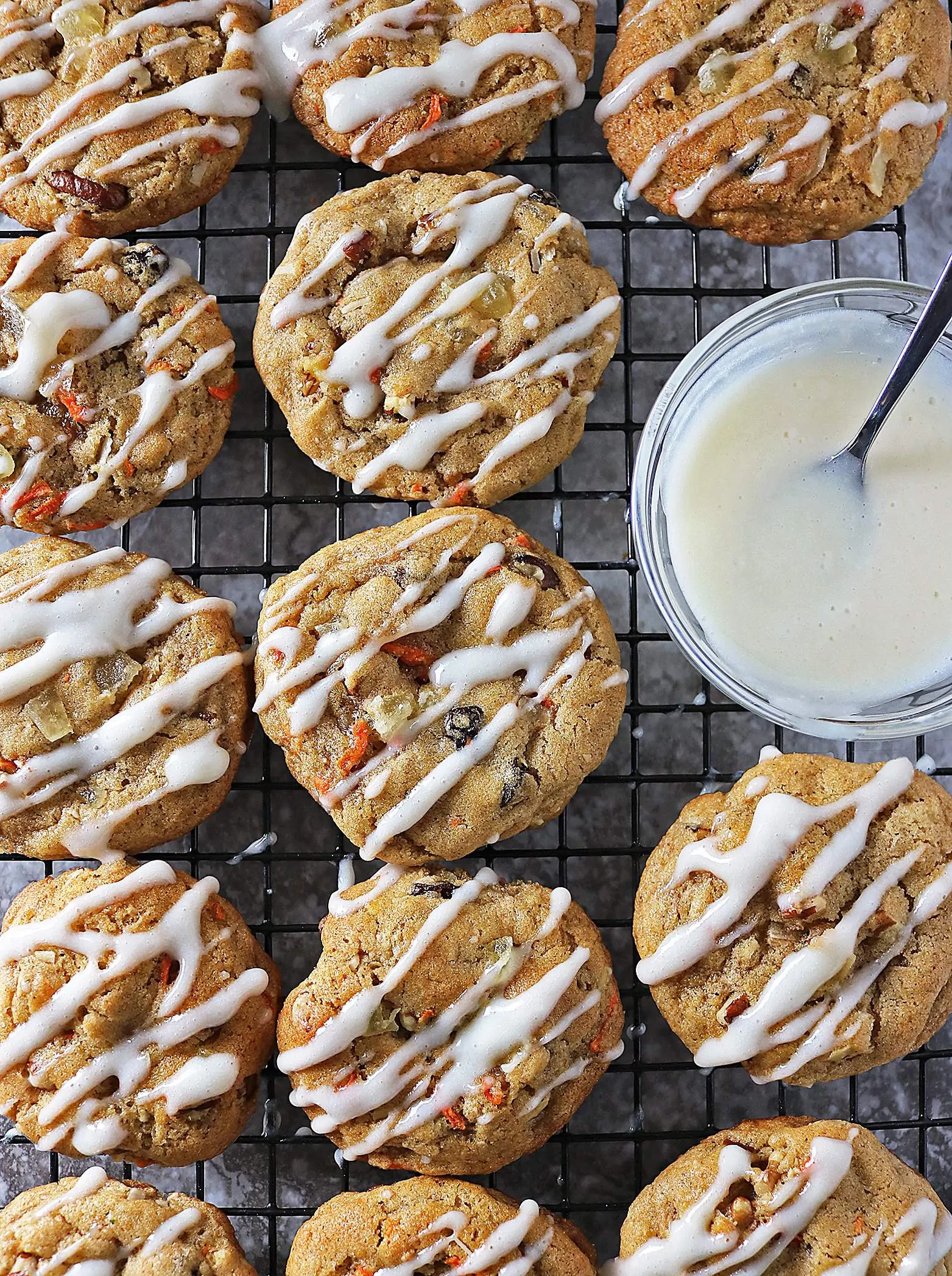 What makes these carrot cake cookies so flavorful?
With an 18-ingredient list that includes:
Kerrygold butter,
sugar,
light brown sugar,
eggs,
vanilla extract,
orange extract,
all-purpose flour,
rolled oats,
baking powder,
baking soda,
cinnamon,
cardamom,
ginger powder,
carrot,
walnuts,
raisins,
candied pineapple, and
These Carrot Cake Cookies are slightly chewy, most definitely sweet, and flavor-packed with the addition of a little bit of cinnamon, cardamom, orange extract, and vanilla extract.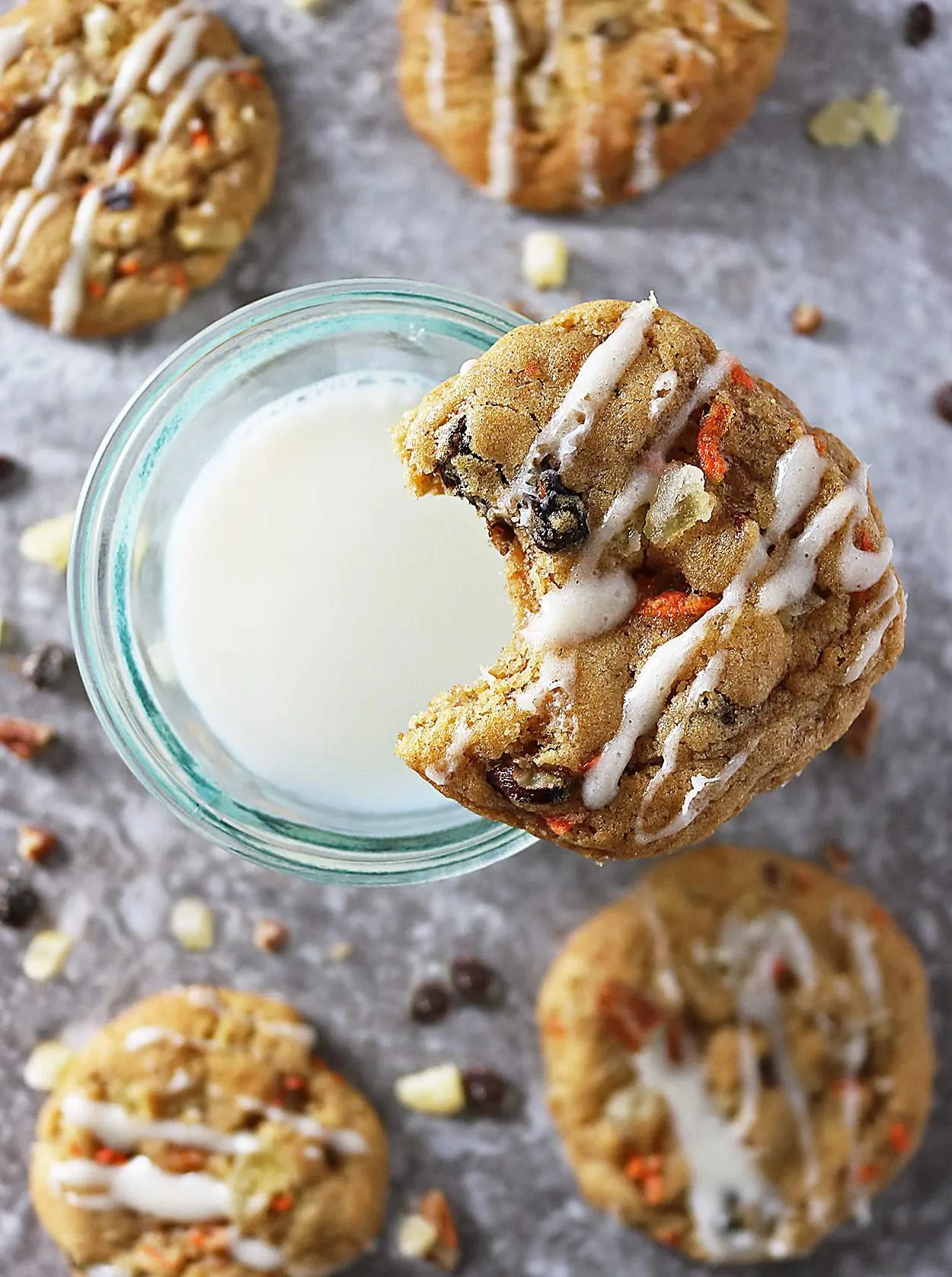 Tips to make these cookies:
I used Kerrygold butter in these cookies as it has a lower water content which makes it ideal for baked goods. Also, it taste pretty darn fantastic,
I used some candied pineapple along with shredded carrots, raisins, and walnuts in these cookies to enhance their taste and texture.
I also added in oats as I love the taste and texture of oats in cookies. I f you would rather not, then just add a half cup more of all purpose flour while leaving out the oats.
They can be enjoyed without the cream cheese drizzle or with it. The cream cheese drizzle is very similar to the one I used with these Carrot Cake Waffles and is a bit on the sticky side.