If you are looking for an no-bake, dairy free or vegan summer dessert, this Easy Mango Custard recipe is for you! Filled with sweet, ripe mangoes and 4 other ingredients, this mango custard is sure to delight vegans and non-vegans alike with it's lusciously creamy texture and taste.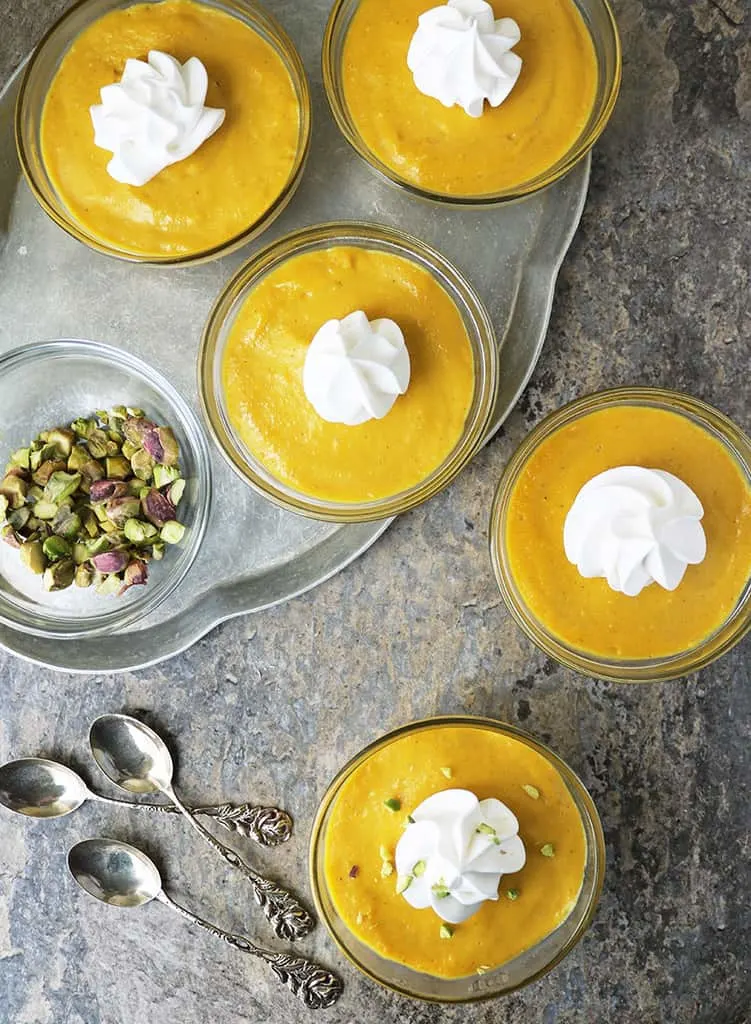 For me, the word "custard" conjures up memories of creamy comfort on a spoon. Custard was one of the most popular homemade desserts of my youth, and one of my favorite treats.
On many a weekend, my mom would make her delicious cardamom-laced vanilla custard for my sister, dad and I. Then, there were those special occasions when she would whip up a batch of Watalappam, which is a custard made with jaggery and coconut milk, and quite popular in Sri Lankan households.
Fast forward to a couple of Christmases ago…

My daughter and I had custard on our brains so we decided we would make some custard pies instead of mincemeat pies, for our Christmas dessert table.
I went through my stash of cookbooks and decided on a recipe by Paul Hollywood. Well…
When those pies were done, we decided to taste one…

Well… all I'll say is those pies never made it to our Christmas Dessert table…
Since then, I haven't made a whole lot of custard as my daughter has been trying to avoid eggs and I don't trust myself around an entire batch of custard or Watalappam.
At least, that was until I decided to make some individual, egg-less, no-bake, mango custard, like the ones you see here.
Being on the subject of mangoes…how do you cut a mango?
I've seen many folks slice of the sides of a mango with the skin and then proceed to cube the mango flesh up, and then cut through it. However, in this case, I opt for the mango-cutting technique my mom passed down.

And that is to: 1) peel the skin off the entire mango. 2) slice through the mango diagonally, deep enough to lightly touch the large seed in the middle. 3) Chop off the flesh of the mango that will chop off in cubes, until, 4) you are all done and most of the mango (minus the seed) has been salvaged to enjoy!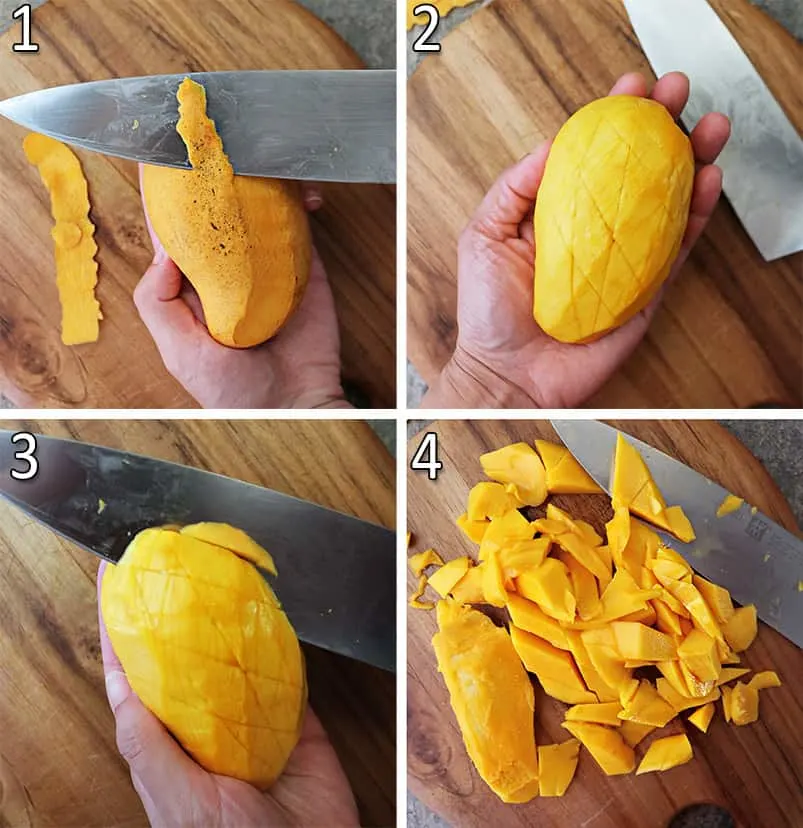 Now, getting back to this mango custard, and…
Why we love this easy mango custard:
These individually portioned mango custards are so easy to make.
They call for just 5 ingredients, such as:
• Mango
• Coconut condensed milk
• Coconut flour
• Cardamom, and
• Coconut oil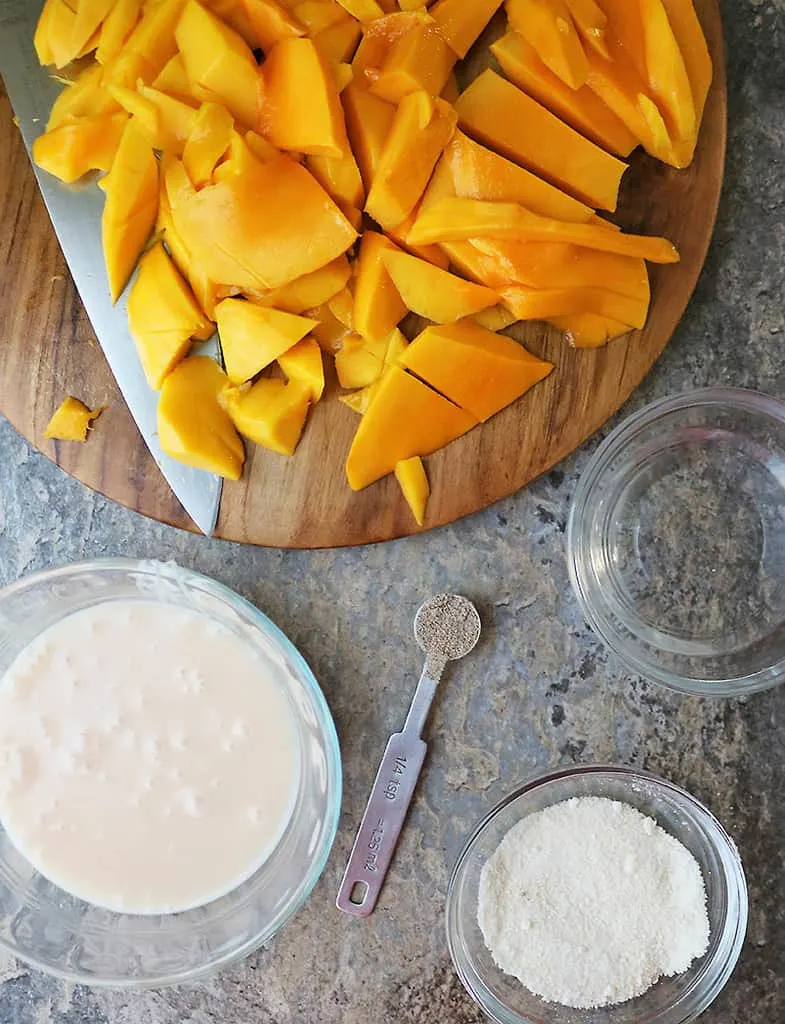 While this custard does not have the elements of a traditional custard, to me it has the look and creamy comfort of one.
I used coconut condensed milk as lactose is not my friend and I didn't have any Lactaid pills on hand. If lactose is your friend, please feel free to use regular condensed milk.

The coconut flour acted like cornstarch in thickening up this mango custard.

And, the quantity of coconut oil further helped combine the ingredients and give them a more custard like texture. Be cautious when using coconut oil as you want these to be more custard like and less like this strawberry blueberry cheesecake-like cake.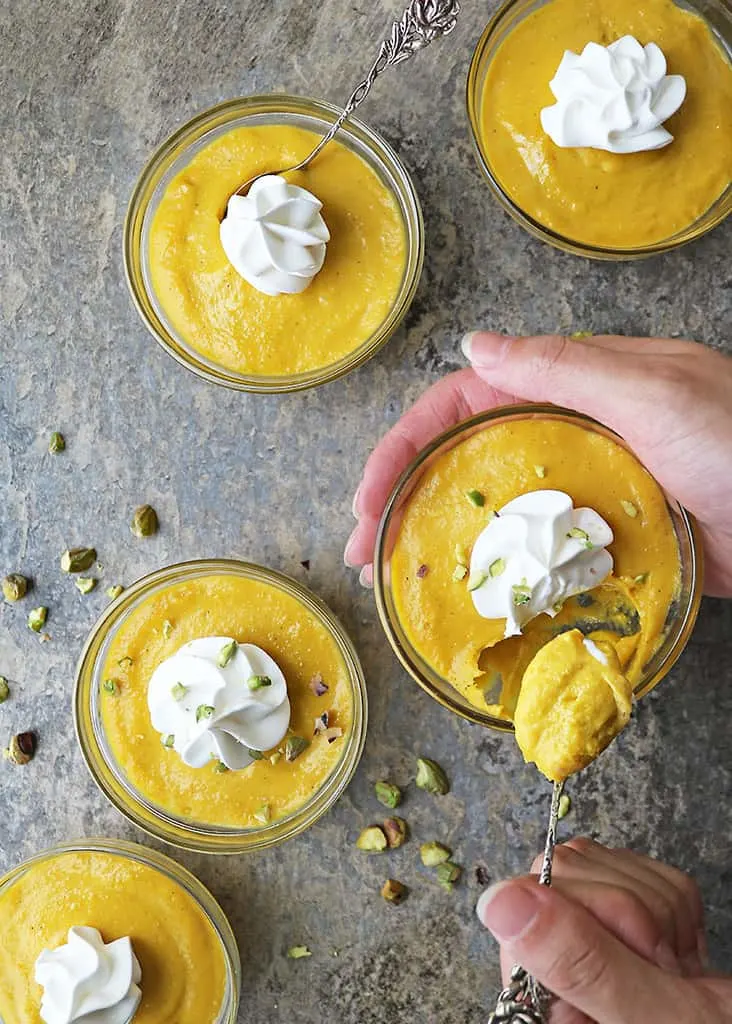 My daughter and I so enjoyed these individual mango custard treats. If you prefer, you can serve this mango custard in one large bowl instead of 5 individual ones (like these). This mango custard is perfectly sweet, lusciously creamy, and delightfully satisfying. And, if you are looking for a healthier, no-bake, summer treat, I sure hope you give these a try.