Squeeze a taste of the tropics into your morning with this easy Dragon fruit chia breakfast pudding ~ it is a healthy and creamy way to start your day, and guess what? You can prep it the night before to enjoy on a busy weekday morning.
I've partnered with Sprouts on this recipe for Dragon Fruit Chia Breakfast Pudding with Rambutan. All opinions herein are my own. Thank you for supporting the brands that keep this blog spinning.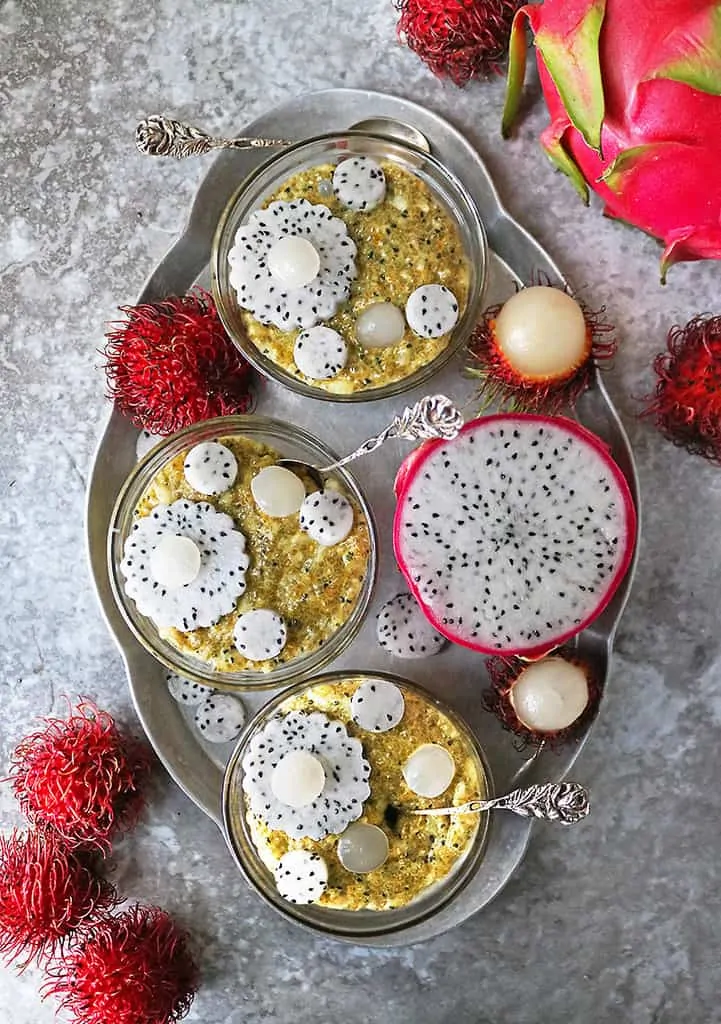 I did not have my first apple until I was 10 years old. No, no, I do not harbor any sort of resentment towards apples, or fruits, for that matter. In fact, I have always loved fruit.
However, the fruit of my youth did not include apples, oranges, or grapes. You see, I spent the first 10 years of my life in Colombo, Sri Lanka feasting on ripe jackfruit, papaya, mangoes, pineapple, plantains, mangosteen, and rambutan.
Some of these fruits are not easily found here in the US. So, whenever I do come across them, I do a Carlton-from-Fresh-Prince-type happy dance! Now, I do have two left feet so my happy dance looks more like the Tasmanian Devil having a meltdown…
But, I digress…
Getting back to finding the fruit from my youth at stores around HotLanta… this past weekend we stopped by Sprouts and, y'all, Sprouts is really stepping up their tropical fruit game!
A few weeks ago, I was picking my jaw off the floor at the variety of melons I came across at Sprouts. And, this weekend, my eyes couldn't believe they were seeing dragon fruit, rambutan, gold kiwis, and fresh coconut in the produce section at Sprouts!
As I've mentioned before, one of the reasons I love shopping at Sprouts is because of the variety and quality of their fresh produce. And, lately, they are starting to carry fruits I usually would only find at farmers markets around town. It goes without saying that I grabbed some of the dragon fruit and rambutan I saw.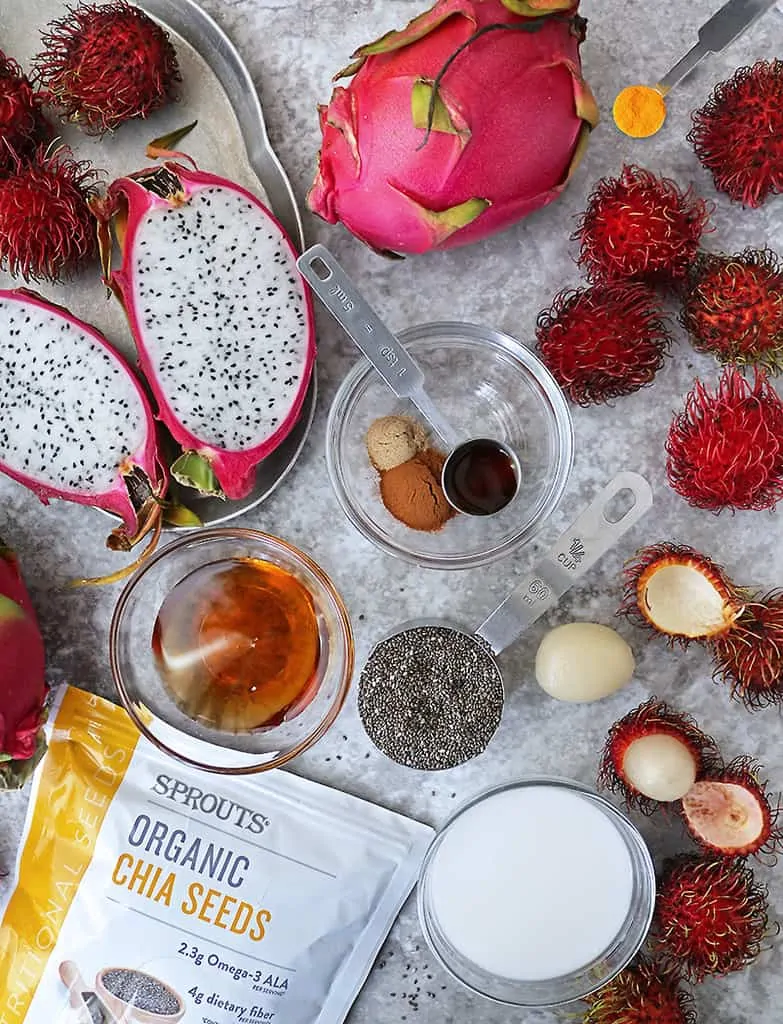 Interesting facts about Dragon Fruit:
Dragon fruit, also referred to as Pitaya and pitahaya, is a pod that grows on flowering cacti. It boasts a long list of health benefits that are said to include helping with blood pressure, blood sugar, and even as a sunburn relief aide. Originally from Vietnam, they are now plentiful all over South Asia.
To eat the dragon fruit, wash the outside of the fruit well. Then, cut in half and scoop out the speckled interior flesh. Dragon fruit can be enjoyed scooped out of the skin, in smoothies, puddings, and bowls like this chai breakfast pudding.
Interesting Facts about Rambutan:
Rambutan look rather unappealing with their almost porcupine-like exterior. However, don't let their spiny exterior fool you, because the flesh of the rambutan is like nothing I've ever eaten. You get to the light, crisp, sweet, and delicious flesh of the rambutan by first washing the exterior. Then, using a knife, cut gently around the spiny exterior. By the way, the exterior is not as hard or thick as you might think. Once the spiny exterior is removed, you will get to the almost translucent flesh. You can enjoy this as is, but there is a very large seed in the middle of the flesh that you might want to remove as it is not safe for consumption. Rambutan is high in vitamin c, fiber, iron, and zinc, and is believed to help with a slew of ailments from diabetes to blood pressure inequalities.
Why we love this Dragon Fruit Chia Breakfast Pudding:
I used the dragon fruit I brought home in today's healthy and oh-so-tasty Dragon Fruit Chia Breakfast Pudding. It is a very simple recipe to make. You simply gather up the following 9 ingredients:
ripe dragon fruit
chia seeds
coconut milk
cinnamon
cardamom
vanilla extract
maple syrup
turmeric, and
salt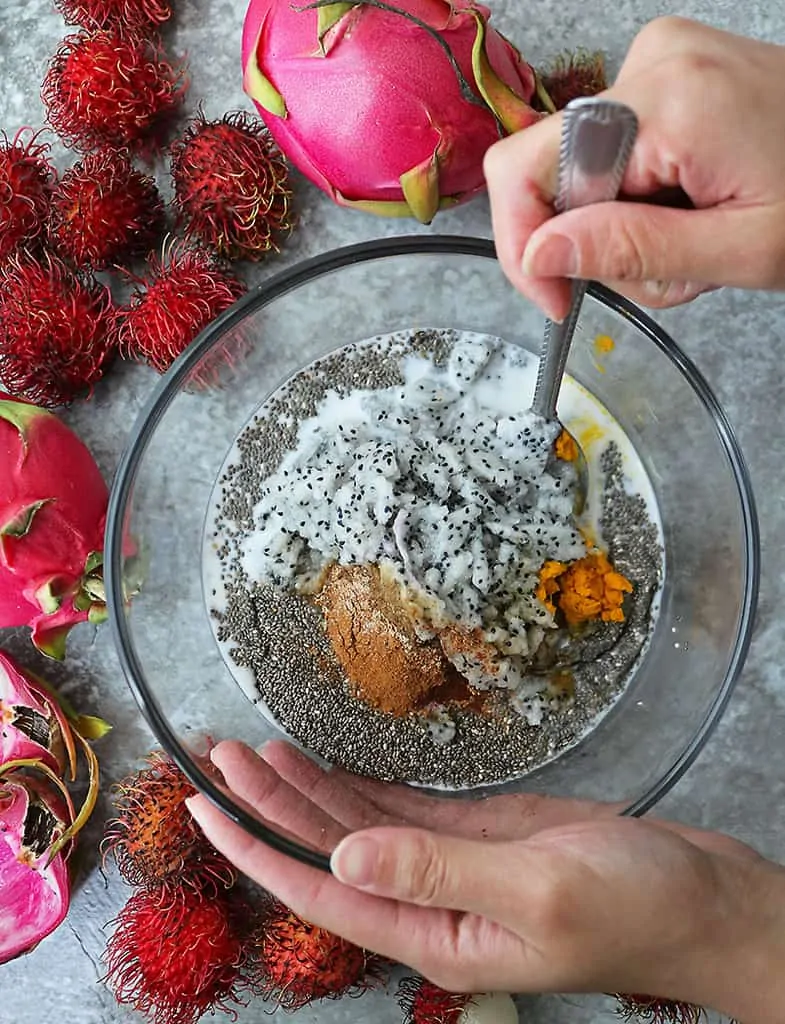 Mix all the ingredients together and chill. That's it!

You can make this nutritious and tasty, chia breakfast pudding the night before so you have it ready to enjoy in the morning with your cup of coffee or tea. Or, take it to go to enjoy at work.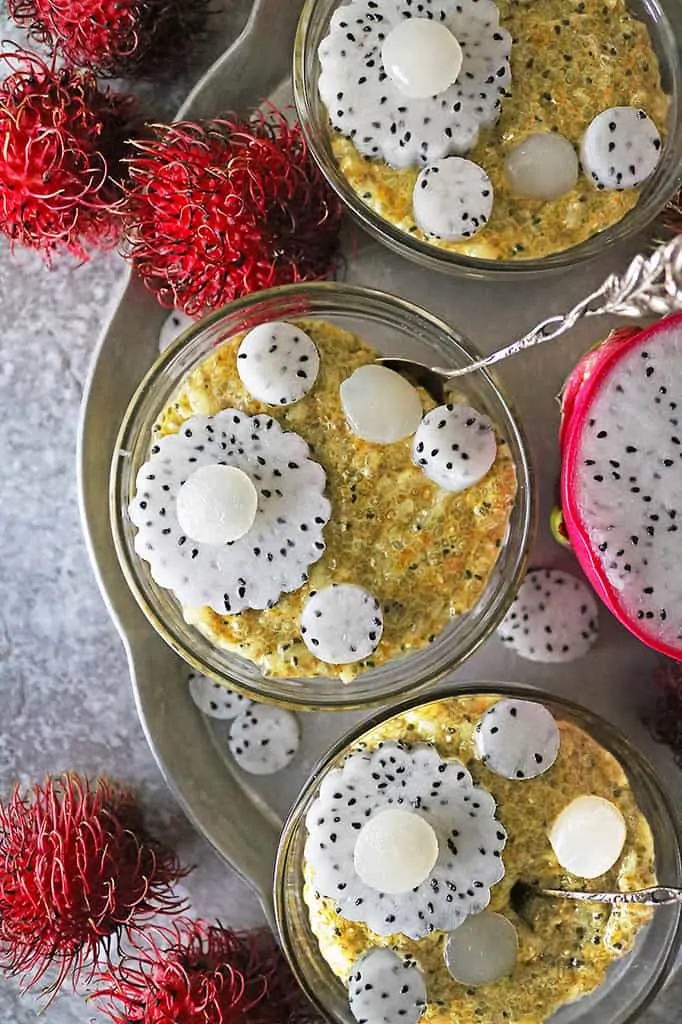 My daughter and I enjoyed this chia breakfast pudding for breakfast and made it again and enjoyed it for dessert. I am hoping you get to check out the tropical fruit section at your neighborhood Sprouts soon, or shop online and have those tropical fruits you are eager to try, delivered to your doorstep.