Vegetarian and delicious, this Broccoli Gratin with Cranberries is infused with flavor from sautéed onions, ginger, garlic, sundried tomatoes, and cranberries – making this a tasty lighter dish to serve up for Thanksgiving and the holidays.
I've partnered with Sprouts on this recipe for Broccoli Gratin with Cranberries. All opinions herein are my own. Thank you for supporting the brands that keep this blog spinning.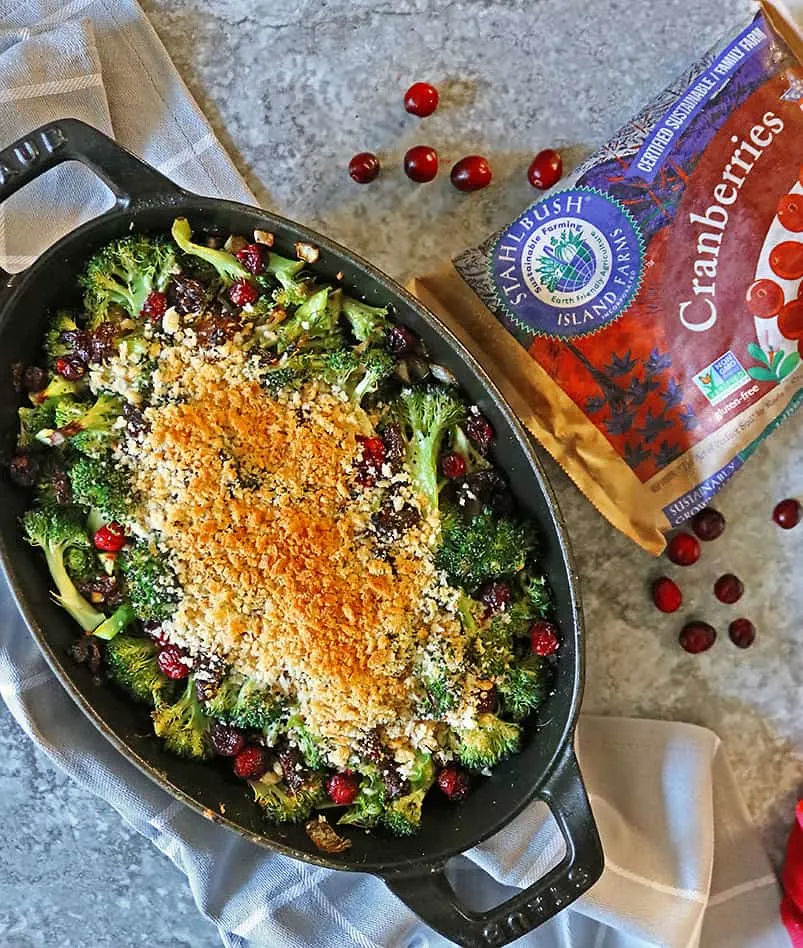 I might have a shoddy memory, but I remember my very first Thanksgiving so vividly.
It was over 20 years ago. I was fresh off the boat airplane from Abu Dhabi and embarking on my freshman year at an art school in Buckhead.
One of my dorm-mates found out I was planning on spending the Thanksgiving holidays at the dorm and she invited me to make the drive back to Ohio with her.
Up until that November, all my knowledge of Thanksgiving came from books and movies. I had no idea what a treat I was in for with her family and friends. That first Thanksgiving was beyond anything I had ever imagined. My dorm-mates family and friends accepted me with warm, food-filled arms. It was a Thanksgiving for the books (as they say).
As I find myself in November 2020, I find myself reminiscing on my first Thanksgiving. I was a vegetarian back then but didn't go hungry as there were so many vegetarian side dishes there that I filled up on.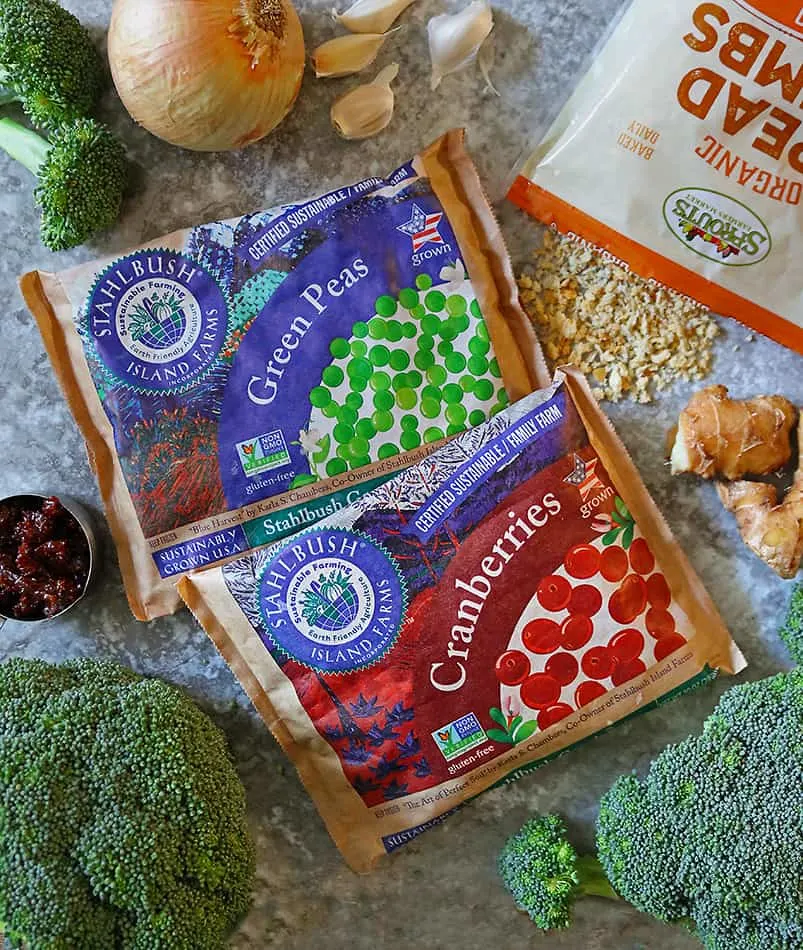 I am not a vegetarian anymore, but still love a Thanksgiving table laden down with vegetarian sides. While this year Thanksgiving will be on a much smaller scale, I still feel the need to stock my holiday table with plenty of vegetarian side dishes. Besides, they make delicious leftovers.
And, when it comes to vegetables for those sides, Sprouts is my favorite stop. From fresh vegetables from the produce section to premium frozen veggies, the quality and price of veggies at Sprouts is hard to beat.
During this past week of moving and renovating, my daughter and I headed to Sprouts to grab a few salads to tide us through. And, while we were wondering around the frozen foods section looking for some easy meals and breakfast ideas, I came across Stahlbush Frozen Peas and
Stahlbush Frozen Cranberries.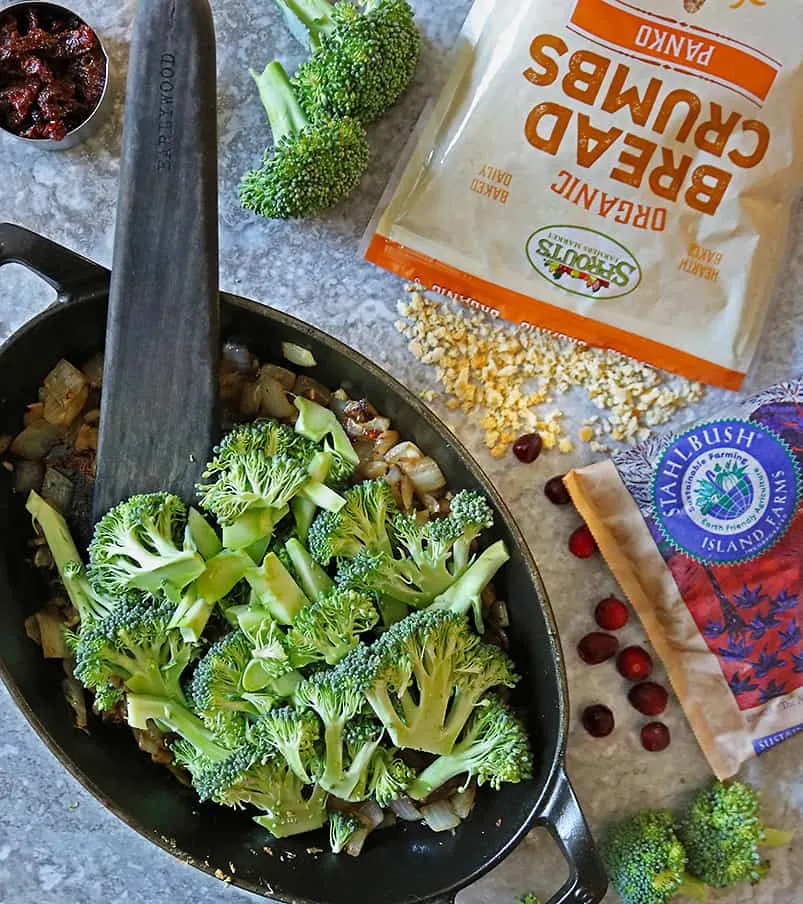 I brought some home and decided to use them in a healthier Broccoli Gratin with Cranberries I have been experimenting with. I have been wanting to make a broccoli gratin that was cheese-less and featured bread crumbs as a topping instead of cheese. As a gratin encompasses a shallow dish with a browned crust of bread crumbs OR cheese, I figured I'd try to come up with a healthier take on it for Thanksgiving and Christmas.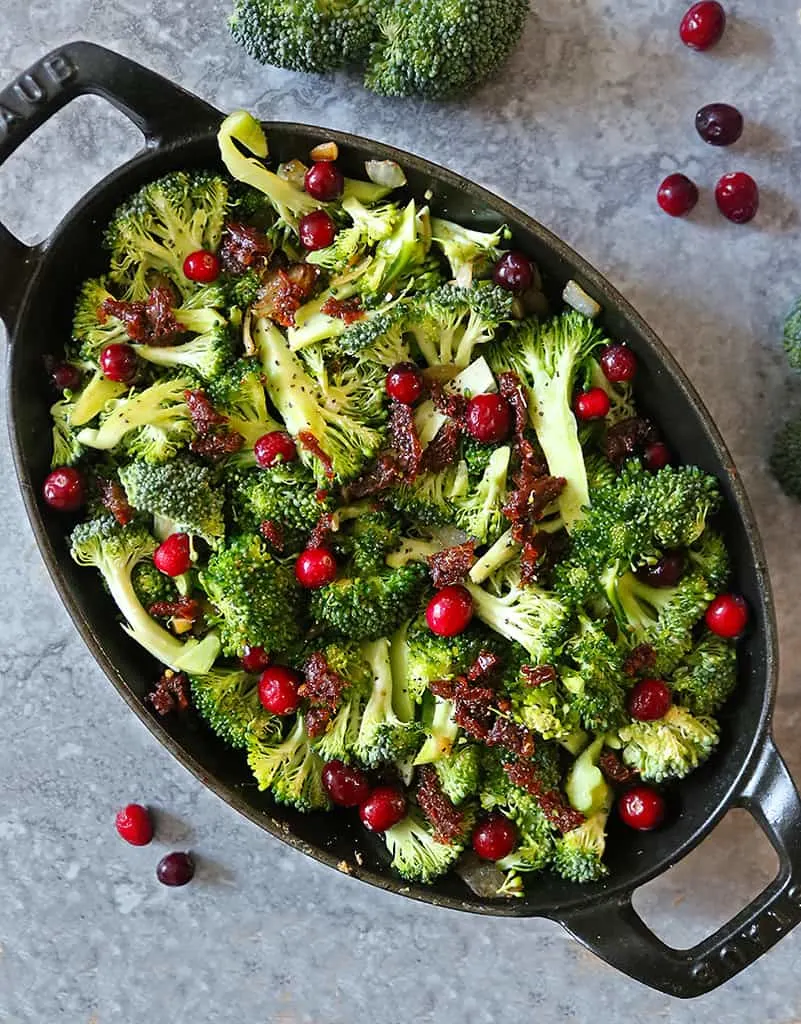 I figured instead of using cream and butter to flavor it, I would use a base of sautéed, lightly browned onions, ginger, and garlic to add a flavor punch along with some sundried tomatoes and Stahlbush Frozen Cranberries. Savory, sweet, tart, salty, ~ this recipe has it all!
I have tried this recipe out twice at home. It is such a super easy recipe – with a handful of ingredients.
What are the ingredients needed to make this broccoli gratin?
You will need:
olive oil
onion
garlic
ginger
broccoli crowns chopped roughly
Stahlbush frozen cranberries
sundried tomatoes
panko breadcrumbs, and
Salt + pepper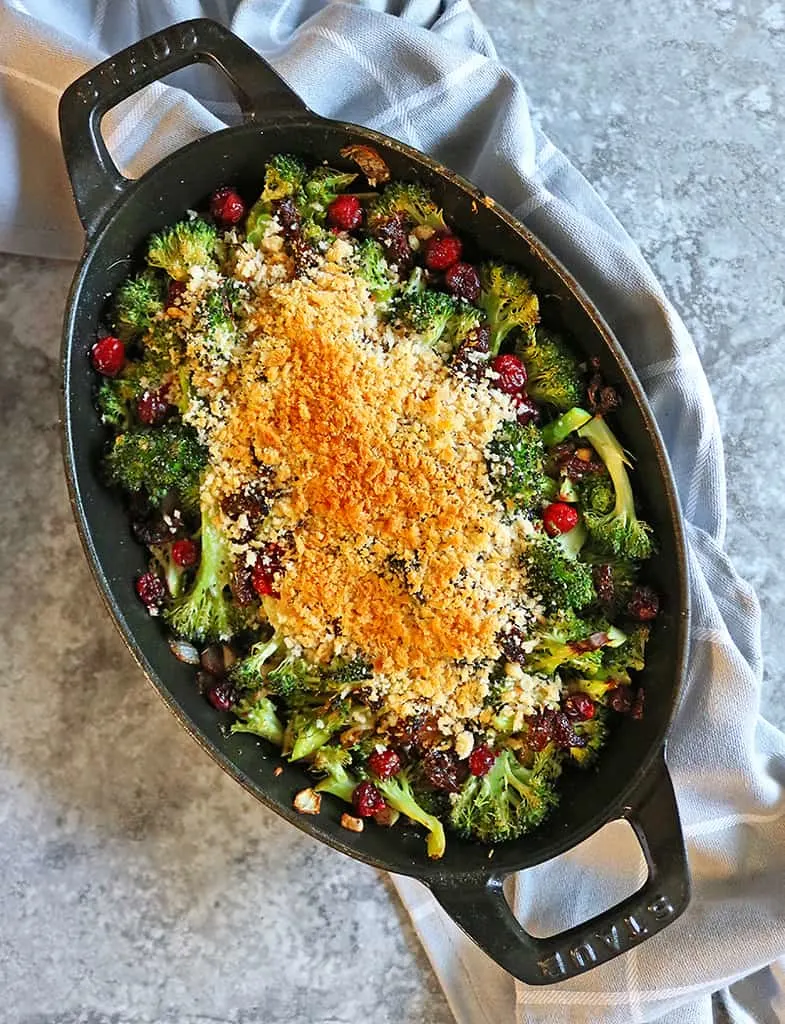 Both times I made this, it lasted slightly less than 24 hours in our home. There is so much flavor in this from browned onions + ginger + garlic + sundried tomatoes + Stahlbush Frozen Cranberries. My daughter wanted me to mention that the lightly toasted panko bread crumb topping plays a big part in that flavor explosion.
And, now she is trying to talk me into making a Brussels Sprouts gratin, a leek gratin, a zucchini gratin, and a cauliflower gratin by subbing in the said veggies for the broccoli for the holidays!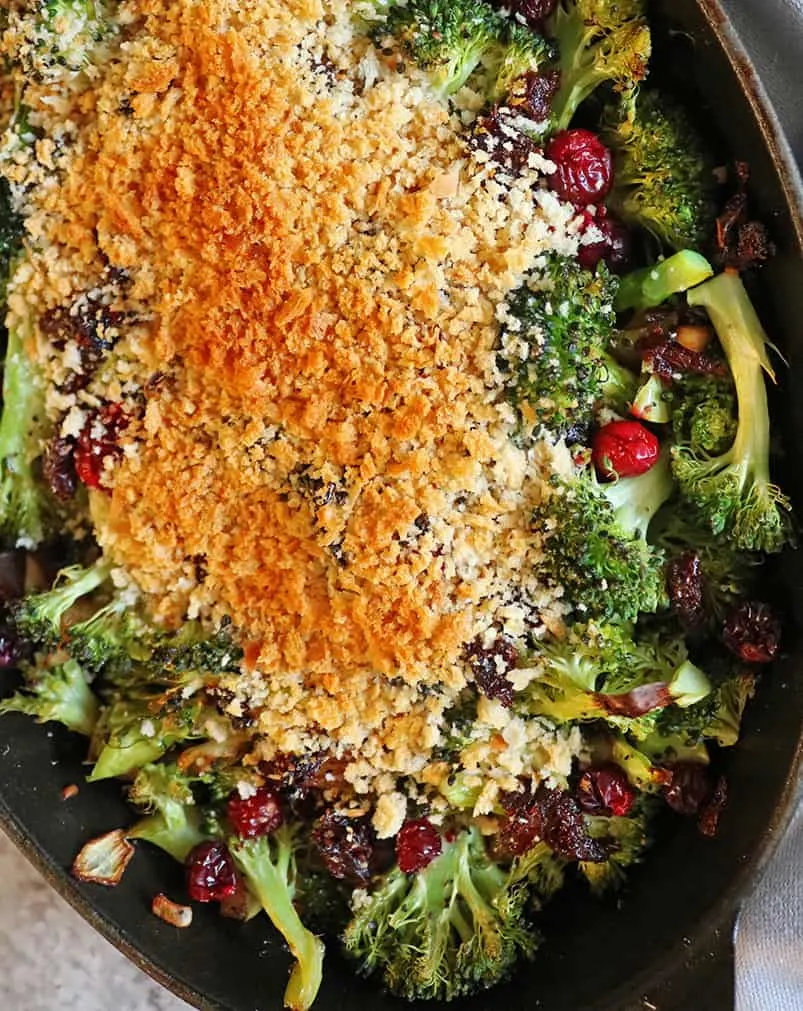 If you are fortunate to live near a Sprouts, make sure to check out their fresh produce, prime frozen veggies like Stahlbush's line, and their seasonal items. Do keep in mind that their seasonal items seem to last as long on the shelves as this Healthy Broccoli Gratin with Cranberries did in our kitchen ~ which isn't very long at all!