These Almond Flour Peanut Butter Cookies are my tasty, gluten-free, eggless, spin on traditional peanut butter cookies. These melt-in-your-mouth cookies are made with 6 main ingredients and are ready to enjoy in 30 minutes. Serve them dipped in chocolate for a truly indulgent cookie.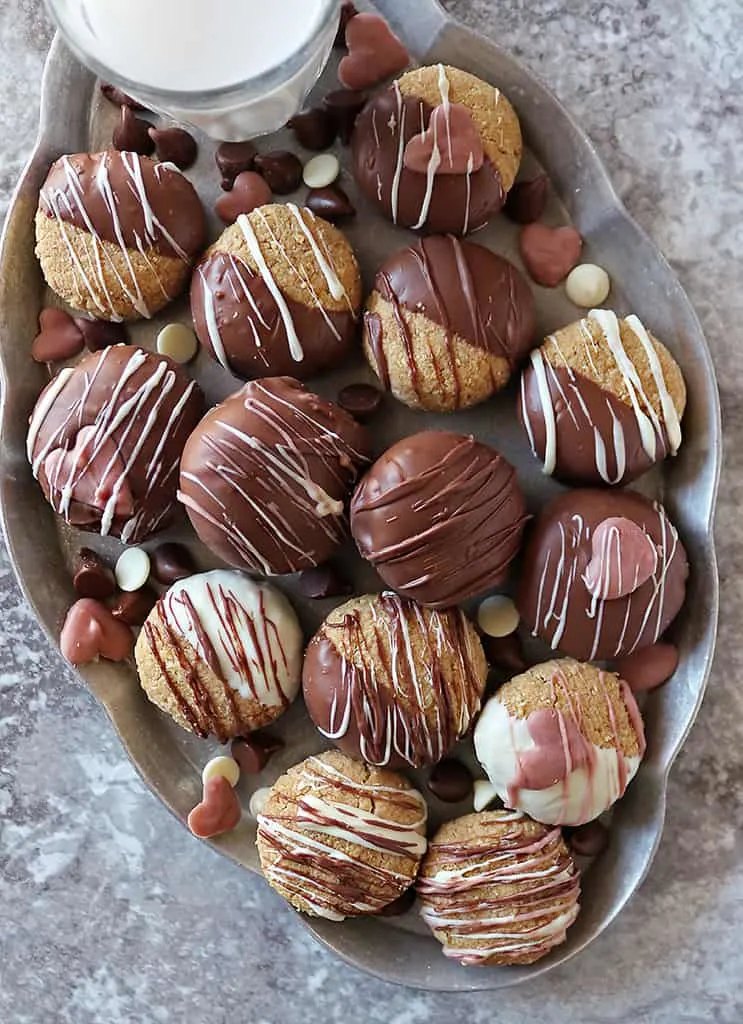 My daughter and I did some serious damage to the last batch of these Chocolate Dipped Almond Flour Peanut Butter Cookies. We simply love these cookies. They are:
• Soft, dense, and so thick!
• Gluten-free
• Eggless!
• Made with 6 ingredients (7 ingredients if you chose to dip them in chocolate)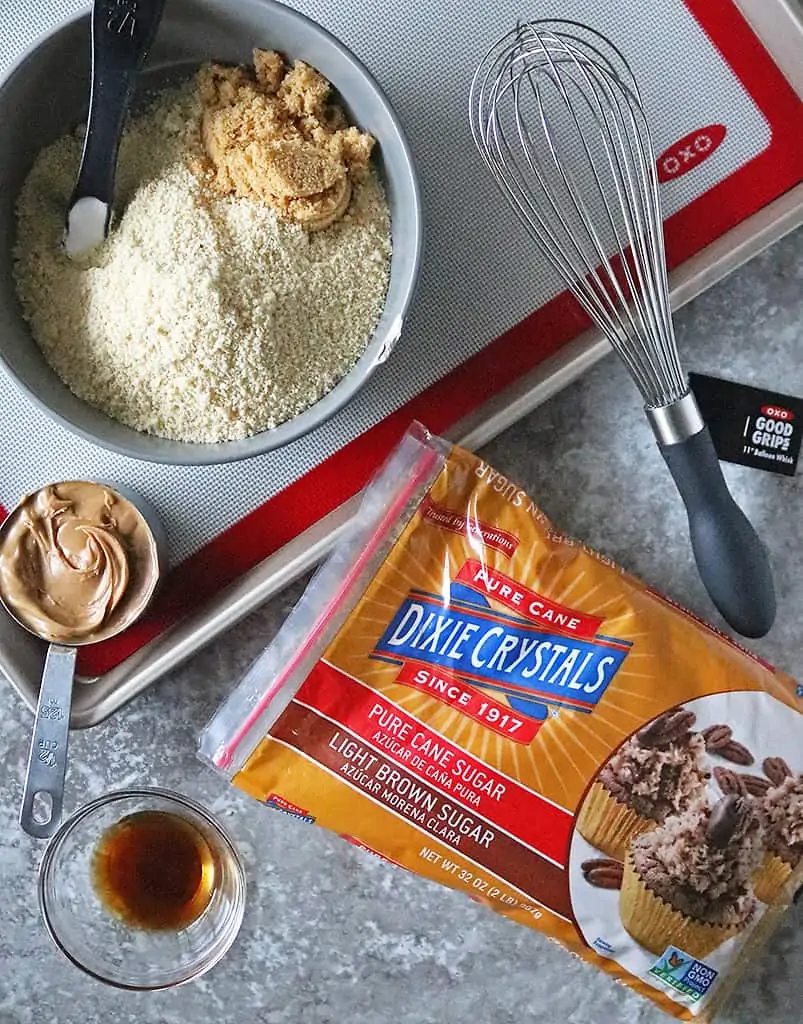 What are the ingredients to make these Almond Flour Peanut Butter Cookies?
To make these cookies, I used:
Creamy Peanut Butter
(I used Jif Natural Creamy Peanut Butter – this isn't a sponsored link. I just enjoy the texture and taste of Jif Natural PB. If you use a more liquid peanut butter, you might need to add more almond flour to get the consistency you see here.
Brown Sugar
I like the subtle taste of Dixie Crystals Brown Sugar in these cookies. I notice when I use cane sugar, these cookies spread out a bit more, whereas brown sugar helps these rise beautifully. I do make a refined sugar free version of these cookies as well and use a blend of Birch sweetener and Stevia in these.
Almond Flour
I used superfine blanched almond flour. The terms almond flour and almond meal are often used interchangeably, but almond flour is usually made from finely ground, blanched (peeled) almonds, whereas almond meal, is usually made with coarsely ground, unblanched (unpeeled) almonds. Almond flour usually has a finer texture and is lighter in color than almond meal.
Vanilla Extract
This is for flavor and smell.
Almond Extract
Again, this makes my nostrils as happy as my tastebuds and I urge you not to leave this or the vanilla extracts out.
Baking Soda
Helps give a bit more of a rise to these cookies and helps them be soft.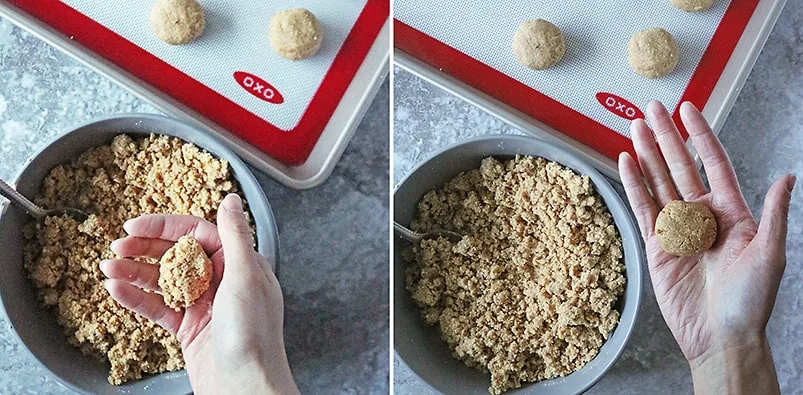 When you mix up the ingredients together, they almost look like bread crumbs. They will not look creamy and cookie dough batter-like. You would just gather up a tablespoon or two of this crumb-like dough in your hands and shape it into an oval cookie. I am delighted that these cookies retain their shape during baking.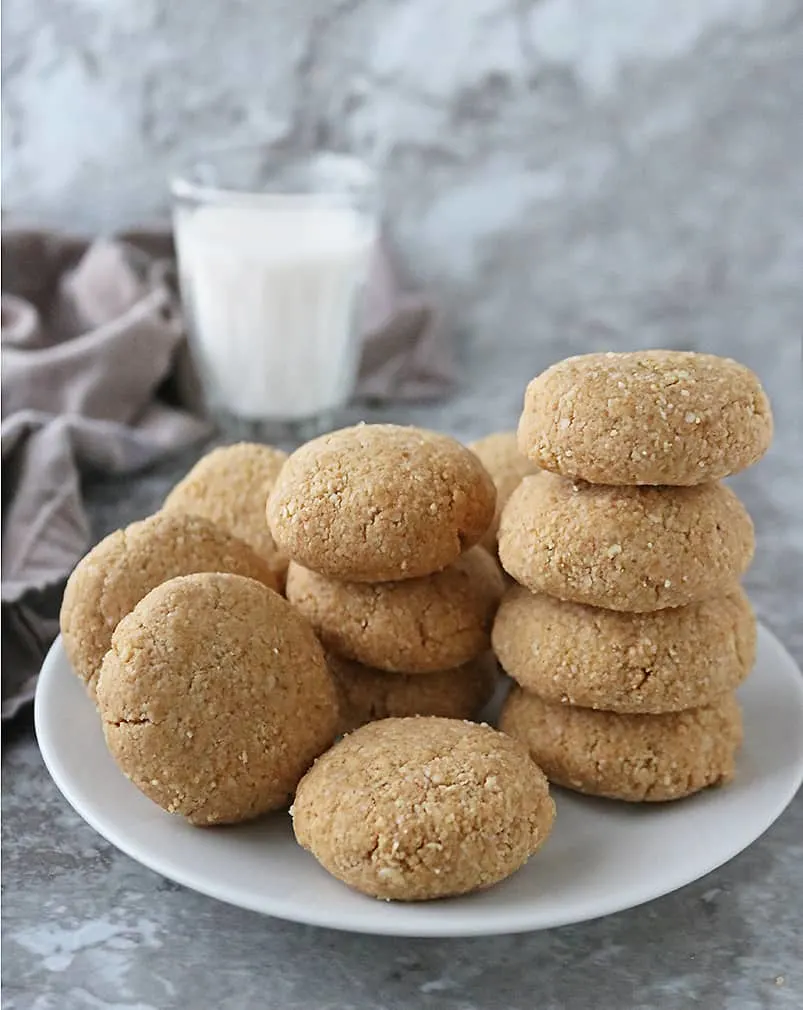 I chose to dip, drizzle, and dunk these cookies in milk and white chocolate and some of them got a little ruby chocolate heart!
February is the month of hearts. It has Valentine's Day in the middle of it and it also happens to be heart-health month. So, I figured these little ruby-chocolate heart adorned cookies could play double duty.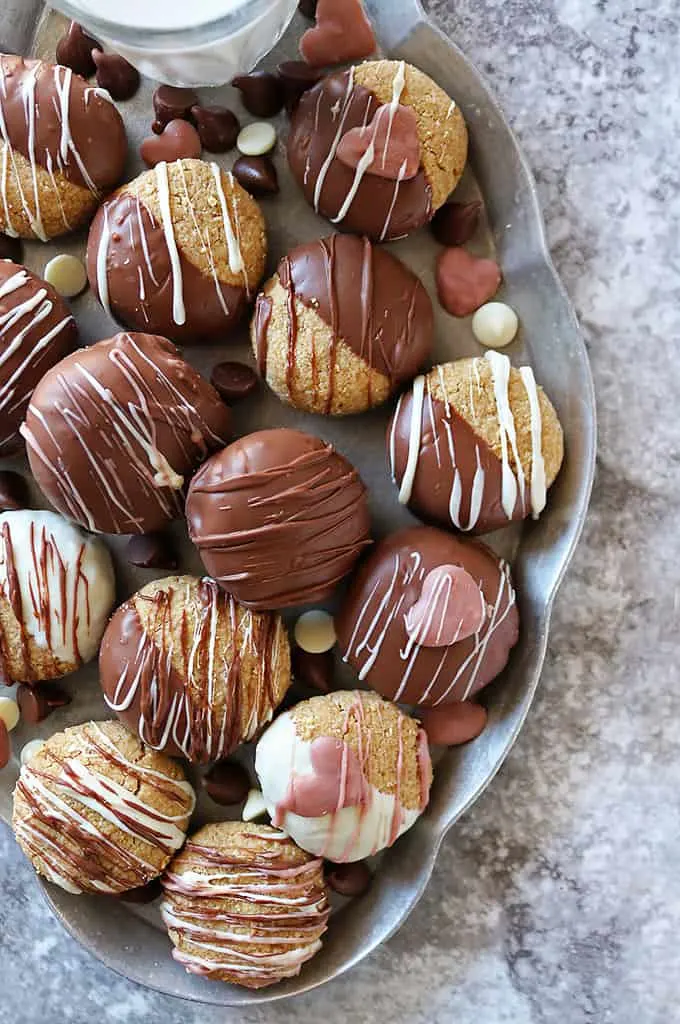 These cookies are made without any eggs or butter. I so love that these cookies have a beautiful rise to them with hardly any spreading.
These Almond Flour Peanut Butter Cookies are my contribution to the 2021 Good Cookie Food Bloggers Valentine's Event. A few years ago I made this raspberry chipotle curry for this event and this year I am excited to be able to join several other bloggers in supporting a cause that is dear to my heart. This is the fifth year for our Good Cookie Food Bloggers Valentine's Event and we want to continue to make a difference in the fight against pediatric cancer.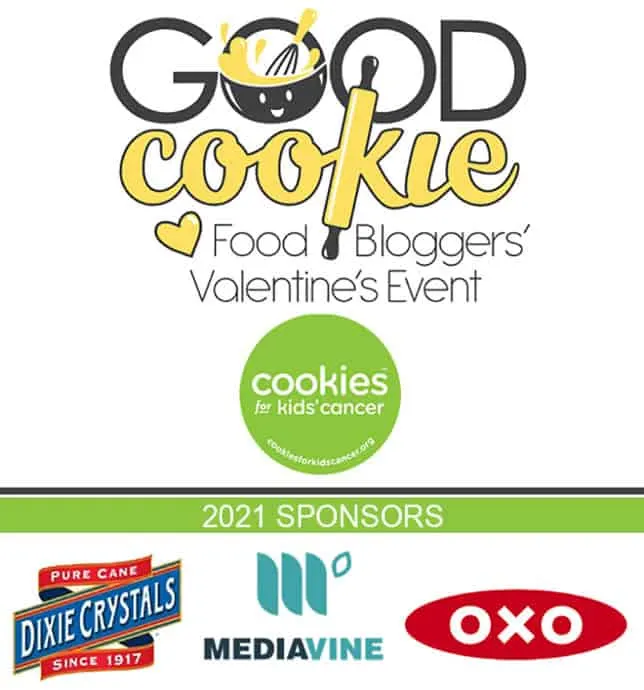 Did you know that cancer is the #1 cause of death of children by disease in the U.S.? There are 40,000 U.S. children actively battling cancer right now. With less than 4% of the National Cancer Institute's budget going to all childhood cancer combined, I knew it was important for me to get involved and donate to such an incredible cause.
During this ongoing pandemic, children are still being diagnosed with cancer. It's imperative that we raise awareness and continue to raise funds to fund the ongoing pediatric cancer research!
Please help us make a difference by donating to Cookies for Kids' Cancer!
Our goal is to raise at least $3000. Because these three companies: OXO, Mediavine amd Dixie Crystals have each pledged to match our donations raised through this campaign up to $3000! That means when we raise $1, it turns into $4!
Thank you to so many of you who have already donated. Donations are being accepted until March 1st, so I humbly ask you to please donate. With matching contributions, join us in reaching our goal and help us make an even huge difference in the battle against childhood cancer!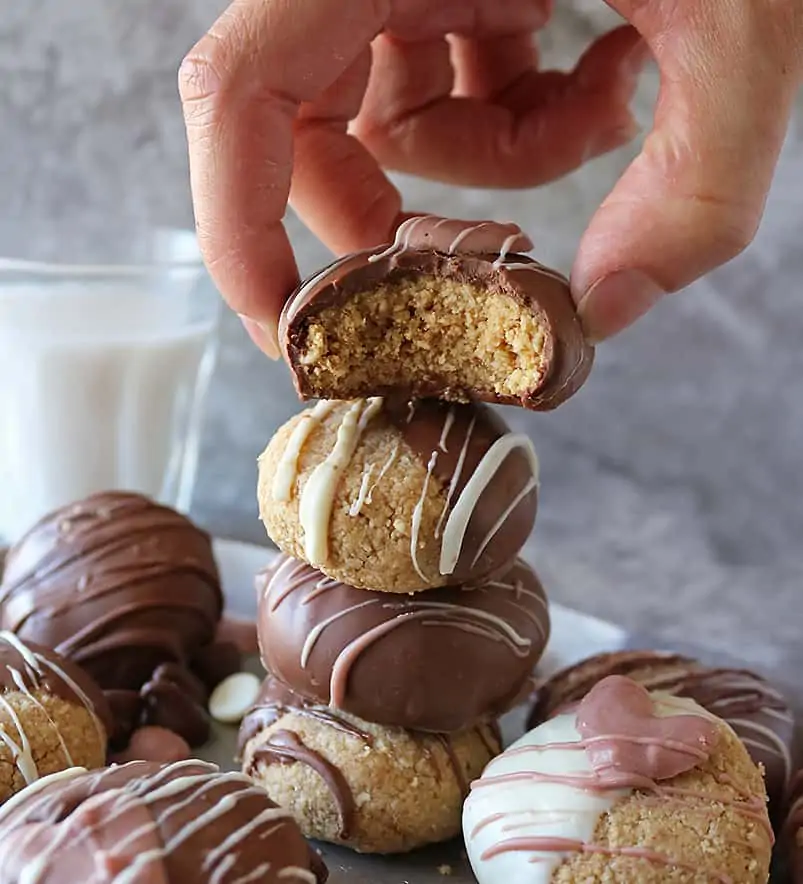 Some of our favorite cookies on Savory Spin are:
• These Chocolate Hemp Cookies (Gluten Free),
• These Chocolate Strawberry Cookies (Gluten Free),
• These Triple Chocolate Beet Cookies,
• These Chocolate Beet Cookies,
• These Hemp Chocolate Cookies,
• These Mocha Cookies (Gluten Free),
•These Cinnamon Vanilla Apple Cookies,
• These Chocolate Drizzled Hazelnut Bites, and
• These Gluten Free Almond Chocolate Cookies.