This post has been sponsored by Sunkist Growers. All thoughts and opinions are my own.
This Easy Citrus Za'atar Chicken and Quinoa Dinner is a hearty and wholesome dinner recipe that is made with just 7 ingredients and a variety of citrus fruits.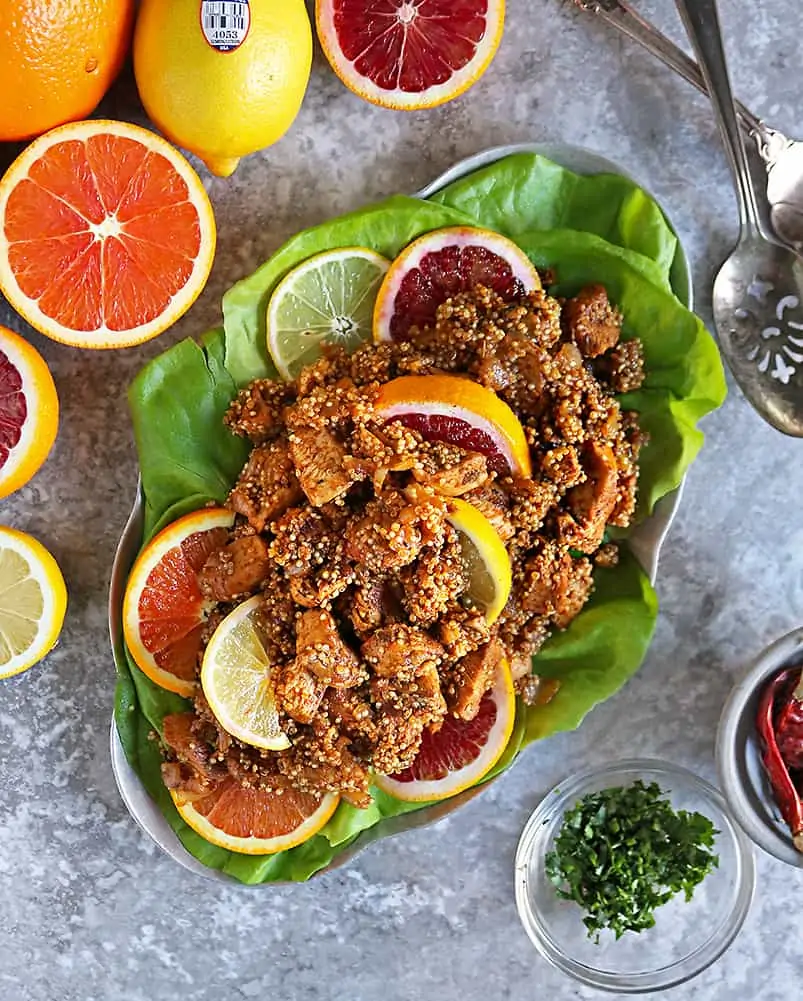 This Citrus Za'atar Chicken and Quinoa Dinner is so easy to make and so tasty. Fresh Sunkist® Blood Oranges, Lemons, and Cara Cara Oranges unite with za'atar in this recipe. They enhance the flavors of garlic, onion, and smoked paprika so beautifully – resulting in quite a delicious and nutritious chicken and quinoa dinner.
You only need the citrus mentioned above and 7 other ingredients such as:
A yellow onion,
Garlic cloves,
Za'atar,
Smoked paprika,
Chicken,
Quinoa, and
Chicken or veg stock…
And, ONE large pan!
To make this dinner, I relied on the deliciously tangy-sweet flavor of caramelized Blood Oranges, Lemons, & Cara Cara Oranges.
Before Citrus season is over, I urge you to take advantage of the coupons and savings available at SunkistShopperHub.com. While there, check out some of the other recipes you can make with Sunkist citrus! Buy & Save Now!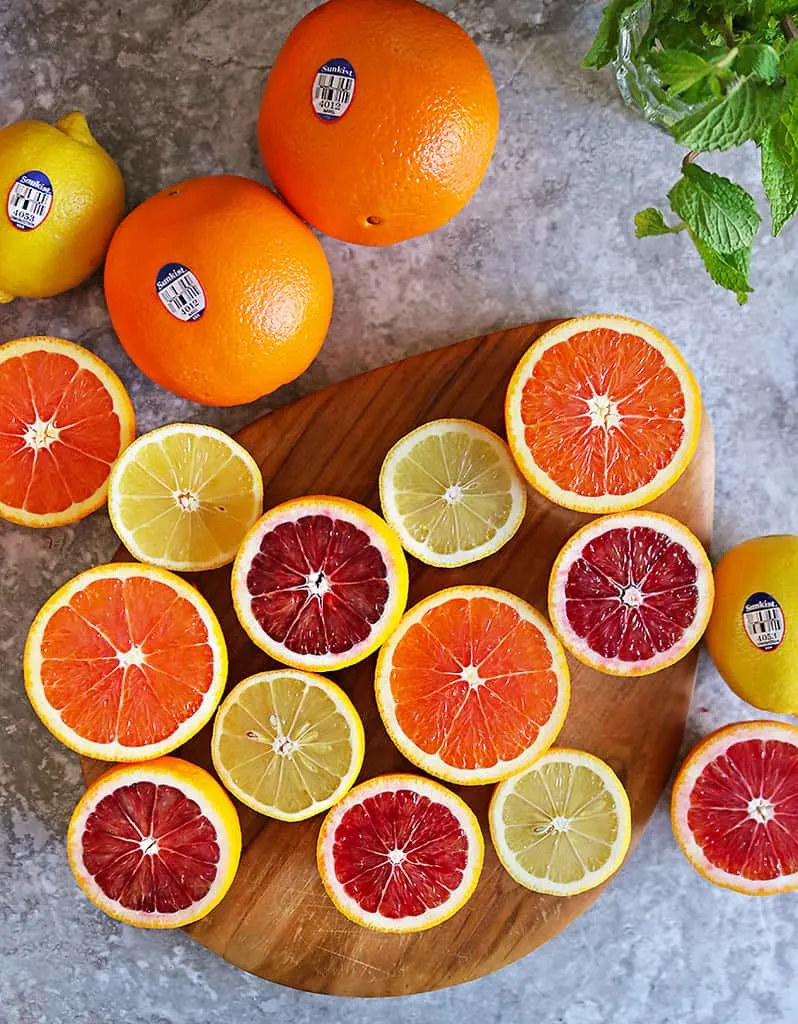 A few interesting tidbits about Sunkist citrus fruits:
Blood Oranges
Blood Oranges are distinguished from other oranges by the red blush on their orange peel. They also have a gorgeously hued maroon interior. They are said to get their red color from high concentrations of anthocyanins, which are natural plant pigments that have antioxidant properties.
They tend to be small in size, fairly easy to peel and have few if any seeds. With undertones of fresh raspberry complementing their rich orange flavor, one Blood orange is said to provide us with vitamin C (80% DV), fiber (11% DV), folate (15% DV), and thiamin (15% DV). They are low in fat, saturated fat-free, cholesterol-free, and sodium-free. Blood Oranges are available from December through June.
Cara Cara Oranges
Cara Cara Oranges are branded by Sunkist as The Power Orange®, as they offer the most vitamin C of the Sunkist citrus varieties, with 100% of the recommended daily intake in just one orange! Cara Cara Oranges look like Navel Oranges but their seedless interior has a rich pink hue due to the natural presence of the antioxidant lycopene.
They are extremely sweet with a lower level of acidity. In addition to 100% of DV of vitamin C, one medium Cara Cara Orange also provides fiber (11% DV) and folate (15% DV). Like Blood Oranges, they are also cholesterol-free, and sodium-free and are available from December through May.
Sunkist Lemons
Tart and tangy, Sunkist Lemons have a bright, floral aroma. Eureka and Lisbon Lemons are the most common Lemon varieties and are virtually indistinguishable from each other. One medium Lemon is said to provide 25% of our daily value of vitamin C. Like Blood Oranges and Cara Cara Oranges, Lemons are low-calorie, cholesterol-free, and sodium-free.
By the way, did you know you can reduce your sodium intake without sacrificing flavor by adding Lemon zest and juice to your meals?
I put this theory to test in this Easy Citrus Za'atar Chicken and Quinoa Dinner by using caramelized segments of Blood Oranges, Lemons, & Cara Cara Oranges as well as their juice in this recipe.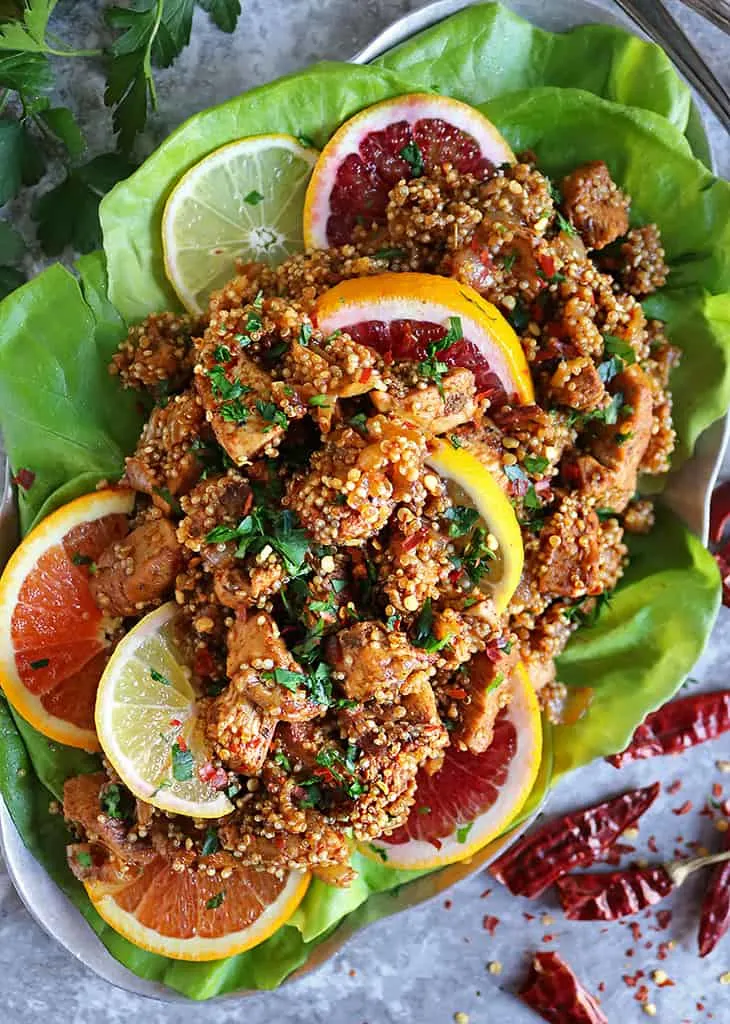 I did this by sautéing a couple of slices of Blood Oranges, Lemons, & Cara Cara Oranges until they caramelized (like I did in this Honey Lemon Chicken recipe). I then added the chicken, spices, quinoa, and a mix of vegetable stock and juice from the Blood Oranges, Lemons, & Cara Cara Oranges.
The tangy sweetness of the citrus complemented the smoked paprika and the multitude of herbs found in za'atar, so beautifully ~ resulting in this flavorful and tasty quinoa and chicken dinner.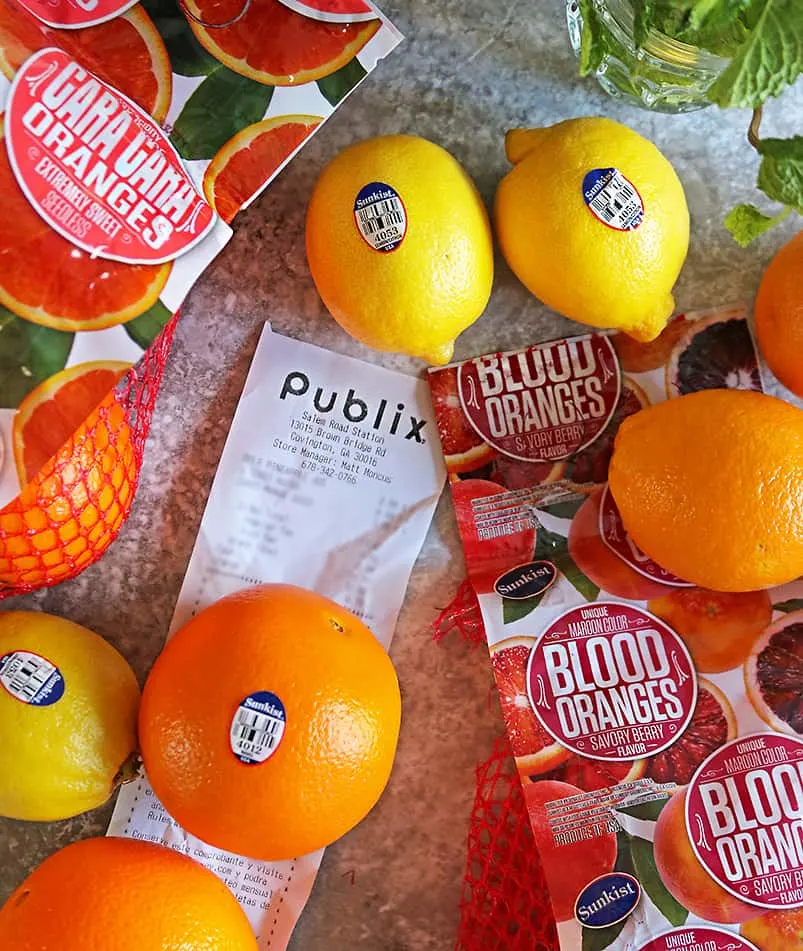 If you have leftovers, you can store them in an airtight container in your refrigerator for 2-3 days. I could not vouch for more than that as we never seem to have leftovers that last longer than that.
In fact, the day after, I caught my daughter eating cold leftovers of this. The funny thing being, she was eating cold leftovers while she was waiting for a bowl of this to heat up in the microwave!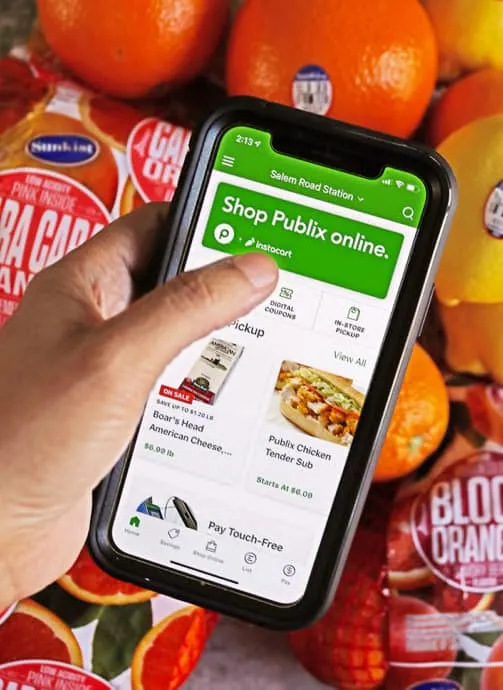 I took advantage of the fact that we are in the middle of the citrus season right now and stocked up on all 3 of these varieties on a recent trip to Publix.
Currently, we live 3 minutes from a Publix store, and when we need an ingredient or two, it is so convenient for us to stop there. When we are there, I usually check out the BOGO deals and the produce section and had to take advantage of the savings on all Sunkist citrus while we were there.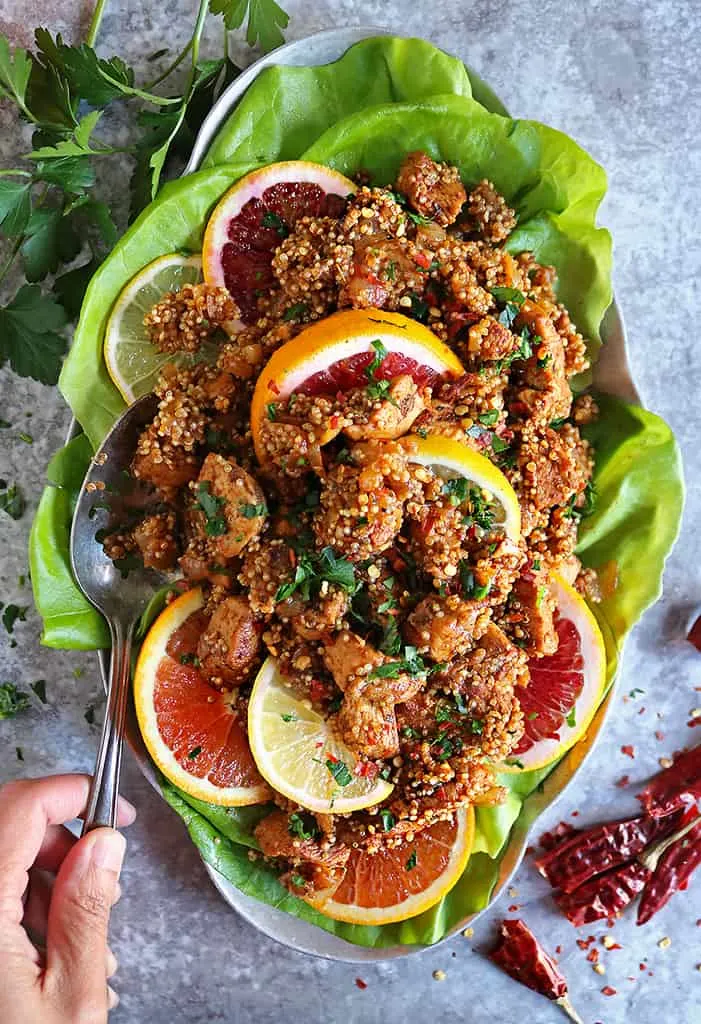 Make sure you check out SunkistShopperHub.com for coupons, recipes and to shop for ingredients!
Looking for more fun and unique dinner recipes and sides?
Then check out this Broccoli Bacon Casserole. these Bacon And Egg Potato Skins, these Mini Andouille & Pepper Jack Beet Pizzas, and these tasty Cheddar Grits Cakes.