These Cheddar Grits Cakes are SO GOOD – good gosh – I have no words – I just wish y'all would make them and experience them for yourselves!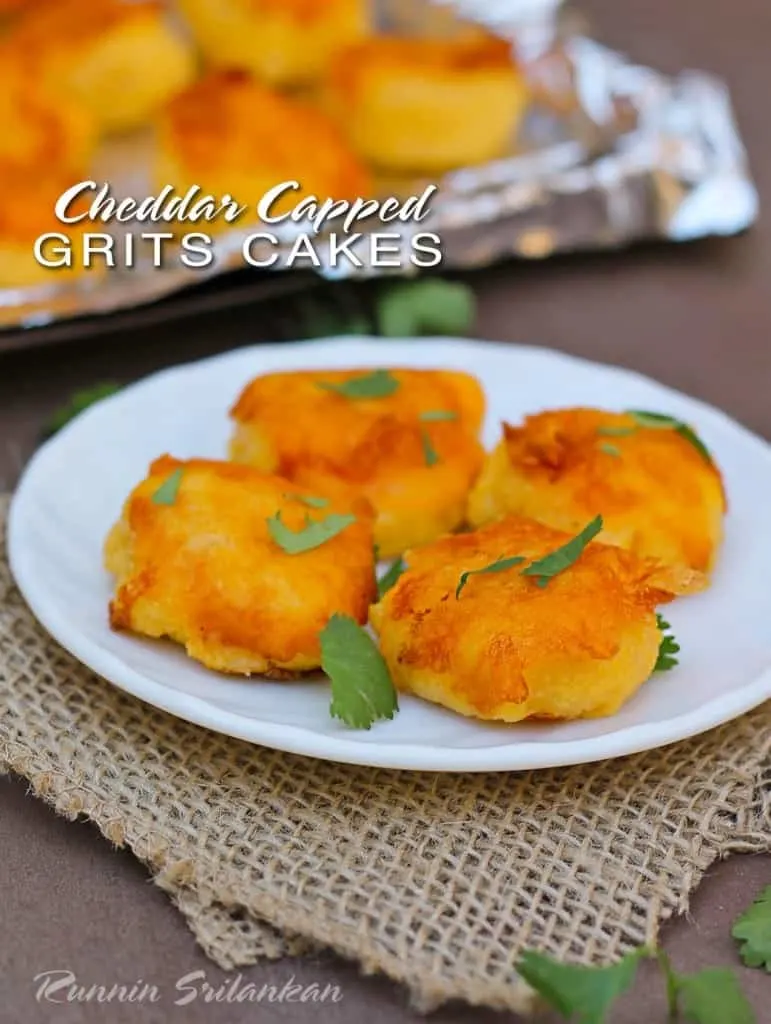 The first time I laid eyes on these "grits cakes", I made up my mind I was not going to try them – first, I am not a huge fan of grits, and second, they had my long-time nemesis (aka "dairy") in them!
After having been burned several times by dairy foods, I have become a little jaded and have done my darndest to steer clear of all gut-busting lactose products for the last few years. But then, last week happened!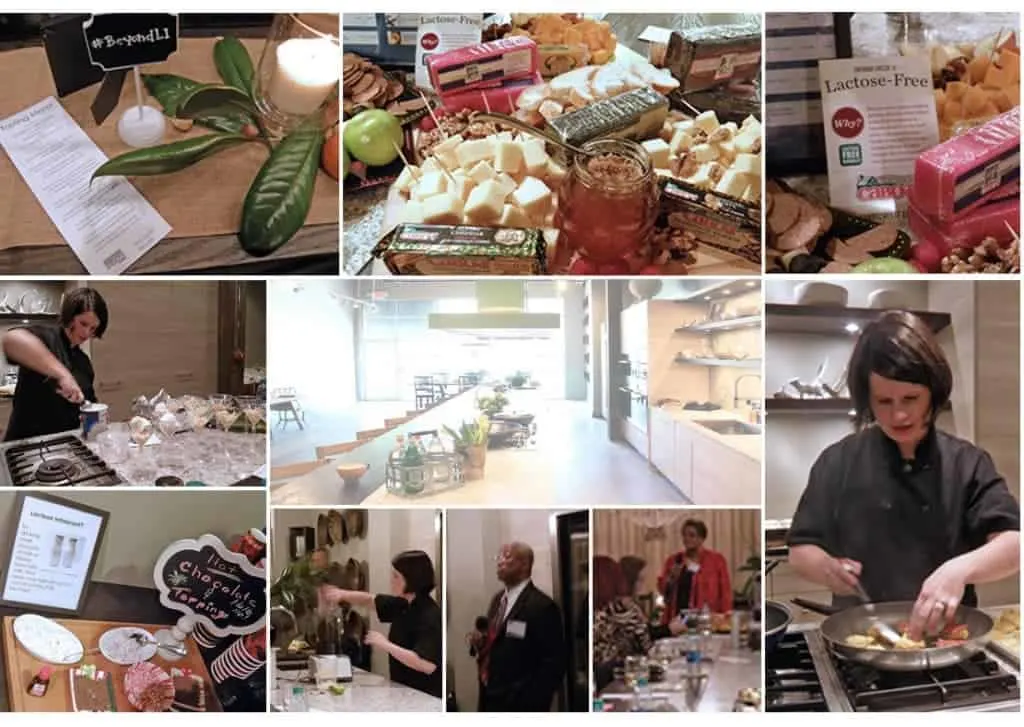 As a member of the Atlanta Food Blogger Society, I got to sit in on a "one-of-a-kind" dining experience featuring nine original lactose intolerance-friendly recipes which were the brainchild of Cincinnati-based Chef Caitlin Steininger at the gorgeous Third Space in downtown Atlanta.
Now, I had heard about aged cheeses being lactose-intolerant friendly, but, I was skeptical and avoided them – and probably would have kept on avoiding them – if not for the persuasive powers of the representatives from the Southeast United Dairy Industry Association, the National Dairy Council and Cabot Cheese who made it a point to educate and inform jaded skeptics like myself.
The evening started off with a cheese tasting which led to appetizers such as "Cheddar puffs with tomato jam" (good golly that tomato jam was p.h.e.n.o.m.e.n.a.l.), "Parmesan shortbread with fig jam" and delectable "Black Bean Soup with White Cheddar Popcorn and Greek Yogurt".
We moved on to 3 main courses: "Roasted chicken on garlic mashed potatoes with spiced carrots and arugula pesto with aged cheese", "Peaches and green salad with toasted cumin dressing", and finally – mind blowing "Cheddar Grits Cakes with shredded beef and red eye gravy with aged cheeses". Guess it took a chef from the north to get me to fall in love with a southern favorite!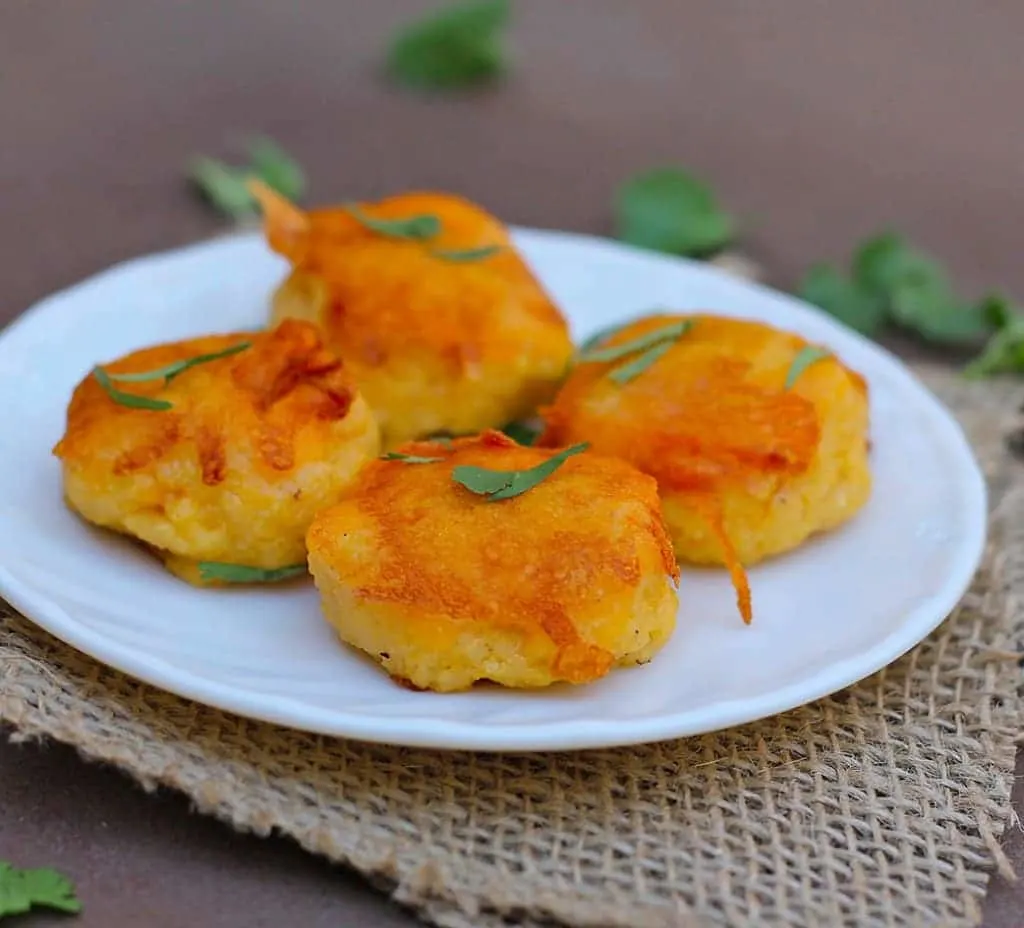 These grits cakes were – good gosh – I have no words – I just wish y'all would make them and experience them for yourselves – and yup – they are an "Experience"!
I had to make them when I got home – and deviated a tad bit from Chef Caitlin's recipe by adding cayenne instead of hot sauce and adding cilantro to garnish as well as using 2% milk and vegetable broth instead of chicken – otherwise, I followed her directions exactly and my daughter and sister (who came into town to surprise my daughter for her birthday) found these to be absolutely delicious too!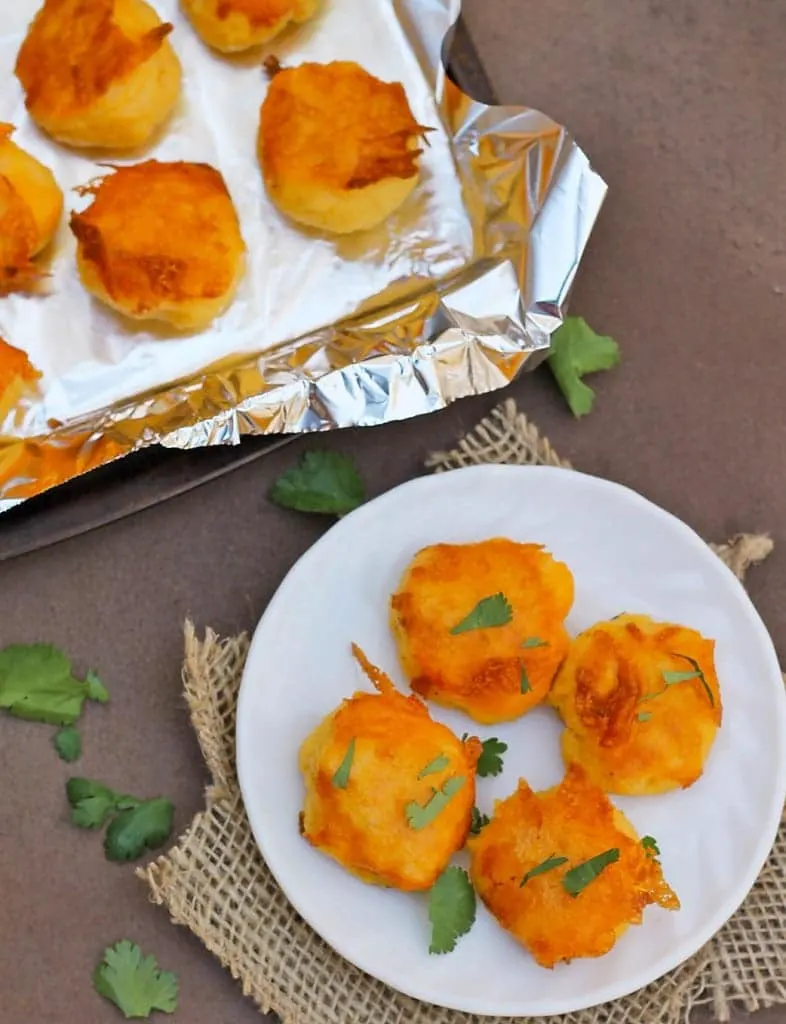 Our wonderful night ended with a 3 course dessert round, with "Chocolate yogurt cupcakes", to die for "pound cake-Georgia peach preserve sundaes" (with a sauce made with reducing white wine and peach preserves), and we toasted our chef and her wonderful crew with a totally unique "Oatmeal cookie" and "Homemade horchata". We grabbed a lactose free hot chocolate and eggnog for the road before calling it a night.
[Tweet "Cheddar Capped Grits Cakes By @Cookingwithcaitlin @AtlBS @TheDairyRD @RunninSrilankan… https://savoryspin.com/2014/12/09/cheddar-capped-grits-cakes-cooking-caitlin/ via @RunninSrilankan"]
Disclaimer: I am so thankful for the chance to be included in this unique, informative and one of a kind dining experience. I received no compensation for my thoughts and opinions herein.