This is a sponsored post written by me on behalf of Foodie Tribe and FAGE Total Greek Yogurt. All opinions expressed are my own. Thanks so much for supporting the brands that keep this blog spinning.
Whip up and enjoy a stack of these easy, gluten free, Pumpkin Greek Yogurt Pancakes gently spiced with pumpkin spice because 'tis the season for pumpkin joy!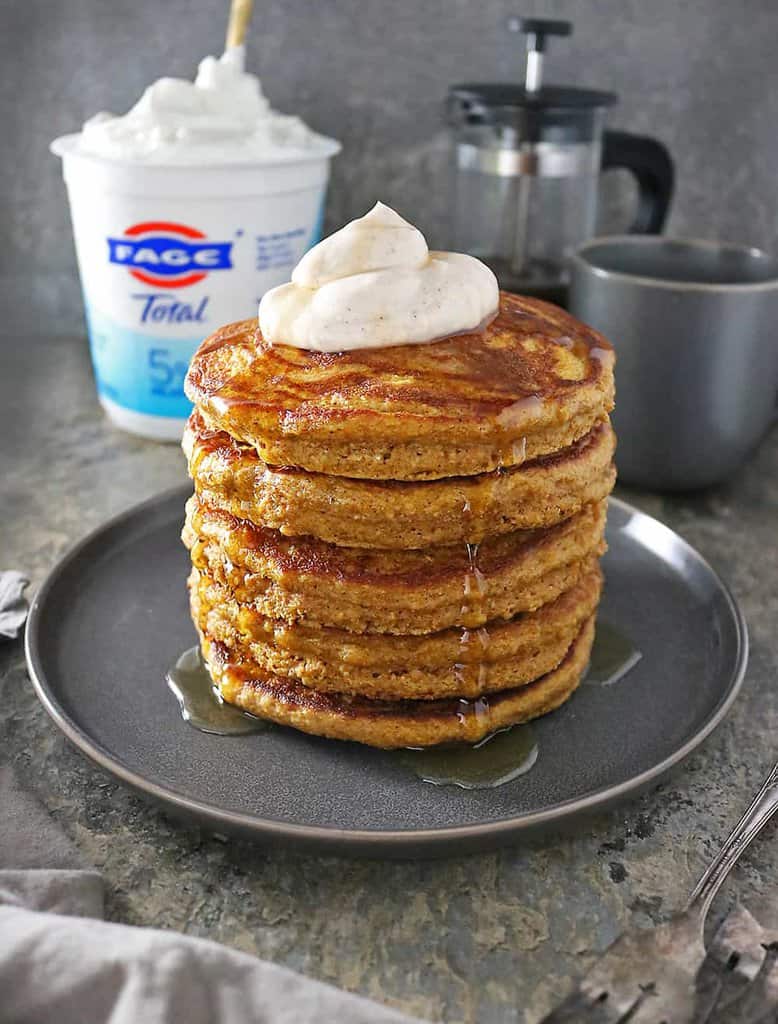 Last night my daughter and I got home ravenous. So, after going through all our pantry and refrigerator options, I decided to whip up a stack of pancakes.
As Oatmeal pancakes are a favorite with us gals, I decided I'd go with them – besides they are so easy to whip up and the ingredients are always lying around in our pantry.
As I had some leftover pumpkin puree I figured I'd jazz up those Oatmeal Pancakes and make them into Pumpkin Oatmeal Pancakes. Just as I was getting ready to whip those up though, my daughter started blabbing about some Yogurt Pancakes I once made, so I figured why not combine pumpkin and Greek yogurt?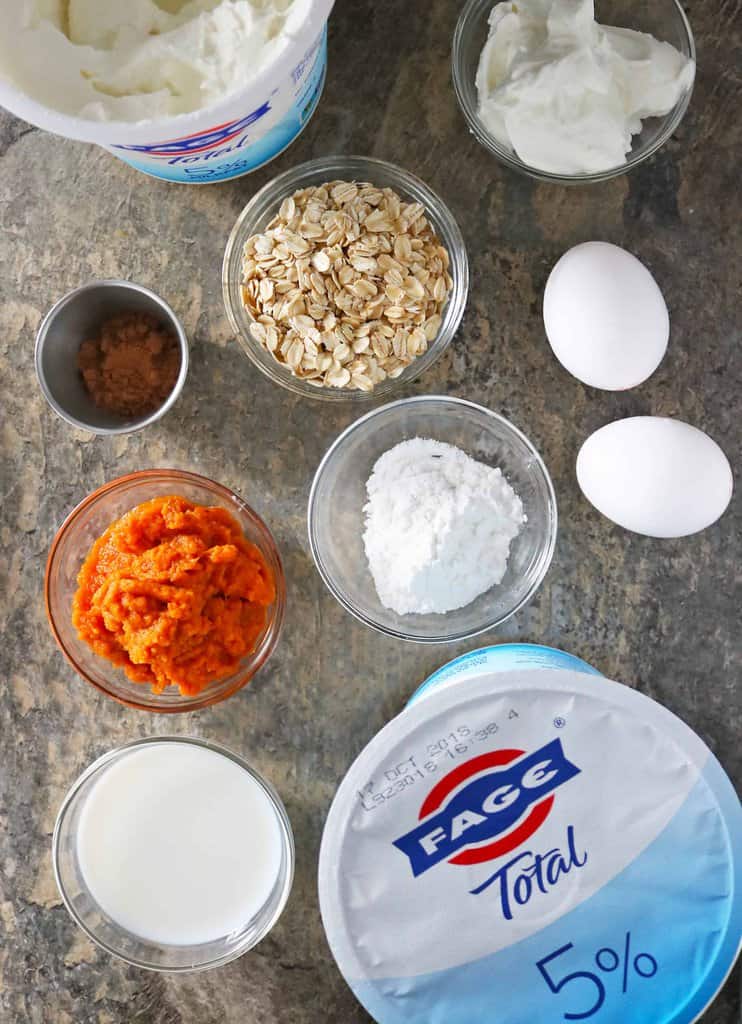 Since I had several containers of all three fat varieties of FAGE Total Greek Yogurt already on hand, I opted to use FAGE Total 5%. I find FAGE Total to be so thick, so rich, so creamy and so versatile.
I not only enjoy FAGE Total with Apple Walnut Granola in the morning but also in curries and baked treats, and now, in these Pumpkin Greek Yogurt Pancakes and an accompanying Pumpkin Cream.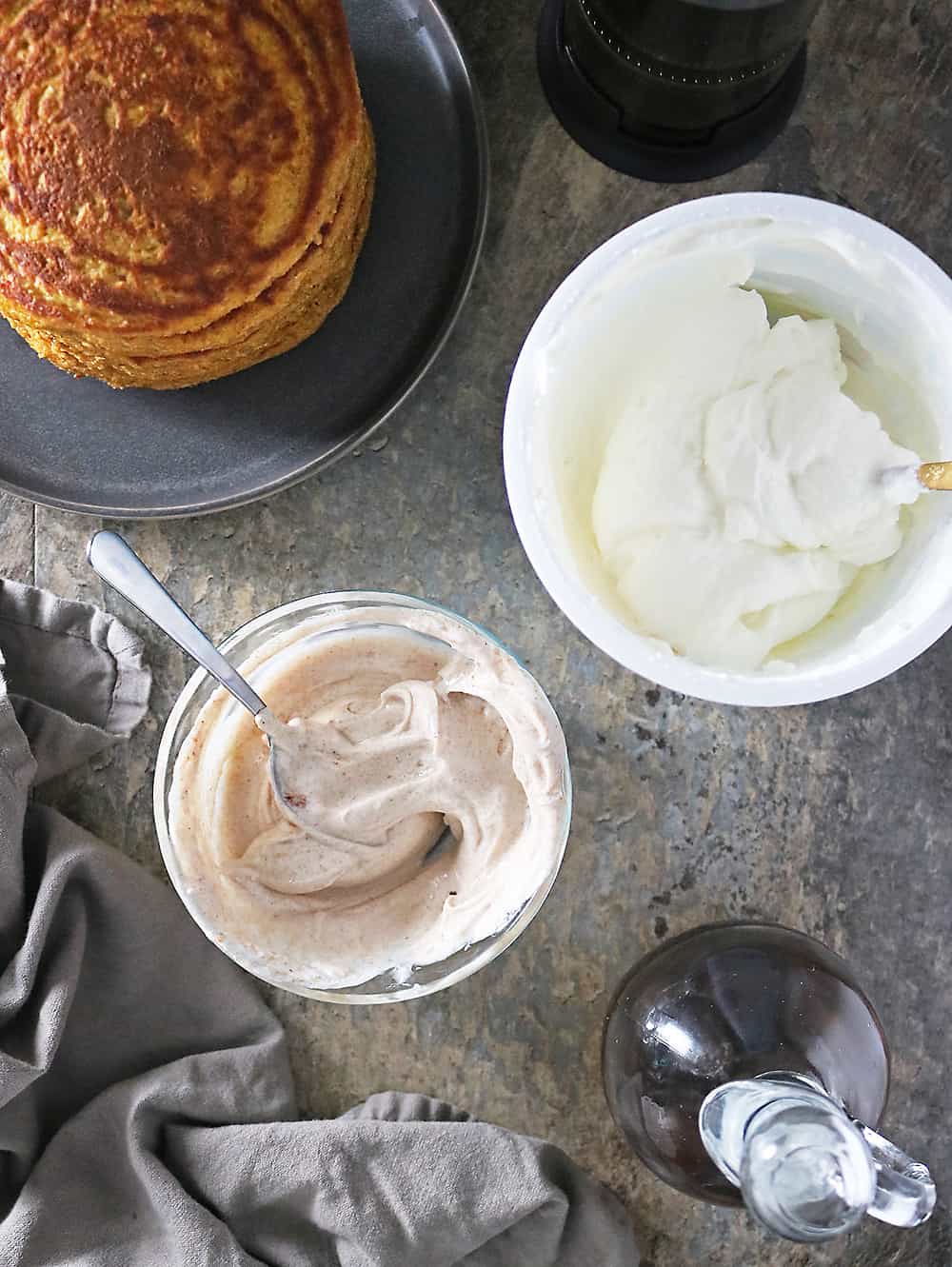 My daughter says that pumpkin cream should be called a pumpkin frosting.
But, her opinion might be a bit skewed as for her first three years of life I convinced her that FAGE Greek Yogurt with a smidge of maple syrup was ice cream! Of course she went to a friends' 3rd birthday party and found out what ice cream really was… but parenting score for those first three years!!!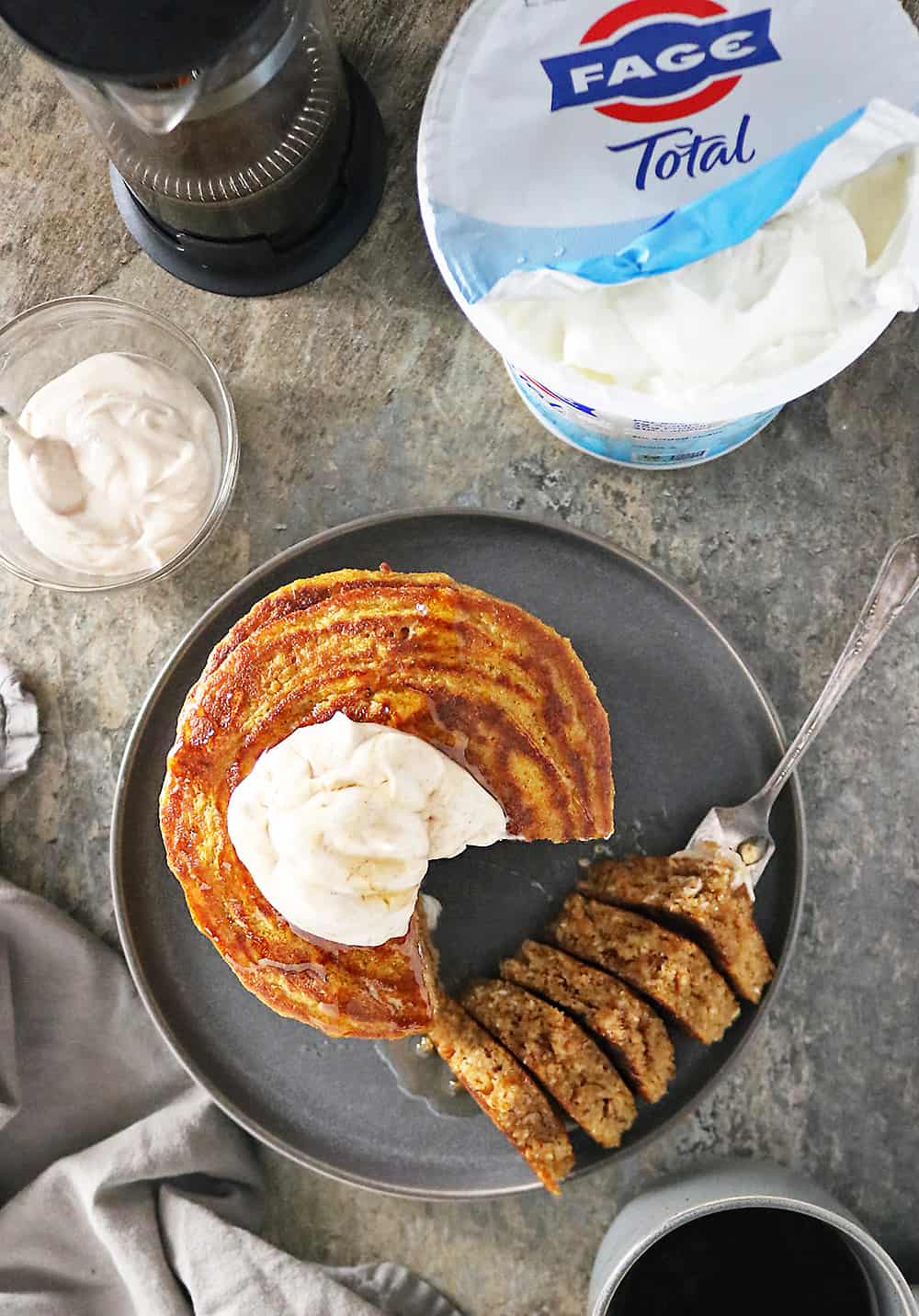 By the way, did you know that FAGE Total is available in 3 sizes to fit your needs?
There's the single serving cup (6 or 7oz.), a 17.6oz. container, and a 35.3oz. tub. FAGE Total is also available in three fat varieties to fit your lifestyle: FAGE Total 5%, FAGE Total 2% and FAGE Total 0%.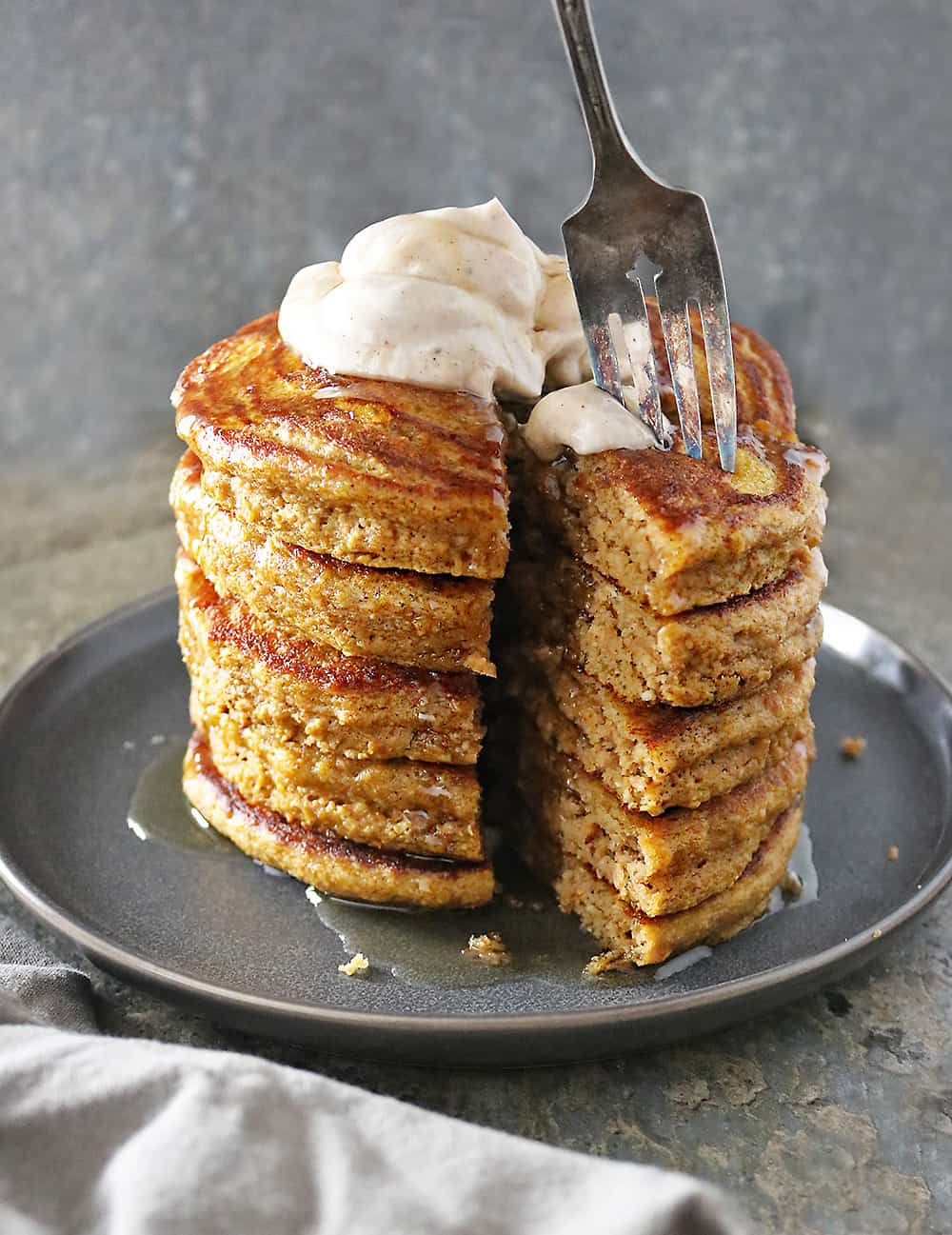 My daughter and I love FAGE Total because it is:
All natural Greek strained yogurt
Non-GMO Project Verified
Made with only milk and live active yogurt cultures
Protein-rich
No added sugar – *contains only naturally occurring milk sugar
Additive and preservative free
Good source of calcium
Gluten-free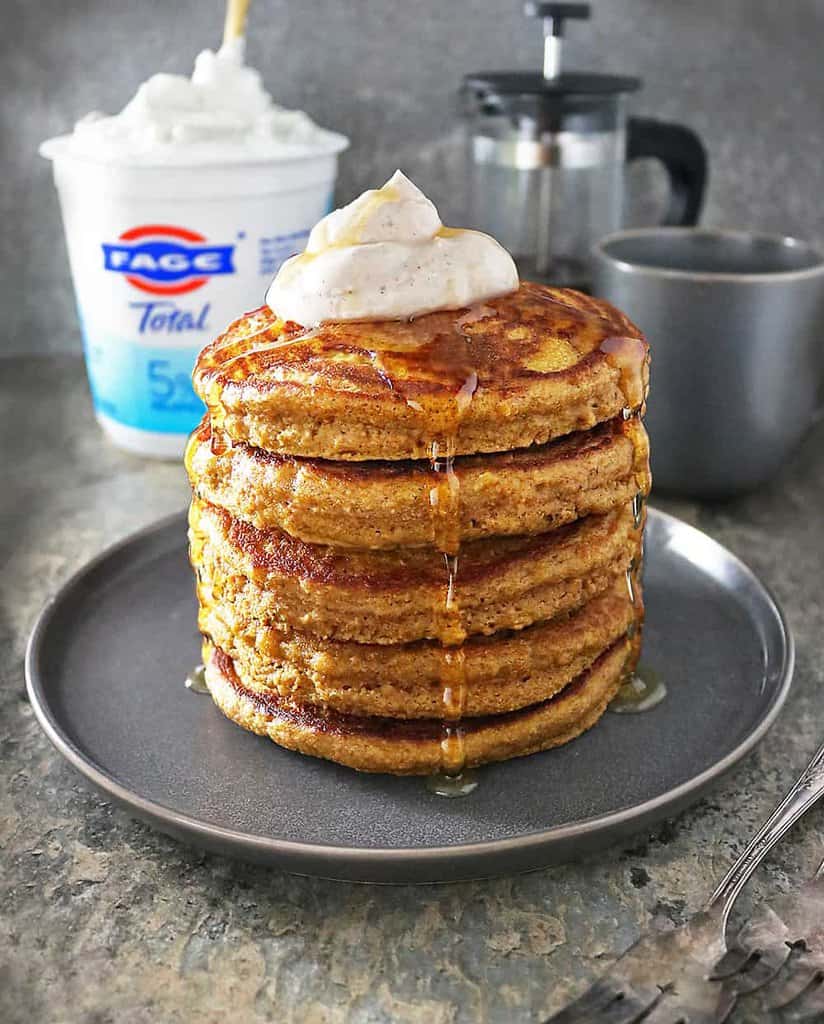 Last night, after we had feasted on a couple of these pancakes each and were sitting around all full and satisfied, my daughter said that adding that FAGE Total into these Pumpkin Greek Yogurt Pancakes made these so luscious – almost cake like. And, I'll take cake for dinner anytime… especially when it's in the form of these nutritious and delicious, gluten free, pumpkin-pie-spiced, Pumpkin Greek Yogurt Pancakes!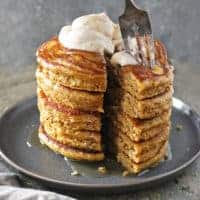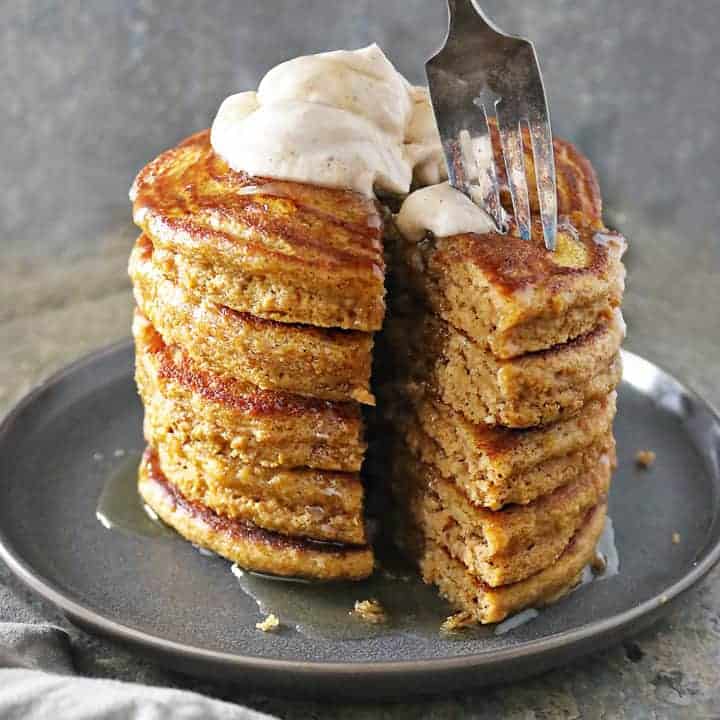 Pumpkin Greek Yogurt Pancakes
Yield:
10 medium/small pancakes or 6 large ones
Whip up and enjoy a stack of these easy, gluten free, Pumpkin Greek Yogurt Pancakes gently spiced with pumpkin spice because 'tis the season for pumpkin joy!
Ingredients
2 1/2 cups rolled oats (GF)
2 tsps pumpkin pie spice
2 tbsp baking powder
1/2 tsp salt
1/2 cup 100% pure pumpkin puree
1/2 cup your favorite FAGE Total Yogurt
2 eggs
1/2 cup milk of your choice
3 tbsp maple syrup
Instructions
Add the rolled oats to a blender or food processor and process until resembling flour.
Then add oat flour to a bowl.
Add in the pumpkin pie spice, baking powder and salt and mix well with a wooden spoon/spatula.
In a separate bowl, beat the two eggs. Then make a "well" in the dry ingredients and add eggs to oat mix. Also add in the pumpkin puree, FAGE Total, milk and maple syrup and mix until wet and dry ingredients are incorporated. The mixture will be thick and will continue to thicken but, I have come to realize that the thicker the mix, the higher the pancakes.
Grease a pan with oil or butter and place it over a medium flame/heat. When pan is hot, drop 3-4 tablespoons of pancake batter onto it. Cook about 3-4 minutes and then flip and let cook another 3-4 minutes on other side.
Finish the rest of the batter in this manner. You should have 6 large-ish pancakes or 10 medium to small size ones.
Notes
The pancake batter will start to thicken through the process, but you don't need to add more milk or water - as I have found that the thicker the batter, the higher the pancakes.
Nutrition Information
Serving Size

1-2 pancakes
Amount Per Serving
Calories

281
Saturated Fat

4.1g
Cholesterol

63mg
Carbohydrates

43.8g
Fiber

3.9g
Sugar

17g
Protein

9.8g