This gluten-free and dairy-free Mung Bean Oatmeal Breakfast Bake is packed with fiber and plant protein. Made with 8 wholesome ingredients, this make ahead breakfast bake is also a healthy snack and can even be served as a mung bean cake.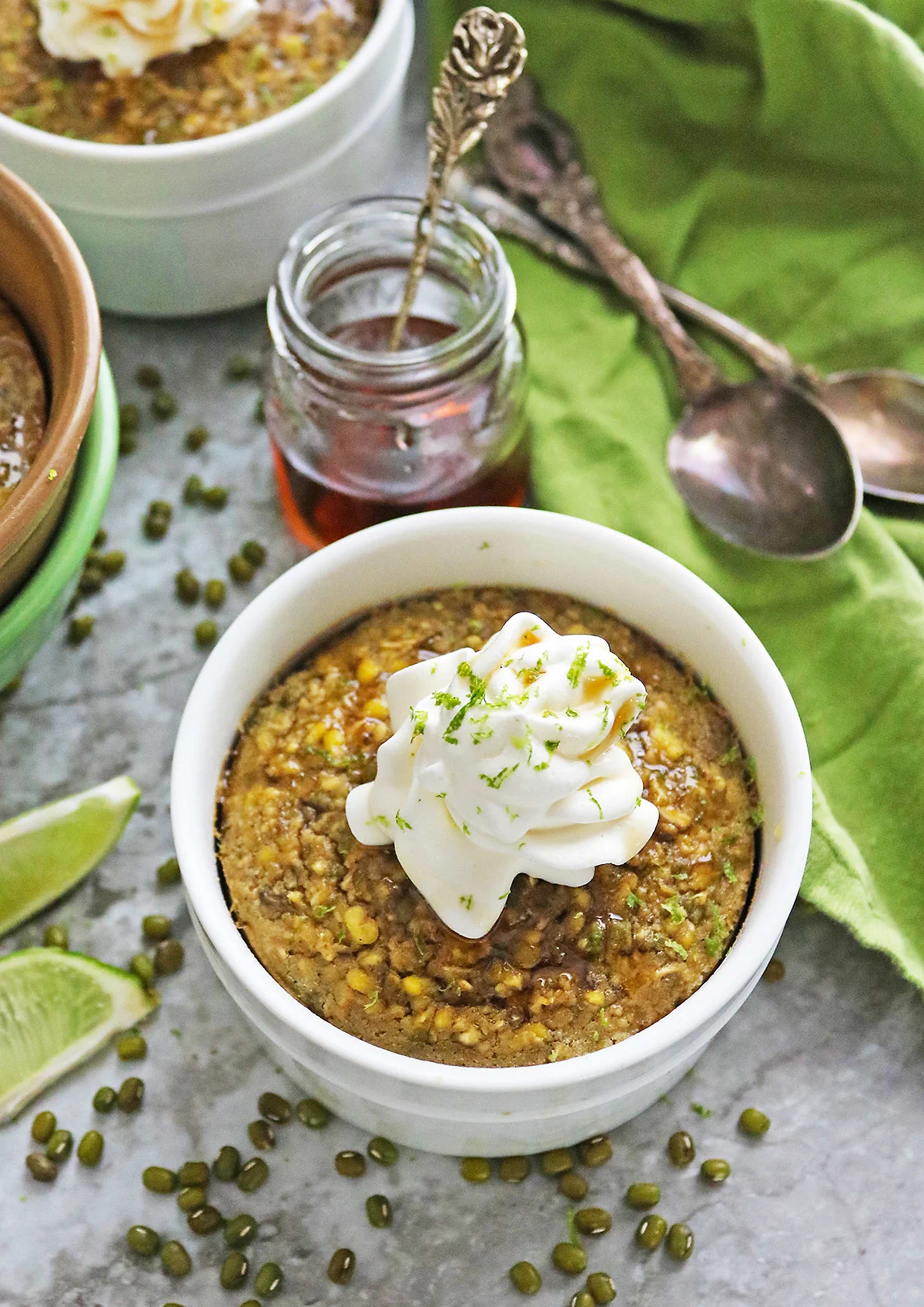 Mung beans, also called green gram, or moong are tiny green beans that are part of the legume family. They are slightly smaller than a chickpea and larger than a lentil. They have a slightly sweet and nutty flavor when cooked.
Are mung beans good for you?
These little green entities are powerhouses of nutrition. One cup of green mung beans is said to have about 14g of plant protein, 15 grams of fiber, and is a significant source of folate, and complex carbohydrates.
I am not a health expert, but I have found that their health benefits range from aiding in everything from inflammation to blood pressure control to digestion. You can read more about the benefits of mung beans here.
What is the best way to eat mung beans?
Well, there really is no answer to that. Mung beans are extremely versatile and can be used in savory as well as sweet dishes.
Mung beans can be cooked stovetop, in a slow cooker, or instant pot. They can be cooked into a savory dish like curry or baked into treats like this healthy baked oatmeal.
When my sister and I were kids in Sri Lanka, my mom would feed us boiled mung beans sprinkled with shredded coconut and brown sugar for a filling breakfast.
There were other times when we would have mung bean curry (like this one) along with some yellow rice or roti, and cutlets.
These days, I usually boil a batch of mung beans and sprinkle them (along with flax seeds) on to everything from warm oatmeal recipes to overnight oats to french toast to eggs. Which means I usually have some leftover boiled mung beans on hand.
Well, I decided to add some to baked oats a while back, and now this mung bean oatmeal breakfast bake has become one of my favorites.
What are the ingredients needed to make this bake?
To make this healthy bake, you will need the following pantry-staple, simple ingredients:
Green mung beans
Unsweetened almond milk or coconut milk or oat milk
Brown sugar or maple syrup
Rolled oats (not steel-cut oats, quick oats, or instant oats)
Eggs (or a flax egg or two, though I have not tried this recipe with flax eggs)
Cardamom
Lime
Vanilla Extract
Salt (not pictured)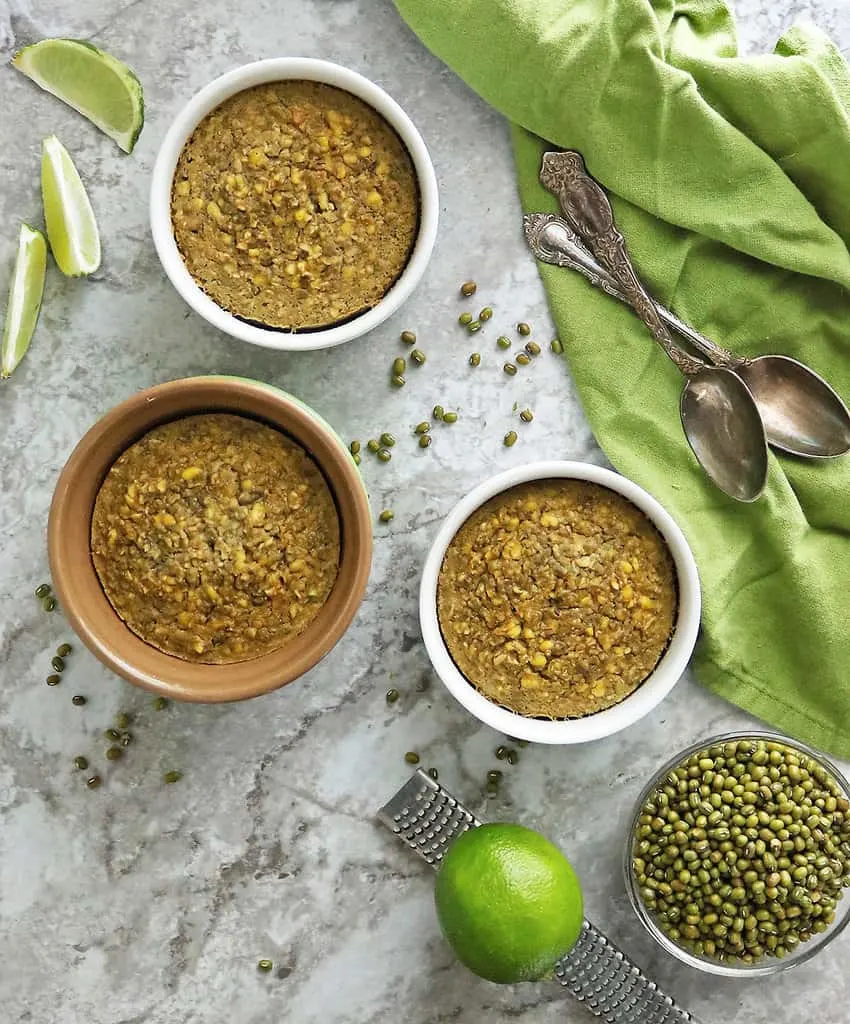 Notes…
When making this recipe, make sure to use boiled/cooked green mung beans. To cook mung beans, add 1/2 cup mung beans to 2 cups water, bring to a boil, then cover and let simmer for 25–30 minutes over medium heat until mung beans can be squished easily. Do keep in mind that several factors influence the cooking time. Drain the excess water before using the cooked mung beans in this recipe.

I grind up the rolled oats in a blender or food processor to make my version of oat flour for this recipe. I have used this same oat flour in everything from a Yule log to oatmeal pancakes.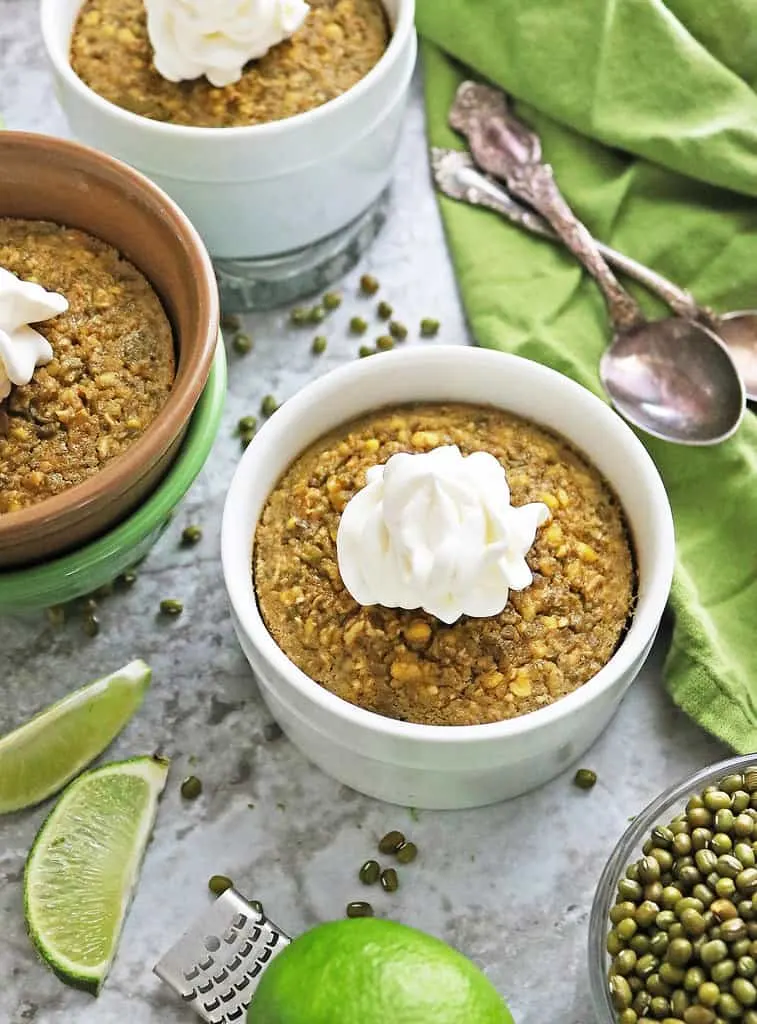 While I did not use baking powder in this recipe, you can use 1 teaspoon for a fluffier bake. As baffling as this might sound, I just prefer a dense bake.

I added cardamom for flavor, simply because cardamom and green mung beans seem to pair well. You could leave out the cardamom, and add 1/2 tsp of cinnamon and 1/4 cup of chocolate chips to this too.

Make sure to lightly grease the ramekins or baking bowls being used. I usually use an olive oil or coconut oil spray I have on hand.

Once upon a time, I made an indulgent version of this mung bean oatmeal bake using condensed milk (instead of almond milk and brown sugar).
Speaking of indulgent…
From the Gilmore Girls to Friday Night Lights to locally filmed, The Vampire Diaries, my daughter and I have indulged our way through several Netflix series.
One of our obsessions was Parks and Recreation – if you haven't watched it, it follows the zany antics of a group of public officials who work in the Parks and Rec department in the town of "Pawnee, Indiana."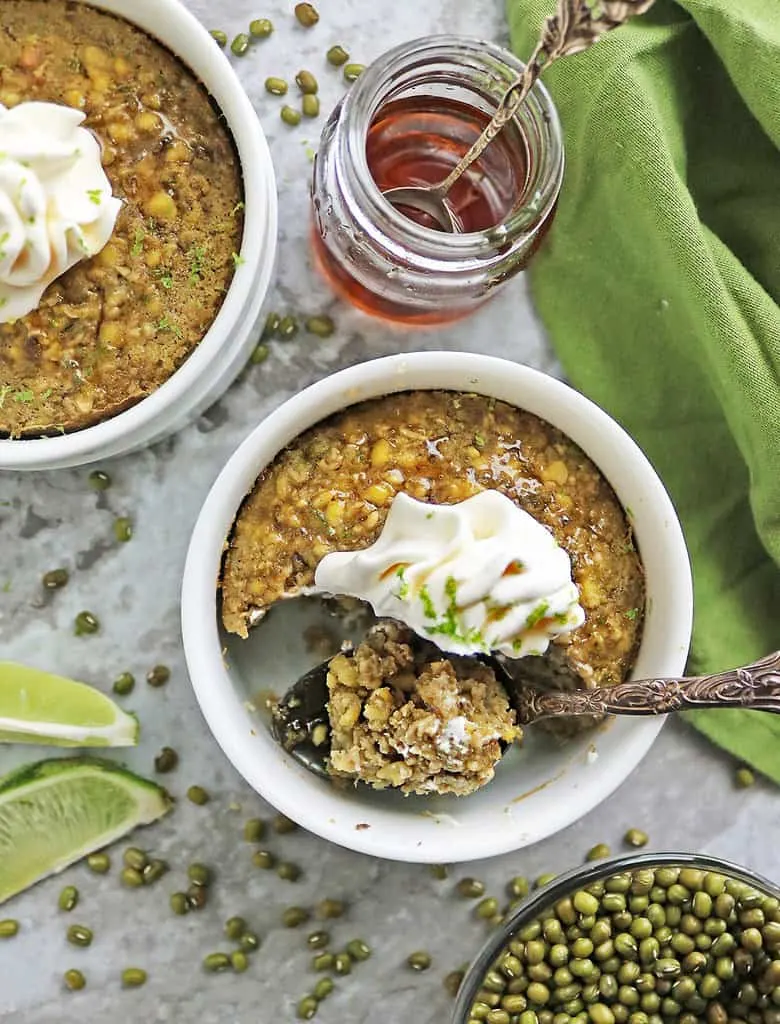 In the series, two of the characters, "Tom" and "Donna" indulge themselves in a "Treat Yoself Day." During this, they would go all out and treat themselves to anything from chocolate, to a spa day, to a trip across the country.
And, my friends, the indulgent version of this gluten-free baked oatmeal (found on Food Fanatic) is the way my daughter and I chose to treat OUR selves to an indulgent treat.
Indulgent or healthy?
Now you might be thinking: "Whaaaatttt– this here bake has mung beans and oats in it – how really indulgent can it be?"
Well, this Breakfast Bake has an indulgent "glue" that brings together the mung beans, oats, cardamom, eggs, and lime zest and holds them there.
A "glue" that is simply exquisite. That glue is creamy, sweet, and oh-so-rich, coconut condensed milk! If lactose is your friend, then by all means, you can use regular condensed milk – but, if lactose is your nemesis – coconut condensed milk can be found in most health food stores.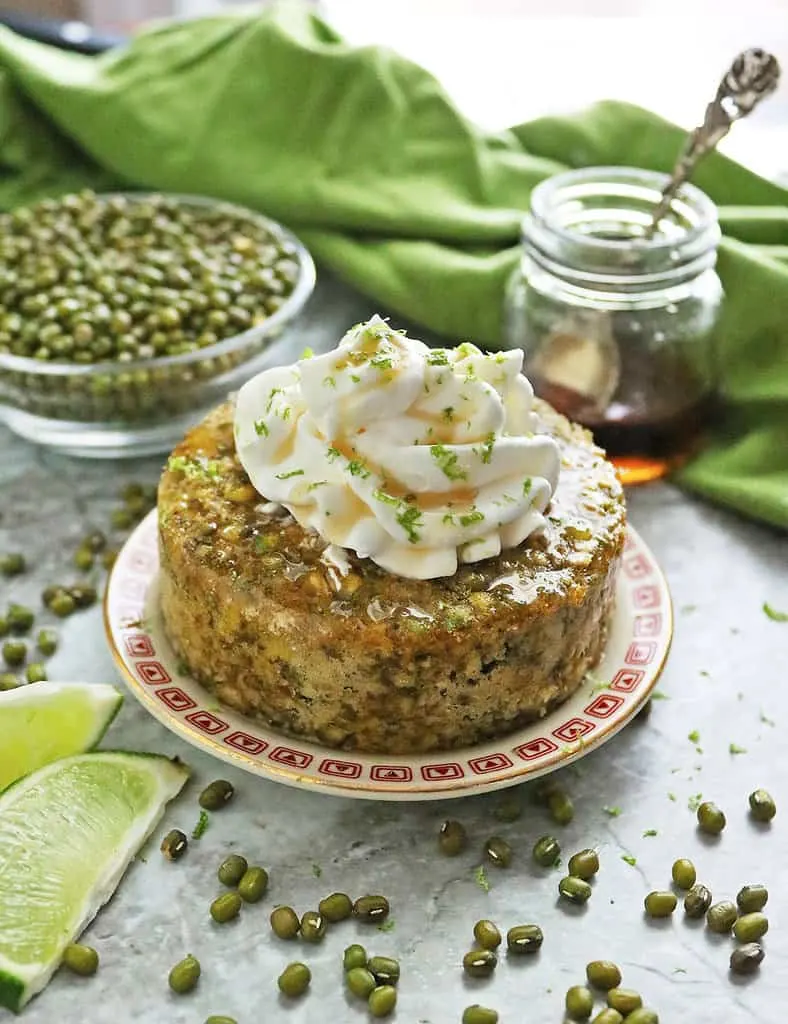 How to serve this Mung Bean Oatmeal Breakfast Bake…
You can serve this perfect breakfast bake with maple syrup, whipped coconut topping, fresh fruit, natural peanut butter, or nuts.
Or, you can flip the Mung Bean Oatmeal Breakfast Bake out of the container it was baked in, smother it with some maple syrup, top it with some coconut whipped topping, and serve it up as a Mung Bean Cake!
As with most of the recipes I post, this one is a versatile one. I encourage you to have fun in the kitchen and experiment with spices used to flavor this, as well as quantities.
Add a banana to add some natural sweetness to this recipe, or some unsweetened applesauce. Whatever you try out, please do let me know your thoughts.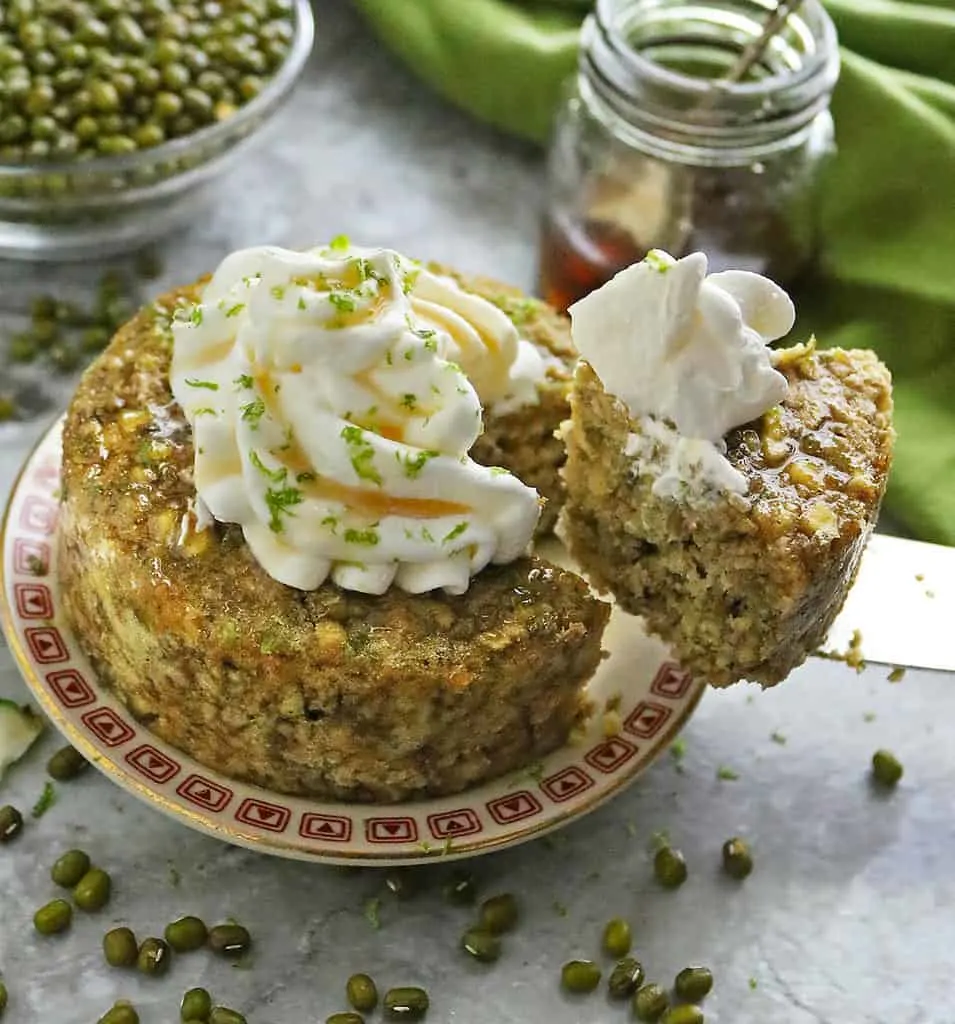 How long can you store this bake?
You can store this Mung Bean Oatmeal Breakfast Bake for up to 5 days. Make sure it's stored in the refrigerator in an airtight container.
Thanks so much for stopping by. If you make this recipe, please let me know in the comments below what you think of it. For more fusion, spice-filled, recipe ideas, please subscribe and follow me on Instagram, and/or Pinterest!