On those cold, rainy, weekend mornings, whip up a stack of these 8-ingredient, gluten-free, Easy Chocolate Oatmeal Pancakes with Chocolate Sauce and Chocolate Whipped Cream, and pair them with cups of steaming coffee, while indulging in yet another Netflix marathon!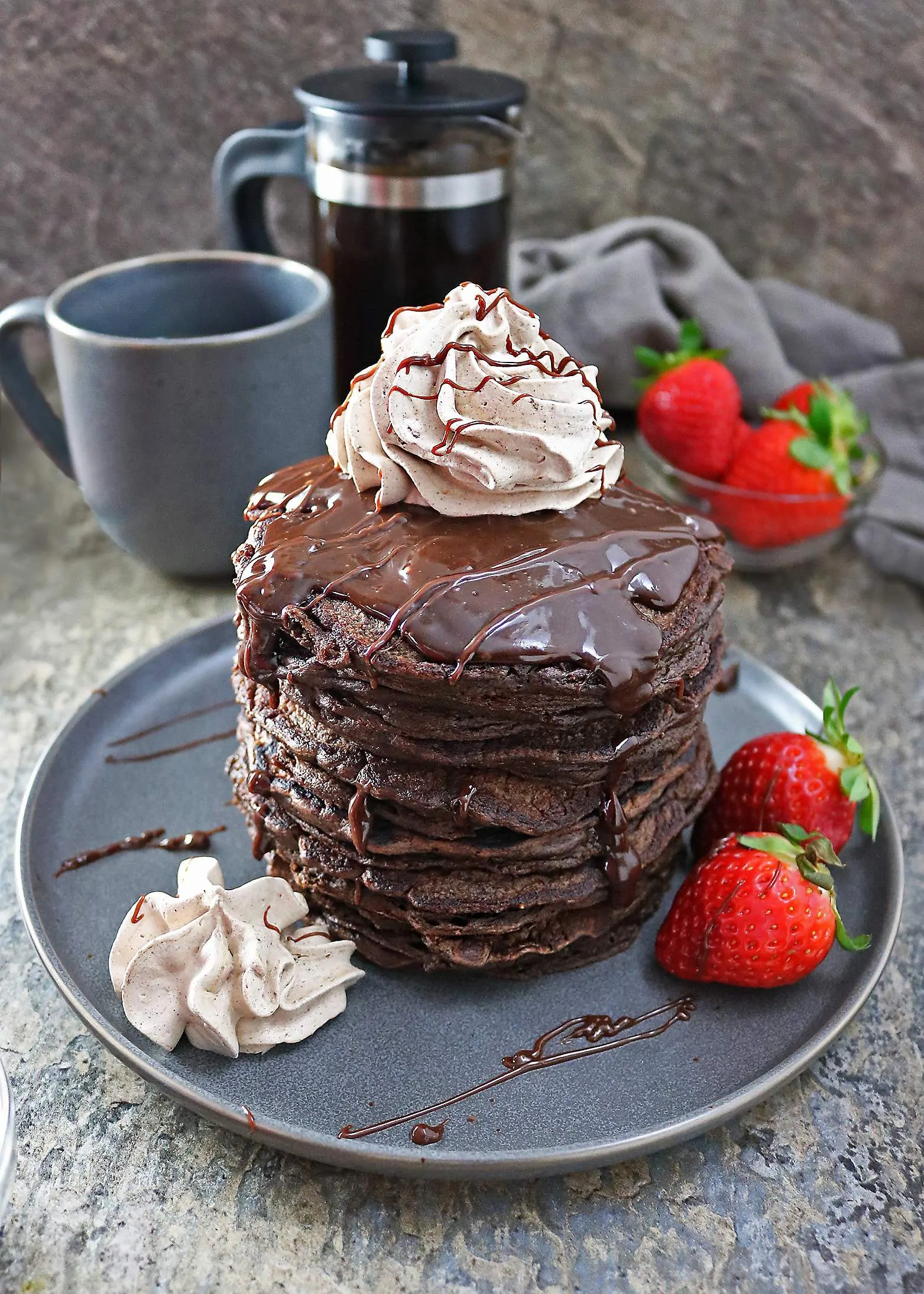 You've heard the saying "April showers bring May flowers" right?
Well, y'all, it's been showering here in Northeast-ish Georgia through most of February and March and those May flowers have already started blooming – in March!
With azaleas in all their vibrant glory, blooming trees in all shades of green, and wisteria that seems to grow in the most hopeless of areas, spring has always been the most colorful season for me. And, those colors seem to pop even more so on grey, drizzly days, like today.
Last year when my daughter and I were hiking through Short Sands Trail near The Oregon coast with a group of new friends, I was overjoyed to find out that I wasn't the only one who thought so when a chap in the group pointed out how a gray, drizzly day really makes the colors around pop. Reds are redder, greens are greener, and blues are just more mesmerizing.
But, unfortunately, it's hard for me to echo my sentiments of the outdoors, while I am indoors. That sounded confusing – right?
What I was trying to say is that while I like a gray-drizzly day while I am out in it, I tend to want to sit around and wallow when I'm inside my home. And, I'm not a fan of wallowing.
So, I chose to make something chocolatey (like this stack of Easy Chocolate Oatmeal Pancakes) as rumor has it that chocolate is an antidepressant! Chocolate = a ray of sunshine indoors, for dramatic souls like my daughter and I. Right now I'm so glad I gave up on giving up chocolate for lent!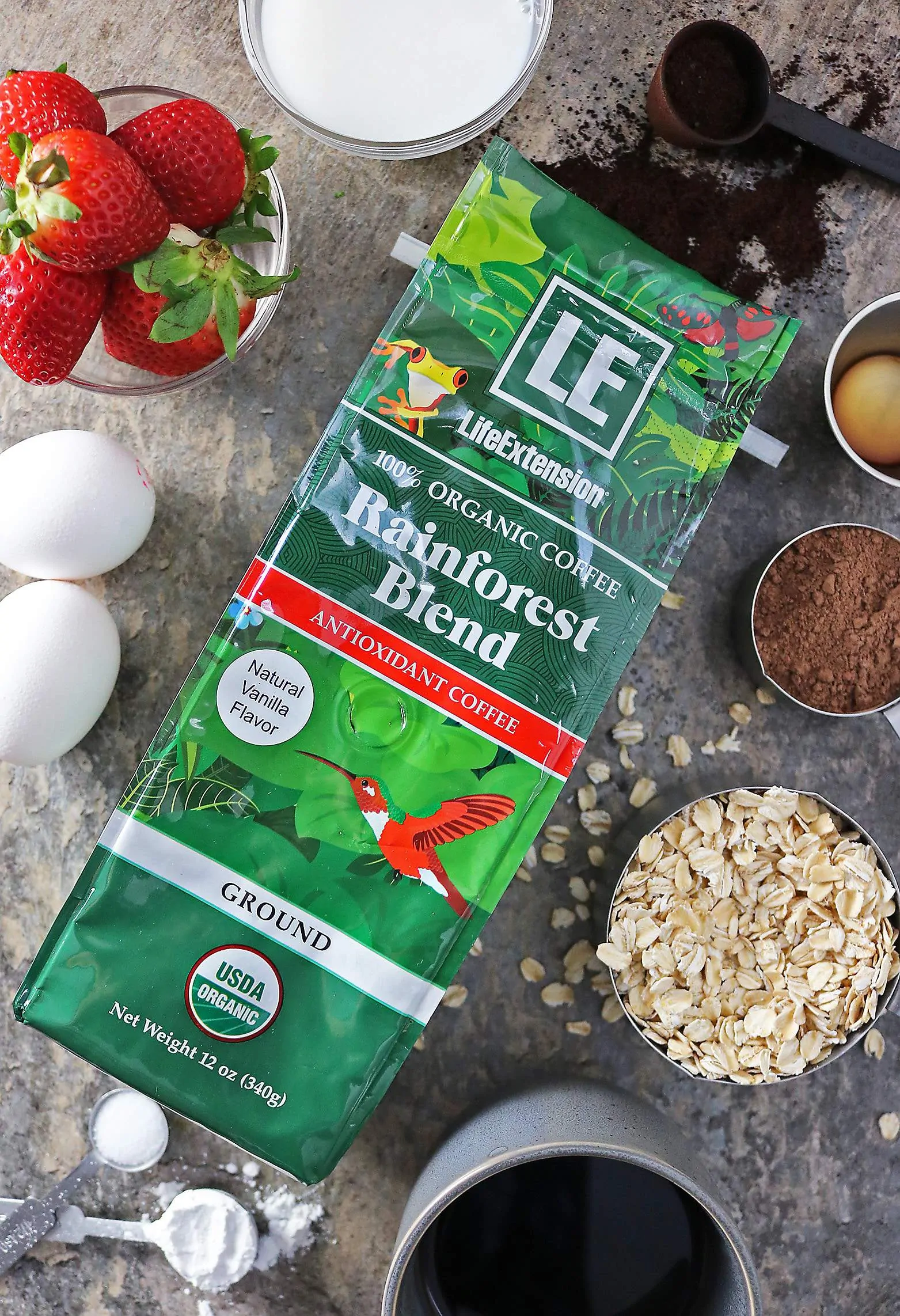 This stack of Chocolate Oatmeal Pancakes are so easy to make. Just eight simple ingredients that you probably have lying around your kitchen, such as:
rolled oats,
baking powder,
salt,
milk of your choice,
eggs,
cocoa,
and brewed Life Extension® Rainforest Blend coffee.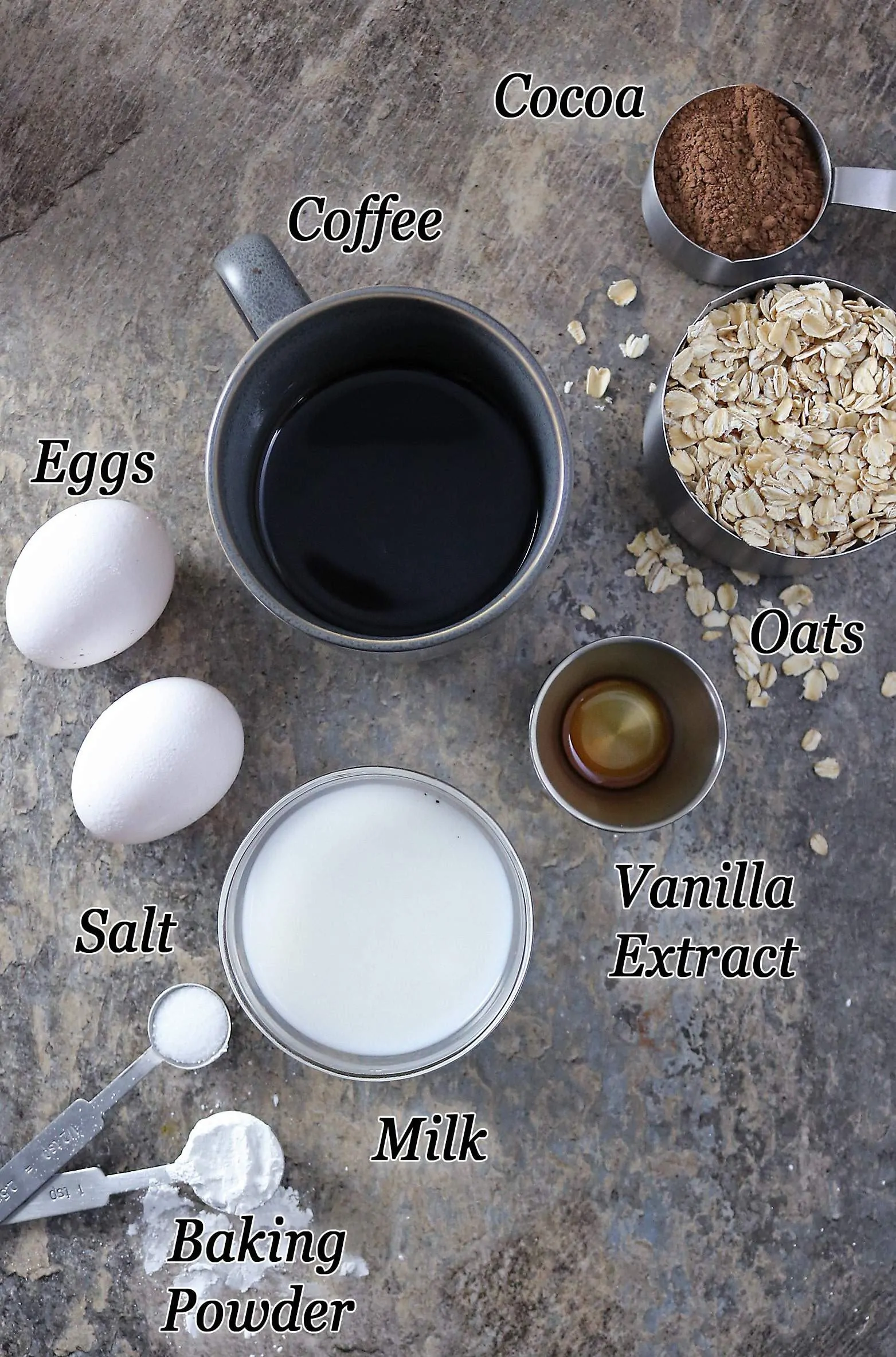 Just a little Life Extension® Rainforest Blend coffee in the pancakes as well as the chocolate sauce seems to multiply that chocolate flavor I cannot seem to get enough of.
Coffee is naturally packed with plenty of antioxidants. However, traditional roasting techniques strip coffee beans of these health-promoting compounds. Life Extension® Rainforest Blend medium-dark roast antioxidant coffee comes from 100% USDA certified organic Arabica beans prepared using a special HealthyRoast® process that preserves potent antioxidants, is easier on the stomach, and has a rich and delicious flavor.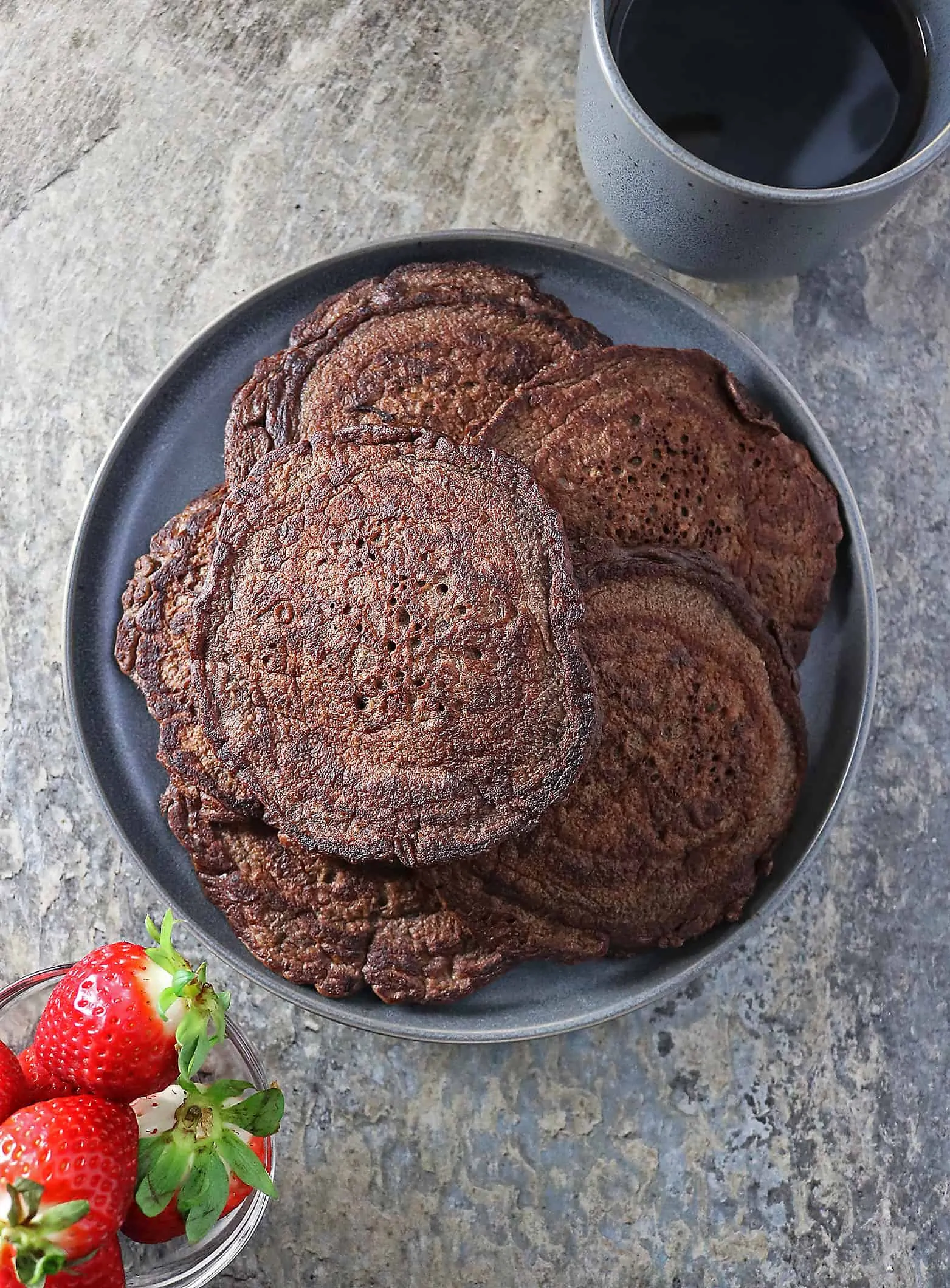 Life Extension® wants y'all to get the most out of your morning by switching to Life Extension® Rainforest Blend coffee today! Curious about Life Extension® Rainforest Blend coffee and other products they offer? Then please make sure to visit their website and check them out on Facebook, Twitter and Instagram!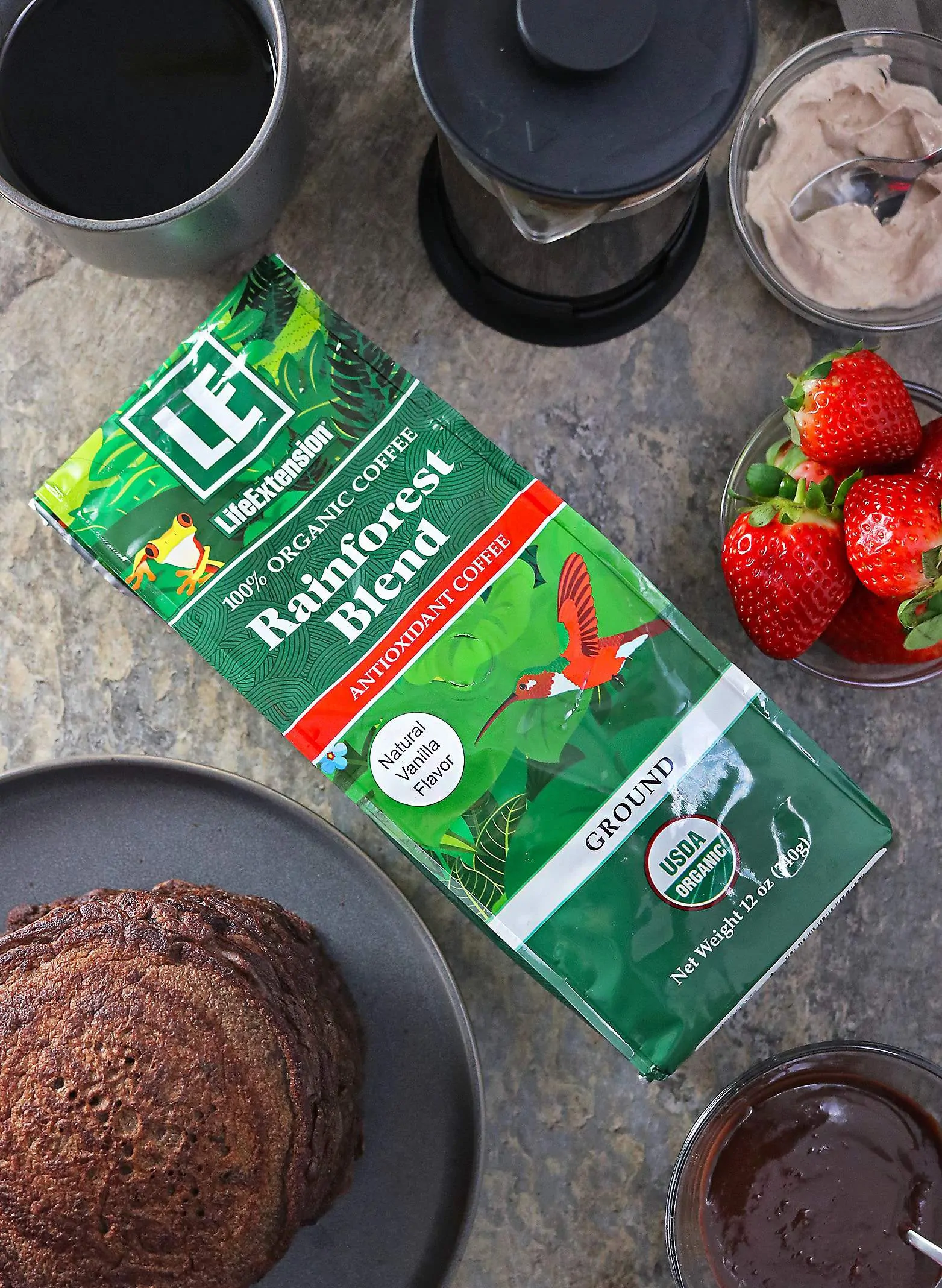 Getting back to these Easy Chocolate Oatmeal Pancakes, they are very similar to these Easy Oatmeal Pancakes I reshared on here recently.
The chocolate sauce that accompanies them is simply chocolate chips melted together with a splash of dairy free milk and brewed Life Extension® Rainforest Blend coffee. And the whipped cream is dairy free whipped cream mixed with cocoa and a sprinkling of sugar.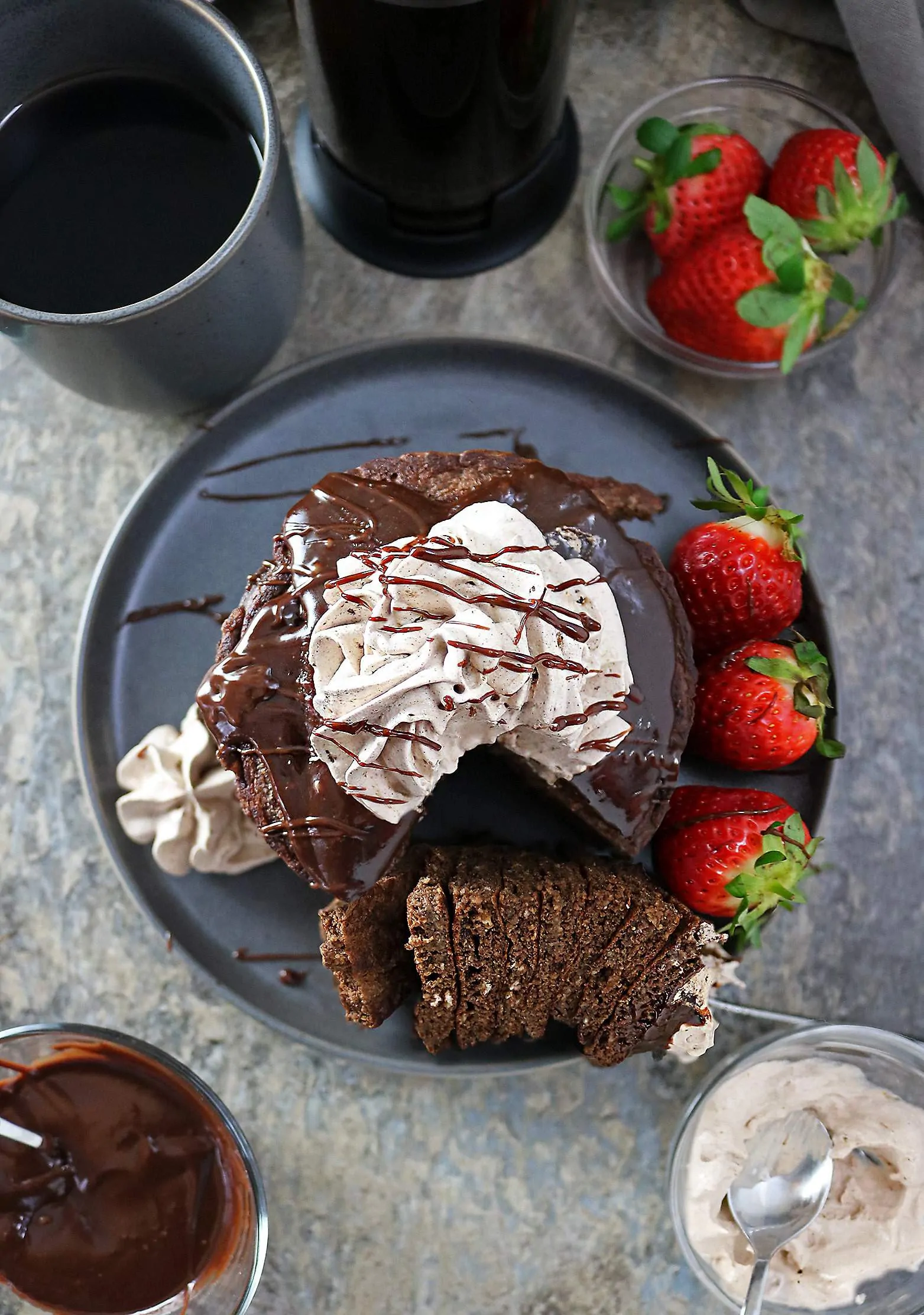 We threw in some strawberries too and ended up dipping them in the leftover chocolate coffee sauce. I have a confession to make, my daughter and I couldn't finish this stack of 8 pancakes by ourselves.
So, we ended up storing these Easy Chocolate Oatmeal Pancakes in the fridge in an airtight container and enjoying them for breakfast over the next couple of days!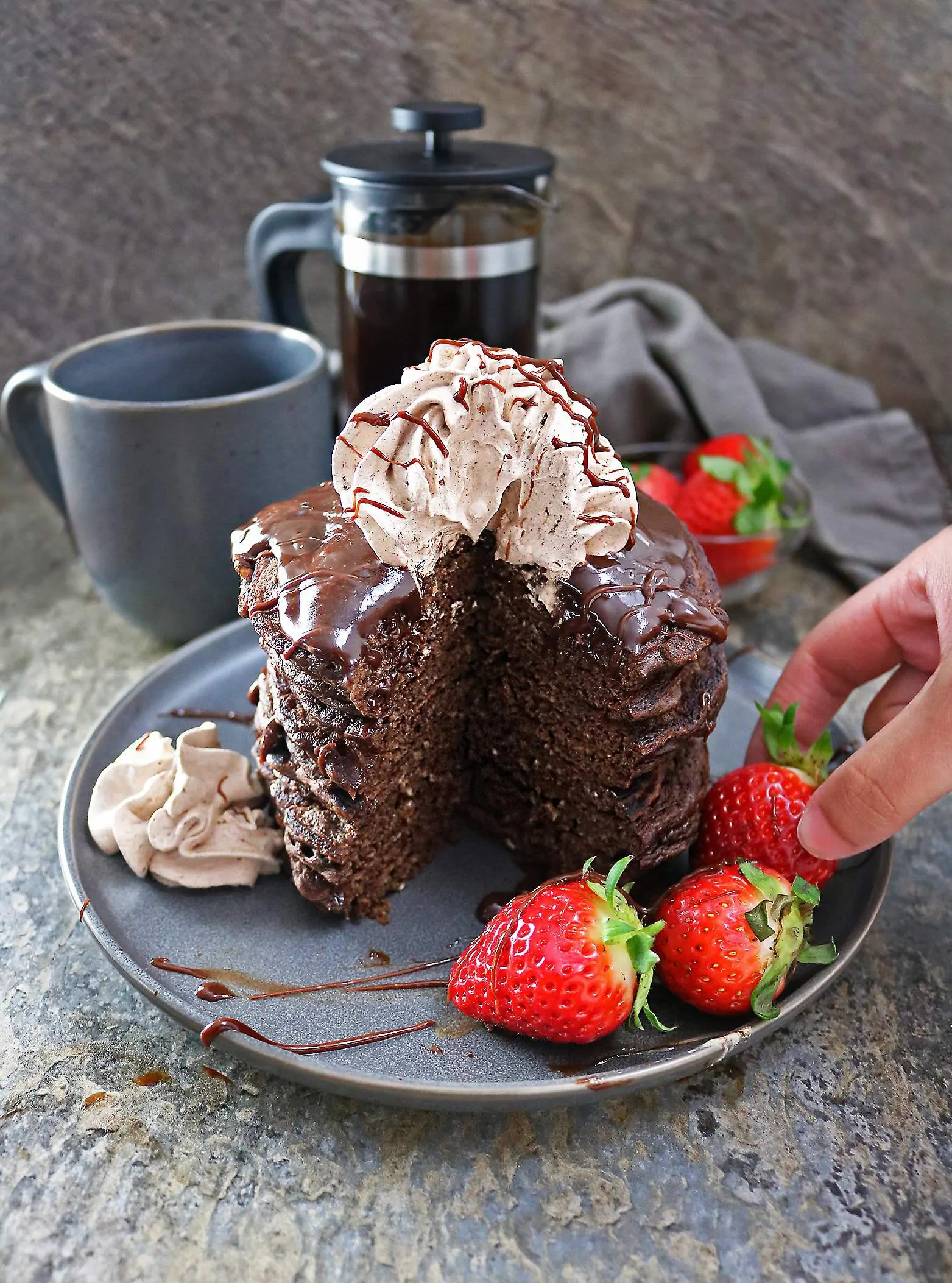 [Tweet "Enjoy these Easy Chocolate Oatmeal Pancakes with @LifeExtension Coffee on a rainy morning! #ad #coffee"]