This post is sponsored by FAGE; however, all thoughts and opinions expressed are my own.
Deliciously crunchy and ever so slightly salty, these Homemade Crackers with a hint of cinnamon and cardamom are delicious stacked with fruit and Fage TruBlend.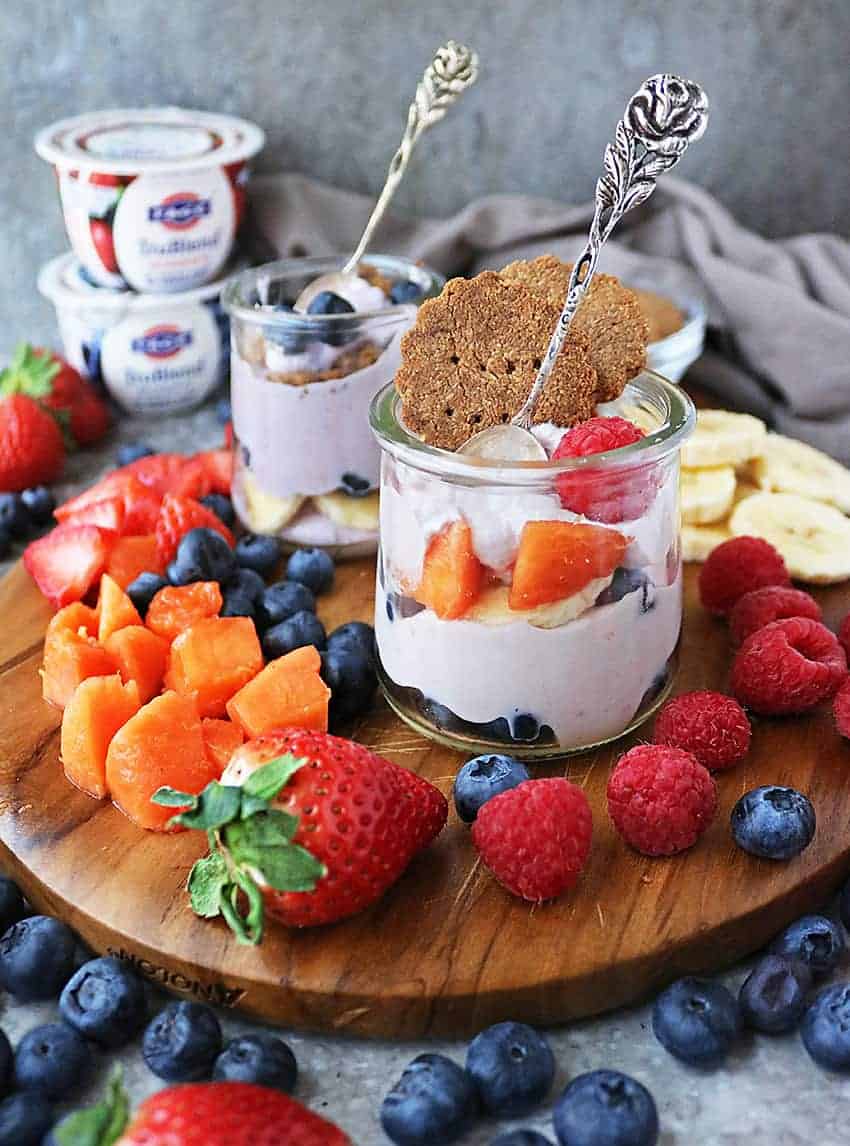 To me, there is something special about the early morning hours. A certain calm that is prevalent when it feels like everyone else is still sleeping.
During the work-week, I enjoy the early morning hours with a cup of coffee and a wholesome breakfast that sometimes includes this delicious Apple Walnut Granola with a side of FAGE Greek Yogurt.
When it comes to Greek Yogurt, FAGE is our first choice. My daughter and I don't just reserve FAGE for the work-week. Very often on weekends we enjoy it in these Pumpkin Yogurt Pancakes or as a side to these Oatmeal Pancakes or Oatmeal Waffles. Sometimes even, we use it in a curry like this Chickpea Carrot Curry.
This past weekend, when I was at the store looking for FAGE Greek Yogurt, I came across FAGE TruBlend.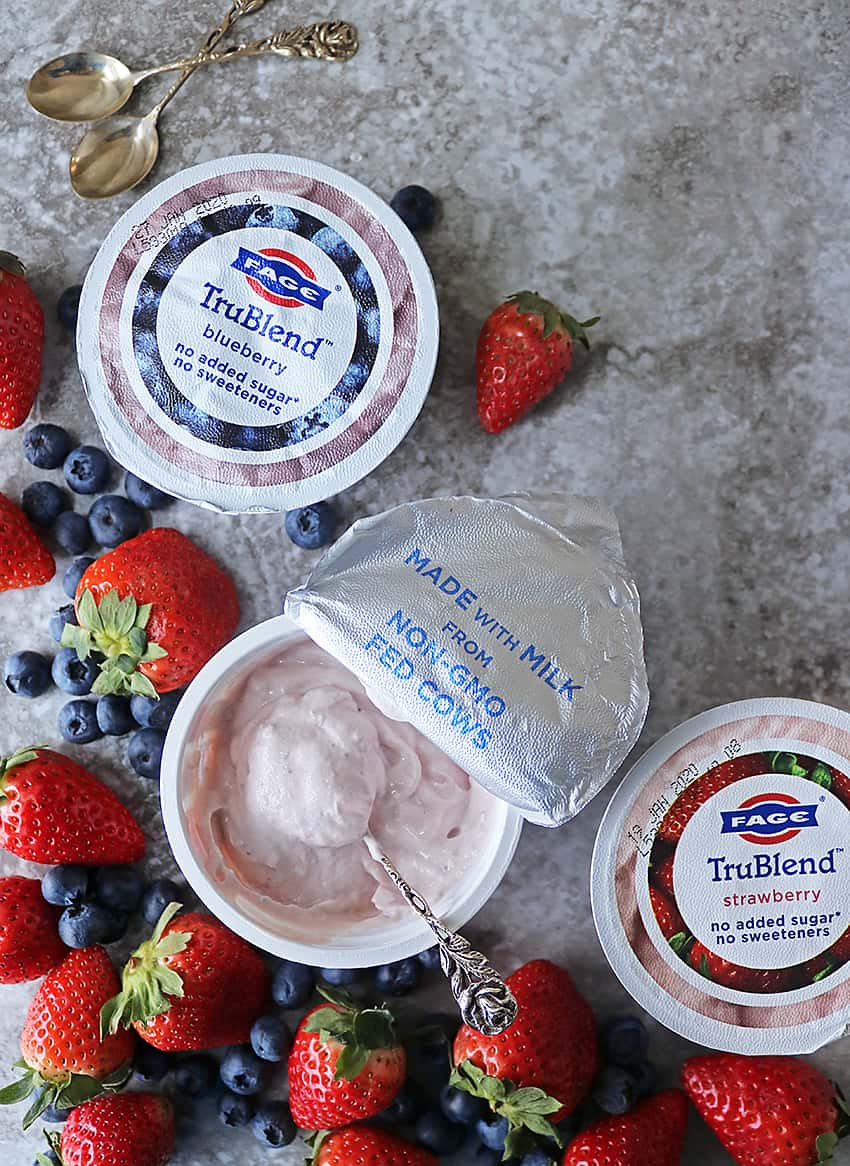 The packaging on FAGE Trublend specified that it contained no added sugar or sweeteners and as I'm trying to consume less refined sugar these days, I figured I'd bring home some to try.
And, I gotta say, FAGE Trublend does not disappoint. It is just as creamy and rich as other FAGE products I've tried.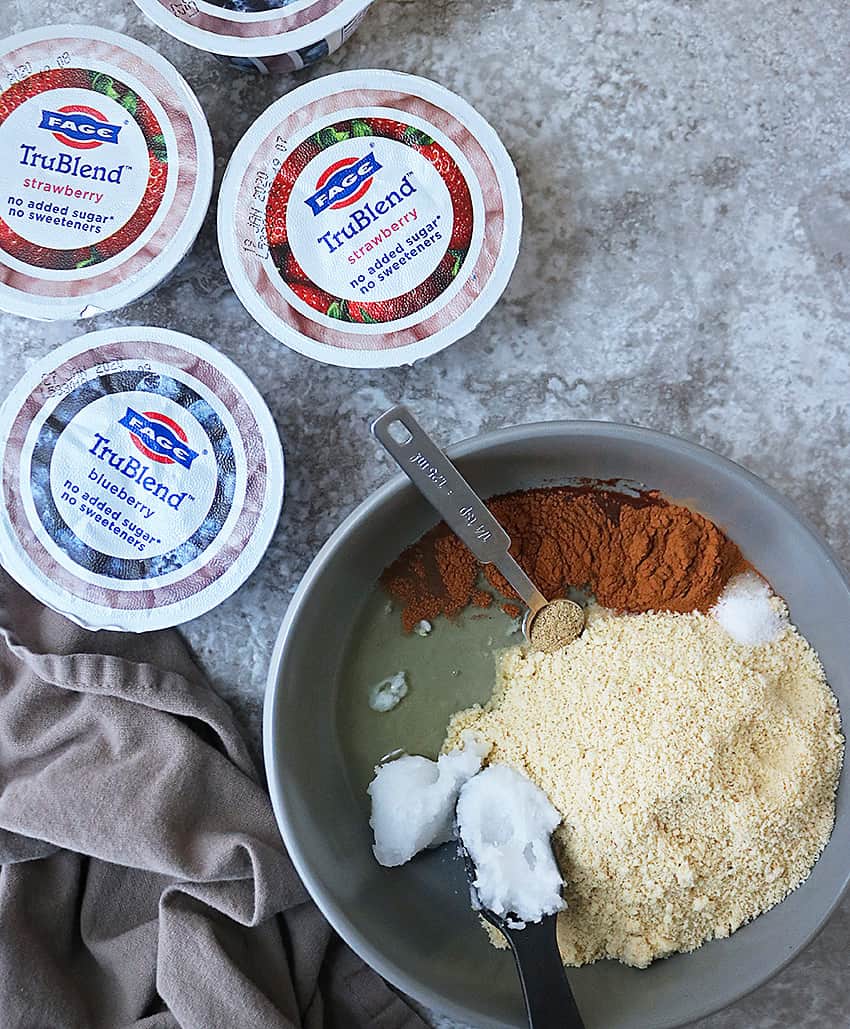 FAGE Trublend is made of 100% natural ingredients like real fruits such as blueberries, strawberries and peaches that are blended with FAGE low-fat Greek yogurt. FAGE TruBlend has a perfectly balanced sweet taste without added sugar or sweeteners.
Yes, that's right, FAGE TruBlend has no added sugar* and no sweeteners!
Protein-packed, FAGE TruBlend is perfect for a quick breakfast with some fruit as well as for on the go snacking. FAGE TruBlend is Non-GMO Project Verified and is made with milk from non-GMO fed cows.
If, like me, you too decided to try and cut down on your refined sugar intake in 2020, FAGE TruBlend will fit perfectly into your new year goals!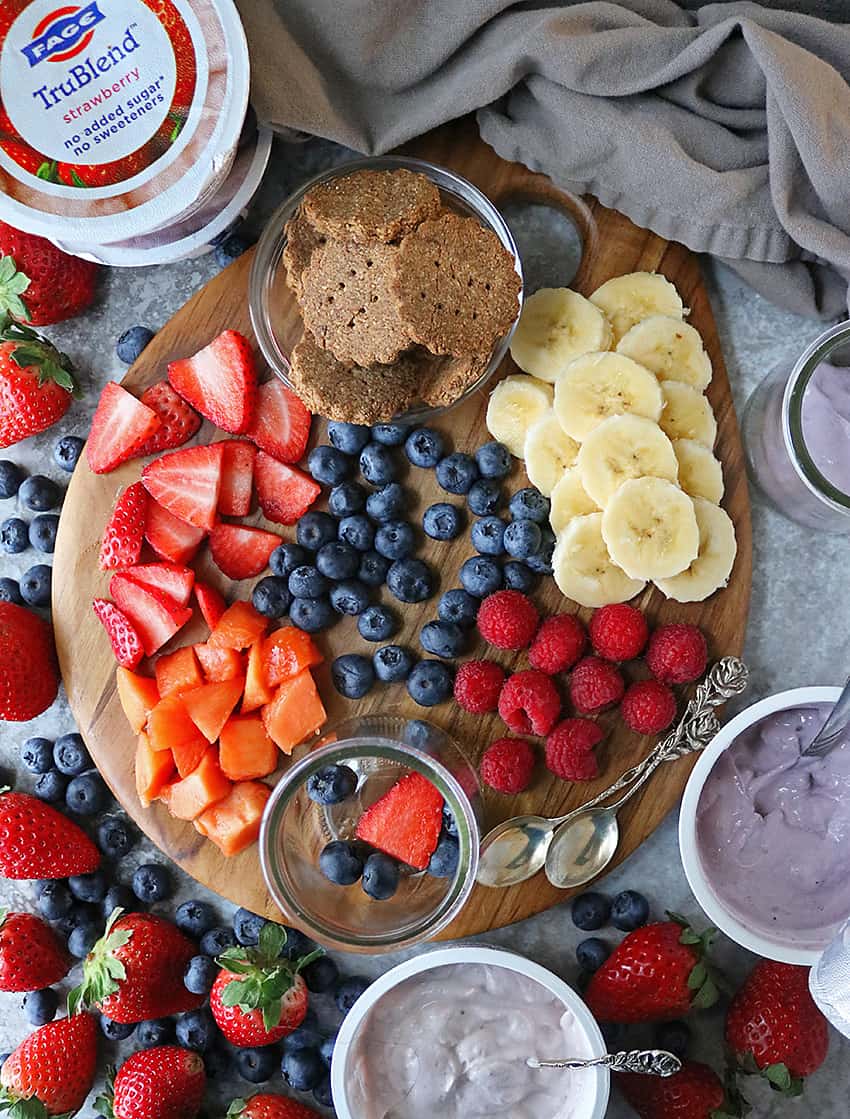 Over this year I plan on sharing several ways I plan on incorporating FAGE TruBlend into my day. But, for today, I have a rather interesting take on snacking with FAGE TruBlend.
What I have is a twist on the traditional cheese board. Today I have a homemade cracker, fruit and yogurt board.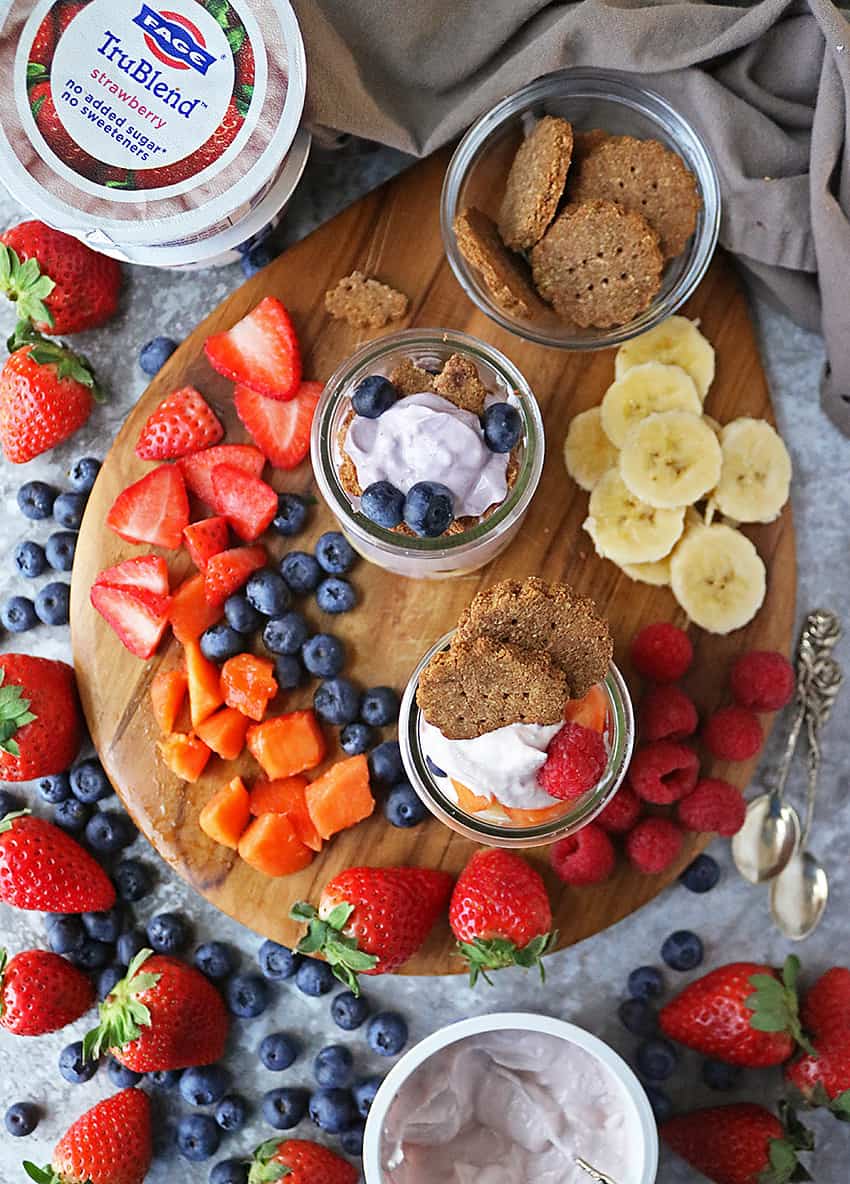 I've been making homemade crackers for awhile now – they are so easy and versatile to whip up. The homemade crackers you see here today contain cinnamon and cardamom. Those are two spices usually associated with a sweet treat, but today's homemade crackers are not sweet.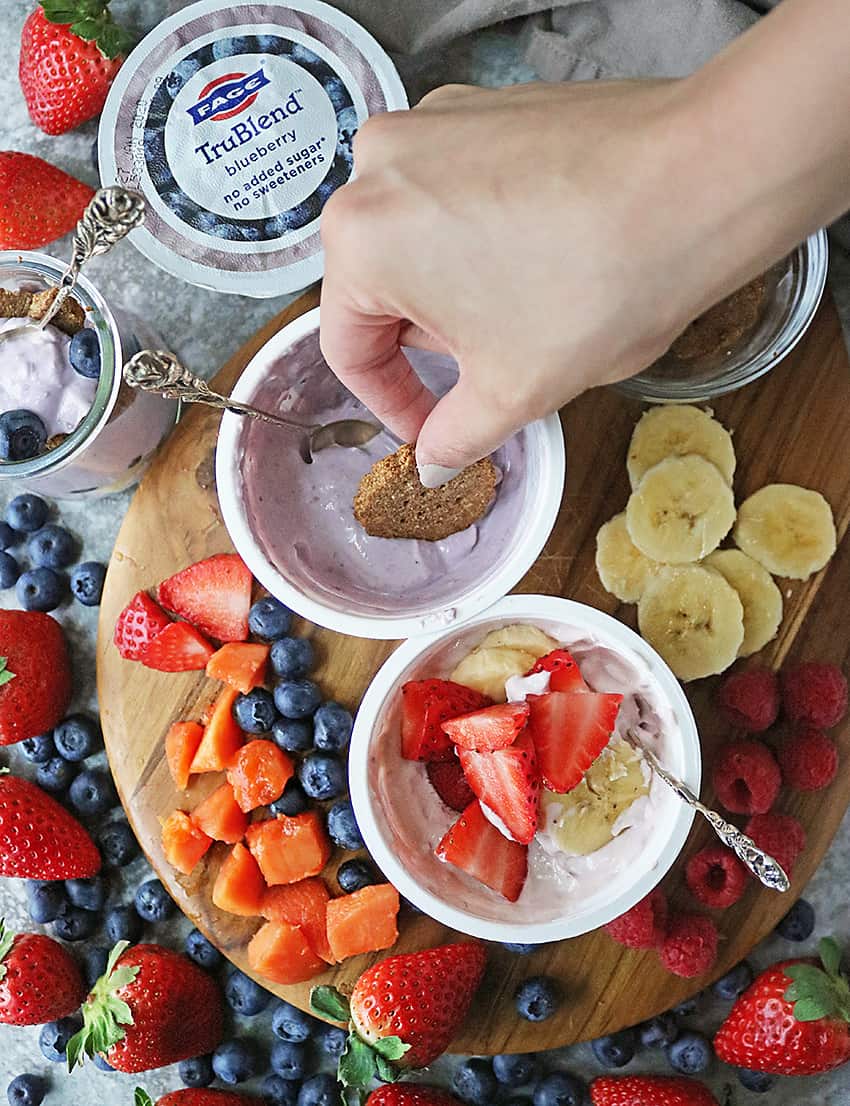 Like FAGE TruBlend, they do not contain any added sugar, even though the cinnamon and cardamom seem to trick my brain into thinking they do. They are made with a smidge of salt, an egg white, almond flour and coconut oil – which makes them gluten-free and butter free as well.
If you would like to use flour instead of almond meal and butter instead of coconut oil, you will get a more rich, buttery cracker. But, I wanted something a little bit healthier so I could snack on a bunch – especially by dipping them in FAGE TruBlend or as a parfait with FAGE TruBlend and a smorgasboard of fruit like strawberries, blueberries, bananas, and papaya.
What my daughter accidentally discovered is that these homemade crackers make for a delicious and sturdy base for a slice of banana, a slice of strawberry and a blueberry, all sandwiched together with rich and creamy FAGE TruBlend!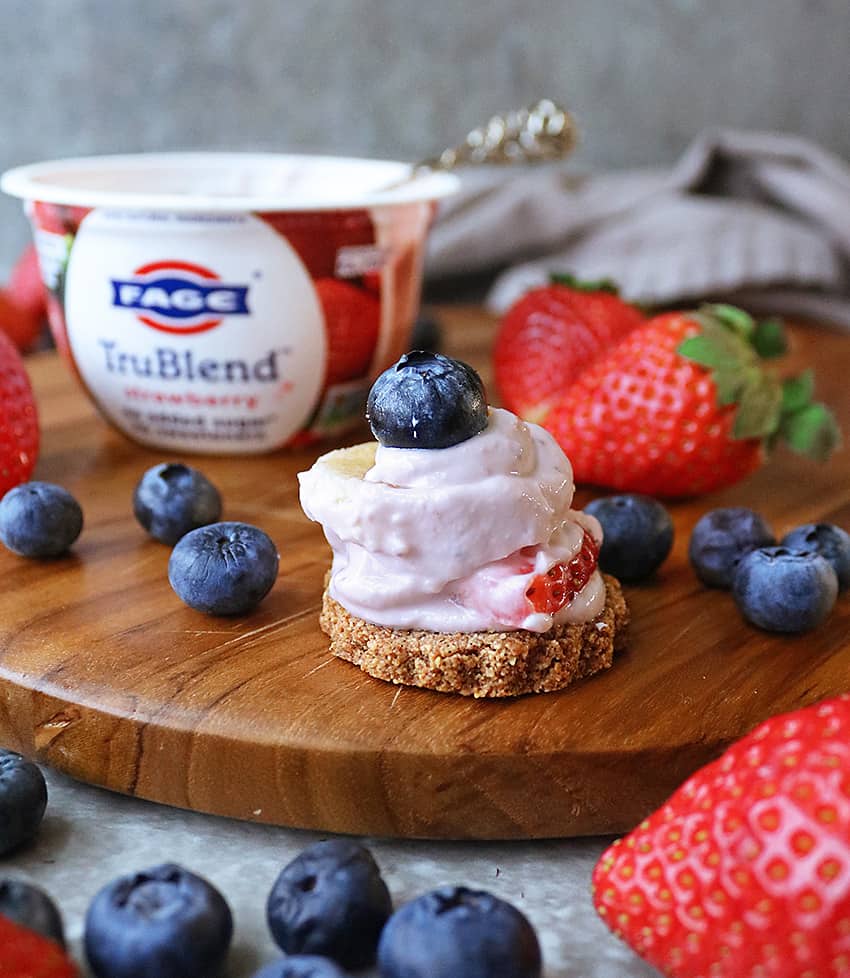 *not a low calorie food.