This shop has been compensated by Collective Bias, Inc. and its advertiser.
All opinions are mine alone.
#HoneyMaidHouse #CollectiveBias
These buttermilk-spiked, smoked Gouda & Rosemary Crackers are served in a not-so-traditional, totally-edible holiday house that is a low-sugar alternative to a traditional Gingerbread house.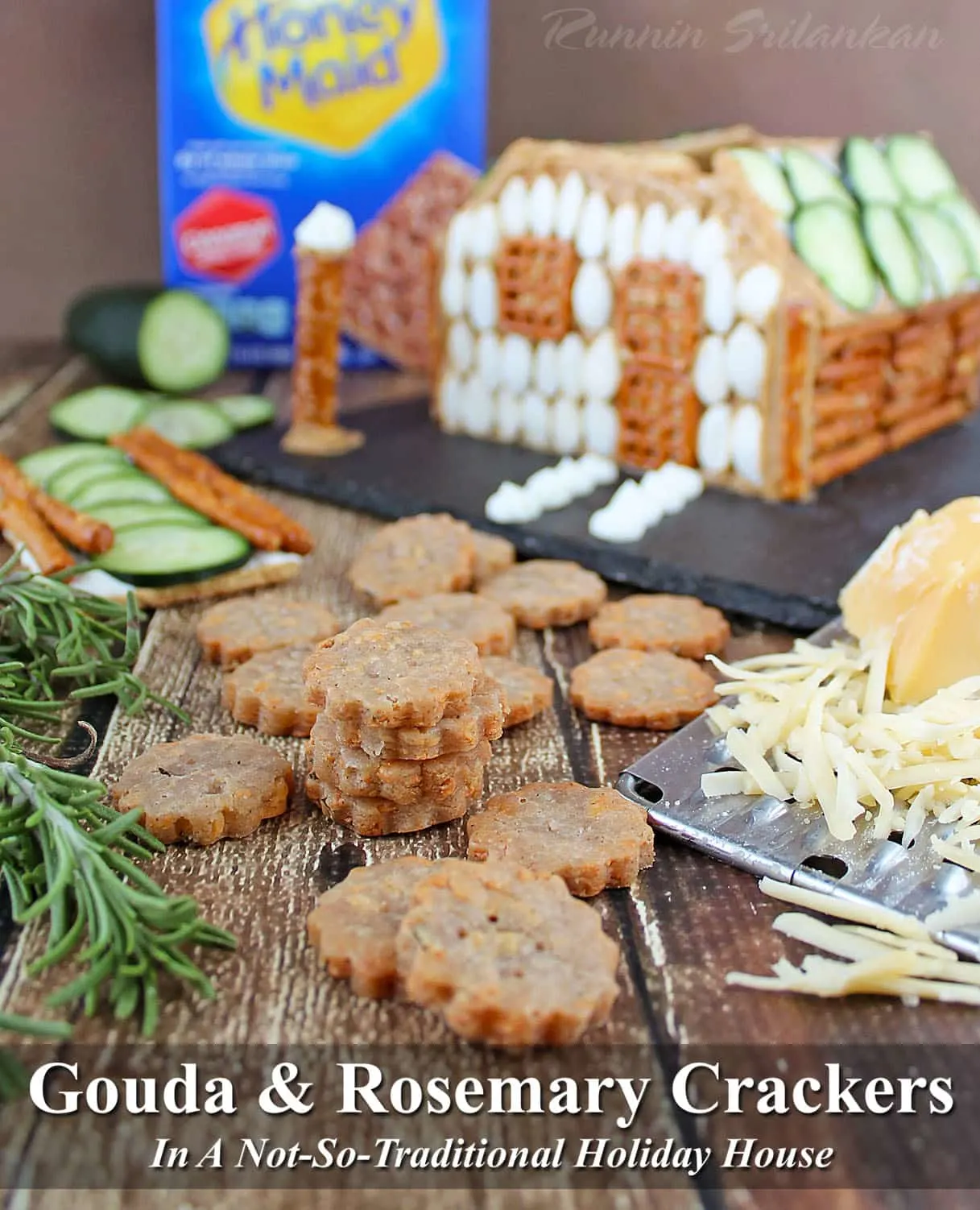 About 45 minutes north of downtown Atlanta, there's this little farm called Cagle's Dairy. Up until a few years ago, they were a working dairy farm, with farm tours open to the public. In the fall, their farm tours also included a romp through their corn maze, culminating with s'mores and hot dogs by their bonfire. For my daughter and I, fall just wasn't fall without a trip to Cagle's corn maze and bonfire!
That bonfire was my favorite part. For me, a roaring fire, marshmallows, and chocolate always seem to scream out for Graham crackers, so my daughter and I would often skip the hot dogs and go straight for the s'mores. But, over the years, I have found that Graham crackers are not just good for being a vessel to get chocolate and toasted marshmallows into our bellies.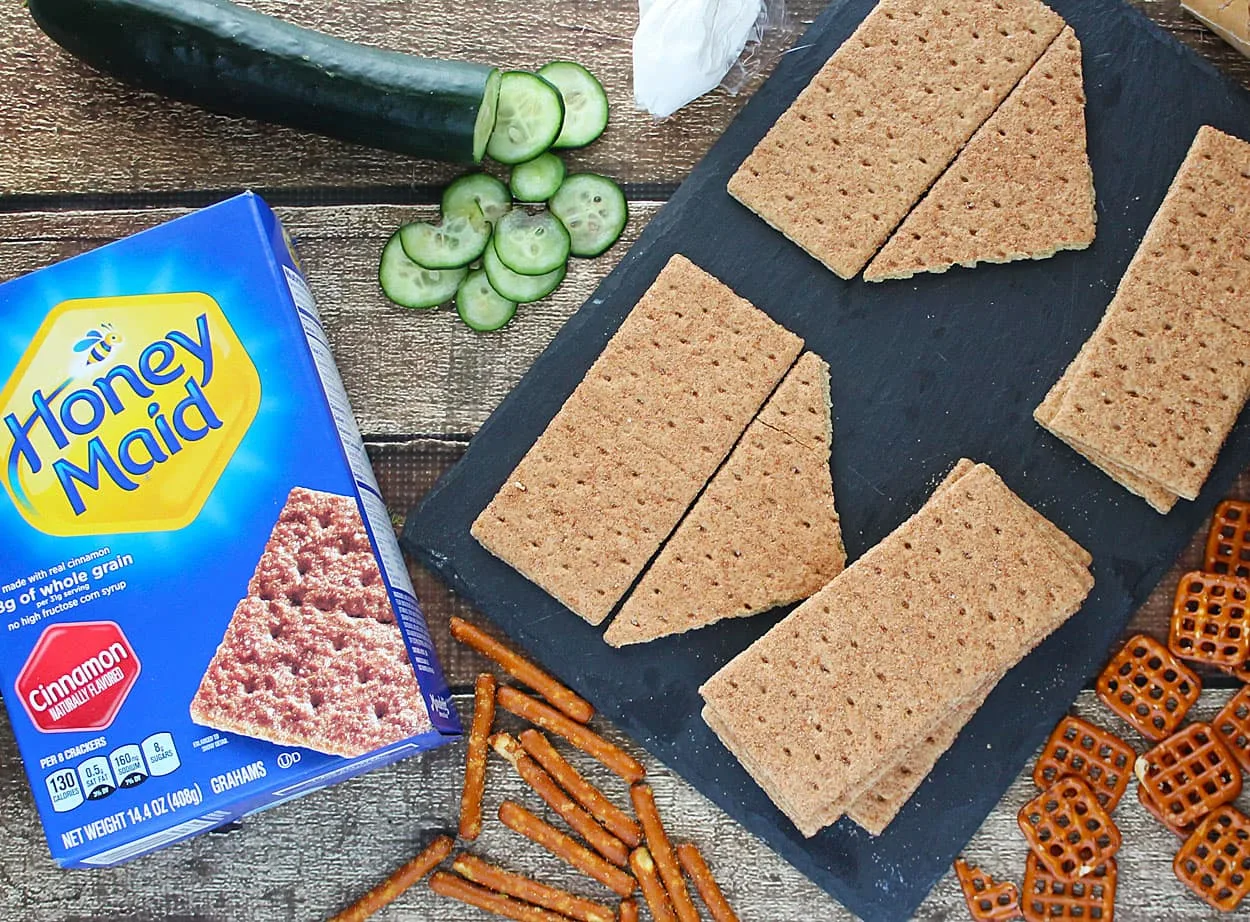 I mean, have y'all ever tried cucumber sandwiches with Graham crackers instead of bread? Just smear some dairy-free cream cheese on a Graham cracker, toss some slices of cucumber on it and voila – cucumber sandwiches with a side of crunch! Or, have y'all ever tried peanut butter and pretzels on Graham crackers? How about peanut butter and pumpkin seeds on Graham crackers?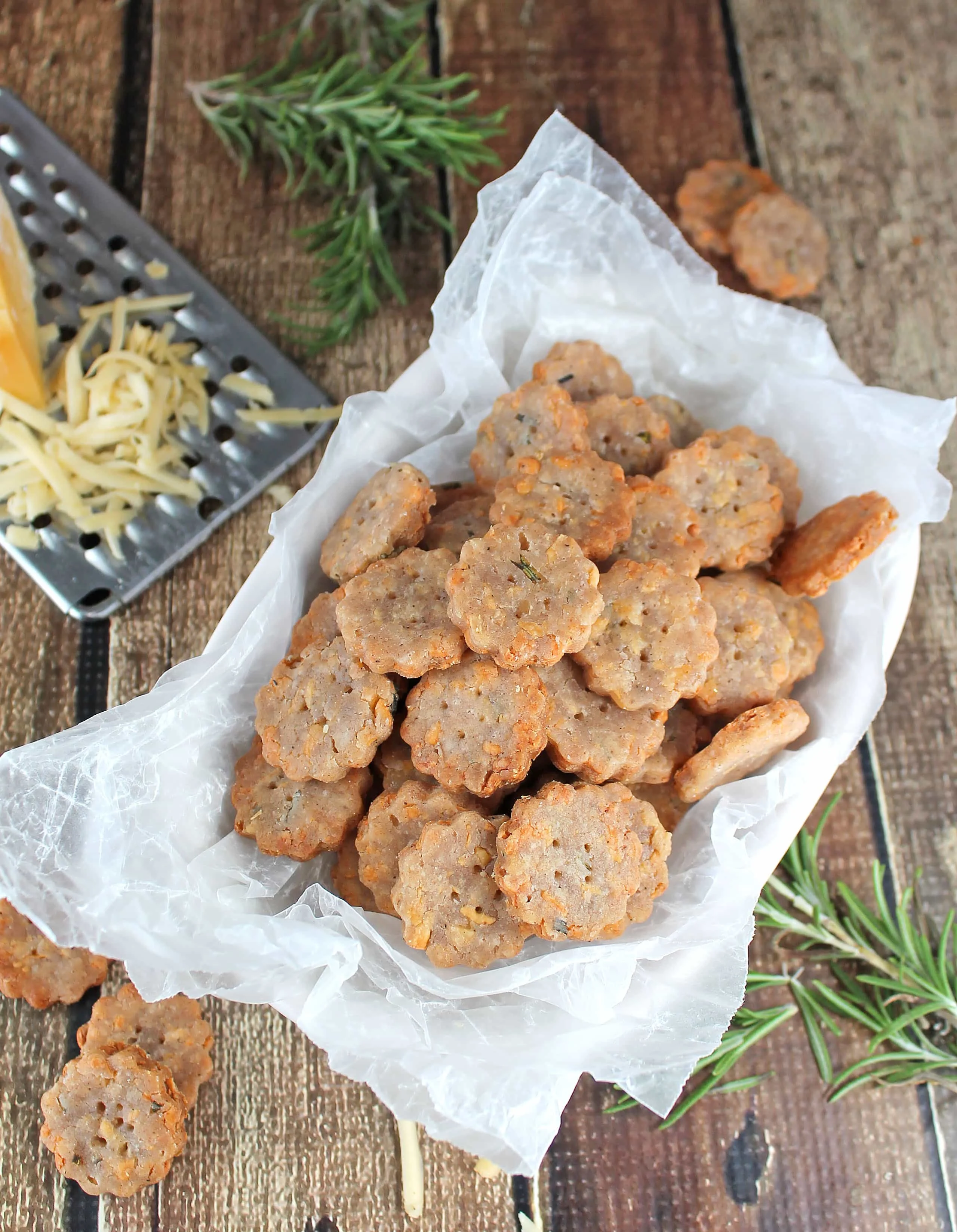 Well – I employed all these combinations in this Honey Maid Graham Cracker Gift House. This holiday house serves as a thoughtful alternative to a traditional gingerbread house for someone who might be watching their sugar intake. And, this house also serves as an edible gift box for these gluten-free, butter-free, sugar-free, savory, smoked Gouda & Rosemary Crackers. I happened to pick up some Honey Maid graham crackers from my neighborhood Walmart, along with the rest of the supplies for this holiday gift house as well as for the Gouda & Rosemary Crackers.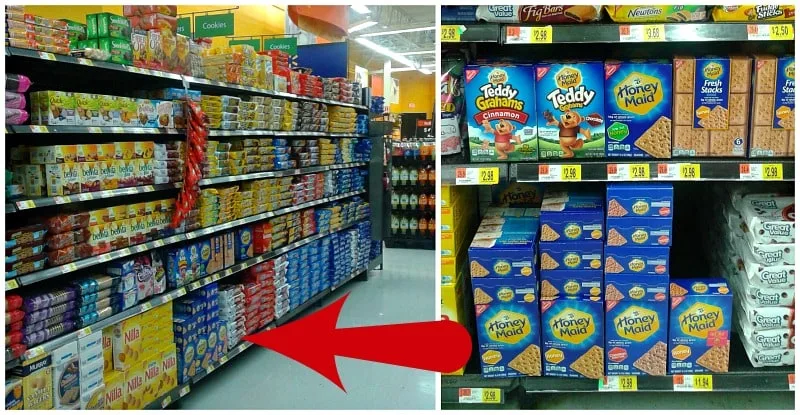 To Make This
Honey Maid Graham Cracker Gift House: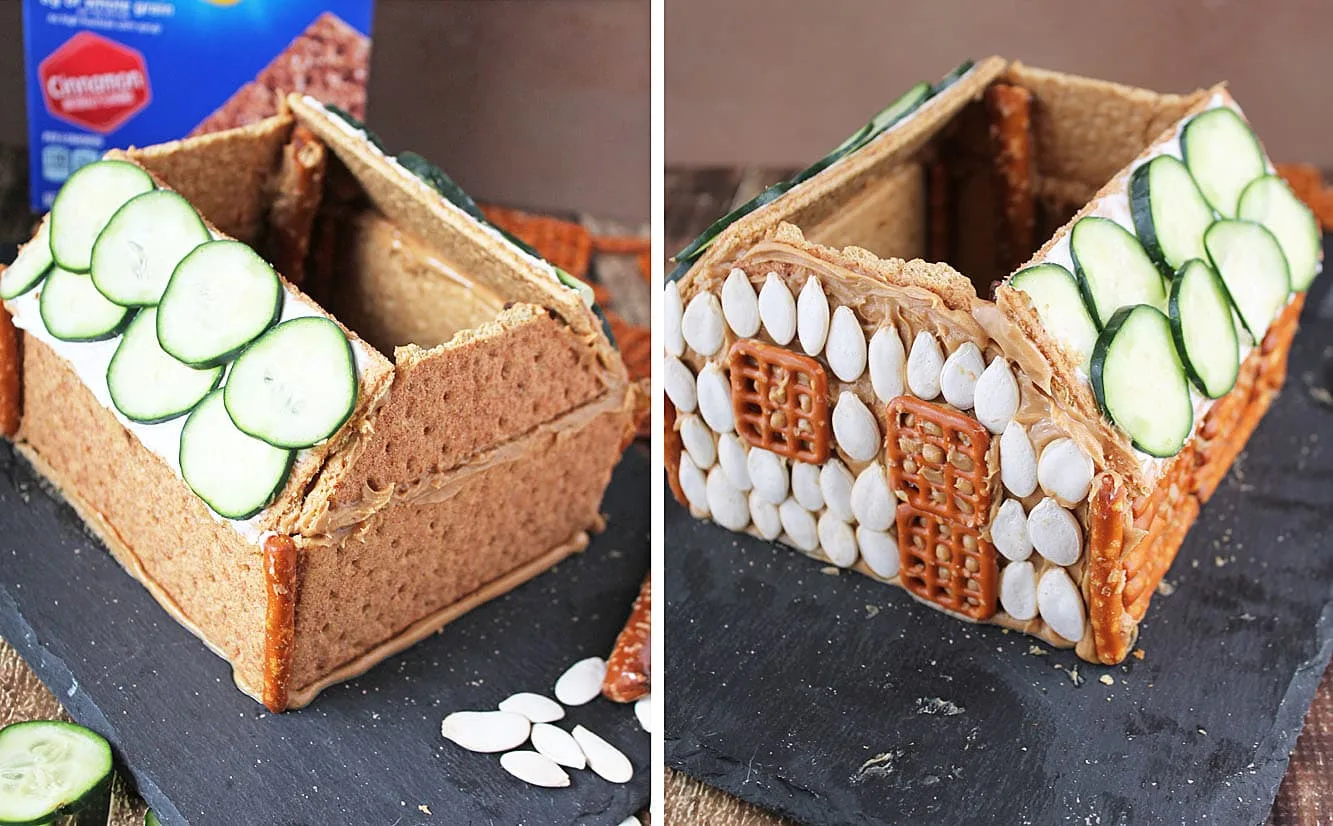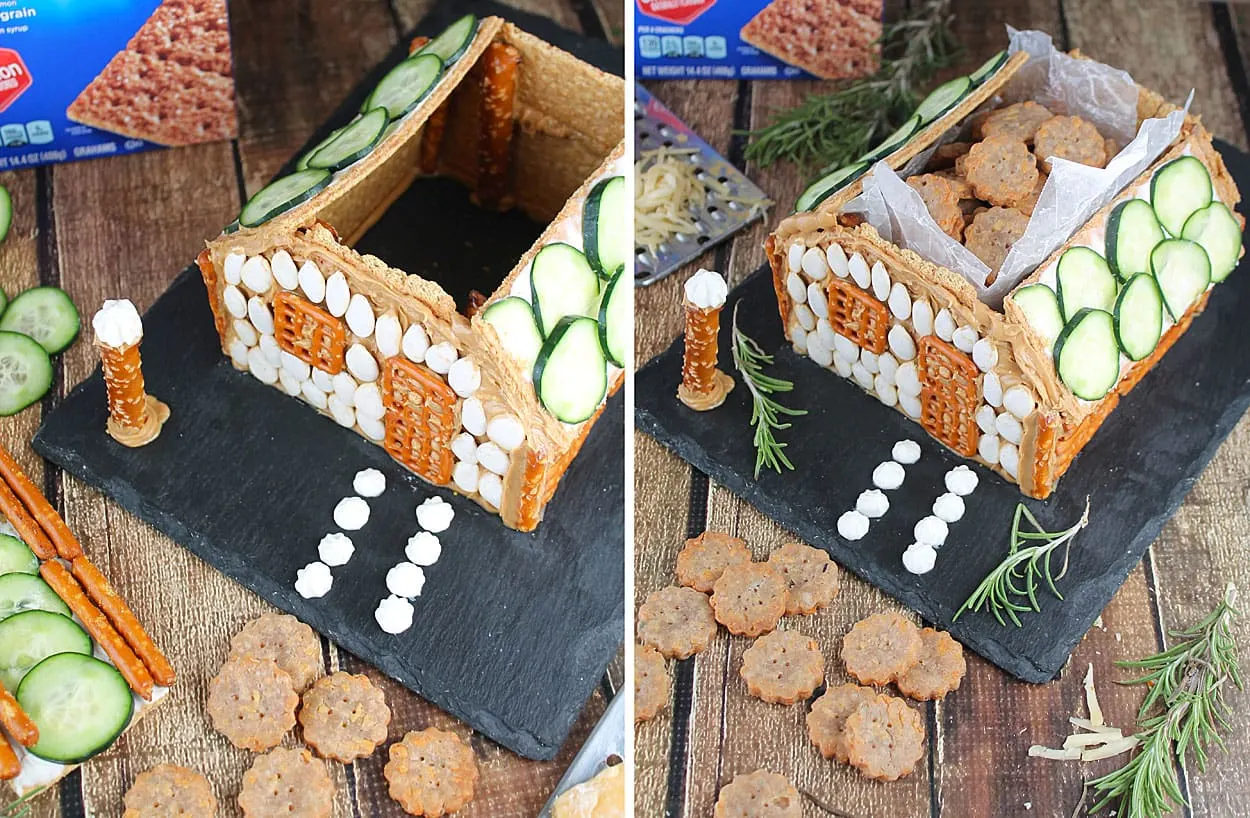 • I started off by cutting diagonal pieces off a rectangular Graham cracker to make the "roof"
• Using peanut butter in a sandwich bag with the end cut off, I assembled the house by using the peanut butter as a "glue" (or as you would use royal icing while putting together a gingerbread house). I used pretzel rods of to reinforce the 4 corners where each rectangular Graham cracker (the walls) met. I also used peanut butter and larger pretzel rods to reinforce where the roof was going to be (almond butter also works well for this).

• After the walls were up, I made half the roof with an opening so the crackers could sit in it. To make the roof, I used 2 rectangular Graham crackers and the two I had cut diagonal pieces off of. I used the larger pretzel rods as support of the roof.
• I then very gently smeared dairy-free cream cheese on the two rectangular pieces of the roof and layered cucumber slices on them to represent roof shingles.
• After that, I decorated the front and sides of the house by (again very gently) smearing peanut butter on the outer walls and using this as a "mortar" for the sunflower seeds "bricks" (front of the house), the pretzel rods to mimic logs (on the side of these house) and the square pretzel windows and doors.
• I then made a "roof-top" by decorating one Graham cracker with pretzel rods and cucumbers – this can be set on top of the house after the crackers have been placed inside.

• I placed a few of pieces of waxed paper in the house to be a barrier between the peanut butter and the crackers.
• The "lights" that adorn the pathway and the pole light are actually frozen, piped, plain Greek yogurt. I made these by using a star piping nozzle to pipe little "stars" onto a waxed sheet of paper. I placed these in the freezer for about an hour as I assembled the house and then used them as "lights". Now these pieces melt pretty quick so place them when you are ready to present this house. Also, these frozen morsels of Greek yogurt make a refreshing treat!
• I then carefully placed the Gouda & Rosemary Crackers into the house. Make sure that this house isn't sitting around for too long as it is a bit more fragile than a gingerbread house.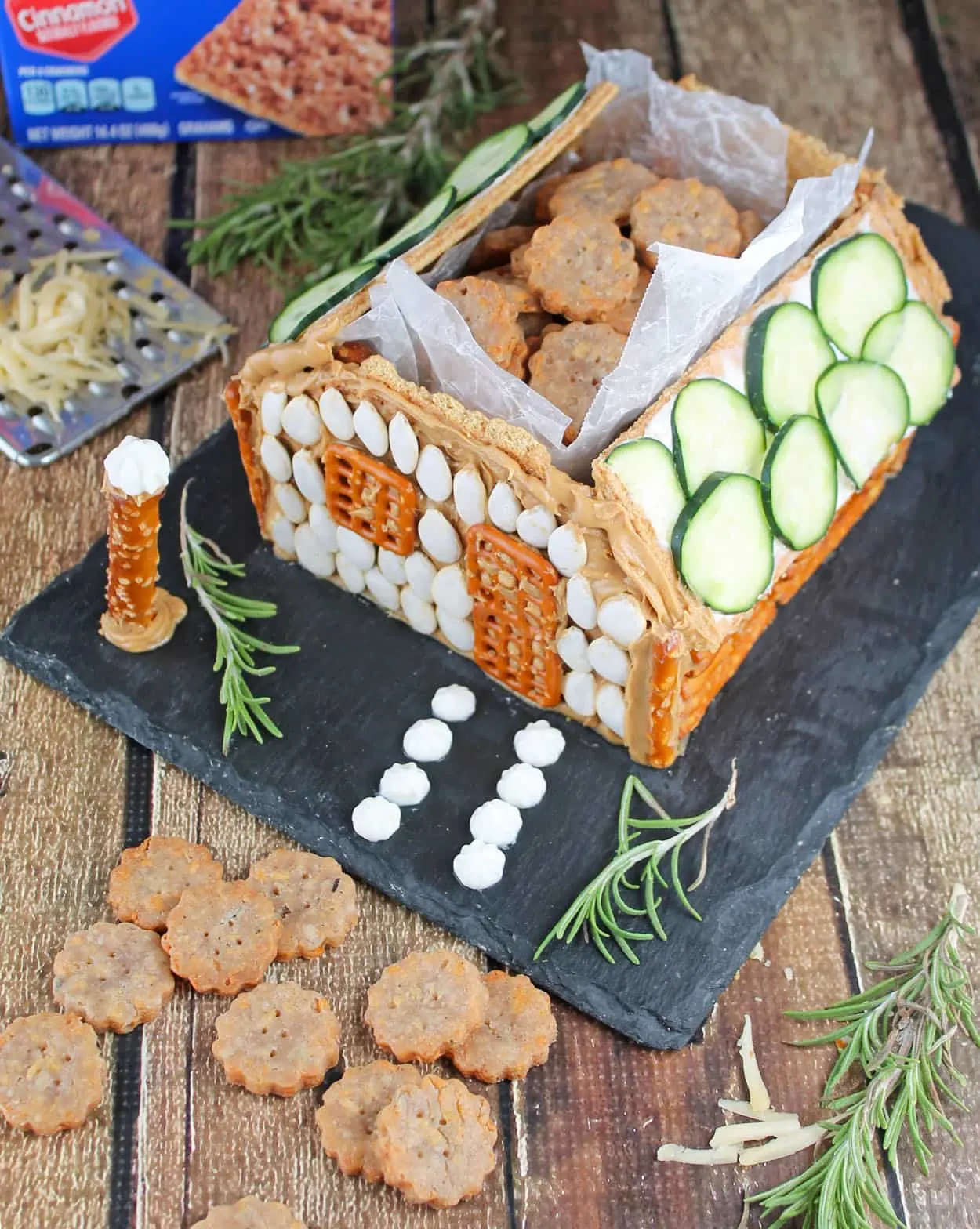 [Tweet "Enjoy Gouda & Rosemary Crackers in a #HoneyMaidHouse [ad] #cbias"]
~ Have you made an alternative or not-so-traditional Gingerbread House before?
~ Other than in s'mores, what are some of the other ways you have enjoyed (or are planning on enjoying) Honey Maid Graham Crackers?