Topped with a crisp and sweet streusel topping, these Easy Strawberry Streusel Muffin Tops with White Chocolate are a delicious, versatile, and portable breakfast or snack.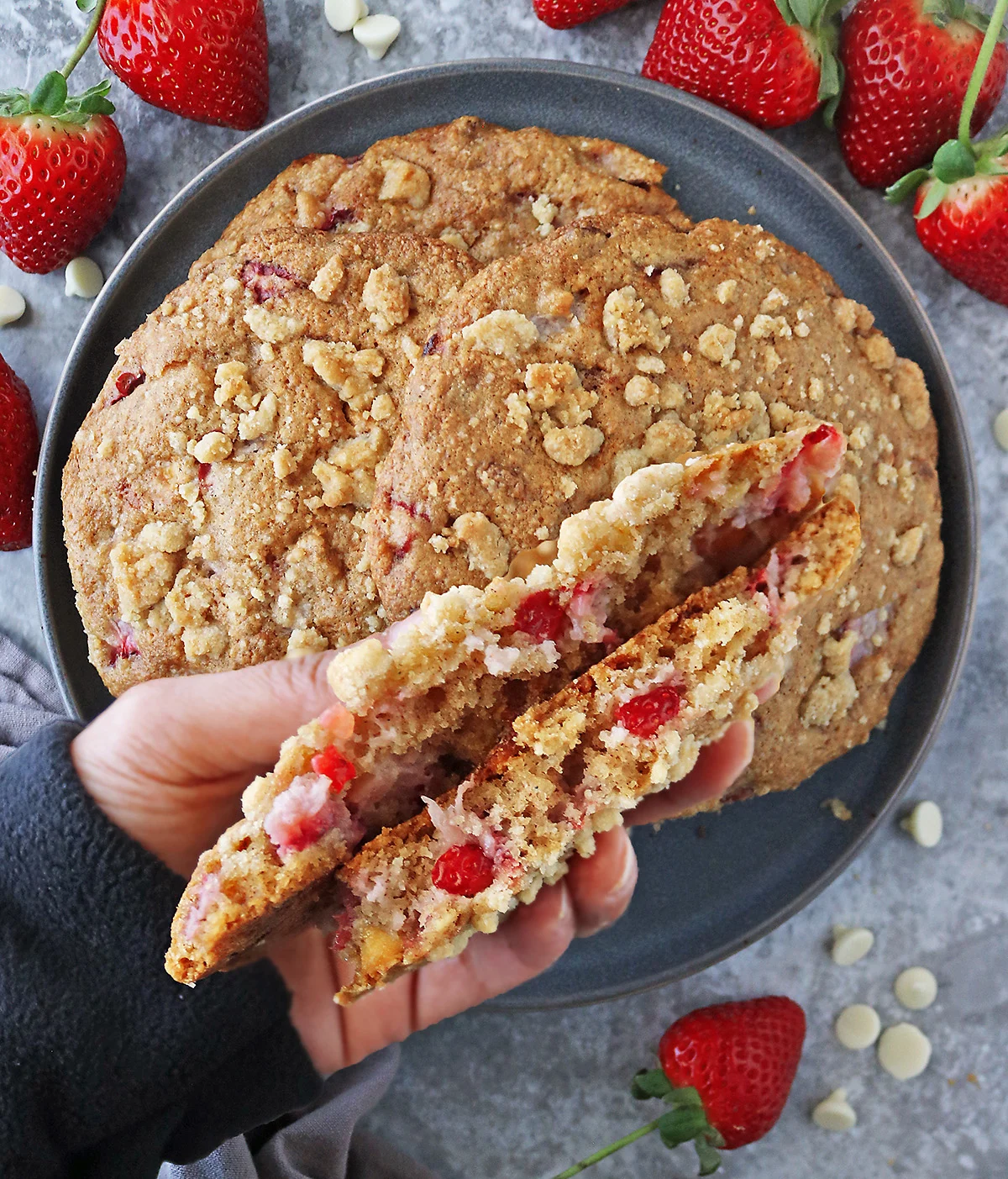 My theory is why waste time with the whole muffin when the muffin top is all I am after. So, over the years, I have made blueberry lemon muffin tops, apricot chocolate chip muffin tops, double chocolate muffin tops, and more recently, these Strawberry Streusel Muffin Tops with White Chocolate Chips.
Up to date, these Easy Strawberry Streusel Muffin Tops with White Chocolate are my favorite.
While I try to post mostly healthy or healthy-ish recipes here in this little space of mine, these muffin tops do not fall under that category. These muffin tops are an indulgent treat.
They make for a tasty breakfast to linger over on a weekend morning. And, they also double as a delightful treat to grab before you walk out the door, on a busy weekday morning.
Delicious, fresh, versatile, and portable, try this recipe out just once, and you might decide you need to have a batch of these on hand for emergency breakfasting and snacking on!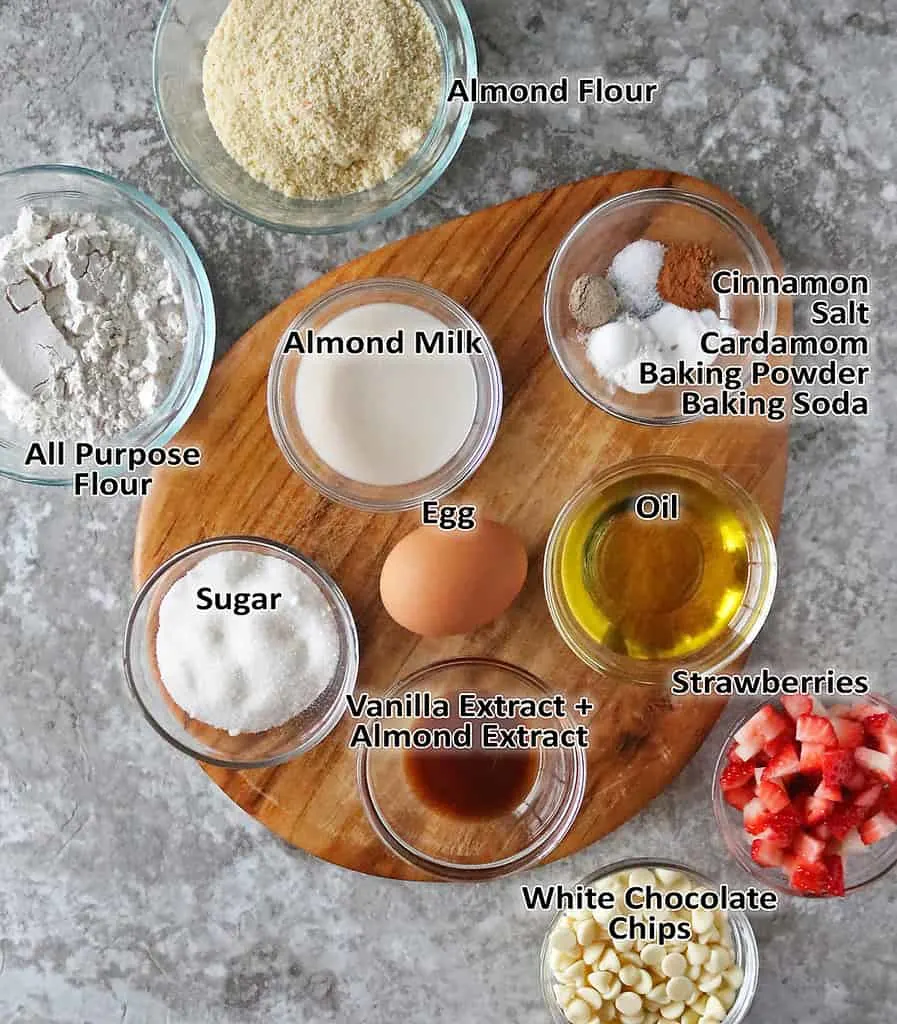 What are the ingredients to make these Strawberry Streusel Muffin Tops with White Chocolate?
These Strawberry Streusel Muffin Tops with White Chocolate are made with the following 15 ingredients:
Almond Flour
I like to use a 1:1 ratio of almond flour to all-purpose flour for texture and an ever so slight nutty taste.

All-Purpose Flour
For these particular muffin tops, I used AP flour, but for the other muffin tops featured here, I have used gluten-free all-purpose flour. So, if you are gluten sensitive, a GF flour like Cup 4 Cup GF Flour can easily be substituted in instead.

Granulated Sugar
In this case, granulated sugar works best – resulting in the best texture and level of crispness to these muffin tops.

Baking Powder
Using a combination of baking powder and baking soda results in muffin tops that are beautifully risen, as well as have a tangy taste.

Baking Soda
Baking soda helps these muffin tops brown beautifully. Check out this article if you want to read more about using baking powder and/or baking soda in recipes.

Salt
Usually I leave salt off the main list of ingredients, but in the case of these muffin tops, salt plays a big role. It draws together and enhances all the spices and flavors in these muffin tops.

Cinnamon
Just a smidge of cinnamon adds so much flavor to these treats.

Cardamom
Like its counterpart, cinnamon, a bit of cardamom goes a long way in adding flavor and an enticing aroma to these muffin tops.

Egg
In this case, an egg is the binding agent. If you prefer to make these eggless, you could use a flax egg (1 tbsp flaxseed meal + 3 TBSP water combined) or an egg substitute, like Just Egg.

Oil
For this recipe, you can use any mild-flavored oil. I used a mild olive oil. But, you could also use canola oil.

Almond Milk
I use mostly nut milks in my recipes, as I cannot stomach real milk. However, if lactose is your friend, please feel free to use the milk of your choice when making these.

Vanilla Extract
Another aroma and flavor enhancer

Almond Extract
Almond extract jives so well with the vanilla extract in flavoring and aromatizing these treats.

Fresh Strawberries
You could use dried strawberries – but fresh strawberries work so much better in this.

White Chocolate Chips
You could use any good quality white chocolate chips or white chocolate chunks.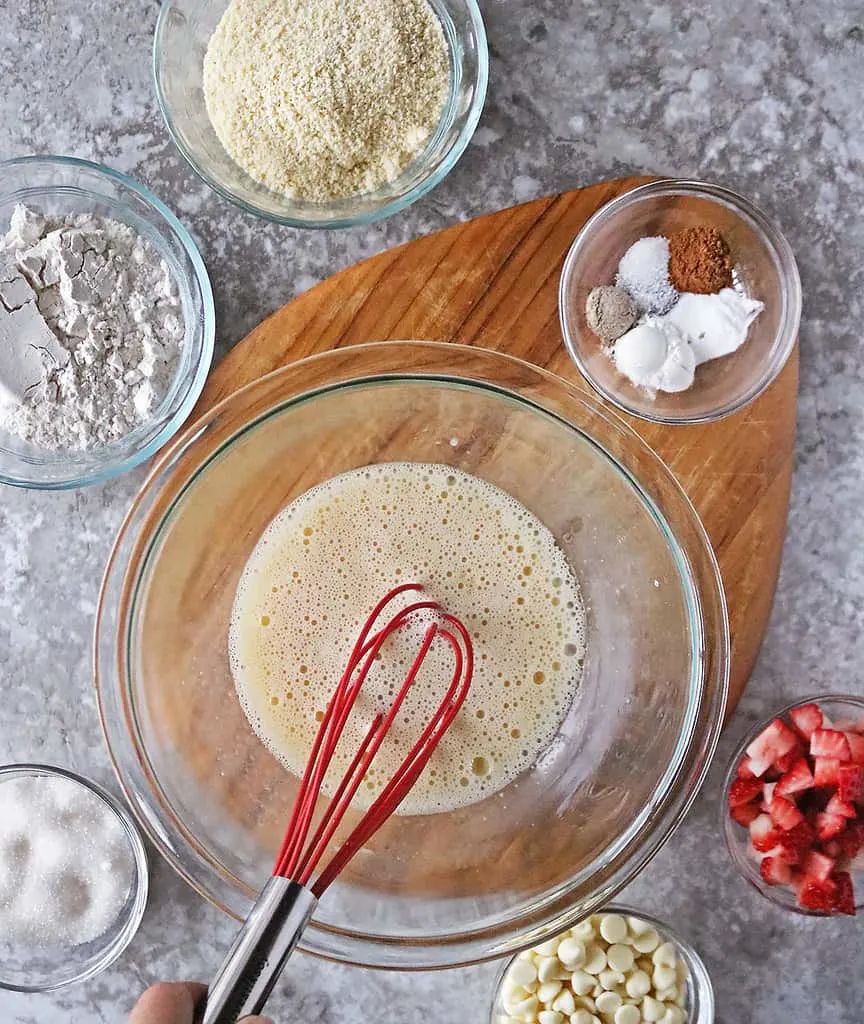 After you have all your ingredients together, it's just a matter of mixing all your wet ingredients together. Then, adding and mixing in the dry ingredients. Spooning the mixture onto a baking tray. Sprinkling on a streusel topping and baking until golden.
This recipe results in 4 large strawberry streusel muffin tops. You could easily double this recipe or halve it to fit your needs.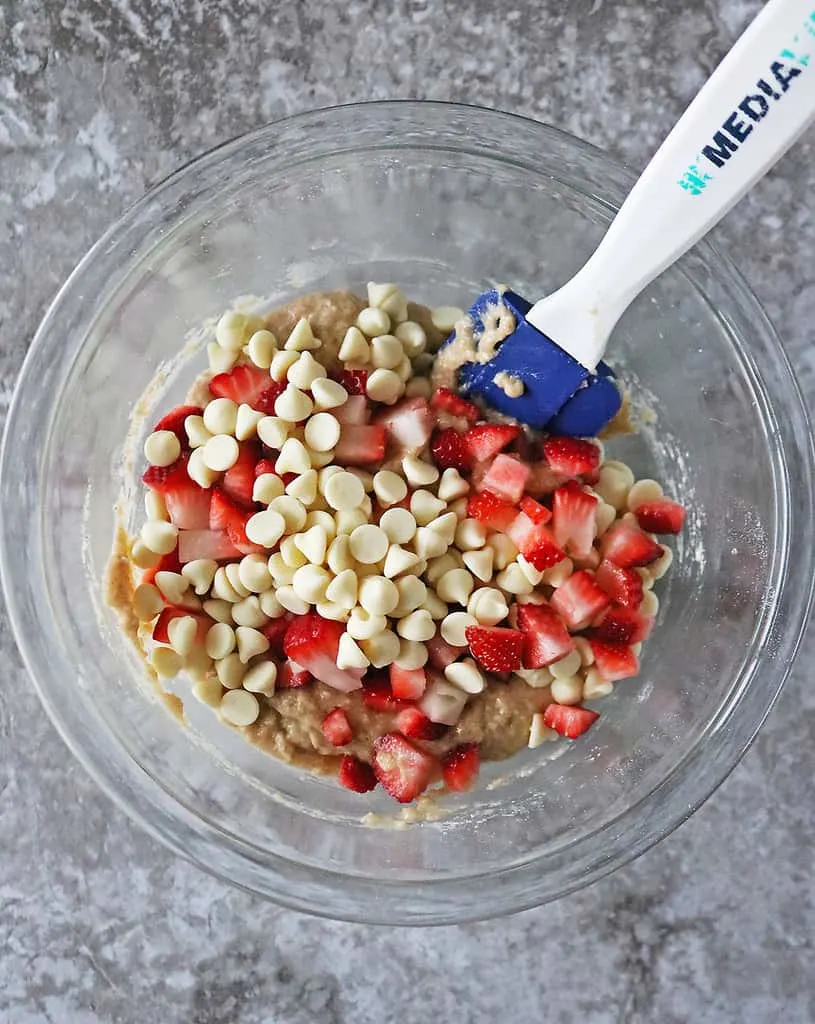 How to store these muffin tops?
These muffin tops can be stored for about 5 days in an airtight container in your fridge. They never seem to last longer than that. When ready to enjoy, let them come to room temperature or toast them ever so lightly in a toaster oven.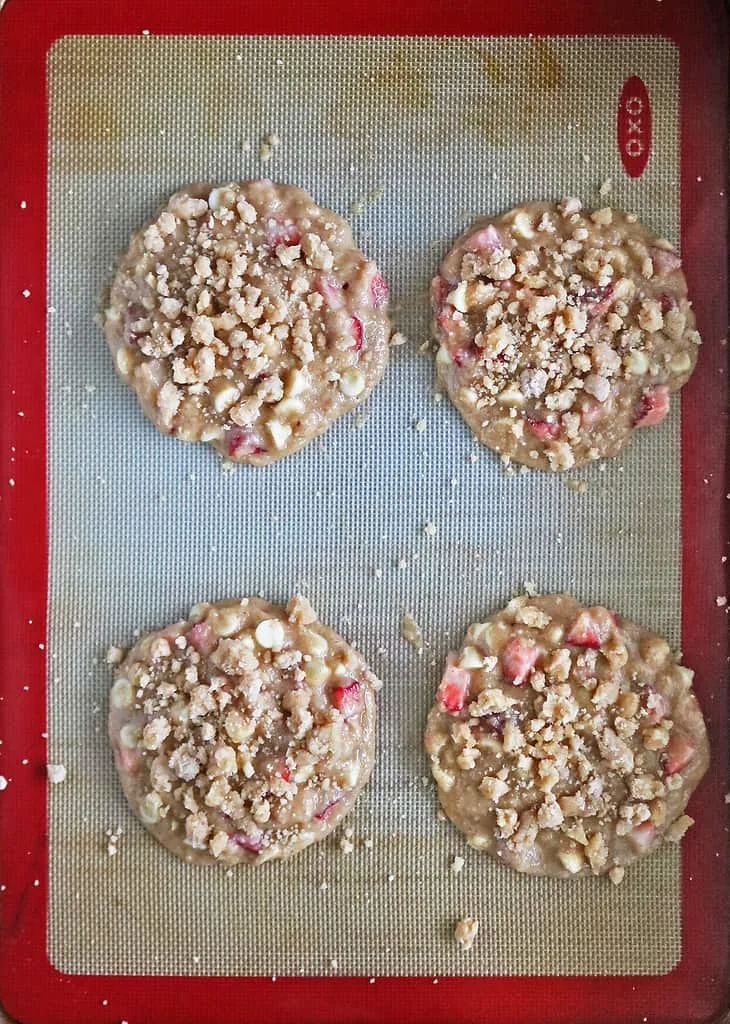 These Easy Strawberry Streusel Muffin Tops with White Chocolate are my contribution to the 2022 Good Cookies Food Bloggers' Valentine's Event.
If you would like to read more about the organization or make a donation, please check out this page.