I've partnered with Sprouts Farmers Market to bring y'all these, gluten-free, thin and slightly chewy, Triple Chocolate Beet Cookies – another delightfully delicious way to add some veggies to your Holiday Treat Exchange!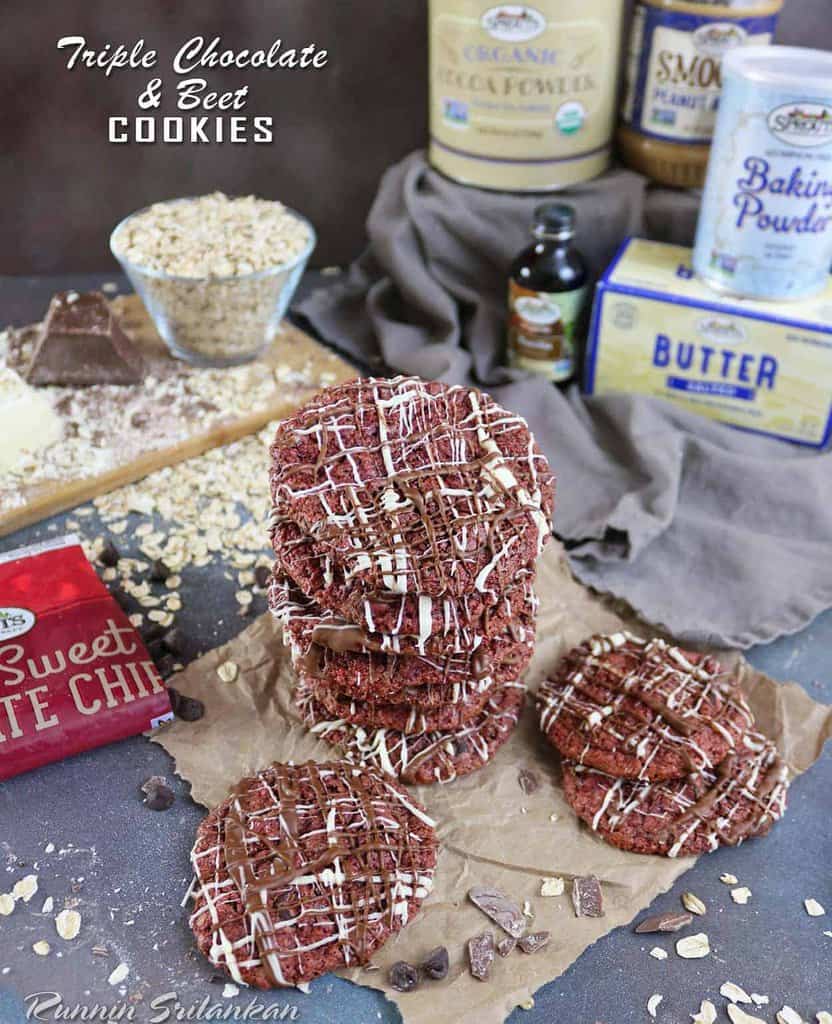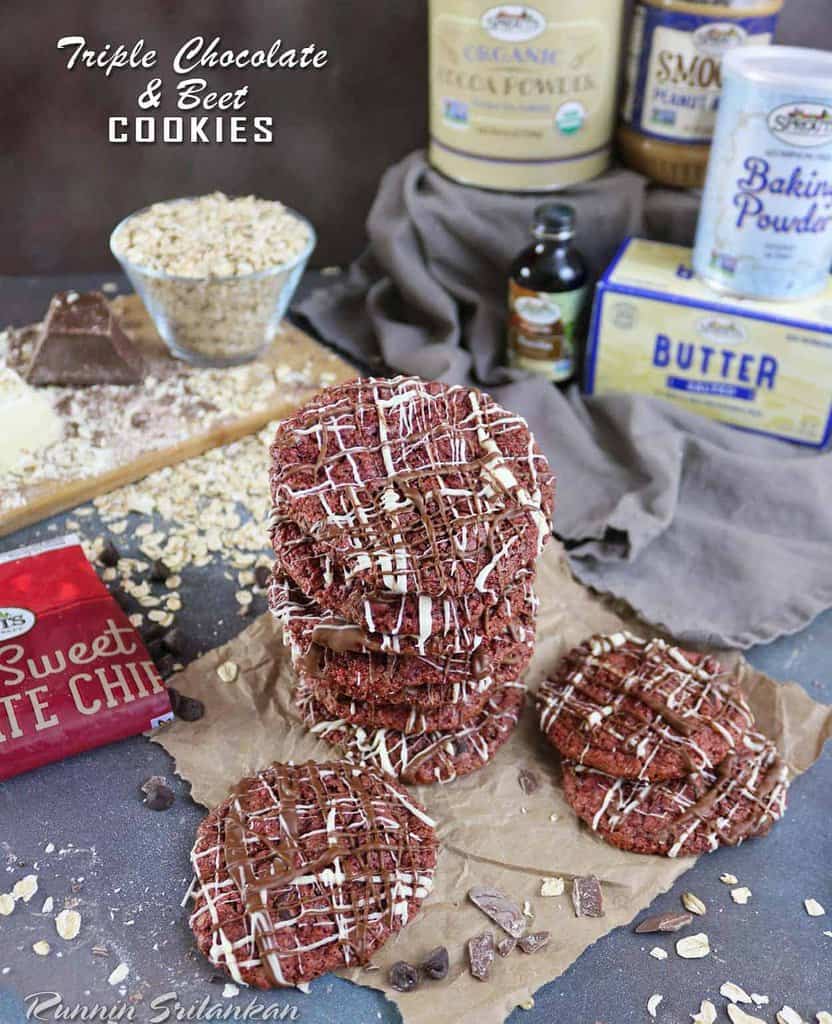 'TIS THE SEASON for ALL the TREATS! – Am I right or am I right?!
Y'all, I'm a little bit hopped-up on Triple Chocolate Beet Cookies AND coffee this morning, and a lotta bits hopped-up because I feel I found my baking mojo again! YASSS!!!
You see, for the longest time, things were just not jiving for me on the baking front. From muffins to cookies, everything seemed to tank. What used to work before, didn't! The baked treats that made it onto this little space of mine were the result of many, many, many, many, many failed attempts. That's one too many "many's", if you ask me!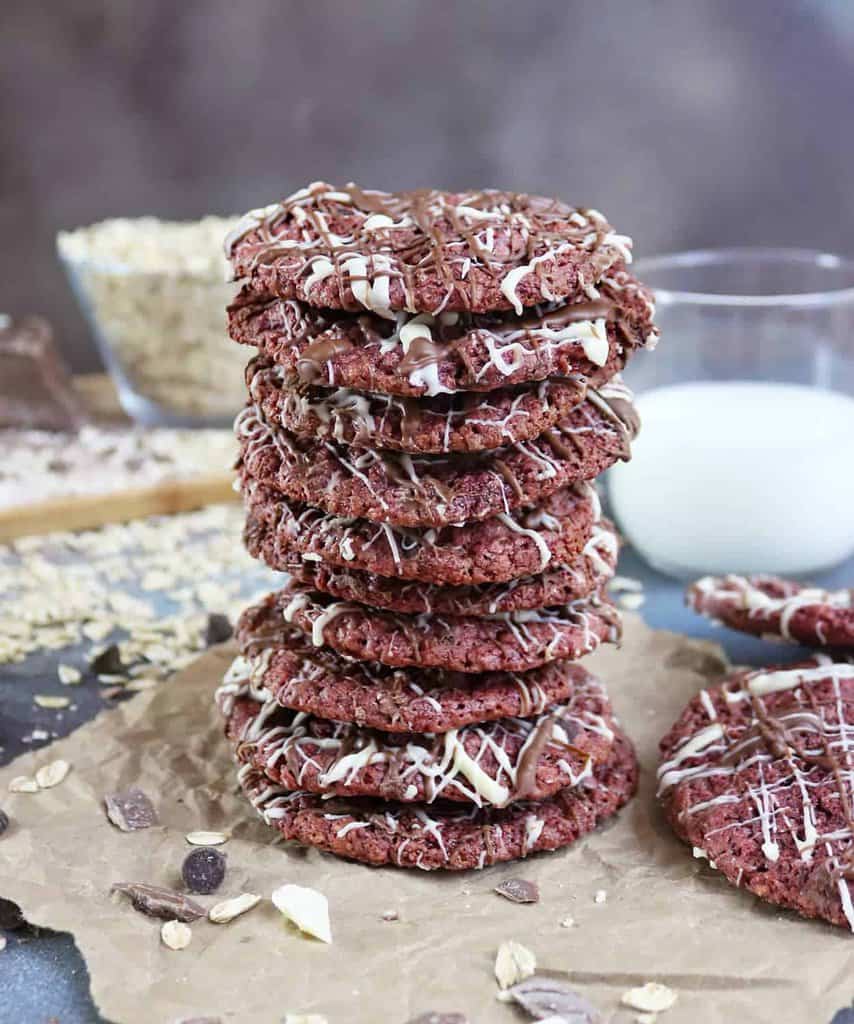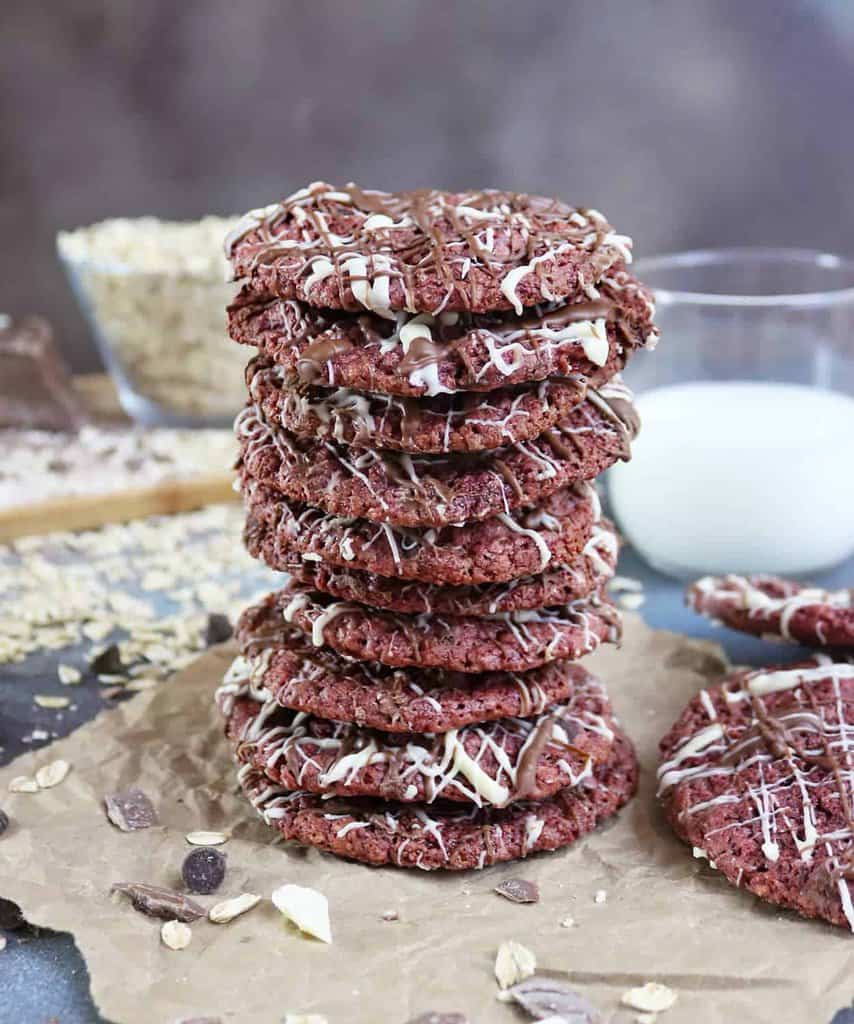 At one point of my misadventures in baking, I decided I needed some major therapy. Produce-therapy to be exact. So, I made my way to one of my favorite produce sections and sniffed the beets! I kid, I kid!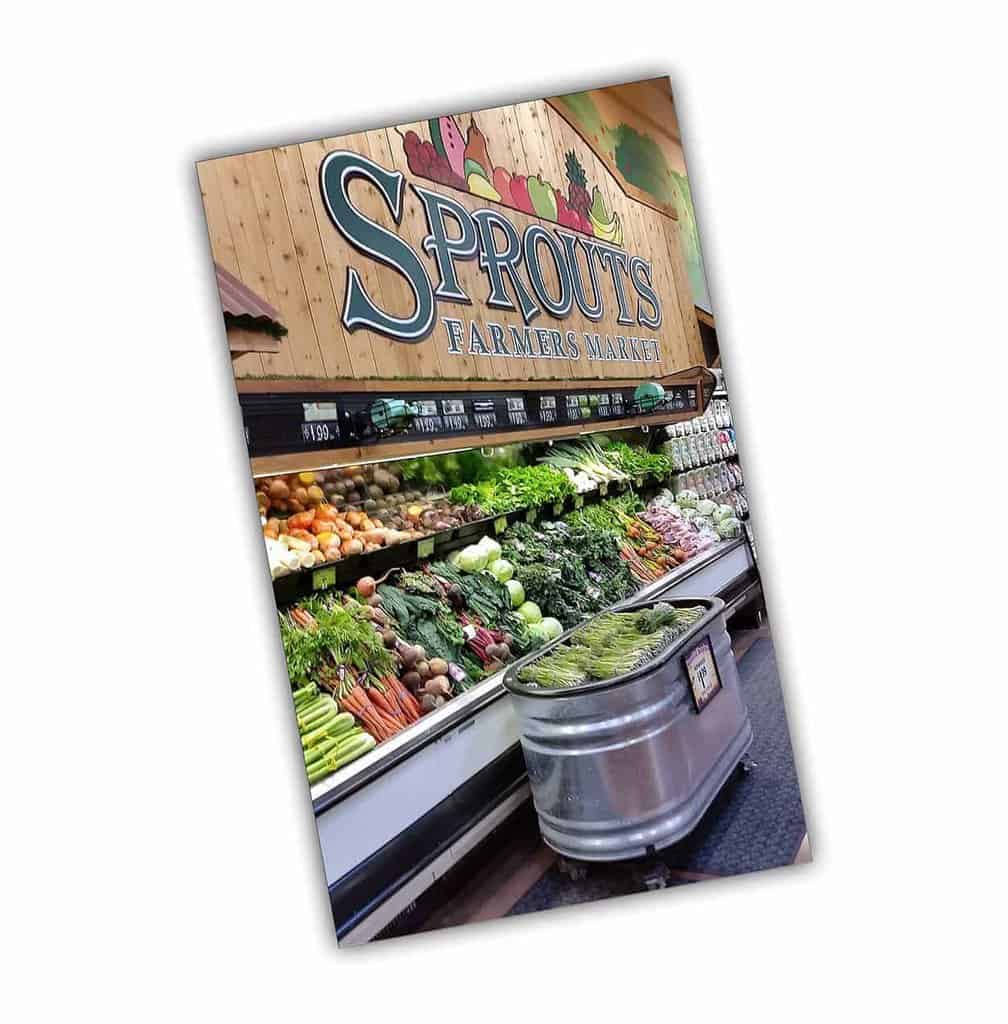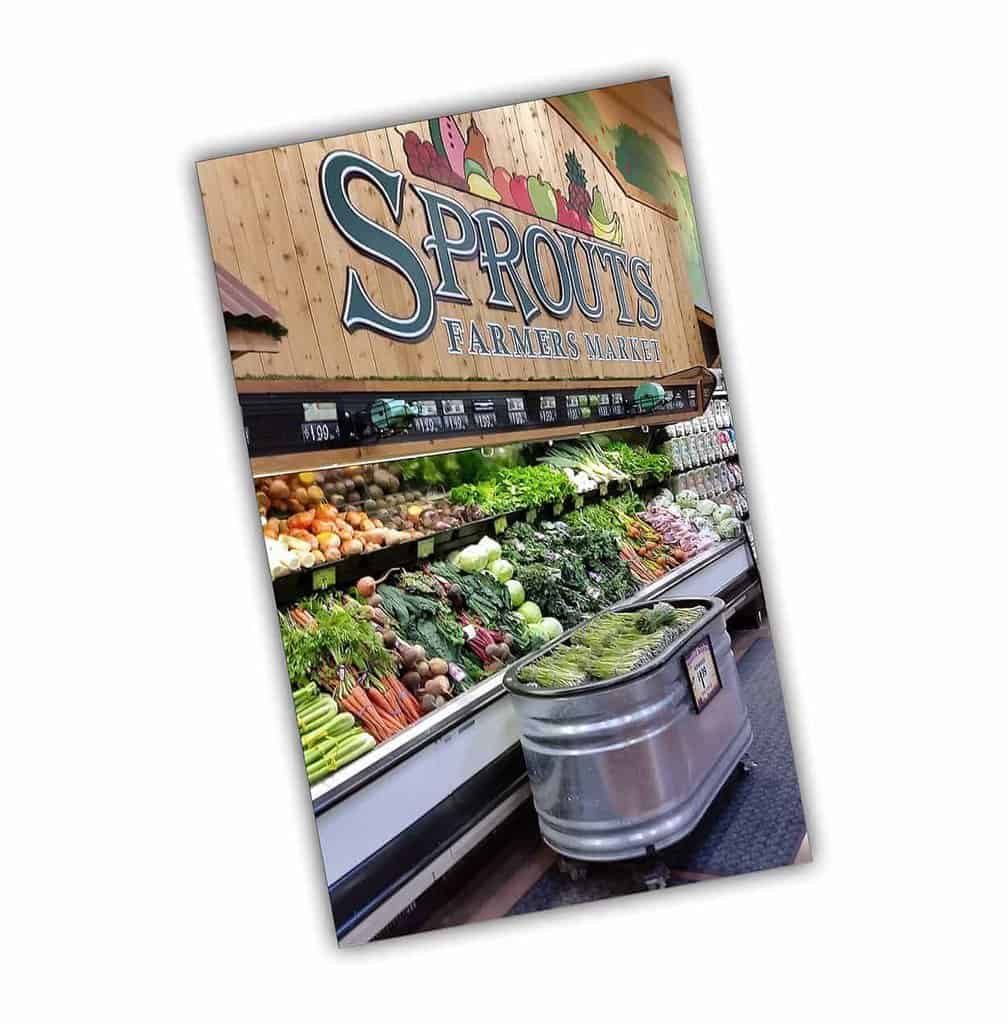 At least about sniffing the beets!
I did find my happy place as I rifled through the vast array of golden, orange and (my favorite) ruby red beets at Sprouts. Which lead me to bring beets (and a whole slew of items) home and whip up a whole bunch of these Triple Chocolate Beet Cookies. And, these were the first batch of cookies I had baked in a while that seemed to work on the first try. I actually made these a few weeks ago and teamed up with Sprouts Farmers Market and 11 other bloggers, in their "Bulk Bin Treat Exchange". I ended up sending a bunch of these to a couple other bloggers and Sprouts Headquarters, and stored the rest in my freezer. This morning I decided to thaw some cookies out – because, veggies for breakfast is a thing – right?!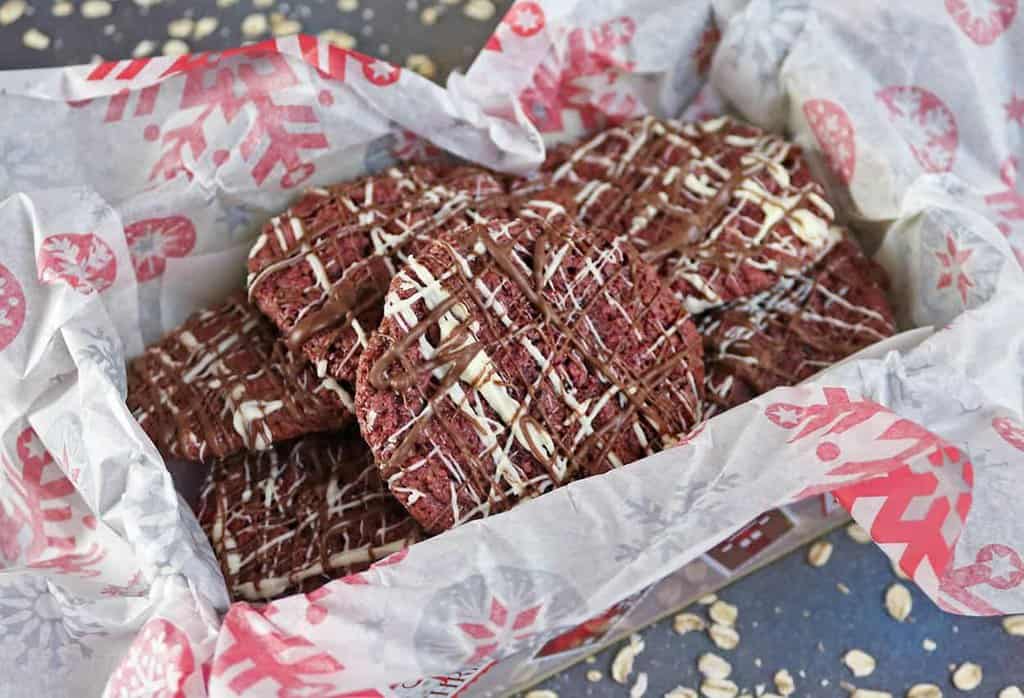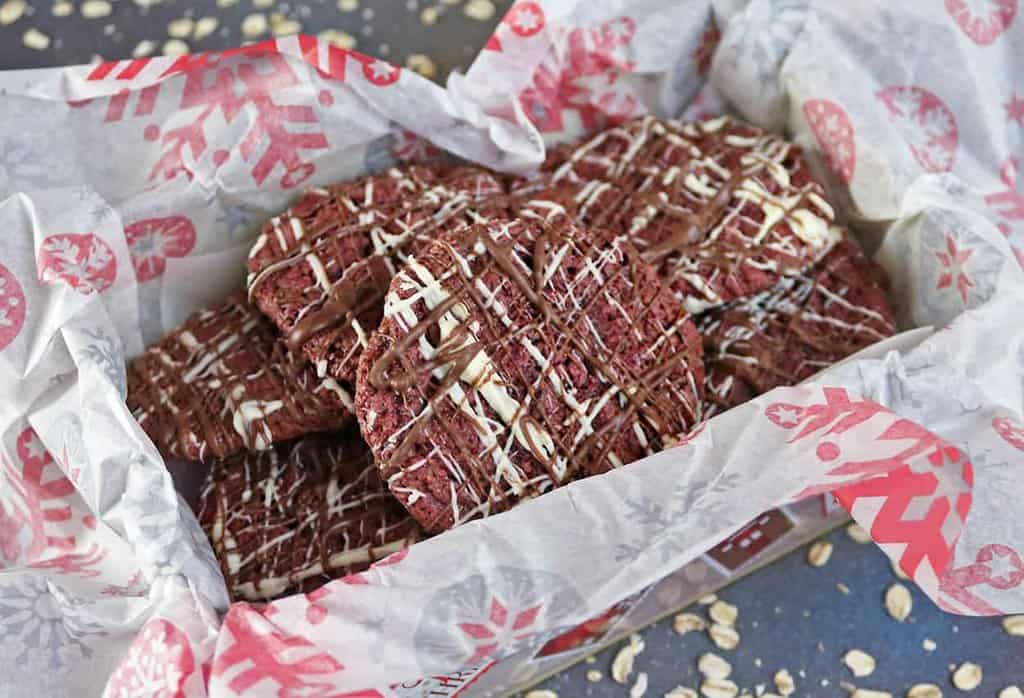 Ok, so I'm cheating a bit because the veggie (beetroot) in these cookies comes with not one but 3 different kinds/forms of chocolate …. buuuuutttt… 'tis the season – right?!
I used grated beets in these cookies – like I did with the biscotti I posted yesterday, along with oats, cane sugar, eggs, cocoa powder, milk chocolate, semi sweet chocolate chips, and white chocolate – I know – that's 4 types of chocolate, but seeing I only used a couple of tablespoons of cocoa, I figured I couldn't really call these "Quadruple Chocolate Beet Cookies." These gluten-free, Triple Chocolate Beet Cookies are thin, slightly chewy and drizzled with milk and white chocolate. But, don't let the chocolate distract you – with all the oats in these – these are basically like eating a bowl of oats in cookie form – or maybe I have to tell myself that to justify eating 3 of these this morning!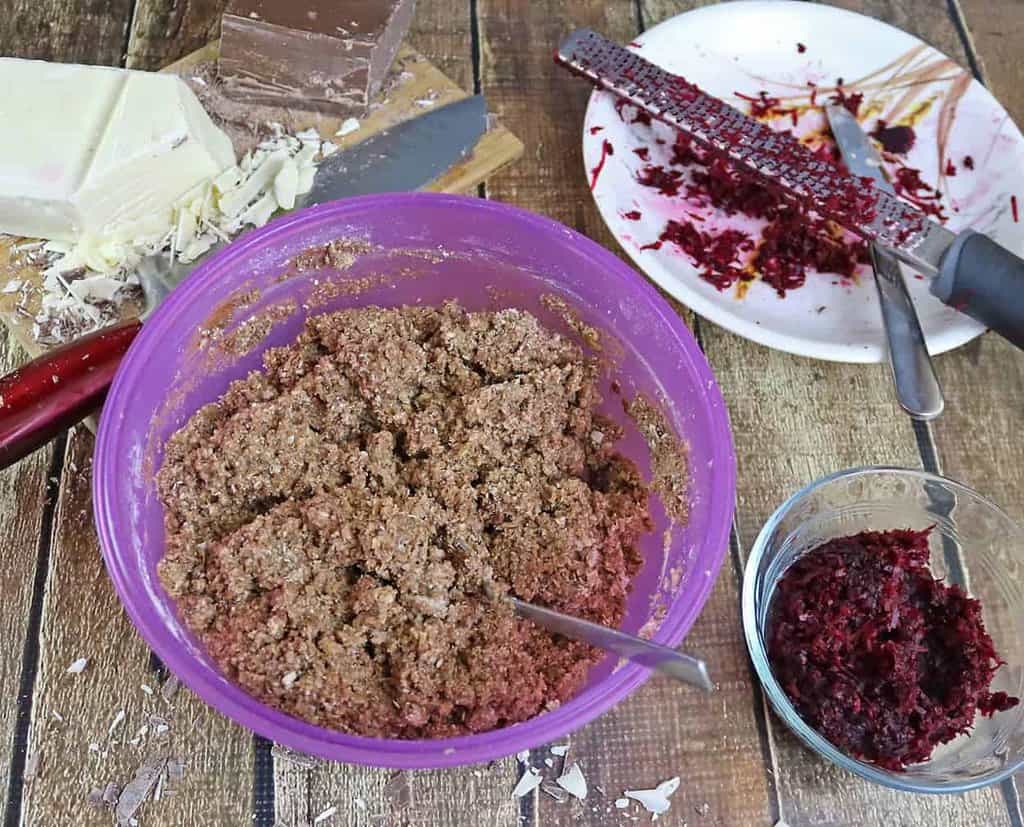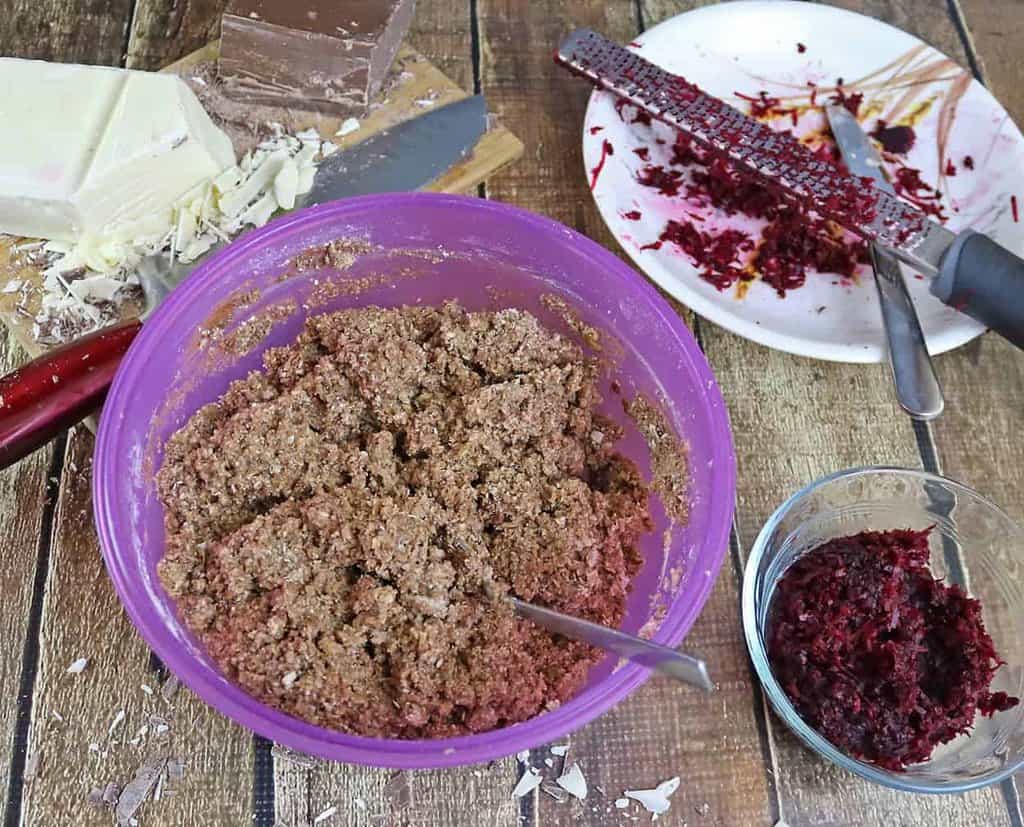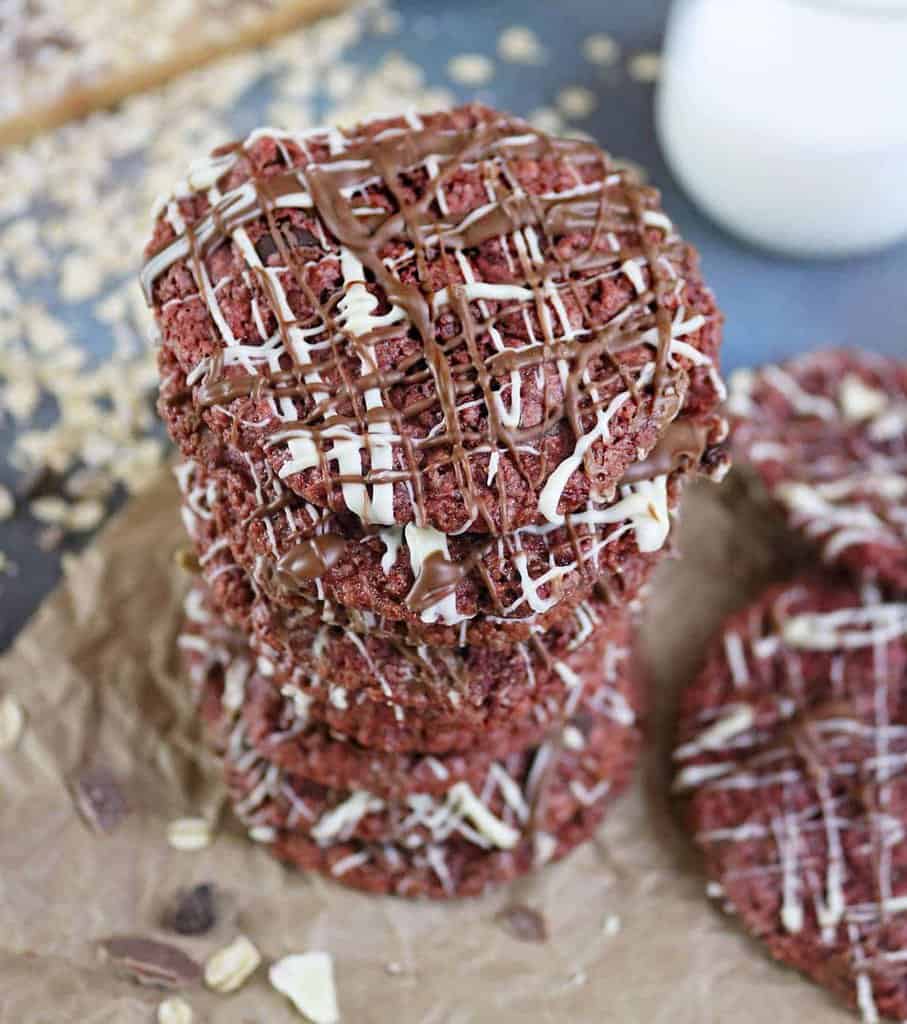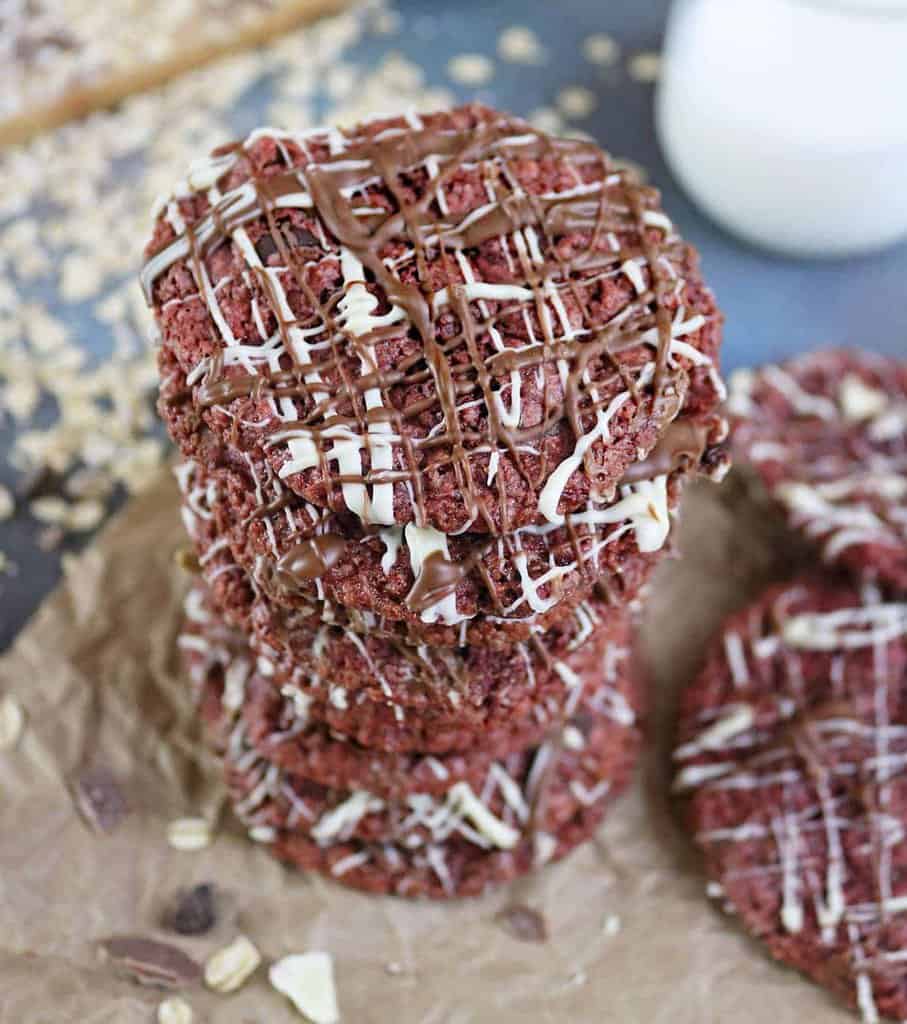 As I've mentioned in posts before, I love perusing the aisles of Sprouts for fresh produce, dairy, meat, and seafood. I enjoy loitering by their freshly-baked goods, their organic and gluten-free groceries, and eclectic beer and wine selections (thankfully, they haven't kicked my loitering bahotay out-yet). I love to mosey through their vitamins and supplements and bulk bins! I've been going through a bunch of oats recently and I'm so thankful that Sprouts stocks it in their bulk bin section, along with varieties of sugar, flour, nuts, chocolate chips and more!
[Tweet "Triple Chocolate Beet Cookies #ad #IncredibleBulkBinTreatExchange @sproutsfm"]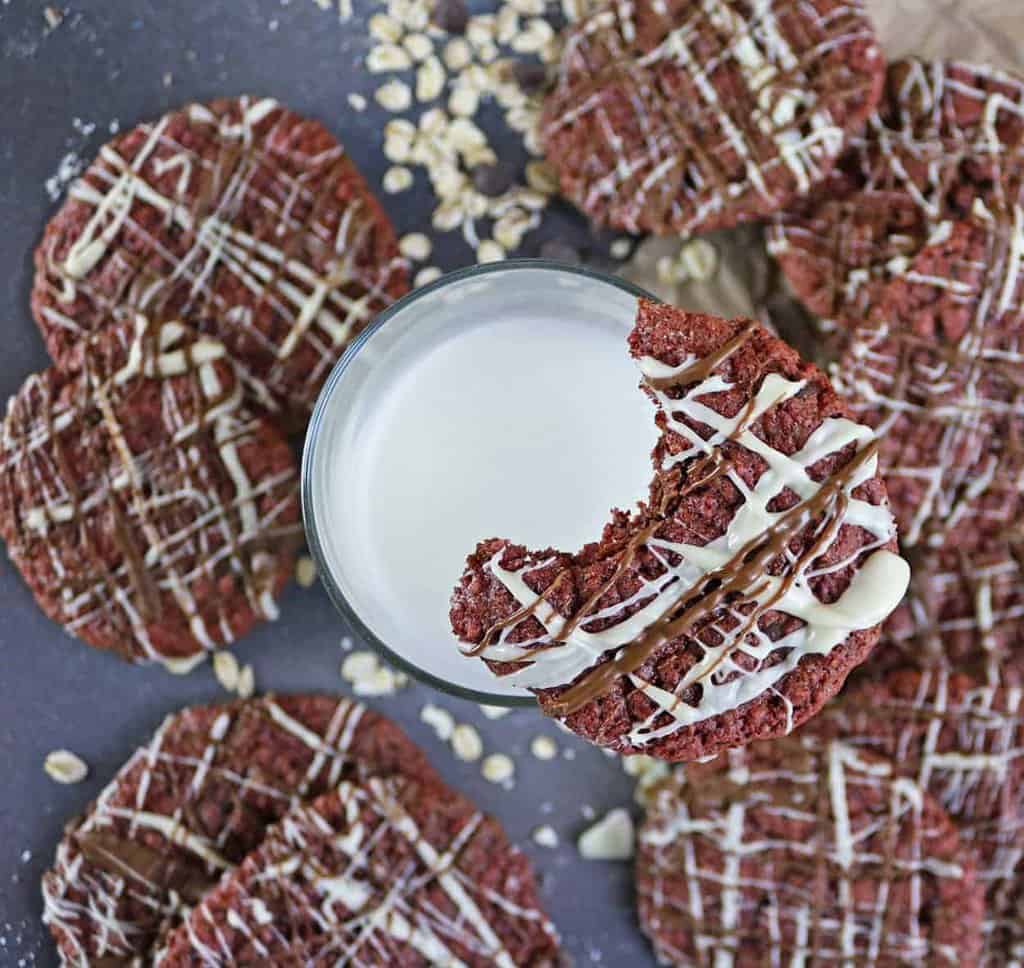 By the way, if you have a Sprouts near ya, they are running a huge 72 hour Incredible Bulk Bin Sale in which ALL "scoopable" bulk bin items will be 25% off -THIS weekend (December 9th thru 11th)!
'Tis the season for all the treats so why not stock up on all the good quality ingredients you need for all your treats -in bulk- from Sprouts?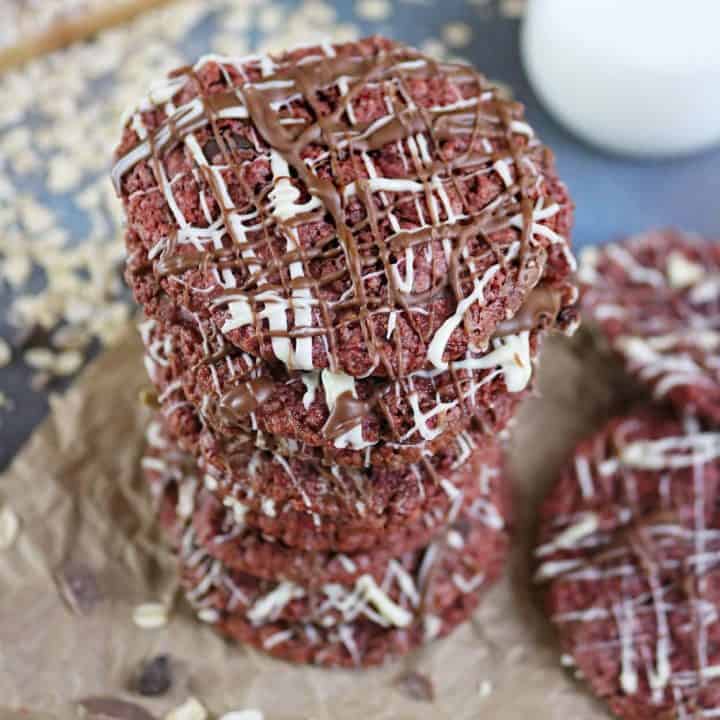 Triple Chocolate Beet Cookies
Beets and Oats make these cookies basically like a bowl of oats in cookie form - right? Or many that's just me trying to justify my intake of these Triple Chocolate Cookies!
Ingredients
3 cups ground up rolled oats, I use my blender to grind up a whole bunch of rolled oats and keep it on hand to use as "oat flour" as needed
1/4 cup tapioca flour
3 teaspoon baking powder
2 tablespoons cocoa powder
1 1/4 cup cane sugar
1 teaspoon salt
2 eggs
1 teaspoon vanilla
1 cup + 1/2 cup milk chocolate roughly chopped, good quality milk chocolate -I got mine from in a huge slab from Sprouts and cut it up to fill required quantity
1/2 cup + 1/2 cup white chocolate, good quality white chocolate -I got mine from in a huge slab from Sprouts and cut it up to fill required quantity
1 cup semi sweet chocolate chips
1/2 cup grated beets, uncooked
1 tablespoon peanut butter
1/4 cup butter, softened/room temperature
Instructions
Add the ground oats, baking powder, tapioca flour, cocoa, cane sugar, and salt to a bowl and mix well.
Into this bowl, add the eggs, the softened butter, and vanilla and mix well
Add 1 cup of milk chocolate into a microwave safe bowl and microwave on 30 second intervals - taking out and stirring between them - till melted (it took me 2 x 30 second intervals)
Do the same with 1/2 cup of the white chocolate
Add the melted white chocolate and the melted milk chocolate into the oat mix and stir
Add in the beets, peanut butter and semi-sweet chocolate chips and stir well
Chill dough in fridge for at least 30 minutes
Preheat oven to 375 degrees
Roll beet/oat/chocolate dough into balls and place on parchment lined baking tray
Bake for 12 minutes and let cool
When cool, melt the remaining 1/2 cup of milk chocolate and the remaining 1/2 cup of white chocolate and drizzle the cookies with these
Enjoy
Did you make this recipe?
Please leave a comment on the blog or share a photo on Instagram