Packed with flavor and nutrition, this sautéed Easy Kale Quinoa Salad is made with a plethora of veggies, harissa, nuts, and dried fruit ~ which can be customized to your preference. It is a versatile dish that can be prepped over the weekend and enjoyed during the week.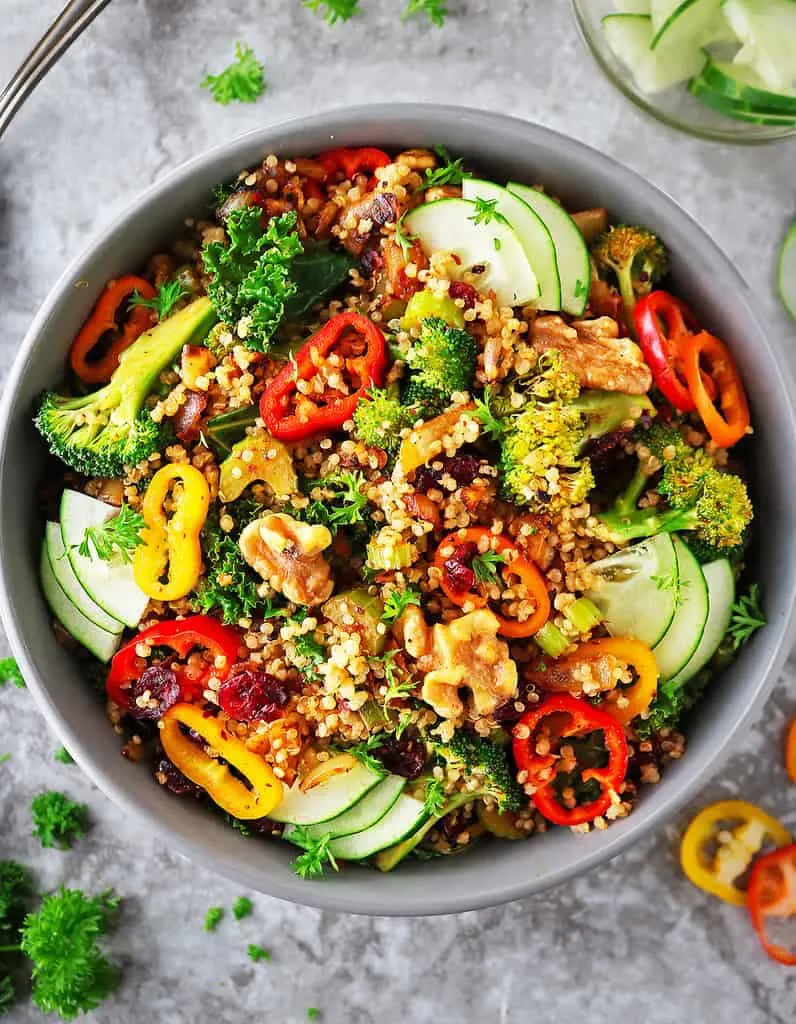 My favorite part about this recipe is that it is jam-packed with flavor and one of those recipes that converted my daughter into a quinoa lover.
If I had to pick one meal to eat on repeat for the next 5 years, this easy kale quinoa salad would be it. Not only is it tasty, but it is so easy to make and so versatile.
I usually like to make a big batch of this on a Sunday or Monday and enjoy it for the rest of the week.
What are the ingredients to make this kale quinoa salad?
There are 6 main ingredients that are needed to make this salad, along with 7 others, for a total of 13 ingredients. Now, while 13 may sound like a lot, you probably already have most of these lying around. And, quite a few of these 13 ingredients can be exchanged out to suit your preferences. Those ingredients are:
Cooked quinoa,
Kale,
Onion,
Ginger,
Garlic,
Harissa,
Celery,
Broccoli,
Assorted sweet peppers,
Dried cranberries,
Walnuts,
Cucumber, and
Parsley.
The first 6 ingredients on this list are the main ones. The rest can be exchanged out easily or even omitted. For example, if you don't care for celery, leave it out. Not a fan of sweet peppers, then exchange them for some colorful bell peppers or carrots and peas. You could use your favorite dried fruit as well as your favorite nuts. As for the broccoli and cucumber, leave them out or sauté in some leeks or cabbage. Instead of parsley, feel free to use a mix of herbs or add in some cilantro instead.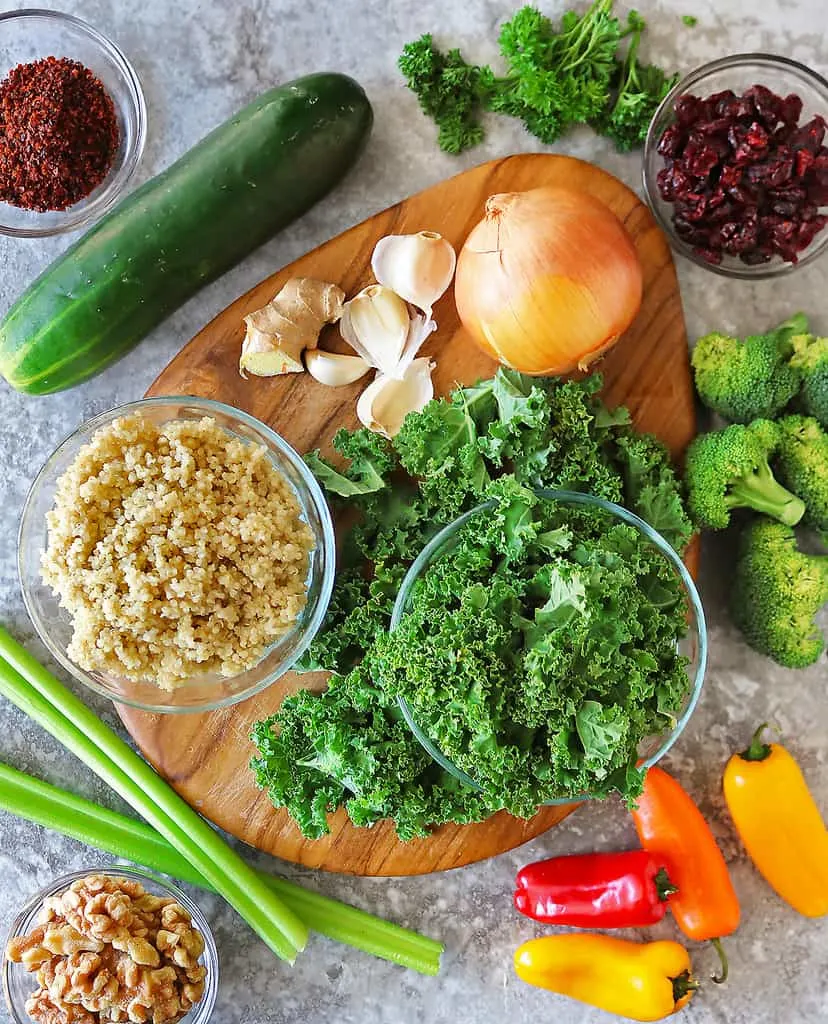 I started this easy kale quinoa salad by first sautéing some onions, ginger, and garlic. Then, I added in some broccoli, celery, and some harissa. By the way, I am not being paid to say this, but, when it comes to harissa, I love New York Shuk's Fiery Harissa. If you prefer harissa that is milder, their Rosey Harissa is fantastic as well.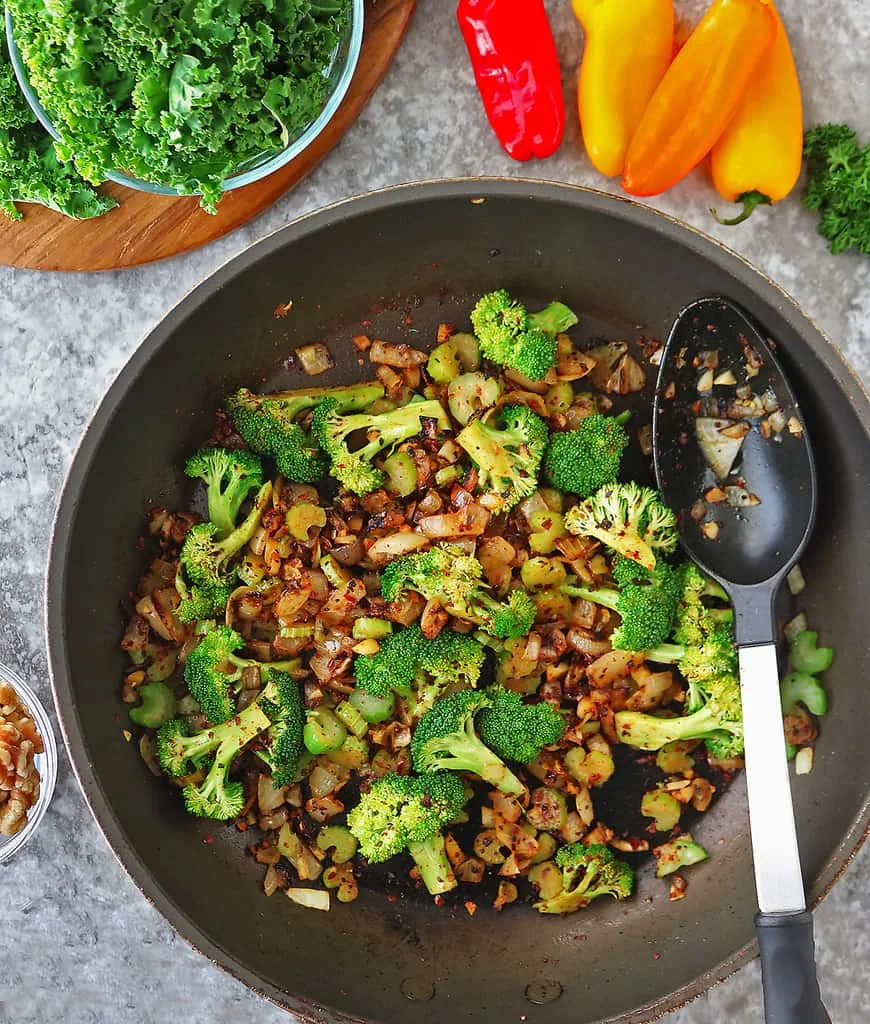 Does kale need to be cooked for this salad?
I did not cook the kale for this salad. Instead, I let it lightly steam for a bit.
After the veggies were sautéed, I turned the stove off, placed the kale on top of the sautéed veggies, and placed a lid over the pan, so the kale would sauté ever so slightly. This also helped reduce the bitterness sometimes associated with fresh kale. By the way, I used fresh curly kale in this salad, with all the hard stems removed. If you want milder-tasting kale, look for Tuscan kale at your local grocery store.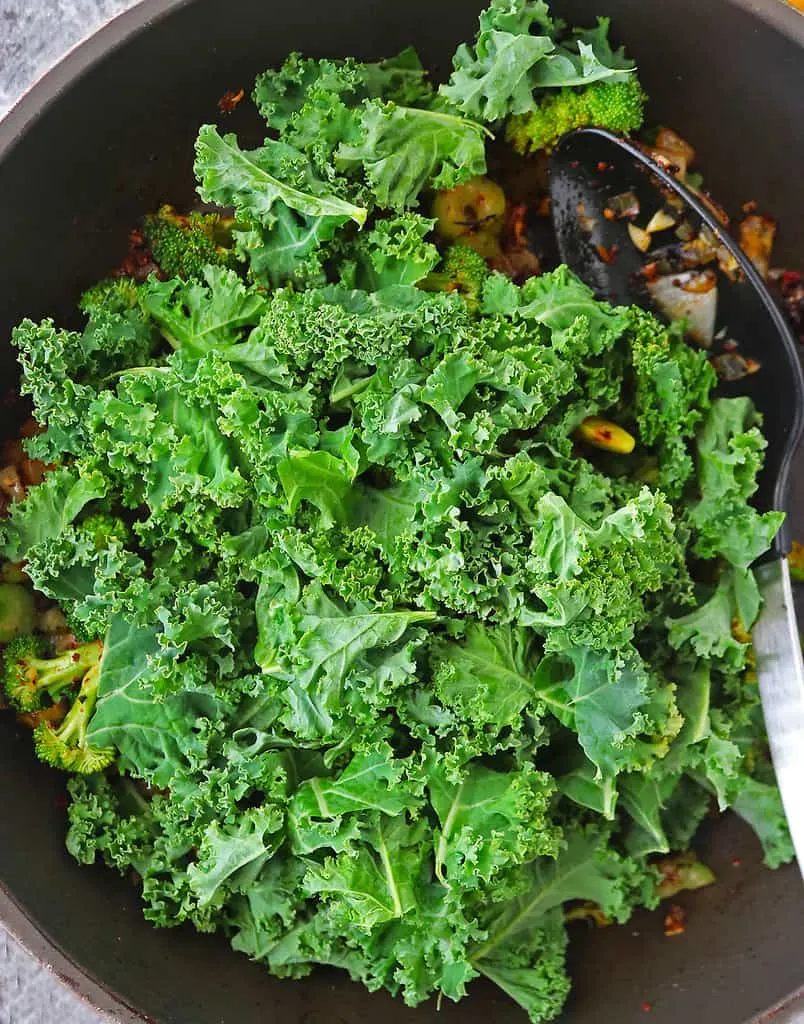 When the kale started to wilt just a bit, I removed the lid and added in walnuts, dried cranberries, sliced sweet peppers, and the cooked quinoa. A quick sprinkle of salt and pepper to marry all the flavors, followed after.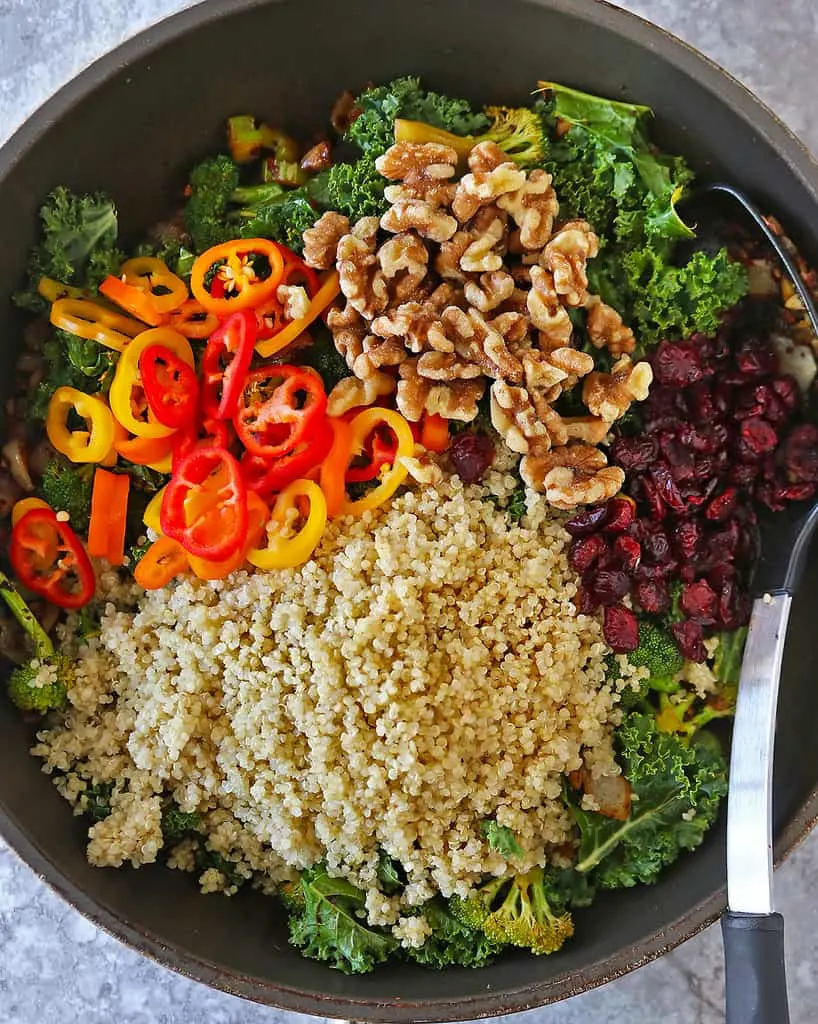 Then, it was a quick mix of all the ingredients and adding in some sliced cucumber. A quick dusting of chopped parsley and this salad was ready to dig into.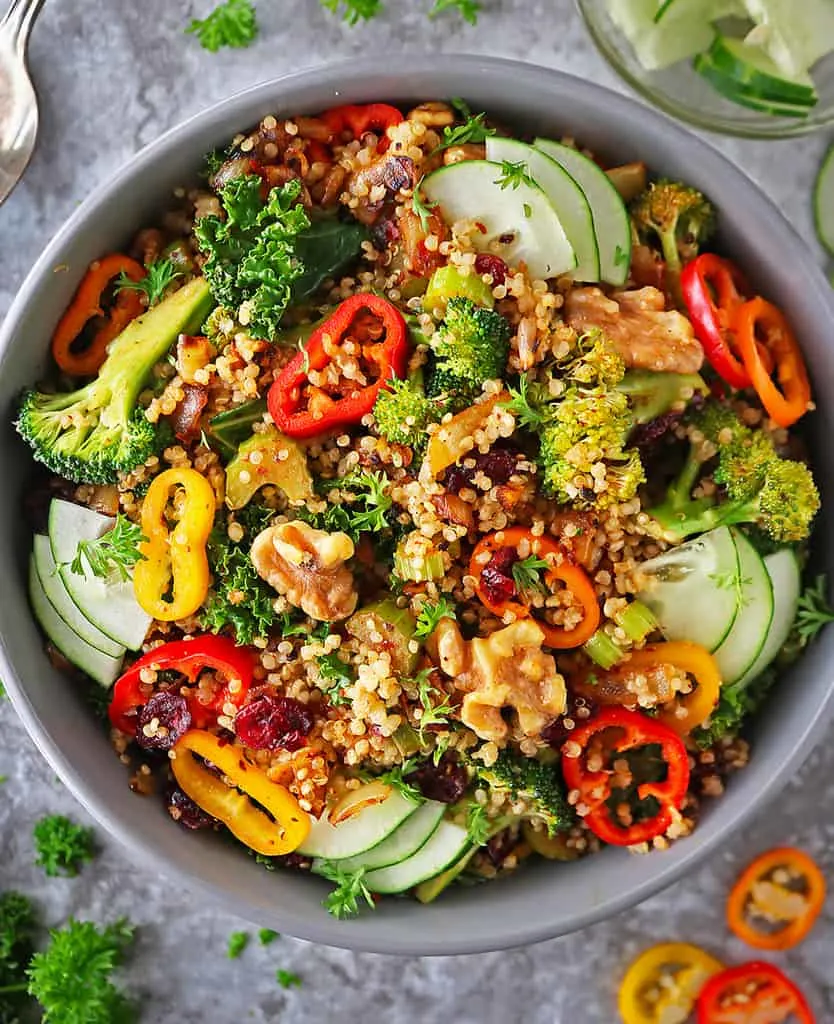 If you are looking for more quinoa recipes, check these out:
Quinoa Salad with Chickpeas,
Pineapple Quinoa And Leek Sautéed Salad,
Quinoa & Chicken Biryani,
Radish Sausage Quinoa Salad, and
Easy Citrus Za'atar Chicken and Quinoa Dinner.