This Quinoa & Chicken Biryani might not look like traditional rice biryani,
but it is just as delightful for the senses.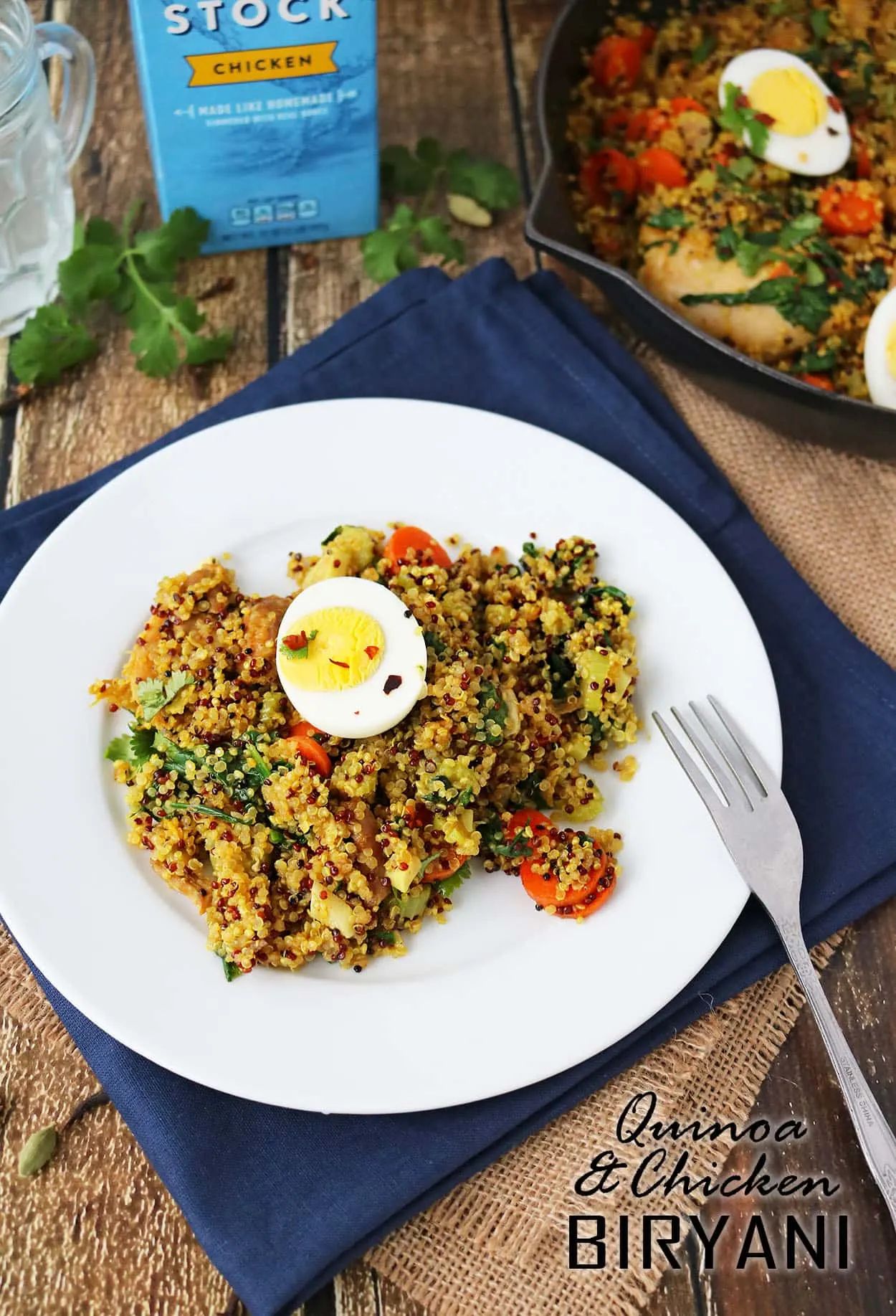 When it comes to my senses and food, smell is my all time favorite. True, my sense of taste is what leads me to actually enjoy my food – but smell makes me anticipate it, long for it; and sometimes it's all about the journey and not the destination – right?
When I was little, the smell of my mom's biryani cooking is was what would herd my cousins and I inside from playing outside, and compel us to be on our best behavior as we awaited dinner.
Ever since, every time I have smelt her biryani cooking, it has sent jarring jolts to my salivary glands and triggered some wonderful memories!
Biryani is a dish popular in India and Sri Lanka and it is usually an elaborate combination of meat and rice with fresh cardamom and cloves along with spices like turmeric, garam masala, cumin, coriander and chili powder.
Sometimes nuts and raisins are added in and boiled eggs and Papadum (a thin, crispy flatbread usually made with lentil flour or rice flour) are served alongside it.
While biryani is a feast for my taste buds, it does a number on my nostrils! My mom doesn't make her biryani quite as often these days as she isn't feeling too well so when I was introduced to Progresso 's new Cooking Stocks, I figured I would adapt her recipe a tad bit to make this Quinoa & Chicken Biryani.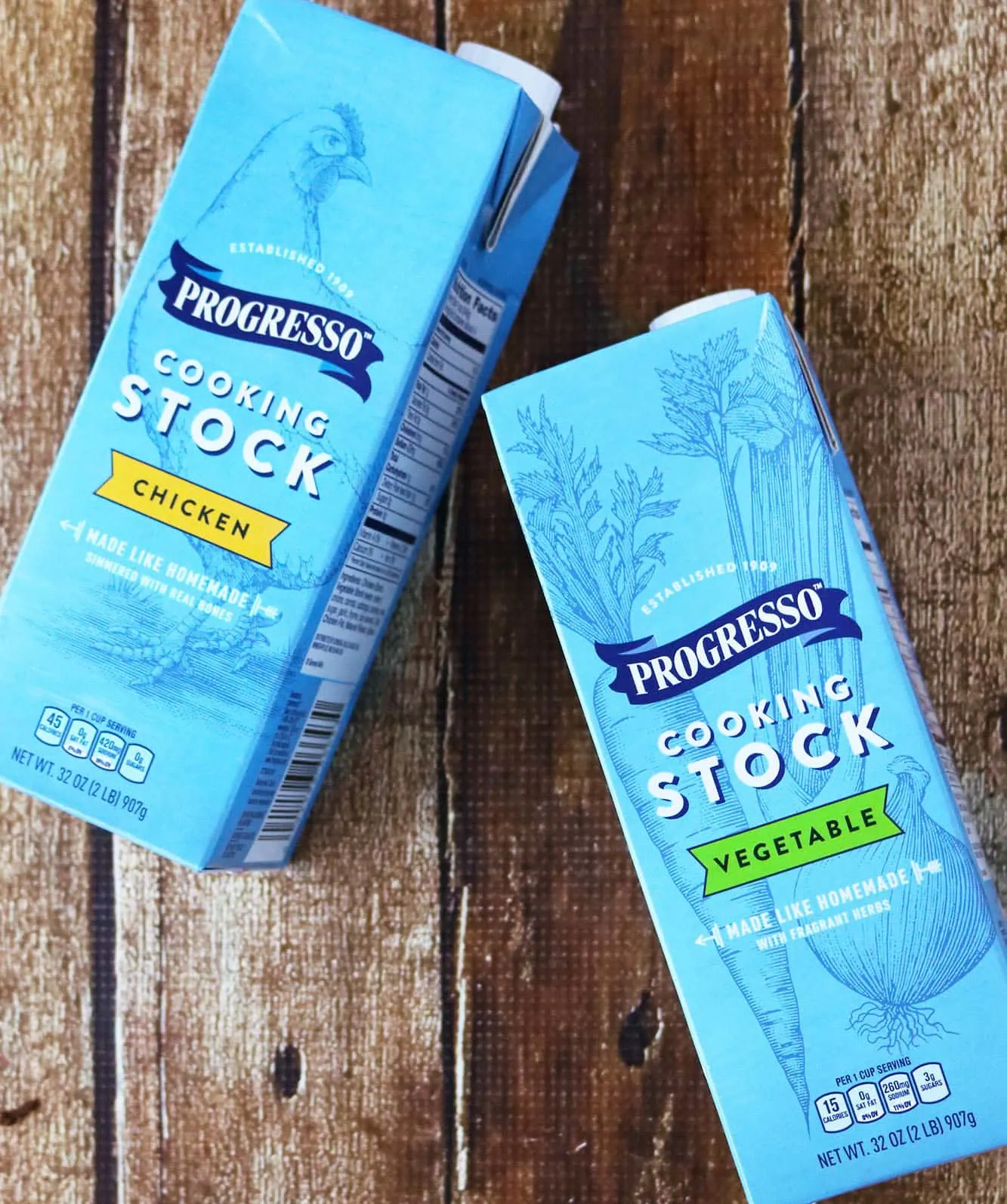 Progresso's new line of premium Cooking Stocks are available in the soup aisle at your local grocery store. They have a rich, meaty, full body flavor, making them ideal for adding deep, complex flavors to many dishes including soups, stews, sauces, gravies and in my case – this biryani. Progresso Cooking Stocks do not contain any artificial flavors and with just 15-45 calories /95-420mg sodium /0-1g fat per serving, Progresso Stocks offers a clean way to boost your flavor game!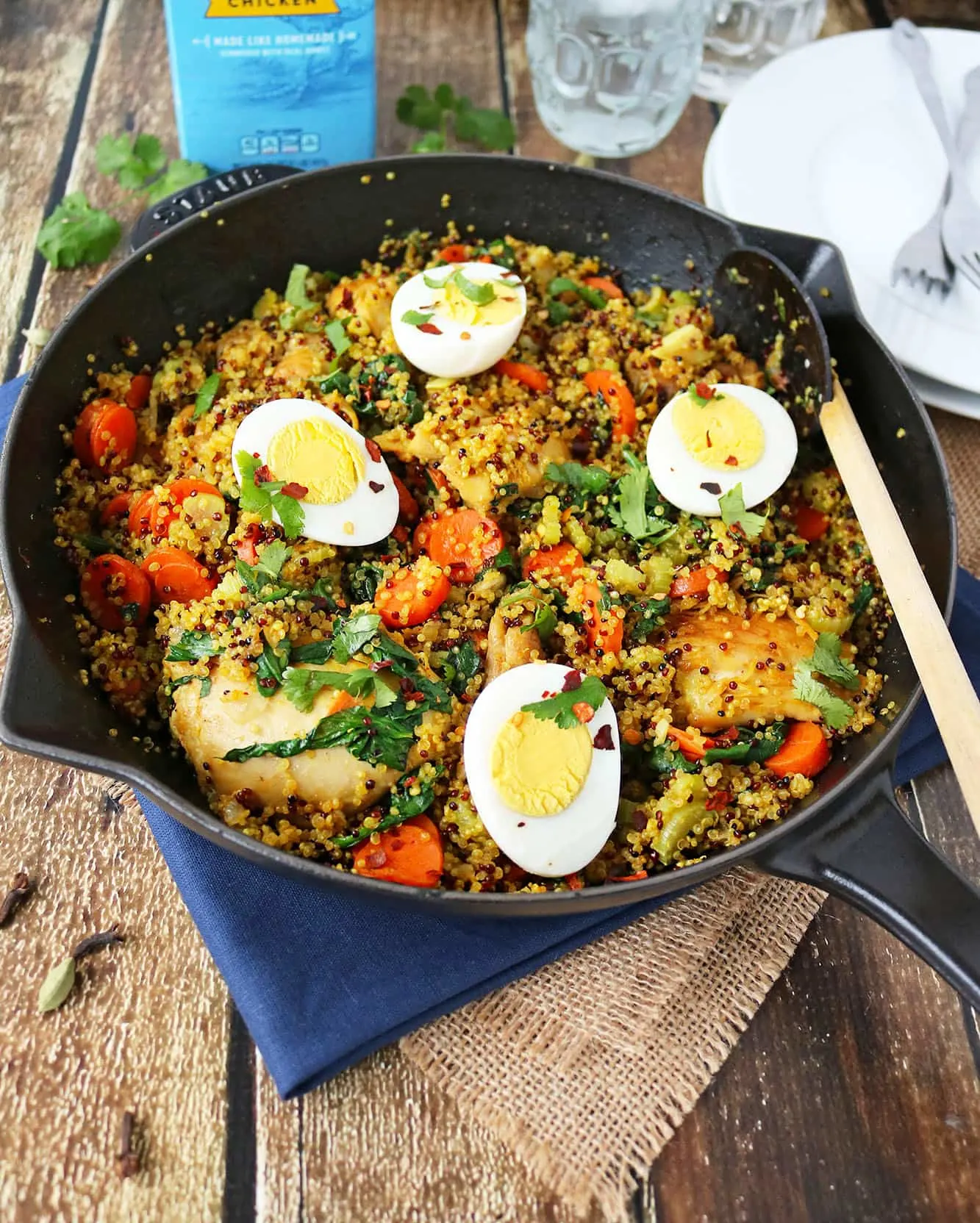 For my version, I opted to use quinoa instead of rice and olive oil instead of ghee. As Progresso Cooking Stock is a high-quality bone broth made by simmering real bones, vegetables, and aromatic herbs, I figured I would use boneless chicken thighs instead of bone-in chicken thighs for easy eating.
I also tossed in come celery, carrots and spinach because veggies and quinoa and chicken all in one is just plain good eating!
I still used many of the same spices and I made it all in a skillet for easy clean-up. I had my mom taste my version of her biryani and she gave this a thumbs up – and refused to believe that I didn't use bone-in chicken – go figure!
Curious about Progresso's new line of Cooking Stocks?
Then chek them out >HERE<
And follow them on Facebook • Instagram • Pinterest