This shop has been compensated by Collective Bias, Inc. and its advertiser.
All opinions are mine alone.
#KingOfFlavor #CollectiveBias
These El Yucateco sauce spiked, Spicy & Sweet Pineapple Tofu Skewers will make an easy and delicious vegetarian option for you next football hangout!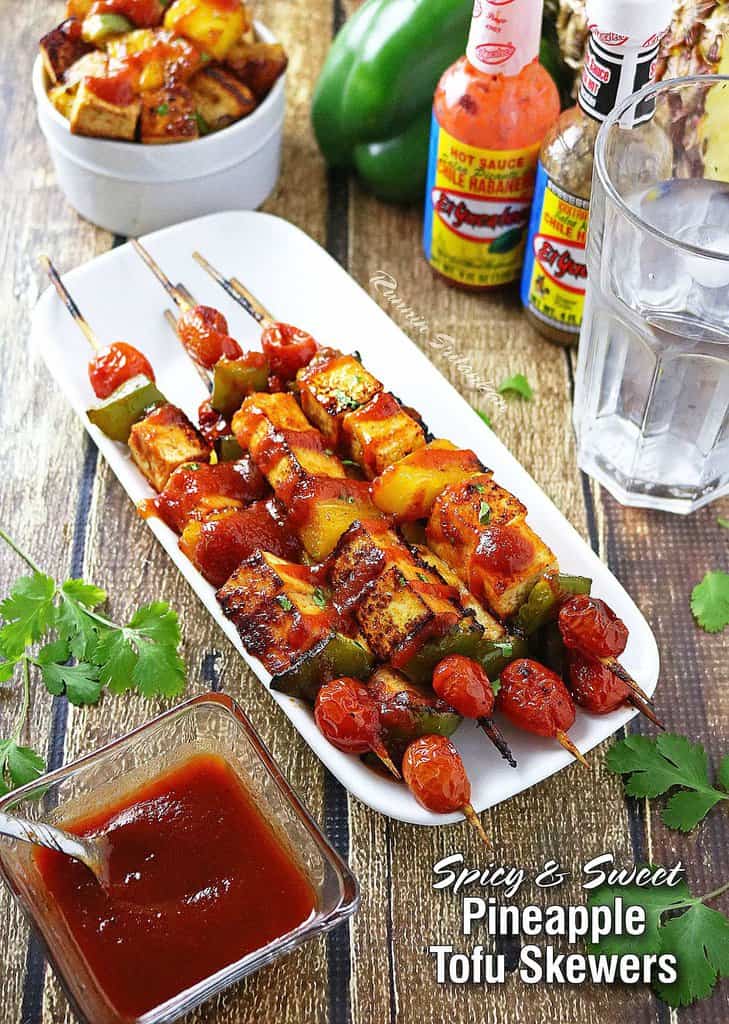 I like people. From their stories to their company, people are pretty awesome beings – don't you think? However, I have a confession to make. Inspite of how much I like people, these days I find myself going to friend's football hangouts for the food.
I know that's pretty sad. I know I should be going for the company and the camaraderie, instead of the food. But, I have a reason. A good reason – at least in my opinion. You see I'm trying to snack less during the week so it's just logical that snacking should be plentiful on Saturdays and Sundays – right? And, football hangouts are notorious for their finger foods – right?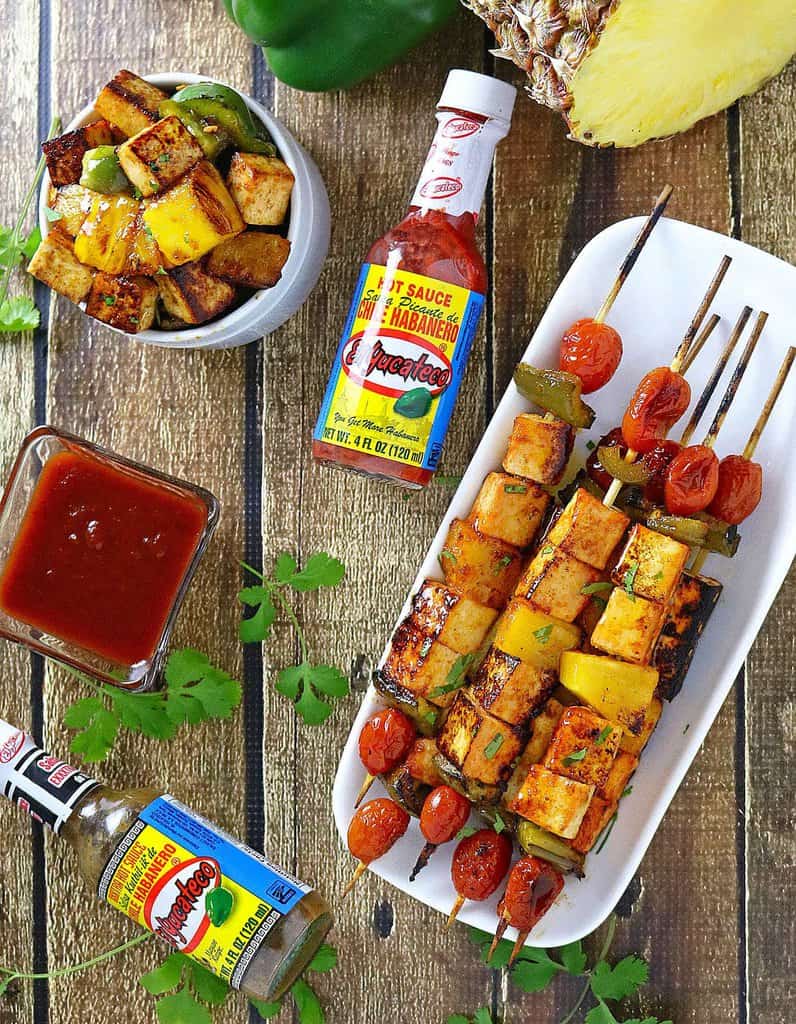 Alas, I seem to have noticed a trend these days. At just about every hangout I've been to, it's been all about the beef burgers and ribs or chili. Now, I've got nothing against ribs or burgers, and I can get down with a good bowl of chili occasionally. But, I simply prefer options akin to these El Yucateco spiked beet burgers or these El Yucateco spiced pineapple & mango chicken packets.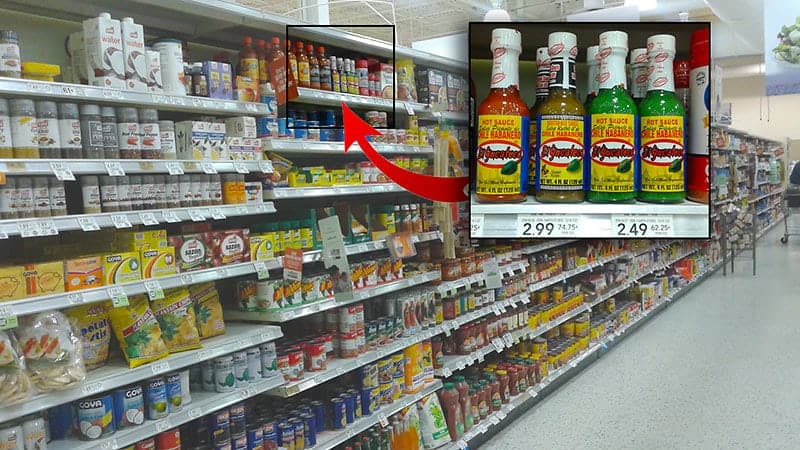 So, instead of munching on a veggie tray and have my stomach speak louder than my tongue, I decided to make and take these Spicy & Sweet Pineapple Tofu Skewers to the next football hangout I attend. I had picked up some El Yucateco Red Habanero Hot Sauce and El Yucateco XXX Habanero Hot Sauce from Publix on my drive home from work and decided to combine them with honey, pineapple juice, tomato paste, cumin, coriander and paprika to make a sweet and spicy sauce that was so delicious, we scraped the pan and managed to save some to make some chicken skewers with later this week.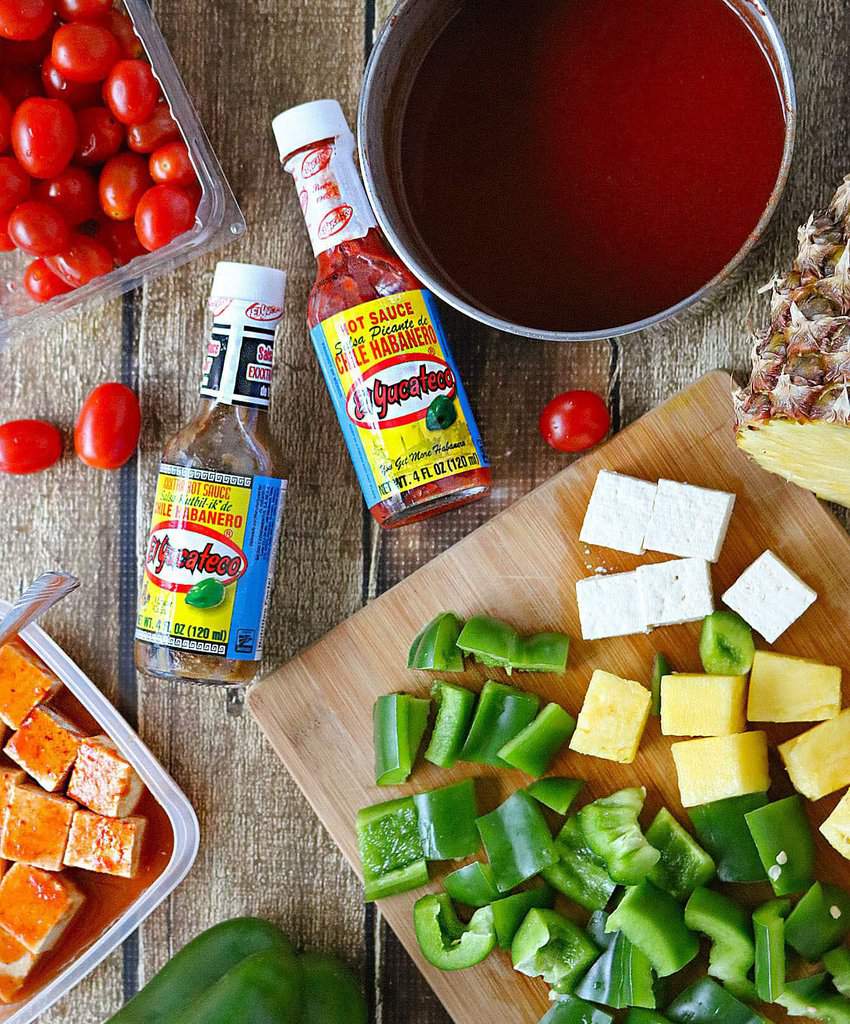 This Spicy & Sweet Pineapple Tofu Skewers is a super easy recipe that comes together in less than an hour:
~ You start off by adding 2 cups of pineapple juice to a pan over a low flame
~ Then add in 2 tablespoons of El Yucateco Red Habanero Hot Sauce and 2 tablespoons of El Yucateco XXX Habanero Hot Sauce (Kutbilik). * You can add less sauce if you'd rather this sauce be more sweet than spicy – but the sauce is a key flavoring component and cannot be left out entirely.
~ Also add in 2 tablespoons tomato paste, 3-4 tablespoons honey, 1/2 teaspoon cumin, 1/2 teaspoon coriander, 1/2 teaspoon paprika and a pinch of salt and let simmer for 20 minutes.
~ Then you want to take this off the stove and while it cools a tad, drain and dry a block of extra firm tofu on paper towels. Then cut the tofu into cubes and place the cubes in a dish and pour about 3-4 tablespoons over the cubes, making sure all the cubes are covered.
~ Then soak some wooden skewers in water
~ Chop some green bell peppers and cube 1/4 of a fresh pineapple
~ Assemble the skewers by adding a grape tomato, green bell pepper slice, 2 pieces of tofu, a cube of pineapple, another 2 pieces of tofu and finishing off with another bell pepper slice and finally a tomato. I made 6 skewers and brushed them with olive oil. I simply sautéed the remaining tofu, bell peppers and pineapple chunks to make a simple stir fry
~ After the skewers are assembled, place them in an oven that's been pre-heated to 400 degrees, for 15 minutes. Turn them once (brush with olive oil if needed) and let bake for another 15 minutes.
While the skewers are baking, place the leftover sauce on a low flame and let it reduce down to a thick sauce that will be served with the skewers.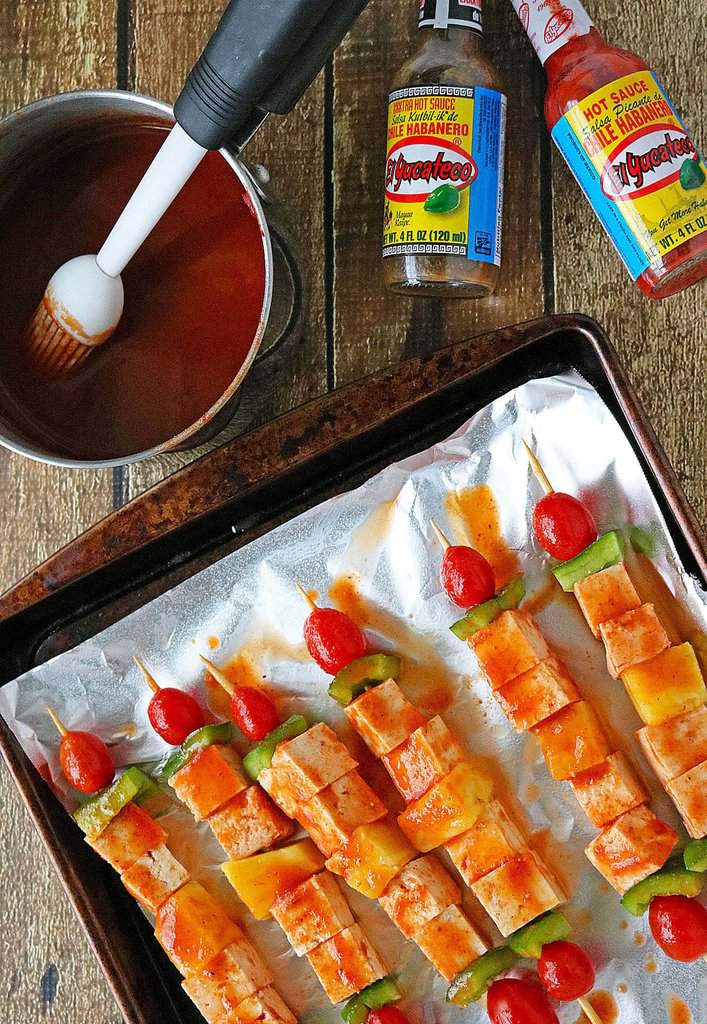 El Yucateco Red Habanero Hot Sauce is made with fresh red habanero peppers, tomato, select spices and seasonings and is the perfect "all purpose" sauce. It contains less vinegar than traditional hot sauces so the true flavor of the peppers shines through! El Yucateco XXX Habanero Hot Sauce (Kutbilik) – a favorite among hot sauce lovers – consists of 90% of the ripest habaneros giving it a rustic and earthy flavor. Even though it is the spiciest, it isn't so extremely hot that it cannot be used as an everyday sauce.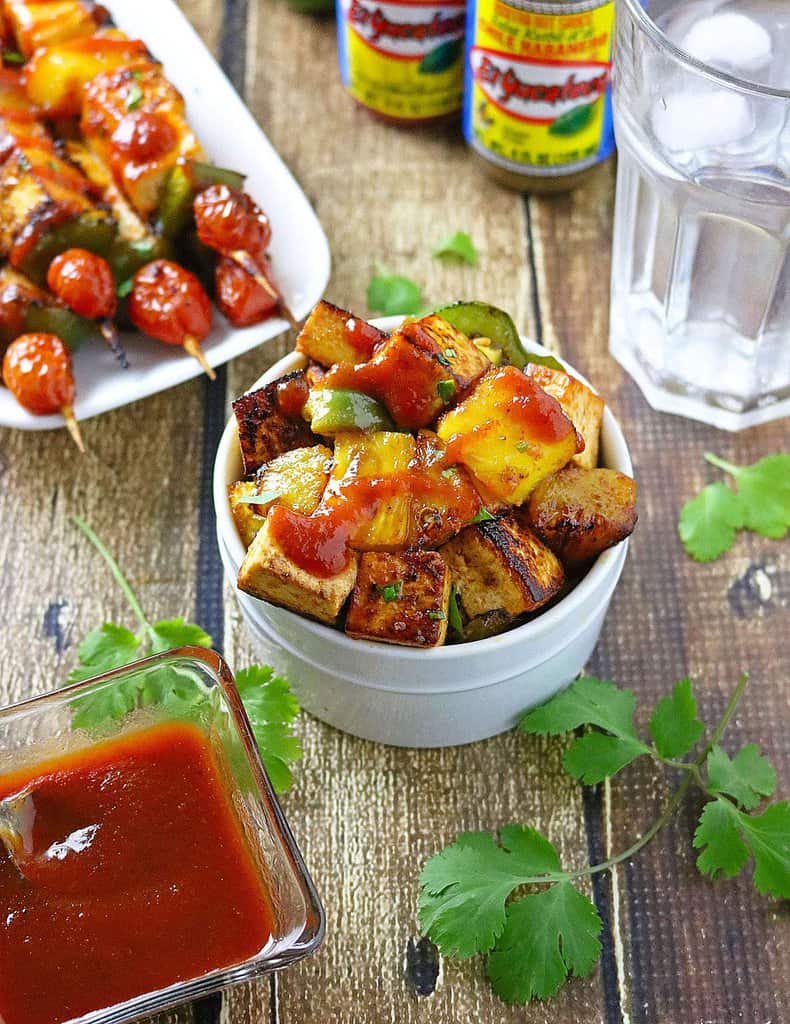 If you are a fan of spicy sweet combinations, then this Spicy and Sweet Pineapple Marinade/Sauce is a must-try! You can use it to sauté up some chicken or fish or brush it on some green pepper and pineapple chunks and tofu and whip up these skewers!
Are you an El Yucateco fan?
Would you love to show the world just how much you think El Yucateco makes every meal more flavorful and exciting?
Well, now you can! El Yucateco now has an online gear store where you can find anything from board shorts for the summer, hoodies for the winter, and even embroidered shirts for a casual night out! Check out these and other men's and women's El Yucateco apparel >HERE<