This Vegetarian Sheet Pan Dinner Recipe With Orangetti Squash is a delightful blend of colorful veggies and beans spiced with cayenne and Ras el Hanout. It is an easy and tasty meal that is ready in less than 40 minutes.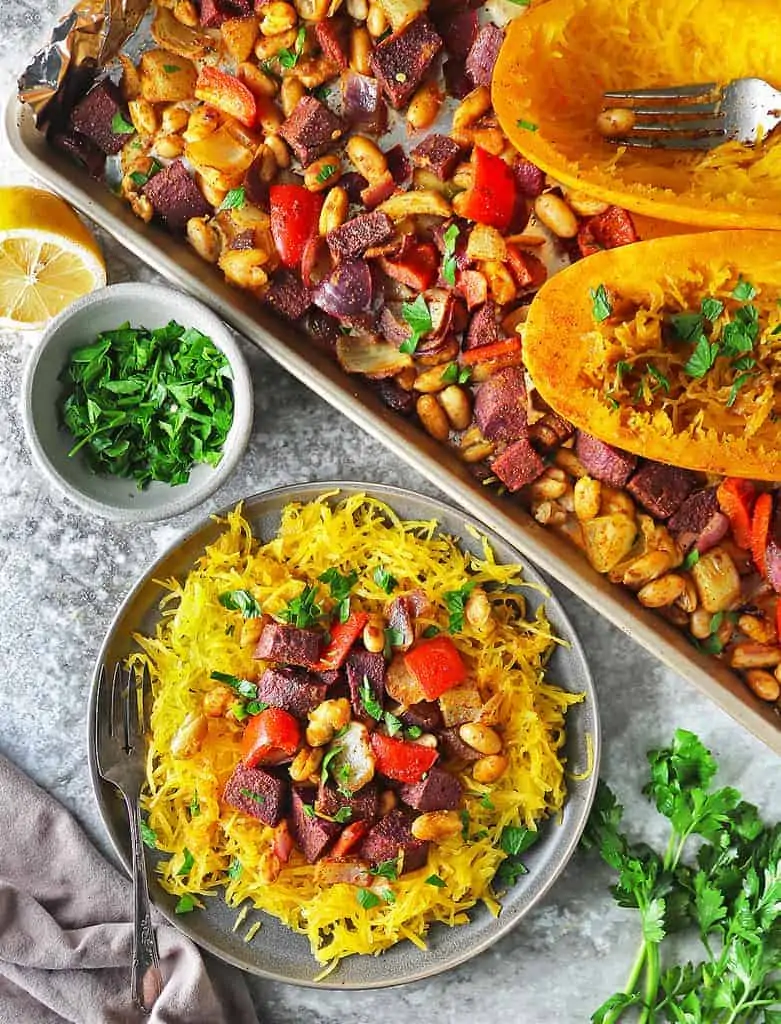 This Vegetarian Sheet Pan Dinner Recipe With Orangetti Squash is one tasty meal. And, it is so easy to make.
Simply prep veggies you may have lying around.
Drain and rinse some canned beans.
Toss them all in a super easy extra virgin olive oil and spice blend.
Then spread the spiced veggies and beans on a baking tray.
Pop that tray in the oven and go catch up on the latest series you might be binging on for the next 30 minutes or so.
Then 30 minutes later, you have a tasty and nutritious meal on your plate!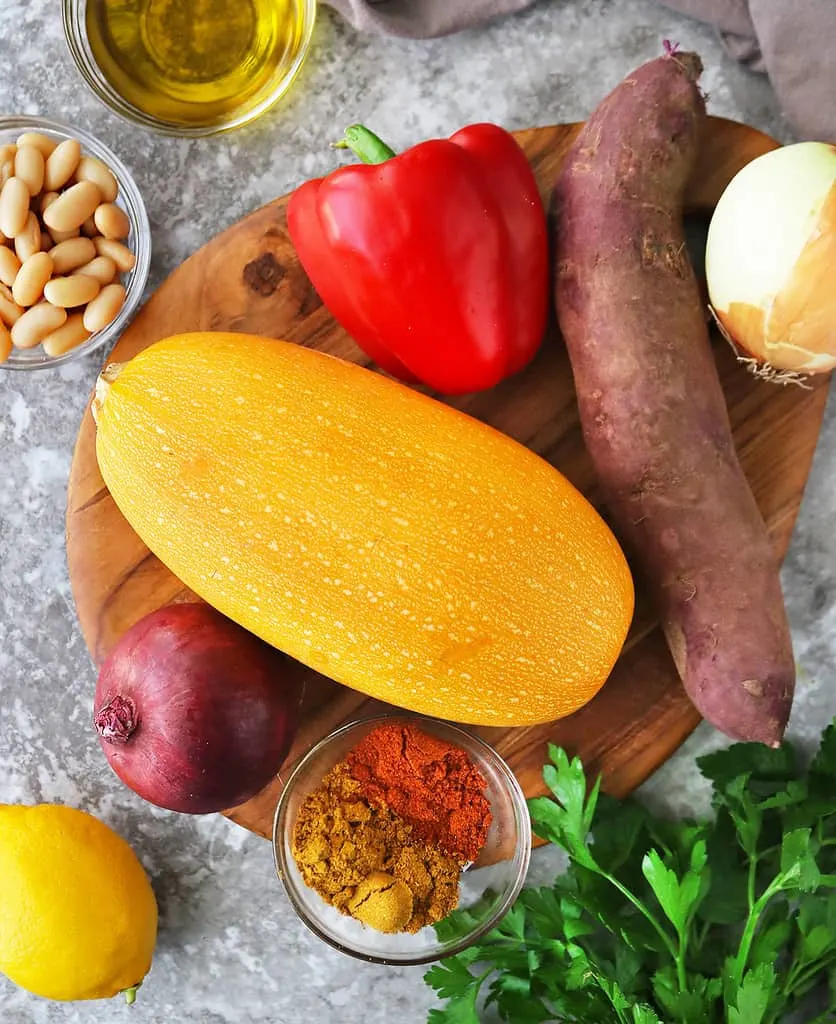 The exact ingredients I used in this Vegetarian Sheet Pan Dinner Recipe With Orangetti Squash are:
Orangetti spaghetti squash.
I came across orangetti spaghetti squash on a recent trip to Sprouts. It is a variety of spaghetti squash. Only, it is slightly smaller. It's exterior is orange and it's flesh is bright yellow. Though, Google informed me that there are some varieties that have a bright orange flesh as well. As far as taste goes, orangetti spaghetti squash is ever so slightly different to it's counterpart. It is slightly more sweeter and nuttier. If you cannot find orangetti spaghetti squash, then you can very easily use spaghetti squash as well. However, as spaghetti squash is larger, then it will need to be baked longer. Whenever I have prepared spaghetti squash, I usually bake it for 40 minutes.
Onion.
I used one red onion and 1 yellow onion just for color. However, if you have 2 red onions on hand or 2 yellow onions on hand, please feel free to use those instead.

Purple Sweet Potato.
I found one purple sweet potato in the bacl of my pantry. I am assuming it was leftover after I made these Purple Sweet Potato Fritters. So, I decided to use it. After peeling it and chopping it up, it added some gorgeous color to this sheet pan meal. However, you can easily substitute regular sweet potato or even a baking potato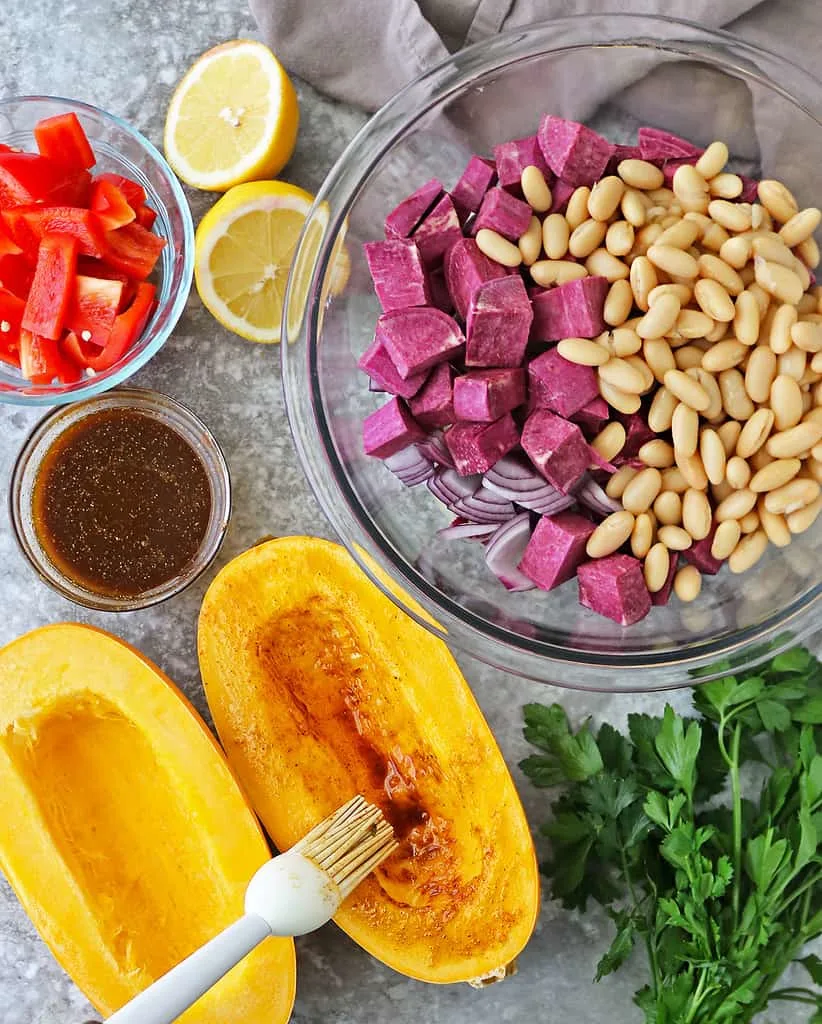 Cannellini beans.
Like the purple sweet potato, these cannelini beans were used in this recipe because they were just what I had on hand. In other sheet pan meals I have used pinto beans as well as kidney beans. So, please feel free to use your favorite canned bean. Just make sure to drain it and rinse it well.

Red bell pepper.
Another ingredient that made it onto this tray as I was trying to cook off what I had on hand. You can use green bell peppers or yellow ones. Or, you can even leave them out, if you prefer. I love their taste and crunch and opted to use the last one I had.

Cayenne pepper powder.
I love adding the smoky, spicy spin cayenne pepper powder lends to dishes. It is very often my go to when I want to add some spice to my meals.
Ras el hanout.
Ras el hanout is one of my favorite spice blends to use. It started off as a combination of the best spices in a shop. Each brand and blend of ras el hanout can differ greatly from each other. I have been using New York Shuk's Ras el Hanout which is a combination of coriander seeds, ginger, clove, black cardamom, turmeric, other spices & sunflower oil.

Extra virgin olive oil.
I like using EVOO in most of my sheet pan roasted veggies. But, you can also use coconut oil or any other oil you prefer.

Lemon.
I used a little splash of lemon to add a little zing to this meal. It is oprional and you do not have to use it if you rather not.

Parsley.
I used fresh parsley as a garnish for this. It can be substituted with cilantro or even dried parsley or left out compeltely.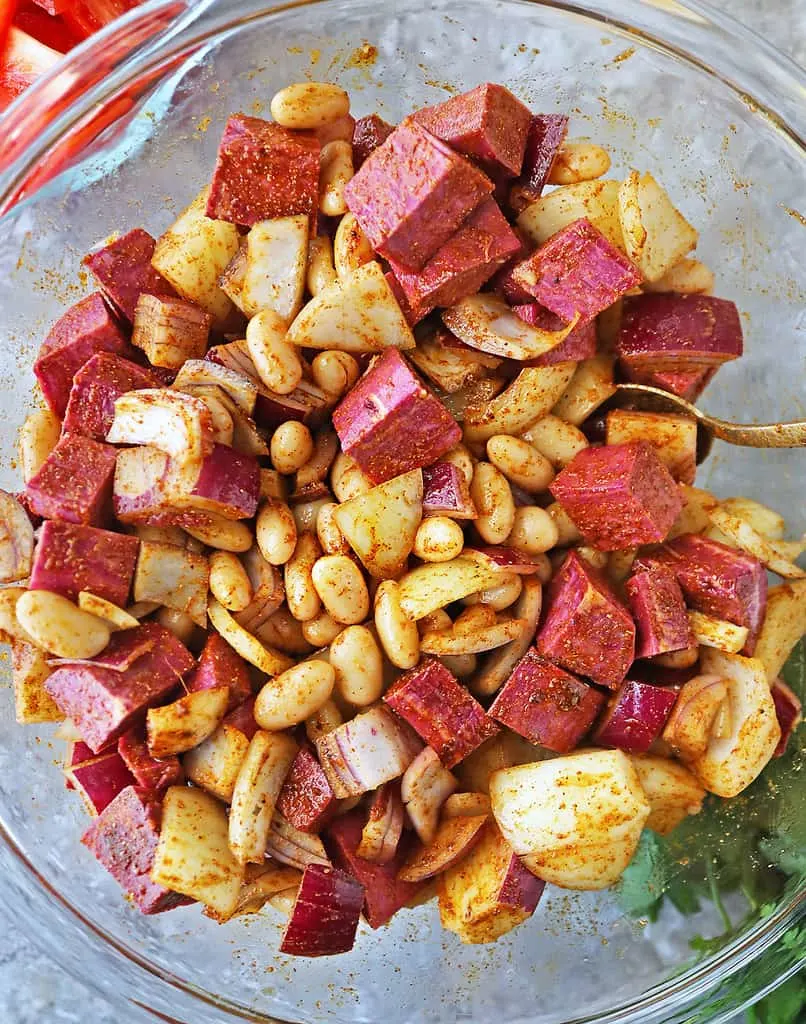 A Few TipsWhen Making This Vegetarian Sheet Pan Dinner Recipe With Orangetti Squash:
Cut veggies like the sweet potaoes into bite sized pieces ~ or smaller.
Not only does this make it easier to eat, but this helps the veggies cook quicker too.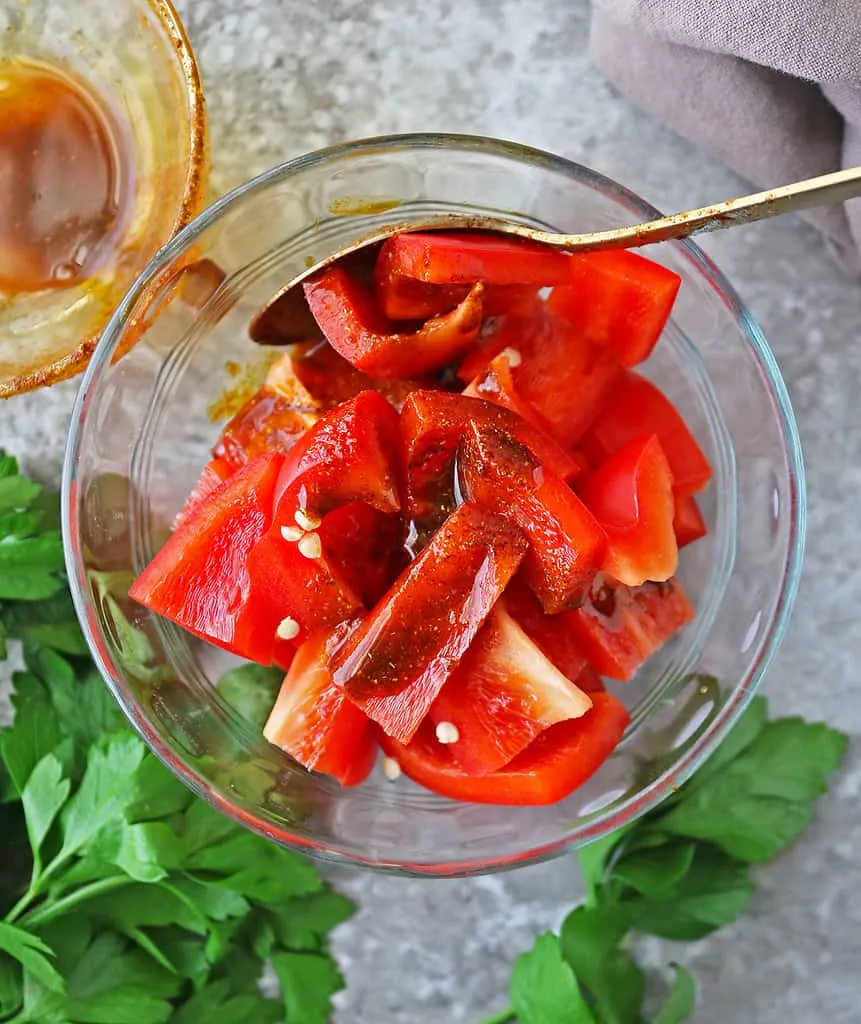 Add Veggies Onto The Sheet Pan In Layers.
By that, I mean all veggies need different times to bake. For example, potatoes will take longer than bell peppers. So I hold off on adding the red bell peppers until the last ten minutes of baking.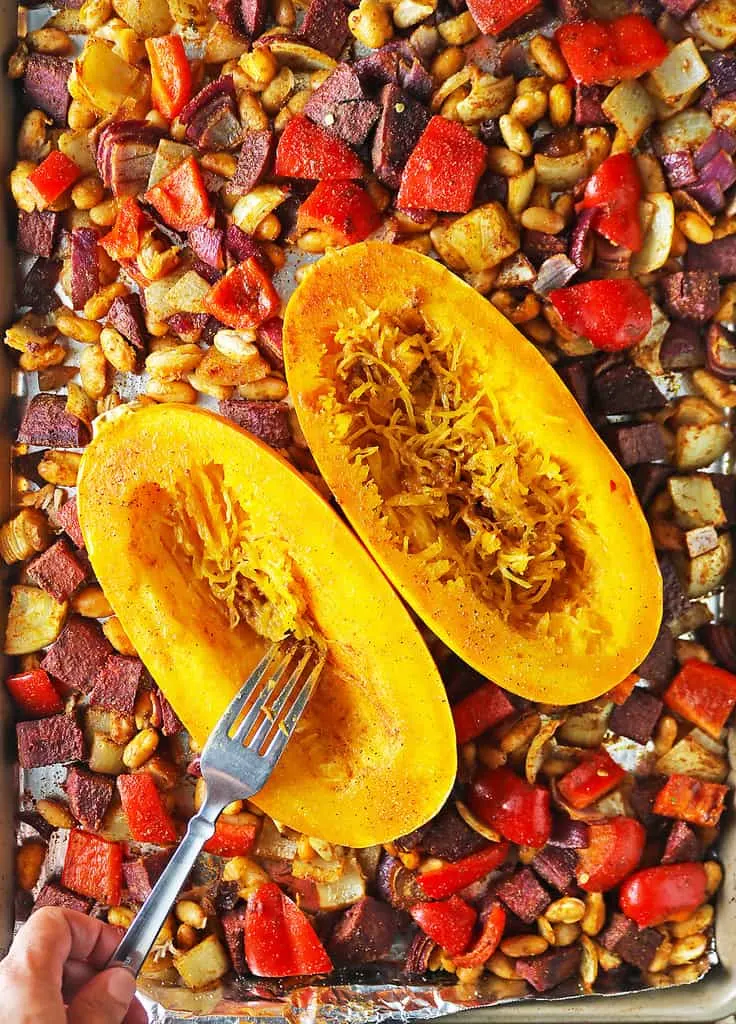 Coat The Veggies And Beans Well.
I like to mix the spices I am using with the EVOO. Then I add this on top of the veggies that are to be about to be baked and toss until the spiced oil mixture is evenly distributed all over.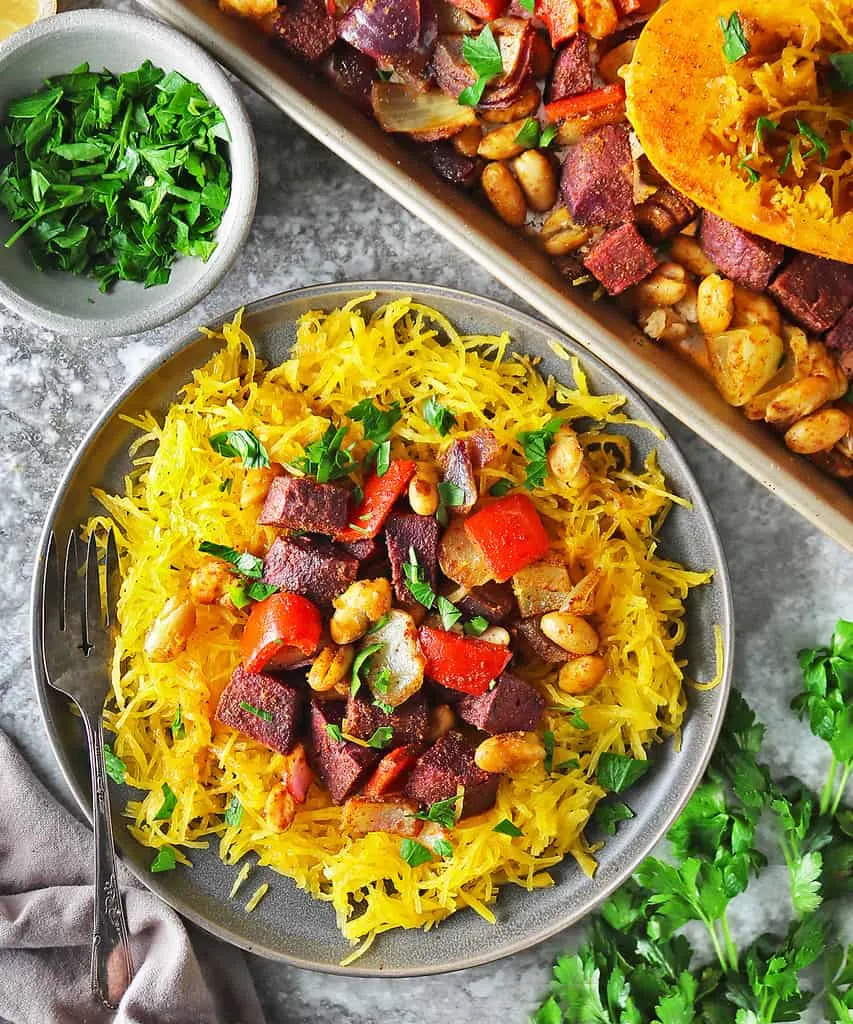 I enjoyed this delicious veggie-packed sheet pan meal immensely, and I am hoping you and your family will too. It was so easy to make, I managed to keep watching Season 3 of You without pausing it – that was until it was time to fix me seconds of this.
By the way, I stored leftovers of this in an airtight container in my fridge. It lasted for about 3 days, and tasted even better on day 3!
Looking for more veggie-packed dinner recipes and sides?
Then check out these Quinoa Lentil & Black Bean Stuffed Peppers, this Kale Red Pepper Stir Fry, and this Mushroom Shepherd's Pie.
---
If you love wholesome vegetarian sheet pan meals, then make sure to check out these: