Made in 20 minutes, with just 10 ingredients, this delicious cranberry apple chutney is gluten-free and refined sugar-free. It is a versatile chutney that is simply scrumptious served with crackers and cheese, roti and curry, or even as a condiment at your holiday gatherings.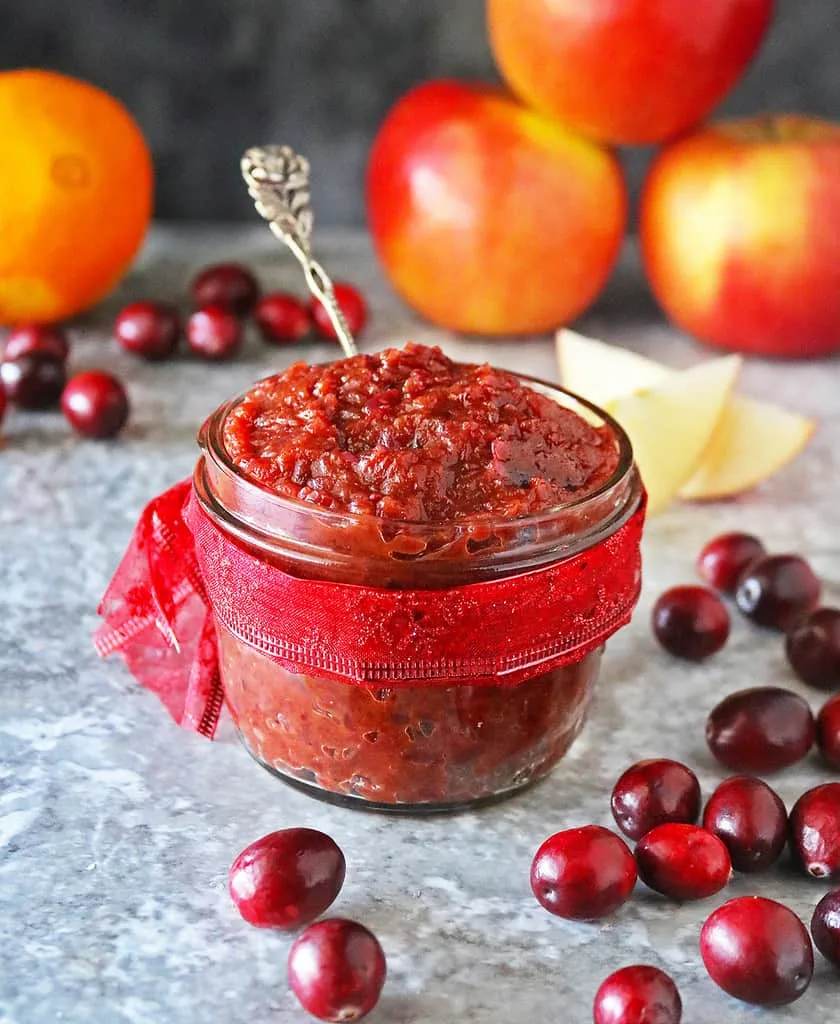 This easy cranberry apple chutney is a harmonious blend of flavors. It is tantalizingly tart, slightly spicy, and scrumptiously sweet. This chutney is a nutritious recipe that is gluten-free and refined sugar-free. You can have this chutney ready in about 20 minutes. And, you only need 10 pantry-staple ingredients to make it.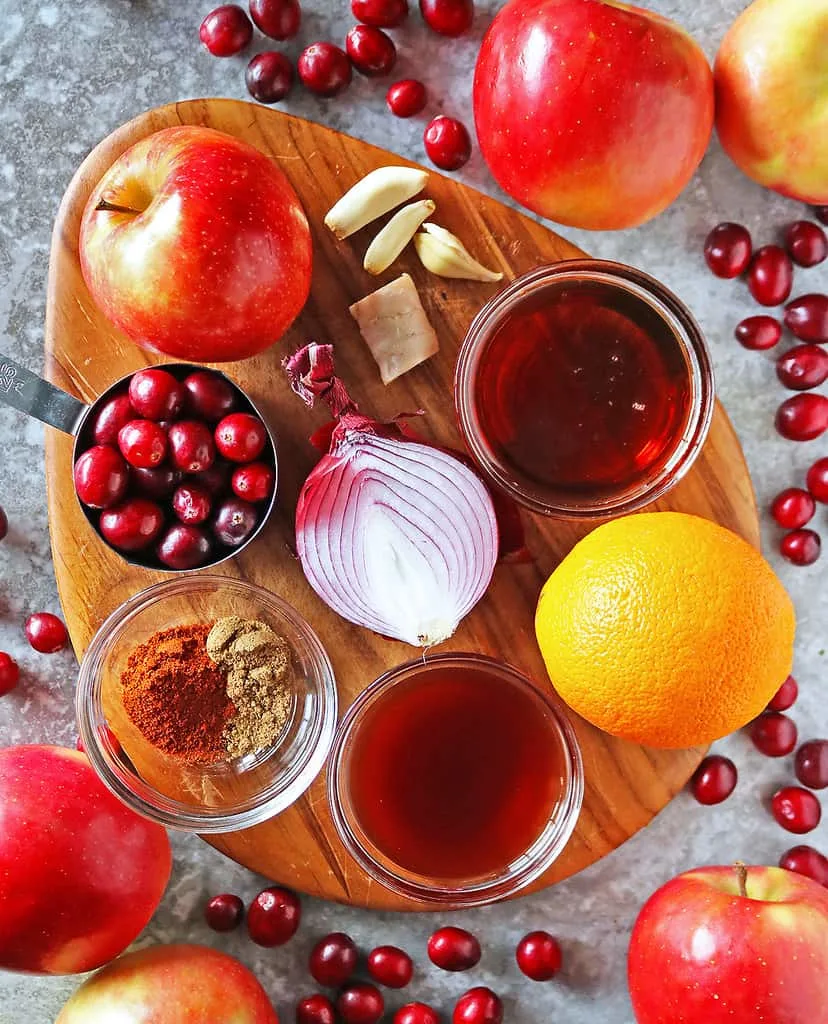 What are the ingredients needed to make this cranberry apple chutney?
You will need the following 10 ingredients to make this tasty chutney:
Cranberries
I used fresh cranberries in this recipe. You could also use frozen cranberries if you like.

An apple
A beautiful, peeled, Fuji apple made its way into this cranberry apple chutney. Fuji apples are one of my favorite apple varieties, and that's why I used one in this. You could use any other apple you wish, however, if you use a granny smith apple, you might want to add in a bit more maple syrup to balance off the tartness.


Red wine vinegar


I like using red wine vinegar in my chutney recipes as it is bold and tangy. If you do not have red wine vinegar on hand, you could also use white vinegar as well.

Maple syrup
I prefer the subtle taste and sweetness of maple syrup. If you prefer, you can use brown sugar instead or even honey.

Red onion
Half a red onion is all I used in this dish. However, if you don't have any red onions on hand, no worries, you can use a yellow one instead.

Ginger
A small knob of fresh ginger adds a bit of a kick to this dish – as well as a boat load of nutrition.

Garlic
Fresh garlic is a must in this recipe. Garlic powder would not be a good substitute.

Orange zest
A little bit of orange zest goes a long way in this dish.

Coriander
Coriander adds a delicious smoky taste to this dish and harmoniously unites the other flavors.

Cayenne
And, cayenne powder lends a bit of heat to this dish. If you do not like spicy chutneys, then do not eliminate this completely. Instead, add 1/2 the amount in.
Rounding off this dish is a pinch of salt and pepper.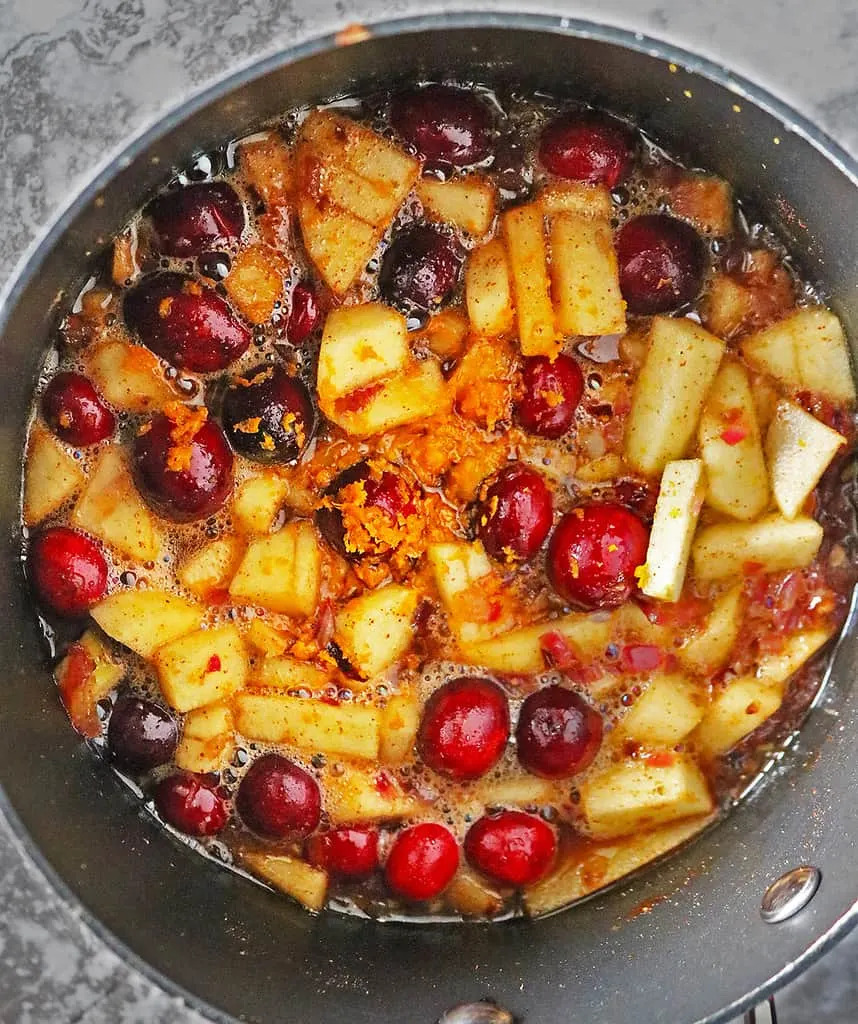 Over the last 4 months, I have been slowly adjusting to life as an empty nester. For the most part, I feel I am doing a decent job. But, now and then, I forget I am a household of one.
Sometimes, that forgetfulness results in me bringing home family-size packages of paper towels and toilet paper from Costco. The last time I checked, paper towels and toilet paper don't seem to have an expiry date, so this isn't too bad.
But, there are other times when that forgetfulness results in me bringing home way too many veggies and fruits after wandering the produce aisles at Sprouts. And then find myself mass cooking all the things! And, this is how this cranberry apple chutney happened.
After making a batch of some apple chutney, I still had more apples than I could eat, so I decided to try out a spin on that apple chutney by adding in some cranberries and playing around with the spices.
And voilà – this scrumptious cranberry apple chutney was born.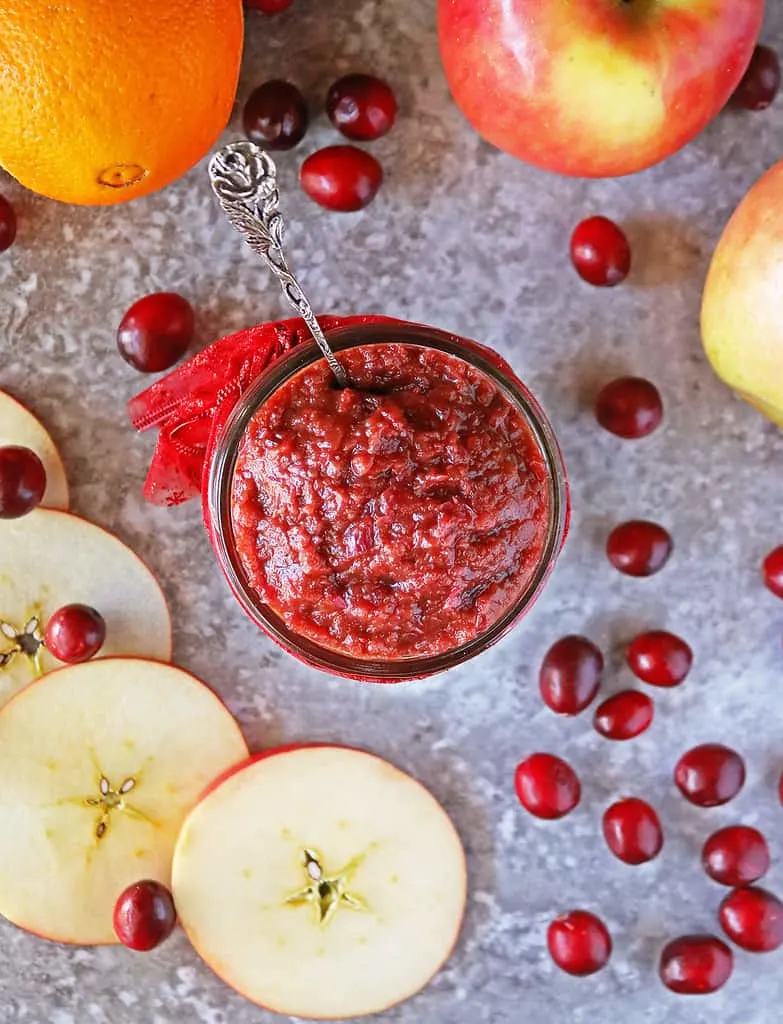 What do you eat cranberry apple chutney with?
You can serve this easy chutney on a cheese board along with some crackers and cheese.
This chutney also pairs well with meats and vegetables. In fact, this would be fantastic with your holiday turkey or ham or plant-based main dish. If you want to shake up your cranberry sauce this year, hey, why not replace it with this cranberry apple chutney instead?
I have also enjoyed this cranberry apple chutney with some roti and curry or as an accompaniment to this quinoa salad.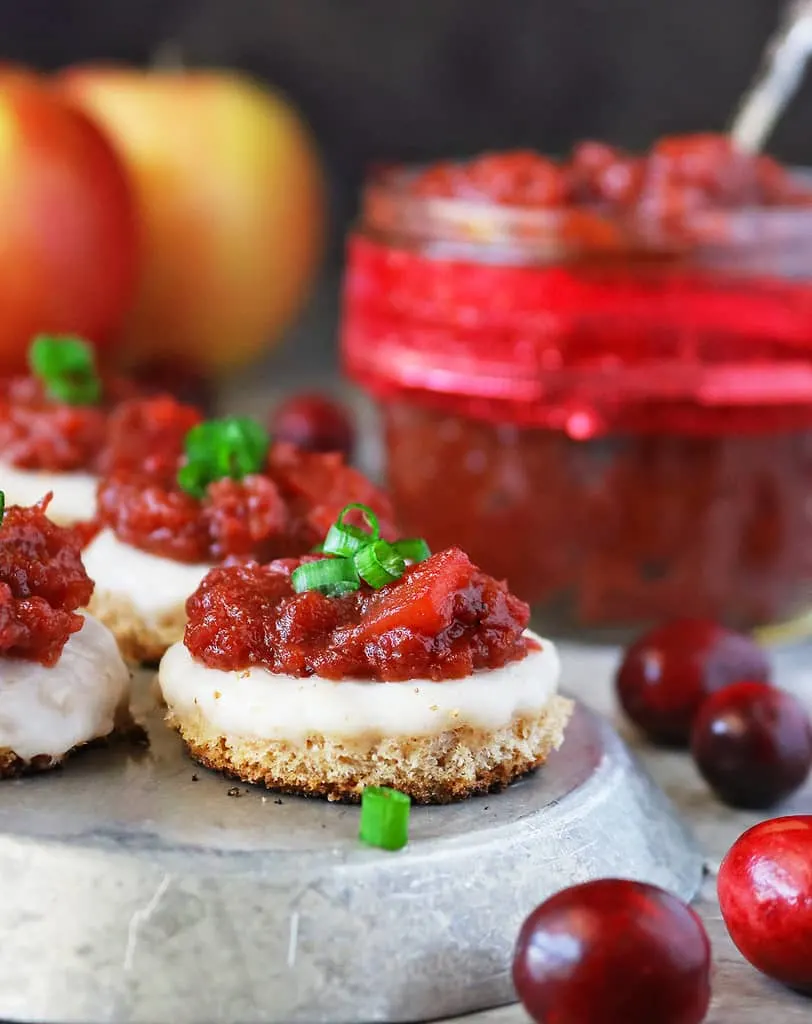 Do you serve chutney warm or cold?
This cranberry apple chutney is best served at room temperature. But, it is delicious cold as well. In fact, I might have enjoyed several spoonfuls of this straight up, right out of the fridge.
Does chutney improve with age?
This cranberry apple chutney is delicious on day 1. But, it tastes even better on days 2 and 3 as all the flavors mature.
How do you store this chutney?
You can store this chutney in an airtight jar, in your fridge, for up to 2 weeks. You can even freeze some of this by storing it in an airtight container. If sealed well before freezing, this chutney can stay fresh for up to 2 months or so.
If you liked this recipe, then check out these other chutney recipes as well…