I've partnered with Sprouts to bring y'all this Easy Spicy Honey Glazed Turkey – as always, all opinions are mine, thanks for supporting the brands that keep this blog spinning! #GlutenFreeThanksgiving #DealsOfTheMonth #Sponsored
Looking to jazz up your turkey this Thanksgiving? Well, then this slightly spicy, slightly sweet, fully-flavor-packed, Easy Spicy Honey Glazed Turkey is for you!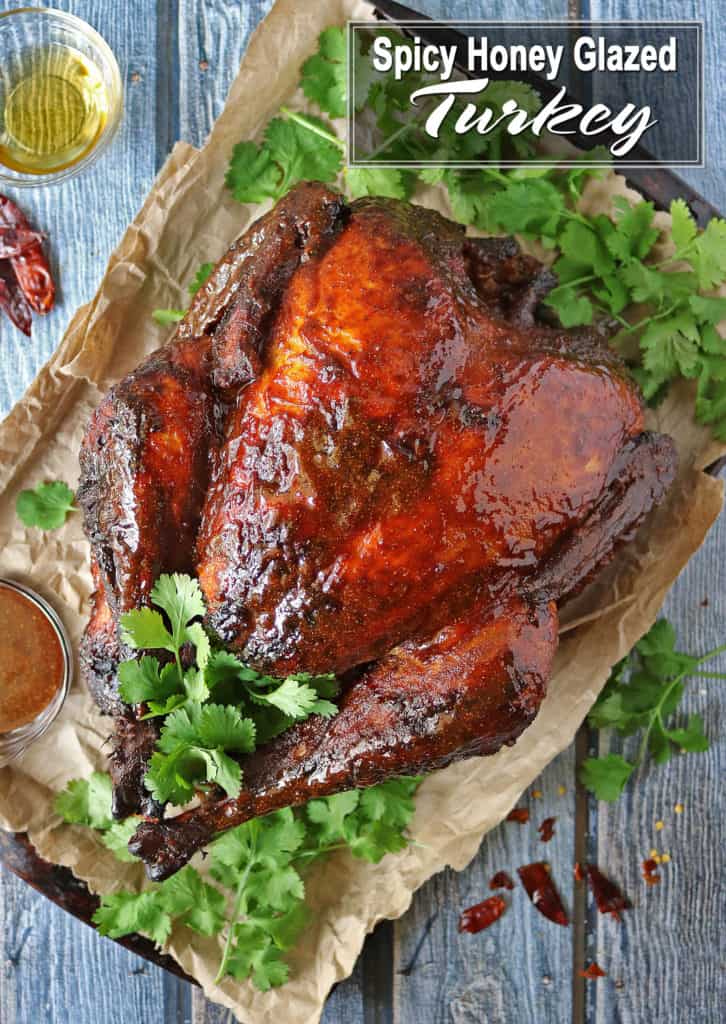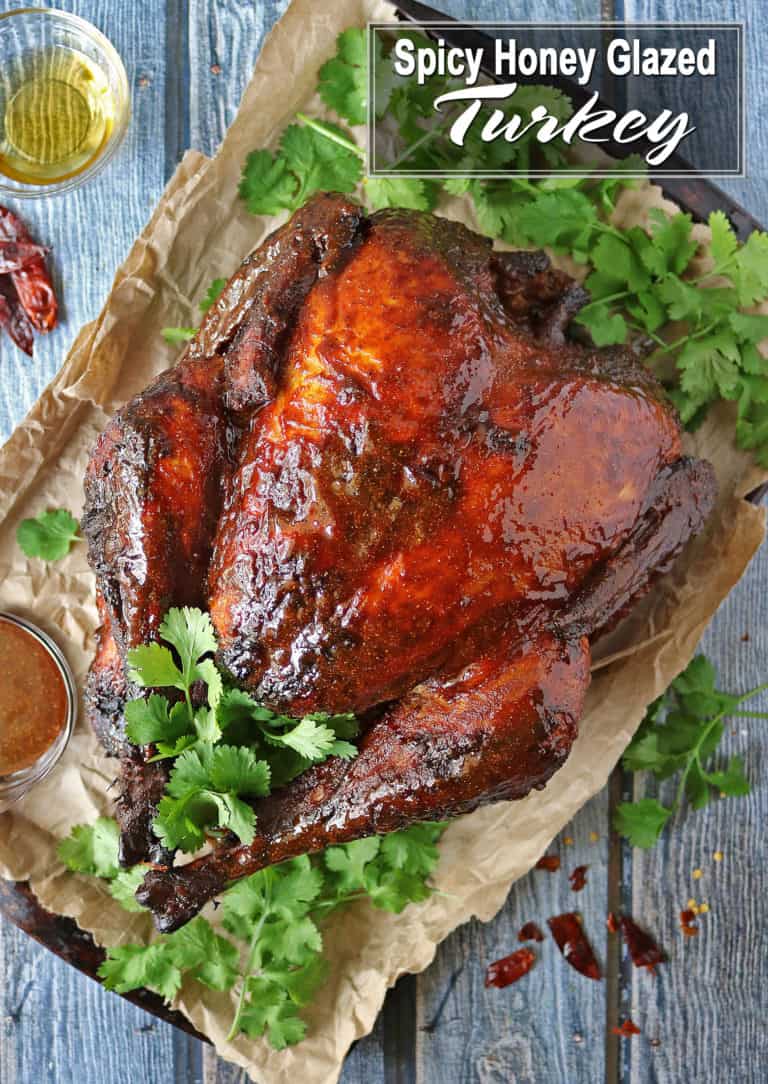 For the past 18 years or so, my daughter and I have welcomed fall by finding an orchard to go apple picking at, or a corn maze to go get lost in, or a bonfire to roast s'mores at. Those years when we were feeling especially adventurous, we have even indulged in a combination of all three. But, this year has been different.
Of course there was that big move to a condo that happened after I sold my house… and the weeks of unpacking that ensued… but, other than that, the temperatures here in Northeast Georgia have had us feeling more like we are in the middle of summer than fall. Y'all, it's been hovering close to the 80s here. Which just hasn't had us in the mood to go apple picking or s'more roasting or run through haunted corn mazes.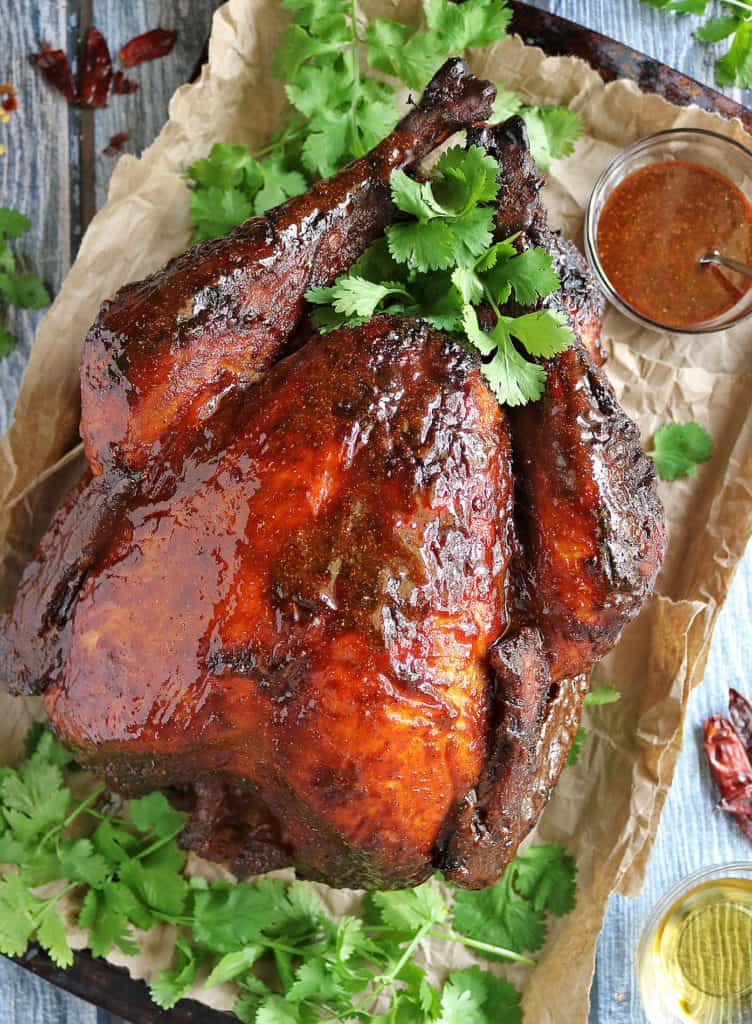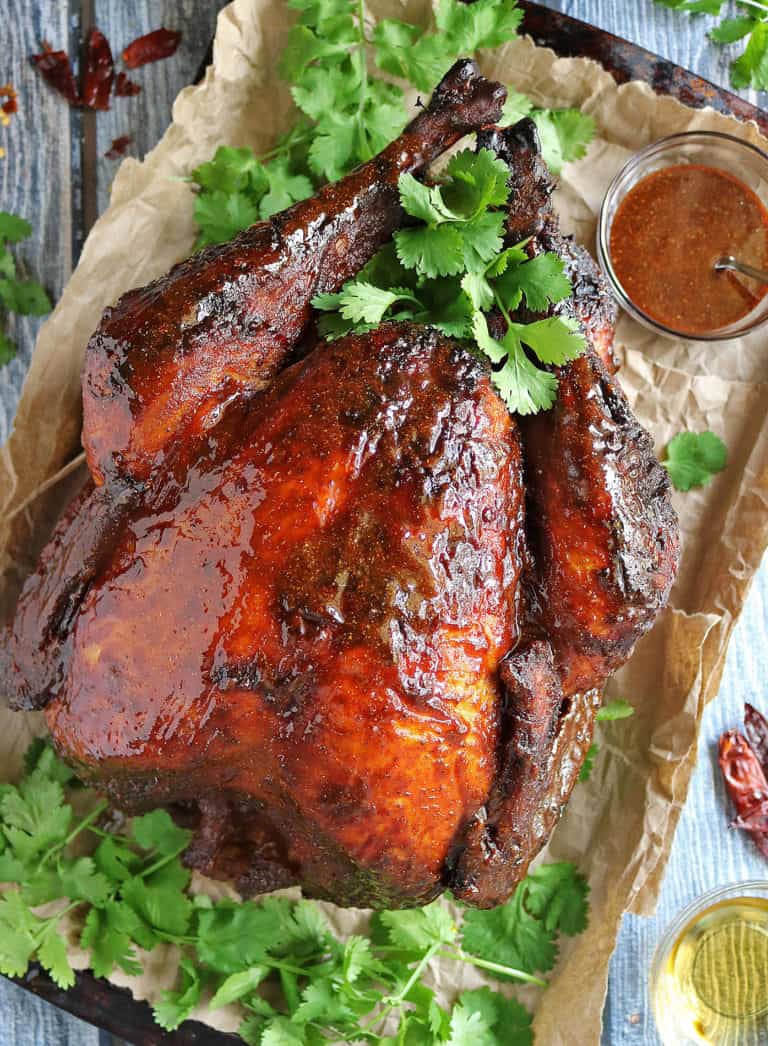 And, these temperatures sure make it hard for me to wrap my head around the fact thanksgiving week is two weeks away! T-W-O weeks!!! Where has the time gone? Now, I know it's technically more like 2 weeks and 3 days or so, but, my daughter is counting down to the beginning of the week when college classes take a week long siesta. And, even though I love the heat, I am hoping that these warm temperatures decide to take a siesta too.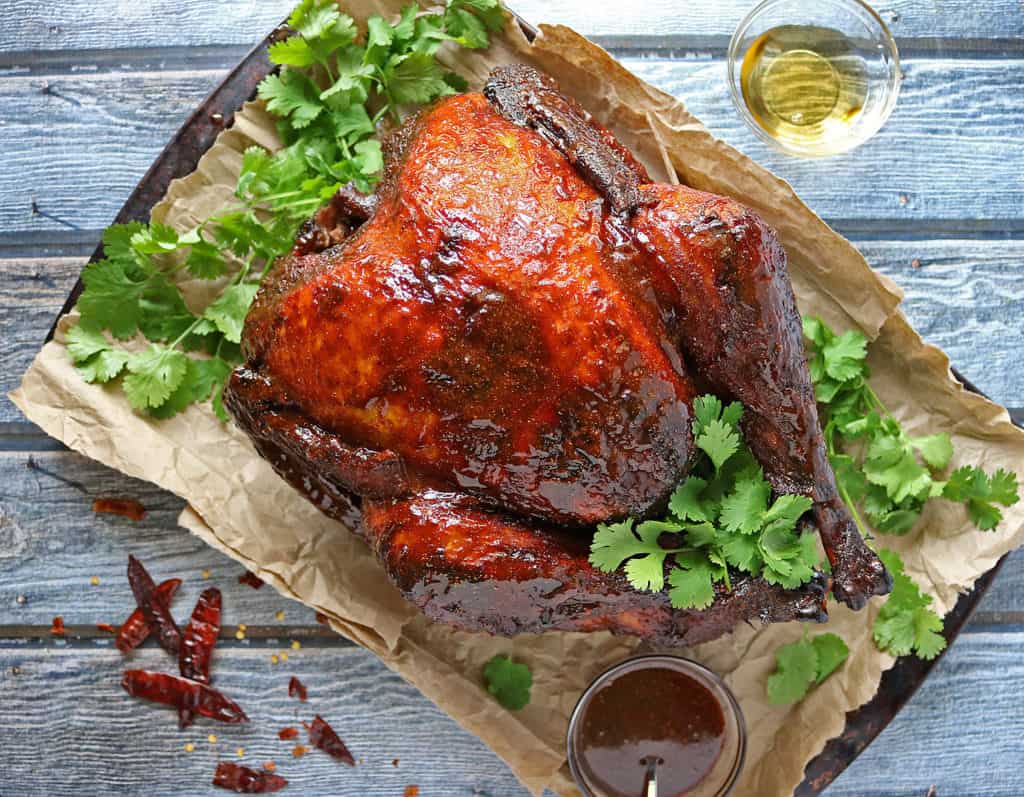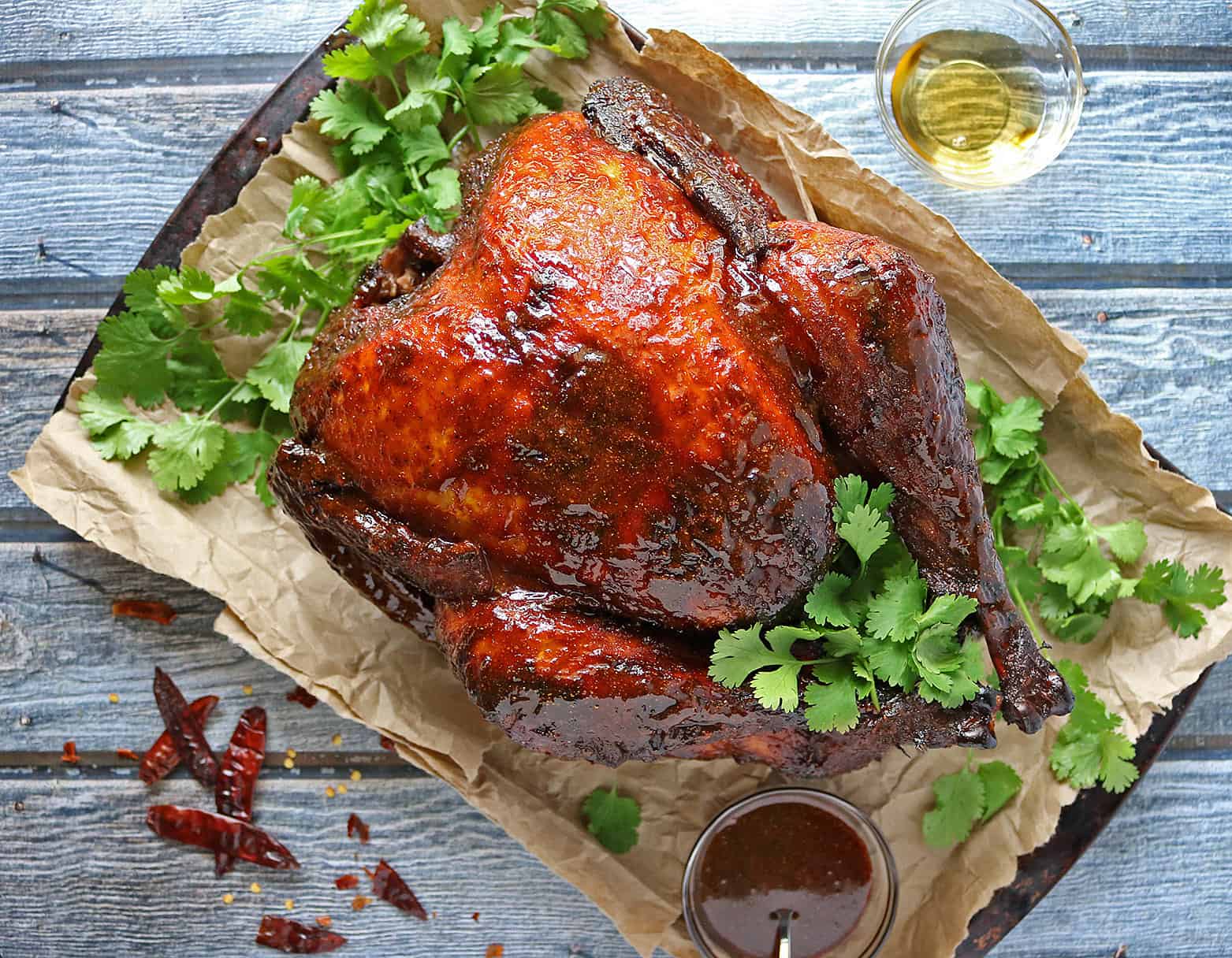 Speaking of siestas, I'm a huge fan of the relaxing properties of a turkey dinner. Though, this Easy Spicy Honey Glazed Turkey might have y'alls tastebuds doing a jolly wiggle before y'all take those Thanksgiving day siestas because this here turkey is basted and re-basted and glazed and re-glazed with an oh so delicious sweet and spicy sauce. Made with turmeric, coriander, paprika, curry powder, chili powder, ginger and honey, this sauce is delicious as a glaze as well as a dip to dunk your turkey chunks or veggies into or a "gravy" to pour over your turkey, potatoes and veggies!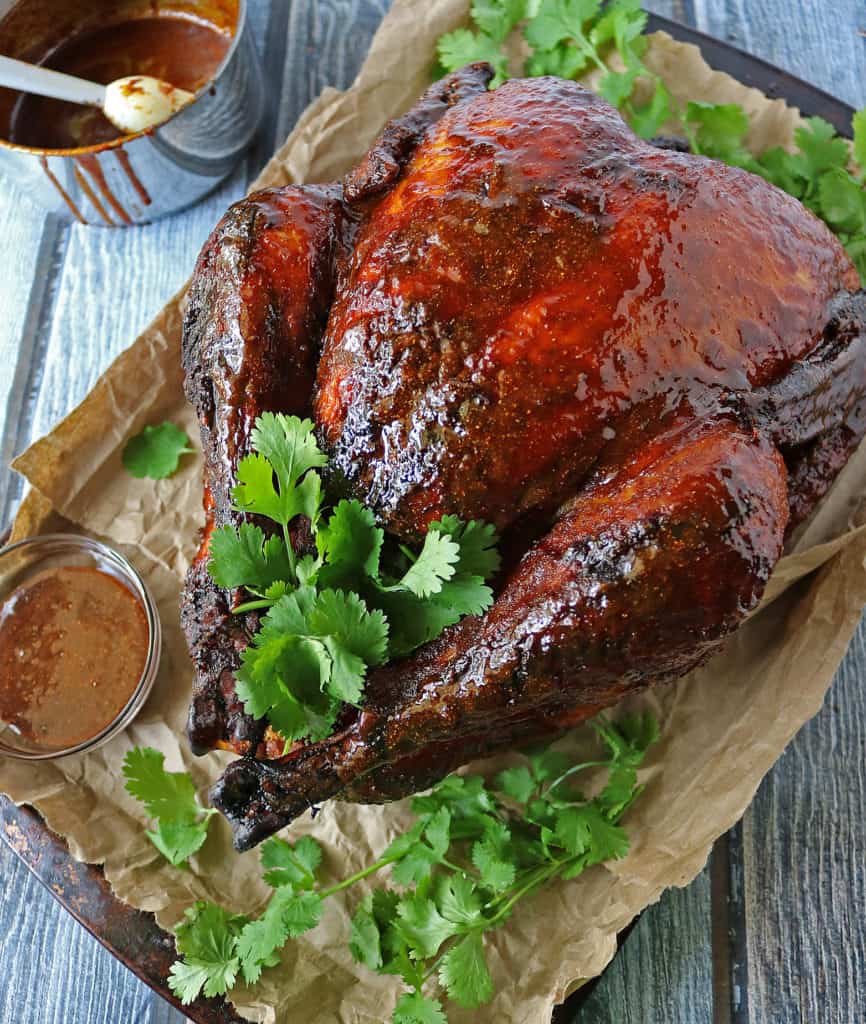 By the way, this recipe first appeared in Sprouts Farmers Market's November Issue of the Deals Of The Month.
Speaking of Sprouts, you can find all the ingredients used for this recipe as well as fresh whole turkeys, at your neighborhood Sprouts Farmers Market. But, that's not all. Sprouts is filled with a wide array of fresh produce, dairy, meat and seafood, delicious freshly-baked goods, thousands of natural, organic and gluten-free groceries as well as eclectic beers and wines, vitamins and supplements, and more – all at fantastic prices! If you don't have a Sprouts Farmer's Market near you, Sprouts has now partnered with Amazon Prime for delivery service. Through Amazon Prime, you can now get your entire grocery shopping list this Thanksgiving season, including fresh organic produce, meat and seafood from Sprouts, delivered right to your door with one hour ($7.99) and free two-hour delivery between 8 a.m. and 10 p.m.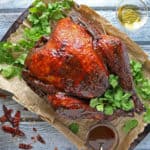 Print Recipe
Spicy Honey Glazed Turkey
Smoked paprika, coriander, cumin, chili and curry powder balance off sweet honey in this intoxicatingly delicious glaze for your holiday turkey.
Ingredients
1

tsp

turmeric

2

Tbsps

coriander

2

Tbsps

smoked paprika

2

Tbsps

curry powder

1

Tbsp

chili powder

1

tsp

salt

1

tsp

black pepper

1

tsp

ginger powder

2

Tbsps

coconut oil melted

1

cup

honey
Instructions
Preheat oven to 425 degrees

Add honey to a saucepan over a low flame, and stir till it thins for about 30-60 seconds or so.

Then add in the turmeric, coriander, smoked paprika, curry powder, chili powder, salt, pepper, ginger powder, and coconut oil and stir till spices and coconut oil are well incorporated.

Using a culinary brush, brush entire turkey with spiced honey mixture.

Place in oven and bake at 425 degrees F for 30 minutes. Then lower oven temperature to 350 degrees F and continue cooking. Every 35-40 minutes, open oven and brush the spiced honey mixture over the turkey. If you notice that the wings or legs of the turkey are beginning to burn, then tent the turkey with foil and let cook till the thickest part of thigh registers 165 degrees F – according to package instructions, a 12-15 lb turkey should take about 3-3.5 hours. Remove from oven and let turkey rest for at least 30 minutes before carving and enjoying.

If there's any leftover spiced honey mixture, you can add about a ¼ cup honey to it and simmer it for about 3-5 minutes and serve it alongside the Spiced Honey Glazed Turkey.