Made with a healthier spin, this tantalizingly tart and sweet, easy homemade ginger ale is a refreshing, 5-ingredient drink that can be ready to enjoy in less than 10 minutes.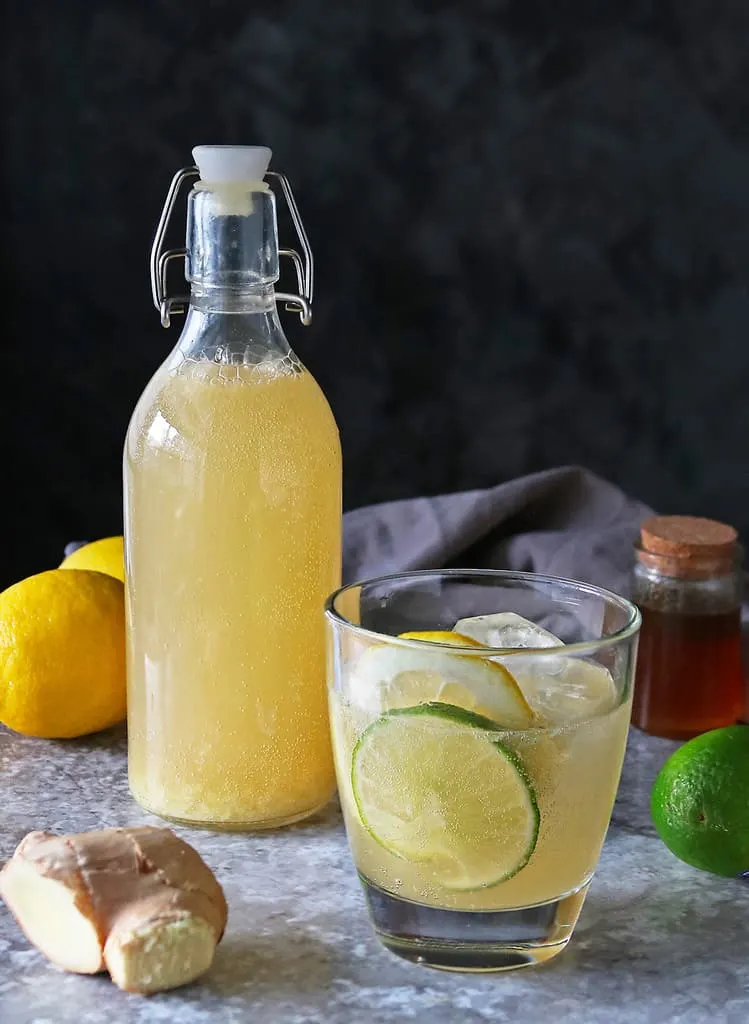 This is a fuss-free homemade ginger ale recipe that is slightly different from a lot of others out there.
This ginger ale recipe does not make use of simple syrup. Therefore, there is no stovetop cooking required. Instead, maple syrup is used in this recipe, making this an easier and healthier homemade ginger ale to enjoy.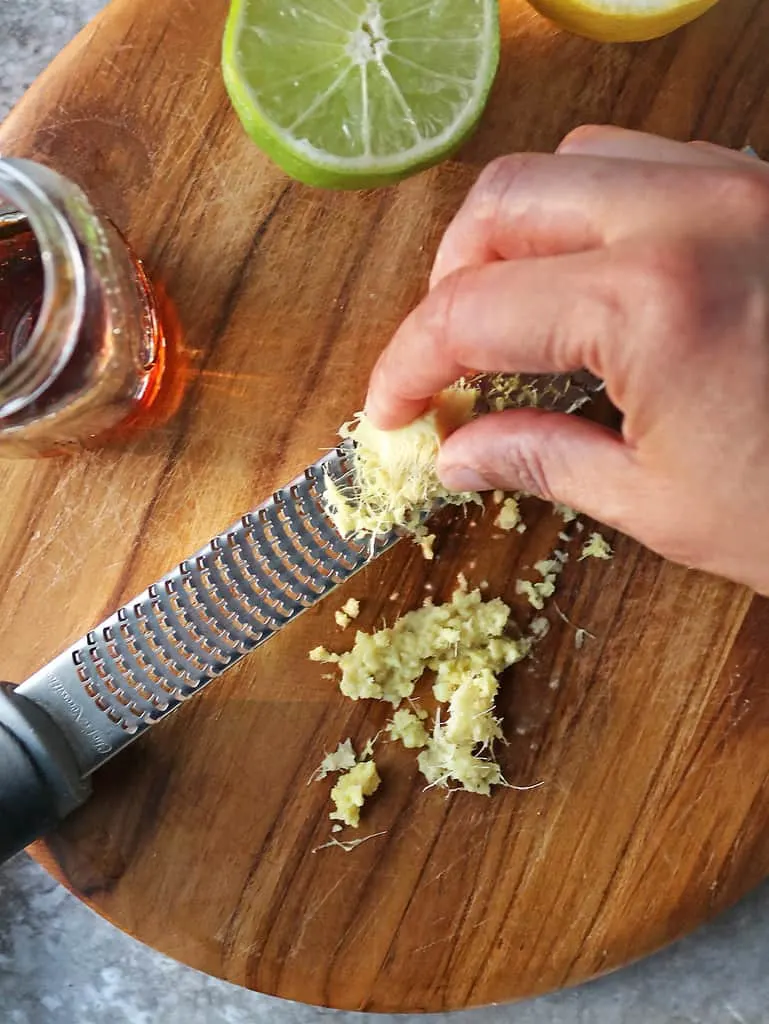 For the longest time, I satisfied my craving for ginger ale with one I could only find at Sprouts stores (not sponsored in this case). It was extra spicy – a perfect blend of tart, sweet, and refreshing. But, as happens with some good things – this brand disappeared off the shelves of several Sprouts locations. And, no matter how much I searched for it, I could not find it.
So, I figured I would try and make my own ginger ale that came close to it.
And, what you see here today is the result of much experimenting and many failures.
I don't mean to toot my own horn, but this ginger ale recipe is delightfully delicious. It is so tantalizingly tart and sweet.
With fresh ginger and 4 other ingredients, this ginger ale recipe is a no-fuss one you can easily whip up when you are craving a cold, tart, healthier, ginger ale and do not want to drive to a store to get your fix.
In fact, you can make this recipe in less time than it would take for you to get in your car, start it up, drive to the store, walk inside, find your ginger ale, pay for your purchase, and drive home.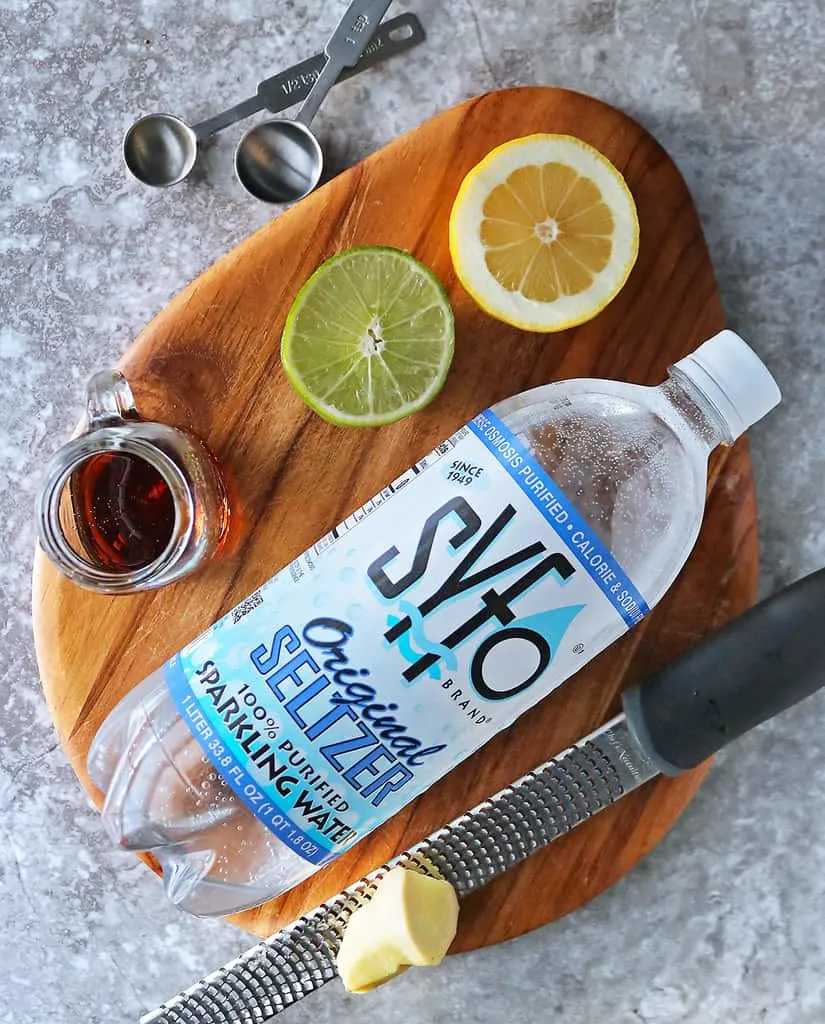 What are the ingredients to make this homemade ginger ale recipe?
You only need 5 ingredients to make this recipe, and they are:
Fresh ginger
Lemon juice
Lime juice
Maple syrup
Your choice of seltzer
How do you make this tart-sweet drink?
This is such an easy drink to make. There's no simmering involved, no fancy gadgets and gizmos, just gather your ingredients, prep, and voilà – your refreshing drink is ready to enjoy!
You will start off by peeling a 1-inch nob of ginger. Then, you will grate up the chunk of ginger to yield 2 teaspoons of fresh ginger.
Add this freshly grated ginger to a jug.
Then, cut the lemon you have in half, and squeeze 4 teaspoons of it into the jug with the ginger.
Repeat the same with the lime.
Next, add the maple syrup to the jug with the freshly grated ginger, lemon juice, and lime juice, and mix well.
Finally, add in the seltzer / sparkling water of your choice and mix well.
Now all that's left is to divide this into 4 glasses, add in some ice, slices of lime, and lemon and enjoy!
Is this homemade ginger ale good for you?
Yes. This homemade ginger ale is made with lots of fresh ginger, which is known for its anti-inflammatory and anti-oxidant properties. This recipe is also made with maple syrup and not sugar, making this a healthier version.
Is ginger ale different from ginger beer?
Yes. Ginger beer is usually a brewed and fermented drink, with ingredients such as yeast, ginger, sugar, and water. Whereas, ginger ale is usually a carbonated drink made with a sweetener and ginger.
Can you store this ginger ale?
If you store this in an airtight bottle, this ginger ale will be good for 2-3 days, but there might be a slight loss of carbonation. This ginger ale is best made and served on the same day.
If you are looking for more drink recipes for the summer, check out this refreshing melon chili drink, this honeydew melon smoothie, this date smoothie, and this watermelon Paloma.