This easy and healthy, 3-ingredient date shake is a refreshingly delicious cool treat on a hot summer day.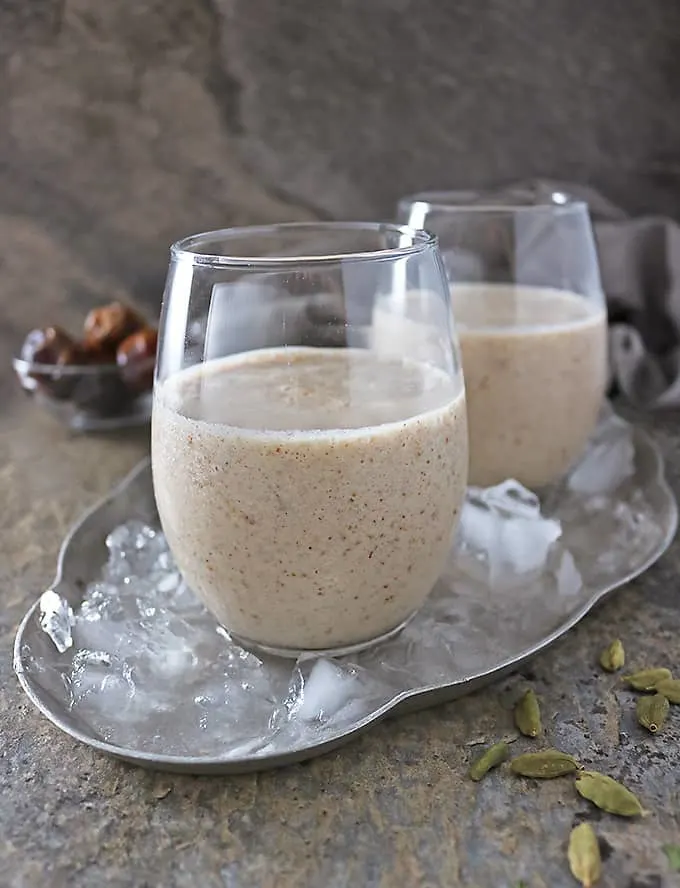 My love affair with dates began when I was in elementary school, in Sri Lanka. Back then, my mom would fix dates (wait, you know I am talking about the edible kind – right?) stuffed with her homemade strawberry frosting for parties and get togethers. They were so pretty to look at. You had these brown, plumpish, pit-less, dates that were cut down the middle and then filled with beautiful, intricate swirls of pink frosting.
But, they weren't just pretty. They were T.R.O.U.B.L.E. in our hands! My cousins and I would sneak by the table they were on, and fit as many as we could into our mouths before anyone would notice. The sugar high that ensued would have us getting into all kinds of havoc until it wore down. And that sugar high didn't wear down as quickly as the sugar high after eating chocolate cake would do!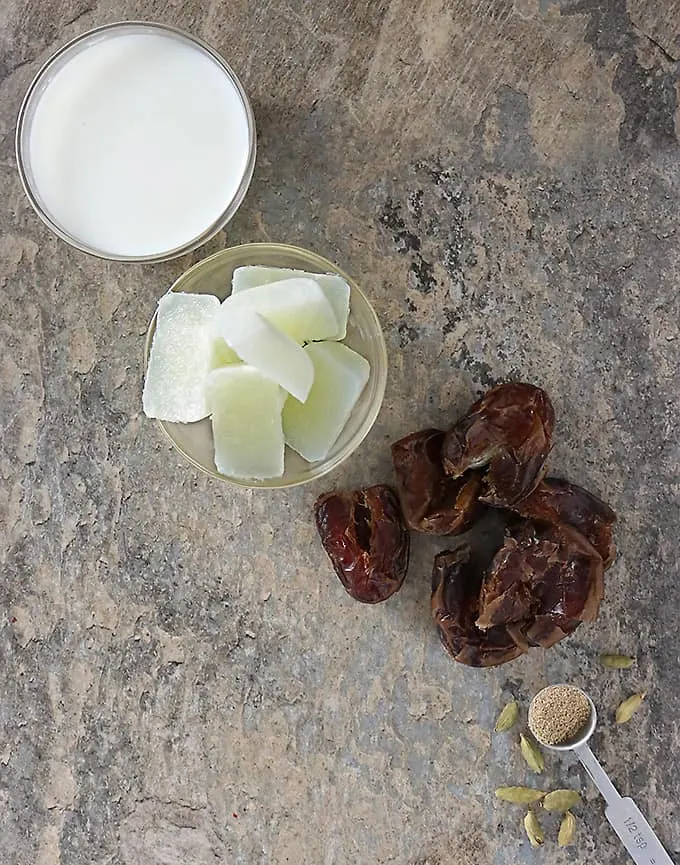 After my parents moved us to the United Arab Emirates, many of my new Muslim friends' parents would break their fast during the month of Ramadan with dates and milk. So, of course… I had to try dates and milk… after all, when in Rome…
However, what started as something I tried out of curiosity, stuck with me. All through my college years in Atlanta, until now, dates and milk are a snack I turn to often. These days I add in some almond butter too, and enjoy the combo as is or in the form of
bars
. Recently, though, I stumbled on
an article
that talked about
date shakes
. Of course, my curiosity was piqued. I consulted my trusty friend, Google, who informed me that several date shakes out there were made with ice cream.
Instantly thoughts of the sugar rush that would follow after eating a handful of my mom's frosting-stuffed-dates popped into my mind
. The thought of ice cream and dates sounded way too sweet for me, so I did a bit more digging. And, I stumbled on another article that talked about a little store that would freeze milk and use that to thicken up their date shakes.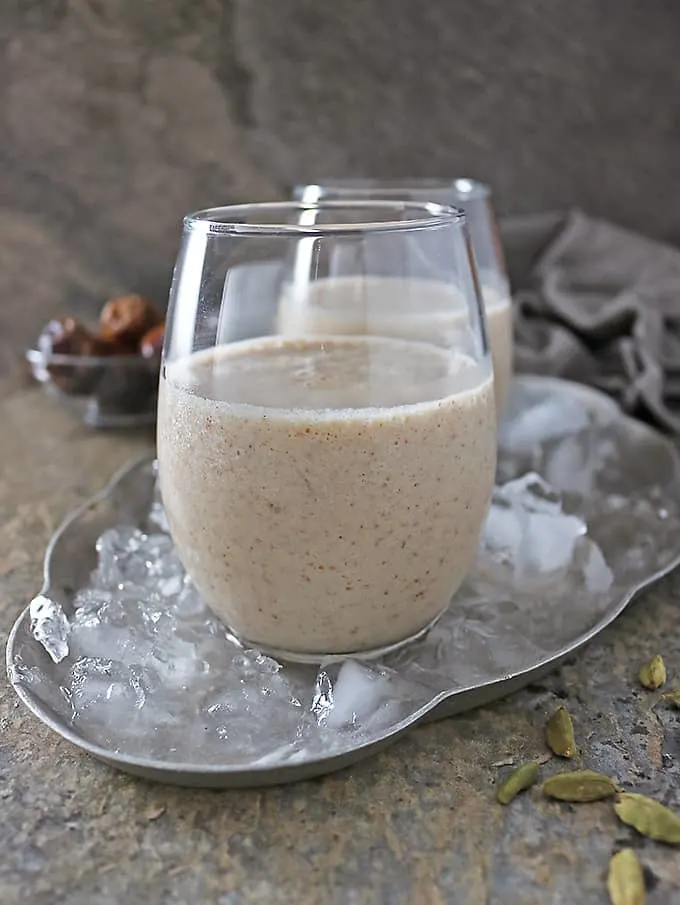 So, armed with that knowledge, I began my date-shake experimenting. My first few date shakes were way, way too watery as my ratio of liquid milk to frozen milk wasn't right. But, my daughter and I enjoyed putting away my watery milk shakes all the same.
After several failed attempts, I ended up with the date shake you see here.
It was just the right consistency.
It was just the right amount of sweetness.
It was spiked with just the right hint of cardamom.
These date shakes are refined sugar free. While dates are so sweet, with a GI range of 46-55, they fall in the middle of the glycemic index in case you are watching your sugar intake.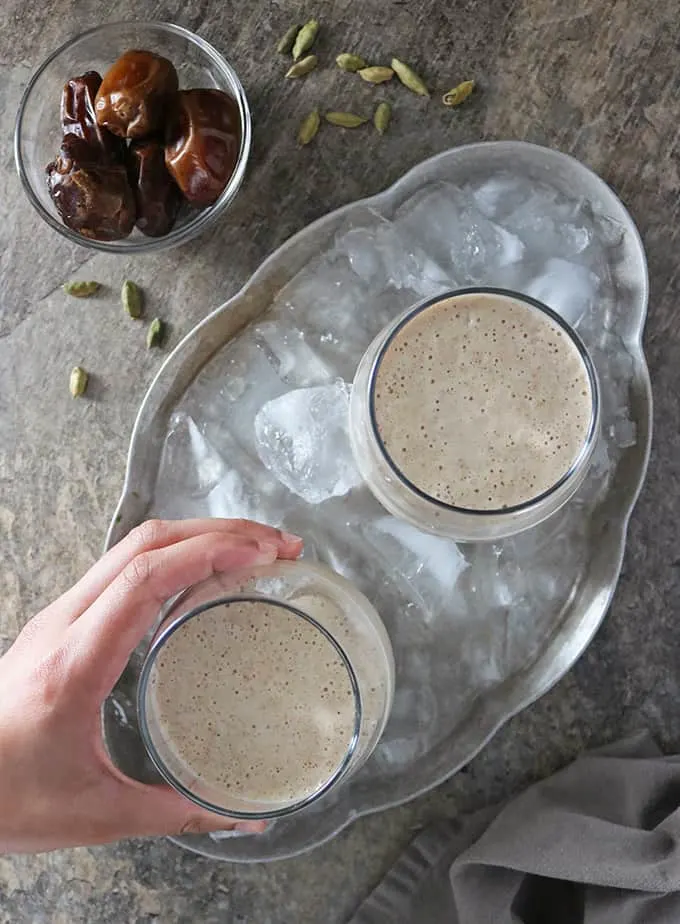 How Easy Is It To Make These Healthy Date Shakes!
These date shakes call for the freezing of milk, which is the only time consuming step. I placed milk in ice cube trays and it took a good 2-3 hours for the milk to freeze. After the milk had frozen, it was just a matter of adding the frozen cubes of milk as well as liquid milk, the dates, and cardamom to a blender. A few pulses on high (might take longer if you are not using a high powered blender), and this shake was ready to be enjoyed! And, the timing was perfect because on the day I finally perfected these shakes, we had come back from hiking Tallulah Gorge ~ but more on that another day!

If you are out working in your yard this weekend or running a 6k or just catching some rays and need a healthy drink to cool down with, I hope you give this date shake a try!
I would love to know if you've make this recipe or any other recipe from this blog so please do rate the recipe and let me know your thoughts on it in the comments below.
You can also FOLLOW ME on FACEBOOK, TWITTER, INSTAGRAM and PINTEREST to get recipe ideas and inspiration.