Easy and delicious, these gluten free, Nutty Vegan Peach Raspberry Muffins are gently spiced with cardamom and would make a delicious breakfast treat or anytime snack with a cup of coffee or tea.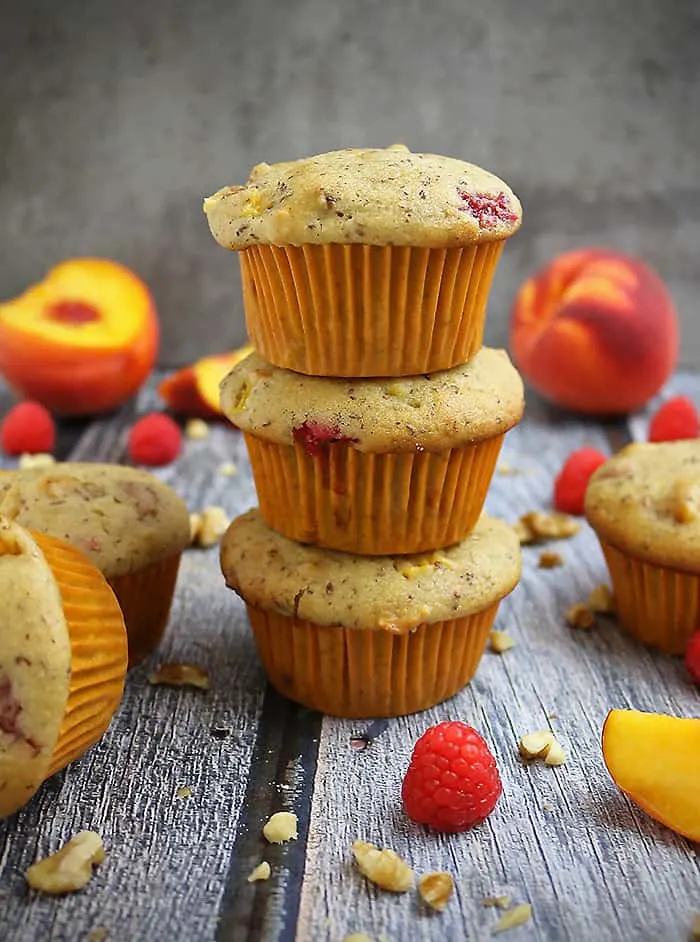 Summer is almost here, which means it's gonna be erupting peaches all around here in HotLanta!
And I cannot wait.
Ripe, deliciously juicy peaches are hard to beat in flavor.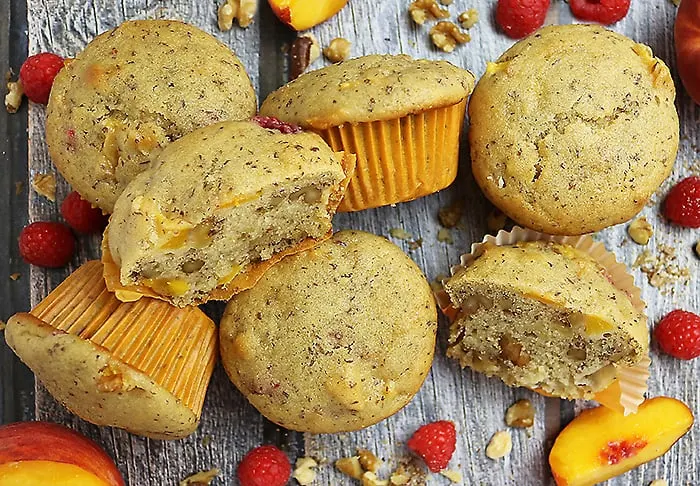 My daughter and I love to poach ripe peach halves in a boiling water bath with sugar, cardamom, cinnamon and vanilla dropped in for flavor.
After just a few minutes, we rescue those peach halves and remove the skin. The gorgeous coloring of the peach skin is left behind on the peach flesh – which almost makes it hard to sink our spoons into those peaches. But – the key word is almost! Because, with a scoop of ice cream, it is hard to resist sinking our spoons into those deliciously poached peaches!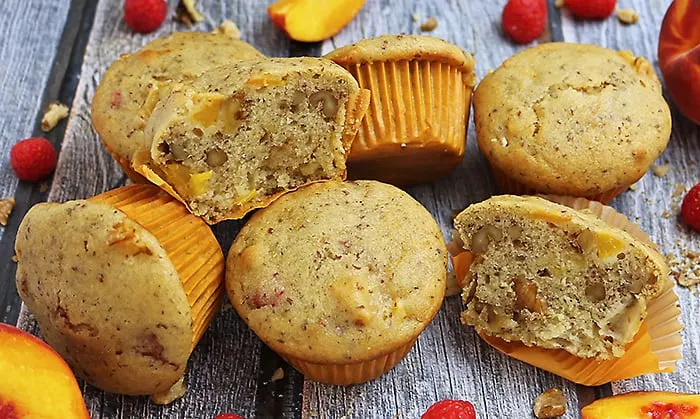 But today, I don't have a recipe for poached peaches to share – but I do have these Nutty Vegan Peach and Raspberry Muffins!
I will be honest and say, I am not a huge fan of vegan baking. In fact, I recently made some Vegan Carrot Cake Cupcakes for a vegan friend of mine and found them to be just too gummy.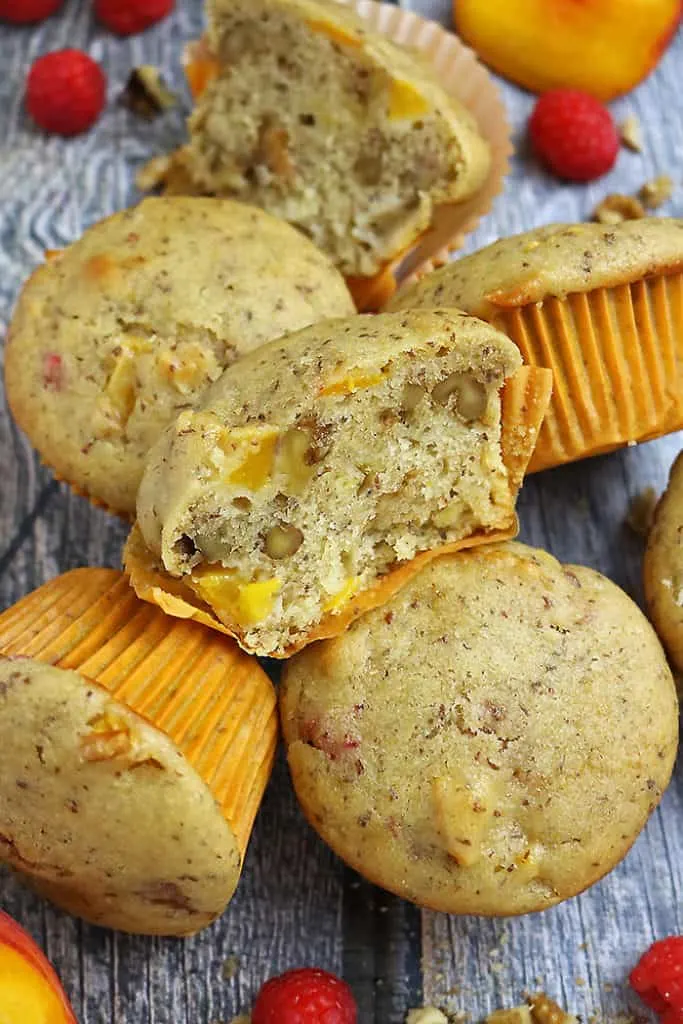 The world wide interwebs have informed me that flax eggs could be the culprit behind this gummy texture.
So, when I made these Nutty Vegan Peach Raspberry Muffins, I decided to lighten up the gummy texture by adding in some almond flour. And, that seemed to do the trick. These muffins were a lot more airy in texture than those carrot cake cupcakes were, and my daughter was disappointed that I only made six… but, you can easily double or triple this recipe to suit your needs!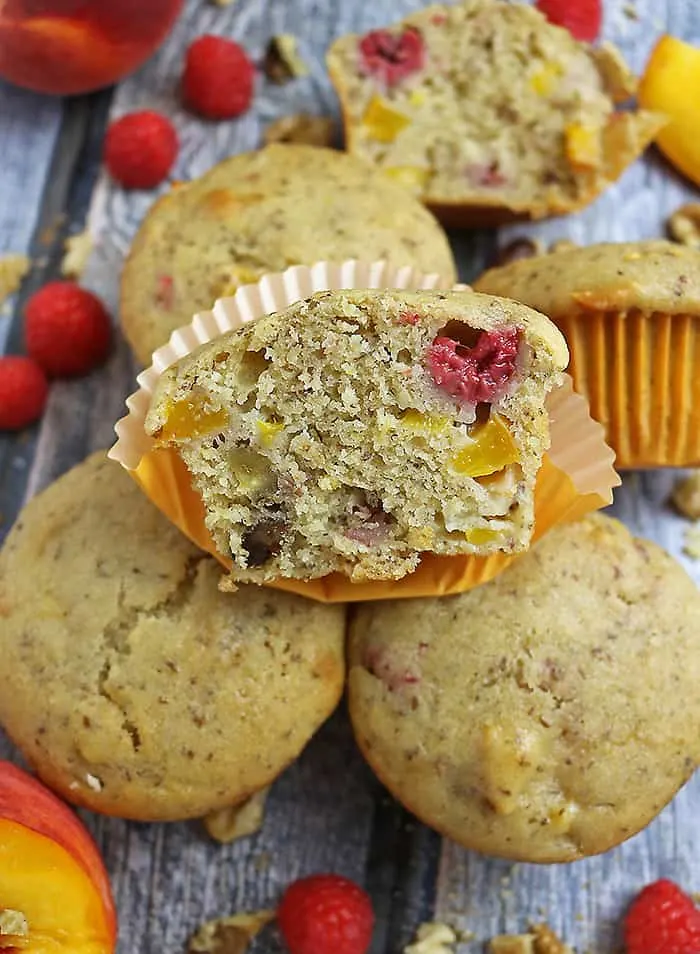 These muffins are chock full of walnuts, raspberries and ripe peaches. They are quite filling due to the almond flour in them. Enjoy these Nutty Vegan Peach Raspberry Muffins paired with a hot cup of coffee or a tall cold glass of milk or even an ice cold sparkling beverage for a refreshing summer treat.
They are perfect for breakfast or a snack. They even pack well if you decide to take these with you to enjoy after a summer hike.
This recipe first appeared on Food Fanatic ~ make sure to check out Food Fanatic if you are looking for more recipe ideas and inspiration!
I would love to know if you've make this recipe or any other recipe from this blog so please do rate the recipe and let me know your thoughts on it in the comments below.
You can also FOLLOW ME on FACEBOOK, TWITTER, INSTAGRAM and PINTEREST to get recipe ideas and inspiration.