Spiced and Roasted Cauliflower is delicious all by itself, but drizzle on a creamy tahini sauce, sprinkle on some sesame seeds and it turns into one heck of an addicting, keto-friendly, side dish.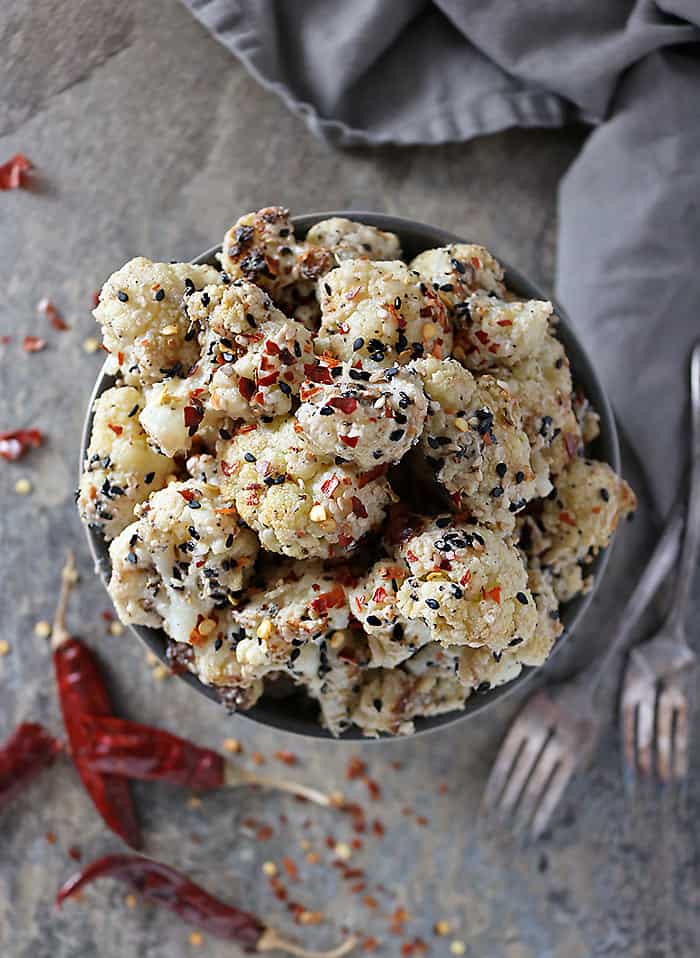 So, I am a bit curious and would love for you to humour me by thinking about the following… are you able to watch a TV show and remember every word and detail afterwards? Or, do you watch it and manage to forget it promptly?
I fall into that latter category. No matter how engrossed I might be in a show, by the end of that week, I don't remember anything about it. So, I can rewatch that TV show with family and friends over and over again as if it was for the first time.
I think it's a gift.
My daughter, on the other hand, thinks it's yet another sign of me getting old!
**le sigh**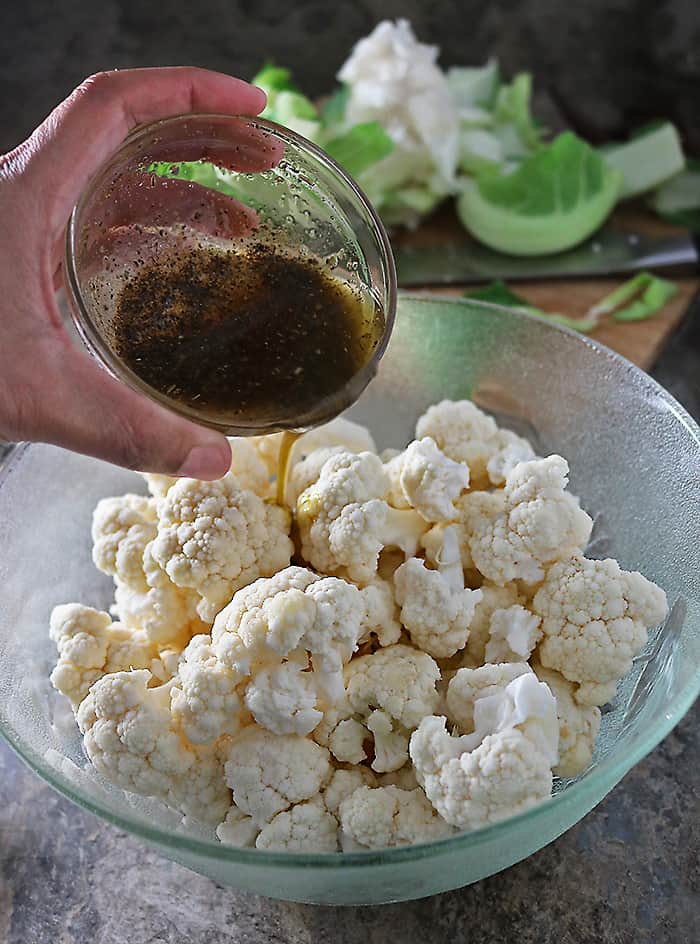 Well, not too long ago, my friend Dawn, talked about Anthony Bourdain's Parts Unknown on her blog, which got me thinking about it's earlier episodes.
Aaaaand, I was drawing a total blank!
I couldn't remember any of those earlier seasons of Parts Unknown. I couldn't remember the extraordinary diversity of cultures and cuisines Bourdain managed to capture and share with me while I was on my couch or puttering around my kitchen. So, I decided to start rewatching Parts Unknown from season 1. And, I was in Tokyo, on season 2, episode 7, when the news of his early demise broke.
So, in honor of this connoisseur of culture and cuisine, I am sharing this Roasted Cauliflower with Sesame dish that has been very slightly adapted from his cookbook, "Appetites."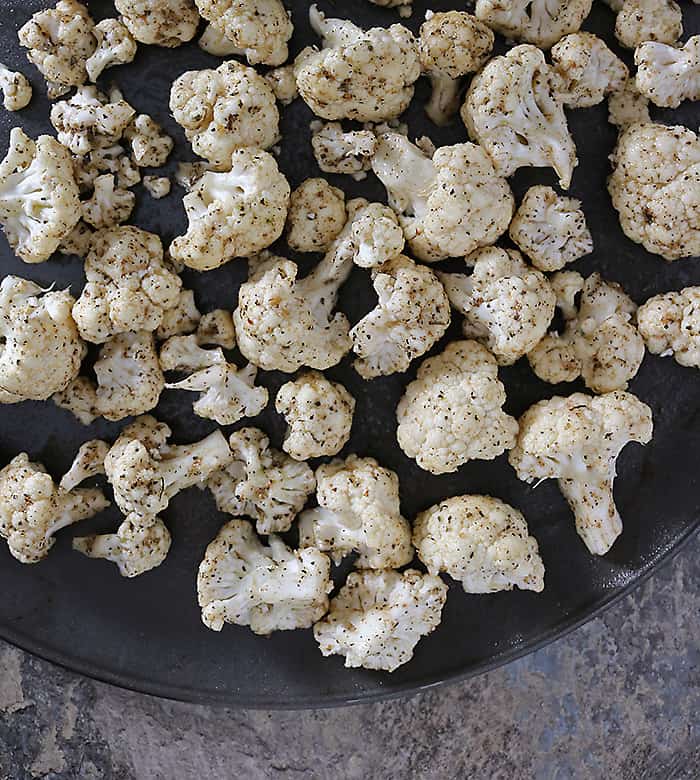 Simply roasted cauliflower, with a smattering of olive oil, a dusting of salt, pepper, and coriander is a favorite to snack on in our house. And, unlike riced cauliflower, I used to always think that that spiced and roasted cauliflower florets didn't really need any sort of dressing or mix-in. At least that was until I tried Anthony Bourdain's version with a tahini, miso and red wine vinegar sauce.
This stuff is so addicting. My daughter and I have worked our way through a whole head of cauliflower prepared like this.
Sometimes I duplicate Bourdain's recipe (which calls for miso + tahini + red wine vinegar) to a tee. But, most times, I am out of miso or tahini. So, most times, I just add in a tad more of either of those to make up for the other.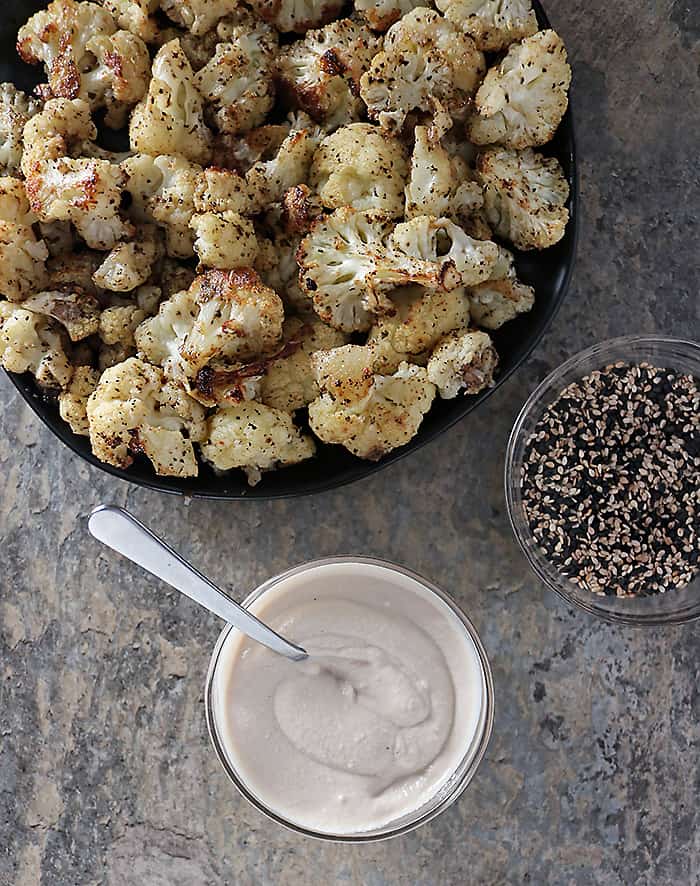 Like I did in the recipe y'all see here today.
As I used up the last bit of miso I had when I made a batch of these Spicy & Sweet Miso Glazed Sweet Potatoes, so, I used a 1/2 tablespoon more of tahini and red wine vinegar mixed up with water to make the creamy sauce you see that got drizzled over the spiced and roasted cauliflower. As I love things hot and spicy, I added in a generous smattering of chili flakes as well. But, if you don't want it hot and spicy, no worries, even without them, this Roasted Cauliflower with Sesame is a hard dish to resist!
In fact, if you are whipping some delicious burgers (like these Grilled Honey Chili Chicken Burgers) for Father's Day or any of your summer BBQs or parties, this Roasted Cauliflower with Sesame would make a delicious accompaniment to it!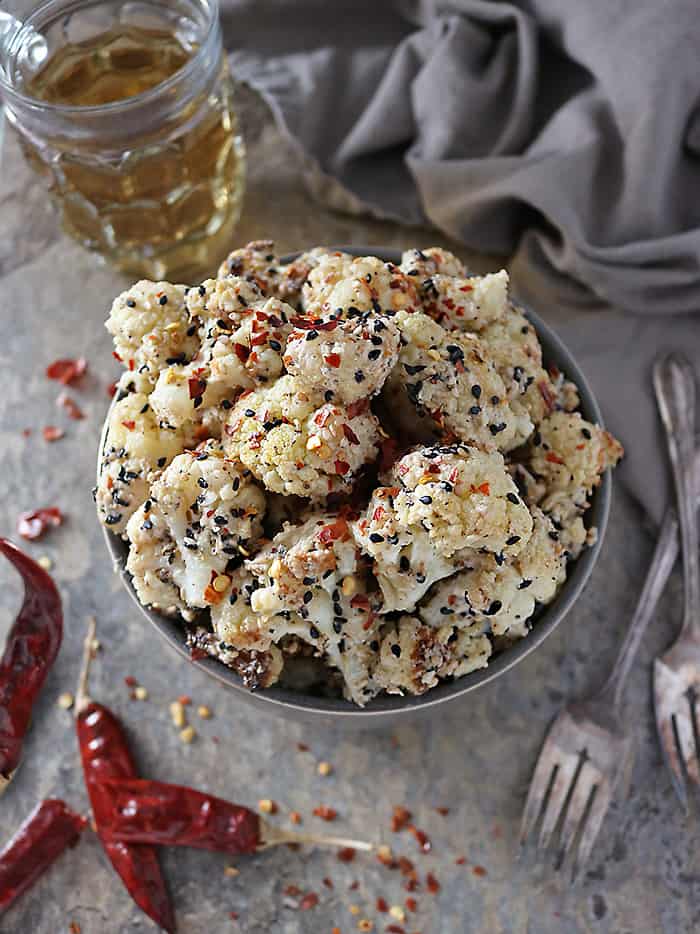 I would love to know if you've make this recipe or any other recipe from this blog so please do rate the recipe and let me know your thoughts below.
You can also FOLLOW ME on FACEBOOK, TWITTER, INSTAGRAM and PINTEREST to get recipe ideas and inspiration.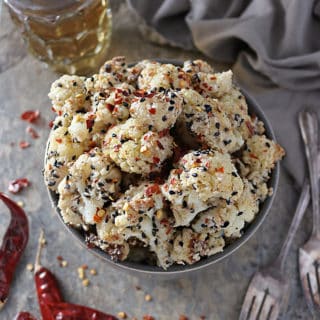 Roasted Cauliflower with Sesame
Spiced and Roasted Cauliflower is delicious all by itself, but drizzle on a creamy tahini sauce, sprinkle on some sesame seeds and it turns into one heck of an addicting side dish, that is also keto-friendly.
Keyword:
Cauliflower with sesame, Roasted Cauliflower
Ingredients
1

head cauliflower

cut into florets

1/4

cup

extra-virgin olive oil

1 1/2

tsp.

salt

1

tsp.

coriander

1

tsp.

oregano

1

tsp.

ground black pepper

2 1/2

Tbsp.

tahini

2

Tbsp.

red wine vinegar

4

Tbsp.

warm water

2

Tbsp.

toasted white sesame seeds

1

Tbsp.

chili flakes
Instructions
Preheat oven to 450°. while oven is preheating add cauliflower florets to a bowl. In another small bowl, combine oil, salt, coriander, oregano, and pepper and toss it with cauliflower to evenly coat cauliflower.

Arrange cauliflower in an even layer on a baking tray. Roast cauliflower for 20 minutes, turning sheet and lightly tossing cauliflower halfway through.

Meanwhile, in a small bowl, whisk together tahini, vinegar, and water until smooth.

When done, remove the cauliflower from the oven and add to a large bowl (there will be lots of bowls to wash up but totally worth it) In a large bowl, toss cauliflower with tahini sauce, sesame seeds and chili flakes (chili flakes are optional) to coat evenly. Serve.
Nutrition Facts
Roasted Cauliflower with Sesame
Amount Per Serving
Calories 211
Calories from Fat 180
% Daily Value*
Total Fat 20g 31%
Sodium 9.5mg 0%
Total Carbohydrates 7.3g 2%
Protein 3.8g 8%
* Percent Daily Values are based on a 2000 calorie diet.
Disclosure: Savory Spin is a participant in the Amazon Services LLC Associates Program, an affiliate advertising program designed to provide a means for sites to earn advertising fees by advertising and linking to amazon.com.