Life needs balance right? So, how about balancing off some of the treats of this holiday season with some of these gluten free, no-bake, Peppermint White Chocolate Protein Bites?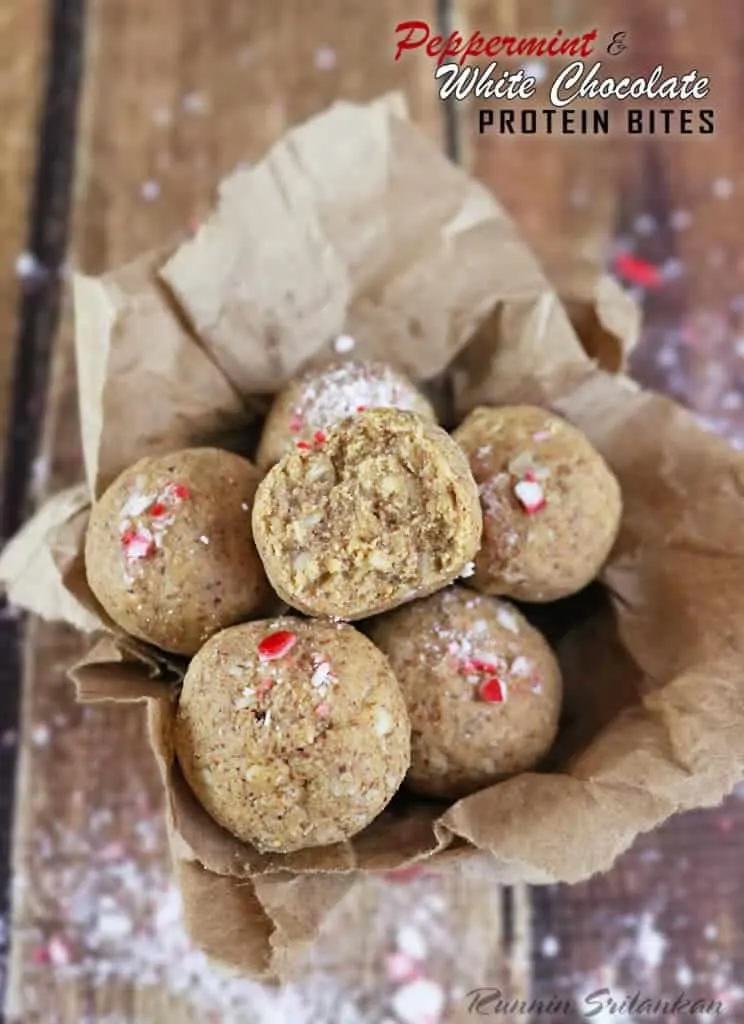 I don't think there has been a day over this past month that I haven't wanted to lick one screen or the other in my house! Between watching and re-watching episodes of The Great American Baking Show on Hulu and reading fellow food bloggers' posts, my salivary glands have been overworked and underpaid. All this looking and not touching! Aaarrrggh – what's a girl to do?!
I guess – make Peppermint White Chocolate Protein Bites?
I guess that should be more of a statement than a question – eh?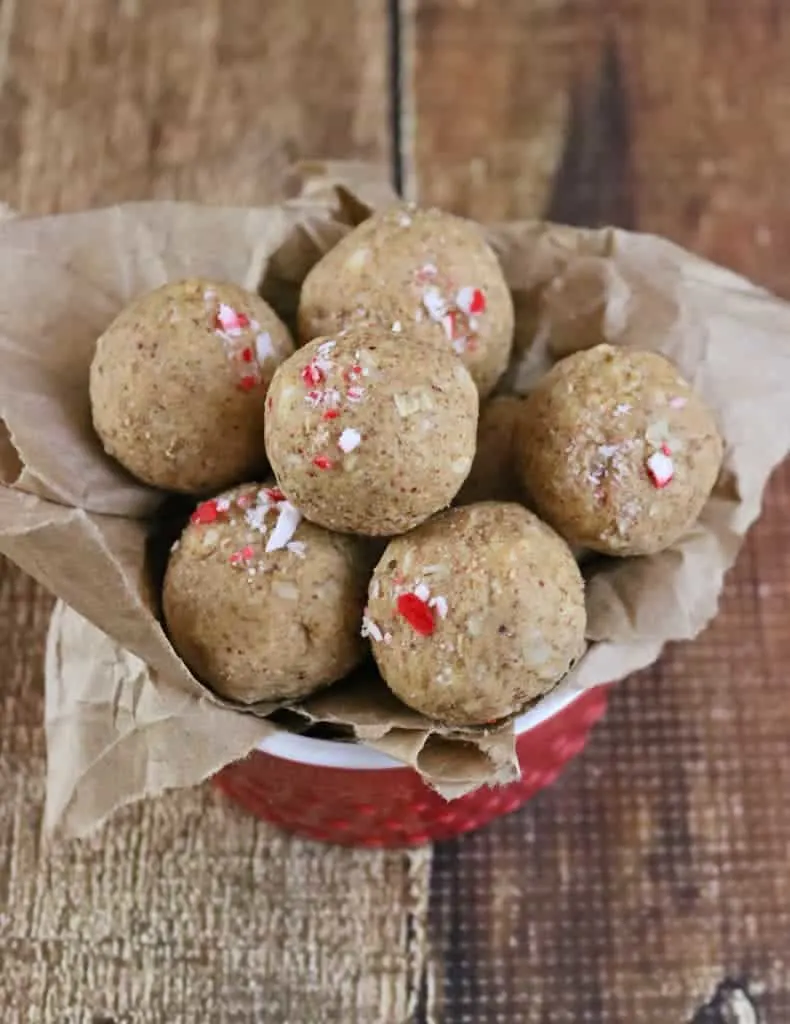 I actually made these Christmassy Peppermint White Chocolate Protein Bites one evening after watching Cookie Week on the Great American Baking Show. During this particular episode, contestants baked their way through an array of cookie bars, biscotti, and 3D cookie scenes. While my eyes feasted on Portuguese Morgado Bars, White Chocolate Dipped Biscotti with Caramelized Pecans, and Maple Butter Cookies, my taste-buds remained overworked, underpaid and feast-devoid!
As I knew the morning following would have me gawking at fellow bloggers decadent treats, I knew I would need something to keep me from trying to climb through my screen. Something that was sweet, festive, filling AND protein packed to help crush my need for screen-licking. And, my friends, that's how these Vanilla Premier Protein packed Bites with oats, almond butter, Premier Protein Vanilla Shake, coconut oil, a hint of vanilla and peppermint extracts and chunks of white chocolate, were introduced to my taste-buds…and, I do so hope you introduce them to yours too 🙂
These little bites are tasty, surprisingly filling, sweet, not too bad for me (or you), and oh so festive! They not only powered me through gawking at fellow bloggers treats, but they even powered me through my afternoon run! Talk about a multi-tasking lil bite – eh?!
[Tweet "Peppermint White Chocolate #PremierProtein Bites #MyGoodEnergy #Sponsored @premierprotein"]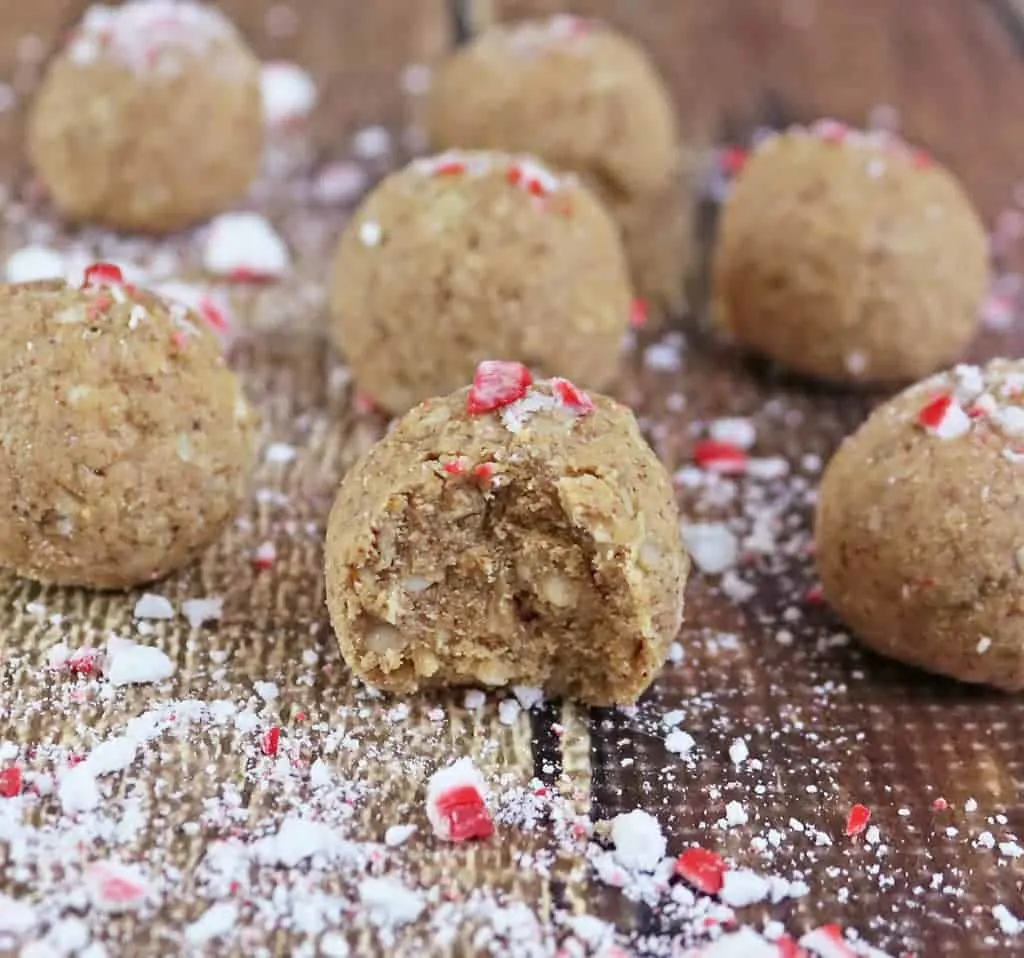 Please check out Premier Protein on Facebook • Twitter • Pinterest • Instagram as they have a ton of products and recipe ideas that can help ya incorporate a tad more protein into your day!
I've partnered with Premier Protein to bring y'all these gluten-free, Peppermint White Chocolate Protein Bites. Two years ago, I was introduced to Premier Protein and ever since, I have been a huge lover and user of their products. But that's not all. You see, I so love their philosophy to help show everyone and anyone how a good source of protein can help them "tackle life's daily challenges, feel their best and live the life they want." Thank you so much for supporting the brands that keep this Srilankan Runnin.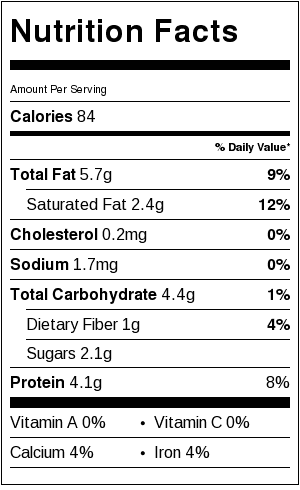 I'd love to know if you happen to make this recipe (or any other on here) so pretty please tag me @RunninSrilankan and #RunninSrilankan on Instagram, Twitter &/or Facebook. And, if you haven't yet, then please make sure to subscribe to my email list to have all sorts of eats, treats and delightful ramblings delivered right to your inbox!