These veggie puffs are made with a well-spiced blend of potatoes, carrots, and peas that are sandwiched between layers of flaky puff pastry. Irresistibly tasty and easy to make, these puffs can be made into a meal or enjoyed as a snack.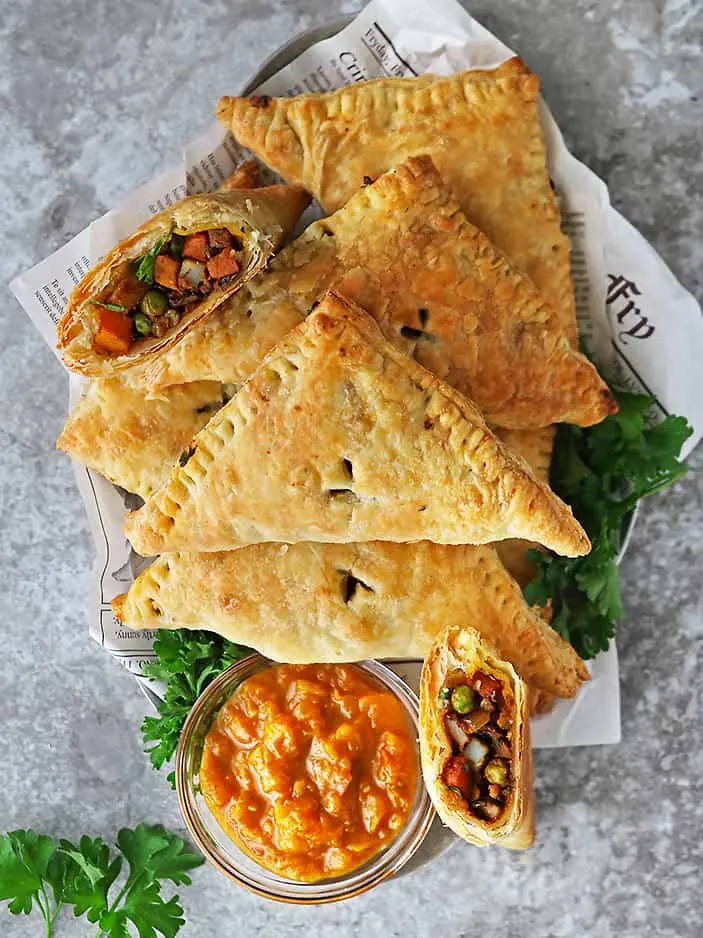 I find the lure of puff pastry incredibly hard to resist. At this point of my infatuation with it, I would gladly devour a sheet of puff pastry cut into strips, sprinkled with cinnamon, and baked until golden and flaky.
But, today's post is a little more elaborate than that.
What you see here today is my spin on a popular pastry of my youth.
During most of the years of my youth, I lived in Sri Lanka with my family. And, bakeries there would have golden and flaky veggie and meat puffs on display in their cases.
My mom would often make her version of these bakery creations, in the hope that she could sneak in more veggies into our diets. And, she won! She could have crammed ALL the veggies into that golden delicious pastry and we would have polished it off. These veggie puffs are similar to what she used to make us.
However, I tried to make these veggie puffs super easy. One of the ways I did that was to use frozen carrots and peas instead of cleaning and dicing fresh ones. I am a huge fan of frozen veggies and have been using them in a lot of curries and sautes as they are fresh and stay fresh for a while.
While I did use fresh onion, ginger, and garlic, you could use the pre-cut / pre-crushed ginger, garlic, and onions that many stores carry.
If you are wondering…
What are all the ingredients needed to make these easy veggie puffs?
Here goes…
You will need the following ingredients:
Frozen carrots and peas (if you have a separate package of frozen carrots and another of frozen peas, then use a bit of each),
A yellow potato,
A red onion,
Garlic,
Ginger,
Coriander,
Turmeric,
Smoked Paprika,
Chili powder,
Puff pastry, and
Parsley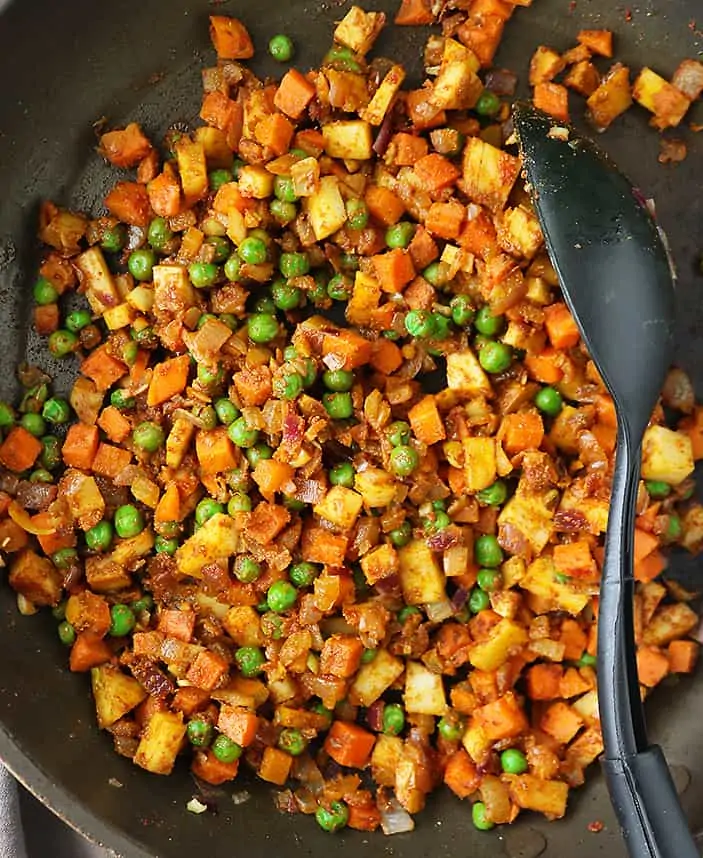 Adaptations:
While I used a package of frozen carrots and peas, you can use a package of frozen mixed veggies or any variety of frozen veggies you prefer.
You can also use a yellow onion or a couple of shallots instead of the red onion. The garlic and ginger I would strongly advise against leaving out as they add so much flavor to these puffs.
You can substitute the spices I gave listed for a blend you may have. This will drastically change the taste of these. Just make sure to add a little at a time and to taste as you cook along. Sometimes, it's better to add less and add more to taste than to add too much and have to try to correct it then.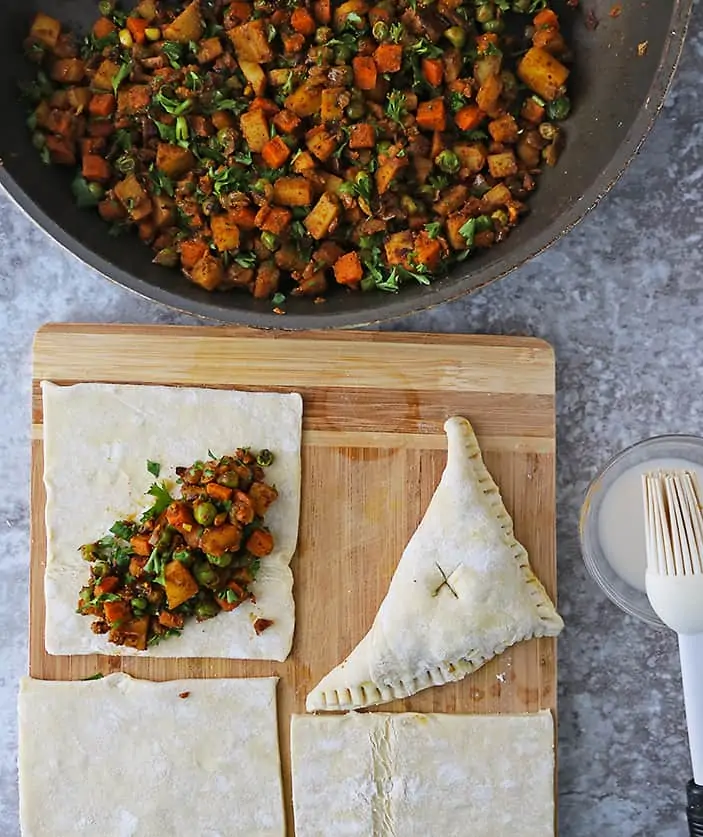 How do you make veggie puffs?
When making these puffs, I start off by sautéing the onion, ginger, and garlic with some oil.
Then I add in the potatoes and let these sauté for about 5 minutes.
The frozen veggies and spices go in next, followed by a generous sprinkle of parsley.
After the filling is done, I make sure the puff pastry has thawed completely.
Then, I cut each puff pastry sheet into four squares and fill each one with a few spoonfuls of the veggie potato mix.
I fold each square up so it's a triangle and seal them with almond milk (like I did) or whisked egg.
Then cut a small slit on each, brush with almond milk or egg again and bake!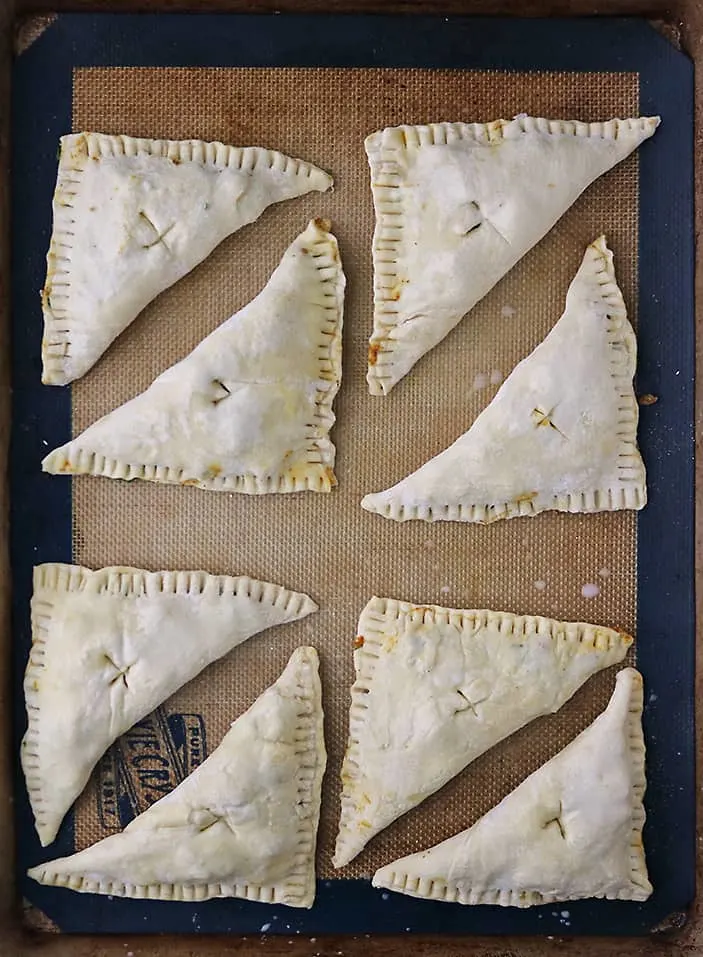 My daughter and I love these veggie puffs not only because they are tasty, but they are also so easy to make and so versatile, just like these bell pepper puffs.
Sometimes, I like to fix myself a snack of one of these puffs with a bit of peach chutney while my daughter loves hers with some sweet chili sauce.
Then there are other times when we like to enjoy these along with a large salad (like this Melon one) or with some roasted veggies.
By the way, if you would like to try a version of these veggie puffs with figs, then make sure to click on the link and check out these Veggie Figgy Puffs.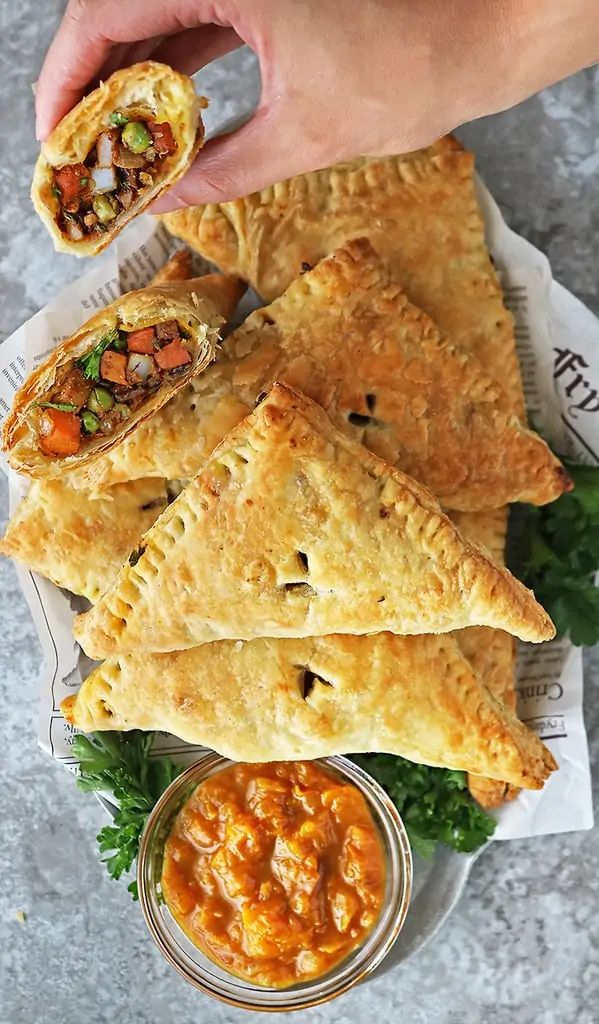 Hoping you and your family get to make these and enjoy them. If you do, please let me know your thoughts in the comments below. Or, take a photo of your creation, post it on Instagram or Facebook, and tag @Savoryspin on your post.