Made with only 10 ingredients, this easy peach chutney is a delicious balance of sweet peaches and warm spices. But that's not all – it can be made in 10 minutes and is delicious paired with crackers, cheese, croquettes, and burgers.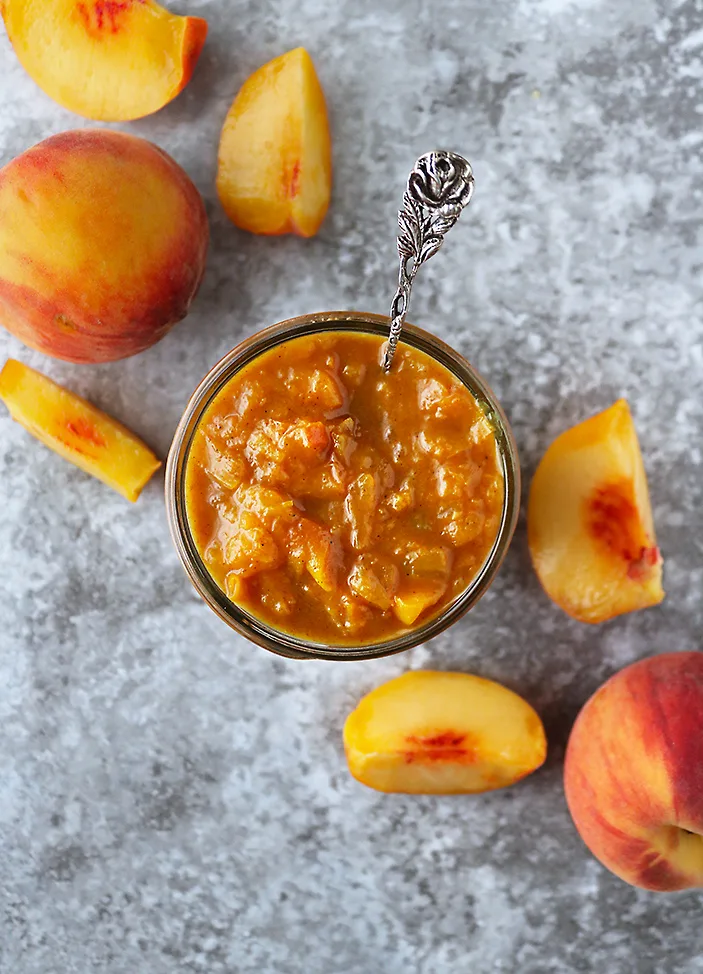 If you have a batch of ripe peaches on hand before peach season ends, then you have got to try making a small batch of this easy peach chutney.
This chutney is so tasty. It is robust and aromatic. And, so easy to make.
From start to finish, this chutney was cooked in 9 minutes, with about a 2-minute prep to dice the onion and peaches. This chutney is perfect if you happen to have company coming over and want a quick accompaniment to add to your charcuterie board. Or, want something unique to serve up with your veggie burgers or roast chicken dinner. This peach chutney seems to effortlessly elevate everything it is served with.
My daughter and I love this peach chutney because:
• It is so easy to make,
• It is sweet, savory, and well-spiced,
• It is gluten-free and refined sugar-free,
• It can be made in less than 10 minutes,
• It can be made with only 10 ingredients!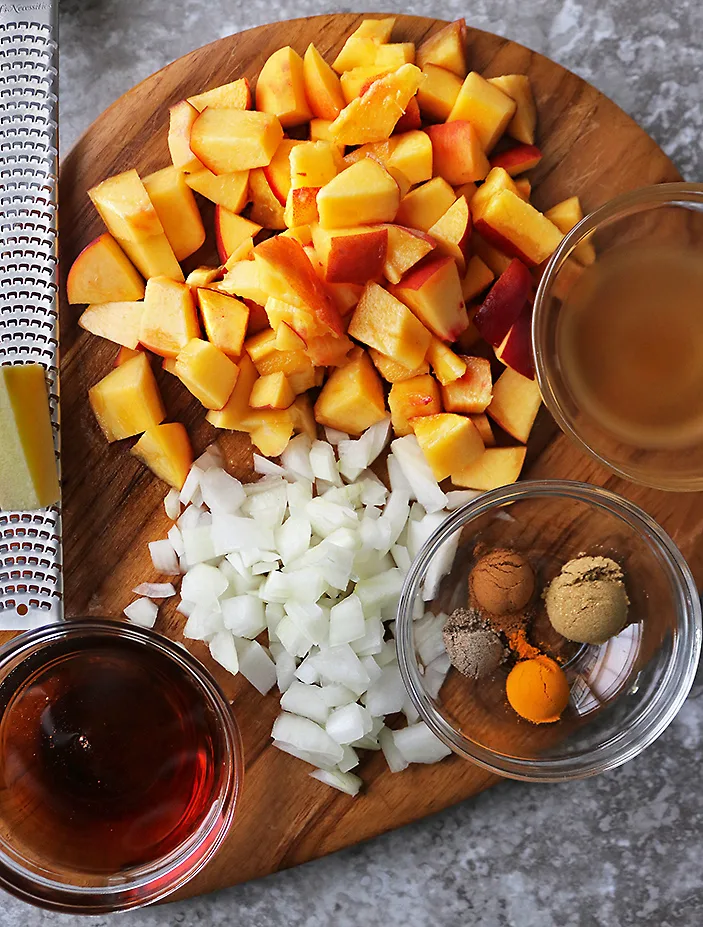 What are the ingredients needed to make this peach chutney?
The ingredients needed to make this small batch of peach chutney are:
yellow onion
fresh ginger
ripe peaches
maple syrup
apple cider vinegar
cinnamon
cardamom
turmeric
coriander
lemon zest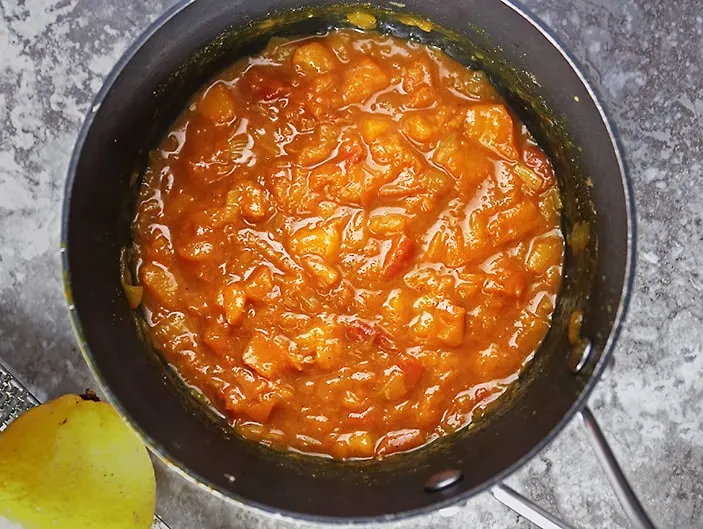 How do you make this peach chutney?
This chutney is so incredibly easy to make.
I started off by chopping up half of a yellow onion and 2 peaches.
I then added a tablespoon of olive oil to a pan that sat over a medium flame on my stovetop and dropped the onion into it. At this point, I set the timer on my stove to 10 minutes.
Then, when the onions had cooked for a minute (timer read 9 minutes), I added in the peaches, the maple syrup, the apple cider vinegar, and I grated in the ginger.
After that, I covered the pan and let the peach mixture cook for about 7 minutes (the timer had 2 minutes to go). I did uncover the pan and stir the peaches quite often so nothing got burned.
At this point I added in the cinnamon, cardamom, turmeric, and coriander and let the mixture cook uncovered for another minute, stirring it often.
I turned off the stove when the timer had s minute left and set the peach chutney aside.
I then seasoned it with salt snd pepper and added in some freshly grated lemon zest.
I let it cool down for about 40 minutes. As the peach chutney cools, it will thicken quite a bit.
However, peaches differ, and depending on their water content, the cooking time might be less or more.
The way I can tell that it needs to get off the stove is when this peach chutney gets to the consistency of a runny homemade preserve. Another test is, take a wooden spoon and trace a pathway through the chutney, if the chutney doesn't run through and stays to the sides for a bit, then it is good.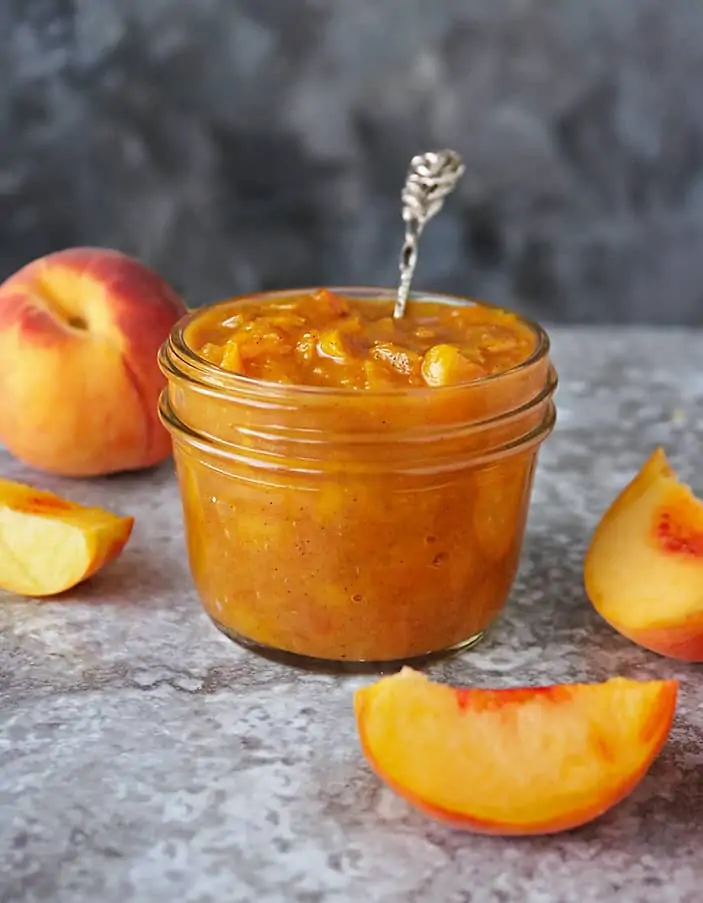 Should this chutney be served warm or cold?
If you are serving this chutney as a side dish to a dish like this Israeli couscous and chicken or these veggie burgers, then, this chutney can be served lukewarm.
However, if you are planning on serving this chutney with cheese and crackers or these spiced potato puffs, then this chutney is best served after it has had a chance to cool down and thicken.
We love this chutney with some of this three bean curry and some roti. If you are looking for more easy chutney recipes made with wholesome ingredients, then check out this mango chutney, this apple chutney, and this mango habanero chutney as well.
---
F.A.Q.'s
What does this peach chutney taste like?
This chutney tastes like a sweet and savory relish – that is made with ripe peaches!
What to do if your chutney is not thickening?
If you let this chutney cool and it is still runny, then you can place it back in the pan and heat it up over a medium flame. Keep stirring it over a medium flame, until the liquid evaporates and leaves this the consistency you want it to be. Do keep in mind that it will thicken when cooled.
How long will this chutney last?
This chutney has lasted 2 weeks in our fridge when stored in an air-tight glass container.
---