Thank you Super Lucky Elephant for sponsoring this post.
Gently spiced with coriander, cumin, smoked paprika and healing turmeric, this creamy, vegan, Easy Three Bean Curry can be whipped up in 20 minutes and is delicious served with some ready to serve rice.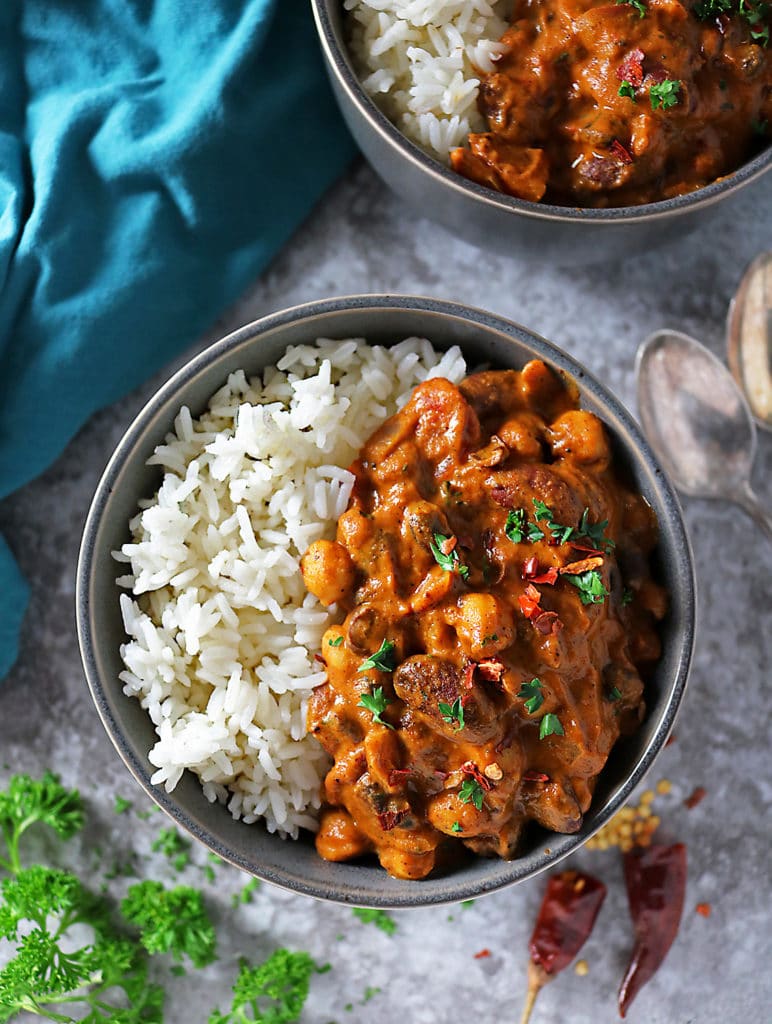 Over the last week, spring sprung the heck out of Athens, GA, leaving us with summer-like temperatures!
Even though it's technically not summer yet, I figured temps in the 90s gave me the excuse to kick off summer early.
And, I decided to get my summer celebrations started by taking a much needed reprieve from juggling those web development courses I was taking.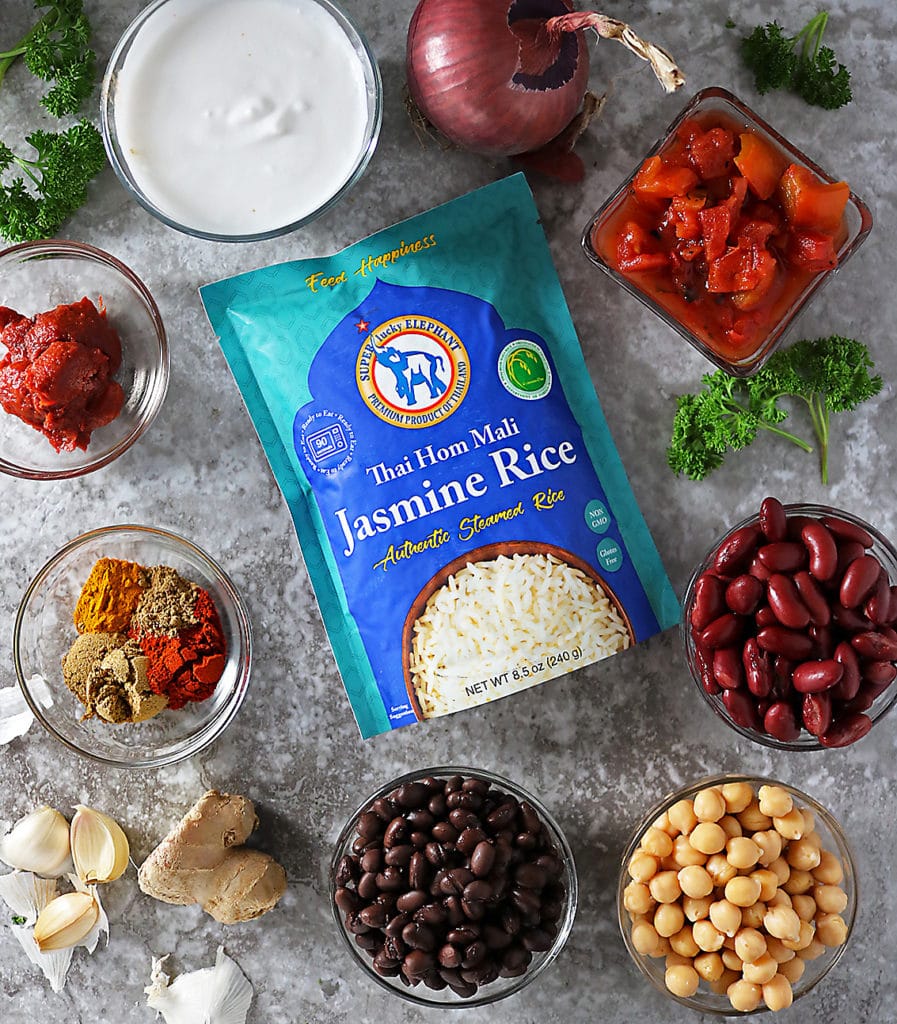 Summer is for slowing down – right?
With studying, working and cooking, I felt I was constantly in the fast lane. On a side note, people drive slower here in in this college town which has me feeling like I am that leadfooted freak that's enacting The Fast and The Furious every time I get behind my wheel. But… I digress…
Let's get back to talking about slowing down…instead of speeding up…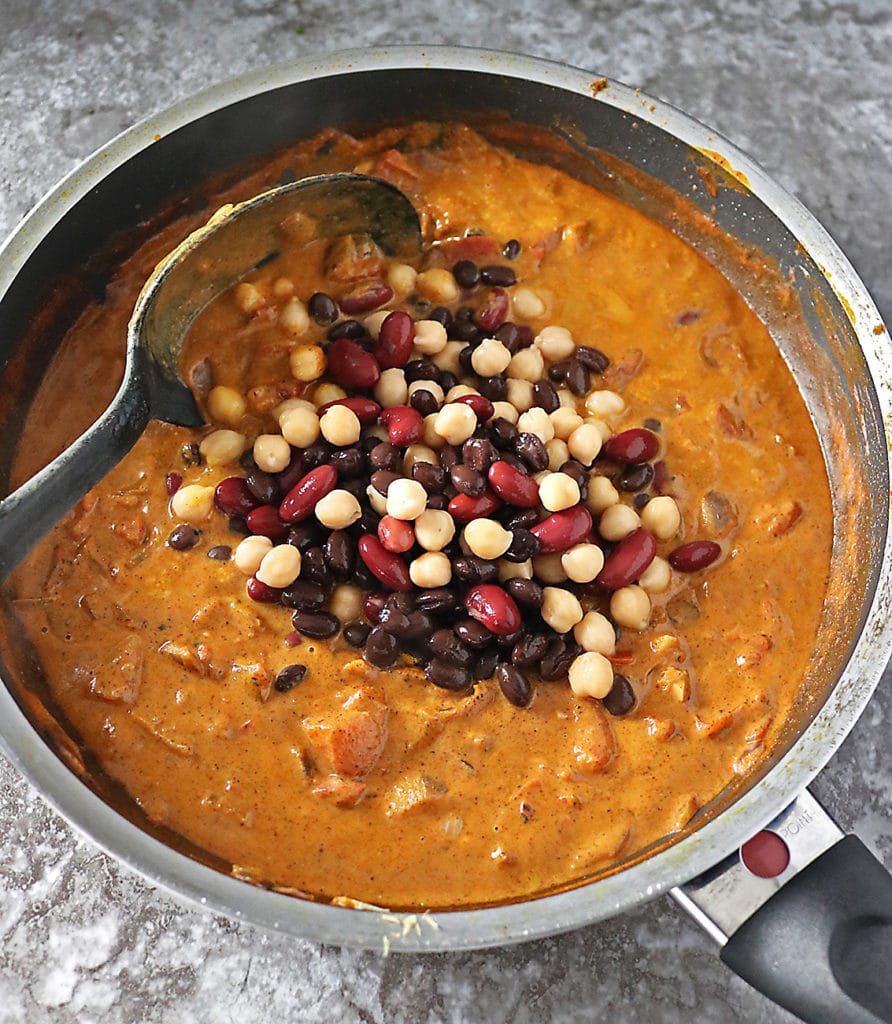 Another part of slowing down has been adding a little spin to the meals I prepare.
I am not a huge fan of eating out so, instead of taking nights off of cooking and picking up takeout, I opt to cook half a meal, like I have done here.
In today's post, I cooked the creamy, vegan, Three Bean Curry you see here and instead of cooking the rice to go with it, I opted to heat up a packet of ready-to-serve Thai Hom Mali Jasmine Rice from Super Lucky Elephant.
Tips to making this Easy Three Bean Curry:
• I used canned chickpeas, kidney beans and black beans, but feel free to use your favorite variety of beans.
• I used coconut cream to make this curry luxuriously creamy, but, feel free to use half the amount of coconut milk and replace the other half with vegetable stock to make this less thick and creamy.
• I toasted the cumin and coriander before adding them to this dish as toasting the coriander and cumin intensifies their flavors as well as adds a nice shade of brown to this tomato-heavy curry.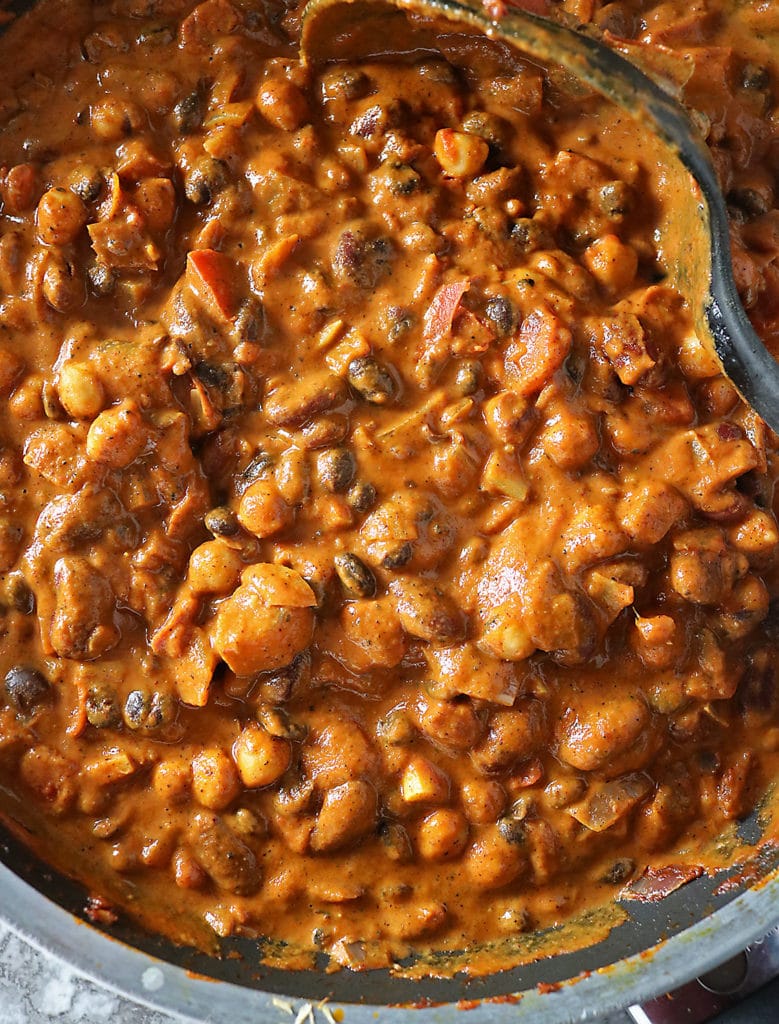 Have you had the chance to try Super Lucky Elephant Thai Hom Mali Jasmine Rice products?
If not, I gotta say, Super Lucky Elephant Thai Hom Mali Jasmine Rice is so aromatic and flavorful. Super Lucky Elephant brings rich culture to my kitchen through every grain of Thai Hom Mali Jasmine Rice. Thai Hom Mali Jasmine Rice is an authentic, traditional rice grown, processed and packed only in Thailand (as depicted by the green and yellow seal on the packaging). It is the most prestigious variety of rice in the world – its purity and quality are certified by the Thai government. Super Lucky Elephant rice varieties are non-GMO and gluten free. Convenience without compromise – Super Lucky Elephant products are microwaveable and ready in 90 seconds. If you'd like to add an element or ready-to-serve flavor and fun to your meals, Super Lucky Elephant is a foundation of every meal that turns ordinary food into a delicious and shareable culinary experience.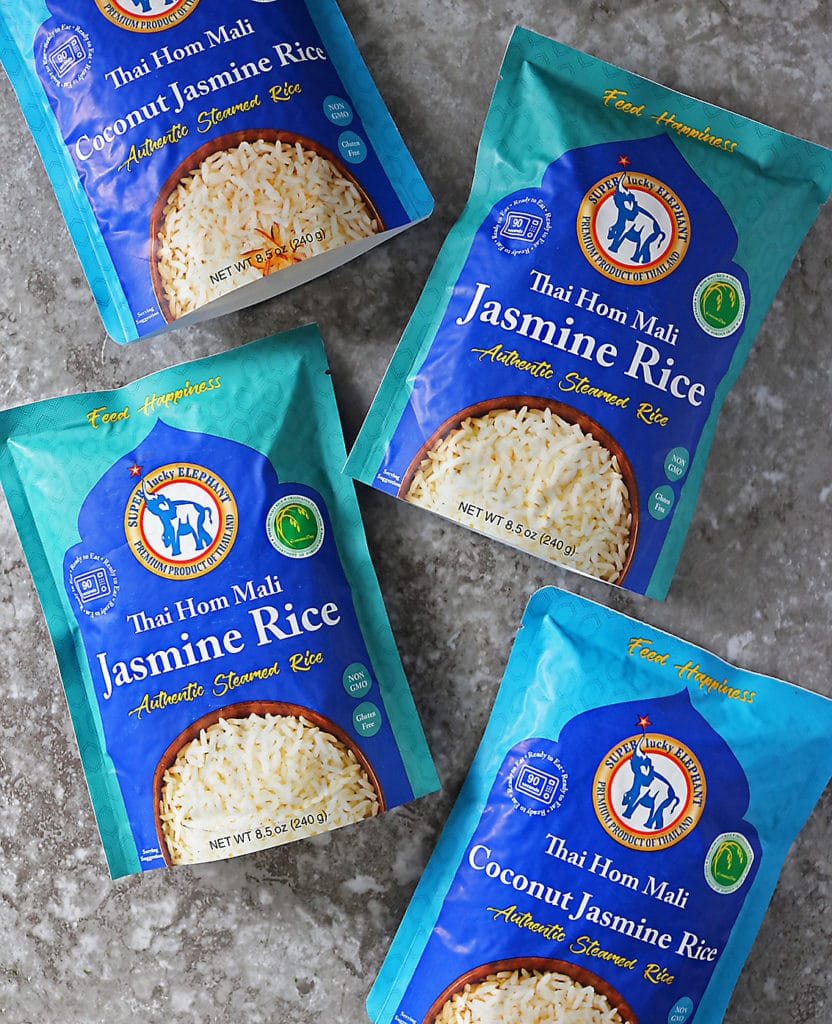 Super Lucky Elephant produces two varieties of ready-to-serve rice:
• Thai Hom Mali Jasmine Rice, and
• Coconut Thai Hom Mali Jasmine Rice.
You can purchase varieties of Super Lucky Elephant right from this website. 
Life can be hectic, but dinner with your family doesn't have to be. So, here's hoping you get to slow down, skip the takeout and cook up half a meal with Super Lucky Elephant Thai Hom Mali Jasmine Rice products making the other half.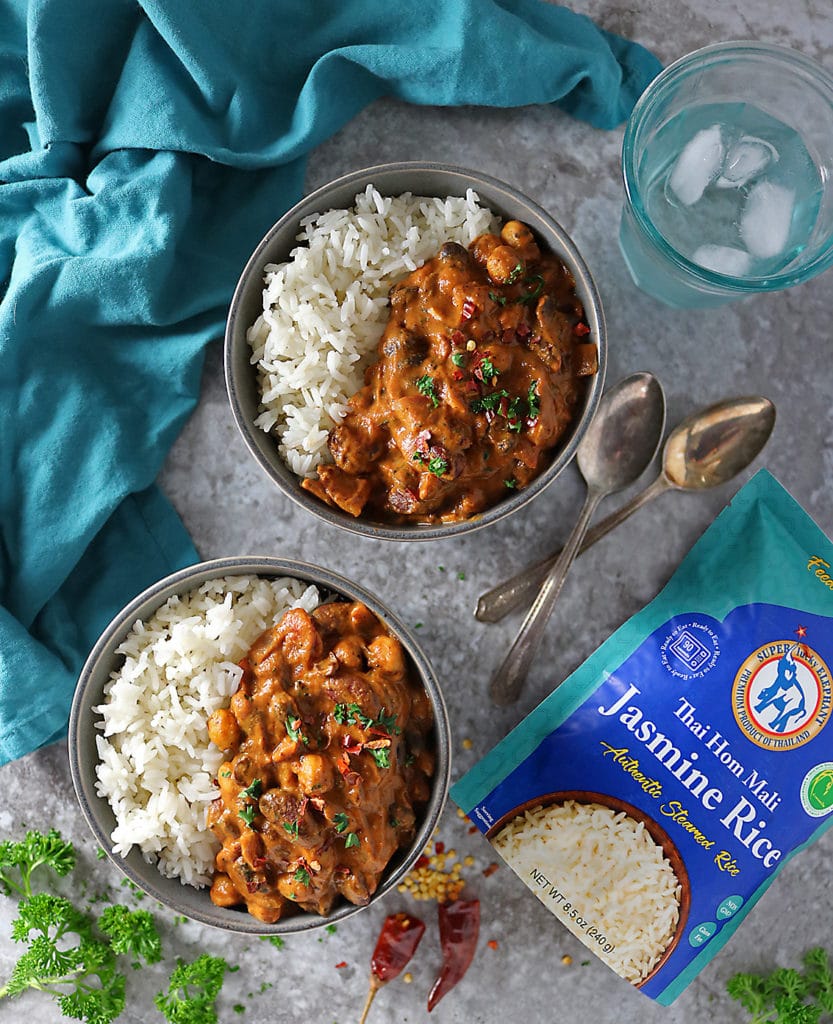 I would love to know if you've make this recipe or any other recipe from this blog so please do rate the recipe and let me know your thoughts on it in the comments below.
You can also FOLLOW ME on FACEBOOK, TWITTER, INSTAGRAM and PINTEREST to get recipe ideas and inspiration.
©Savory Spin All content and images are protected by copyright. Please do not use my images or recipe without my permission.
I was selected for this opportunity as a member of CLEVER and the content and opinions expressed here are all my own.