Lightly crispy on the outside and soft on the inside, these cubed Roasted Sweet Potatoes are gently spiced with coriander, smoked paprika, and turmeric. They are an easy and tasty, 5-ingredient side dish that pairs well with chicken, fish, turkey, and many more.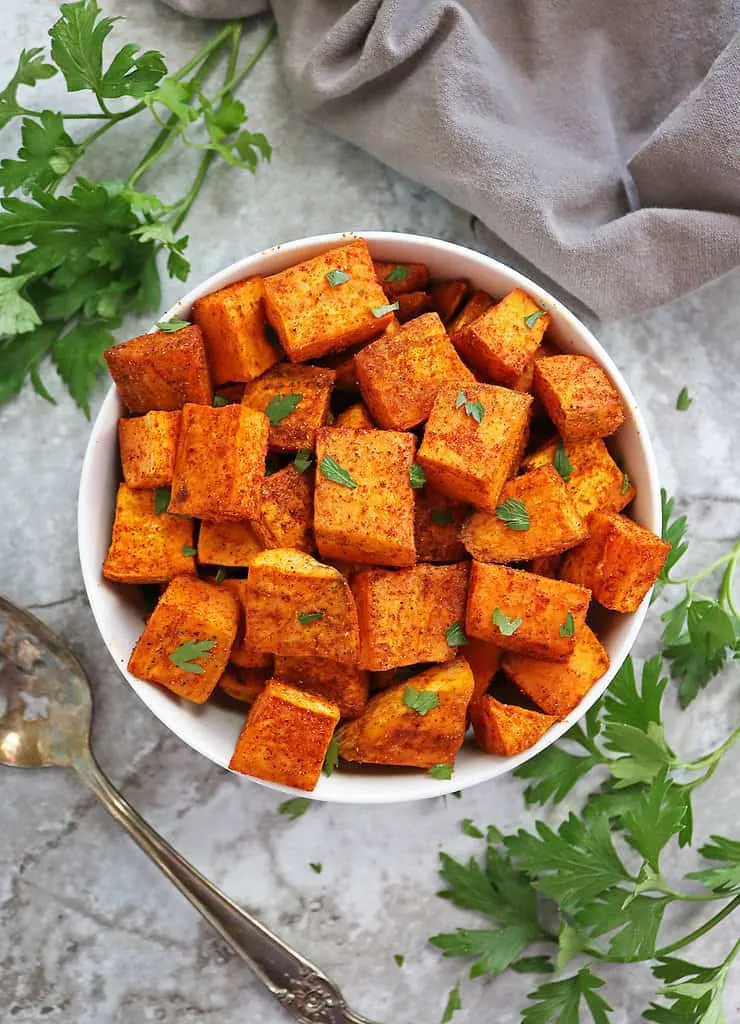 Sweet potatoes can rock a variety of dishes and cooking methods.
They are just as deliriously delicious tossed into a spicy curry, a savory soup, rich cupcakes, or sweet bars.
Grilled, puréed, sautéed, or boiled, sweet potatoes are versatile veggies that are nutrition powerhouses too.
In this easy Roasted Sweet Potatoes dish, sweet potatoes are cubed, tossed with a smattering of spices, and baked to perfection.
These little cubes of roasted sweet potatoes are a harmonious blend of lightly crisp and deliciously spiced on the outside and soft and sweet on the inside.
This Cubed Roasted Sweet Potatoes dish is a vegetarian/vegan dish that can be enjoyed as a side dish, tossed into a salad, or mixed into a bowl.
I love this dish as it is as tasty as it is easy to make. It only takes about 40 minutes, from initial prep to plating. And, you only need 5 easy-to-find ingredients to make it!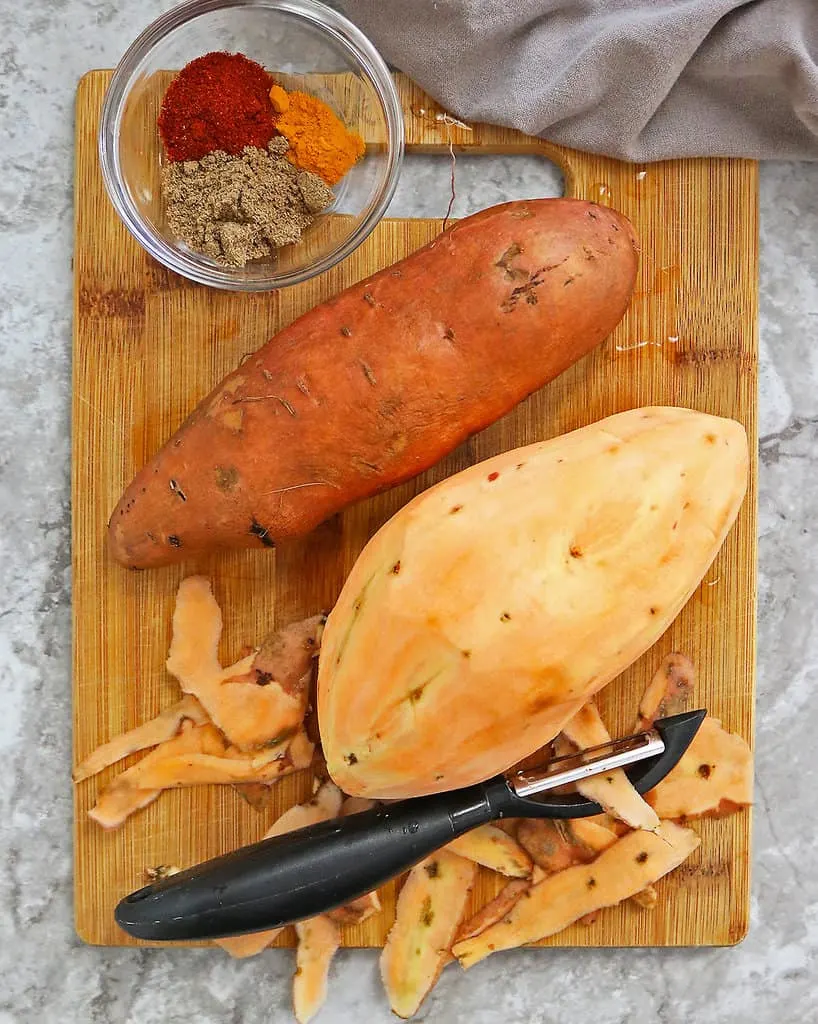 What are the ingredients to make this dish?
You will need the following 5 ingredients to make these cubes roasted sweet potatoes:
Your favorite oil spray
Sweet potatoes
Coriander
Smoked paprika
Turmeric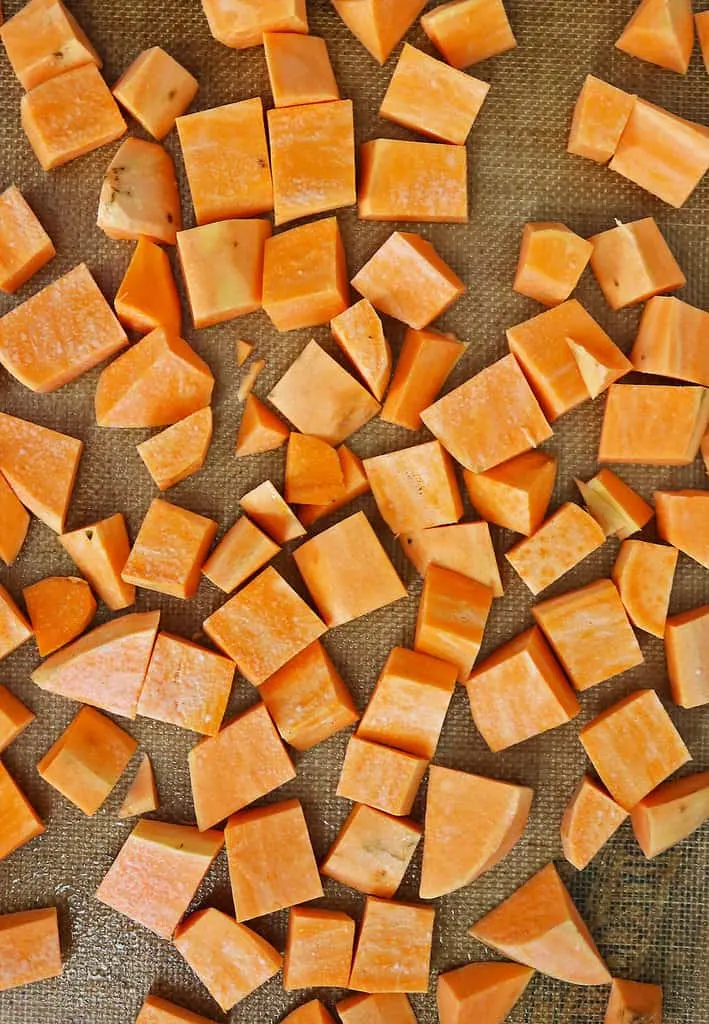 For this recipe, I like to cut the sweet potatoes into cubes before baking them.
The best way for me to do that is by cutting the sweet potato lengthwise and placing both halves on a cutting board, with the cut side down. This way, the sweet potatoes won't be wobbling around, making cutting them unsafe.
After that, I cut it lengthways into strips and cube the strips.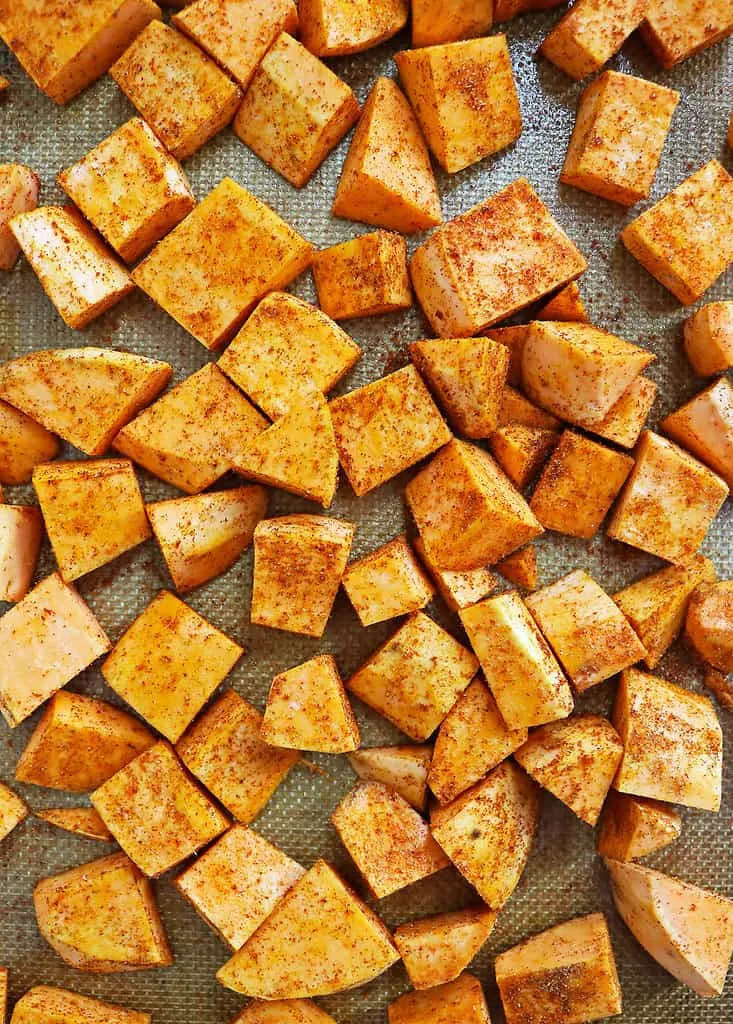 Can I cube sweet potatoes ahead of time?
Definitely. Sweet potatoes can be cut into cubes 1 to 3 days before you need to use them in a recipe like this one. However, they have to be stored to minimize any browning. In my opinion, this can be done by two methods. One is to toss the cubed sweet potato in some fresh lemon juice and store it in an airtight container. The second is to place the cubed sweet potatoes in an airtight container filled with water.
In my opinion, for this recipe, it is best to peel and cube the sweet potatoes just before roasting them for the best outcome.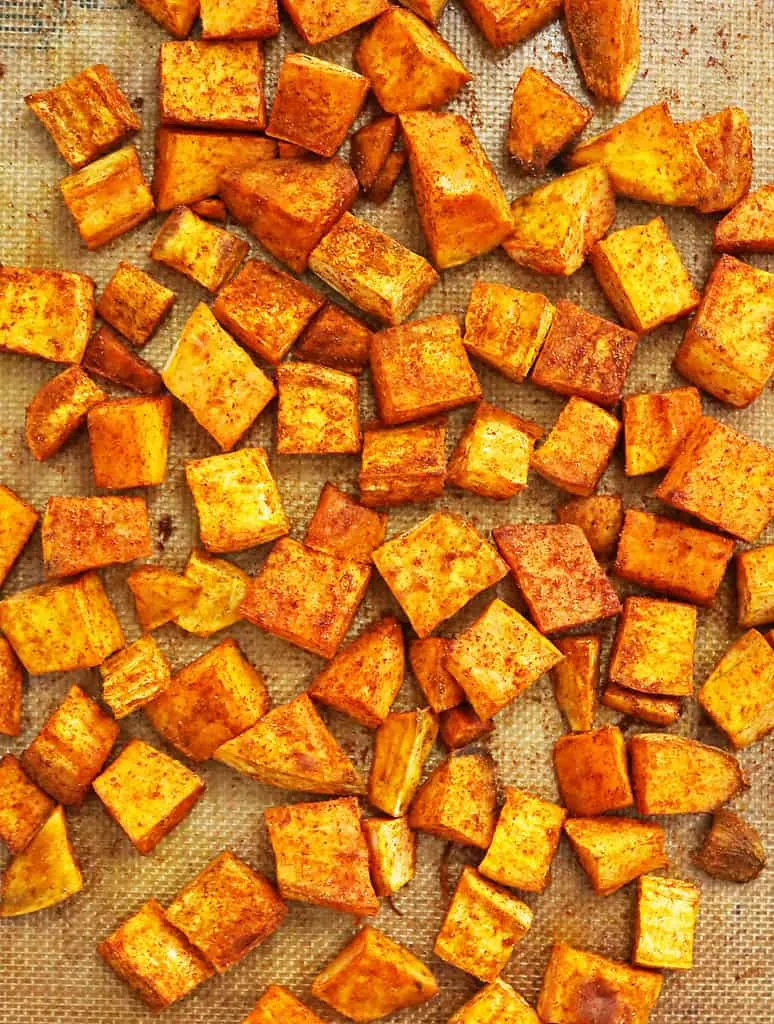 Do I need to pre-cook the sweet potatoes before roasting?
For this recipe, I find that sweet potatoes do not need to be pre-cooked. Boiling them or parboiling them before roasting is not necessary at all. In fact, for me, roasting raw sweet potatoes has resulted in some delightful crisp-on-the-outside and soft-on-the-inside sweet potatoes.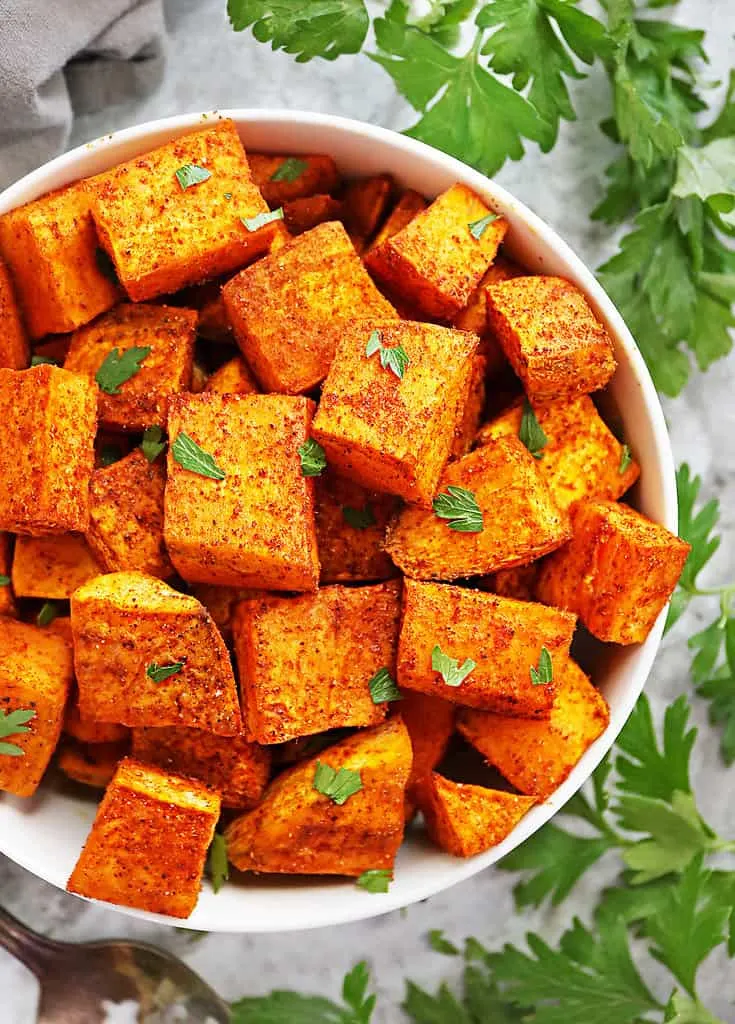 Why are my roasted sweet potatoes not crispy?
So, in my experience, there are two reasons for oven-roasted sweet potatoes to not be too crispy.
One is that they are not baked at a high temperature. I have found that baking cubed sweet potatoes at 425 degrees Fahrenheit (218 Celsius) to 450 degrees Fahrenheit (232 Celsius) for 20–30 minutes provides great results. If you are wondering why the range, well, most ovens seem to differ in temperature. When I bake sweet potatoes at my mom's at 450 degrees F for 30 minutes, they are perfect. However, if I baked them at 45 degrees F for 30 minutes in my oven, they would be on the verge of becoming charcoal!
The second reason your oven-roasted sweet potatoes might not be too crispy is because the baking sheet is overcrowded and the cubes of potatoes seem to overlap each other.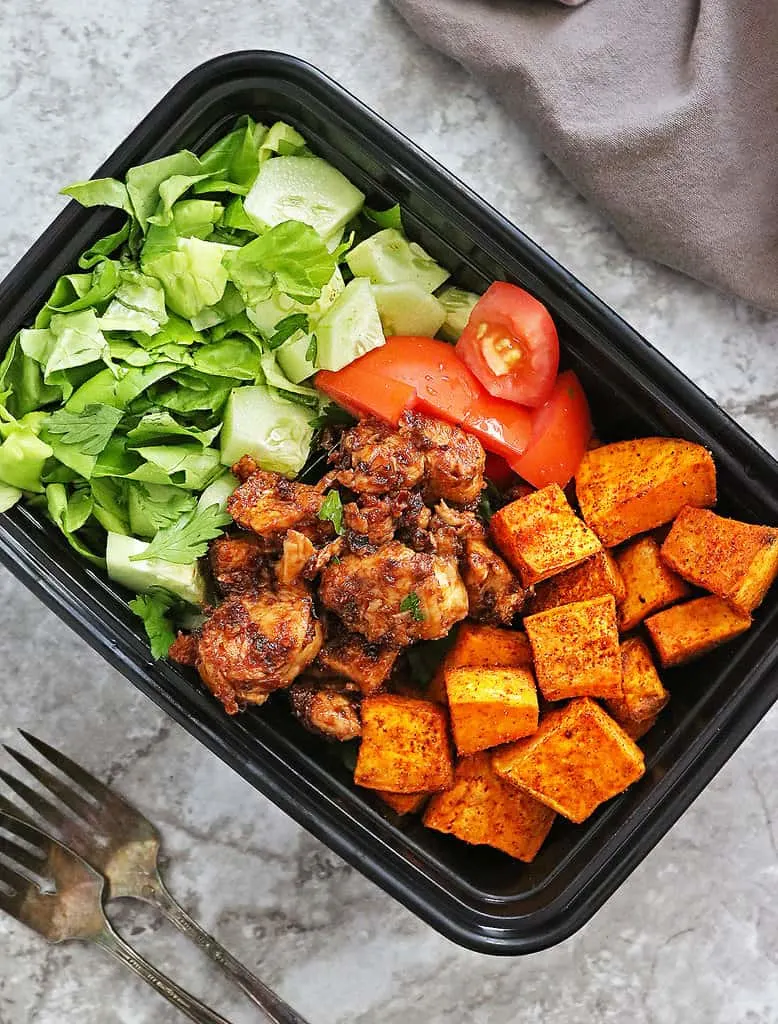 How to serve these Cubed Roasted Sweet Potatoes?
This recipe can be served as a side to chicken, fish, or pork. It is an easy and tasty dish that can be part of a simple vegetarian dinner or as part of a more elaborate holiday gathering around turkey and all the fixings.
I made a batch of these cubed roasted sweet potatoes to take along on a picnic when my boyfriend and I decided to head down to Legion Field and watch The Purple Xperience (a Prince tribute band). We enjoyed these sweet potatoes in bowls along with some cherry chicken (recipe coming soon), cucumber, tomatoes, butter lettuce, and cherry chutney.
---
---