Busy night? Then you need these delicious, flavor-packed, 30-minute Curried Mango Pork Chops on your dinner table! Just 6 ingredients (with garnishes) and in less than 30 minutes you can have a delicious, flavor-packed dinner on your table.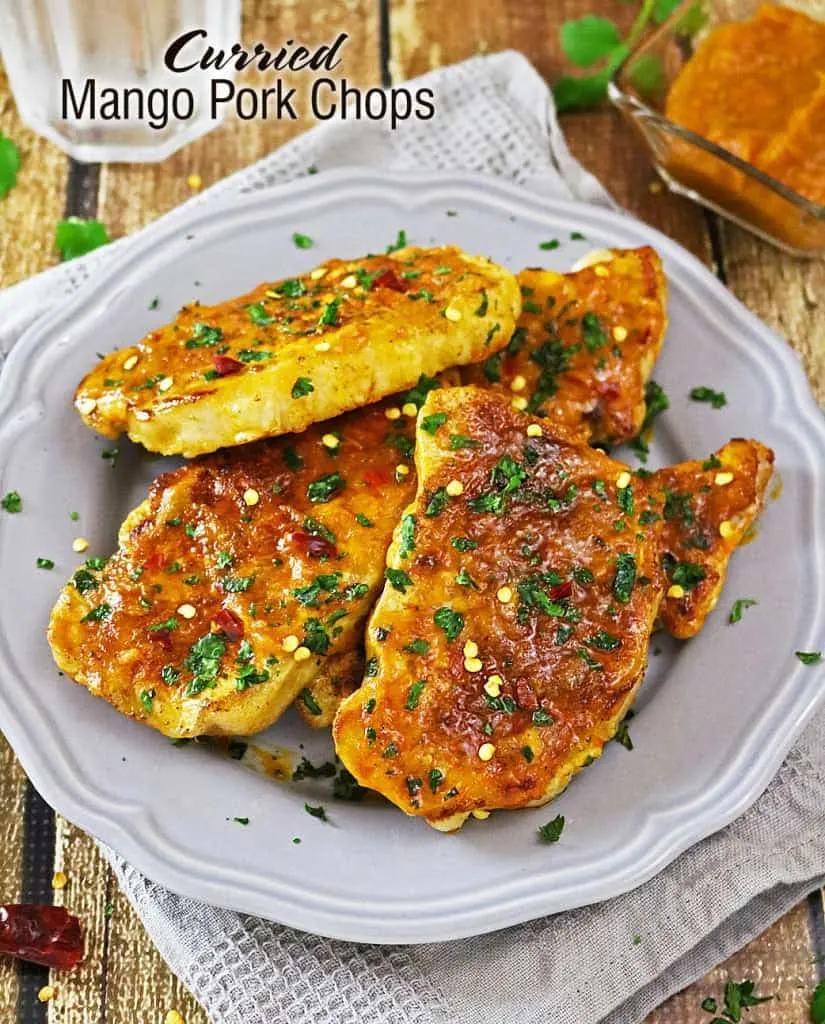 Is it just me or has there been a major spike in technological advancements recently?
Just the other day I read about these new-fangled, contact lenses with a built-in, blink-triggered, camera in them. Then I heard about the line of completely solar-powered GoSun stoves and grills. Which were in the same article with The Nima which can detect gluten in foods in less than 2 minutes – which would be a huge breakthrough if you suffer from Celiac disease.
Shortly after, I saw an EHang drone that could carry a passenger in it and started dreaming of all the pros of having one of these!
Just imagine – I could come to each and every one of y'alls homes and personally sample the delectable eats y'all post – no more licking the screen for this gal!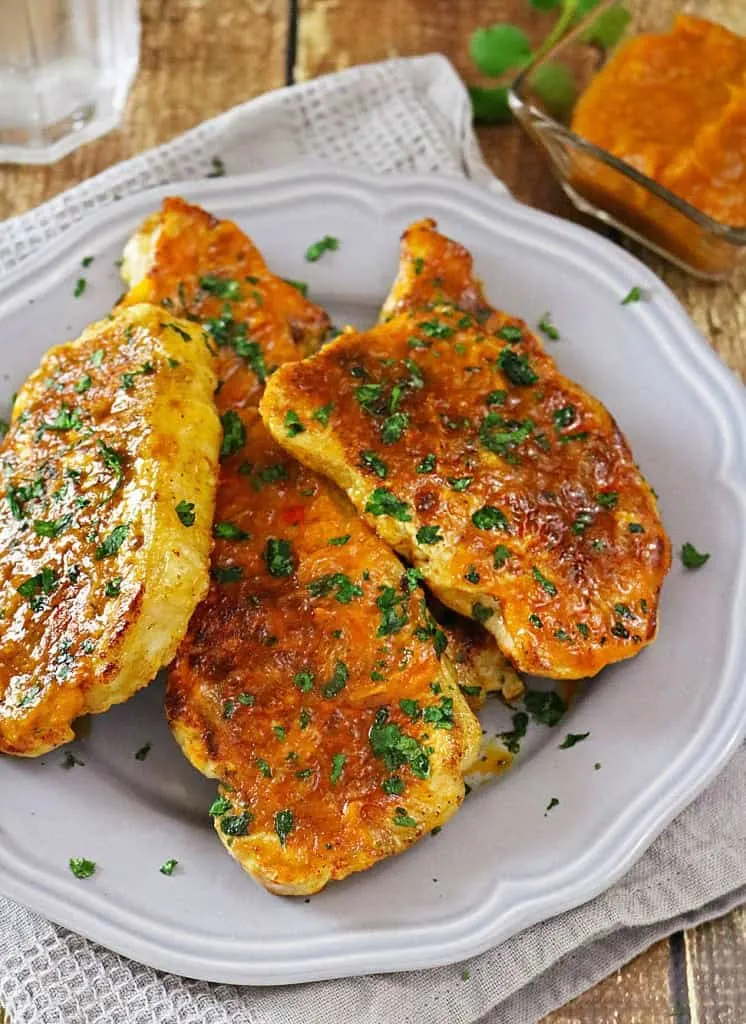 Of course, all these gadgets and gizmos started to get me excited as I was hoping that someone, somewhere would come up with a mango peeler-and-cuber – but alas, my hope was to no avail.
You see, I adore mangoes – and often go overboard when I run into ripe, juicy mangoes at Walmart! But, mangoes take time to be peeled and cubed.
I hate to confess this, but sometimes, I just slice into a mango and simply suck the flesh off the skin – yes, it's a messy sight, but hey, when you are a hardcore mango lover, you get dogs and have them lick the mess up!
Just kidding.
Maybe.
Recently I've resorted to pureeing some of the mangoes I bring home from Walmart in an attempt to make them last longer. I then use that puree in baked goods soups, dips, and marinades like this Curry Mango Marinade that enveloped these spiced boneless pork chops – which I also happened to pick up from Walmart when I was stocking up on ripe mangoes!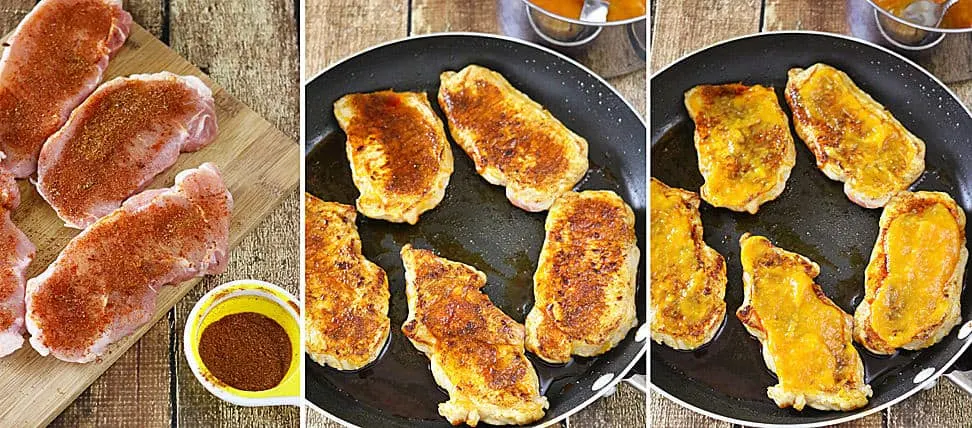 Getting back to these Curried Mango Pork Chops:
In order to get a tastebud-tingling mix of sweet and spicy, I used a curry powder and paprika dry rub on these Boneless Pork Chops.

Then I pan sauteed them to seal in that first layer of flavor before smothering them with paprika and curry-spiced mango marinade.

Just 6 ingredients (with garnishes) and in less than 30 minutes you can have a delicious, flavor-packed dinner on your table.

My daughter and I enjoyed these Curried Mango Pork Chops with a side of roasted broccoli and a dipping sauce of the thickened Curry Mango marinade – you can add in some brown rice or rolls as well.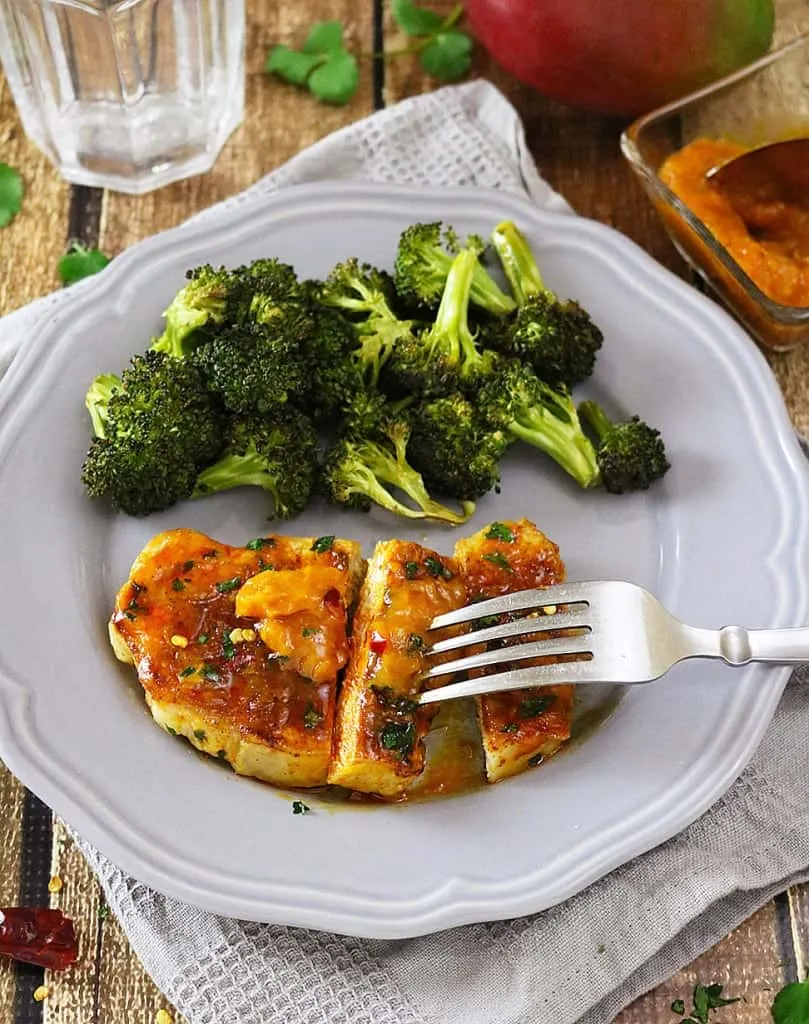 Smithfield farms made a quick video of these Curried Mango Pork Chops and I am hoping it will convince y'all to get cooking!