You can have a tasty, nutritious, dinner on the table in less than 30 minutes by serving up these delicious bowls of Easy Turmeric Cauliflower Mash, Marinated Fresh Pork, and a variety of greens.
This shop has been compensated by Collective Bias, Inc. and its advertiser. All opinions are mine alone.
#SmithfieldFast #RealFlavorRealFast #CollectiveBias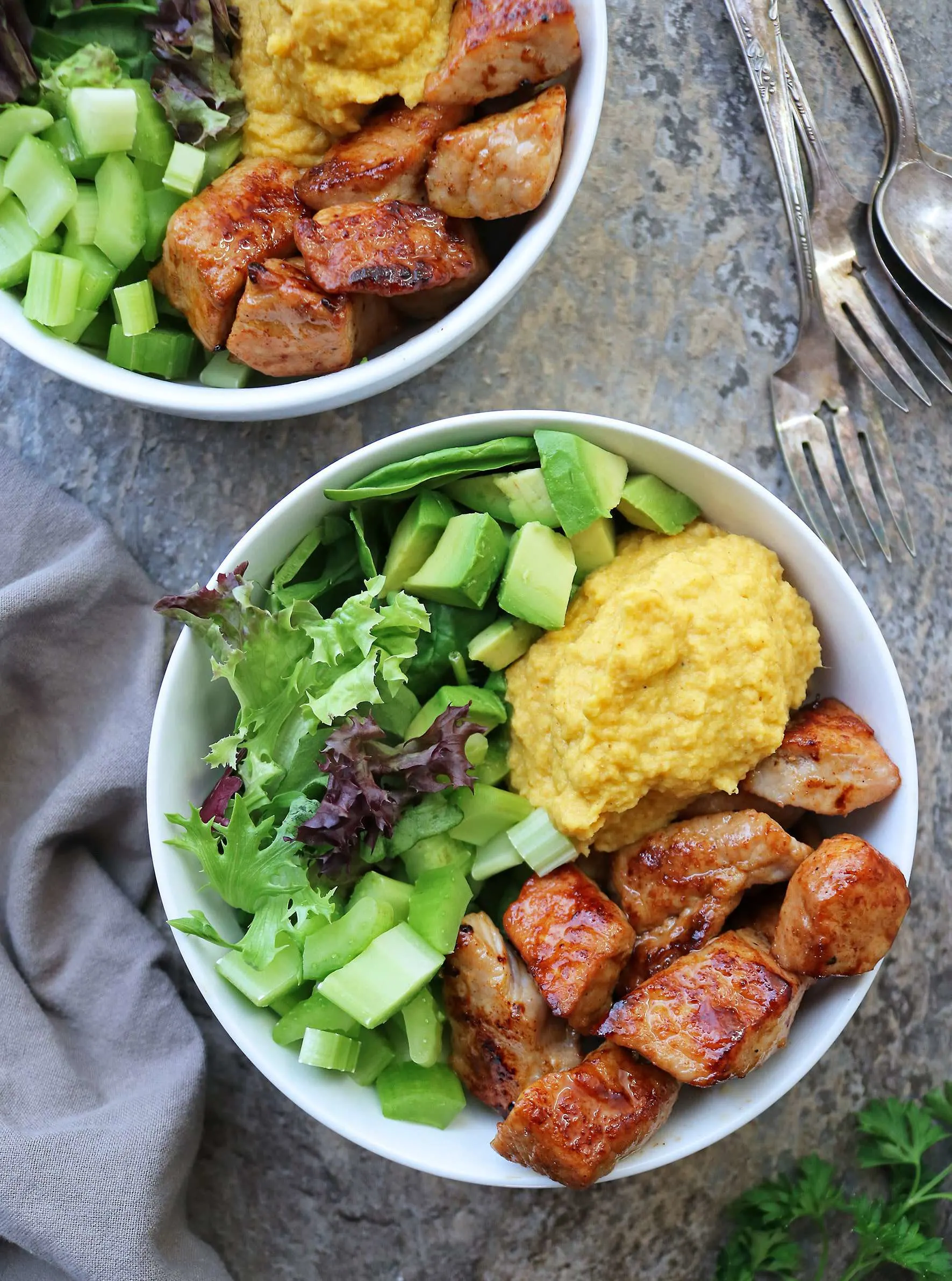 When you wake up in the morning, do you remember those dreams you dreamt at night?
It's not often that I remember my dreams.
In fact, more times than not, I feel like I haven't even dreamed over the course of a night.
However, all that changes if I eat too close to bed.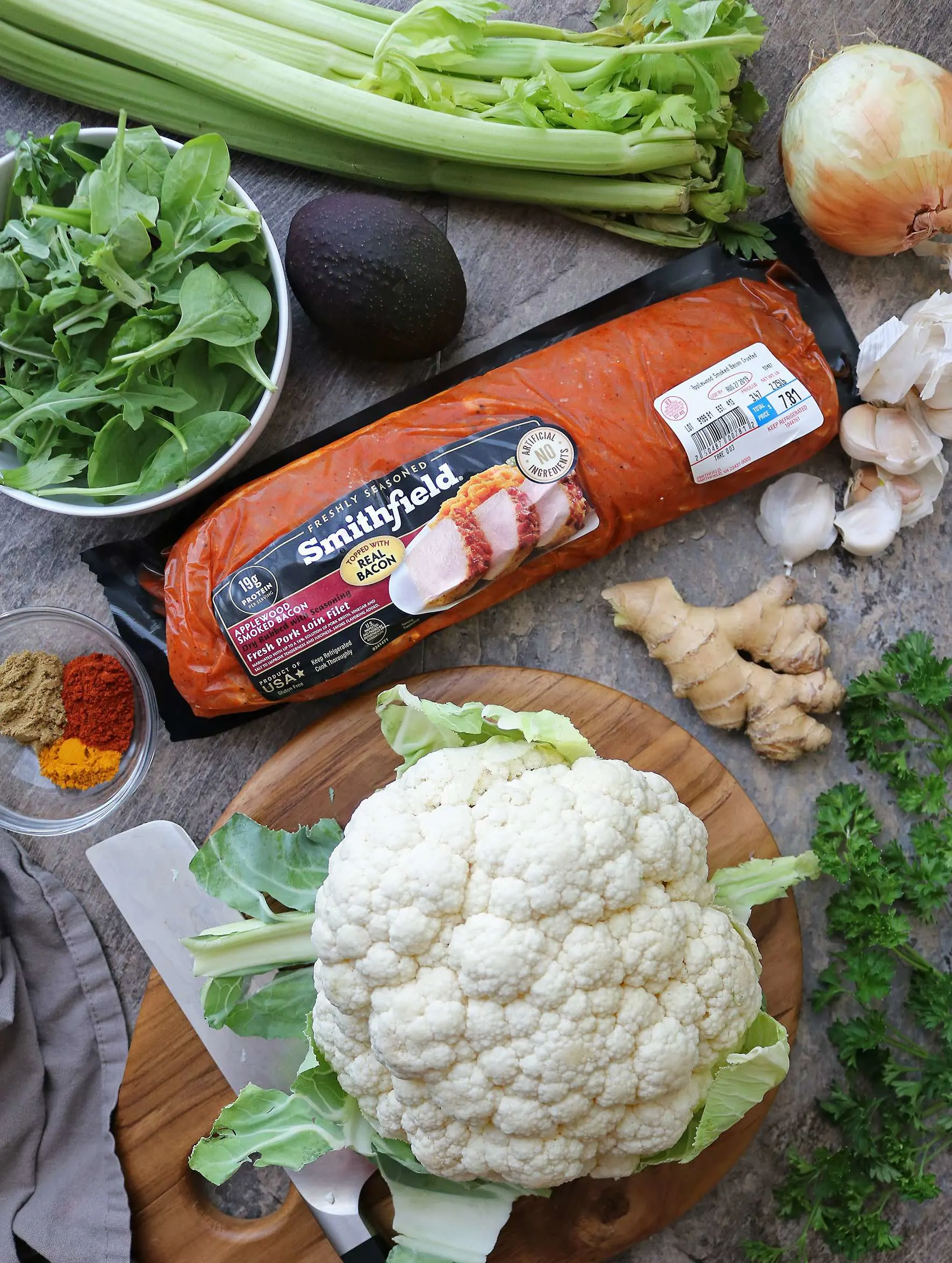 If I come home late from work and lollygag around until darkness falls and then proceed to whip up something like this Garlic Pumpkin Soup, well, that will be a night filled with some vivid and weird dreams.
Now, don't get me wrong, I like to remember those dreams I dream – but, most times when I eat too close to bed and dream, well, the next morning I feel like I have been working out in my sleep!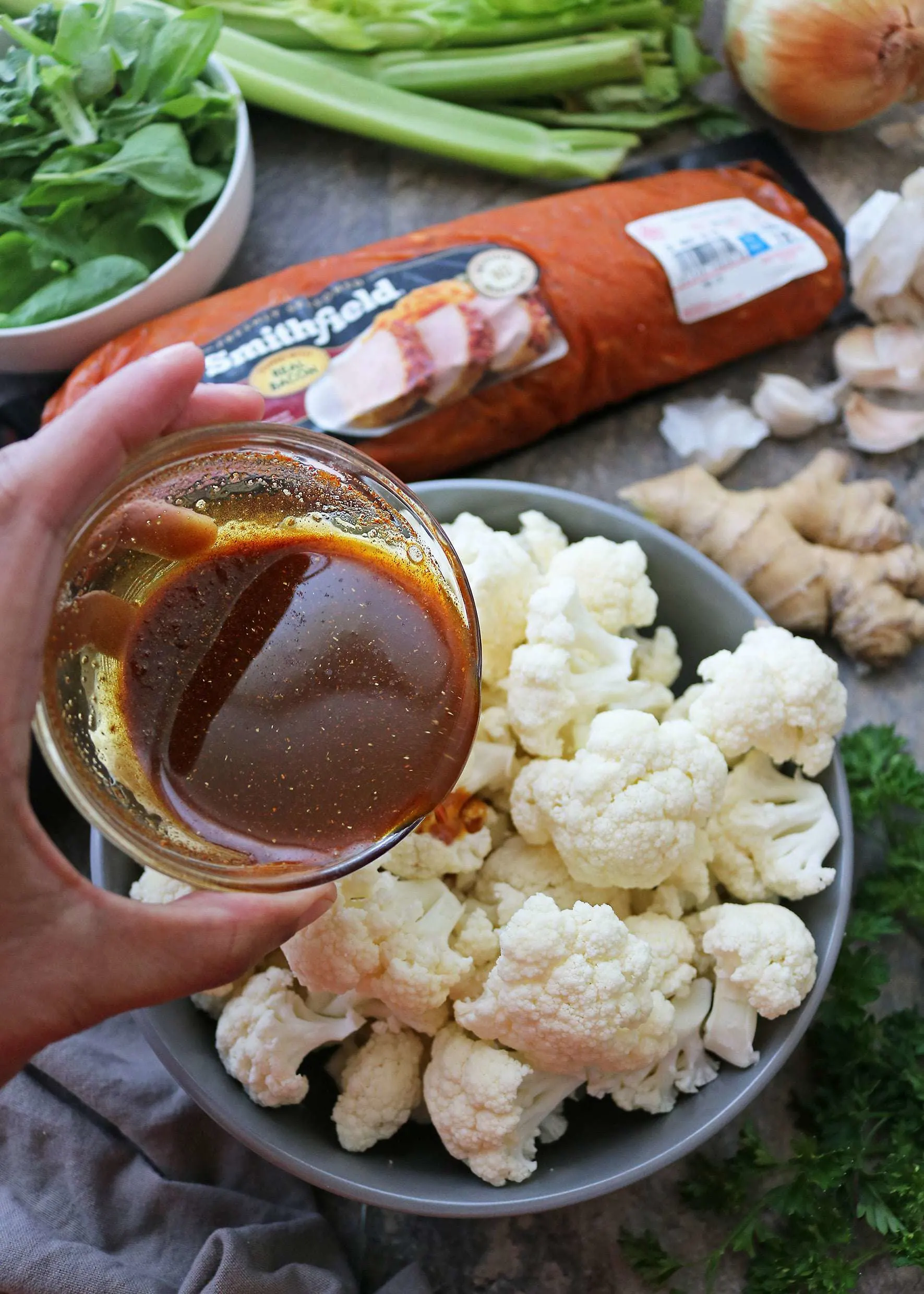 The only way I can make sure I get a restful night of sleep (even if that might mean I don't remember my dreams) is to make sure I grab dinner as soon as I come home – and as far from bedtime as possible.
Most times I have leftovers from meal prepping over the weekend. But, usually around Thursday, I'm all out and must whip up something for dinner.
Which in turn means that dinner must be super quick and tasty!

I usually have a package of Smithfield Marinated Fresh Pork or Smithfield® pork chops hanging out in my refrigerator and this comes in quite handy when I'm looking to prep a meal that is "Real Fresh, Real Flavor, Real Fast".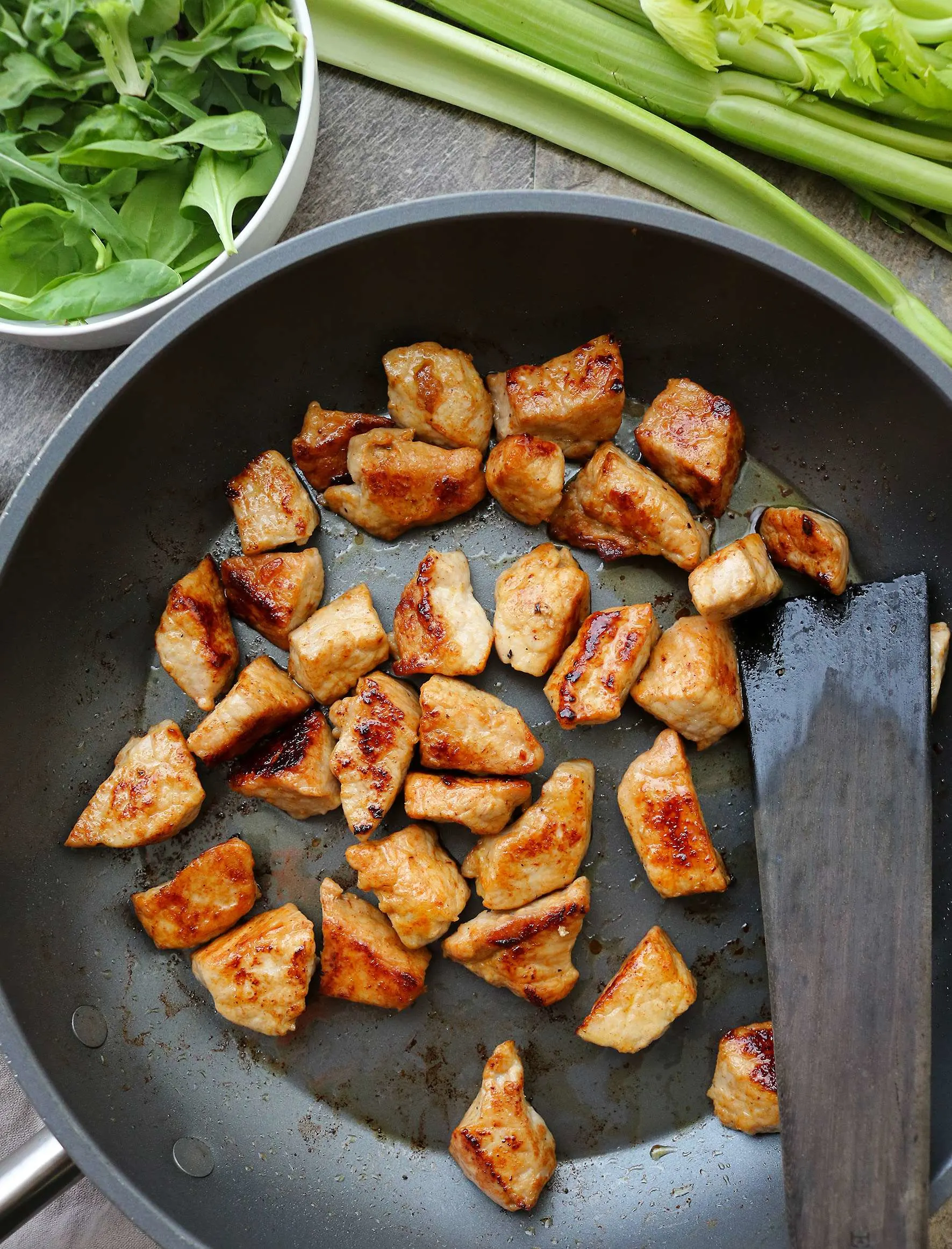 Some nights I whip up a spicy pineapple pork salad, or some sweet and spicy pork chops, or even some curried mango pork chops to enjoy. Other nights, I put together a bowl of Turmeric Cauliflower Mash with some pan-sautéed Smithfield® Applewood Bacon Loin Filet, some avocado, celery and greens for a tasty, filling, and quick fall-inspired meal that's ready in 30 minutes or less (like you see here).
We are huge fans of Smithfield® and usually pick some up when we do our weekly Walmart run. Whether I'm grilling it up, currying it, cubing it or pan-sautéing it, I love the versatility and quality of Smithfield® fresh pork. Made with real, all natural ingredients, Smithfield Marinated Fresh Pork delivers real flavorful solutions.
Perfectly marinated and perfectly seasoned, 100% fresh Smithfield Marinated Fresh Pork Loins provide for a delicious, hassle-free meal in no time. And, that's not all!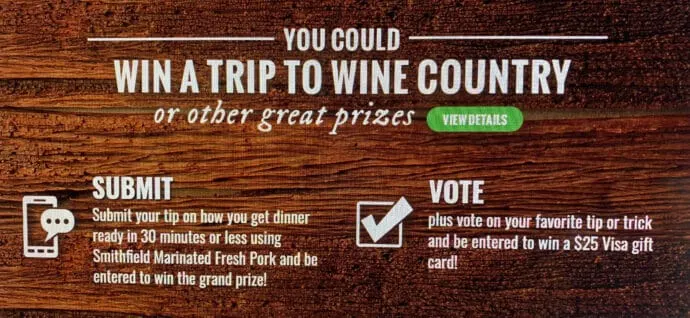 Now, YOU could WIN a TRIP to wine country with Smithfield® Marinated Fresh Pork and Gallo® Family Vineyards.
Sweepstakes information and rules can be found at http://www.smithfieldrealflavorrealfast.com/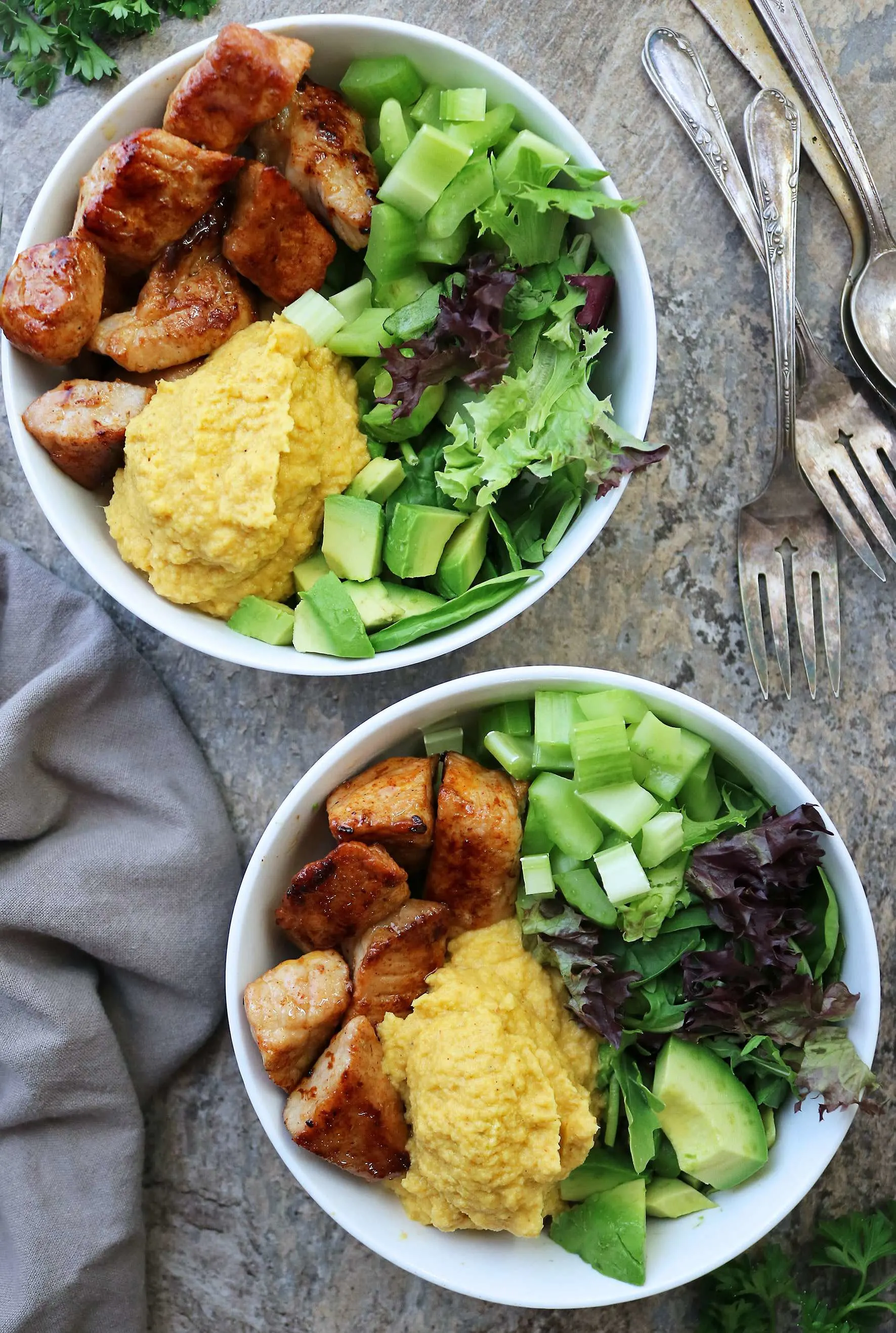 Now, getting back to this bowl of Easy Turmeric Cauliflower Mash with delicious, slow-marinated Smithfield® Applewood Bacon Loin Filet with greens… it might be hard to believe but this meal was ready in a little less than thirty minutes.
How to make Turmeric Cauliflower Mash:
I preheated the oven to 450 degrees and roughly chopped up a head of cauliflower. I tossed the cauliflower in a turmeric, smoked paprika, coriander oil infusion and popped it in the oven for 20 minutes, along with a cut up onion, ginger and garlic cloves.
While the cauliflower baked, I cut up the Smithfield® Applewood Bacon Loin Filet into bite sized pieces for quick cooking and ease of eating and pan-sautéed it with a bit of oil. When it was cooked I set it aside to rest.
When the cauliflower was done, I added it to a blender along with the ginger, garlic cloves, onion, and coconut milk. When it was at the consistency I liked it, I seasoned it with some salt and pepper.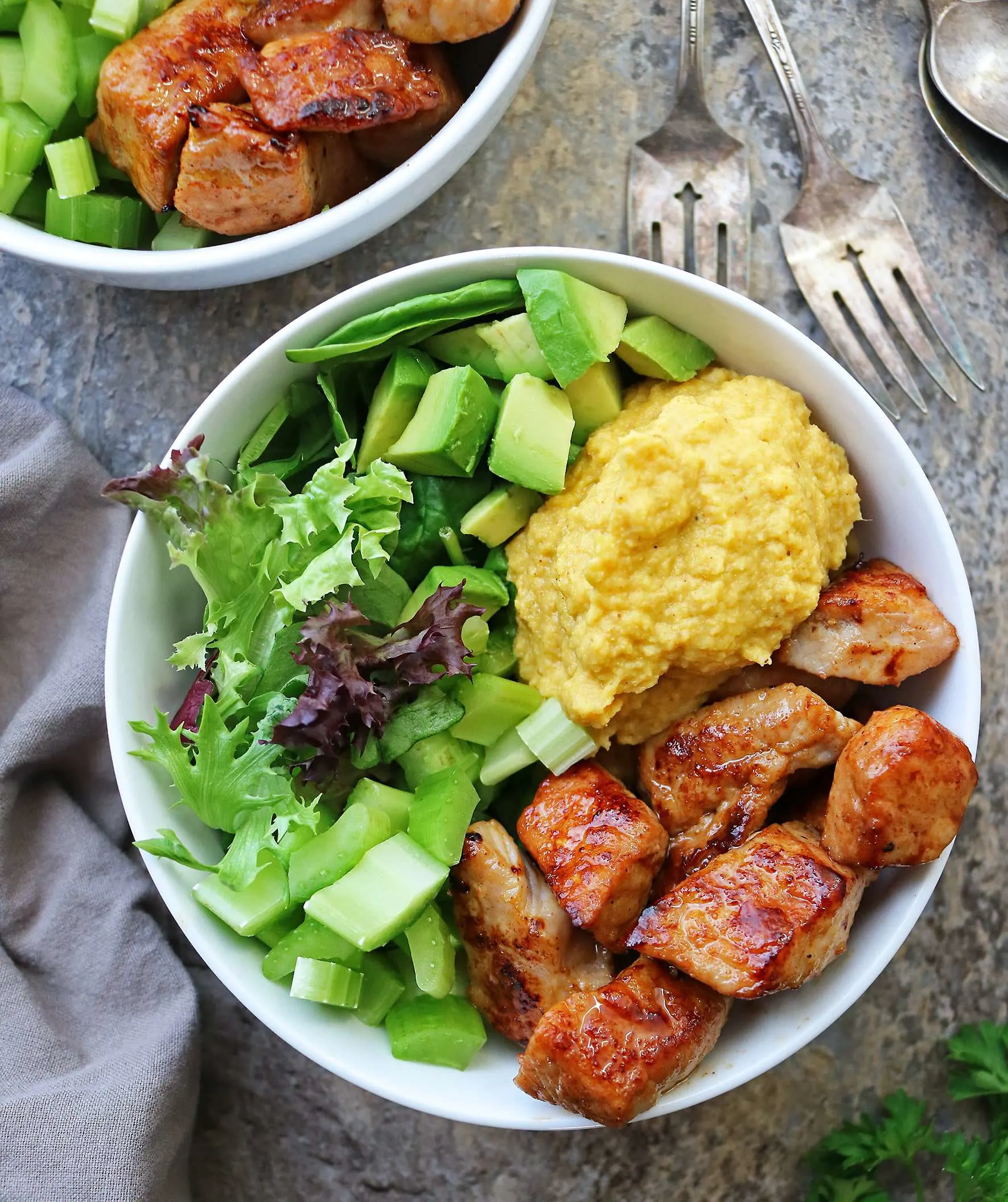 My daughter and I thoroughly enjoyed this Turmeric Cauliflower Mash with the pan-sautéed Smithfield® Applewood Bacon Loin, some chopped celery, chopped avocado and greens, in bowls – because sometimes dinner is just better in a bowl – right?! We didn't need a dressing for the greens as the Smithfield® Applewood Bacon Loin was so flavorful. We had a bit of Smithfield® Applewood Bacon Loin leftover and we enjoyed it on top of a simple salad of spinach, kale, sunflower seeds and roasted corn.
If you haven't tried Smithfield® marinated pork yet, I urge you to pick some up on your next trip to Walmart ~ and enjoy it along with some of this delicious, keto-friendly and vegan, Turmeric Cauliflower Mash!
These Mango Avocado Soba Buckwheat Noodle Bowls are a delicious vegetarian dinner option.