This shop has been compensated by Collective Bias, Inc. and its advertiser. All opinions are mine alone. #BeHeartHealthy #CollectiveBias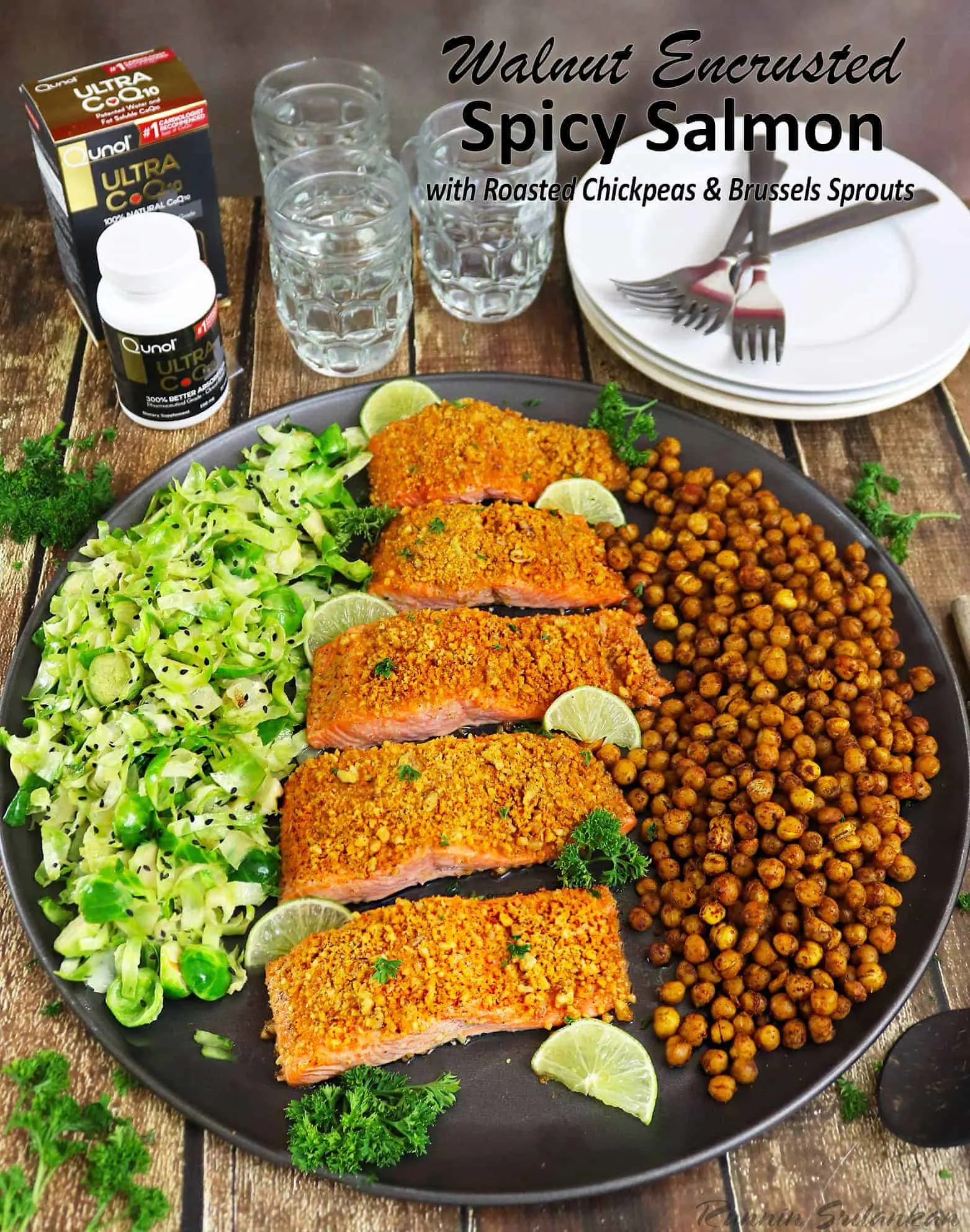 Sure, my heart would remind me of it's existence when I ran really hard or watched a scary movie, but for the most part, I took it for granted when I was in my twenties. Back then, I would even pick my quads over my heart as my most valued muscle because they "actively" helped me run. Guess I was the definition of young and foolish, eh?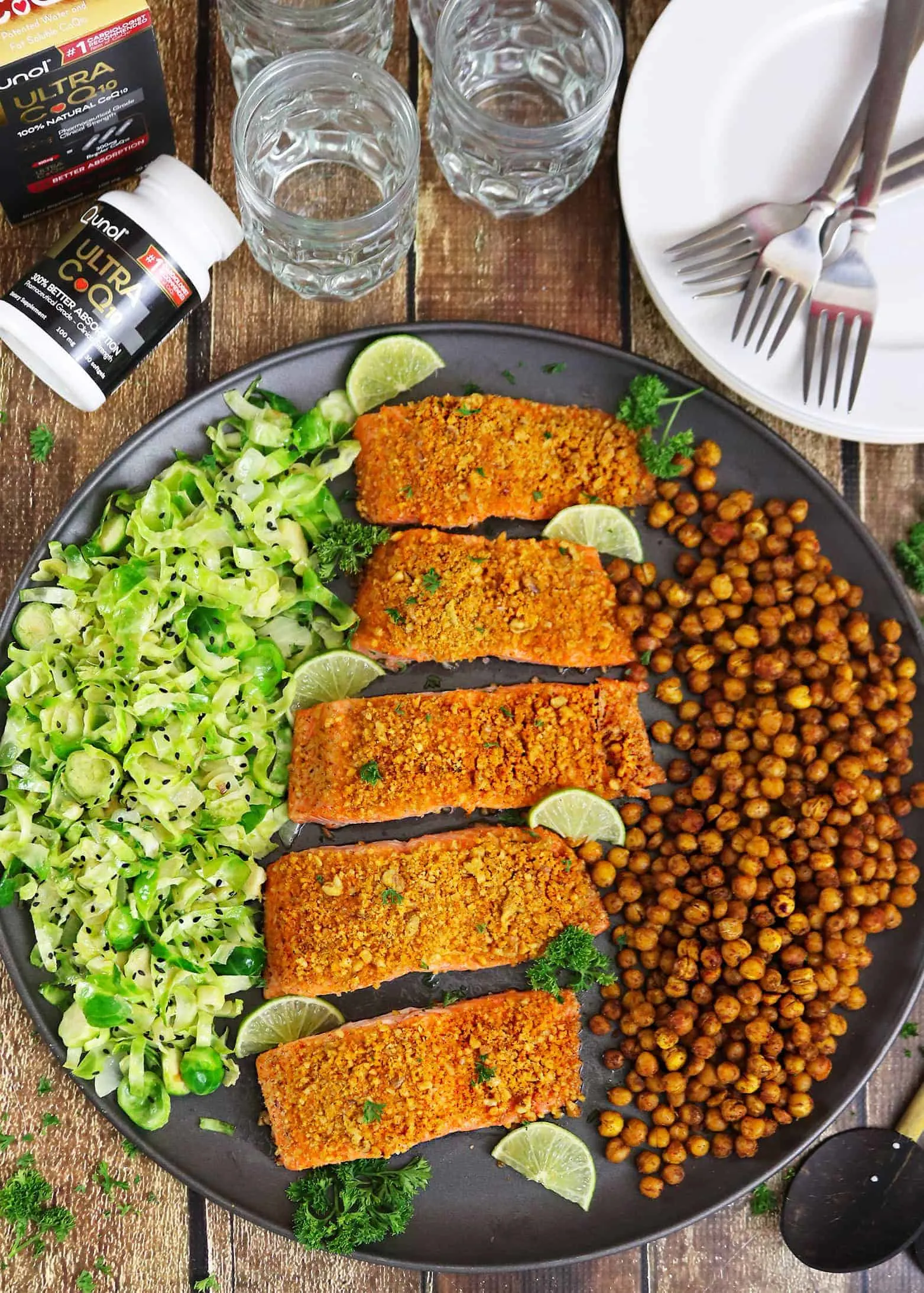 But, when I entered my thirties, my dad was diagnosed with congestive heart failure which made me sit up and take notice of this powerful muscle. While a healthy heart (which weighs less than a can of soda) can pump 2000 gallons of blood through 60,000 miles of blood vessels, my dad's heart fell short of this. He was put on a regimen of pills, and thus began his long and hard battle with a disease that eventually took him from us.
It was during his battle that I began to stop taking my ticker for granted. I know we don't have any guarantees in this life, but I simply wanted to be active and fit while my daughter was still young. While I already cooked and ate a vegetable-heavy diet, I began to include more heart healthy foods like salmon, walnuts, and chickpeas in my choices, and I also began taking supplements like Qunol Ultra CoQ10, which I pick up from my neighborhood Kroger store when I'm picking up my dinner ingredients for this Walnut Encrusted Spicy Salmon with Roasted Chickpeas and Brussels Sprouts.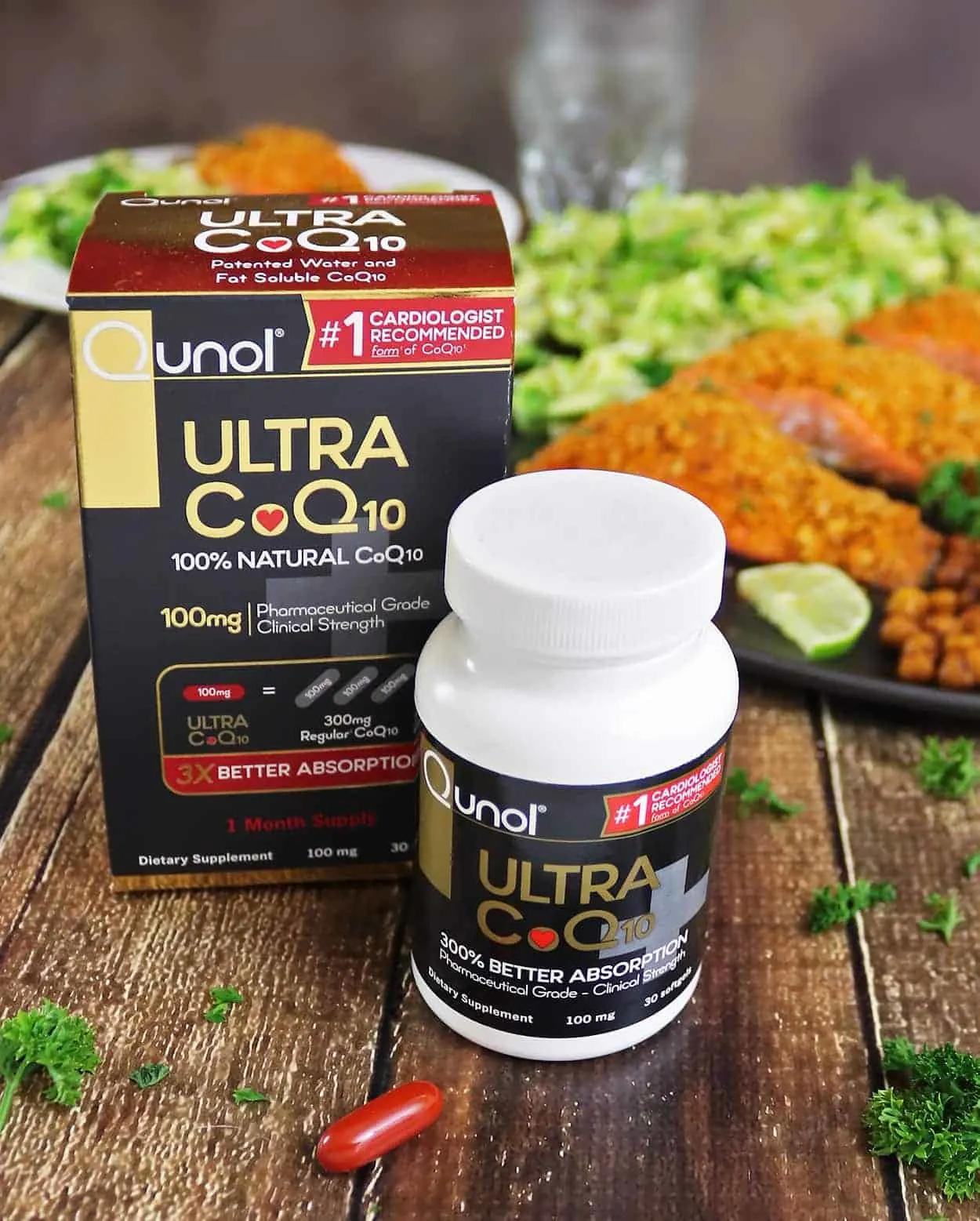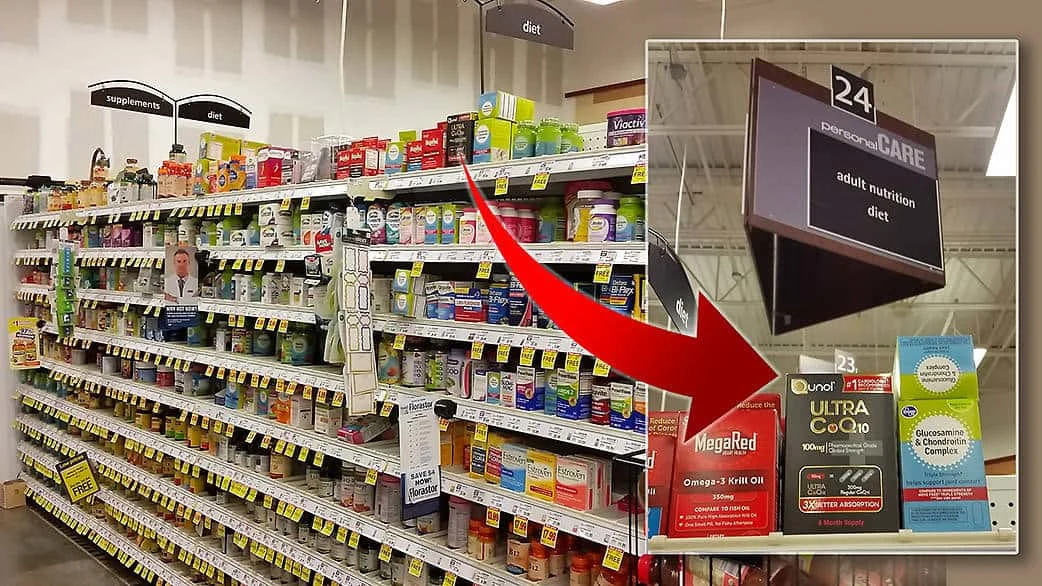 CoQ10 supports heart and vascular health and its levels decline as we age, and that's where Qunol Ultra CoQ10 comes into play. Qunol Ultra CoQ10 is 100% Water and Fat Soluble and offers 3 Times Better Absorption than regular* CoQ10 and is also the #1 Cardiologist Recommended form** of CoQ10.
*Regular CoQ10 refers to unsolubilized Ubiquinone in oil suspensions in softgels and/or powder filled capsules/tablets.
**Form refers to Water and Fat soluble CoQ10. Source: AlphaImpactRx ProVoice Survey 2016.
CoQ10 levels also decline from statin use and Qunol Ultra CoQ10 happens to be beneficial for statin drug users – you can find out more about Statin drug use and it's side effects in this ebook.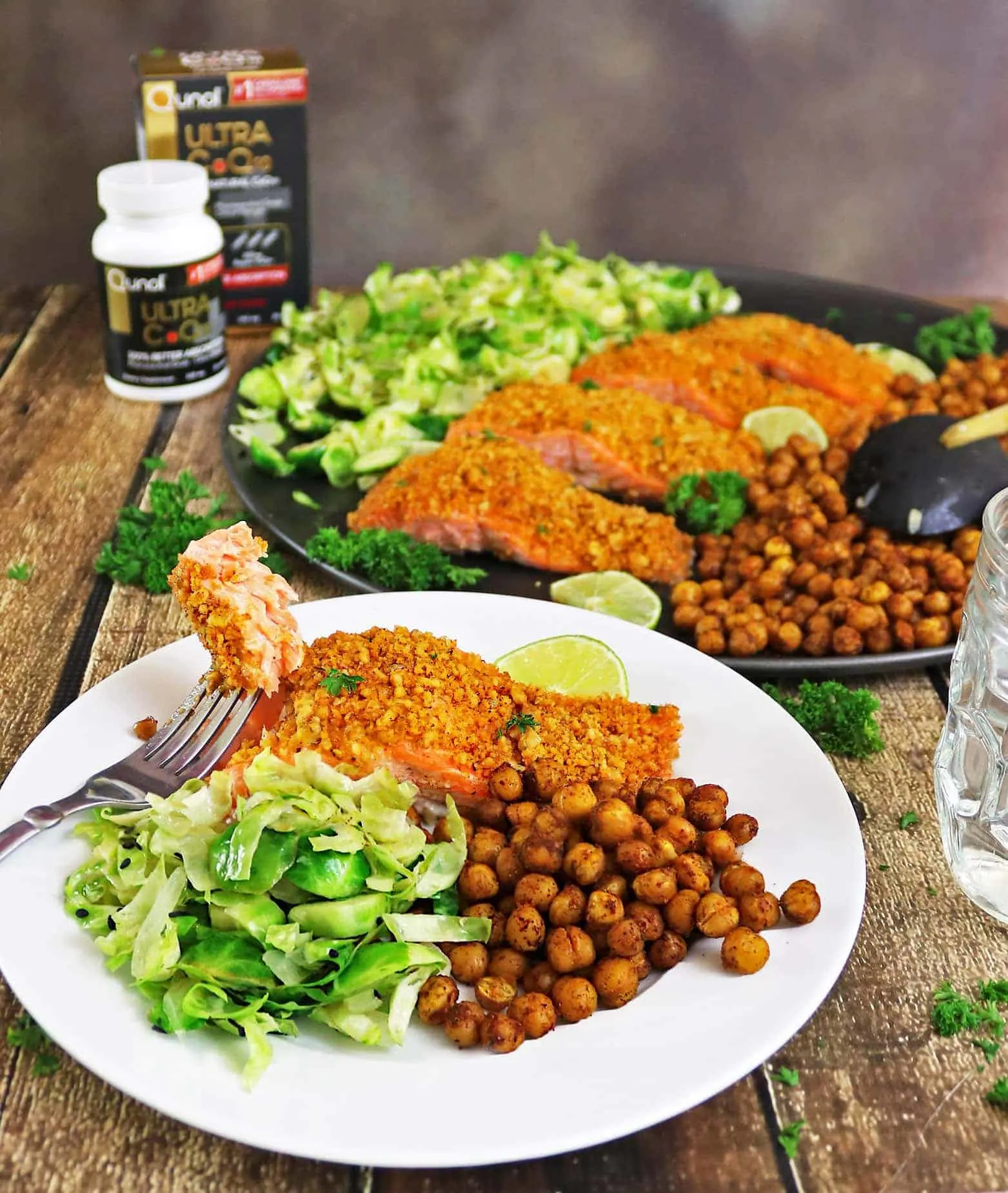 Now, back to the Walnut Encrusted Spicy Salmon with Roasted Chickpeas and Brussels Sprouts you see here. This is really a very easy and quick dinner to throw together. And, because of the flavor from the variety of spices, you hardly need any salt at all.
I simply threw some turmeric, garam masala and paprika spiced, canned chickpeas in the oven to roast while I prepped the walnut, paprika and curry crust for the salmon. When the salmon was ready to go in the oven as well, I sauteed some sliced Brussels Sprouts with an onion, and some ginger and lime and in less than 40 minutes a heart healthy dinner was on the table!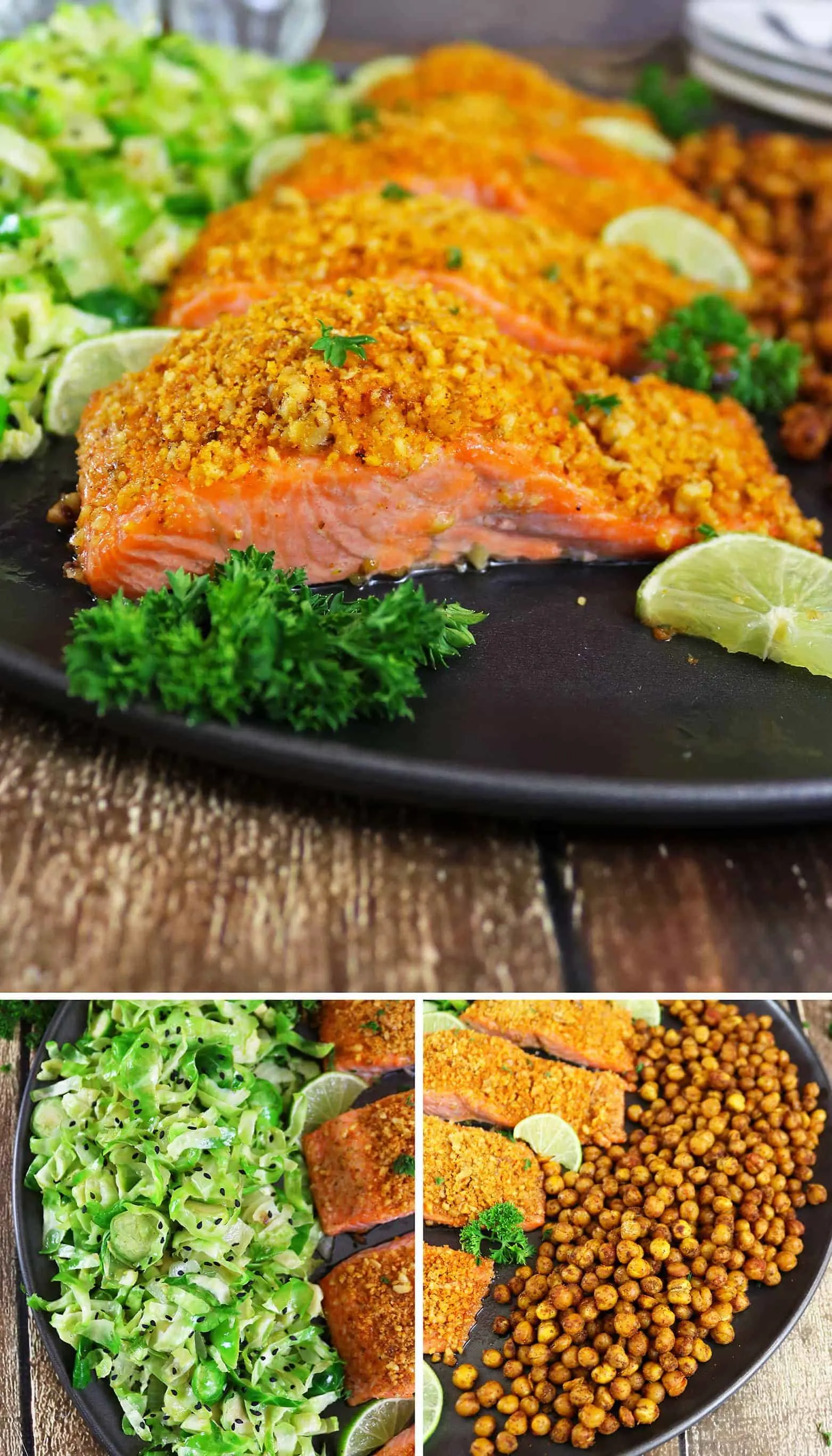 There's no better way to kick off the New Year than with a few heart-healthy habits and you can find out more about how Qunol Ultra CoQ10 can be apart of those habits. Also, make sure to follow Qunol Ultra CoQ10 on Facebook, Twitter and Instagram to get suggestions on heart healthy habits that will easily fit into your lifestyle!
[Tweet "Walnut Encrusted Spicy Salmon, Roasted Chickpeas, Brussels Sprouts, 4 dinner 2nite http://wp.me/p3Dn3U-2Ak @qunol.coq10 #BeHeartHealthy #ad"]
February is heart health month and February 5th is Heart health day/Go Red day – so why not take the first steps to a healthier ticker today so you will be ready when February gets here!