I have partnered with JSL foods to bring you these Mango Avocado Soba Buckwheat Noodle Bowls made with shoyu flavored soba buckwheat noodles and a plethora of add ins! All opinions and recipe are my own. Thanks so much for supporting the brands that keep this blog spinning.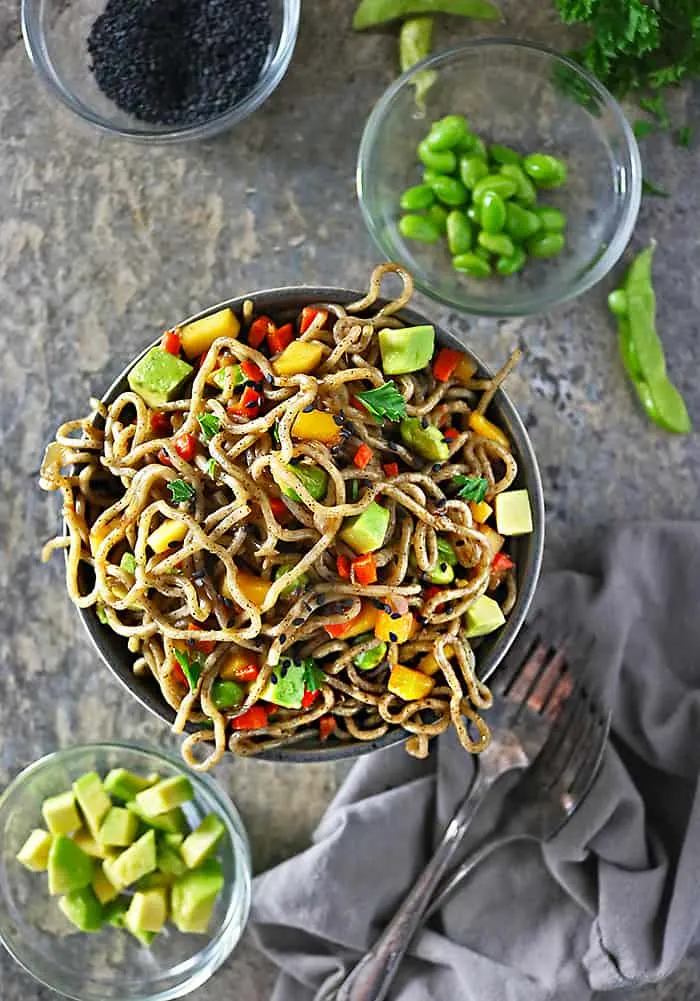 As a food blogger, my days can be quite a bit isolating, especially out here in Athens (GA) without old friends or neighbors dropping by for an impromptu coffee or lunch, even.
But, that will be changing soon…
You see, next week I re-enter the world of 9-5ers after having ducked out of it for the past 2 years.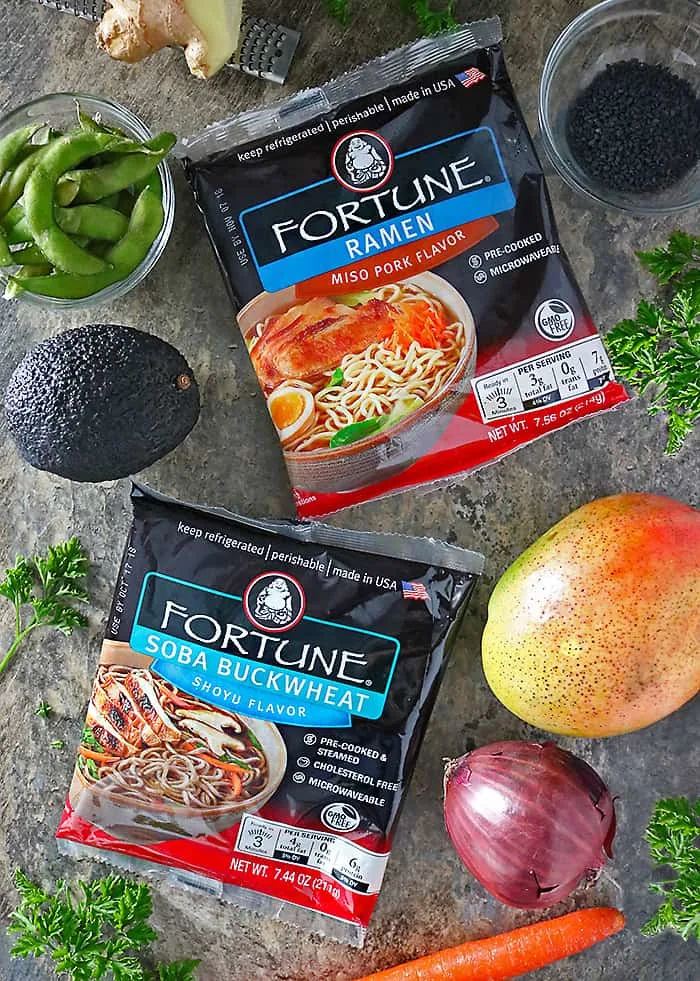 In case I hadn't mentioned this before, in September of 2016, I was laid off from my full time gig as a graphic designer. As my side hustle (aka this blog) was bringing in a decent amount of mullah, I decided to adopt it into a full time gig. Right around this time, David at Spiced Blog introduced me to the job of a Community Leader (CL) with an influencer marketing company. With this other job, my plate was full – just like I like it.
However, at the beginning of this year that CL gig went away and I started chasing other opportunities that would keep me occupied during the day. I managed to pick up a photography gig taking food photos for food delivery companies. But, I still had a ton of time on my hands and decided to start interviewing for part time gigs. Well, one such part time interview turned into a full time offer and, starting Monday, my life is gonna be hectic again – just the way I like it.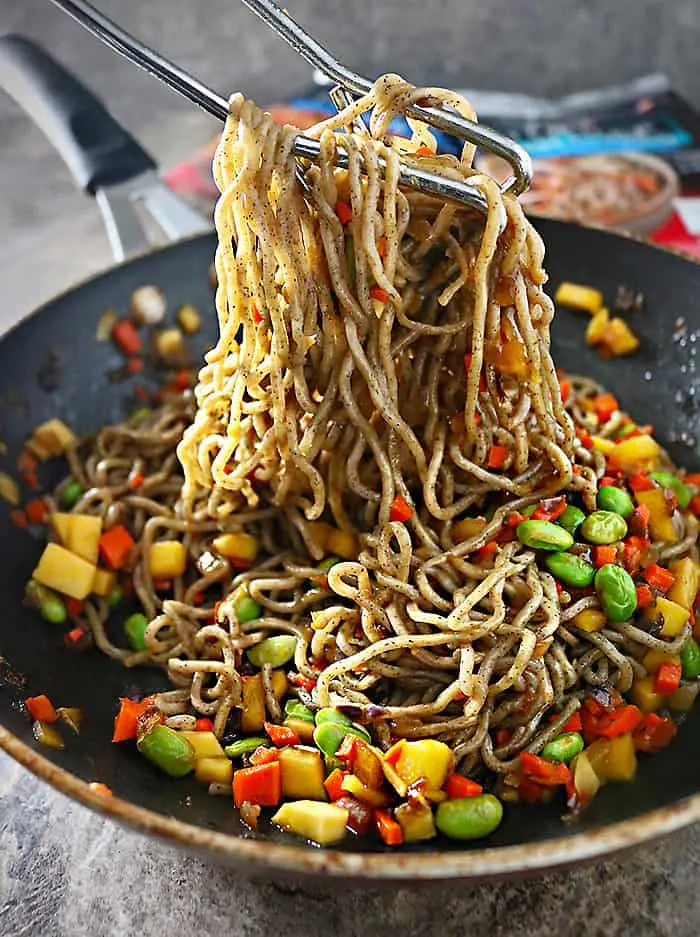 Those upcoming busy fall days will mean hangry evenings so I plan on making and keeping super quick and tasty meals on hand.
Quick and tasty meals like these Mango Avocado Soba Buckwheat Noodle Bowls!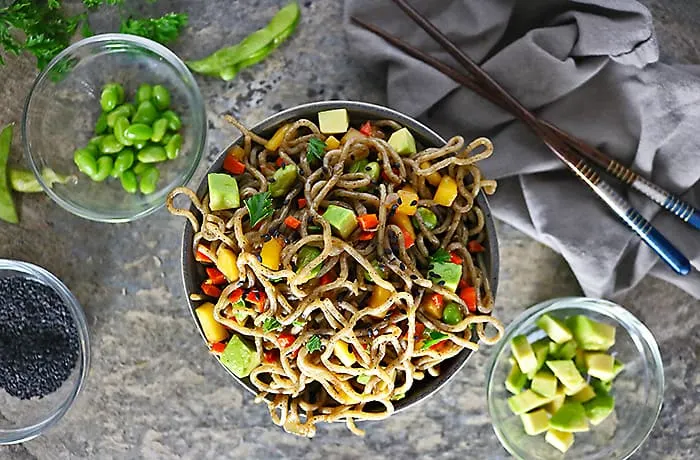 Having enjoyed JSL Foods' Fortune noodles in this Udon Soup With A Spicy Spin and this Coconut Curry Stir Fry, JSL Foods Fortune noodles are my favorite option. They carry a wide variety of udon, ramen, yakisoba and soba buckwheat noodles. JSL Foods noodles are fresh, pre-cooked, cholesterol-free, MSG free and ready to serve in just minutes. By the way, you can purchase JSL Foods products at your neighborhood Target.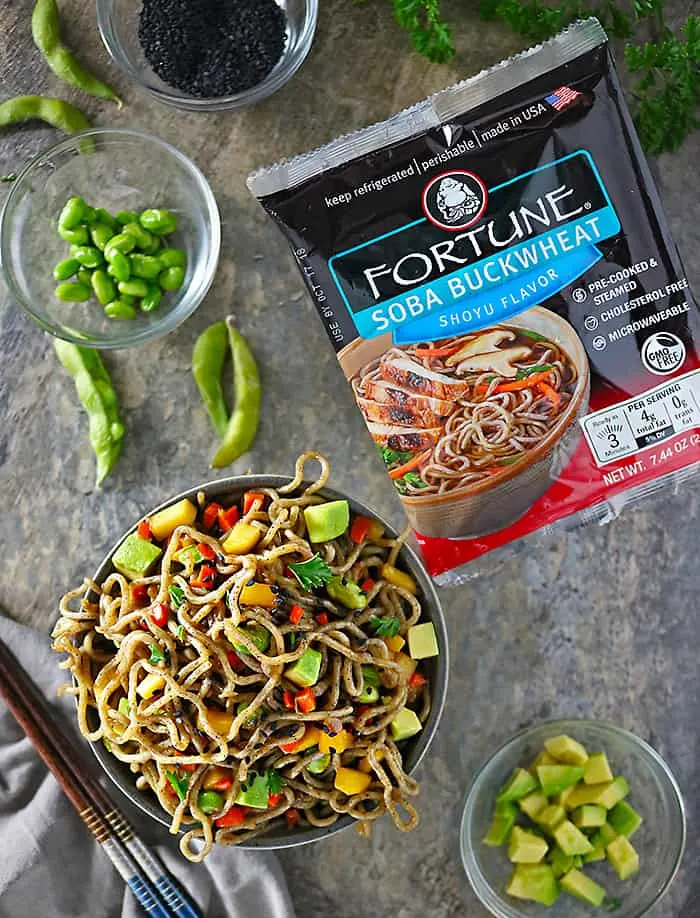 Now, let's talk about these Mango Avocado Soba Buckwheat Noodle Bowls. First off they are made with JSL Foods Fortune Soba Buckwheat Noodles and the flavoring package that came with them. As it's still in the 90s here in Athens, I opted to make this into more of a stir fry than a broth laden bowl. And, to my delight, the packaging of these Soba Buckwheat noodles contained instructions on altering the water content to do just that!
I opted to add in some sauteed onions and ginger as well as half a mango, edamame and carrot. The shoyu flavoring that came with these noodles married together the flavors of onion, ginger, carrot, edamame and mango so beautifully. Before serving, I tossed in a bit of diced avocado and sesame seeds to round these bowls out. In less than 25 minutes, we had dinner on our table!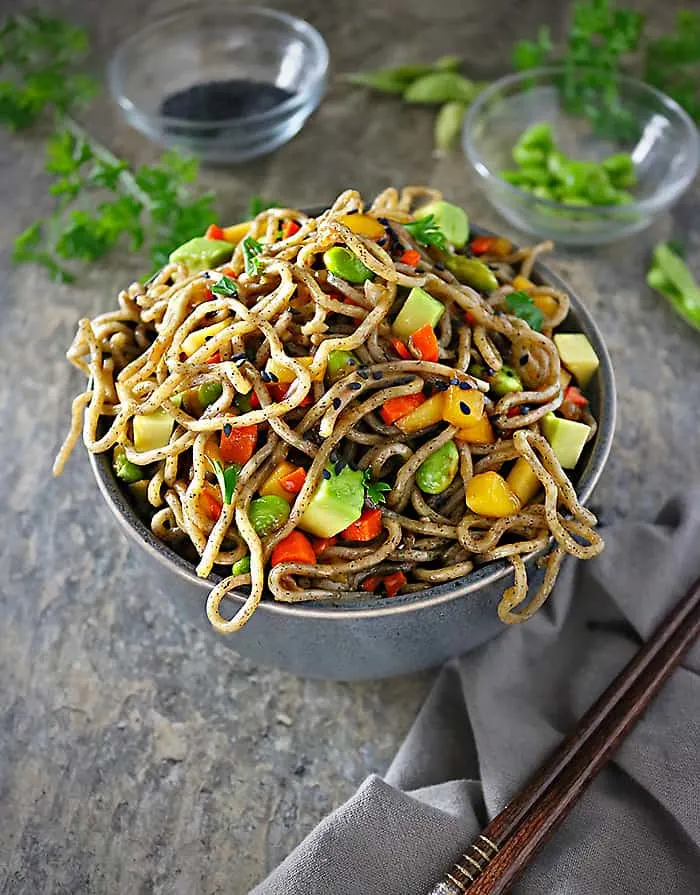 The star of these bowls are the shoyu flavored soba buckwheat noodles – while the additional ingredients I added made for a tasty dinner for my daughter and I, there are so many other ingredients (like chicken, roasted squash, chickpeas, etc) you can add to these noodles and end up with a delightfully delicious dinner ~ just start off my heading to Target to pick up your favorite flavor of JSL foods Fortune Noodles…
For more recipe ideas and inspiration, please do check out and follow JSL Foods on Facebook and Twitter!
If you happen to fancy this recipe, let me know what you think by leaving a comment and rating below. If you make this recipe, please post a pic on INSTAGRAM -tagging @savoryspin so I can see! For more recipes and ramblings, like us on FACEBOOK and follow along on PINTEREST!