Gently spiced with smoked paprika, turmeric and coriander, this Ginger Garlic Tindora Stir Fry is so easy to make ~ and, if will be a healthier and delicious vegan/vegetarian meal option your family and friends are sure to love.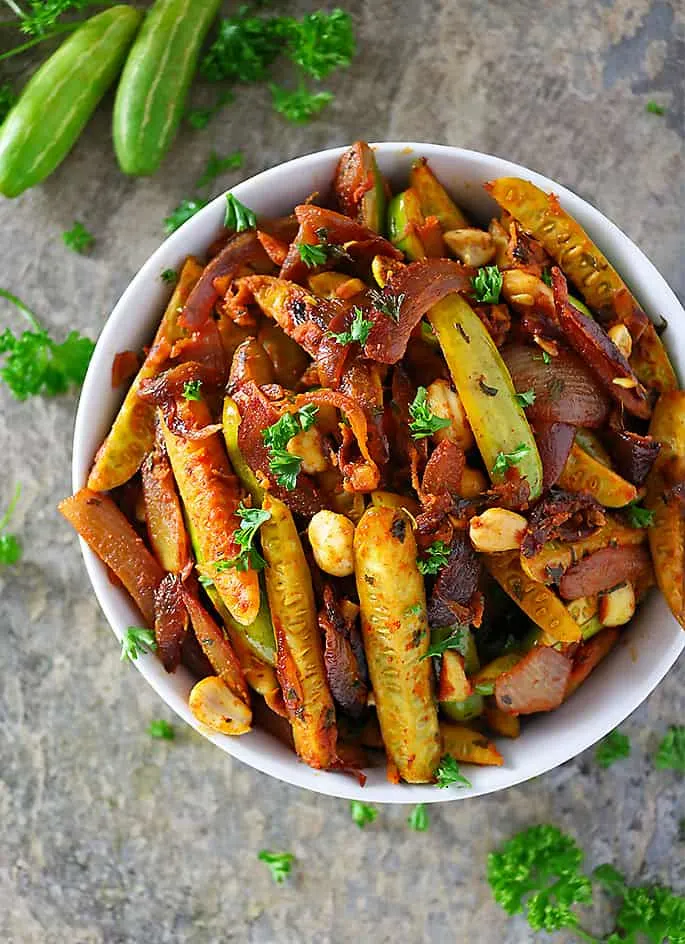 Most times on here, I like to share recipes on here that can be made with ingredients you can pick at your local grocery store. But, that's not the case today.
The star of today's Ginger Garlic Tindora Stir Fry is Tindora, also known as ivy gourd, kowal, or scarlet gourd. Tindora, which goes by the scientific name of Coccinia grandis, is quite popular in the southern part of India. However, I don't recall having it during my childhood years in Sri Lanka, which is located at the very southernmost tip of India.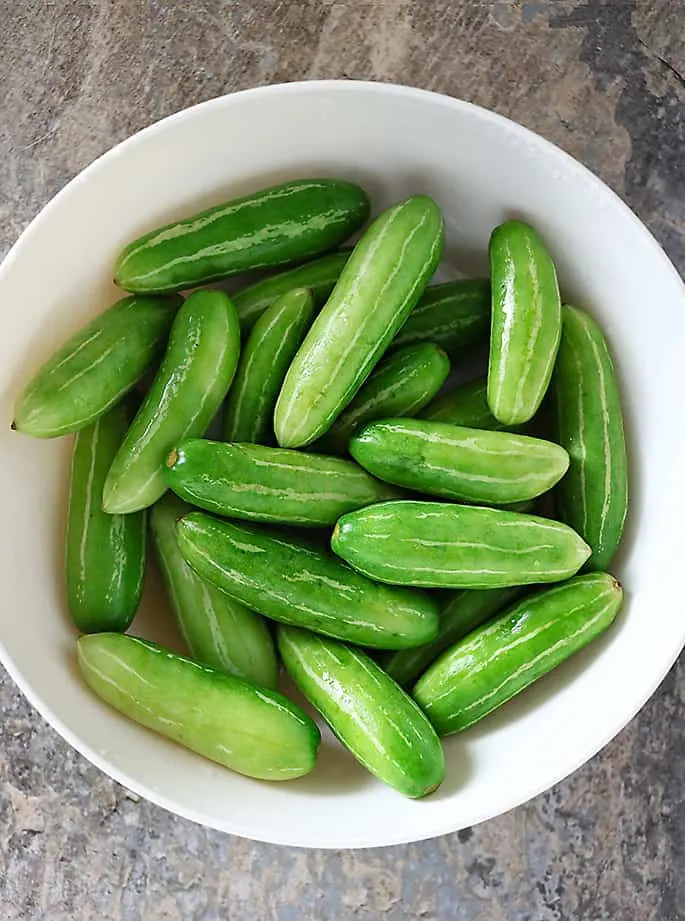 In fact, the first time I happened on Tindora was at Cherian's – a South Asia store I frequent in Decatur, GA. I shop around alot, but have yet to see Tindora at any of the other grocery stores I frequent. Though, yesterday I saw jackfruit at the Kroger here in Athens and Tamarind at the Walmart down the street from the Kroger, so there's no telling when Tindora might make an appearance at local grocery stores nearby!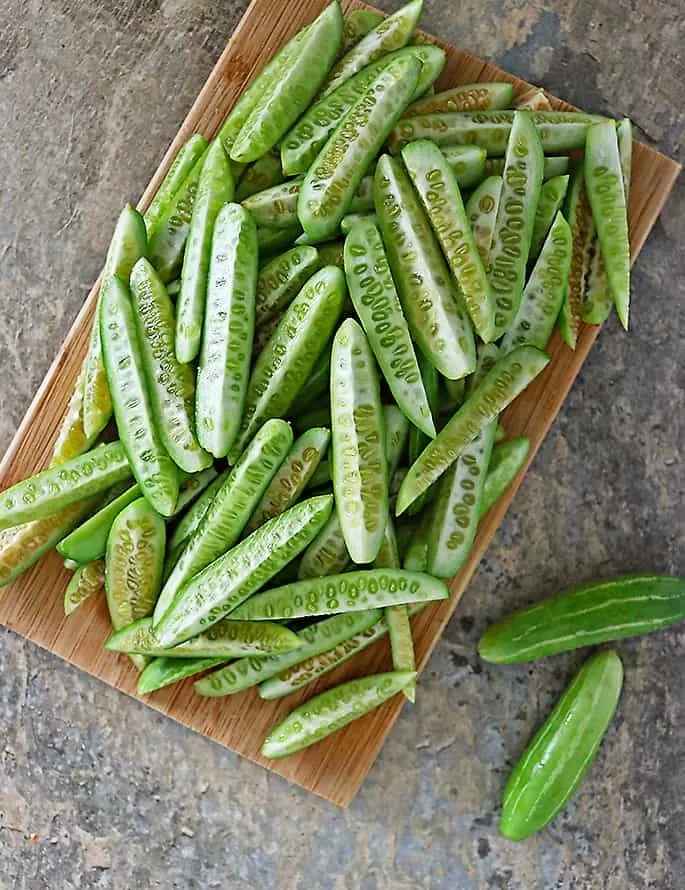 When we first came across Tindora, my daughter remarked that they looked alot like GMO'd miniature cucumbers, kinda like the miniature animals at Tanglewood Farms here in Georgia.
But, they are a lot firmer to the touch than cucumbers. Cut them open and they have tons of vertically arranged seeds. Tindora are also said to have a higher nutritional value. If you bite into a raw piece of Tindora, it is super crunchy (a lot more crunchier than cucumbers are) but raw tindora leaves behind a slightly bitter aftertaste. As I'm not a huge fan of that bitter aftertaste, I prefer to enjoy Tindora cooked.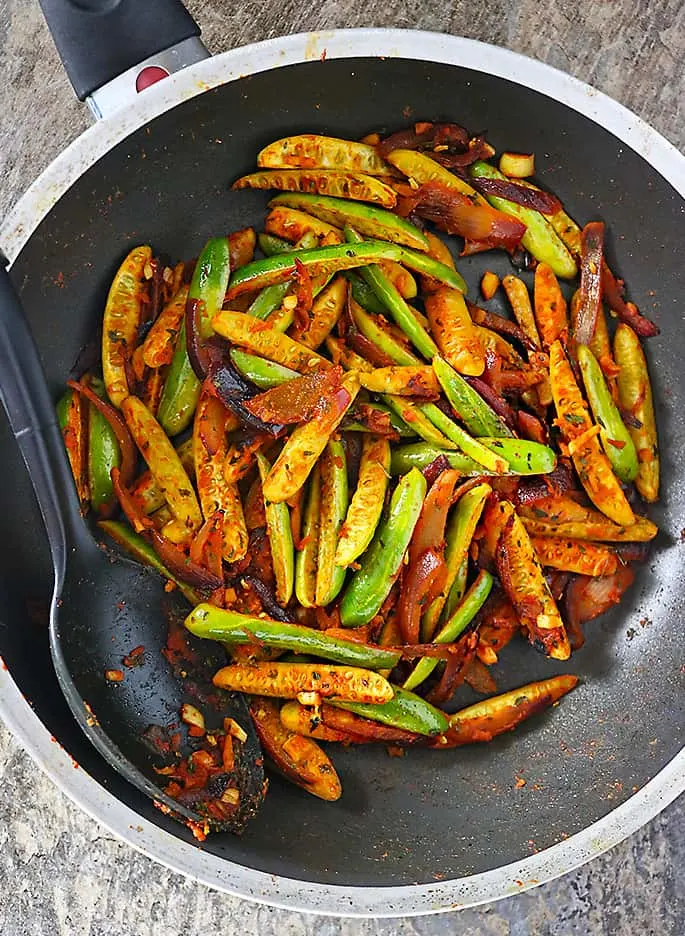 The first time I shared tindora on here, I made a curry with it as the star. That Tindora Curry has been one of my most popular recipes on here. Though, in hindsight, I'm thinking people might be landing on it when they search for Tinder – the dating app?!?! Hmmm…???
Anyhoot…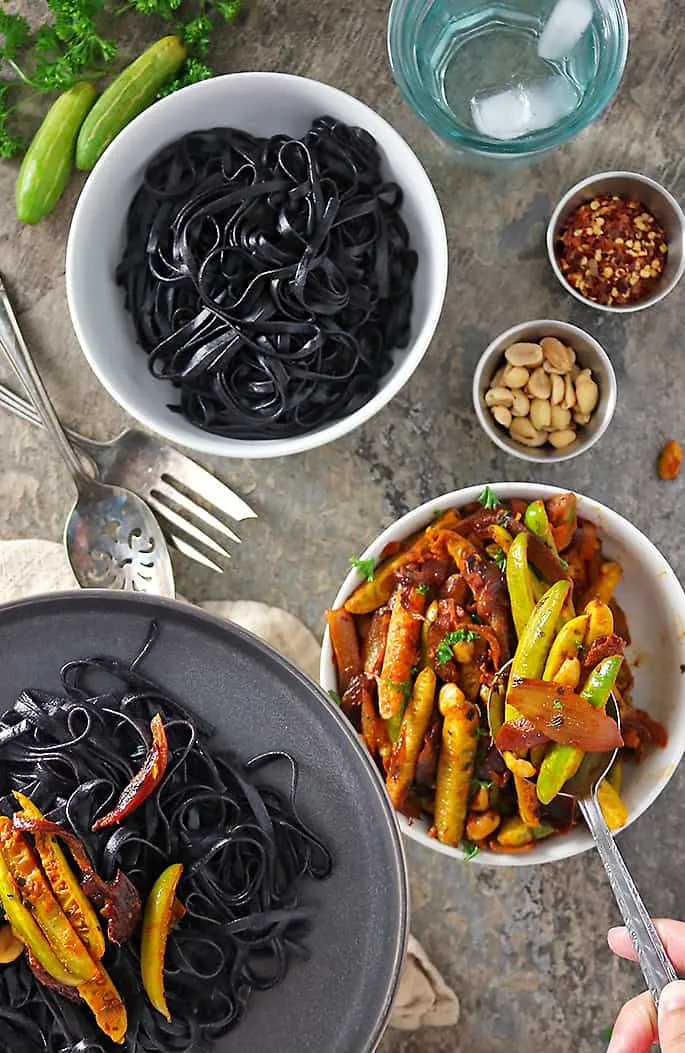 Getting back to today's Ginger Garlic Tindora Stir Fry, this is so easy to make – the hardest part being getting your hands on some Tindora. I brought home 1.5 lbs of Tindora from Cherian's and used half of it in this stir fry – which I started off with the holy trinity of Sri Lankan cuisine: onions, garlic and ginger. I added in just a tad bit of lime juice, smoked paprika, turmeric and coriander and 15 minutes later, dinner was done! No lie!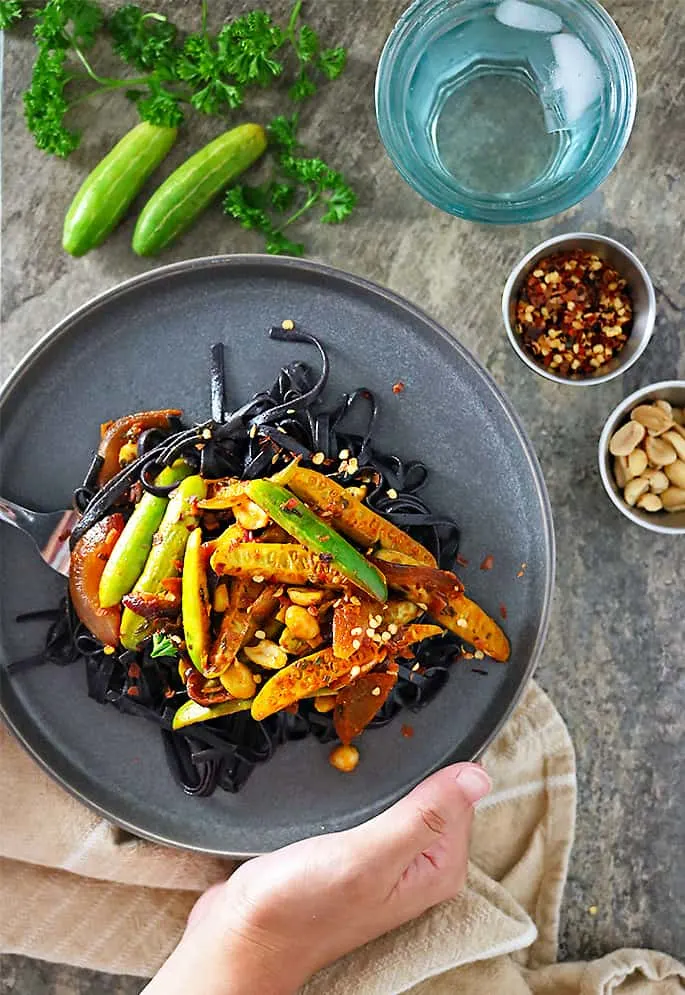 Tindora cooks in 7-10 minutes. Seven minutes if you'd like them a bit crunchy and ten minutes if you'd like them a bit more tender. For this recipe I cooked the Tindora for about 8 minutes. We had this Tindora stir fry with some black rice noodles and added on some peanuts for a bit more crunch and some chili flakes for a bit of a punch!
Now, while this recipe focuses on Tindora, if you cannot find it and would like to use zucchini or carrots or whatever your fav veggie might be, feel free to sub it in for the Tindora and adjust cooking time accordingly. If you do find Tindora though, I sure hope you give this recipe a try soon!
In the next few weeks I'll share what I did with the other 3/4 lb of tindora I had leftover… In the mean time… if you happen to fancy this Ginger Garlic Tindora Stir Fry recipe, let me know what you think by leaving a comment and rating below. If you make this recipe, please post a pic on INSTAGRAM -tagging @savoryspin so I can see! For more recipes and ramblings, like us on FACEBOOK and follow along on PINTEREST pretty puhleez…