Japanese cuisine meets Mexican meets South Asian in this Udon Soup With A Spicy Spin! I used a bit of chipotle peppers in adobo sauce and what's knowns as the holy trinity of South Asian cuisine to add a ton of flavor to the broth in which the udon noodles were simmered in ~ you can check out the recipe below.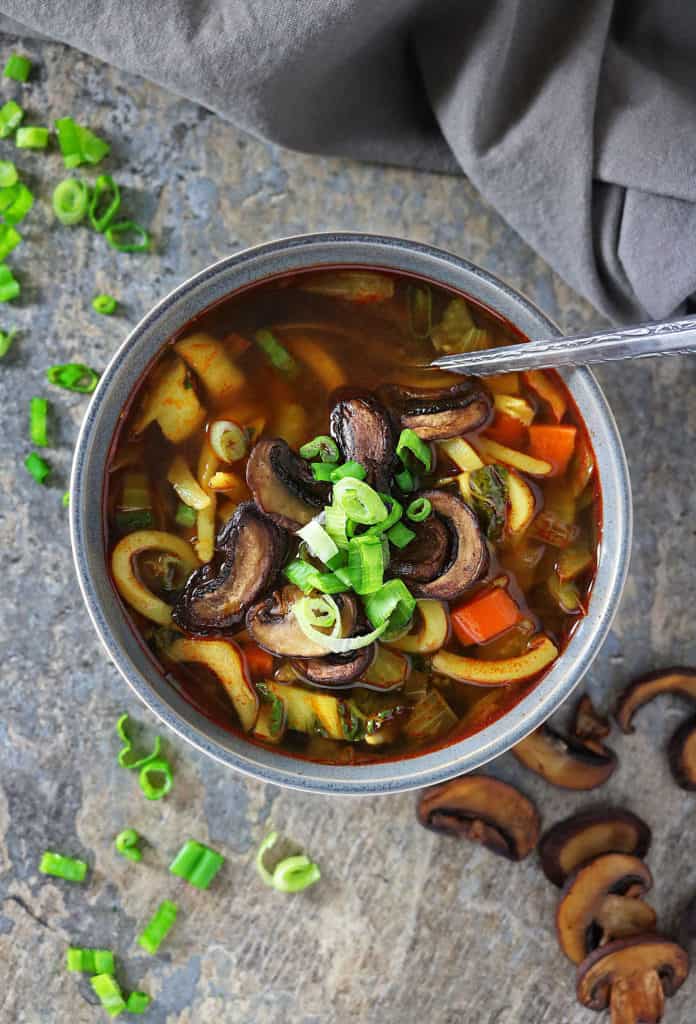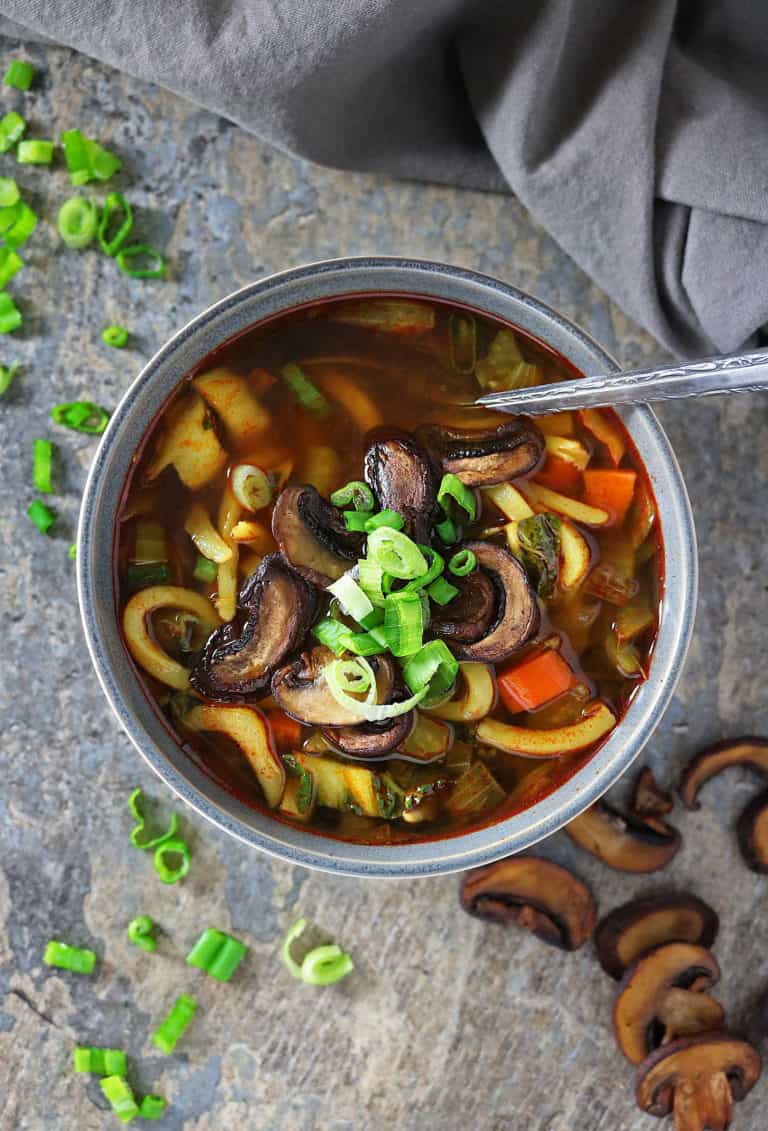 When my daughter was around 5, I started a birthday tradition that involved a birthday experience over a birthday gift for some of her birthdays. Now, you might be thinking what parent in their right mind would come up with this and what kid in their right mind would go along with it…well… y'all… I never said anything about being in a right state of mind, now, did i? 🙂
Getting back to those early birthday experiences, they usually involved a day trip to Ruby Falls or The Lost Sea. But as my daughter got older, I started taking her to Disney World, or Comic Con. This year, seeing she was turning 19 and a college freshmen, she requested we do nothing for her birthday. Being her mom, I had no intention of honoring her wish. So, as I had a set of free tickets that were expiring, I went ahead and booked us a short trip to one of her favorite places – The Big Apple.
We ended up landing in NYC on an evening when a blanket of snow decided to cover the city. The next morning, that blanket of snow made for a lovely, quiet walk through Central Park. While we seemed to be pulled in a million different directions while we were there (and we have the miles logged to prove it), we managed to squeeze in: a walk through the Highline and across the Brooklyn Bridge to Dumbo, my daughter's first comedy club experience, and her first ever foodie experience at a Sri Lankan restaurant called Kottu House.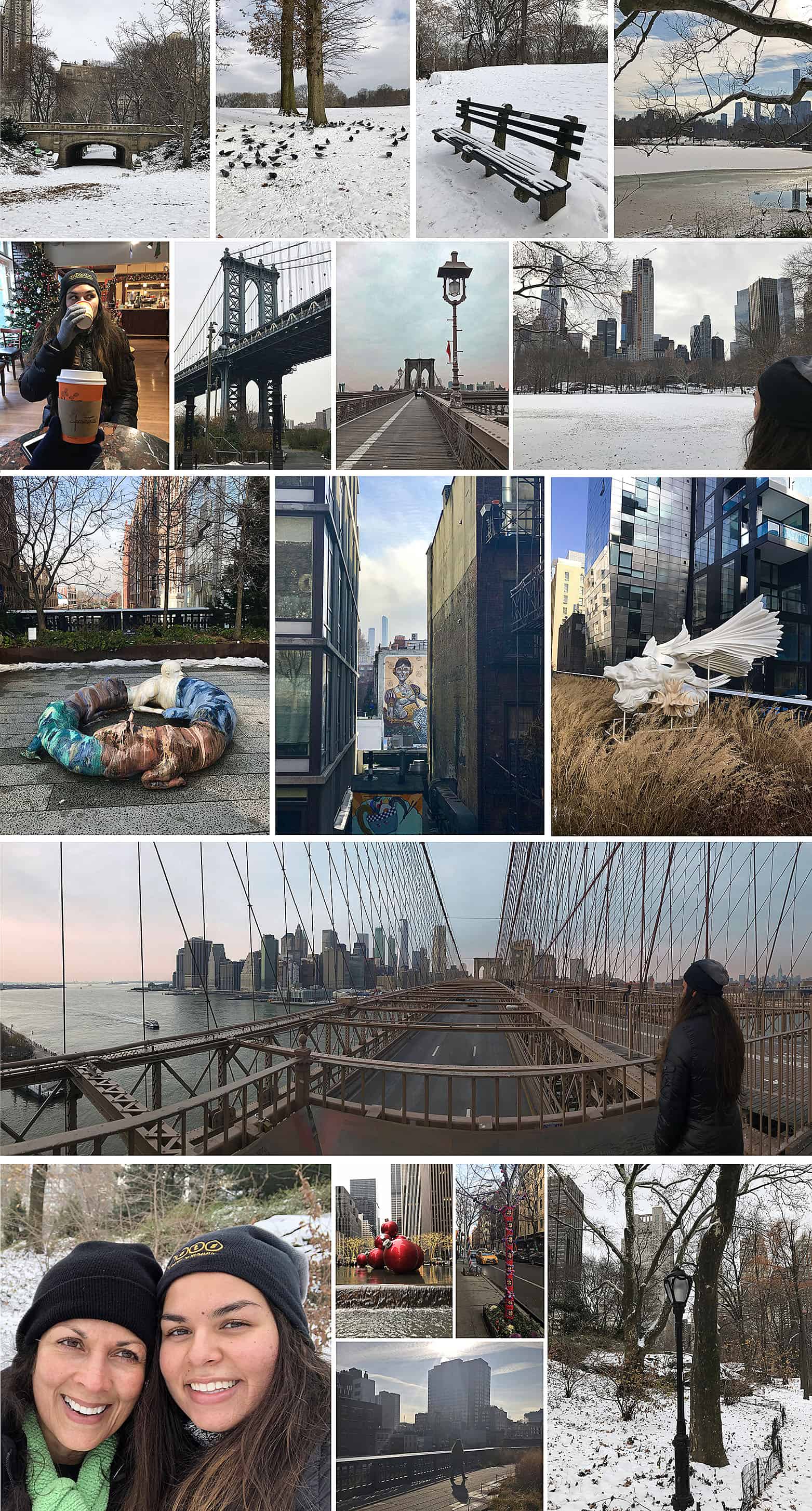 While most times I'd rather go out west than up north, I understand my daughter's love for this city. Even though some streets smell like trash and others like a bathroom that hasn't been flushed in days, there are those intoxicatingly delicious aromas from street vendors and honey nut roasting kiosks. And, even though most drivers will honk your ears off in a heartbeat, there are those sweet souls at so many food venues we frequented who would stop to chat even though they were up to their ears with other customers or deliveries. While New York always makes me glad to come home, it also has me looking forward to the miles I log and the foodie experiences only it can provide on my next short trip there!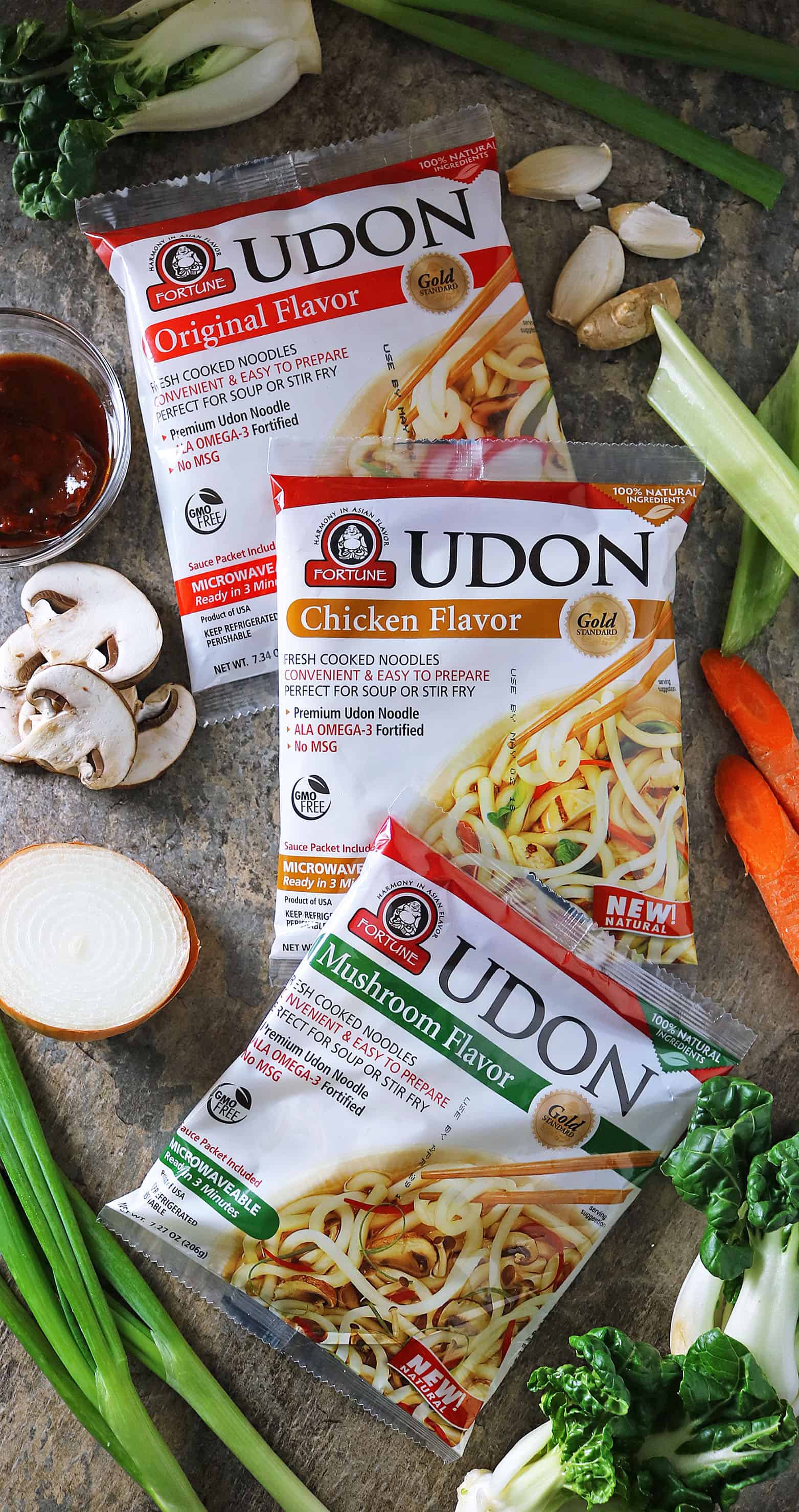 When we got back from our short trip, my daughter ended up with a nasty cold! So, I decided to make use of the packages of Udon Noodles that were sent to me by JSL Foods to whip up a clear-broth soup for her. But, a quick search through Pinterest let me know that I didn't have many of the ingredients that most Udon Soups had. So, I decided to put my own spin on it and used onions, garlic, ginger and turmeric with a chipotle pepper and some adobe sauce and a bit of honey for the broth. Now, you can taylor the amount of honey vs chipotle pepper in adobe sauce you use – but, I wouldn't say these are optional, as, with the garlic, ginger and onions, this adds so much flavor to the broth! I threw in some celery, carrots and baby bok choy and this turned into a deliciously comforting meal topped with crunchy mushrooms and green onions which would be easy to whip up during or after the busy holiday season.
Speaking of the holidays, I hope each and every one of y'all have a wonderful Christmas/Holiday Season!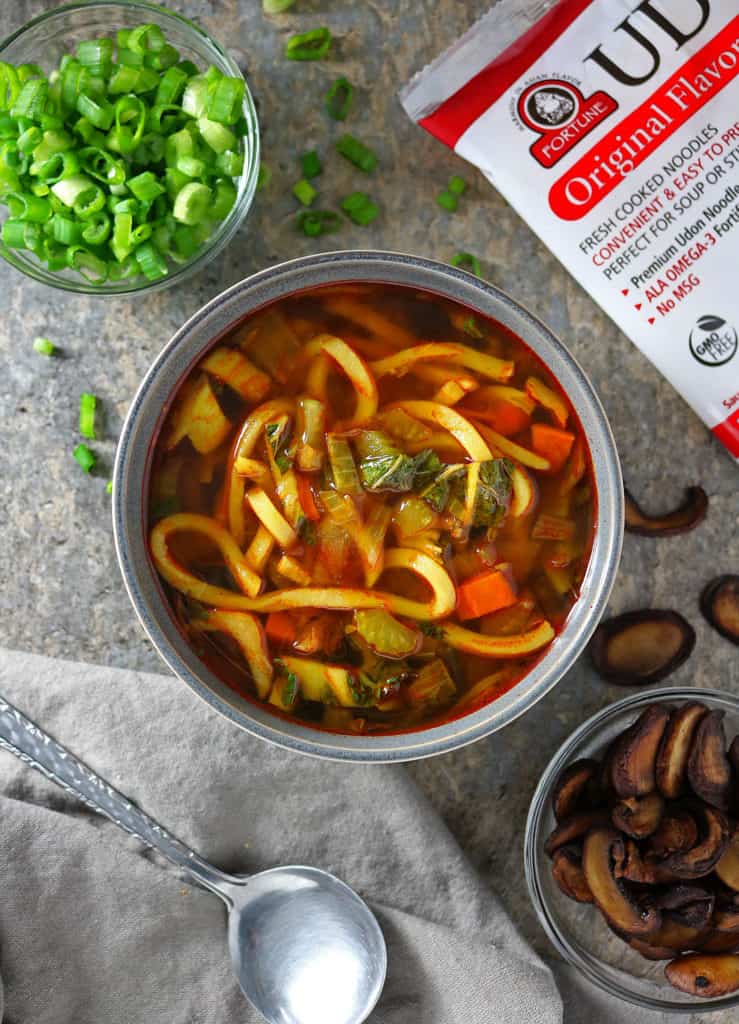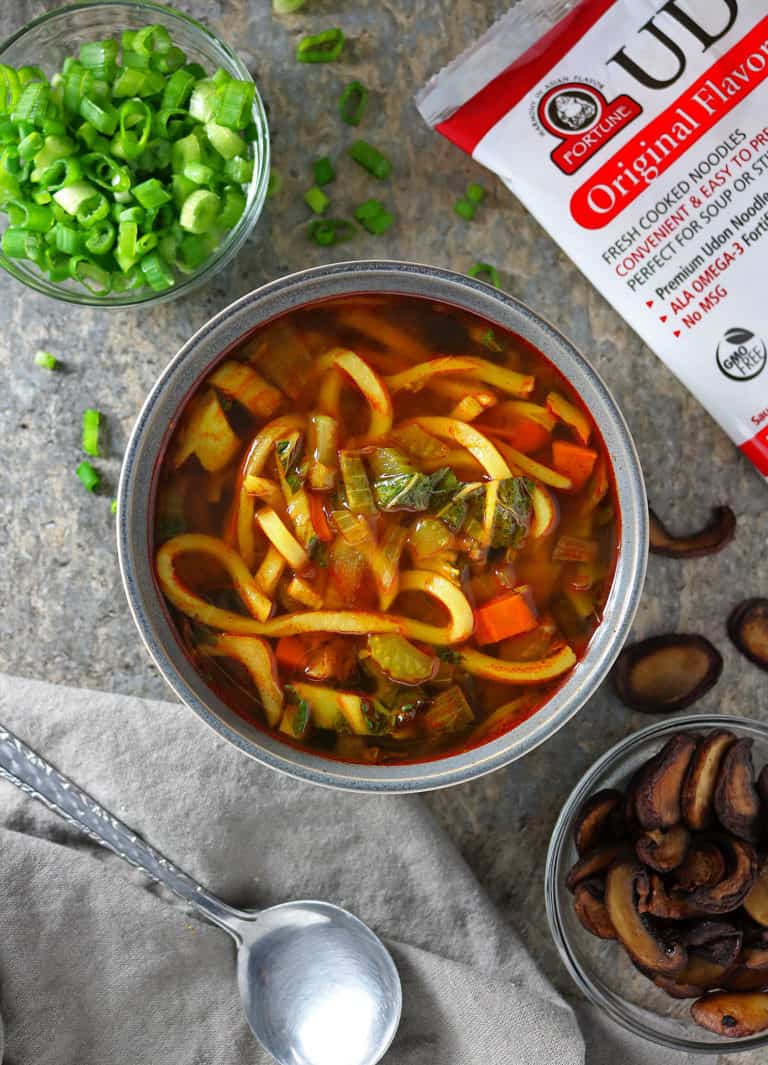 [Tweet "Udon Soup With A Spicy Spin #Fortune #ChefYaki @JSL_Foods"]
If you're looking for some delicious udon noodles, you can purchase JSL Foods products at your neighborhood Target. For more recipe ideas and inspiration, please do check out and follow JSL Foods on Facebook and Twitter!
By posting this recipe I am entering a recipe contest sponsored by JSL Foods and am eligible to win prizes associated with the contest. While I was not compensated for my time, I did receive free product samples. As always, all opinions are my own.