Deliciously spiced, this Oven Roasted Okra is a low-carb, low-calorie dish that is perfect as a side dish or appetizer.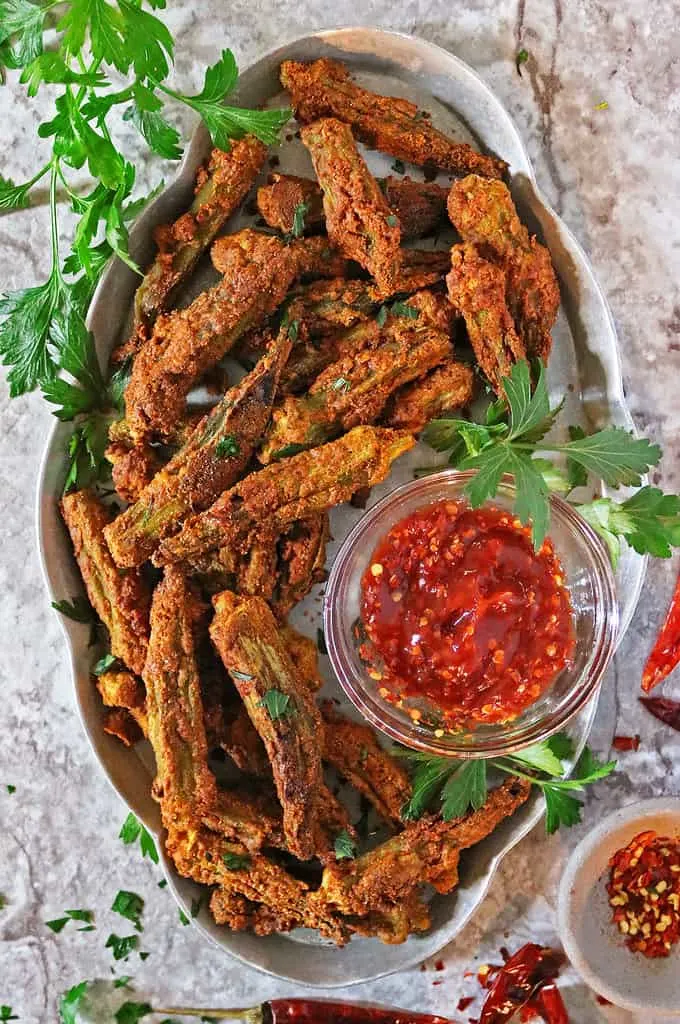 In this easy Oven Roasted Okra recipe, frozen okra is tossed with tapioca flour, coriander, smoked paprika, and turmeric and baked until lightly crispy.
This is a no-fuss, super easy recipe. You do not have to thaw out the frozen okra. Just rinse it to get rid of any ice and blot dry with a paper towel or kitchen napkin. Then toss with spices and bake.
This recipe did not result in slimy okra. I am not sure if it is because frozen okra was used. Or, if the okra was baked at a high temperature. Or, if the tapioca flour played a role.
With fresh okra, usually, it is suggested to soak it in vinegar or lemon juice for half an hour before cooking it. But no soaking is necessary when using frozen okra and following this recipe.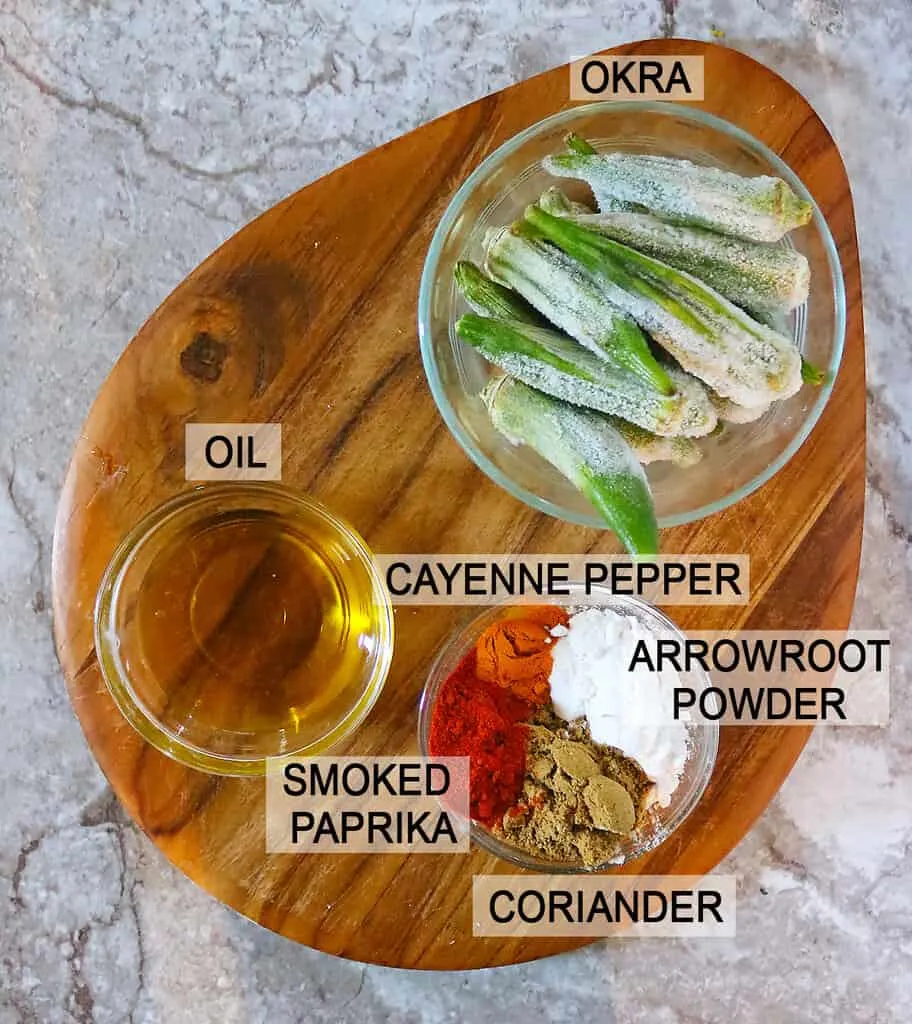 I love this oven-roasted okra because it is:
So tasty,
Lightly crispy,
Plant-based,
Gluten-free,
Perfect as a snack, side dish, or appetizer,
So easy to make,
Ready in 30 minutes, &
Made with only 6 ingredients!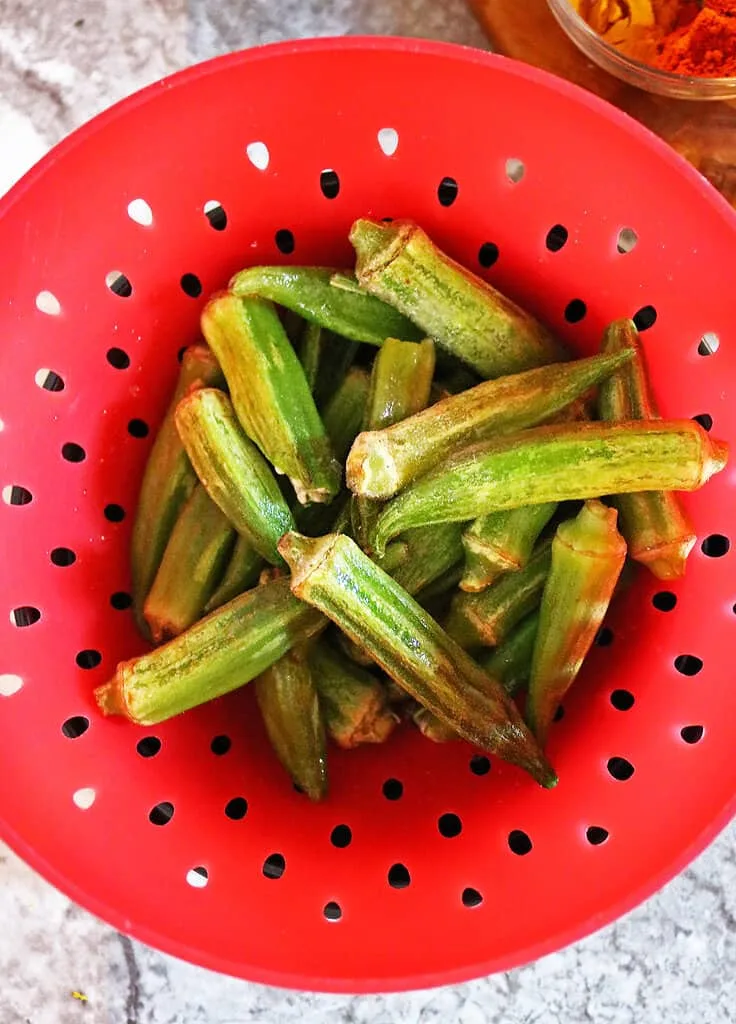 What are the ingredients needed to make this easy okra dish?
You will need the following 6 ingredients:
Frozen okra
I used a package of frozen okra. I did not thaw it out at all. As the frozen okra I had, had been sitting in the freezer for a while, I just rinsed it out a bit. Then, I dried the okra on some paper towels.

Olive oil
This is the oil I had on hand. You do not have to use extra virgin olive oil, as I did. You can use whatever oil you prefer. If you would rather use canola oil or avocado oil, go right ahead.

Tapioca flour
I used tapioca flour, as it helps add a delightful crispiness when used as a coating. It is my go-to when I want to make some baked tofu that is ever so slightly crispy, like this Easy Sheet Pan Spicy Tofu. Tapioca flour is naturally gluten-free too. If you do not have tapioca flour, you can use arrowroot powder or cornstarch. However, if using cornstarch, you will need half as much as the amount of tapioca flour and arrowroot powder.

Coriander
Powdered coriander is the best option. It mixes well with all the other ingredients for a delicious coating, with tons of taste.

Smoked paprika
Adding a nice heady flavor, smoked paprika mingles so well with the other 2 spices used.

Turmeric
Powdered turmeric rounds off the spices in this recipe. It's touted as a potent anti-inflammatory and antioxidant. Turmeric is said to help improve heart health and help prevent Alzheimer's and cancer. Some say it may also help improve symptoms of depression and even arthritis.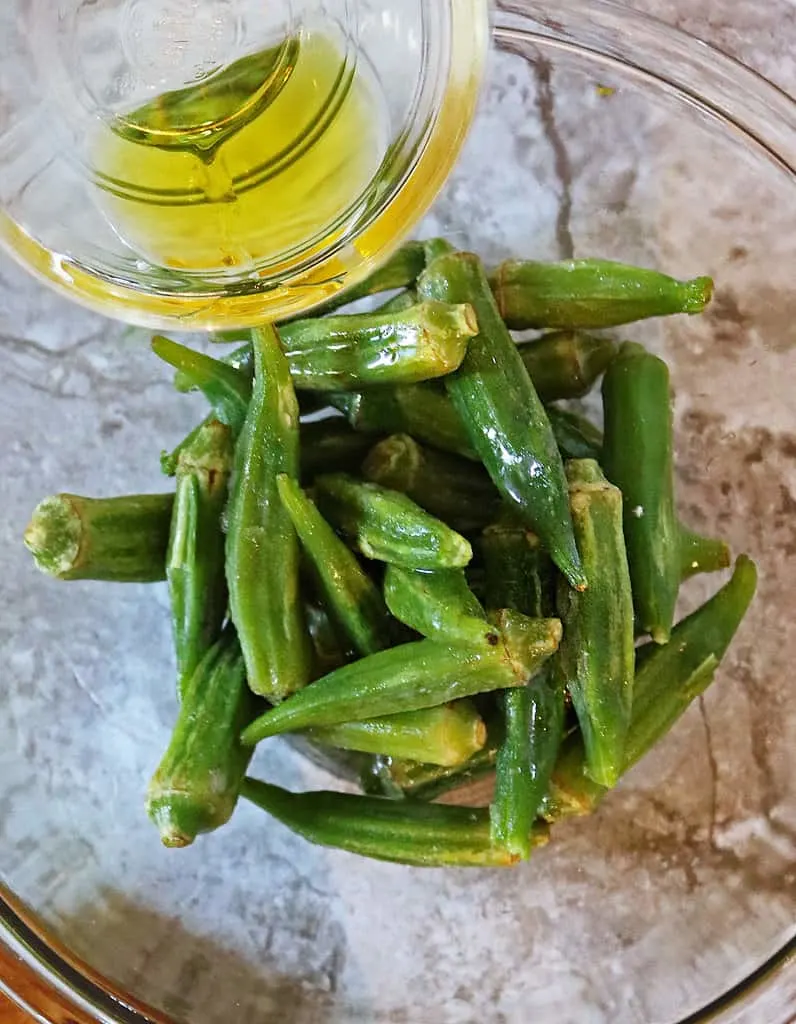 While not added to the main ingredient list, salt and pepper are necessary to season this dish as well.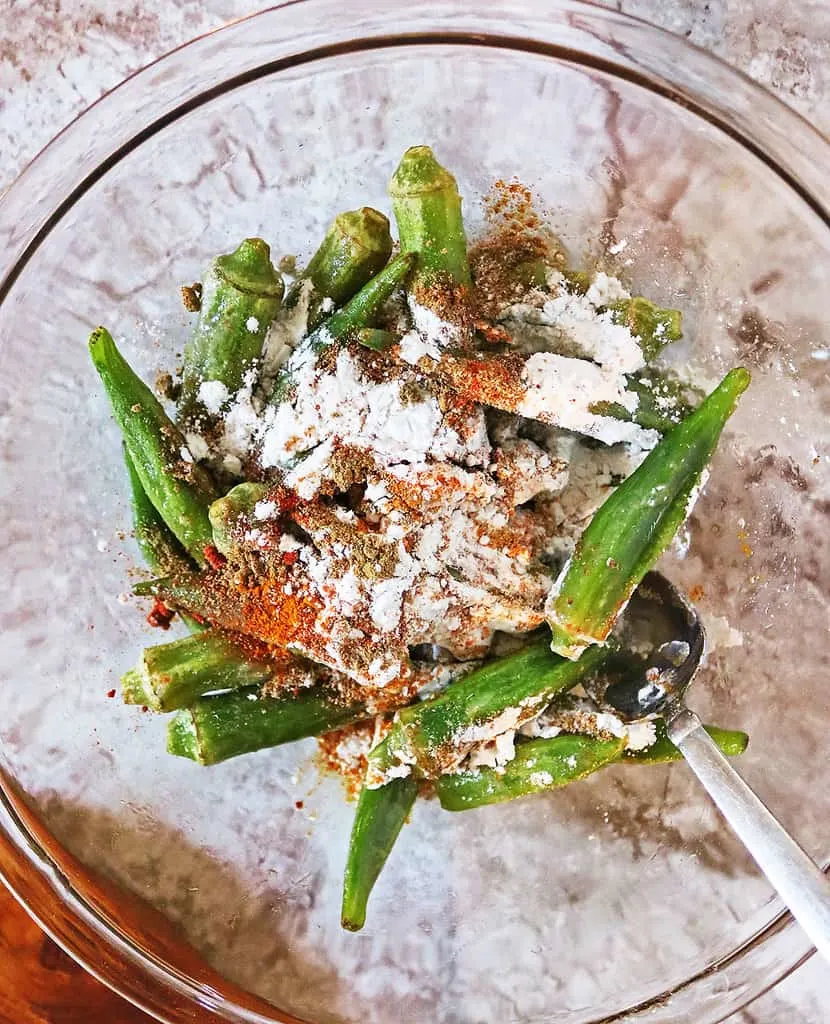 How do you make this baked okra?
This is one of the easiest okra recipes I have made. Simply rinse the frozen okra. Dry it with paper towels or a kitchen towel. Sprinkle it with oil. Then toss over the tapioca flour, coriander, smoked paprika, and turmeric and bake until lightly crispy!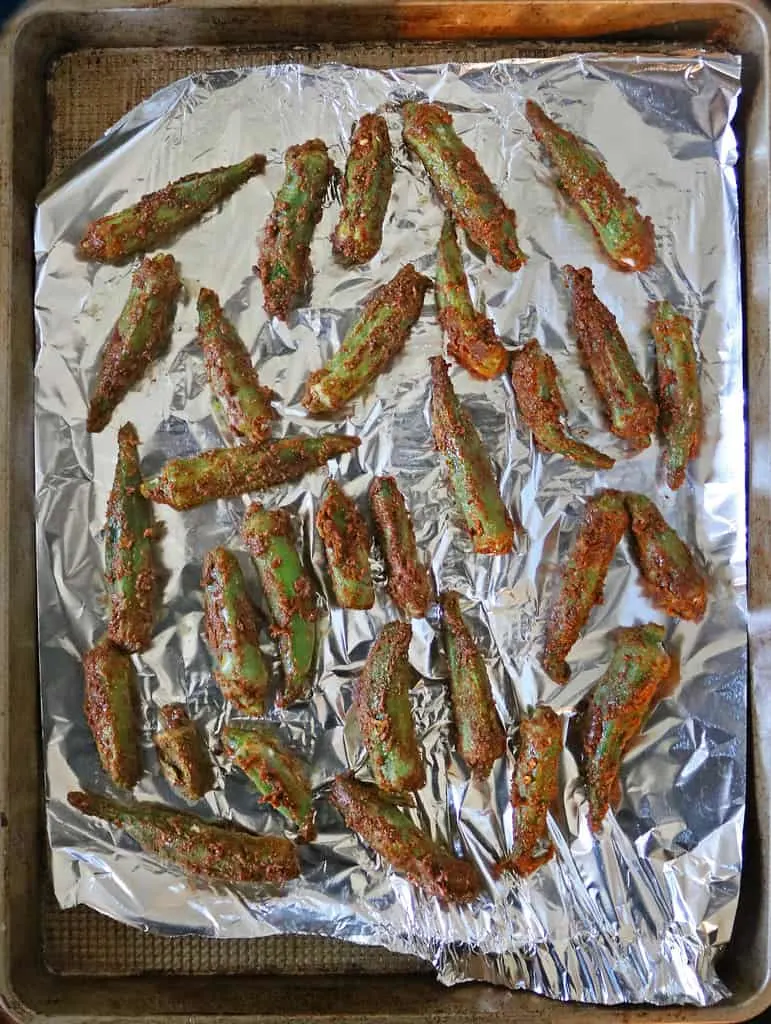 Last week, I made this okra, along with this turmeric quinoa, and some pinto bean spinach curry.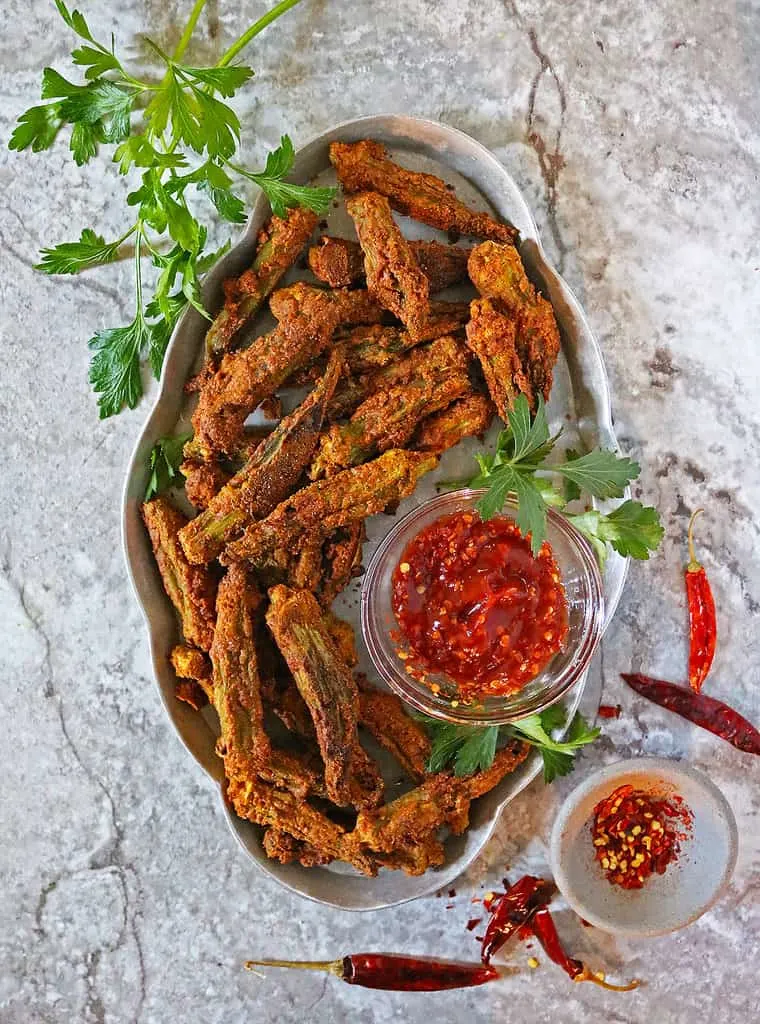 And, I was so glad to have some leftovers in the fridge when I got back from a hiking trip this Sunday. Spicy and delicious, it hit the spot!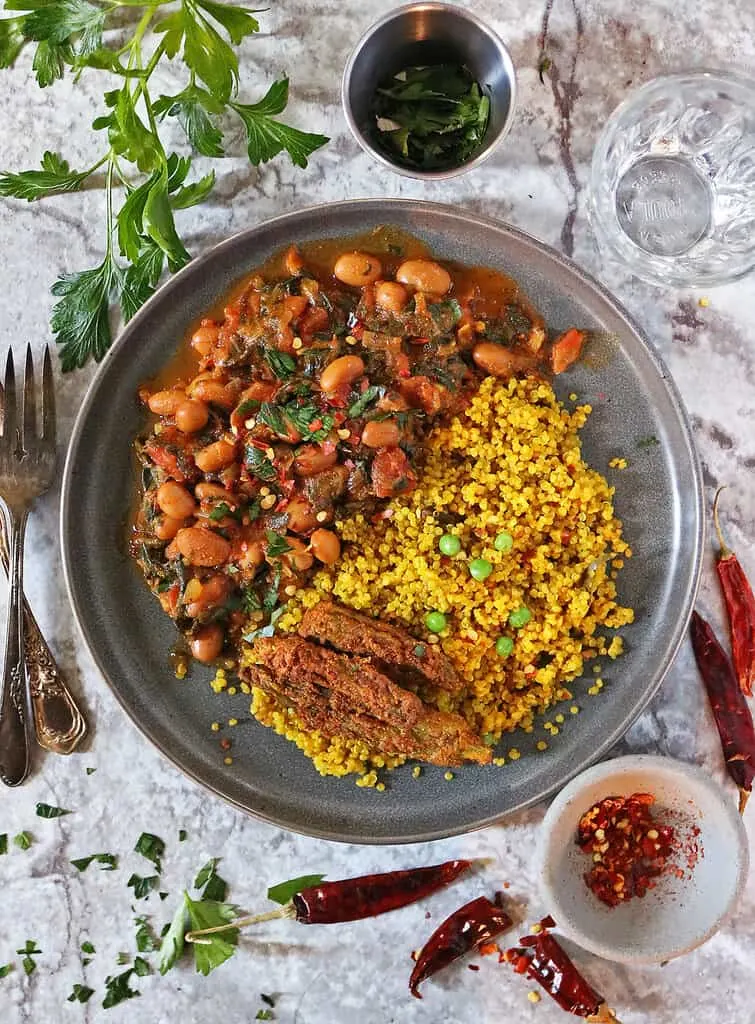 Is baked okra good for you?
Okra is rich in vitamins C and K1. It is also low in calories and carbs. It also contains some protein and fiber. Baking okra (like in this recipe) helps to let okra's benefits shine.
Can you use fresh okra in this recipe?
You definitely can. But, why would you want to? Frozen okra is cleaned and ready to go and just as nutritious (if not more) than fresh okra.
What is the best way to cook okra?
For me, baking okra at a high temperature for about half an hour or so helps get rid of the slimy texture.
How do you store this okra?
This okra is best enjoyed when made. You could store it in an airtight container in the fridge. But, when you thaw it out, it seems to lose its crispness.