This shop has been compensated by Collective Bias, Inc. and its advertiser. All opinions are mine alone. #NatureMadeHeartHealth #CollectiveBias
This cravalicious, creamy combination of heart healthy salmon and brussels sprouts along with garlic, smoked paprika, parsley, tarragon and coconut milk makes for a quick, easy and delicious meal – especially on busy weeknights!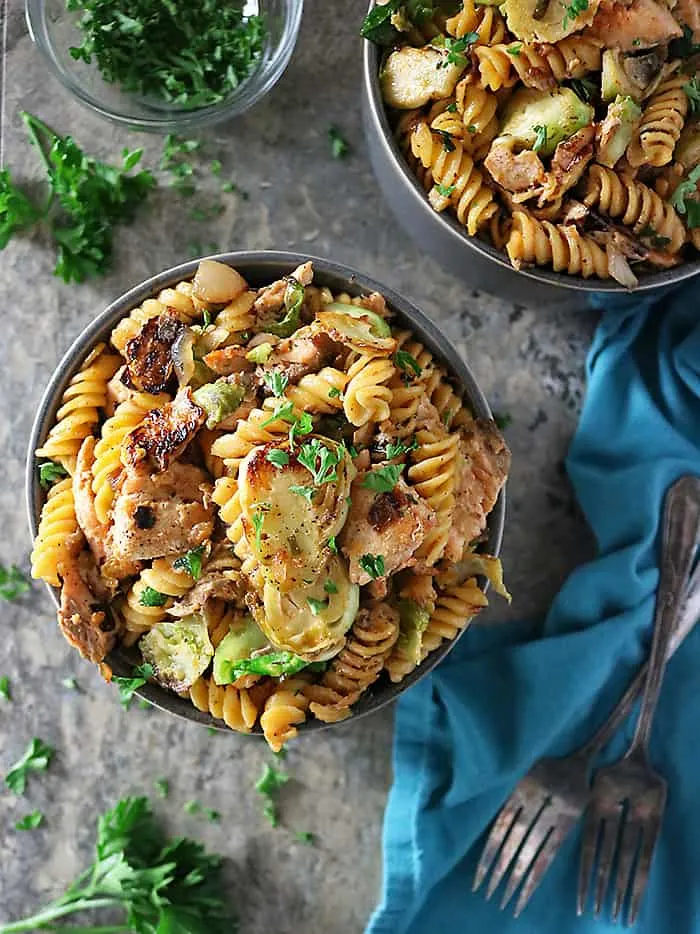 Many, many years ago when I was a sophomore in college, I used to work in a restaurant that made a name for itself by feeding it's patrons salads, soups and the like. Back in those days (yes, I am old), it was the only one of its kind and it had quite the fan base.
When you stepped inside this restaurant, you'd see that its four corners were flanked with a soup station, a muffin/bread station, a dessert station and a fresh pasta station. At the heart of this restaurant was a ginormous salad bar with greens, fresh veggies, crunchy toppings and pasta salads galore!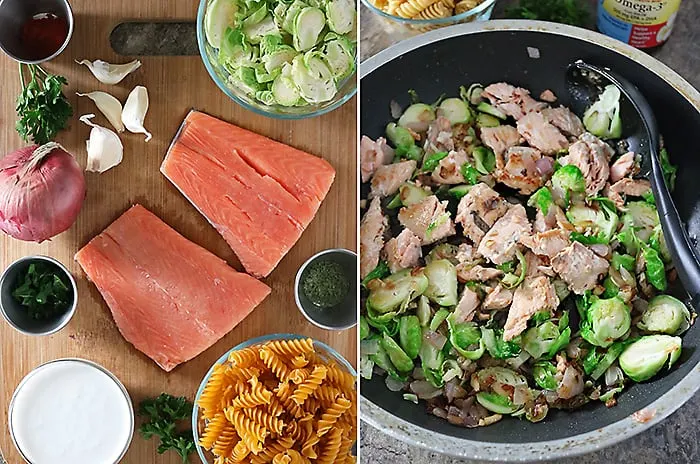 On those mornings when I helped open, I would join my manager and fellow coworkers in my favorite task of tasting the items on the salad bar to make sure they were all good. At was during one of these tastings that I happened upon THE Tuna Tarragon!
Creamy and all sorts of dreamy, this cravalicious concoction of mostly heavy cream, tuna, pasta, tarragon and capers left me speechless! Back in those days when I was a young whippersnapper, I enjoyed one too many servings of that tuna tarragon.
Now that I am older and witnessed my dad battle heart disease for many years, I try to make more balanced, heart healthy choices. So, I make and enjoy Salmon Tarragon Pasta, workout, drink plenty of water and take supplements like Nature Made® Omega-3 500mg EPA+DHA, Burpless to help support a heathy heart †​ ~ you can pick these supplements up from your local Walmart store.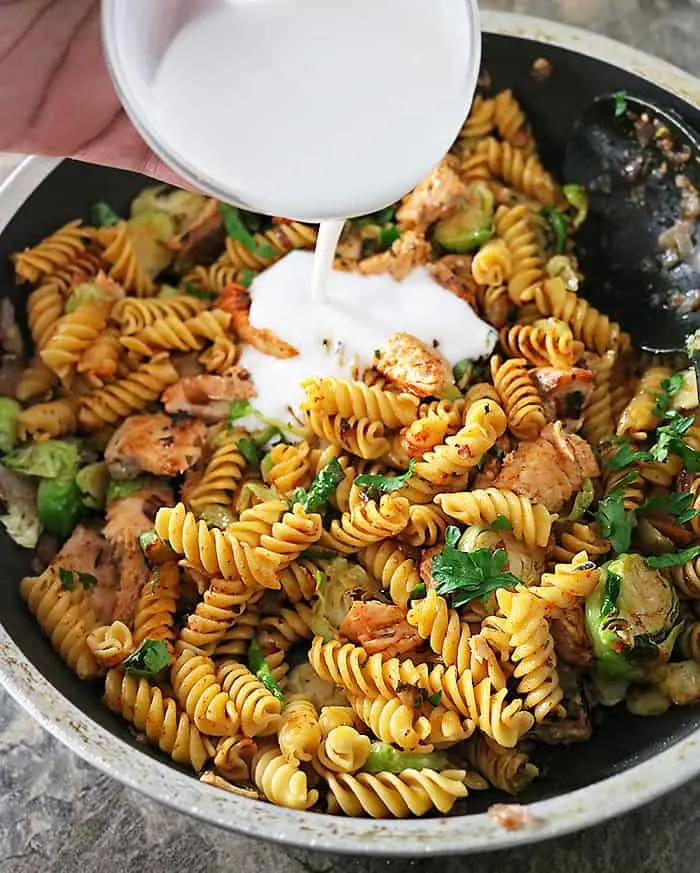 The two primary Omega-3 fatty acids found in fish oil are EPA and DHA, which are the active ingredients in fish oil that provide heart healthy benefits.† Now at Walmart, Nature Made® Omega-3 supplements clearly call out the amount of EPA & DHA Omega-3s on the front of the label. ​With this change in labels, Walmart is trying to make it easier for shoppers like you and me to navigate the "fish oil" segment and to ensure that we are confident we've found the right Omega-3 supplement. They also have "burp-less" Omega-3 supplements, which are coated to prevent fishy odor and aftertaste.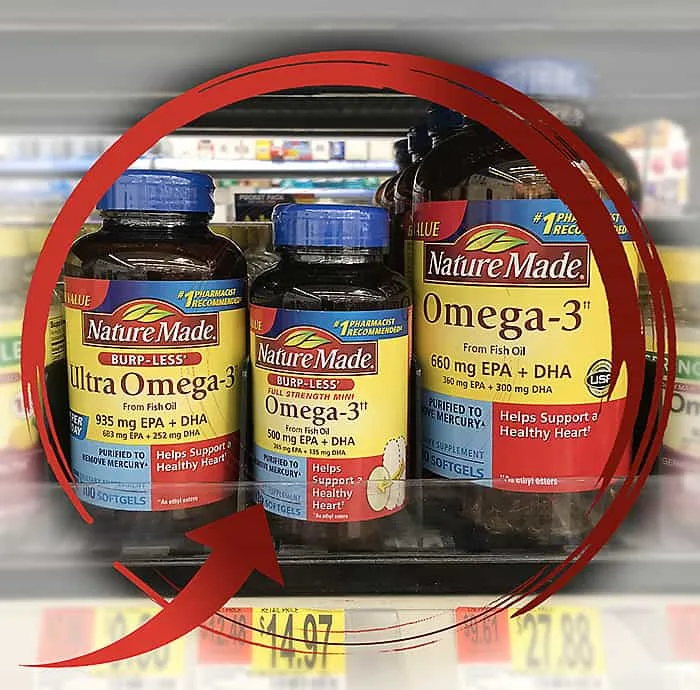 Nature Made® is also the #1 Pharmacist recommended vitamin and supplement brand.*​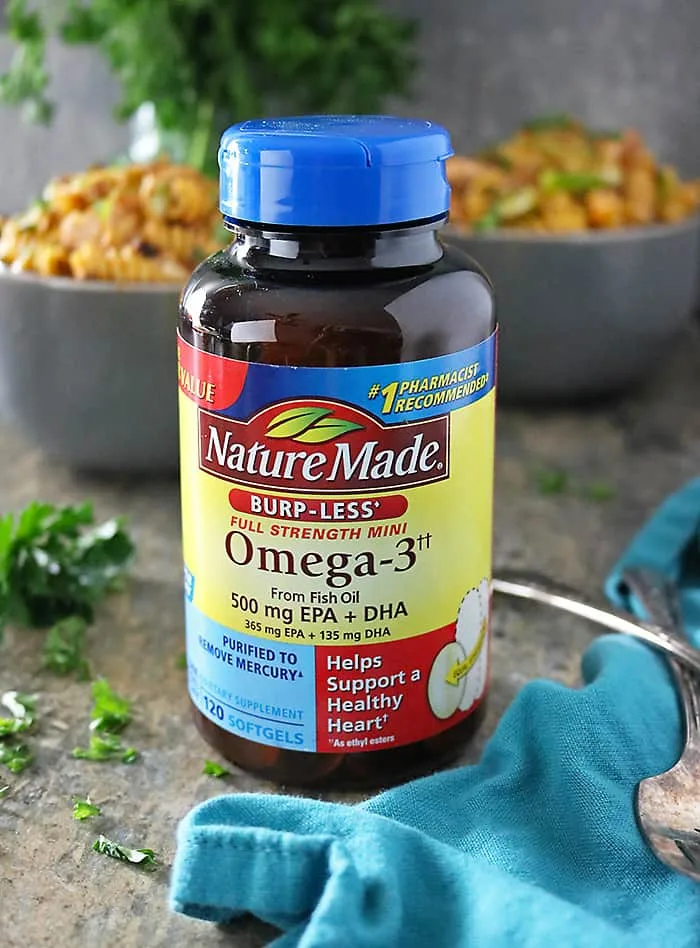 Wondering How Much EPA & DHA Do You Need?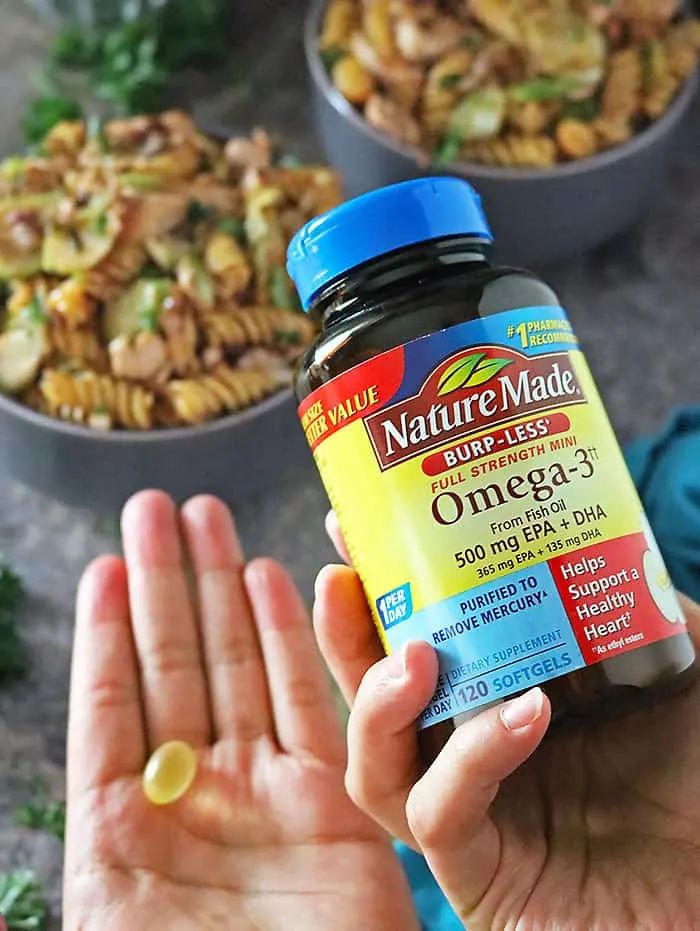 Heart health experts recommend consuming two servings of fatty fish per week for healthy adults. This equates to approximately 500 mg of EPA + DHA per day.1-2,‡ Myself, along with most people don't consume this much.
What's the Best Omega-3 Supplement for You?
You may want to discuss that with your healthcare professional, especially if you have heart concerns. Nature Made® Omega-3 supplements at Walmart make it easy to meet the recommended dose in as little as one softgel per day, depending on the formula you choose; they're a great supplement option for healthy adults looking to help support a healthy heart.† You can text OMEGA to 555888 to check out a quick video for more information.
If you are looking for even more info on Nature Made® supplements from Walmart, then make sure to follow them on Facebook, Youtube, Instagram and Twitter.
Getting back to this Salmon Tarragon Pasta…
I like to sauté onions, garlic, smoked paprika, parsley and dried tarragon to flavor this gluten free pasta dish. I also throw in a huge handful of sliced brussels sprouts to amp up the heart healthy factor of this dish. I opt to use just a bit of coconut milk, which adds some creaminess. However, if coconut milk isn't your favorite, then you could add any milk of your choice, but I must say that with all the flavorings in this dish, you hardly taste the coconut flavor.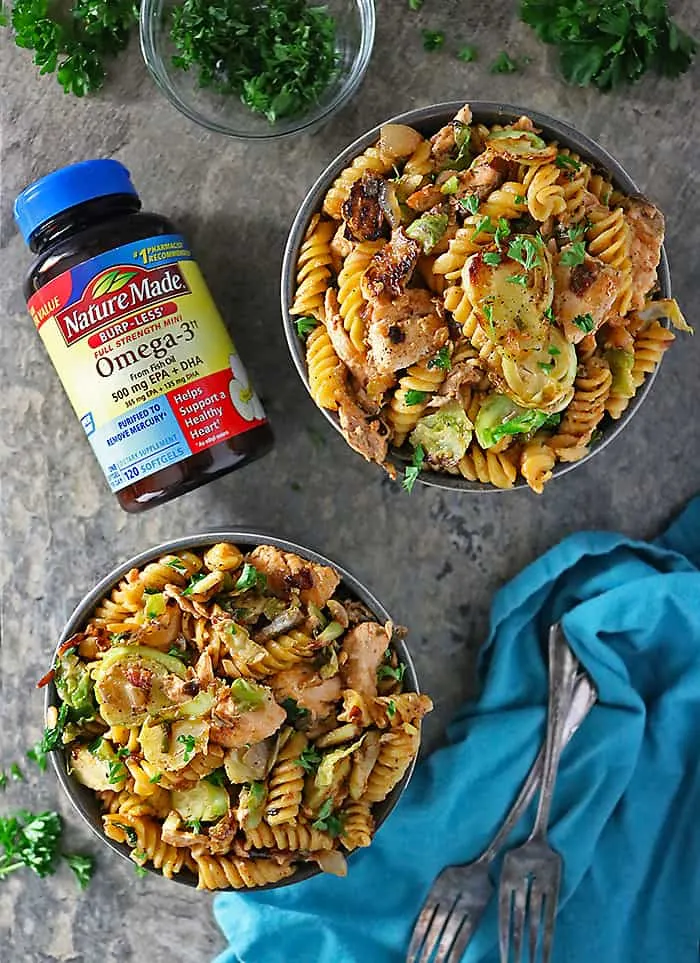 My daughter and I enjoy this Salmon Tarragon Pasta quite often in our home. It is super easy to whip up and not to mention, super fast to prep and make too ~ making it an ideal, heart healthy, one-pan, dish for busy weeknights. I sure hope you give this heart healthy recipe a try soon!
If you happen to fancy this recipe, let me know what you think by leaving a comment and rating below. If you make this recipe, please post a pic on INSTAGRAM -tagging @savoryspin so I can see! For more recipes and ramblings, like us on FACEBOOK and follow along on PINTEREST!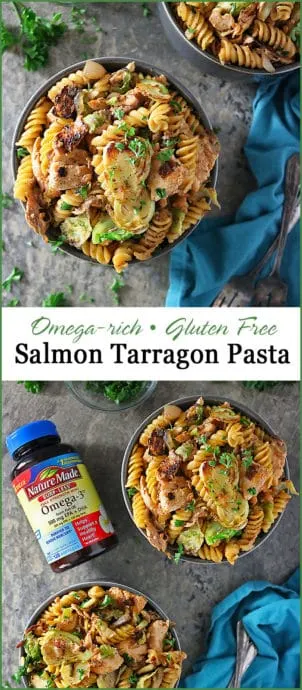 † These statements have not been evaluated by the Food and Drug Administration. These products are not intended to diagnose, treat, cure or prevent any disease.

* Based on a survey of pharmacists who recommend branded vitamins and supplements.

1. Kris-Etherton PM, Harris WS, Appel LJ. Fish Consumption, fish oil, omega-3 fatty acids and cardiovascular disease. Circulation 2002;106:2747-57.

2. Papanikolaou Y, Brooks J, Reider C, Fulgoni VL. U.S. adults are not meeting recommended levels for fish and omega-3 fatty acid intake: results of an analysis using observational data from NHANES 2003-2008. Nutr J. 2014;13(31)​​
‡"Recommended amount" equates to a calculation based on approximately 3,500 mg of omega-3 fatty acids EPA/DHA found in two servings of fatty fish per week.