This shop has been compensated by Collective Bias, Inc. and its advertiser. All opinions are mine alone. #ElevateYourMeal #CollectiveBias
Elevate your everyday meals with Barilla® Collezione Orecchiette in this easy, quick, flavor-packed, Roasted Mushroom Sundried Tomato Pasta.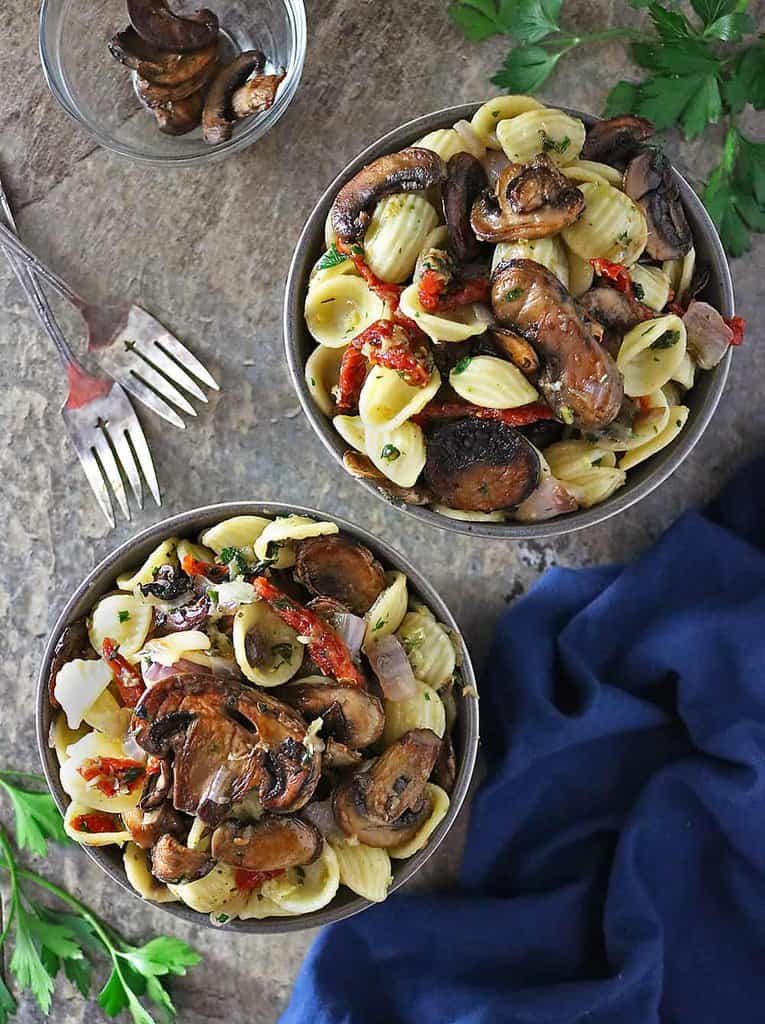 My daughter simply loves pasta. It is what she turns to when she is cramming for an exam as well as when she is celebrating the end of an exam.
October 25th happens to be World Pasta Day and my Mom's birthday. My daughter suggests we combine the two and celebrate her grandma's birthday with a pasta cake! By the way, have you ever tried making a pasta cake? I haven't ever tried making one myself, but the pasta cakes on the interwebs have me intrigued… October 25th is just ten days away so I better pick up some more Barilla® and start practicing, eh?
For a pasta lover like my daughter, October 25th isn't the only day to rejoice because October happens to be National Pasta Month. Yup, that means all sorts of pasta creations all month long!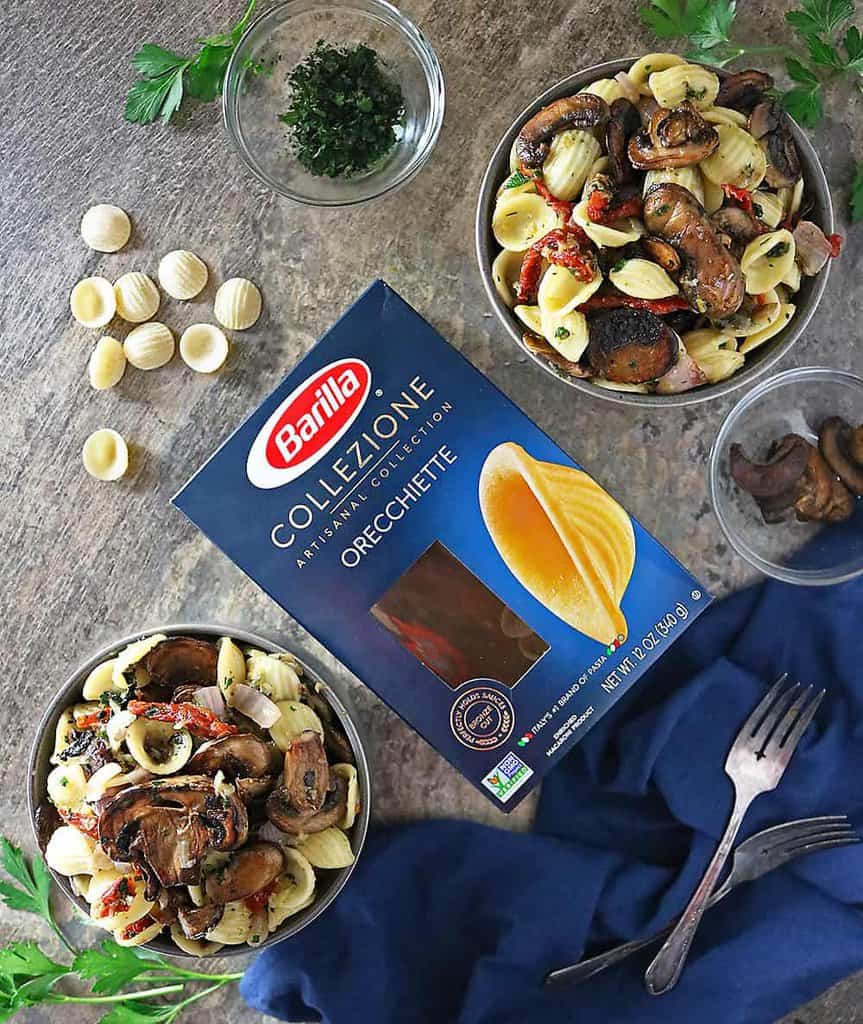 We are huge fans of Barilla® and the other day she brought home some Barilla® Collezione Bucatini from Kroger and tossed it with an avocado pesto sauce and we enjoyed her Gaucesto Pasta for dinner! However, as I am the one with the blog, today I don't have that recipe. Instead I have this Roasted Mushroom Sundried Tomato Pasta recipe to share.
When I make a pasta dish on a weeknight, I like to stay away from heavy sauces, and opt for something light and lively! So I try to add as much flavor to it as I can and use a premium pasta. So, when I made this Roasted Mushroom Sundried Tomato Pasta, I chose to add grated garlic, sundried tomatoes, roasted mushrooms, parsley, basil, and onion and use Barilla® Collezione Orecchiette.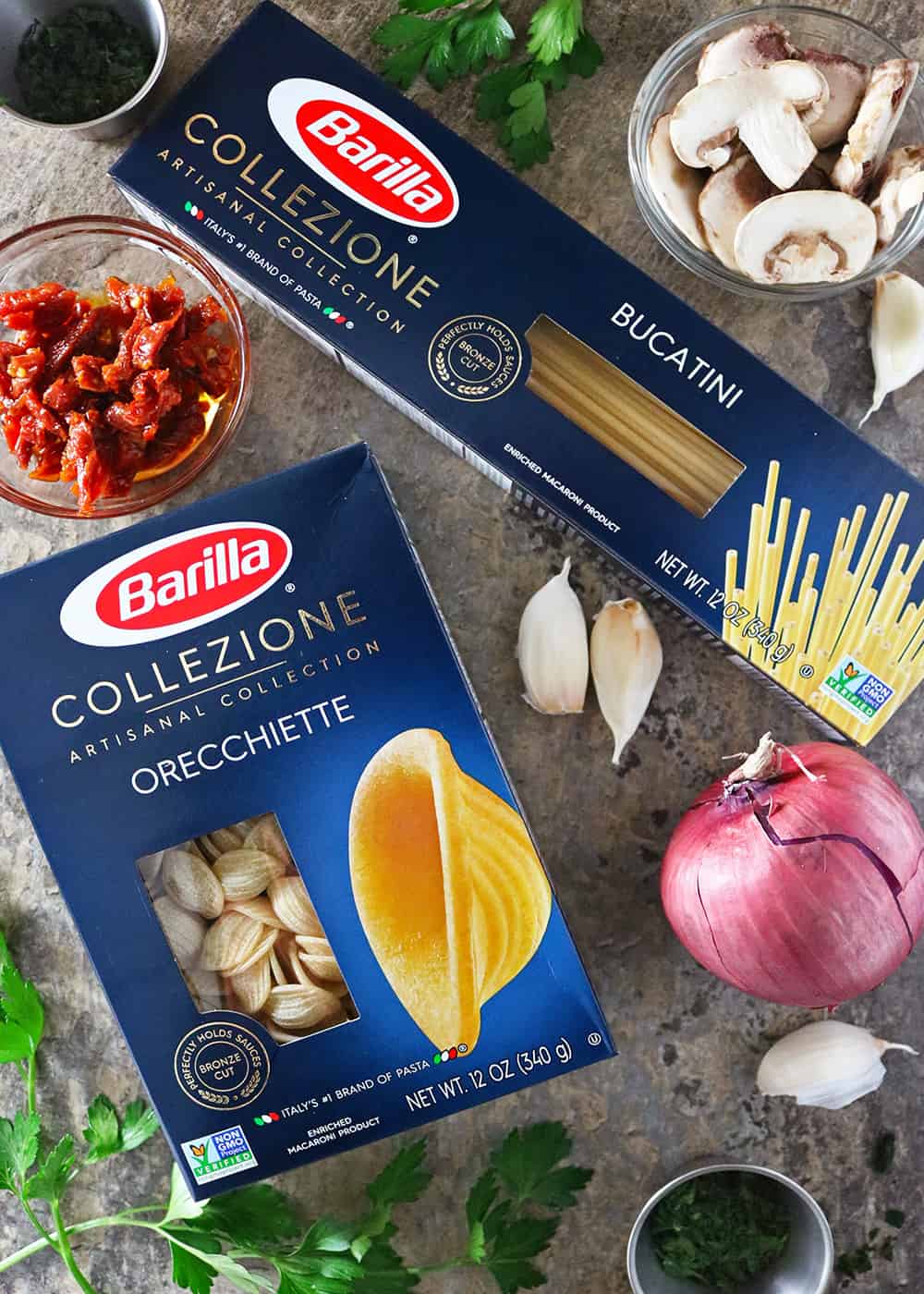 Have you tried Barilla® Collezione pasta yet?
Collezione is Barilla®'s premium pasta offering that can elevate your everyday meals. Barilla® Collezione features six artisanal pasta shapes and is crafted using traditional Italian bronze plates for a homemade "al dente" texture that perfectly holds sauces every time. Barilla® Collezione pasta is made with non-GMO ingredients.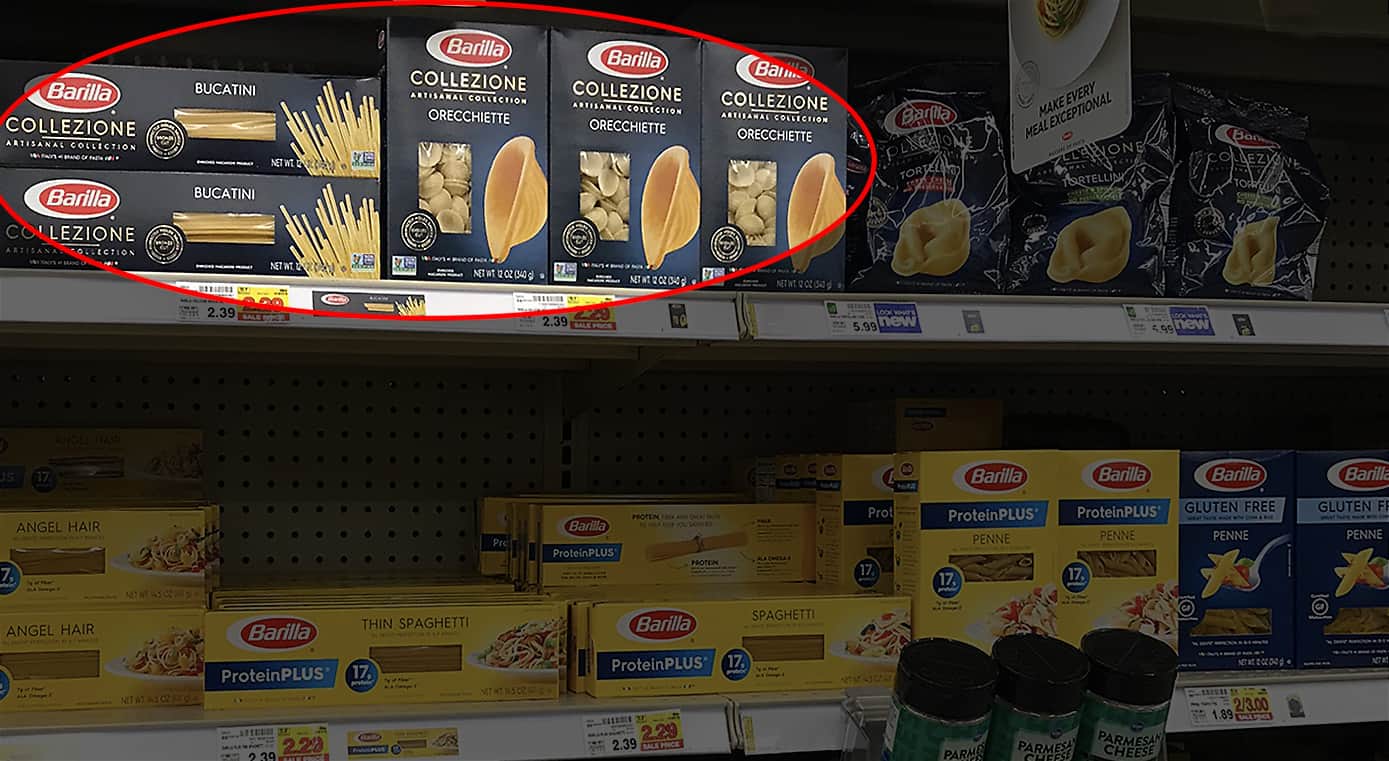 By the way, between 09/06/18 and 11/26/18, if you spend $15 on any Collezione product you will receive a $5 reward!
Easy Roasted Mushroom Sundried Tomato Pasta
Getting back to this Roasted Mushroom Sundried Tomato Pasta, the most time consuming part of this recipe was pan roasting the mushrooms. I chose to roast them with a little bit of oil over a low/medium flame. And, it took them about 30 minutes or so to go from fresh mushrooms to squelchy mushrooms to crispy mushrooms. If you are not a fan of squelchy mushrooms that almost feel like raw fish, then you've gotta try roasting mushrooms before you totally write them off.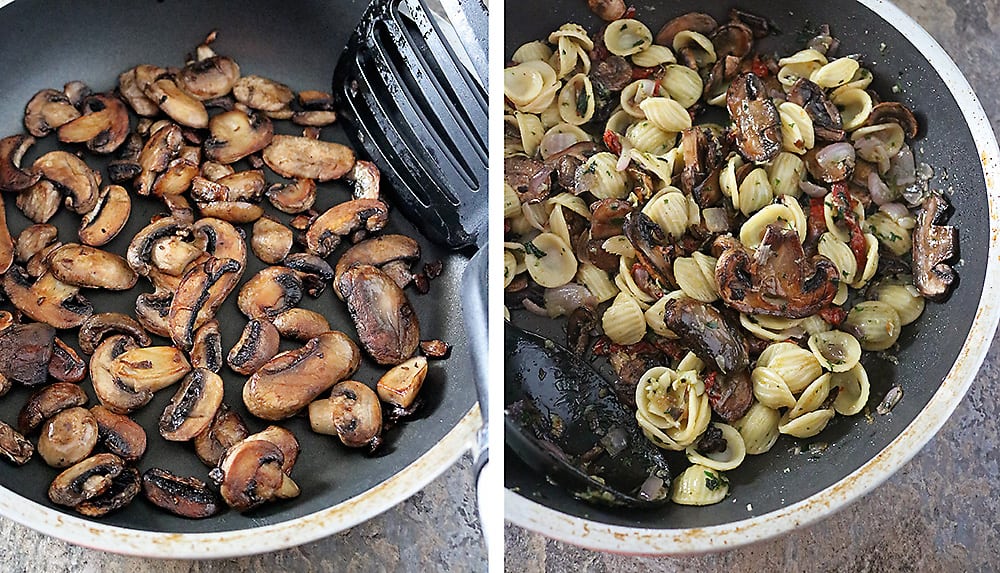 While the mushrooms were roasting, I was also boiling some Barilla® Collezione Orecchiette. And, in another pan, I was also sauteing a chopped onion. I grated the garlic cloves into my pan with the onion sauteing in it. For me, grating garlic seems to add that garlic flavor to every nook and cranny of a dish. I also added in some sundried tomatoes with some of the liquid that came with the sundried tomato and a bit of parsley and basil into this easy dish.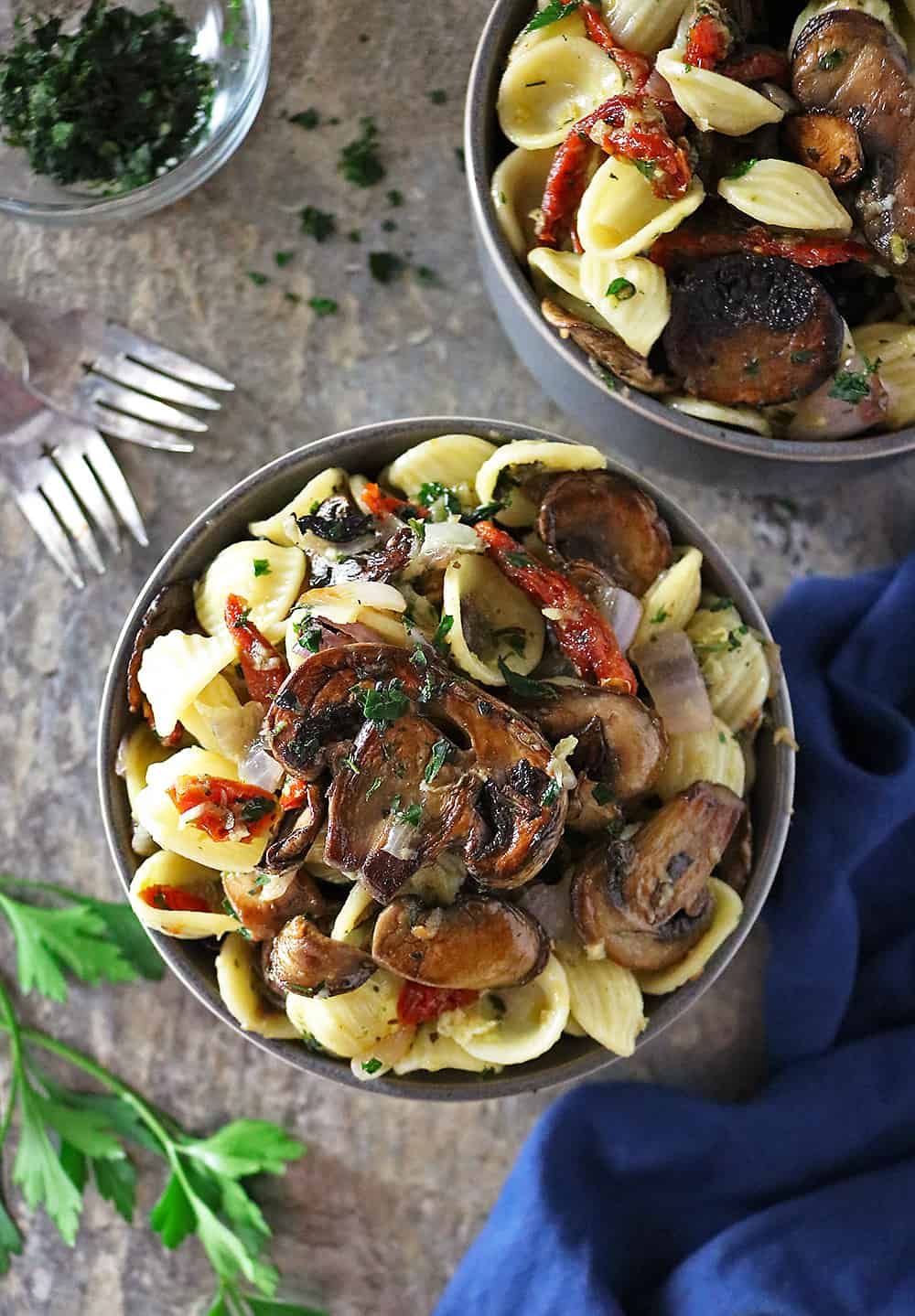 In all honesty, I'm not quite comfortable calling this a recipe. This is so so super easy to make. And, some combination of these 8 ingredients are probably already out there somewhere on the interwebs. However, this is a delicious dish that might appear to be simple, but tastes like a gourmet treat which my daughter and I enjoy often so I figured I'd share it on here with y'all with it being National Pasta Month. I am hoping y'all grab a few packages of Barilla® Collezione pasta and give this Roasted Mushroom Sundried Tomato Pasta a try and enjoy it as much as we do.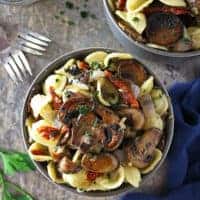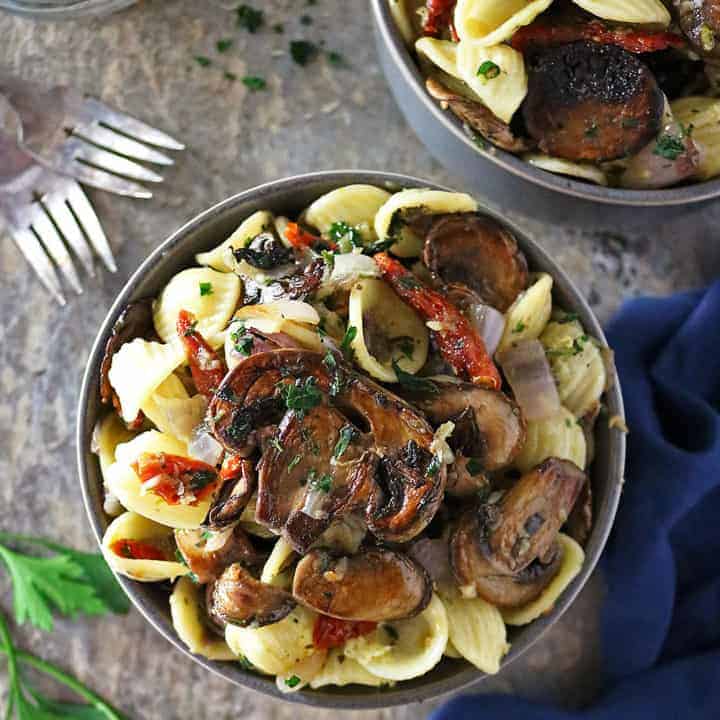 Roasted Mushroom Sundried Tomato Pasta
Elevate your everyday meals with Barilla® Collezione Orecchiette in this easy, quick, flavor-packed, Roasted Mushroom Sundried Tomato Pasta.
Ingredients
2 tbsp oil
16 oz white mushrooms
1 red onion
4 cloves garlic
1/4 cup sundried tomatoes
1 tbsp liquid from sundried tomatoes
2 tsp chopped dried parsley
1 1/2 tsp dried basil
1 cup Barilla® Collezione Orecchiette
Instructions
Add 1 tbsp oil to a pan along with the mushrooms. Turn stove onto a low-medium setting and let mushrooms pan roast for about 15 minutes. Stir slightly and let roast uncovered again until the liquid starts to dissipate - it took me about 20-25 minutes. Then stir mushrooms often so they brown and crisp on both sides. When done, set aside.
While the mushrooms are roasting, add Barilla® Collezione Orecchiette to boiling water and prepare according to package directions.
Also, while mushrooms are roasting and Barilla® Collezione Orecchiette is boiling, chop the onion.
Then add the other 1 tbsp oil to another pan and add in the onion. Let onion saute, stirring often. When onion is translucent (about 7-10 minutes), using a grater, carefully grate the garlic cloves into the sauteing onion.
Add in the sundried tomatoes and liquid from sundried tomatoes and stir.
Also add in the parsley and basil and stir.
When Barilla® Collezione Orecchiette is al dente, add it to the onion, garlic, sundried tomato mixture and mix well until all ingredients are well incorporated.
Season with salt and pepper if desired.
When mushrooms are crispy, add them to the pasta mix and enjoy immediately.
Notes
Wait until you are ready to eat before adding the mushrooms into the pasta mix otherwise they will absorb some of the liquid and loose their crispness.
Nutrition Information
Amount Per Serving
Calories

418
Total Fat

14g
Saturated Fat

1.8g
Carbohydrates

18.4g
Fiber

4.5g
Sugar

8.8g